Work management
9 Project Management Software That Integrate with QuickBooks
QuickBooks is an accounting software package geared toward small and medium-sized businesses. The on-premise and cloud-based application accepts business payments, helps to manage and pay bills, and has payroll functions.
The best part – QuickBooks integrates with numerous third-party tools that allow connecting accounting with other important aspects of business management, such as project management.
Looking for the best project management software that integrates with QuickBooks? You're in luck! We've made the task easier and combined nine project software and tools in one comprehensive list, for a seamless connection.
Check out the tools' top features, pricing, and what's unique about them – and find an integration fit for your business.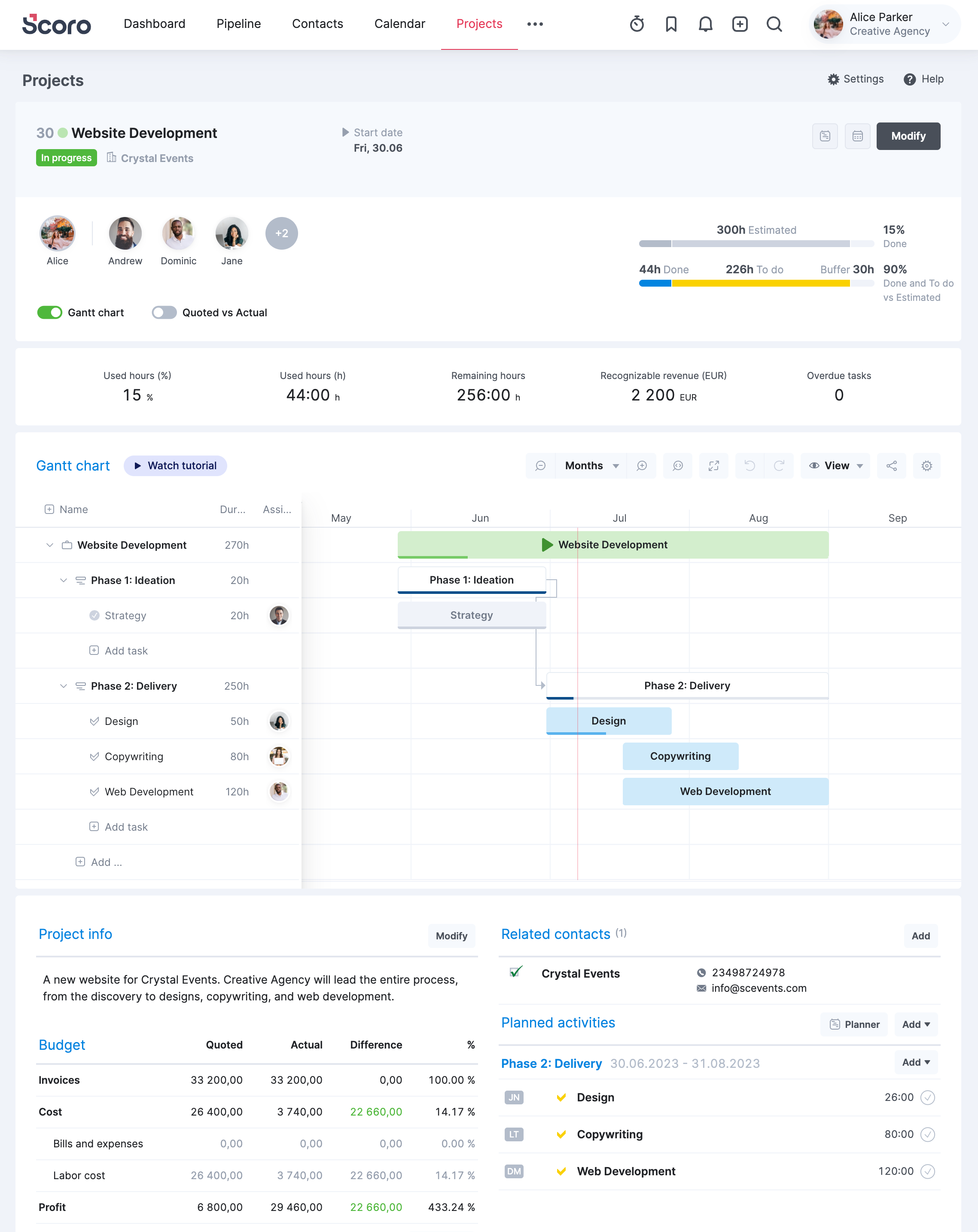 Scoro is a comprehensive solution that combines all the features you might need in project management software: projects & tasks, contact management, quotes, team collaboration, billing, and reporting.
Top features:
Projects with sub-tasks and deadlines
Real-time KPI dashboard
Shared team calendar & meeting scheduling
Contact management
Time tracking and billing for work
Detailed reports on project progress and finances
Quoting and invoicing with pre-set templates
What's special about this tool: Scoro helps to streamline your entire work progress, so you don't need to use a lot of different tools for every task. All your important information is stored in one central place.
Pricing: From $26 month/user
Try Scoro for free for 14 days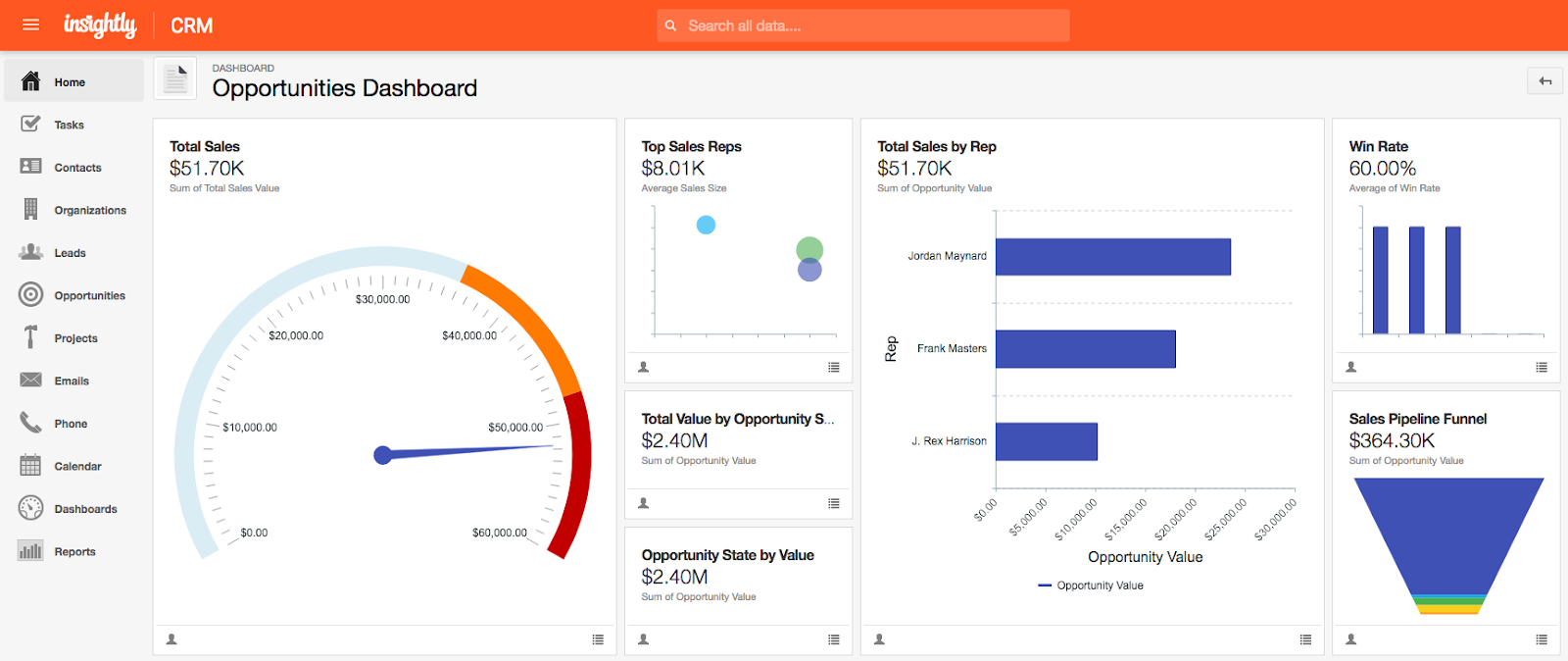 Insightly is a powerful CRM with a project and business management feature set.
Top features:
Manage leads, contacts, organizations, partners, vendors and suppliers
Track project activity and performance against milestones
Look at your business any way you want with task dashboard, activity sets, reports and more
What's special about this tool: Insightly CRM is tailored for any level of experience – from first time CRM users to sales experts.
Pricing: From $15 month/user for teams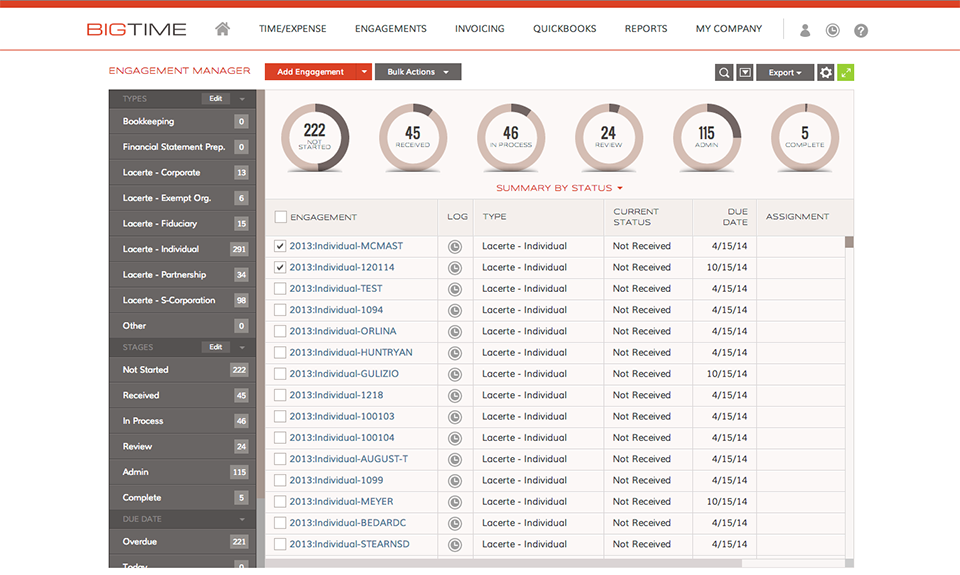 BigTime is a time and billing software. Get time & expense tracking, WIP management, billing & invoicing, task & workflow management and more. All in a single integrated system designed to increase your profit margins.
Top features:
Manage your clients. 360-degree view of your clients & engagements.
Tame your workflow. Personal and firm-wide engagement tracking.
Track and Bill WIP. Full suite of WIP-related reports.
What's special about this tool: BigTime lets you capture every billable hour and expense with ease. Create invoices in seconds, and produce reports that inspire.
Pricing: From $5.95 month/user, when billed annually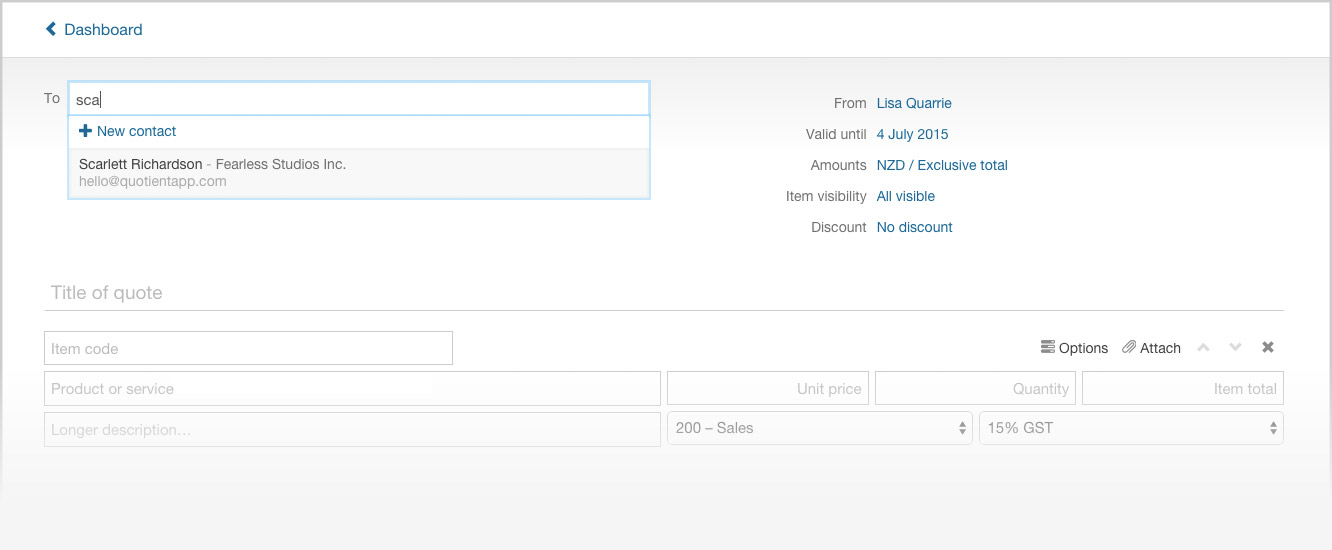 Quotient delivers fantastic looking quotes every time with the very best possible customer experience.
Top features:
See precisely when a customer opens your quote
Provide a clear click-to-accept process
Auto-generate invoices into Xero or QuickBooks
Get notified on your Dashboard when to follow up
What's special about this tool: Quotient's Content Templates make quoting super-quick.
Pricing: From $25 month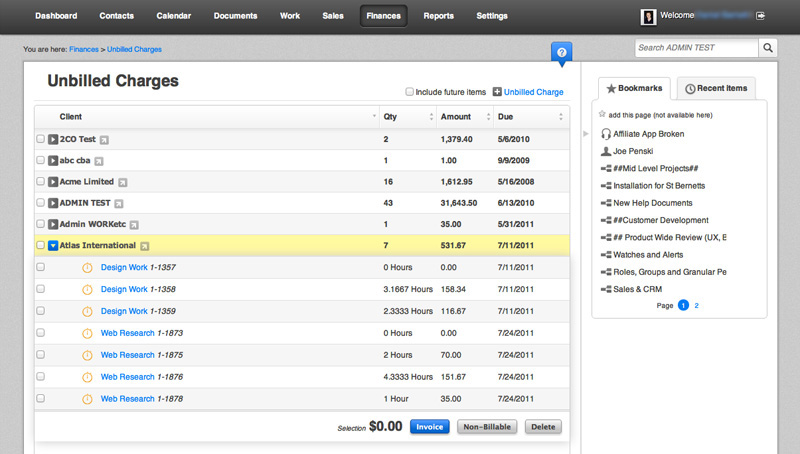 WORKetc has integrated CRM, projects, billing, help desk, reporting, and collaboration.
Top features:
Link timesheets, documents, discussions, notes, contacts and more to your projects
Manage complex project budgets
Automatically capture and invoice all revenue activities across all departments
Use live support, web forms, and email to capture support tickets
What's special about this tool: By integrating support cases directly inside all areas of WORKetc, you can ensure the customer is always looked after. Suddenly your salespeople are talking with your customer support people, and project issues can be assigned to the right person.
Pricing: From $49 month/user (first 3 users $65/month)
Check out this WORKetc alternative!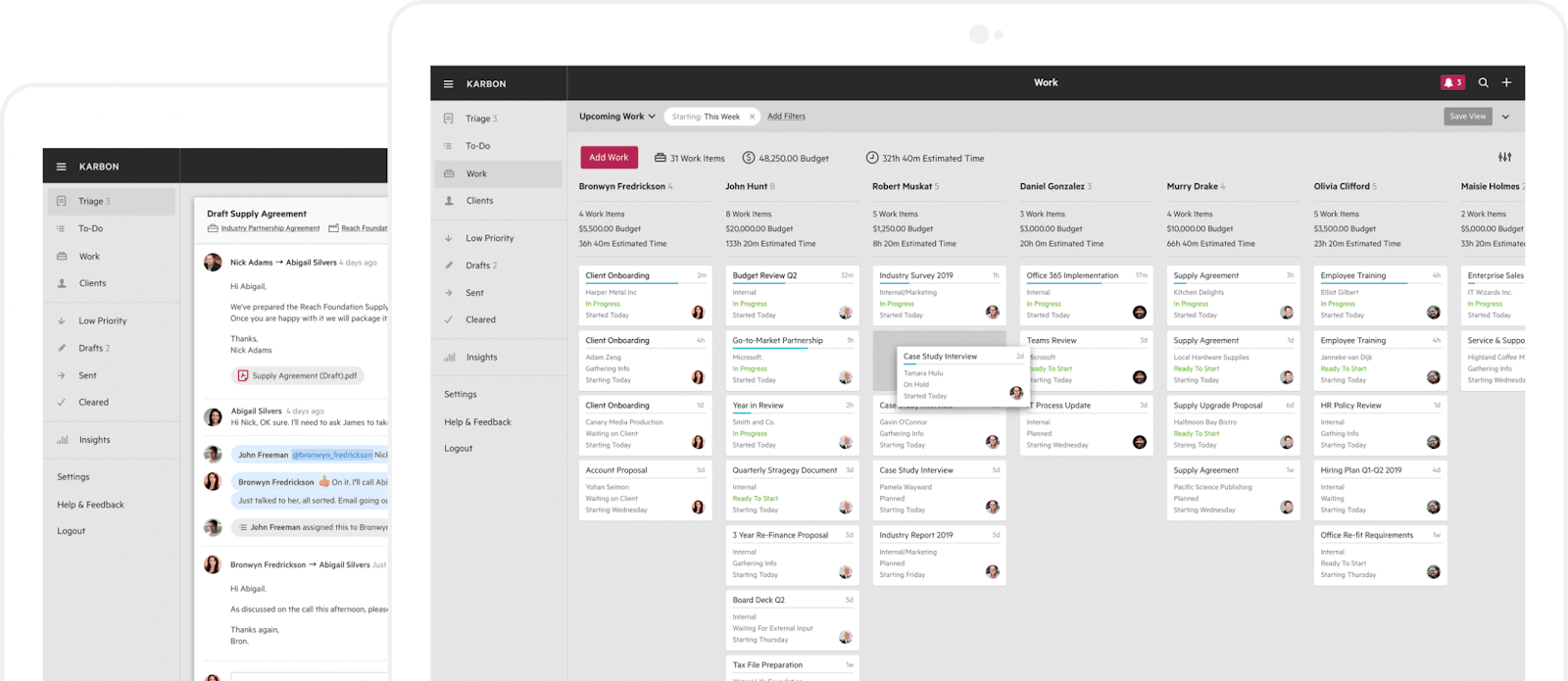 Karbon gives context to all work and communication, ensuring visibility across teams, departments and locations.
Top features:
Clear, standardizable processes and efficient workflows to keep everyone aligned to the same goals across teams, departments and locations, every step of the way.
Customizable, centralized views of all work in progress, internal and external communication, tasks, contacts, clients, activity and notes all combine to provide greater visibility and control, enabling you and your team to know where everything stands.
Stop working in communication silos and start discussing work with your team directly in the context of the work and tasks themselves.
What's special about this tool: Karbon enhances your email with Triage — an action-focused inbox. Packed with collaboration features, Triage breaks email out of silos and into your team's workflow, so everyone has visibility to discuss, assign and action.
Pricing: From $49 month/user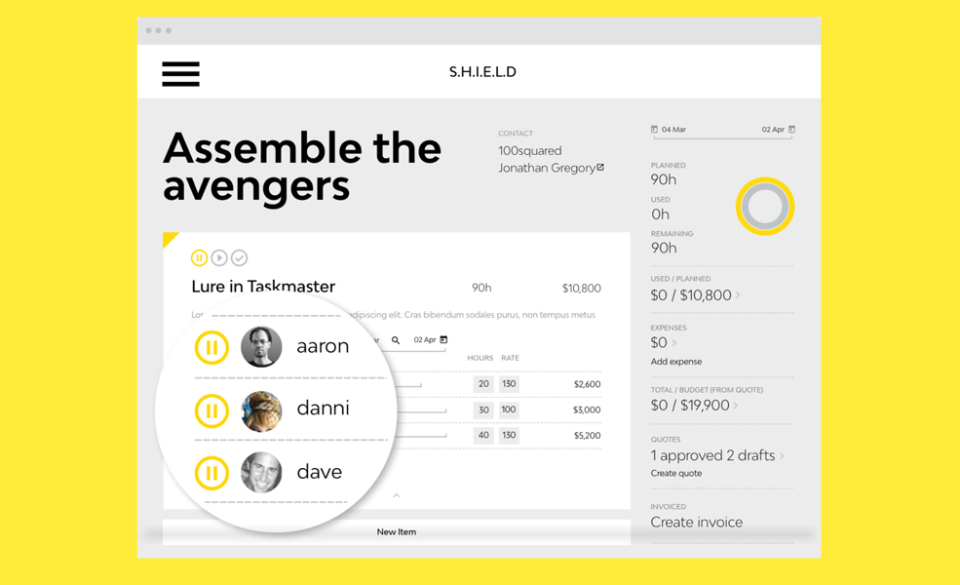 Streamtime ensures your work life is never not creative. Meaning fewer timesheets and ugly form-fields, and more time for the work you love.
Top features:
With intuitive to-do lists, tracking time is as easy as dragging and dropping.
Keep your finger on the pulse. How you're tracking against the budget, any expenses that have been logged, how much has been invoiced – it's all there, at a glance.
Turn a job plan into a quote in a single click. Turn a job plan into a beautiful, not-designed-by-an-accountant invoice in two clicks.
No need to check the schedule then head back to the job plan – you can create new tasks for jobs straight from the schedule.
What's special about this tool: Streamtime comes loaded with commonly-used reports under the 'favorites' tab. So if you want a report on, say, unpaid invoices or jobs over budget, you'll have it in a single click.
Pricing: Free for up to 5 jobs, from $14.30 month/user for paid plans
Check out this Streamtime alternative!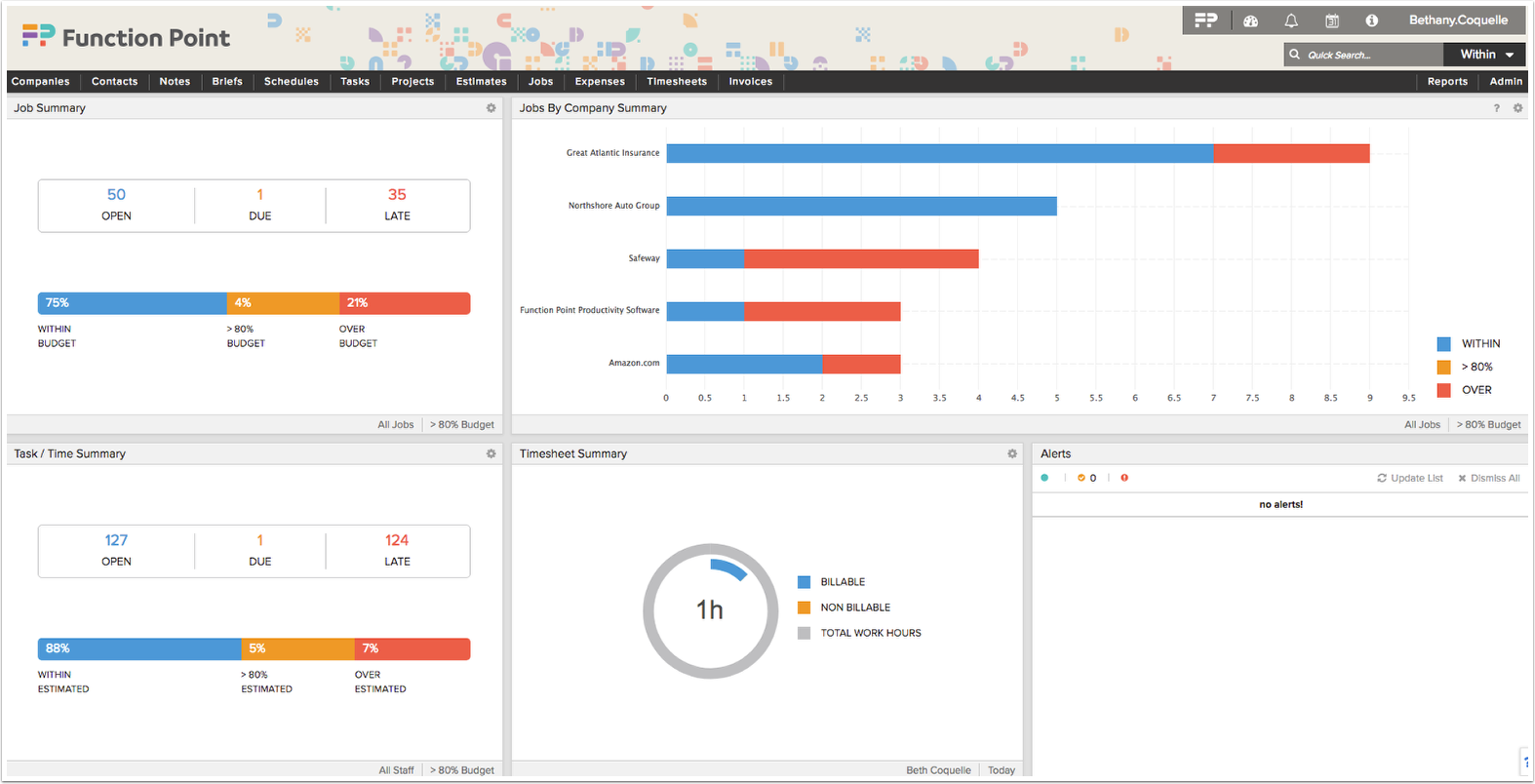 Function Point lets your gain visibility into projects and budgets with a project management solution built for creative teams.
Top features:
Workflow tracking with dynamic Gantt Charts
Assign jobs with Task Management
Keep on strategy and in scope with Project Briefs
Analyze client interactions and data with CRM
What's special about this tool: Rein in the department by using the connected features to improve the workflow. They will give you the control, consensus and visibility you need to get all of your projects from point A to point B to point Z.
Pricing: From $44 users/month, billed annually
Check out this Function Point alternative!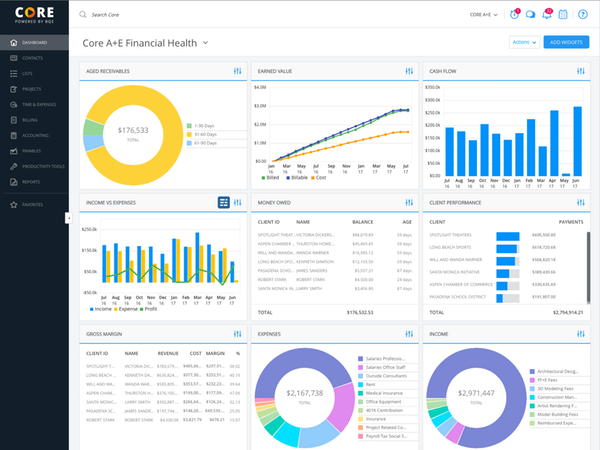 BQE Core helps to effectively manage people, projects, and profitability.
Top features:
Feature-rich invoicing: 180 templates, batch processing, automatic PDF creation, and ability to edit processed invoices
Create many invoice types: percent complete, retainer, recurring, fixed, hourly, phased, joint and more.
Automatic billing follows standard billing rules and automatically creates a project invoice for review on any frequency.
Email and print invoices in a click, one at a time or in batches, and link attachments like receipts and pictures to any invoice.
What's interesting about this tool: In addition to invoicing, BQE has project management and time tracking functionalities. It is compatible with all major browsers for PC, Mac, and smartphones.
Pricing: From $19.95 month/user. Free trial for 15 days.