Life at Scoro
Inside the Scoro Riga Team: A Talk with Office Manager Estere Ergle
Welcome to our Life at Scoro series, where we explore the diverse and dedicated teams that make up Scoro. This time, we're taking you behind the scenes to meet the talented individuals of the Scoro Riga team. In this interview, we sit down with Estere Ergle, the Office Manager and Recruiter who plays a crucial role in shaping team dynamics and fostering a positive work environment in our Latvian office. Estere will delve into the vibrant culture of the Riga team, tell us why everybody wants to visit Scoro's Riga office, and share some of the local team's traditions (hint: they include cheese, and who doesn't love cheese?).
So, let's dive into our conversation with Estere without further ado.

1. How long have you worked in Scoro, and what is your mission there?
I joined the Scoro Riga team about a year ago, in the summer of 2022. Still, the abundance of incredible experiences and variety of my role makes it seem like I've been here much longer!
I work as a Recruiter/Office Manager; therefore, my mission is twofold. As a recruiter, I identify and attract talented individuals who share our values and contribute to our company's growth. Secondly, I take care of the Riga office, ensuring a positive and productive work environment for our team.
2. Can you tell us more about the Riga team?

The Riga team at Scoro has been a part of the company since 2014, and currently, we have 15 members. Most of them work in Product Engineering or Customer Services, but we also have people from Operations and Sales. This mix of individuals from various teams brings a unique dynamic to our work environment. It allows everyone to learn about different aspects of the business.
We have a beautiful and cozy office in the heart of Riga with a big terrace offering fantastic city center views. You can even see the Monument of Freedom, Milda! We work in a hybrid style and occasionally gather in our office.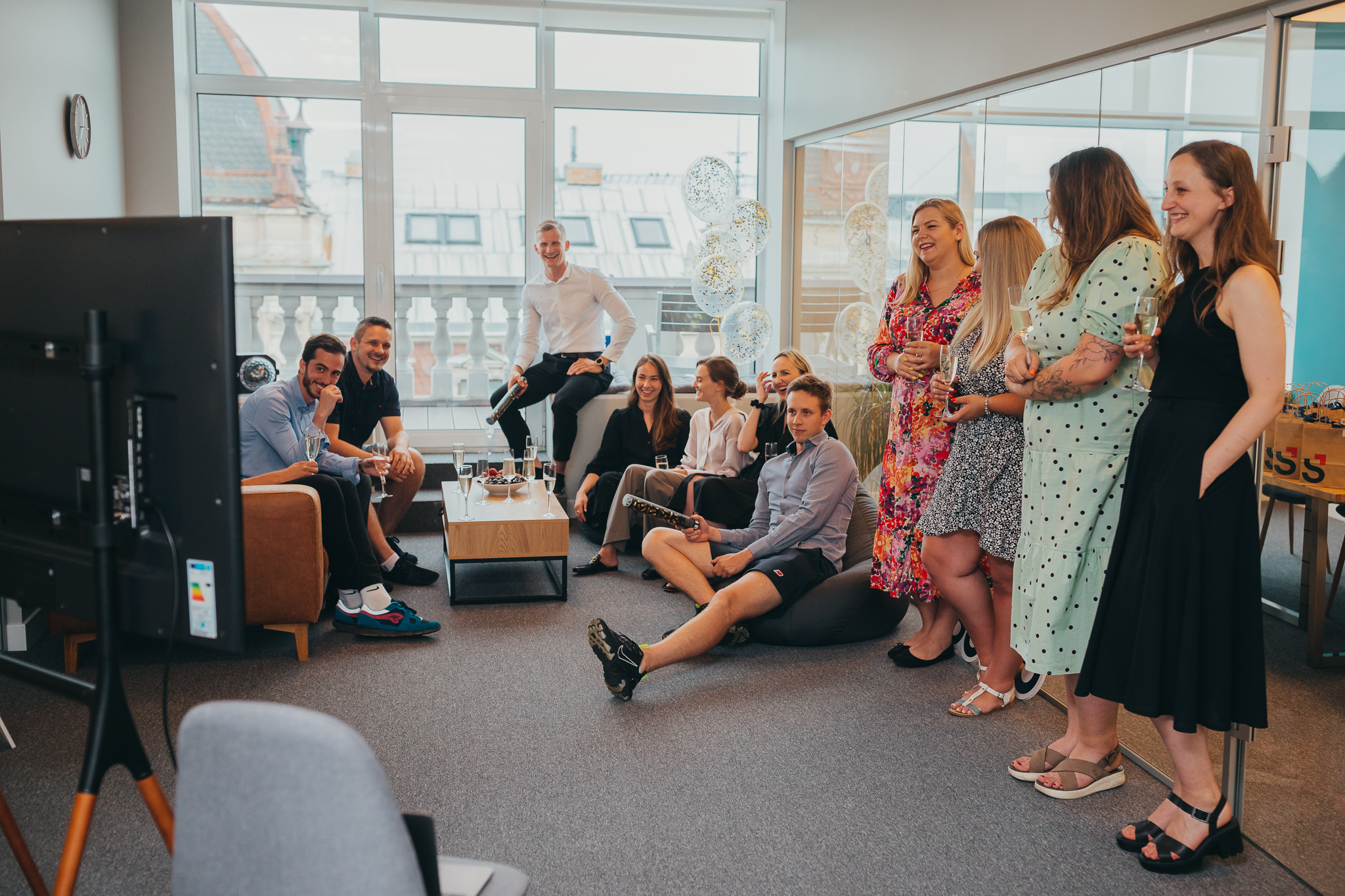 A fun fact is that, in addition to our daily snacks and fruits, it's a must to keep a stock of cheese, ham, and bread for making cheese sandwiches. It's a sweet tradition of the Riga team.
3. What are some team-building activities or traditions that the Riga team enjoys?
There's something beautiful about our close-knit group of 15 people, as it allows us to easily come together and spontaneously plan activities outside the office. Whether grabbing lunch together outside or kicking off the summer season with cold soup (trust me, it's better than it sounds)! 
Besides our spontaneous ideas, we also have some traditions that happen regularly. For example, a quarterly team breakfast or volunteering on free Fridays, as, like the rest of Scoro, we have a 4-day work week. Giving back to the community brings us great joy, and we always try to make these volunteering experiences in Riga memorable. Most recently, we had the opportunity to roll up our sleeves and help maintain the animal habitats at Riga Zoo. 
4. How often does the Riga team collaborate with colleagues in other locations?
We work hand in hand with our colleagues from Estonia, Lithuania, the UK, and US daily. All the people in the Riga office have team members in other locations, and most communication happens via Zoom and Slack. We have a mindset of always using cameras to feel closer when apart.
Additionally, we have many activities to foster collaboration across the entire company throughout the year. Some monthly activities are online quizzes that challenge our brains, all-hands meetings to ensure we're all on the same page, and activities organized by our well-being hub to ensure our bodies and minds are cared for. We place a great emphasis on a healthy work/life balance at Scoro. We have learned about budgeting, investing, body positivity, sleep, nutrition, etc. That's how we roll at Scoro – always striving to improve, inside and out, at work and personal life.
Last, but certainly not least, is every Scorer's favorite event. Twice a year, we have what we call a Global Week. It's like the ultimate reunion where everyone across all Scoro locations gets together in Tallinn for a week. We all eagerly await it, like kids waiting for their birthday party.
It's the amazing people, who make working at Scoro's Riga team a pure joy. The professional and hardworking atmosphere with fun and friendly people motivates and makes me want to come to the office every day. On top of that, being the only foreigner in Scoro's Riga team, I always feel included in daily office life. - Demi Avaliani, Software Engineer
5. Can you share a fun story from your time at Scoro?
Oh yes. It happened during Global Week, which, by the way, was my first week at Scoro. As I was meeting many people for the very first time, I was already feeling a bit stressed and nervous.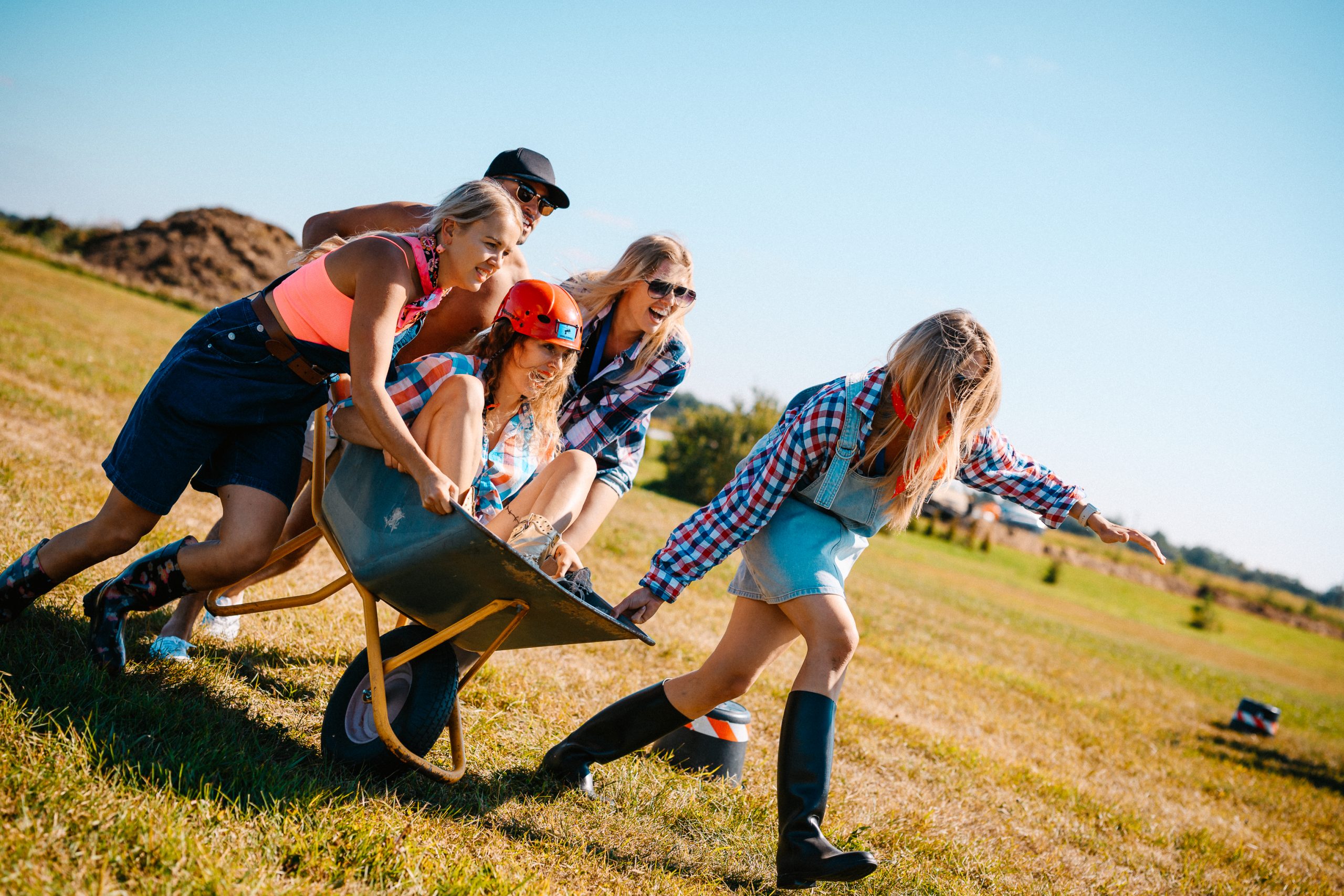 I made a rookie mistake and forgot to pack socks for the trip. Since we had a "Simple Life" themed party where I planned to wear long rubber boots, going sockless was a big no! Fortunately, my colleagues, who I met for the first time, were incredibly kind and helpful. I felt comfortable asking them for a pair of socks, and they came to my rescue, showcasing their welcoming nature. 
6. As someone who juggles responsibilities in both recruitment and office management, your days encompass a wide range of tasks and duties. What's the most helpful feature of Scoro, the one thing you use daily?
Firstly, it's important to highlight that we all use Scoro internally, thus acting as our product ambassadors, so let me tell you what rocks my world daily.
Task Assignment, or as I like to call it, the –

Task Ninja. With this feature, I can assign tasks to the team or myself, and the overview helps me to see how much I have done so far! Say goodbye to chaotic to-do lists! It's like having a superhero sidekick for my office management and recruitment projects.

User-friendly calendar interface, which is the best I've used so far. It gives me a clear visual of my schedule and automatically tracks my time to see where I spend those precious hours. This calendar was a game-changer for me.
What I like about working in the Riga team is that we're a very fun bunch of people and it's definitely never boring in the office. We also support each other on work matters very closely with advice and experience - Rudolfs Kadakovskis, Account Executive
7. If Scoro had a theme song, what would it be, and why this specific song?
Cha Cha Cha – Song by Käärijä, this was a hard one to think about, but I made this based on our last team event on Parnu. 😏

8. Why should ambitious, highly-skilled people consider joining Scoro's Riga team?
The reasons why people should join the Scoro team are very similar wherever you are, and don't depend too much on any location. Rather than geography, it is the values of our people. We are looking for people who are structured, easy to work with, and driven to make a difference.
However, I have to emphasize that, at the moment, a team of 15 is big enough to feel surrounded by people, yet small enough to know everybody and grow together as a team. This is a close-knit bunch of people who are open-minded toward newcomers from different cultures and backgrounds. And it's not a secret that the vibe at our Riga Office is amazing. Everybody always wants to visit the Riga office, and we are more than happy to welcome Scorers from other locations.
---
If you want to be part of this journey, check our Open Roles and send your application today. If you cannot find a suitable position, save your interest on our Connect page, and we will contact you when a job that matches your profile opens.