Work Management
21 Best Wrike Alternatives for Work Management
Wrike is a work management solution with an extensive set of features. It helps to gain visibility into your work and projects, simplify planning, enable collaboration, and streamline workflow. However, it's not always the best solution for businesses looking for end-to-end work management software.
Whether you need more features such as quoting, billing or time tracking, or just a more agile and customizable solution – here's a look at the best Wrike competitors on the market.
Check out their top features, pricing, and what's special about them – and find a solution fit for your business.
---
Every Wrike alternative listed here:
💪 Has unique features that stand out from other business management tools
☝️ Is by a trustworthy provider, with regular updates and high security
👌 Is relatively easy to use with reasonably short setup time
---
1.  Scoro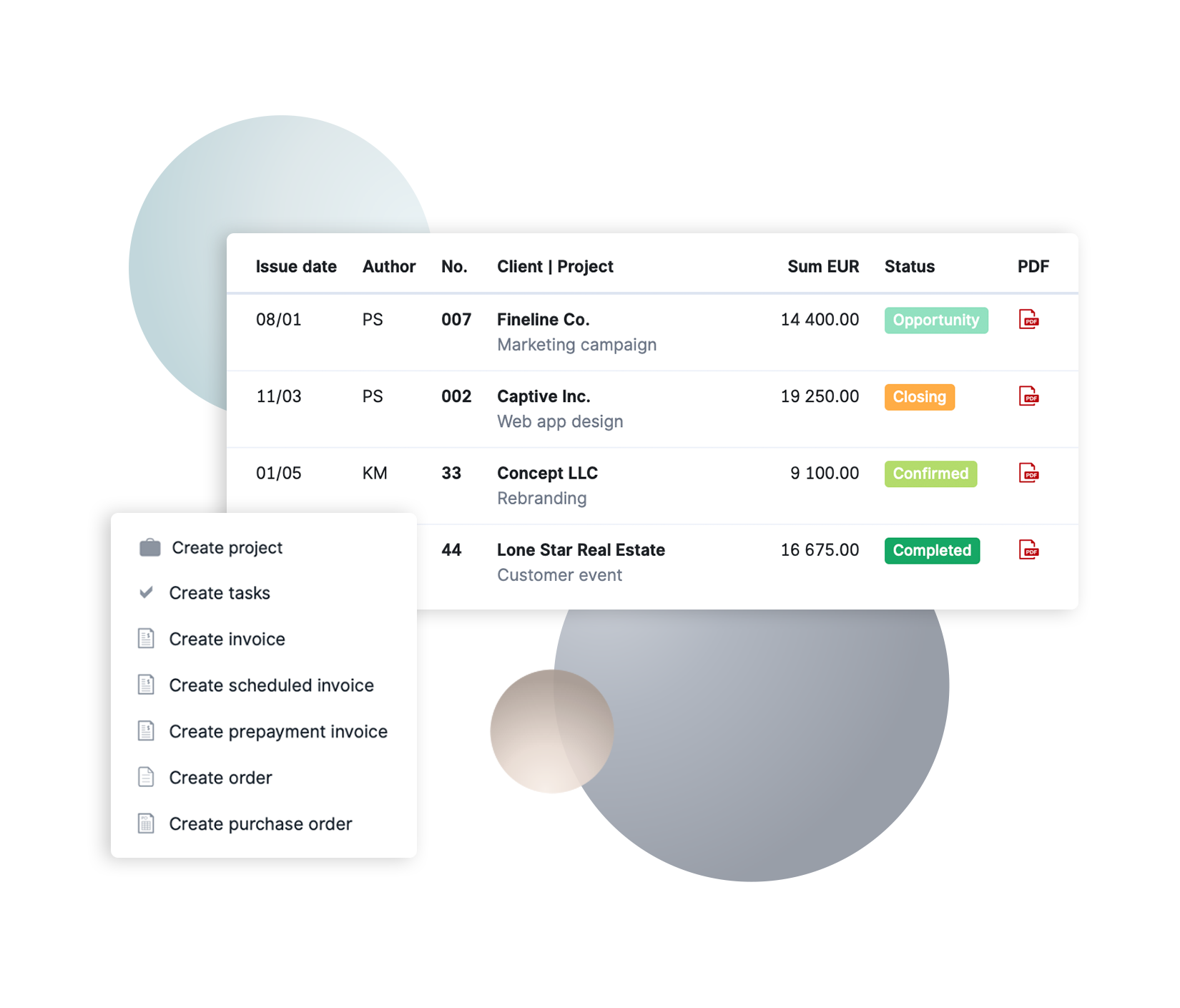 Scoro is a comprehensive solution that combines all the features you might need to manage your business: projects & tasks, contact management, quotes, team collaboration, billing, and reporting.
Top features:
Get a complete overview of any project on one page, including time spent and billed, planned tasks and meetings, invoices and expenses, comments and files.
Assign and delegate tasks within the team.
See everyone's schedule in a shared team calendar and know what they're working on.
Create a company-wide contact base, and manage them in a pipeline view for effective communication and billing.
Compile and send quotes and invoices – and automate overdue reminders.
Track your company's performance and important KPIs on a beautiful dashboard with real-time data.
What's special about this tool: Scoro helps to streamline your entire work progress, so you don't need to use a lot of different tools for every task. All your important information is stored in one central place.
Pricing: From $26 user/month, with a 14-day free trial
2. Proofhub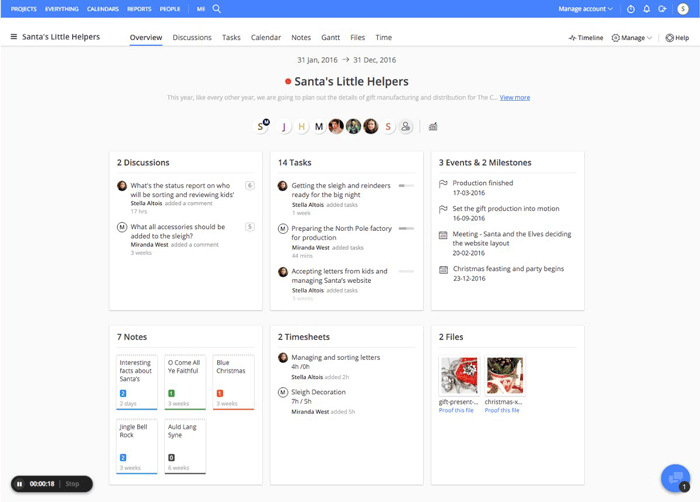 ProofHub offers a replacement for conventional emailing and a bunch of other tools, integrating multiple project management features under one roof.
Top features:
Assigned user roles
Online team discussions and chats
Task delegating and assignments
Reporting and tracking project history
Secure file storage
What's special about this tool: ProofHub has a simple and well-designed user interface that helps the team to collaborate more efficiently.
Pricing: From $20/month (up to 10 projects) to $150/month (unlimited projects)
3. Basecamp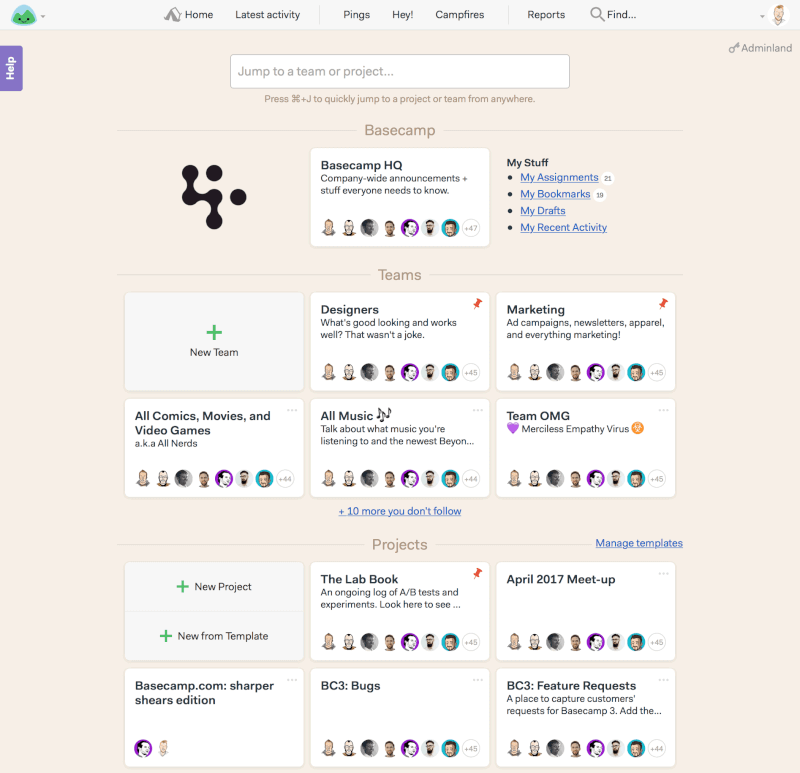 Basecamp is the preferred tool for thousands of project management teams, who enjoy its modern interface and carefree team collaboration features.
Top features:
Projects to manage multiple users' work
Message boards for discussing new projects or ideas
In-app collaboration with the team
Reporting on project performance
Separate dashboard for showing to clients
Email and desktop notifications
What's special about this tool: Basecamp is free for teachers and students!
Price: $99/month for unlimited users
Read on: Basecamp Alternative for Project Management and Collaboration
4. ActiveCollab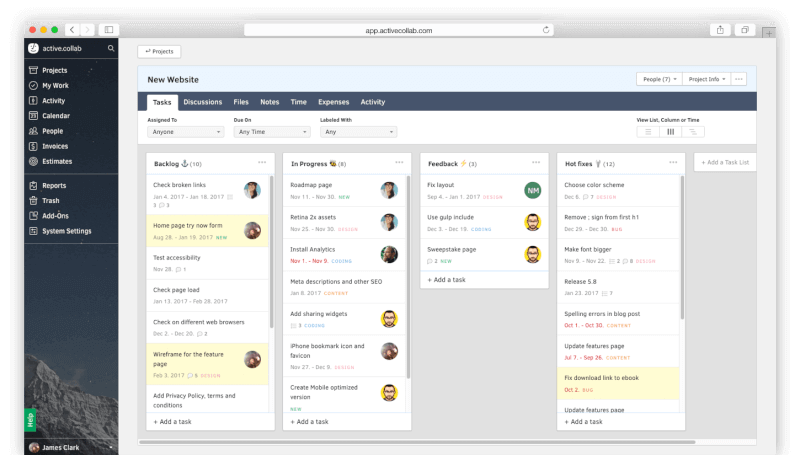 ActiveCollab helps your team stay organized when communicating through email is just not enough anymore.
Top features:
Time tracking and invoicing
Gantt-like timeline for planning
Kanban cards
Creating tasks with multiple users and deadlines
A shared team calendar for collaboration
What's interesting about this tool: ActiveCollab is especially great for collaboration, with functions like collaborative text editing and @mentions for communication.
Pricing: From $25/month for the cloud version, from $499 for the self-hosted version
Everything about your business, one click away
6. Insightly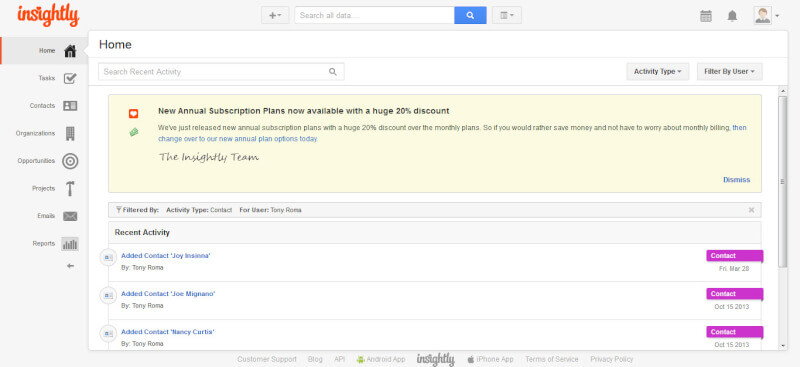 Insightly is a powerful CRM with a project and business management feature set.
Top features:
Manage leads, contacts, organizations, partners, vendors, and suppliers.
Track project activity and performance against milestones.
Look at your business any way you want with task dashboard, activity sets, reports and more.
What's special about this tool: Insightly CRM is tailored for any level of experience – from first time CRM users to sales experts.
Pricing: From $15 month/user for teams
7. Favro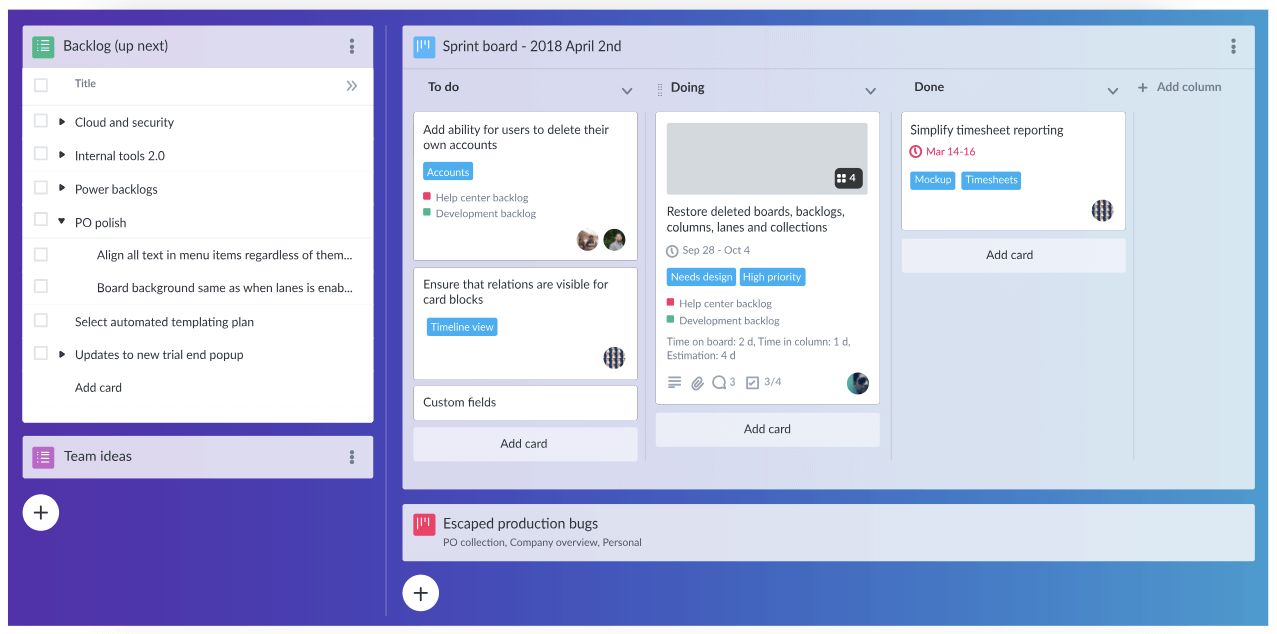 Favro is the planning and collaboration app for organizational flow. It helps organizations do what they excel at – making products and services that change the game.
Top features:
Plan projects of any size with ease by using multi-select, drag/drop and indent/outdent. Track progress at each level with aggregated summaries.
Favro comes with built-in support for Kanban, Scrum and more, and is heavily customizable. Everyone is free to plan and track progress the way they want to reach their goals.
A decentralized design means the app scales from a single team in a founder's garage to large companies with hundreds of teams.
What's special about this tool: Favro lets you build powerful reports that aggregate data from many teams and projects allowing you to improve the way you work continuously.
Pricing: From $34 month for 5 users (billed annually)
8. Clarizen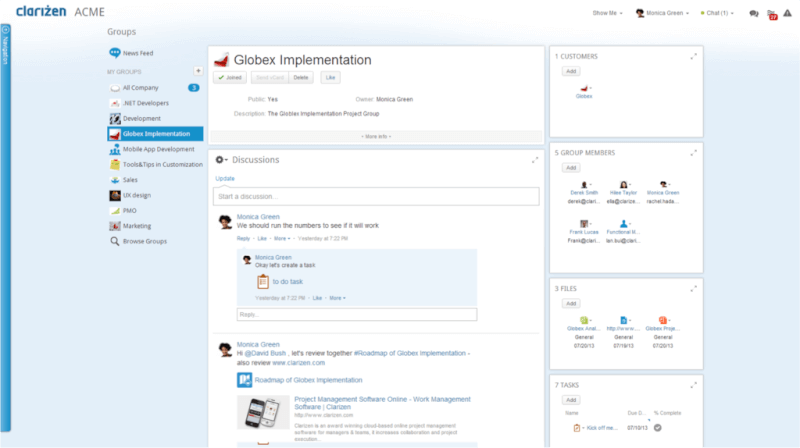 Clarizen's cloud-based project management software has a single goal: to help move your business forward.
Top features:
Unlimited number of projects
Automated and repeatable processes, alerts and workflows
Social collaboration
Budget tracking & expense management
What's special about this tool: Clarizen offers configurable workflows – customize Clarizen to fit how your enterprise does business, not the opposite.
Pricing: From $60 user/month
9. Copper Project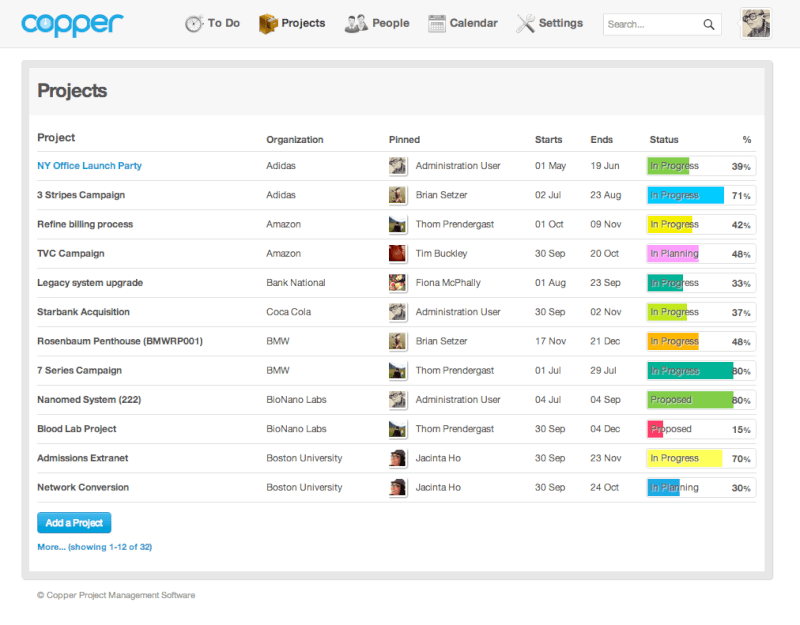 Copper Project simplifies work processes as an affordable, and invaluable executive tool, from large multi-national projects to small home-based ventures.
Top features:
Collaborative project and task views
Project templates
Task timers
File sharing
Pricing: From $49/month
10. Smartsheet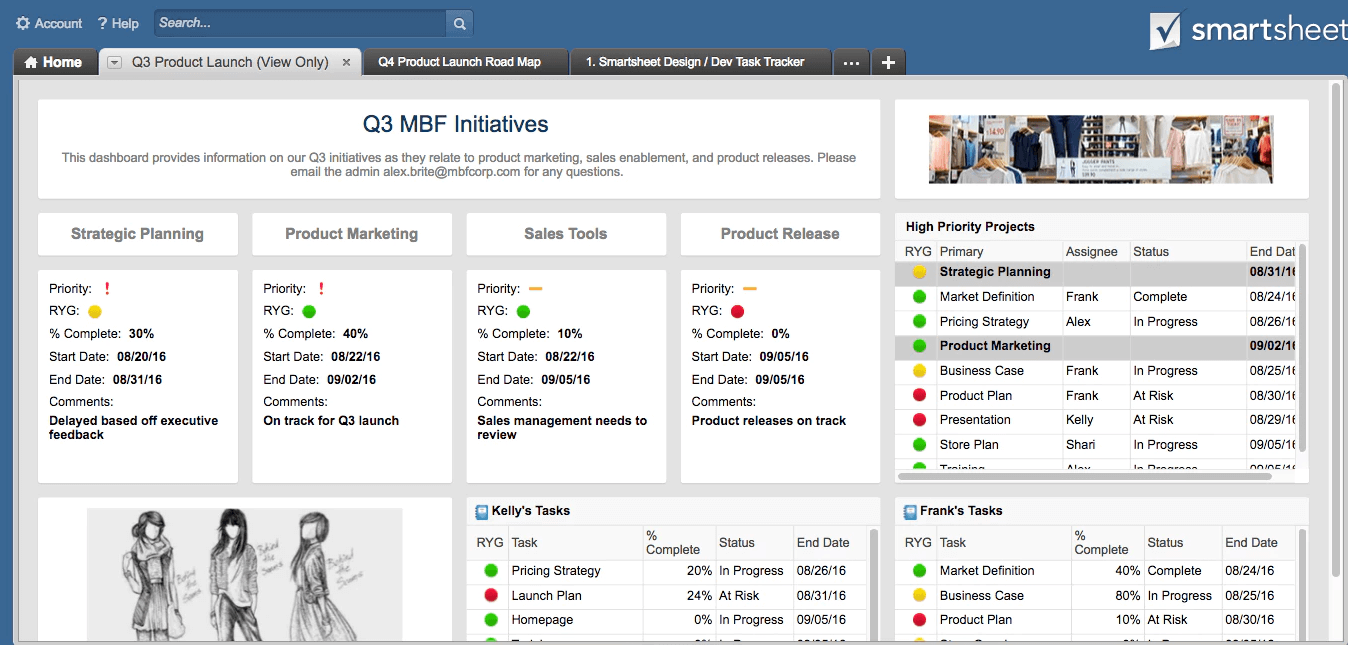 Smartsheet is excellent for managing and automating collaborative work.
Top features:
Project plans and schedule
Program rollups
Resource management
Budget tracking
Strategic planning
What's special about this tool: Named to the Forbes Cloud 100 list of the world's best cloud companies, customers like Netflix, Salesforce, the GSA, Google, and over half of the Fortune 500 use Smartsheet internally, with clients, and partners.
Pricing: From $15 month/user for teams
Check out this Smartsheet alternative!
Everything about your business, one click away
11. Celoxis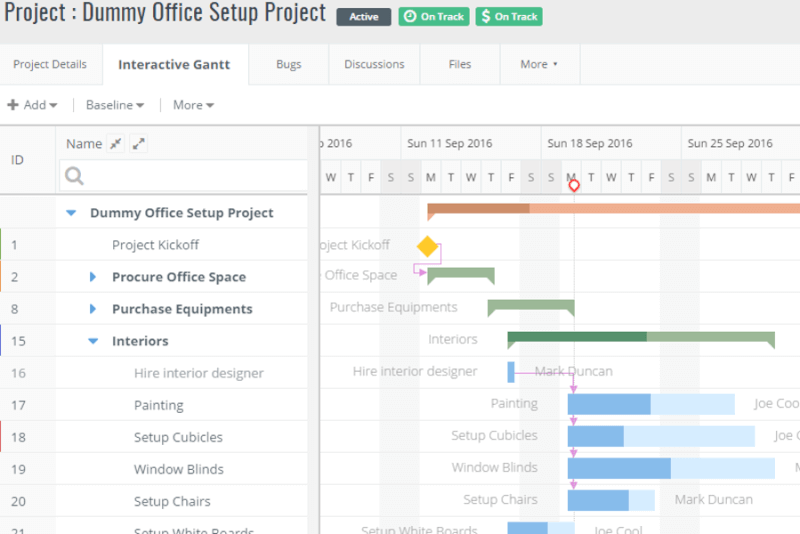 Celoxis offers a comprehensive project management software for enterprises.
Top features:
Advanced scheduling
Gantt charts
Project tracking
Financial management
Reporting analytics
Pricing: From $25 user/month for cloud solution, $450/user for on-premise solution
12. Easy Project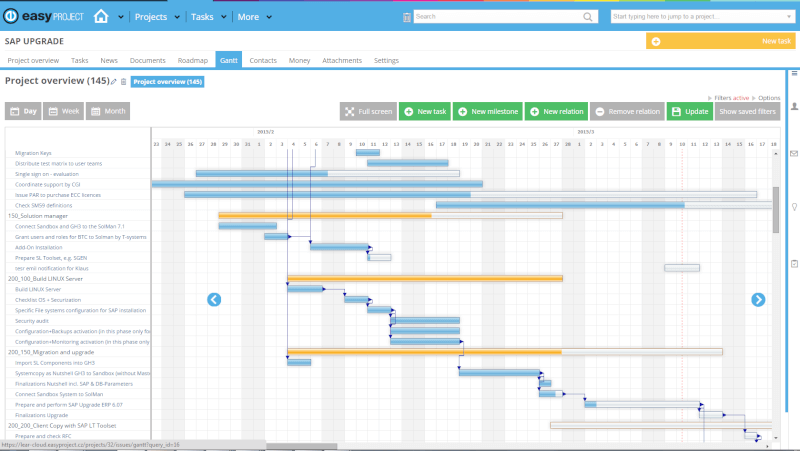 Easy Project is easy, visual and intuitive project management software.
Top features:
Gantt chart
Risk management
Portfolio management
Project templates
What's special about this tool: Easy Project is a fit for a number of different industries, from IT & software development to education or voluntary projects.
Pricing: From $49/month for up to 10 users (billed annually)
13. Advantage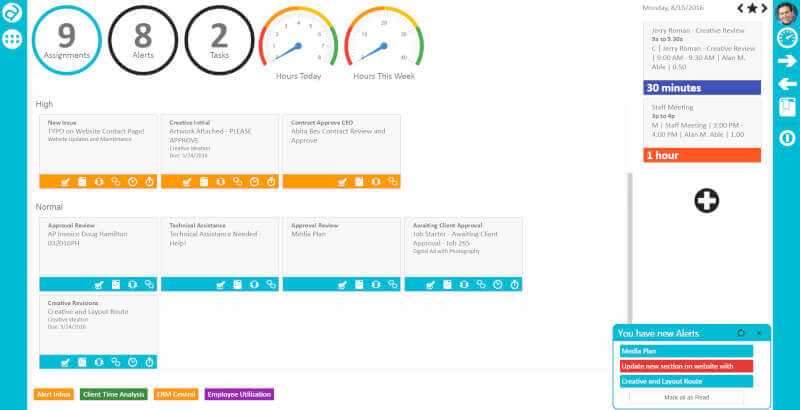 Advantage is a project management software designed for a great user experience –clean interface and simple functionality.
Top features:
Manage time, tasks, and expenses
Automate and expedite work
Manage media
Manage prospect and client activities
Get thorough reports and forecasts
What's special about this tool: Advantage is most suitable for agencies.
Pricing: Upon request
14. Airtable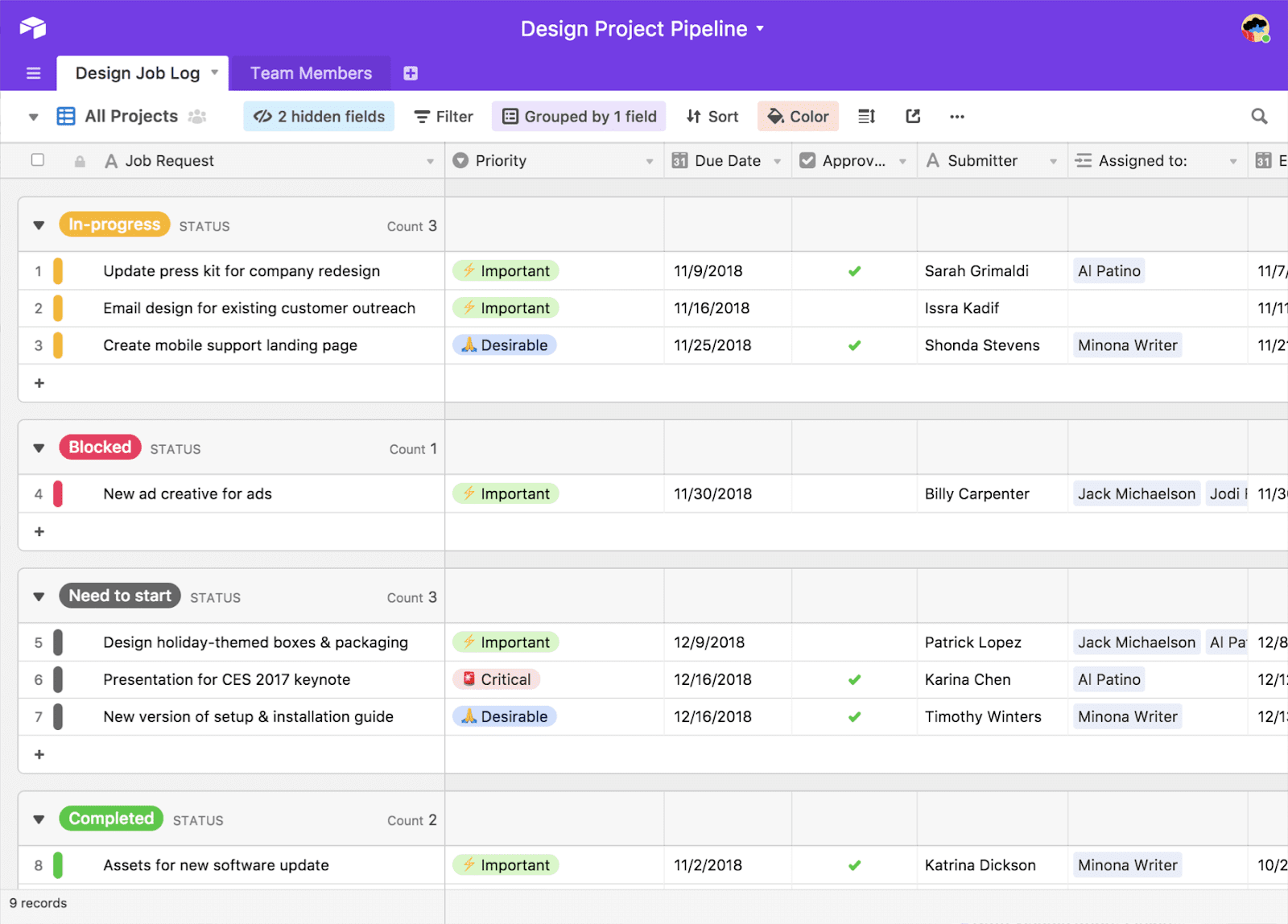 Part spreadsheet, part database, and entirely flexible, teams use Airtable to organize their work, their way.
Top features:
Airtable Blocks give you a creative palette of app-like functionality that you can mix and match to create the perfect workflow for your team.
Get started fast with templates built by industry experts.
Mobile and desktop apps make it easy to edit, comment, and collaborate in real time – changes are instantly synced across everyone's devices.
Powerful filtering, sorting, and grouping give you the freedom to arrange your work just the way you like. Choose the right views for your content, and save them for easy access at any time.
What's special about this tool: Airtable fields can handle any content you throw at them. Add attachments, long text notes, checkboxes, links to records in other tables –even barcodes. Whatever you need to stay organized.
Pricing: Free and paid plans from $10 month/user (if paid annually)
15. Freedcamp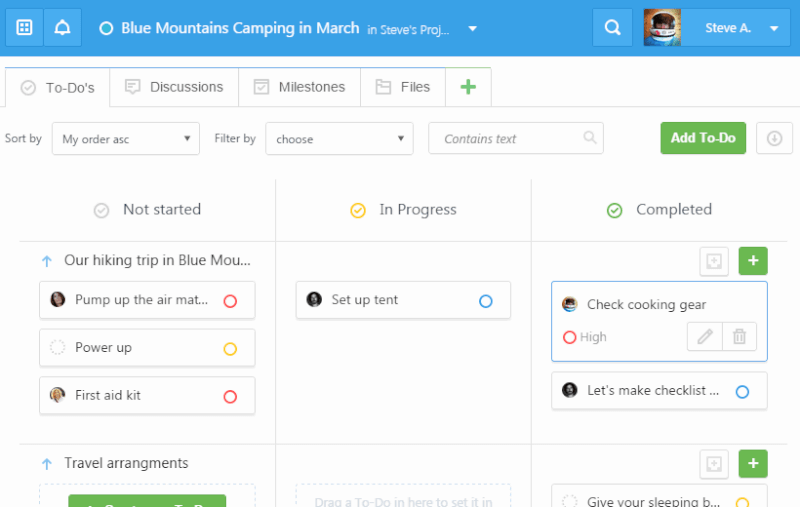 Freedcamp will help you, whether you have wedding plans, organizing a camping trip or leading a work project. Working from home or at the office.
Top features:
Task lists & status management
Shared team calendar
Project templates
Issue tracker
What's special about this tool: Like sticky notes? You're in luck! Freedcamp uses a Kanban board with sticky notes to manage tasks.
Pricing: Free plan, paid add-ons
16. Teamwork Projects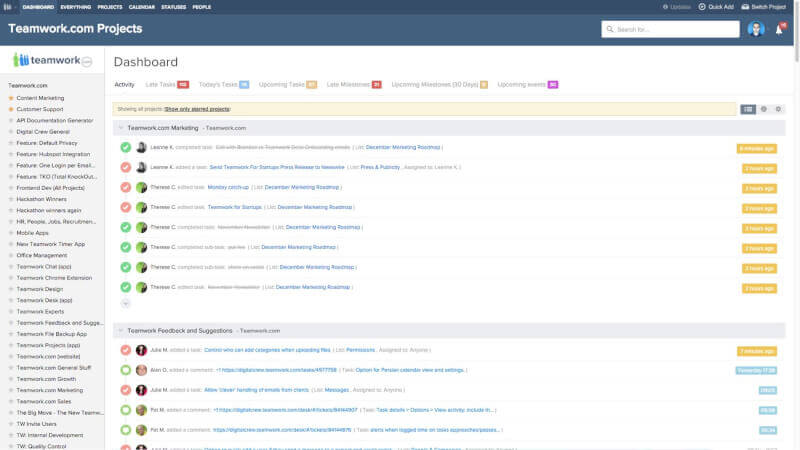 Teamwork Projects enhances team collaboration and helps creative teams to organize their work and tasks.
Top features:
Project planning on Gantt charts
Time tracking and reporting
Customizable features on each project
Task lists with sub-tasks
Milestone management
Comprehensive user permissions
Reporting
What's special about this tool: Teamwork Projects is easy to use and packed with features. The tool integrates seamlessly with Teamwork.com's other two products; Teamwork Desk and Teamwork Chat.
Pricing: From $49/month
17. Teamleader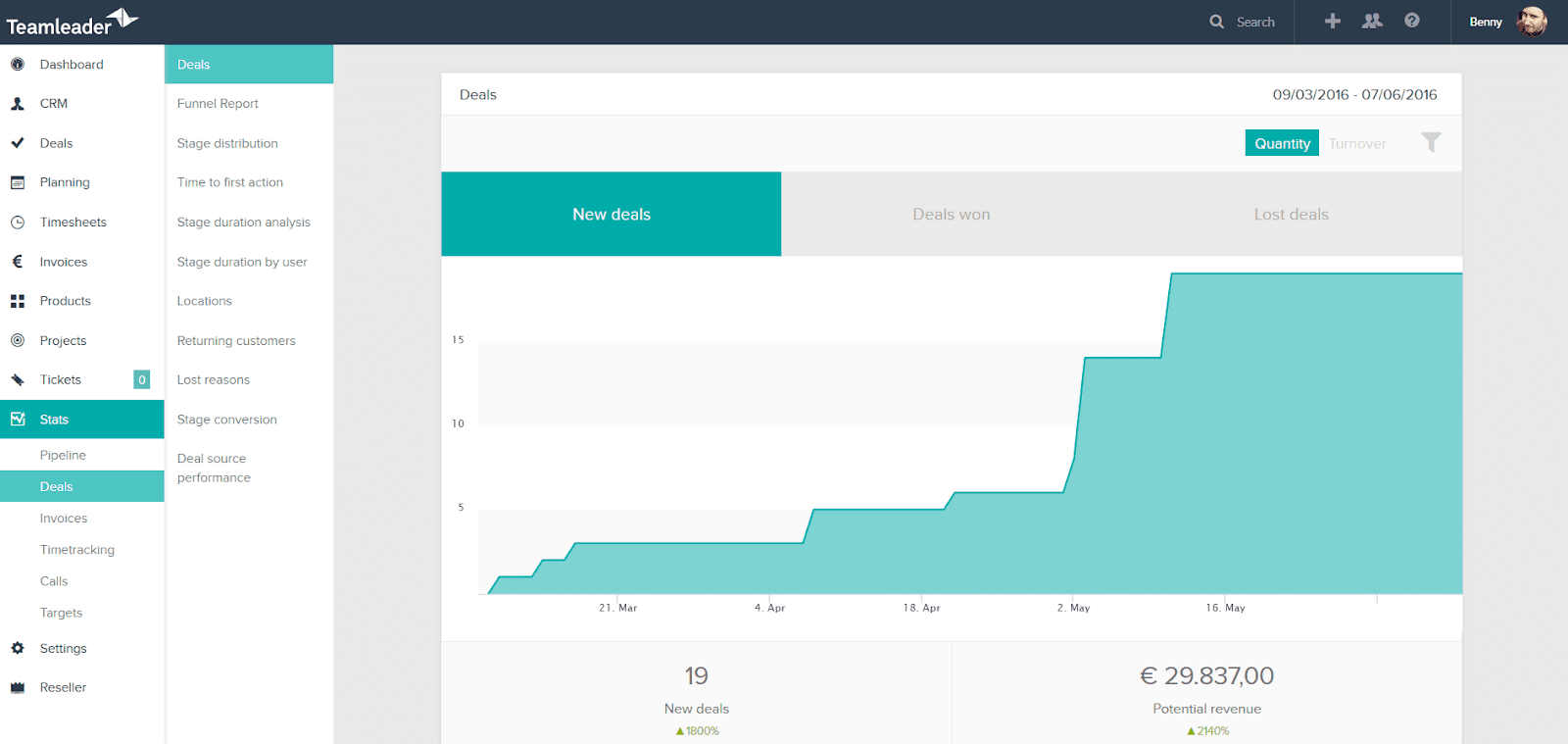 Teamleader is a one-stop-shop for CRM, invoicing, and project management.
Top features:
Manage all contacts from one place, get a clear overview, and build better relationships.
Schedule and track meetings, tasks and events for you or other team members.
Send invoices automatically and effortlessly, and keep track of their status in an instant.
Rapidly handle customer questions and deliver an outstanding customer experience.
Manage projects at the click of a mouse, respect deadlines & budgets and collaborate as a team.
What's special about this tool: Make and record calls directly from the CRM using just your internet connection: easy and hands-free.
Pricing: 21$ month/user (invoiced yearly)
18. Avaza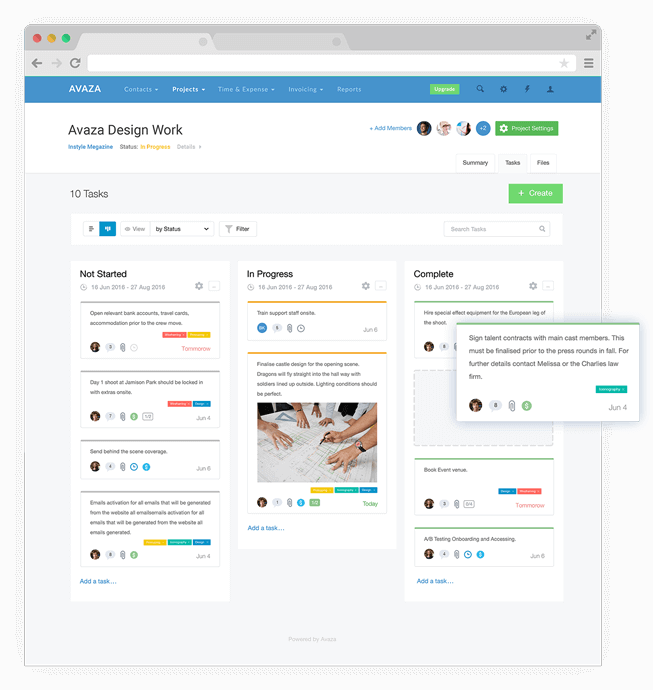 Avaza is a simple project management tool that lets you collaborate on projects with both your team and customers. In addition, you'll be able to track your time and bill your customers.
Top features:
Task management on a cardboard-style interface
Automatic task reminders
Flexible time tracking and timesheet approvals
Sending quotes & invoices in moments
What's special about this tool: Each project in Avaza has a user-friendly email address. Simply forward emails from your Avaza-registered email address to instantly convert these into tasks.
Pricing: Start free with up to 5 projects, $39.95/month for unlimited projects
Read on: 16 Best Employee Timesheet Software for Efficient Time Management
19. Clickup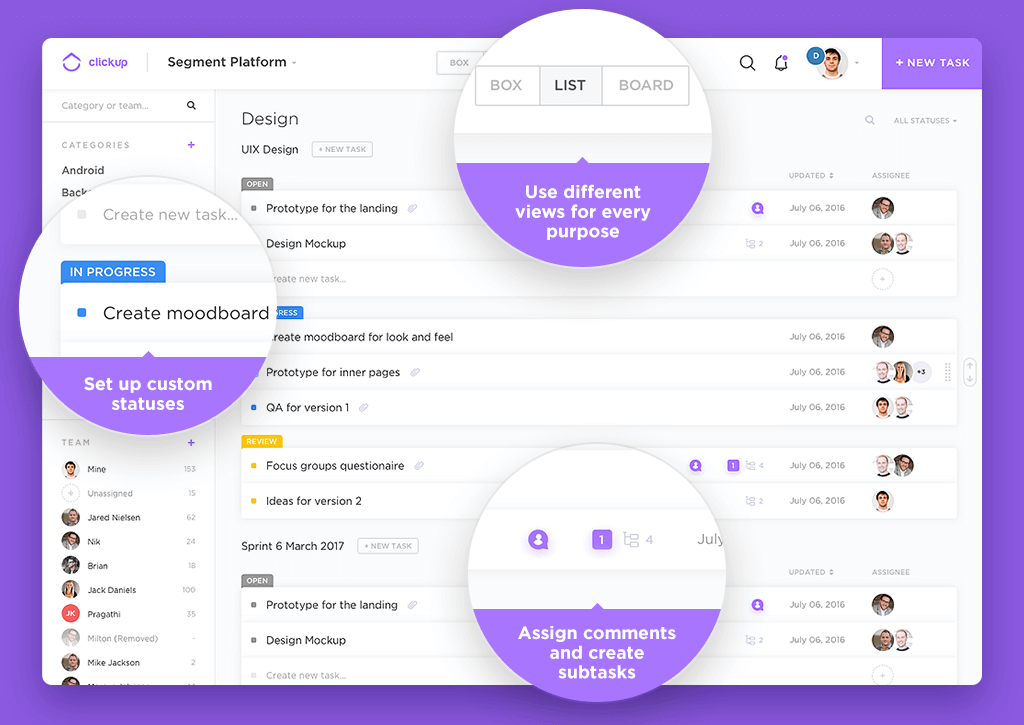 ClickUp is a project management platform that's focused on efficient task management. Built for teams of all sizes and industries, ClickUp's fully customizable features make it a must-have for agile teams that want to keep everything from design to development in one intuitive place.
Top features:
3 different views (Board, Box, List)
Assign comments
52 customizable features for each project (Statuses, Assignees, ClickUps)
Elegant hierarchy to keep projects simple as they grow
Tools like 'Smart Search' and 'Smart Estimates' make you more productive over time
What's special about this tool: ClickUp's beautiful design and unprecedented user experience in an otherwise dull space echoes what Slack did to communication.
Pricing: Free for up to 100MB, Premium for $5 user/month
Read more: Workplace Chat Is Killing Our Productivity
20. Microsoft Project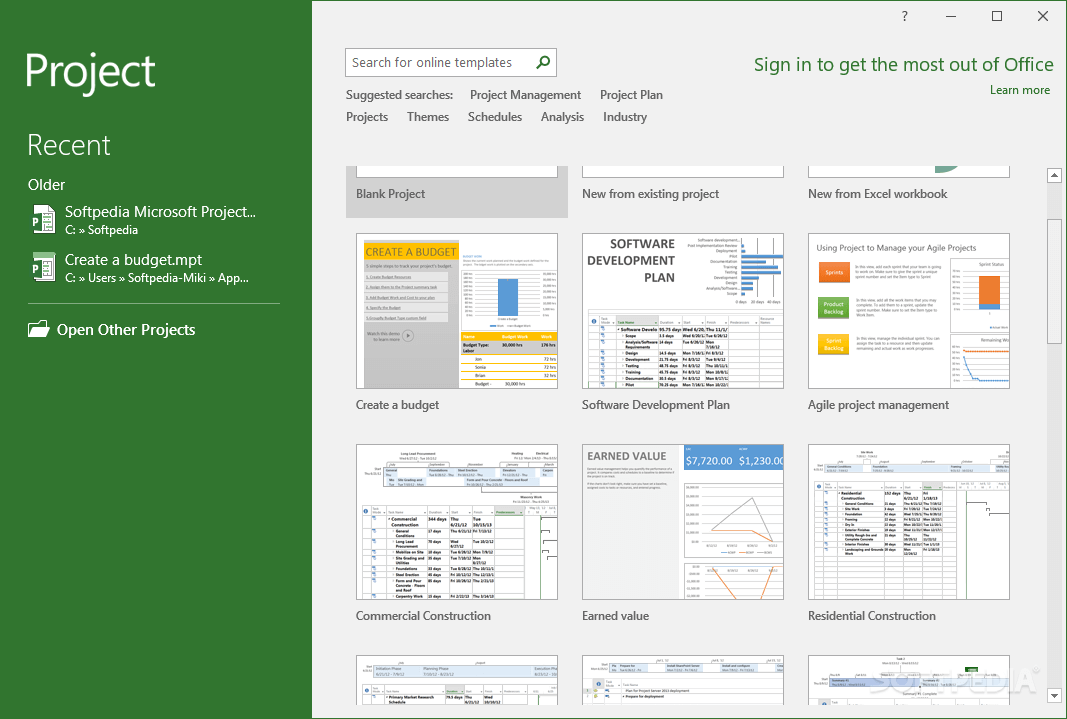 Microsoft Project helps to streamline project, resource, and portfolio management. This project tool is used by 20+ million users.
Top features:
Project scheduling & costing
Resource management
Reporting & business intelligence
Built-in project templates
Project timelines
Pricing: From $30 month/user for cloud platform, from $1,159 for on-premise software (for one PC)
Check out this Microsoft Project alternative!
21. LiquidPlanner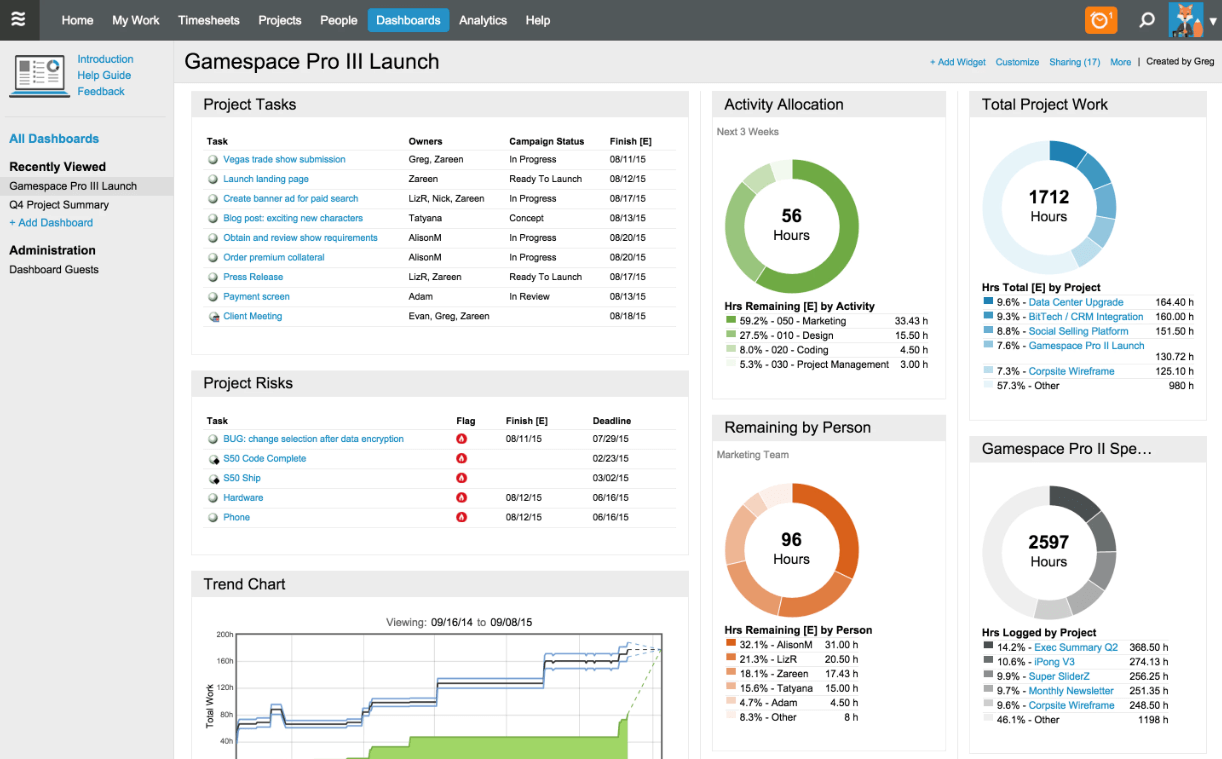 LiquidPlanner eliminates outdated plans, missed deadlines, and surprises so your team can get more done.
Top features:
Do you know who's available to work on your next project? LiquidPlanner's Resource Workload reports show how much work is on each team member's plate when they're working on it, and if they need help.
With everything in one place, you get instant insight into progress, risks, and budgets for all of your projects. Set expectations and share relevant information with the right audience.
Make time tracking simple for your team with integrated timers and timesheets. Billing and pay rates quantify the return on your team's time investments and help you make informed decisions.
What's special about this tool: Analyze your rich store of real-time workspace data to gain valuable insights. Easily build reports that show the status of a single project or the health of your entire portfolio.
Pricing: From $45 month/user with an annual contract
---
Further Reading