Work management
34 Best Wrike Alternatives for Work Management
Wrike is a work management solution with an extensive set of features. It helps to gain visibility into your work and projects, simplify planning, enable collaboration, and streamline workflow. However, it's not always the best solution for businesses looking for end-to-end work management software.
Whether you need more features such as quoting, billing or time tracking, or just a more agile and customizable solution – here's a look at the best Wrike competitors on the market.
Check out their top features, pricing, and what's special about them – and find a solution fit for your business.
---
Every Wrike alternative listed here:
? Has unique features that stand out from other business management tools
☝️ Is by a trustworthy provider, with regular updates and high security
? Is relatively easy to use with reasonably short setup time
---
1.  Scoro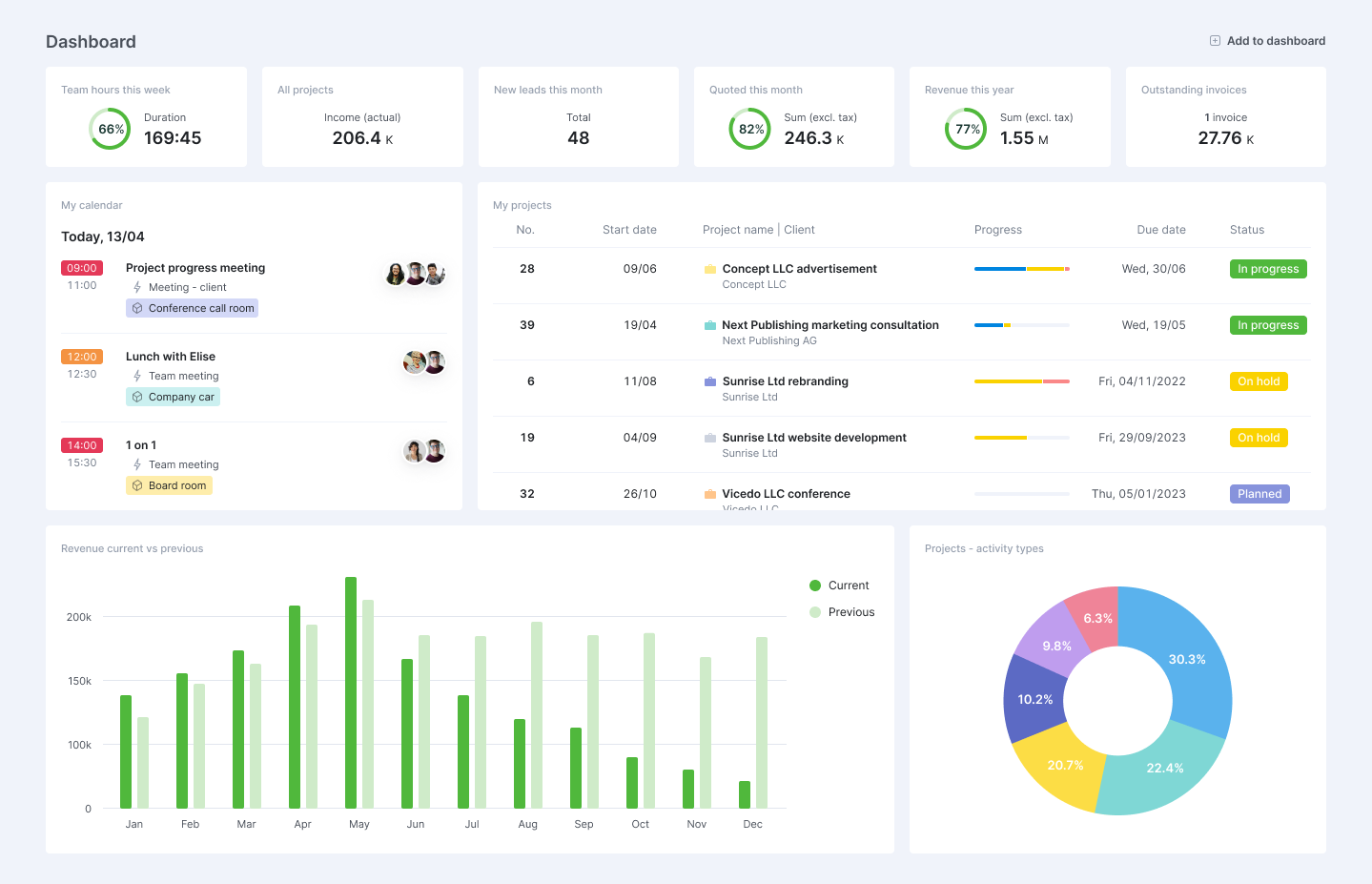 Scoro is a comprehensive solution that combines all the features you might need to manage your business: projects & tasks, contact management, quotes, team collaboration, billing, and reporting.
Top features:
Get a complete overview of any project on one page, including time spent and billed, planned tasks and meetings, invoices and expenses, comments and files.
Assign and delegate tasks within the team.
See everyone's schedule in a shared team calendar and know what they're working on.
Create a company-wide contact base, and manage them in a pipeline view for effective communication and billing.
Compile and send quotes and invoices – and automate overdue reminders.
Track your company's performance and important KPIs on a beautiful dashboard with real-time data.
What's special about this tool: Scoro helps to streamline your entire work progress, so you don't need to use a lot of different tools for every task. All your important information is stored in one central place.
Pricing: From $26 user/month, with a 14-day free trial
2. Proofhub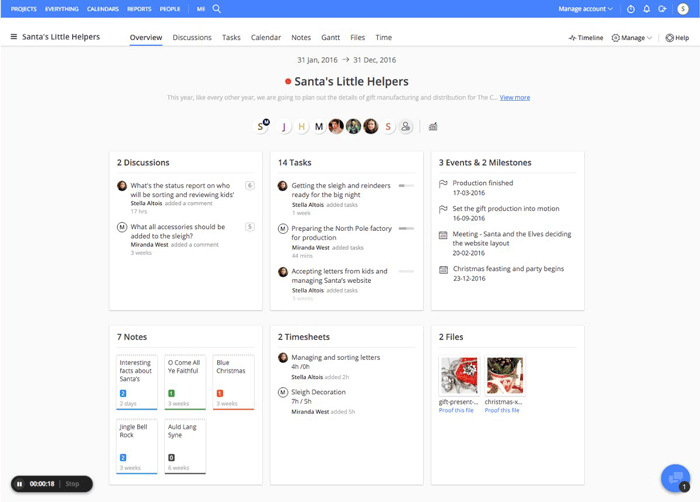 ProofHub offers a replacement for conventional emailing and a bunch of other tools, integrating multiple project management features under one roof.
Top features:
Assigned user roles
Online team discussions and chats
Task delegating and assignments
Reporting and tracking project history
Secure file storage
What's special about this tool: ProofHub has a simple and well-designed user interface that helps the team to collaborate more efficiently.
Pricing: From $20/month (up to 10 projects) to $150/month (unlimited projects)
3. Basecamp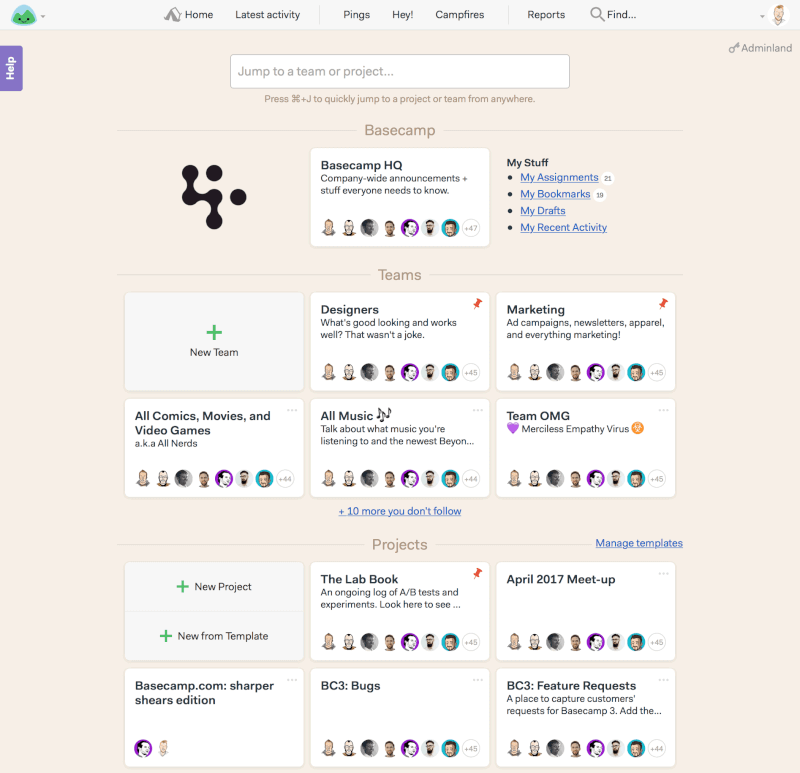 Basecamp is the preferred tool for thousands of project management teams, who enjoy its modern interface and carefree team collaboration features.
Top features:
Projects to manage multiple users' work
Message boards for discussing new projects or ideas
In-app collaboration with the team
Reporting on project performance
Separate dashboard for showing to clients
Email and desktop notifications
What's special about this tool: Basecamp is free for teachers and students!
Price: $99/month for unlimited users
Read on: Basecamp Alternative for Project Management and Collaboration
4. ActiveCollab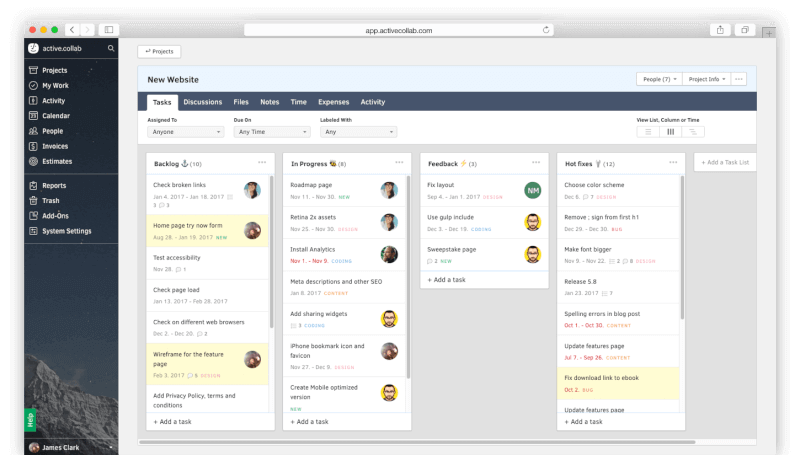 ActiveCollab helps your team stay organized when communicating through email is just not enough anymore.
Top features:
Time tracking and invoicing
Gantt-like timeline for planning
Kanban cards
Creating tasks with multiple users and deadlines
A shared team calendar for collaboration
What's interesting about this tool: ActiveCollab is especially great for collaboration, with functions like collaborative text editing and @mentions for communication.
Pricing: From $25/month for the cloud version, from $499 for the self-hosted version
Everything about your business, one click away
6. Insightly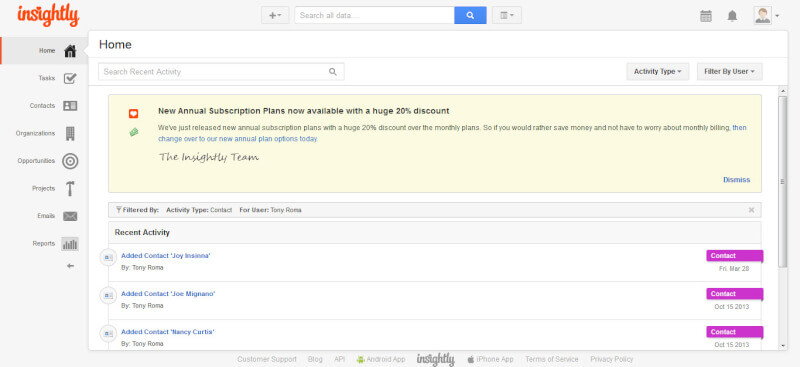 Insightly is a powerful CRM with a project and business management feature set.
Top features:
Manage leads, contacts, organizations, partners, vendors, and suppliers.
Track project activity and performance against milestones.
Look at your business any way you want with task dashboard, activity sets, reports and more.
What's special about this tool: Insightly CRM is tailored for any level of experience – from first time CRM users to sales experts.
Pricing: From $15 month/user for teams
7. Favro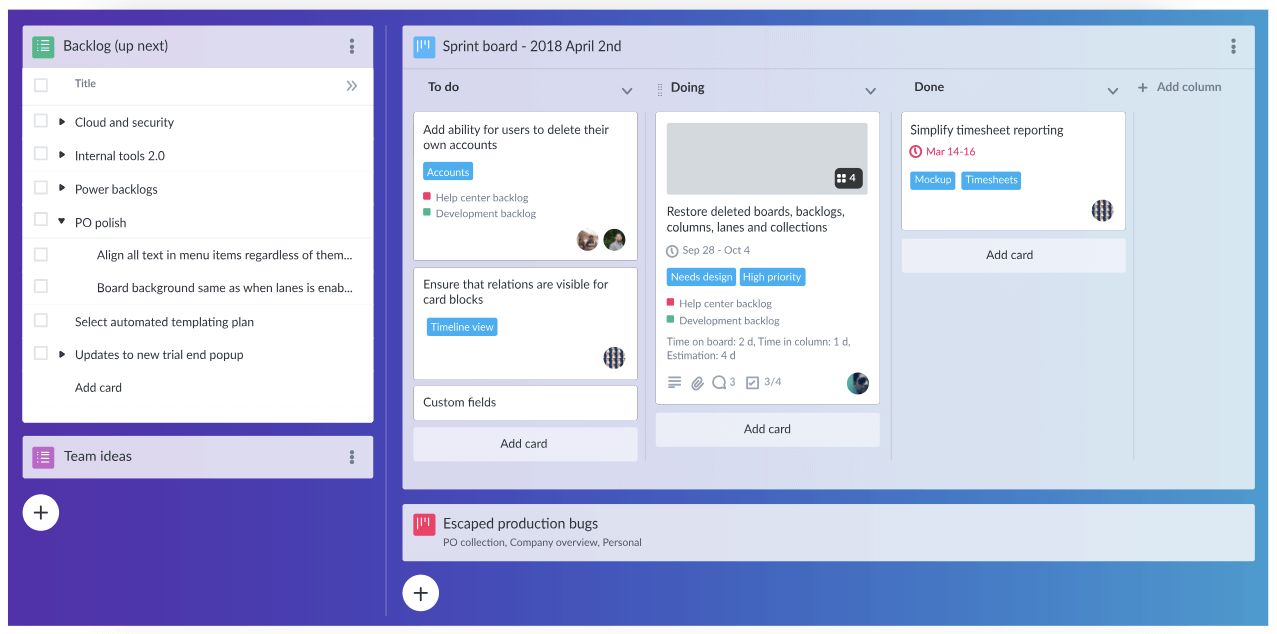 Favro is the planning and collaboration app for organizational flow. It helps organizations do what they excel at – making products and services that change the game.
Top features:
Plan projects of any size with ease by using multi-select, drag/drop and indent/outdent. Track progress at each level with aggregated summaries.
Favro comes with built-in support for Kanban, Scrum and more, and is heavily customizable. Everyone is free to plan and track progress the way they want to reach their goals.
A decentralized design means the app scales from a single team in a founder's garage to large companies with hundreds of teams.
What's special about this tool: Favro lets you build powerful reports that aggregate data from many teams and projects allowing you to improve the way you work continuously.
Pricing: From $34 month for 5 users (billed annually)
8. Clarizen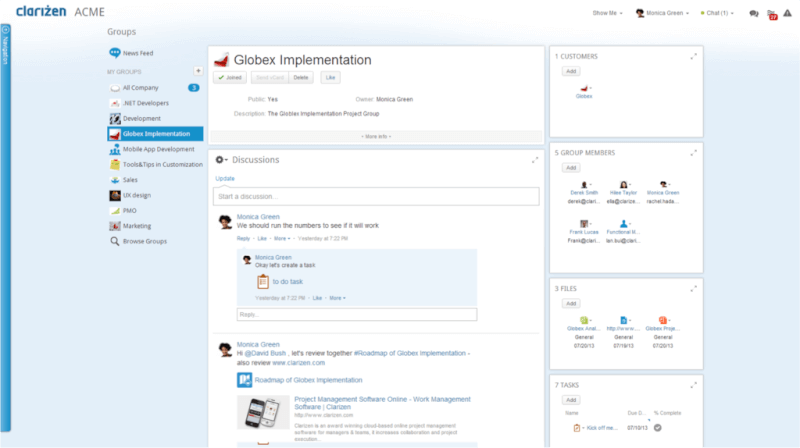 Clarizen's cloud-based project management software has a single goal: to help move your business forward.
Top features:
Unlimited number of projects
Automated and repeatable processes, alerts and workflows
Social collaboration
Budget tracking & expense management
What's special about this tool: Clarizen offers configurable workflows – customize Clarizen to fit how your enterprise does business, not the opposite.
Pricing: From $60 user/month
9. Copper Project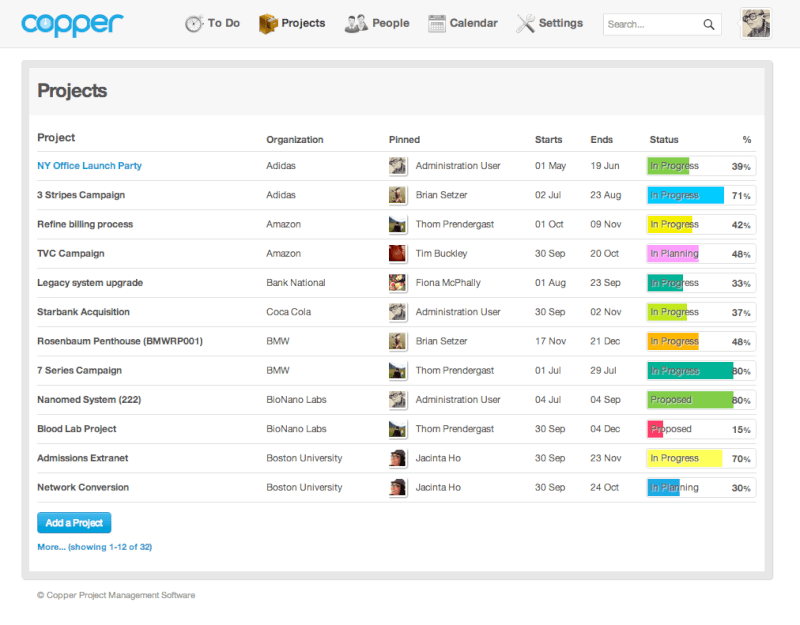 Copper Project simplifies work processes as an affordable, and invaluable executive tool, from large multi-national projects to small home-based ventures.
Top features:
Collaborative project and task views
Project templates
Task timers
File sharing
Pricing: From $49/month
10. Smartsheet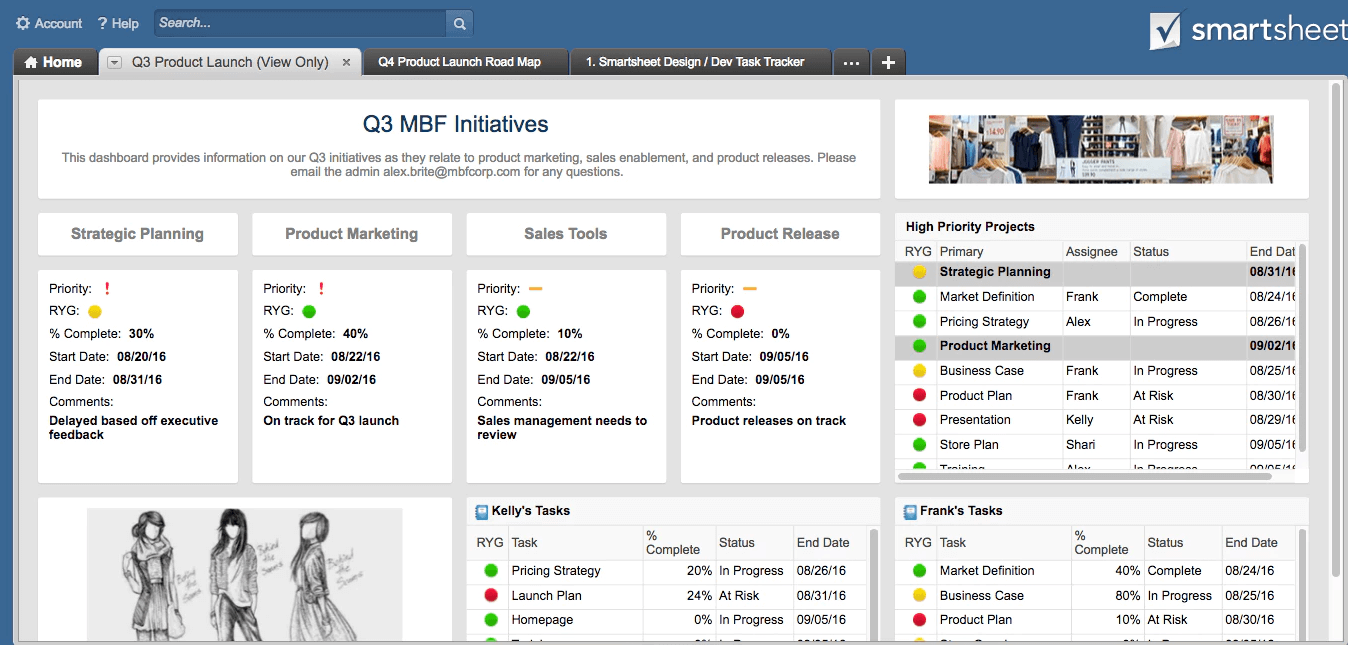 Smartsheet is excellent for managing and automating collaborative work.
Top features:
Project plans and schedule
Program roll-ups
Resource management
Budget tracking
Strategic planning
What's special about this tool: Named to the Forbes Cloud 100 list of the world's best cloud companies, customers like Netflix, Salesforce, the GSA, Google, and over half of the Fortune 500 use Smartsheet internally, with clients, and partners.
Pricing: From $15 month/user for teams
Check out these Smartsheet alternatives!
Everything about your business, one click away
11. Celoxis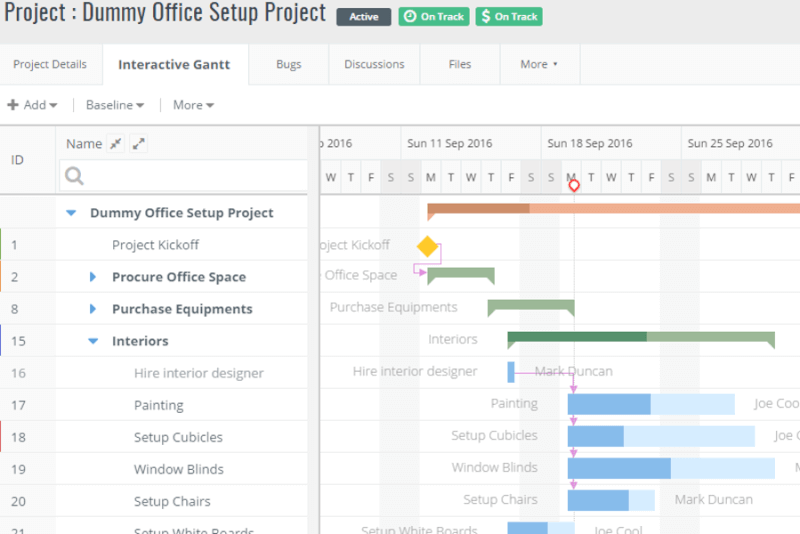 Celoxis offers a comprehensive project management software for enterprises.
Top features:
Advanced scheduling
Gantt charts
Project tracking
Financial management
Reporting analytics
Pricing: From $25 user/month for cloud solution, $450/user for on-premise solution
12. Easy Project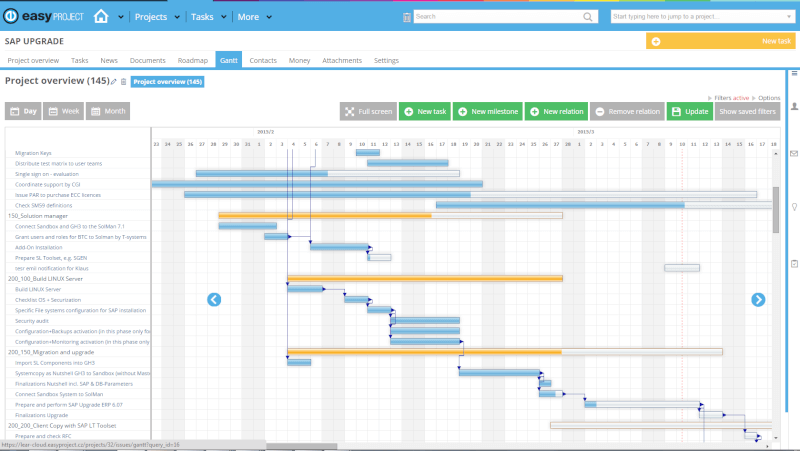 Easy Project is easy, visual and intuitive project management software.
Top features:
Gantt chart
Risk management
Portfolio management
Project templates
What's special about this tool: Easy Project is a fit for a number of different industries, from IT & software development to education or voluntary projects.
Pricing: From $49/month for up to 10 users (billed annually)
13. Advantage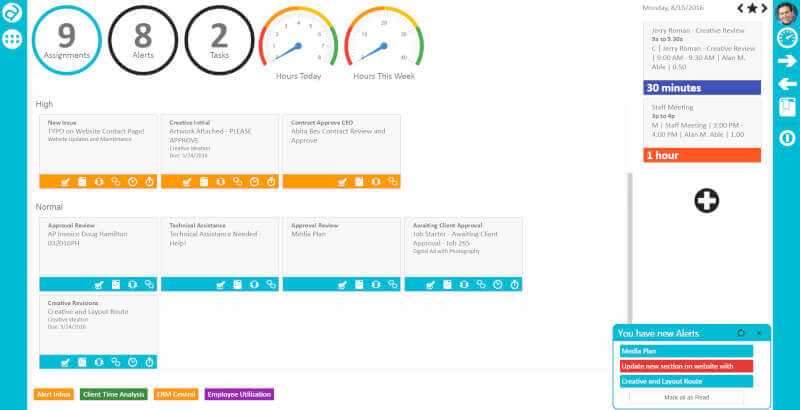 Advantage is a project management software designed for a great user experience –clean interface and simple functionality.
Top features:
Manage time, tasks, and expenses
Automate and expedite work
Manage media
Manage prospect and client activities
Get thorough reports and forecasts
What's special about this tool: Advantage is most suitable for agencies.
Pricing: Upon request
14. Airtable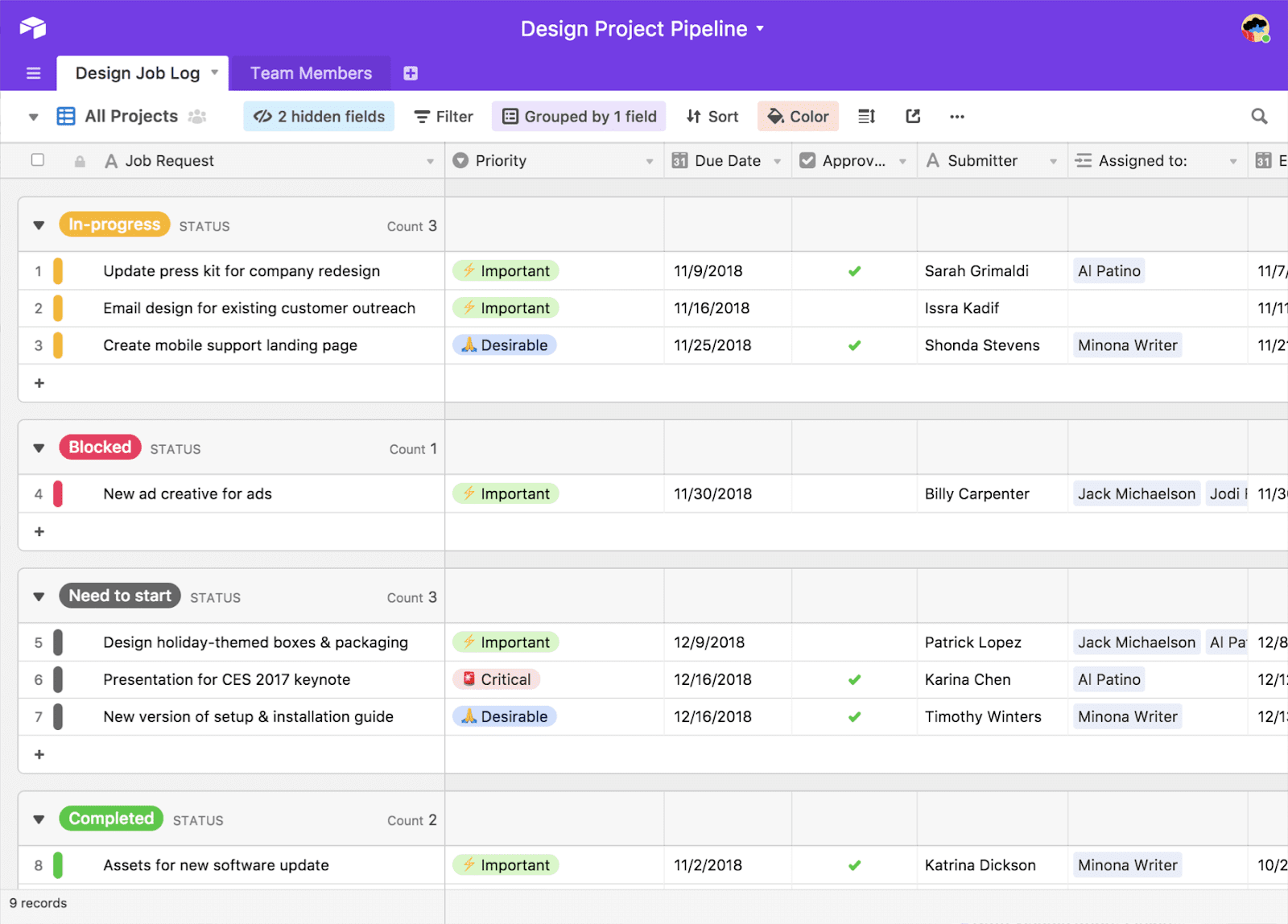 Part spreadsheet, part database, and entirely flexible, teams use Airtable to organize their work, their way.
Top features:
Airtable Blocks give you a creative palette of app-like functionality that you can mix and match to create the perfect workflow for your team.
Get started fast with templates built by industry experts.
Mobile and desktop apps make it easy to edit, comment, and collaborate in real time – changes are instantly synced across everyone's devices.
Powerful filtering, sorting, and grouping give you the freedom to arrange your work just the way you like. Choose the right views for your content, and save them for easy access at any time.
What's special about this tool: Airtable fields can handle any content you throw at them. Add attachments, long text notes, checkboxes, links to records in other tables –even barcodes. Whatever you need to stay organized.
Pricing: Free and paid plans from $10 month/user (if paid annually)
15. Freedcamp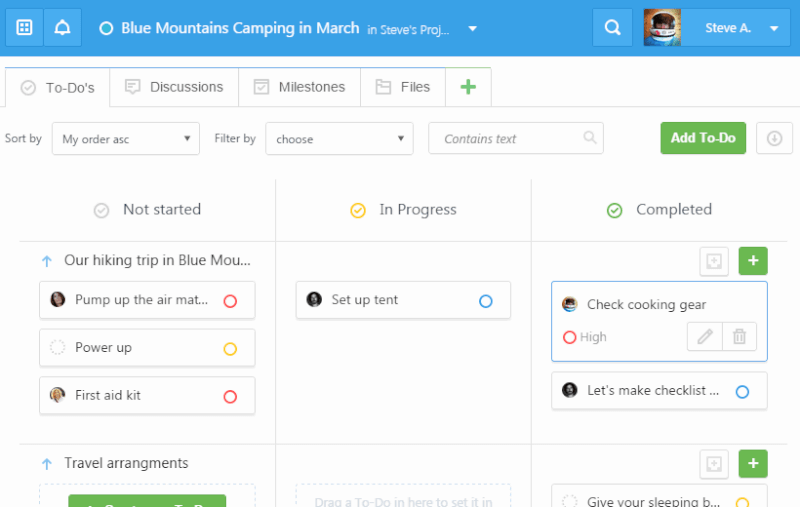 Freedcamp will help you, whether you have wedding plans, organizing a camping trip or leading a work project. Working from home or at the office.
Top features:
Task lists & status management
Shared team calendar
Project templates
Issue tracker
What's special about this tool: Like sticky notes? You're in luck! Freedcamp uses a Kanban board with sticky notes to manage tasks.
Pricing: Free plan, paid add-ons
16. Teamwork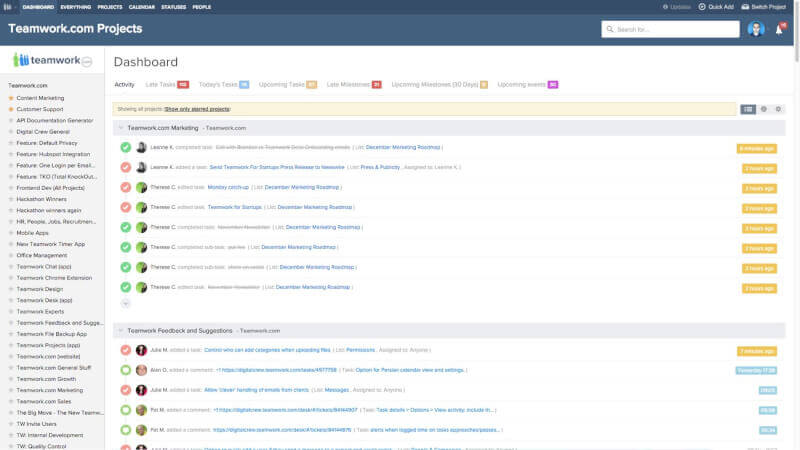 Teamwork enhances team collaboration and helps creative teams to organize their work and tasks.
Top features:
Project planning on Gantt charts
Time tracking and reporting
Customizable features on each project
Task lists with sub-tasks
Milestone management
Comprehensive user permissions
Reporting
What's special about this tool: Teamwork Projects is easy to use and packed with features. The tool integrates seamlessly with Teamwork.com's other two products; Teamwork Desk and Teamwork Chat.
Pricing: From $49/month
Read more: 16 Best Teamwork Alternatives For Work Management.
17. Teamleader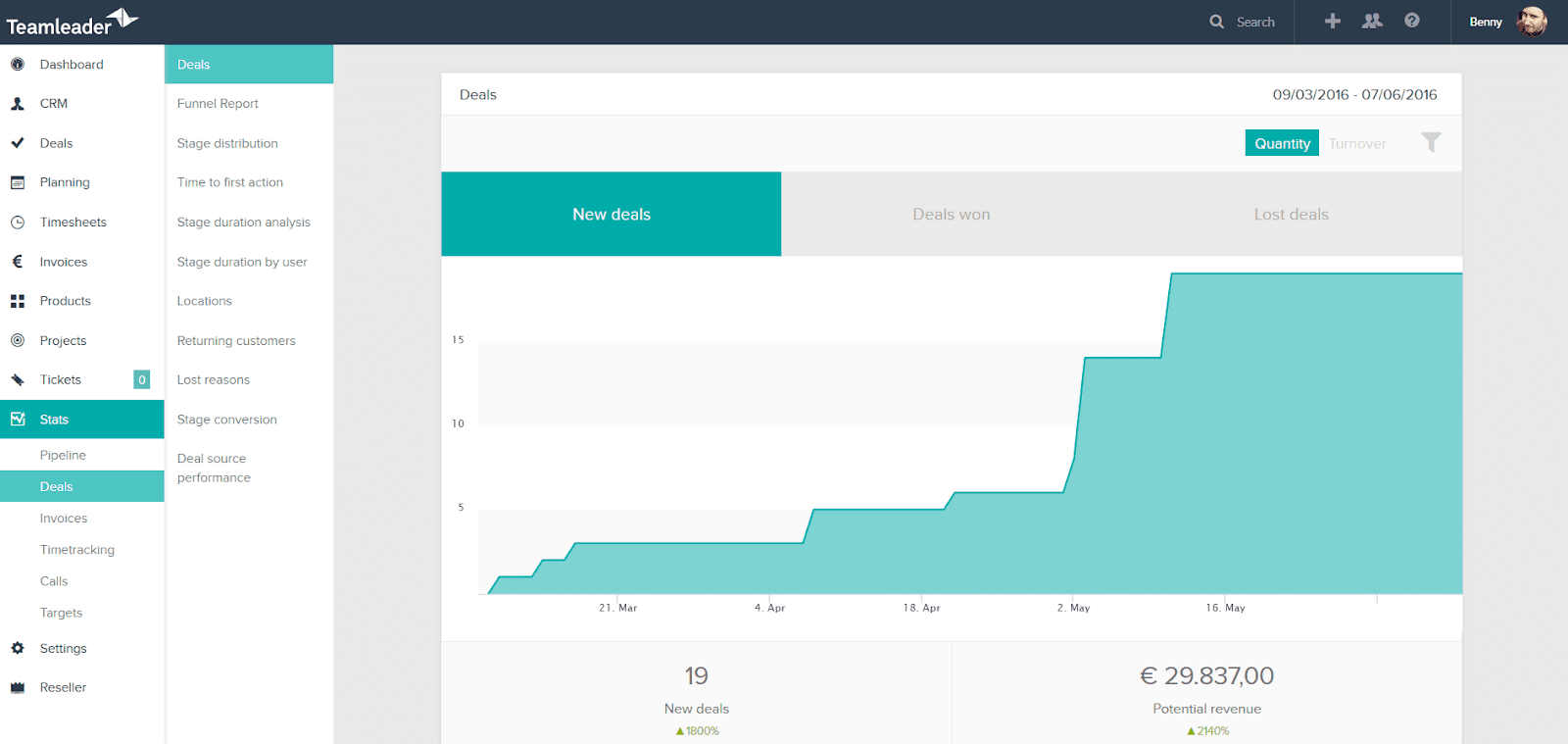 Teamleader is a one-stop-shop for CRM, invoicing, and project management.
Top features:
Manage all contacts from one place, get a clear overview, and build better relationships.
Schedule and track meetings, tasks and events for you or other team members.
Send invoices automatically and effortlessly, and keep track of their status in an instant.
Rapidly handle customer questions and deliver an outstanding customer experience.
Manage projects at the click of a mouse, respect deadlines & budgets and collaborate as a team.
What's special about this tool: Make and record calls directly from the CRM using just your internet connection: easy and hands-free.
Pricing: 21$ month/user (invoiced yearly)
18. Avaza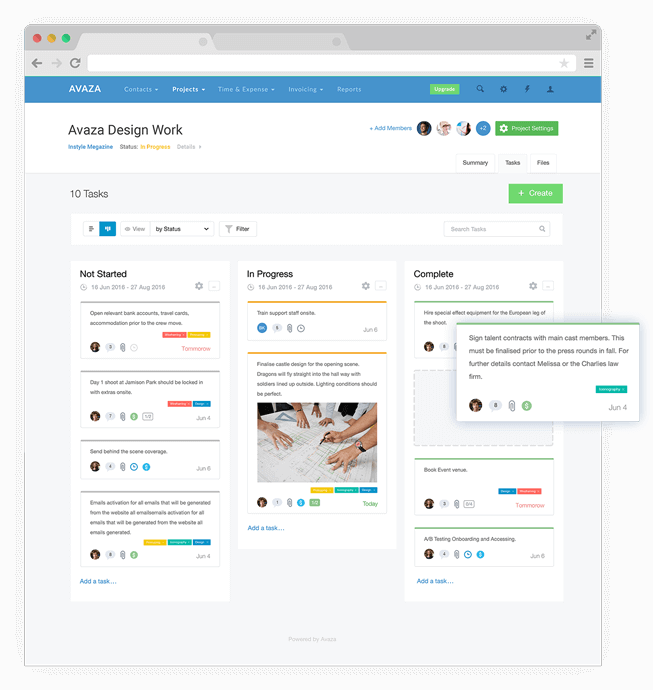 Avaza is a simple project management tool that lets you collaborate on projects with both your team and customers. In addition, you'll be able to track your time and bill your customers.
Top features:
Task management on a cardboard-style interface
Automatic task reminders
Flexible time tracking and timesheet approvals
Sending quotes & invoices in moments
What's special about this tool: Each project in Avaza has a user-friendly email address. Simply forward emails from your Avaza-registered email address to instantly convert these into tasks.
Pricing: Start free with up to 5 projects, $39.95/month for unlimited projects
19. Clickup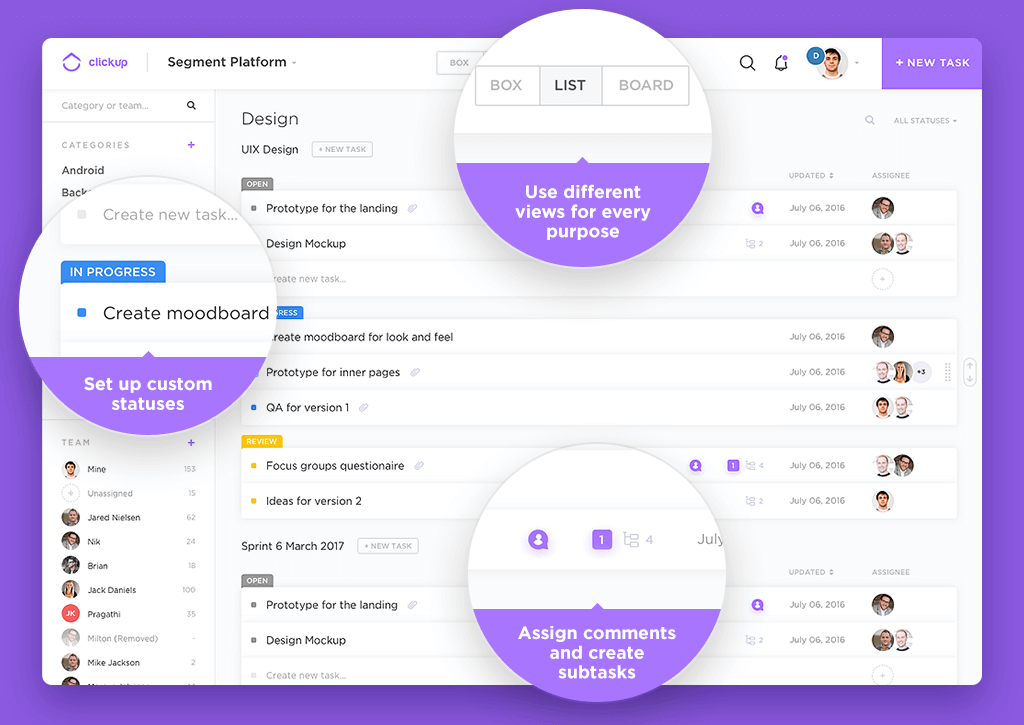 ClickUp is a project management platform that's focused on efficient task management. Built for teams of all sizes and industries, ClickUp's fully customizable features make it a must-have for agile teams that want to keep everything from design to development in one intuitive place.
Top features:
3 different views (Board, Box, List)
Assign comments
52 customizable features for each project (Statuses, Assignees, ClickUps)
Elegant hierarchy to keep projects simple as they grow
Tools like 'Smart Search' and 'Smart Estimates' make you more productive over time
What's special about this tool: ClickUp's beautiful design and unprecedented user experience in an otherwise dull space echoes what Slack did to communication.
Pricing: Free for up to 100 MB, Premium for $5 user/month
Read more: 37 best ClickUp alternatives.
20. Microsoft Project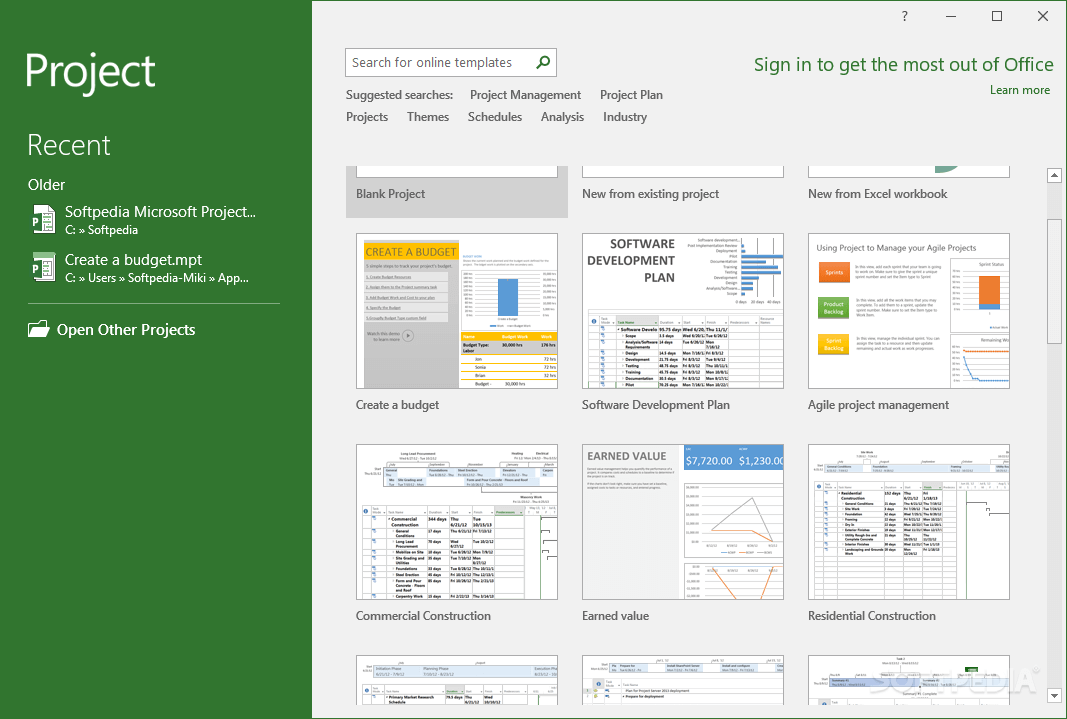 Microsoft Project helps to streamline project, resource, and portfolio management. This project tool is used by 20+ million users.
Top features:
Project scheduling & costing
Resource management
Reporting & business intelligence
Built-in project templates
Project timelines
Pricing: From $30 month/user for cloud platform, from $1,159 for on-premise software (for one PC)
Check out this Microsoft Project alternative!
21. LiquidPlanner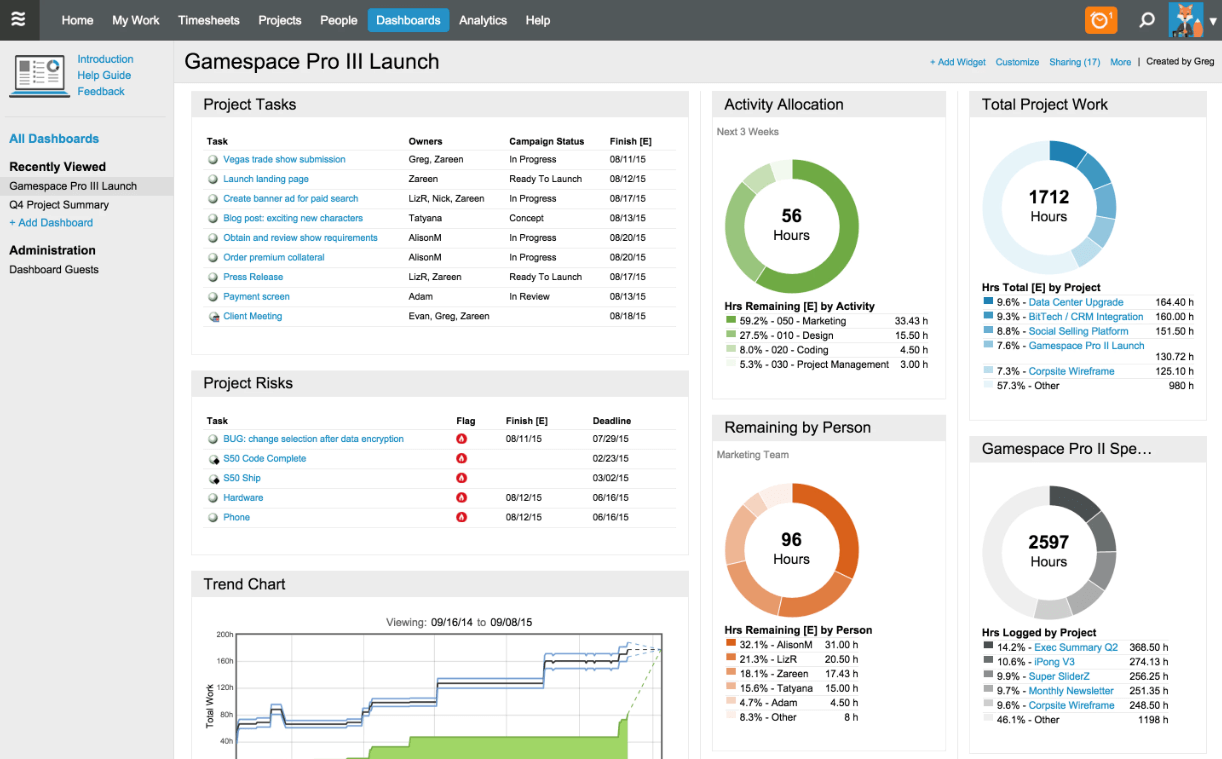 LiquidPlanner eliminates outdated plans, missed deadlines, and surprises so your team can get more done.
Top features:
Do you know who's available to work on your next project? LiquidPlanner's Resource Workload reports show how much work is on each team member's plate when they're working on it, and if they need help.
With everything in one place, you get instant insight into progress, risks, and budgets for all of your projects. Set expectations and share relevant information with the right audience.
Make time tracking simple for your team with integrated timers and timesheets. Billing and pay rates quantify the return on your team's time investments and help you make informed decisions.
What's special about this tool: Analyze your rich store of real-time workspace data to gain valuable insights. Easily build reports that show the status of a single project or the health of your entire portfolio.
Pricing: From $45 month/user with an annual contract
22. Taimer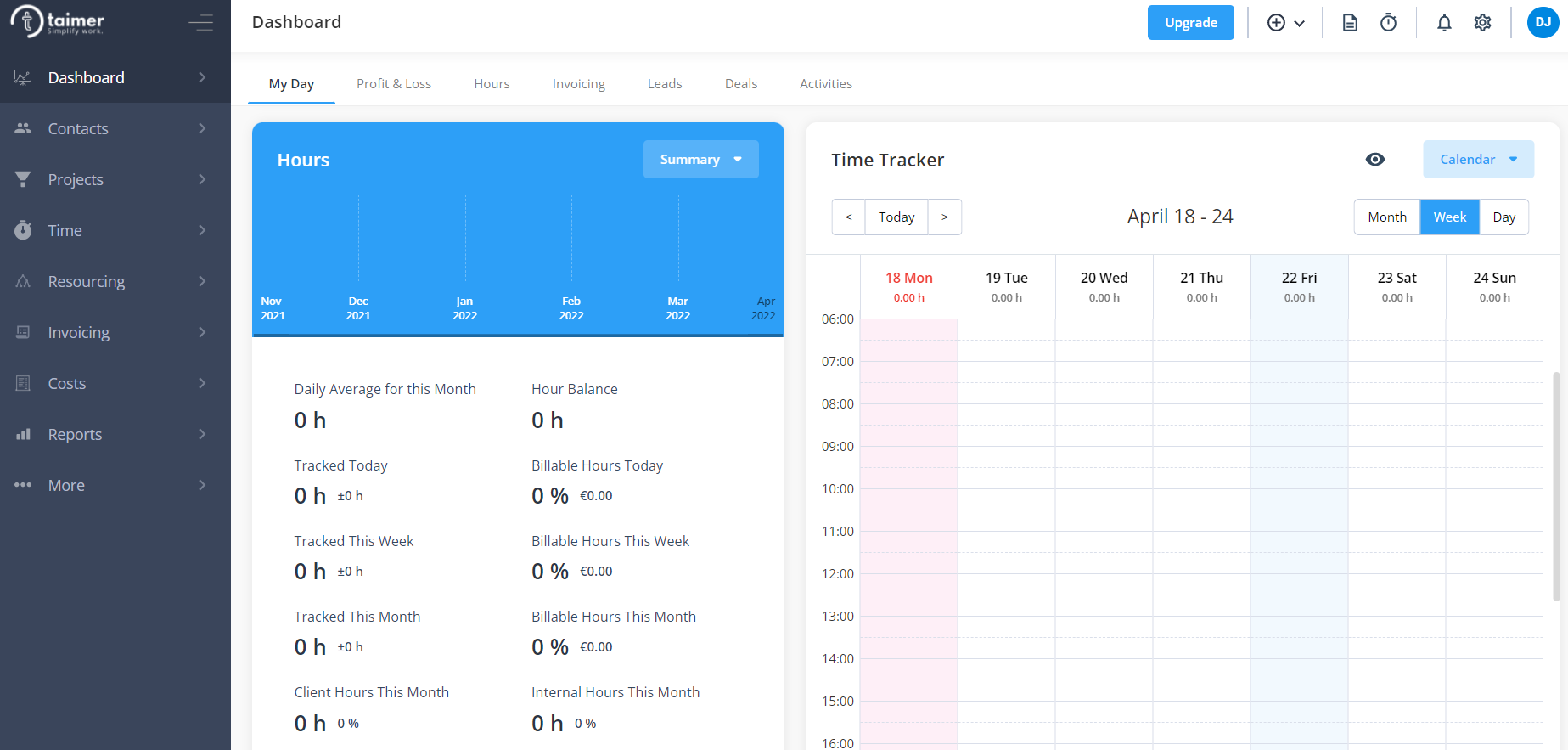 Taimer is an all-in-one business management solution. This work management tool is designed to help businesses sell more, simplify their work, and get paid faster. It allows you to focus on selling, reach your targets, and deliver projects on budget and time.
Top features:
The project management tool allows you to deliver projects on time and within budget while managing finances
The time tracking and resourcing tools help you schedule resources smartly, track hours and optimize the time used
The collaboration tool helps streamline workflow, strengthen communication, and create automated project threads
The CRM system manages contacts and accounts
The sales pipeline management tool helps create customizable pipelines, schedule sales activities, and gives a 360-degree overview of sales
23. Citrix Podio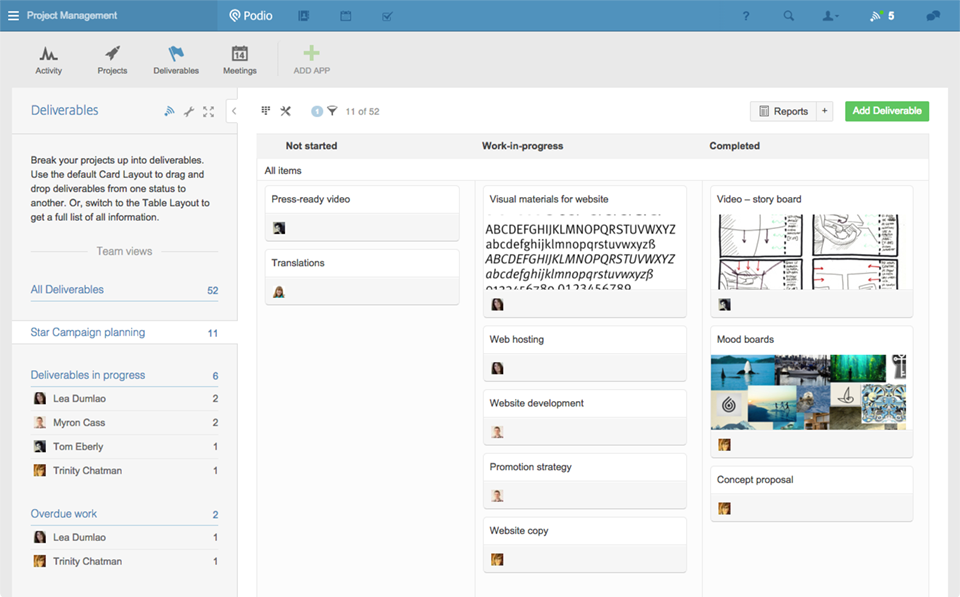 Citric Podio is an all-in-one solution for accelerating productivity, digitizing essential processes, streamlining data collection, and automating document workflows. It is a highly customizable online hub and team collaboration. It also offers incredible flexibility. Citrix Podio is incredible for small companies of up to 5 employees to large corporations of up to 5000 workers.
Top features:
It allows you to assign tasks and promote productivity without causing burnout
It also allows you to optimize operations
It helps streamline data collection
It is a secure platform with incredible flexibility
Automate the sales pipelines, track project budgets, and get company overviews with visual dashboards
24. Nifty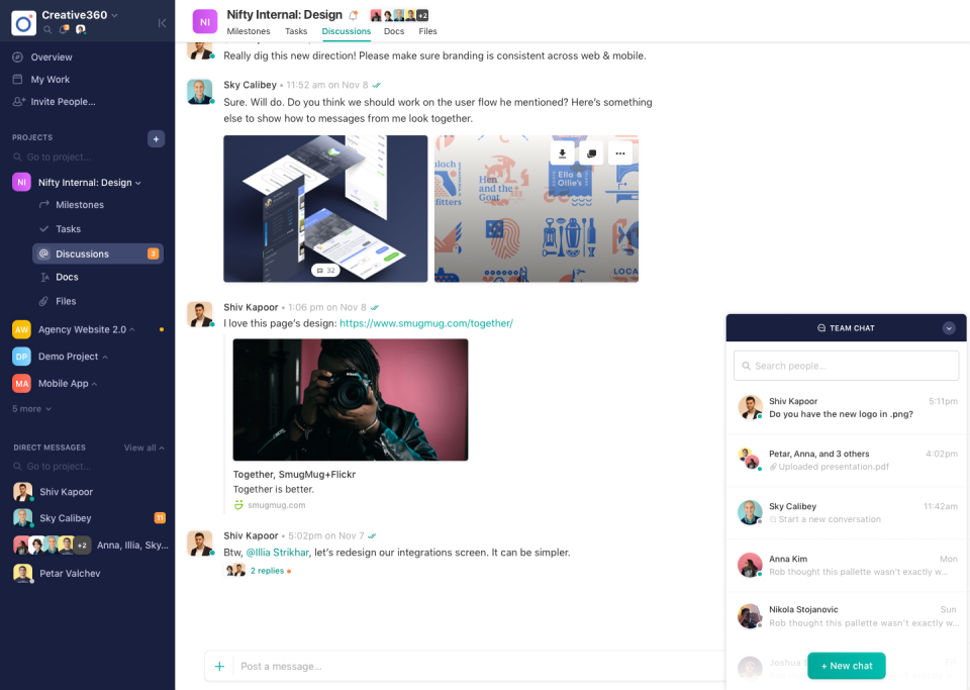 This is one of the best project management tools. It allows you to bring your team and clients together on one collaborative app. This eliminates switching between roadmaps, documents, chats, calendars, meeting tools, and tasks. With Nifty, you can say goodbye to status meetings by creating a plan of action for your projects and automating project tracking. Nifty boasts multiple awards for being one of the easiest to use work management tools, a market leader, and a user favorite.
Top features:
Set goals and timelines for your projects and business operations
Collaborate on tasks with other departments and employees through the organization, setting priorities and tracking daily works
Establish knowledge hubs that empower members to share ideas and gather feedback
Create docs and wikis to share with collaborators
Balance workloads by accessing automated progress reports
25. CMAP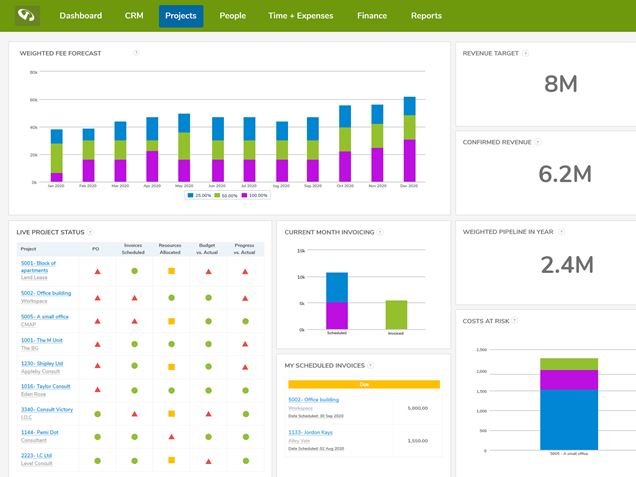 CMAP is a business management software that helps professional service companies make more money and win more work. It eliminates the challenges of using spreadsheets and disconnected software packages by offering a more functional, accessible, and unified system. CMAP will take you from confusing pain points in your business processes to more business clarity. With CMAP, you are guaranteed to make better decisions, head in the right direction, and build a financially strong company.
Top features:
CRM- this tool provides a seamless view of pipelines and projects in a single place
Job costing- this tool promotes accuracy and consistency in quoting and billing
Timesheets and expenses- these tools take away the friction of timesheets and expenses
Resourcing and HR- these help people make better decisions driven by real-time data
Project management, reporting, and dashboards
26. Runn Software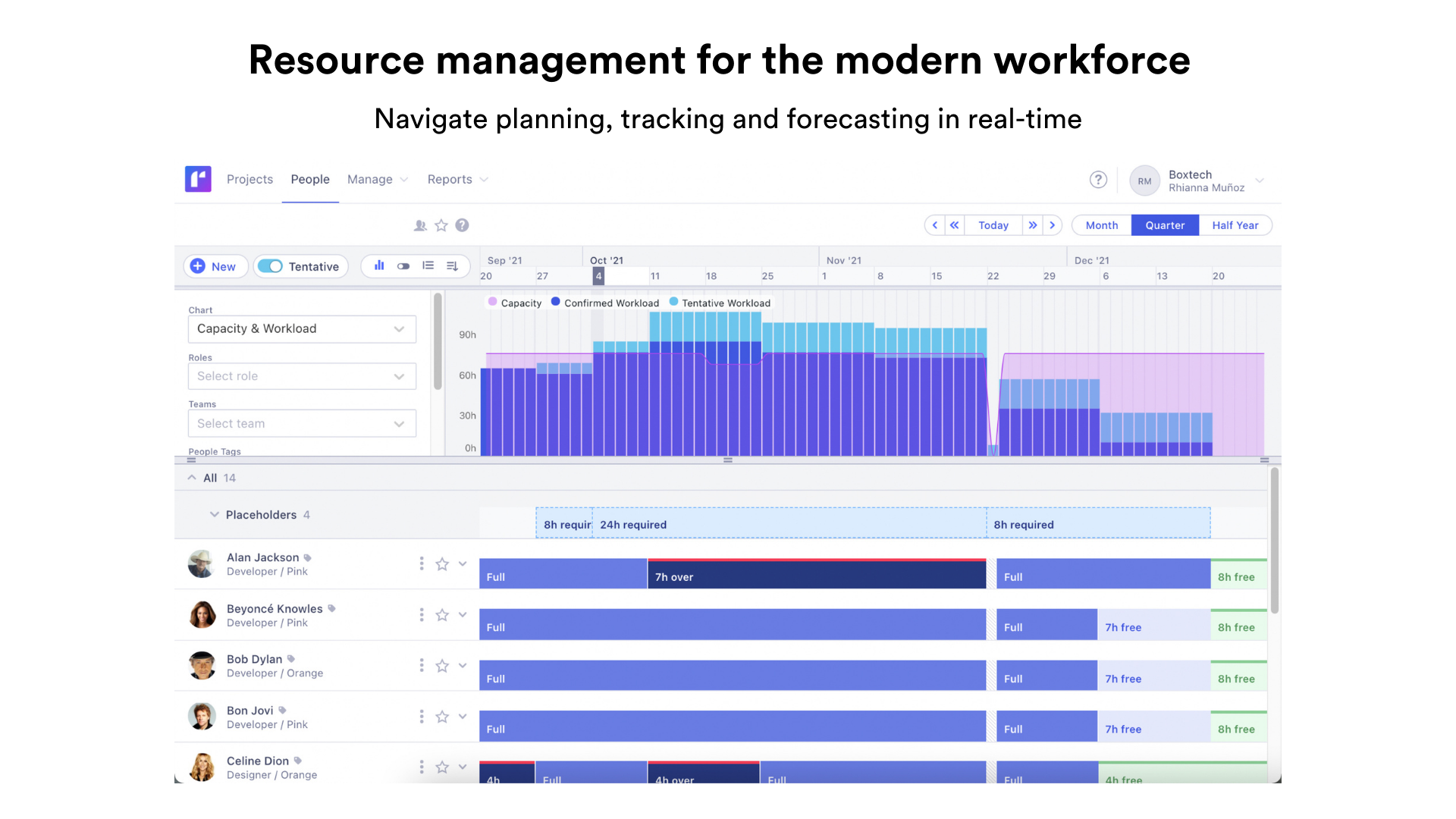 This is a real-time resource management software for the modern workforce. It aims to schedule people and projects in real-time. This is achieved through resource management. It is also a great tool for managing workloads. It allows you to plan your team's capacity and effectively distribute work across teams. Runn Software also helps you know your business, the most profitable roles, hidden costs, and how to make good decisions to achieve your goals. Additionally, this work management software allows you to predict the future through confident forecasting.
Top features:
Tool and system integration vial full API
Confident forecasting for sustainable planning for the future, higher margins, and hiring
Report and insight tools for understanding your business
Workload management tools
Real-time resource management
27. Screendragon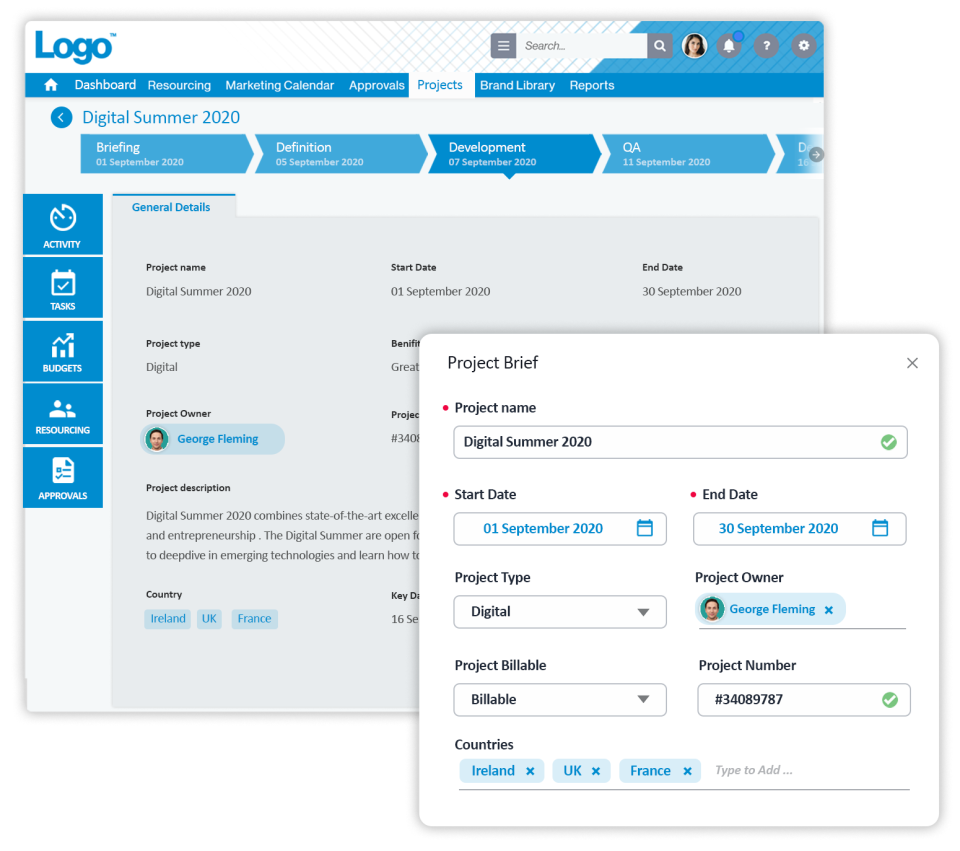 This is a work management platform for enterprise teams. It is cloud software that helps manage projects, people, processes, and content in a single place. Screendragon boasts more than fifteen years of experience implementing process change at brands and global agencies. It provides the best practices for change management, gaining market leadership, developing training plans, and reinventing agencies.
Top features:
Marketing management to ensure more profits and better client service
Brand management software for governing and growing brands
Agency management software to boost profits, manage workloads, people, and profitability
Creative project management software to speed-up delivery, streamline creative workflows and get to the market faster
Workflow software to boost efficiency, quicken delivery, ensure compliance, and reduce costs
28. TeamGantt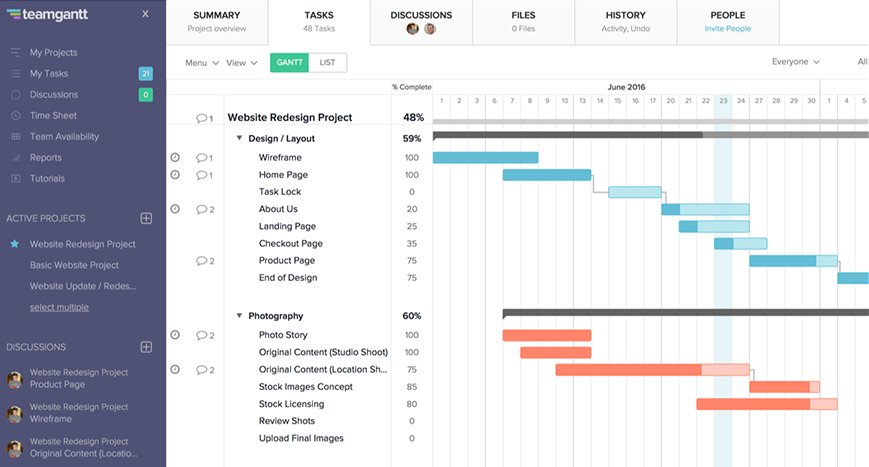 This is a top work management tool used by some of the biggest brands like Amazon, Netflix, Nike, and Intuit to manage their projects. It is a unique, innovative, and refreshing take on project planning. Its best element is the fact that it brings Gantt charts online.
Top features:
Plan, create and manage complex projects with the free Gantt chart creator
Invite clients and teams to collaborate on your project plan or Gantt chart
Effortlessly witch between Gantt charts, the Kanban board, or calendar views
Use the drag and drop feature to make Gantt charts online faster and more efficiently
Use TeamGantt's free Gantt chart software lets keep all your tasks, documents, and communications in one place for better organization and better collaboration
29. Productive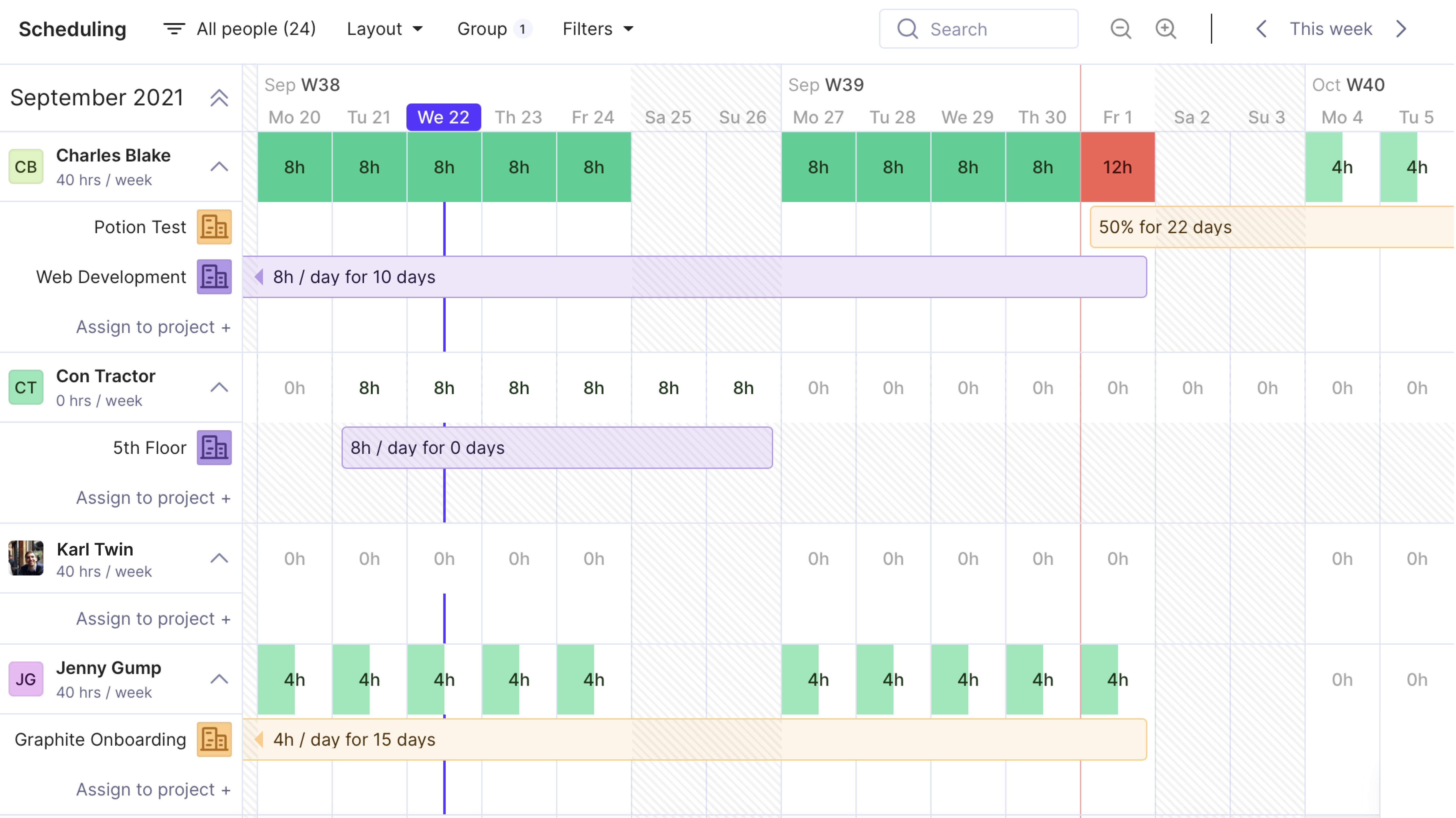 Productive is a one-stop shop for agencies of all sizes, types and in various industries. It helps you grasp all your agency operations to increase profitability. Additionally, it is a scalable platform for all various agencies. It allows you to consolidate data in one agency management system. It also allows you to run projects from prospects to payments and every element in the in-between life cycle. With Productive, you can use one tool for complex budgeting and resource planning.
Top features:
Use a single source of truth for all your budget, team communications, financial data, and leads
Run your projects like a separate profit center using Positive's finance management software
Project management, billing and budgeting
Sales and resource planning
Forecasting and preparations for the future
30. Meisterplan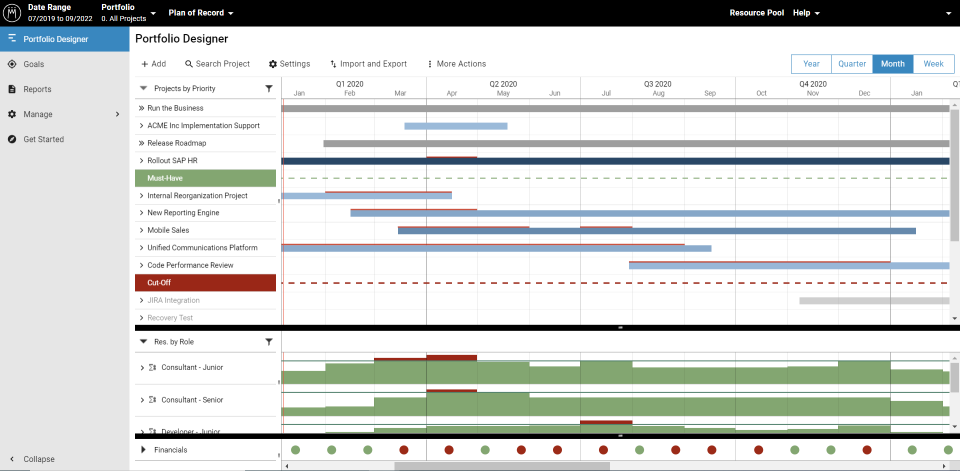 Meisterplan is the go-to platform for creating visibility and aligning your decision-making to deliver the right business outcomes. Some of the world's most effective companies rely on Meisterplan to confidently move forward. Additionally, Meisterplan has won numerous awards as a high performer in project and portfolio management. Managing people on a portfolio level is one of the most common challenges organizations face. However, Meisterplan helps you create a team of the right people and manage their workflow and productivity.
Top features:
Focus on employees by creating realistic and long-term resource planning
Build effective portfolios with Meisterplan software
Quickly implement, use, and can scale with your business
Enforce proper project management
Ensure transparency in project planning
31. Holded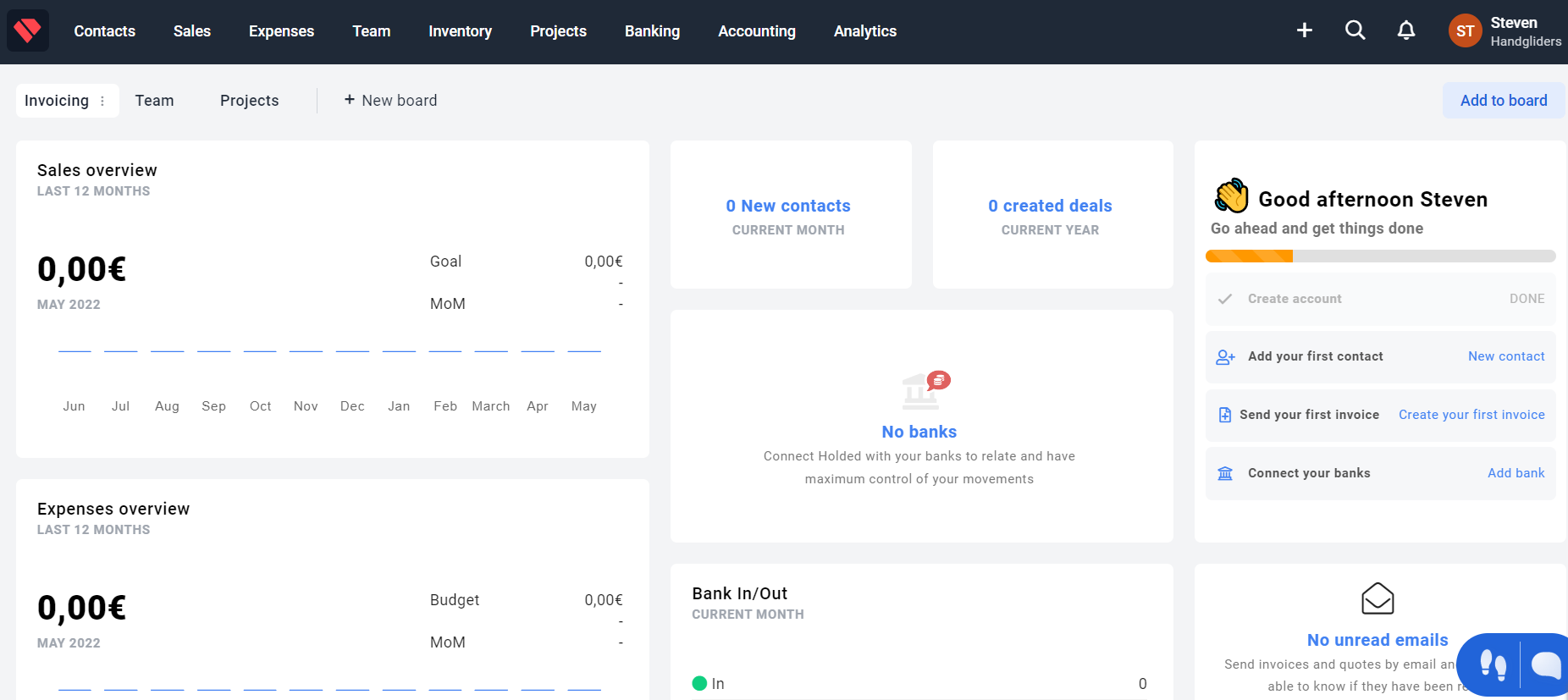 This is the go-to smart business management software for SMEs. It is a perfect cloud solution that will give you everything you need to manage your business from anywhere and at any time. It is easy to use and complete. With Holded, you can replace manual processes with intuitive software.
Top features:
Invoicing and accounting software for financial management
Team management tools that promote collaboration and task assignment
Project management tools that help ensure efficient task allocation, project tracking, and outcome prediction
Inventory and resource management tools
CRM for client data storage and application for better service
32. Hive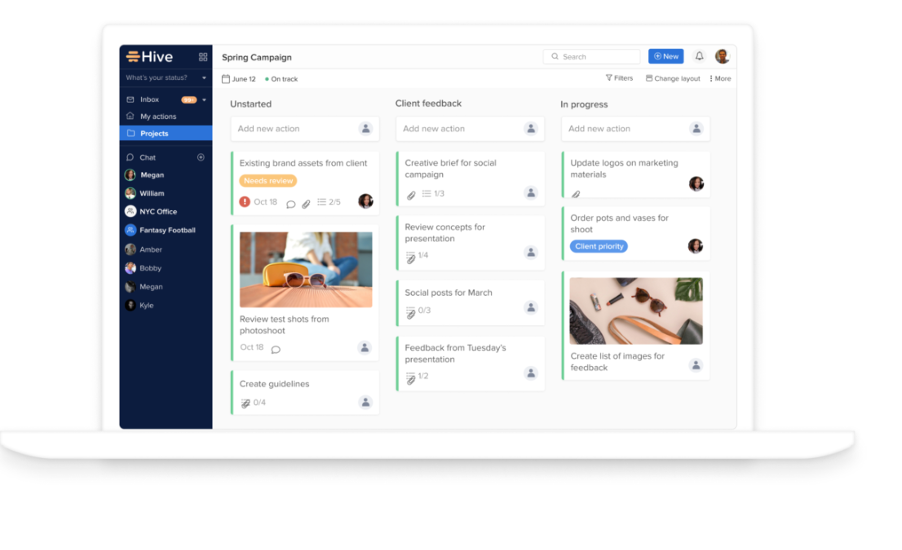 This is the first project management platform built by users for users. It is designed to help teams move faster and more effectively. Hive is built by the world's faster-moving teams, like Comcast, Google, Electronic Arts, Starbucks, Anthem, and Toyota.
Top features:
Stay on top of your actions and projects, keep updated on upcoming deadlines and tasks with the portfolio view feature
Make your multi-step projects easy using simple workflows for complex approvals. You can use project and action templates for repeated steps to minimize your workload
Get your team to work more with timesheets, time tracking, team resourcing, and workflows management
Promote personal work with calendar, Gantt, Kanban, and summary views of your projects and tasks.
33. BigTime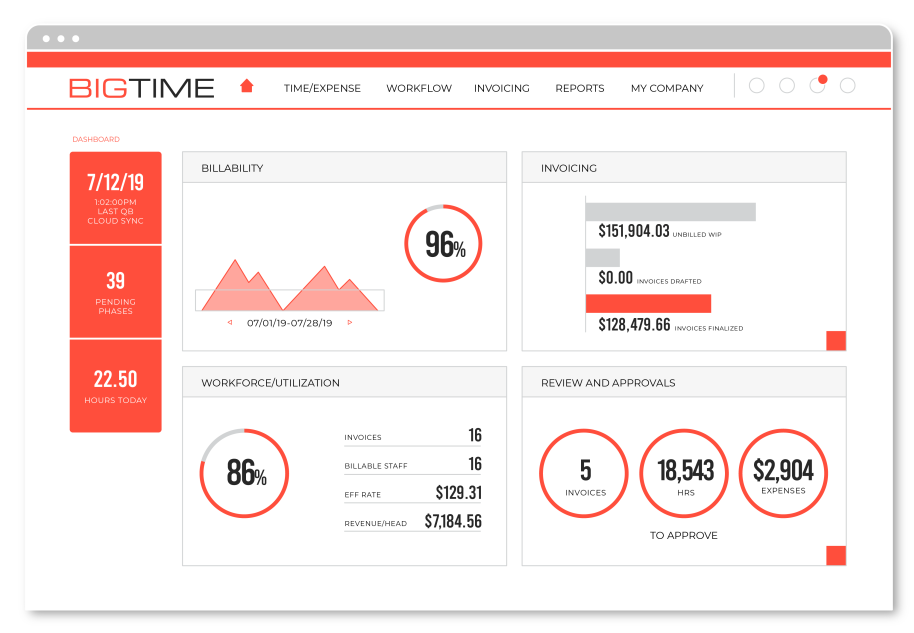 BigTime is the perfect platform for keeping your projects on time and within budget. It is the project platform for professional service firms that require real-time insight for long-term success. It has also embarked on funding projects to help professional service firms manage their operations, KPI reporting, and financial health in real-time. BigTime's professional service automation software supports entire organizations, including individuals and projects, for increased profitability.
Top features:
Manage deadlines and deliverables
Create projects and allocate resources
Report on metrics and realize revenue
Submit time and expenses
Send invoices and get paid
34. Ortto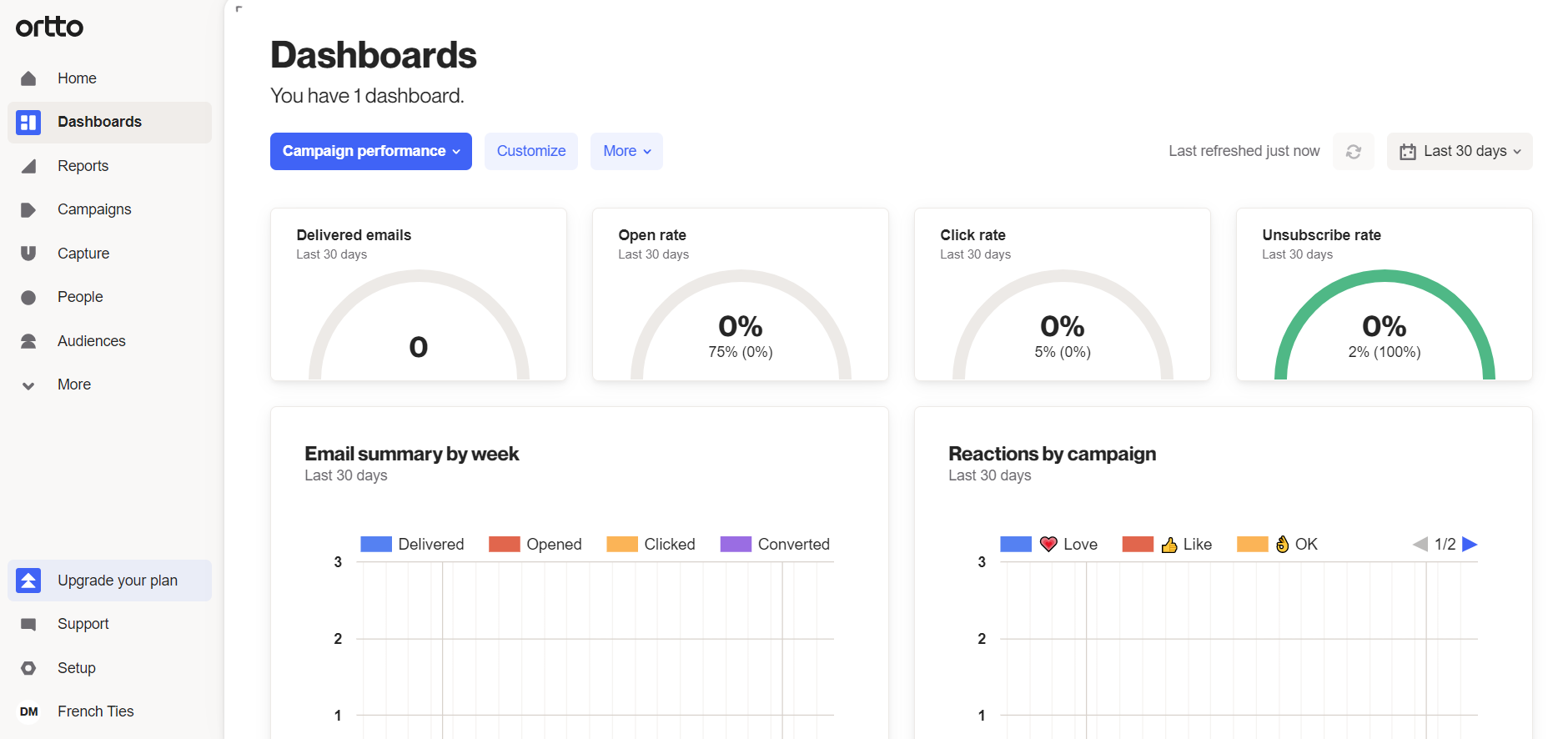 Orrto is helping leading brands like bitly, Vodafone, Microsoft, and Nib grow and make more profits. Orrto helps unify firms using no-code integrations to unlock data from marketing, finance, support, sales, and products in a single profile. It also helps target audiences based on powerful segmentation, demographic, event-based, and transactional data. Orrto helps empower business growth through analysis, connection, and Artificial Intelligence.
Top features:
Marketing and sales automation and management
Support for better customer service
Product management
Operations
Finance
---
Further Reading