Work management
17 Best Project Scheduling Software to Efficiently Manage Your Meetings
We all want to make the most effective use of our working hours – but competing schedules and calendars can quickly complicate matters. Project scheduling software software enables businesses to track, plan and manage appointments efficiently.
Every day, we use many tools to increase our productivity, plan tasks, automate work, and analyze our data. It's all about optimizing as many parts of our workflow as possible and getting more done in a shorter period of time.
That's why businesses should also leave manual meeting scheduling via email in the past, and look for a solution that enables them to automate yet another part of our work.
What is scheduling software?
Scheduling software helps businesses manage appointments, bookings, employee scheduling, or project management tasks. It's capable of automating the process of scheduling appointments and enables businesses to eliminate mistakes, miscommunications, and duplicate reservations.
Choosing the best scheduling software
The best scheduling tools do all the work for us, forwarding meeting proposals to all participants, helping to find a suitable time and place. Methods vary depending on the tool, but saving time is almost guaranteed.
When choosing the best scheduling software for your business, you need to have a clear understanding of your business needs and priorities. It's important to consider:
A number of employees – Whether you are a small business working with freelancers or a large enterprise, there is a tool on the market specifically catered to your business needs.
Type of business – No business is identical and you should choose a tool that meets your specific needs.
Relevant features – When choosing the best solution, don't just go for the one with the most features. Choose the one that offers only the most relevant features for your business.
Your budget – With so much variety, there is a tool for every budget.
So, how to find the perfect fit for your business needs? We've put together a list of the 17 best software that will help you manage all your meetings efficiently.
1. Scoro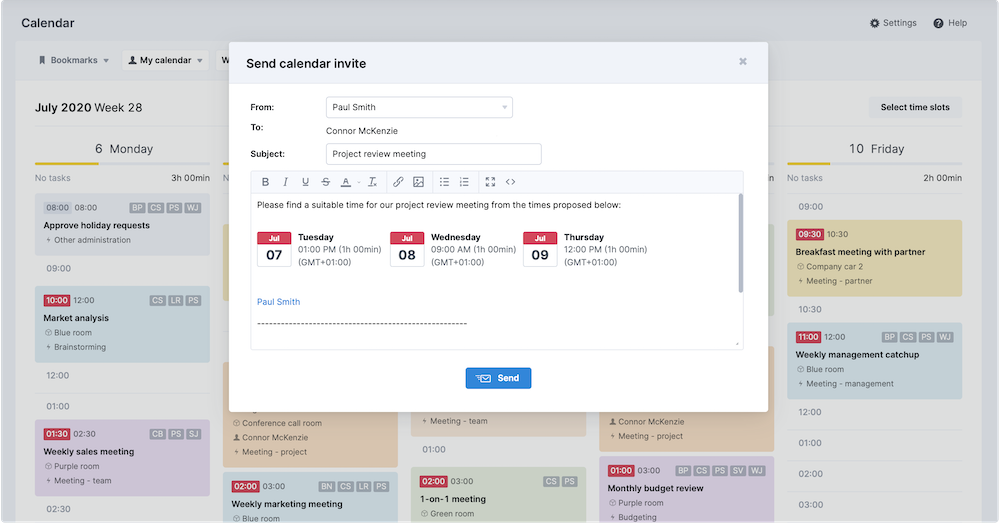 Scoro is the most comprehensive solution on this list that enables you to manage your entire business in one place. The benefit of using Scoro for scheduling a meeting is the possibility to link your meetings with customer profiles or projects and send calendar invites directly from the system – eliminating endless email threads.
Top features:
Meeting and customer management
Automated reminders
Resource and time management
Link all events to projects and customers
Set priorities and deadlines
What's special about this tool: Scoro is an all-in-one solution which means you can say goodbye to the chaos of having data scattered around multiple applications, worksheets, and emails.
Pricing: Free 14-day trial available, paid plans from $26 user/month
Try Scoro for free now!
2. Bitrix24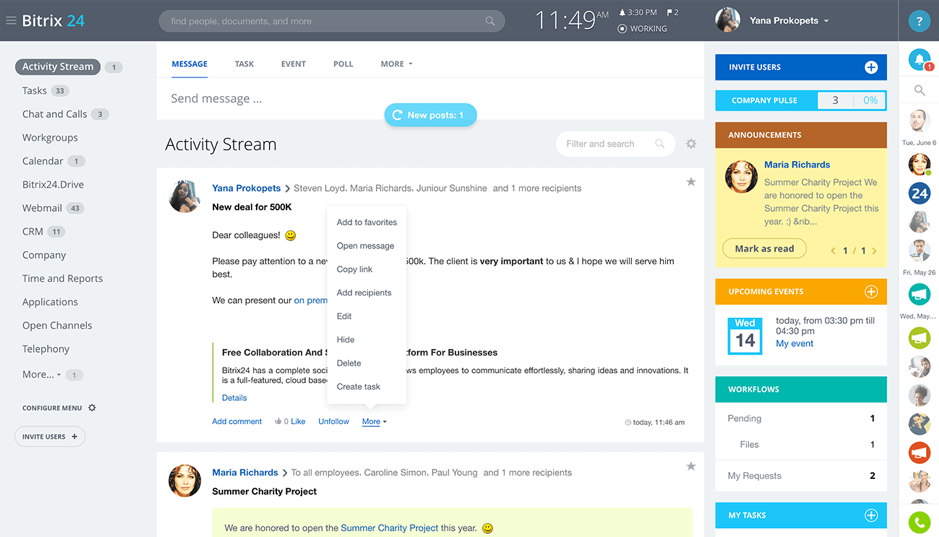 Bitrix24 is social enterprise software that offers a complete suite of social collaboration, communication, and management tools for your team. Like the previous software, Bitrix24 is more than just a scheduling tool and handles all aspects of client management.
Top features
Unlimited calendars & appointments
Calendar access rights
Invoicing
CRM
What's special about this tool: Bitrix24 has a broad set of features, from traditional project management to integrated telephone and HR systems or internal email.
Pricing: Free trial available, paid plans from $12 user/month
Read on: 27 Amazing Bitrix24 Alternatives.
3. SimplyBook.me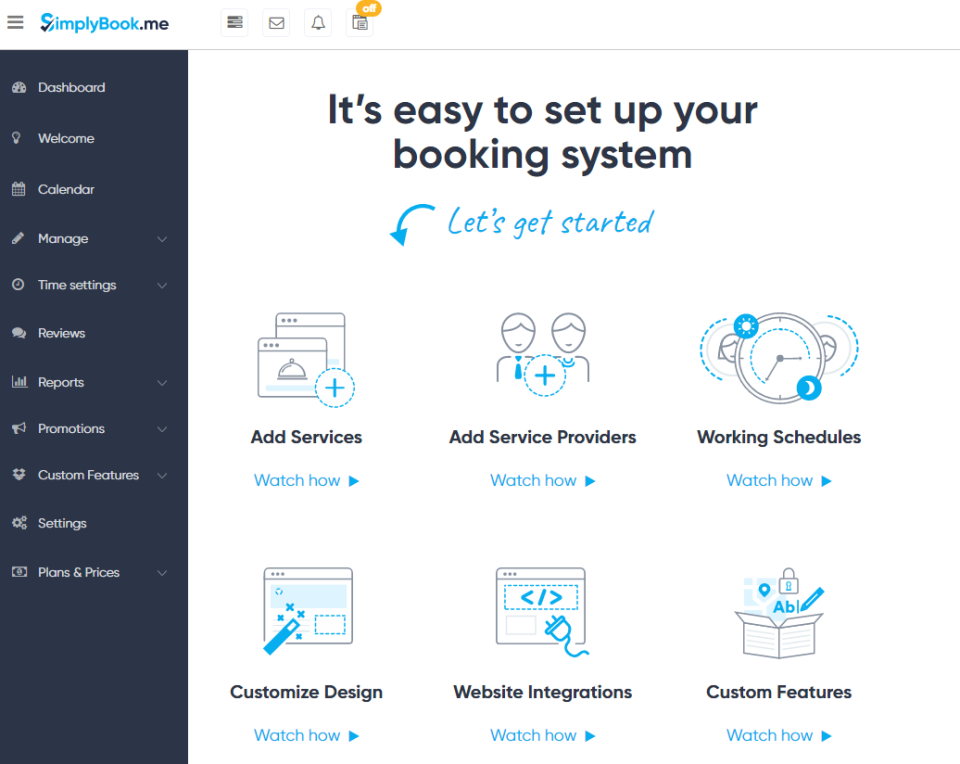 SimplyBook.me is one of the most extensive scheduling software on the market and recommended for international service-based businesses. You can easily integrate it with your other stools and social media platforms.
Top features
CRM
Appointment scheduling and management
Marketing automation
Payment processing
What's special about this tool: Simplybook.me has an intelligent voice bot (iBoB) that manages appointment scheduling for you.
Pricing: Free 14-day trial, paid plans from $10 per month
4. Hubspot Meetings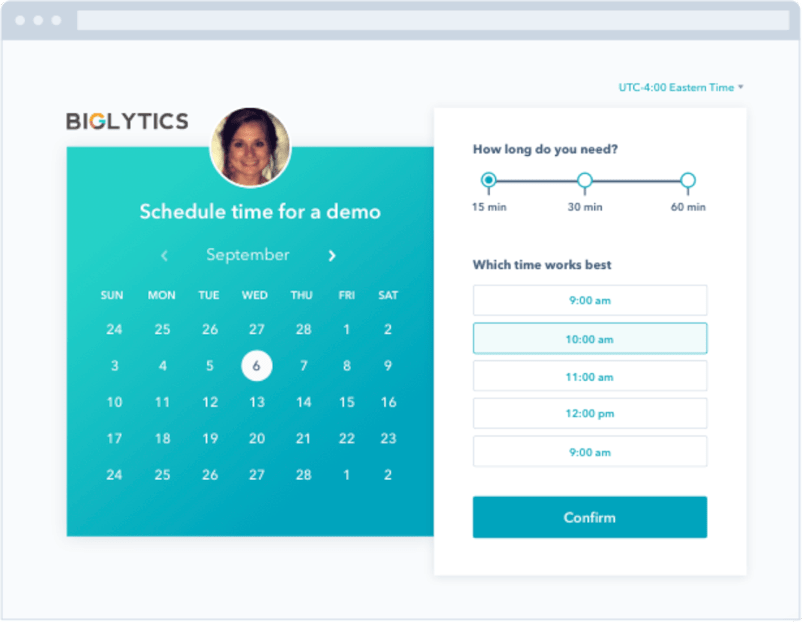 Hubspot is marketing, sales, and service software that includes Hubspot Meetings tool. With this tool, you can sync your Google Calendar or Office 365 calendar, set your availability, and have prospects ad customers book time with you. Besides, you can easily connect it with Hubspot CRM.
HubSpot Meetings is a free Hubspot product that can be connected to HubSpot CRM.
Top features
Email templates
Integration with Google or Office 365 calendars
Sales automation
What's special about this tool: With Hubspot Meetings, you can send group meeting links that enable prospects to schedule time with more than one person in your organization.
Pricing: Hubspot's Meeting module is free. For a more comprehensive solution, different plans are available.
5. Acuity Scheduling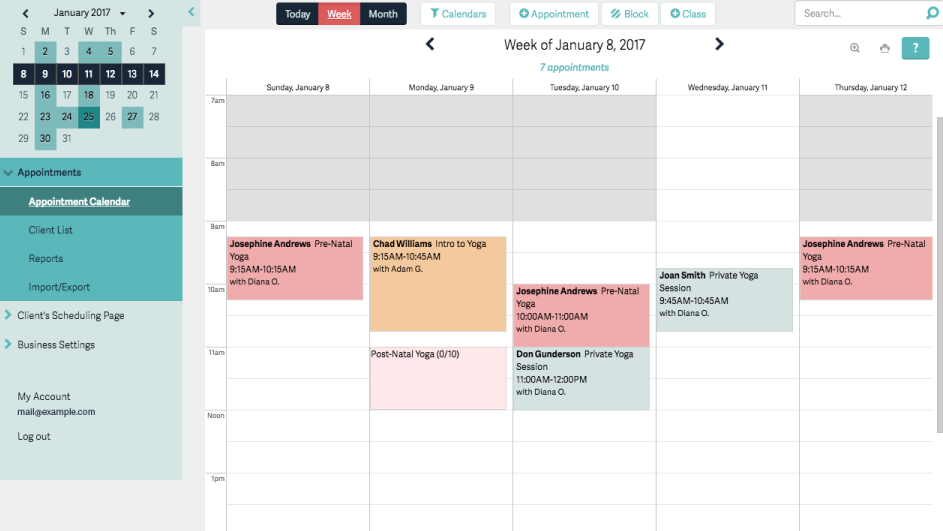 Acuity Scheduling is user-friendly scheduling software that enables businesses to book appointments with customers very quickly and efficiently. Further, customers can view real-time availability, pay in advance and cancel or reschedule all on their own.
Top features
Automated client bookings
Secure online transactions
Time zone specific bookings
Customizable
What's special about this tool: Acuity Scheduling enables you to offer more than just appointments (e.g., gift certificates, packages, memberships, etc.)
Pricing: Free 7-day trial, paid plans from $15 per month
6. CalendarHero (formerly Zoom.ai)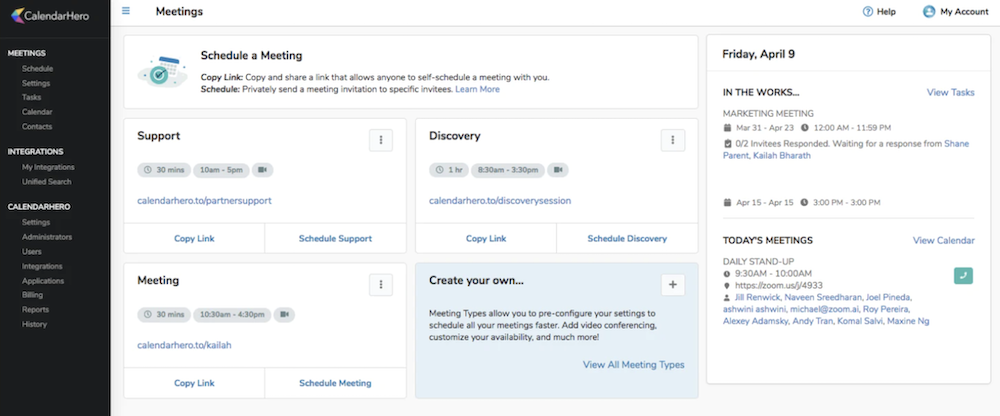 CalendarHero
is meeting scheduling automation software that offers flexible and intelligent solutions, including an online meeting scheduler, website embed, personal scheduling links, and an automated meeting assistant that lives in your inbox or chat app.
Top features
Automated scheduling
Powerful integrations
Attendee insights
What's special about this tool: With CalendarHero, you can lock in leads faster with one-click scheduling links, automated meeting briefings, CRM integrations, and a better meeting process.
Pricing: Free 14-day trial, paid plans for teams from $12 user/month
7. Setmore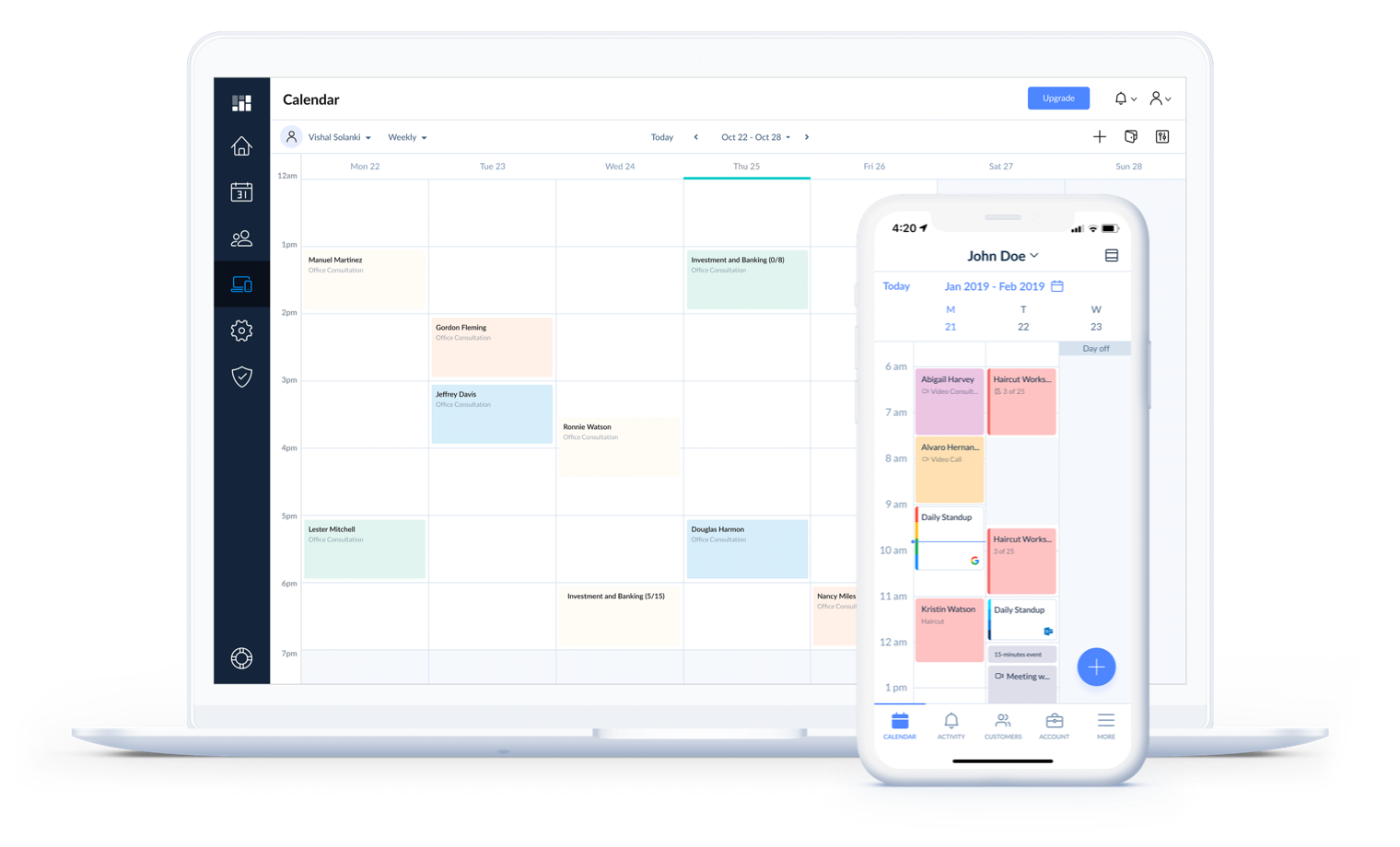 Setmore is an intuitive, easy-to-use scheduling platform. It offers integration with a wide range of apps, including Mailchimp, Salesforce, and Zendesk.
Top features
All-in-one calendar
Automatic confirmations and reminders
Secure online payments
What's special about this tool: Setmore allows you to display shoutouts from happy customers to encourage new bookings.
Pricing: Free plans available, premium plan from $9 user/month
8. Square Appointments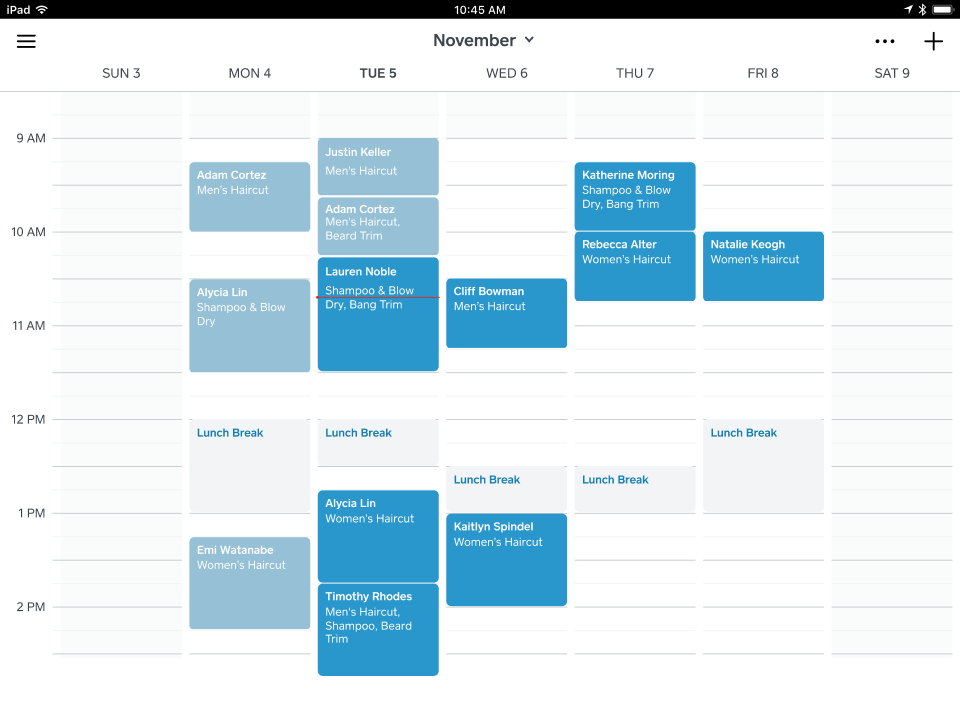 Square Appointments is a fast-growing scheduling and booking software company specializing in health and wellness businesses.
Top features
Automated email and text reminders
Contactless payments
Card-on-file system
What's special about this tool:  Besides the scheduling functionalities, Square Appointment makes it easy to take payments, create discounts, accept tips, and more.
Pricing: Free 30-day trial for paid plans
Read on: How to Plug the Top Six Time Leaks in Your Business
9. Setster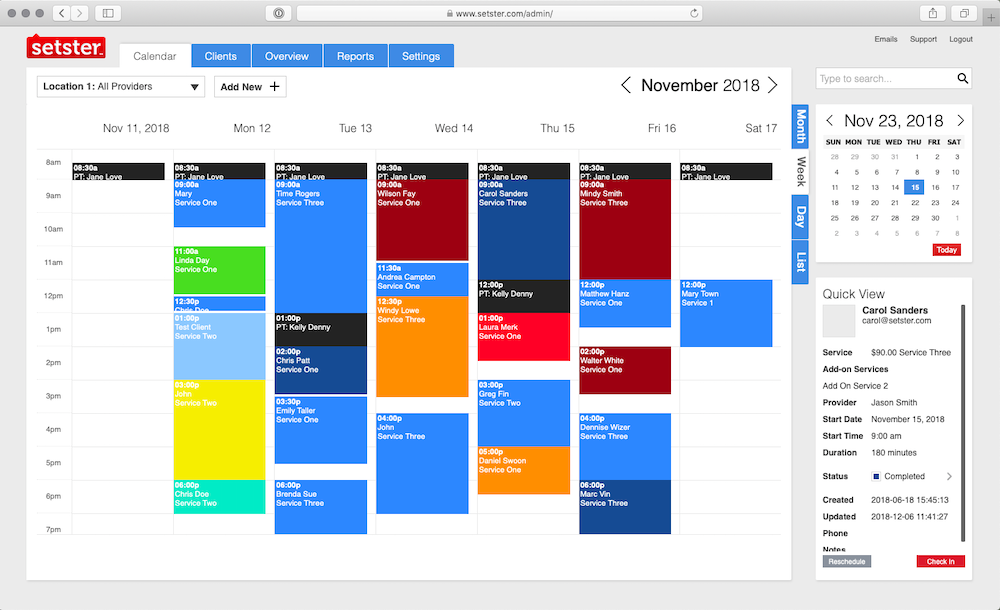 Setster is an enterprise online appointment scheduling tool that encourages more customer engagement and simplifies complex scheduling challenges through a friendly user interface.
Top features
Client management
Email management
Employee scheduling
Online payments
What's special about this tool: Setster enables you to specify booking rules per type of appointment to allow for sufficient advance notice before booking.
Pricing: Free 15-day trial, paid plans from $15 user/month
10. Calendly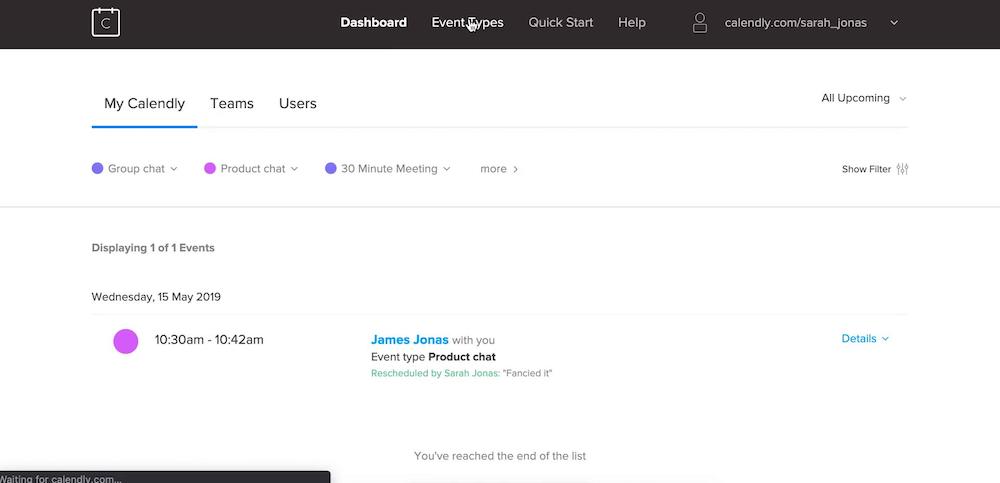 Calendly is a widely popular scheduling tool among project teams and people who frequently attend business meetings, organize tours or webinars. Easily send calendar invites to everyone and let the invitees choose the best time for them.
Top features
Email support
Daily limits & Buffers
Custom reminders and confirmations
Calendar integrations
What's special about this tool: Calendly has timezone detection, which means it automatically displays availability in your invitee's time zone.
Pricing: Free 14-day trial,  paid plan from $8 user/month
11. Doodle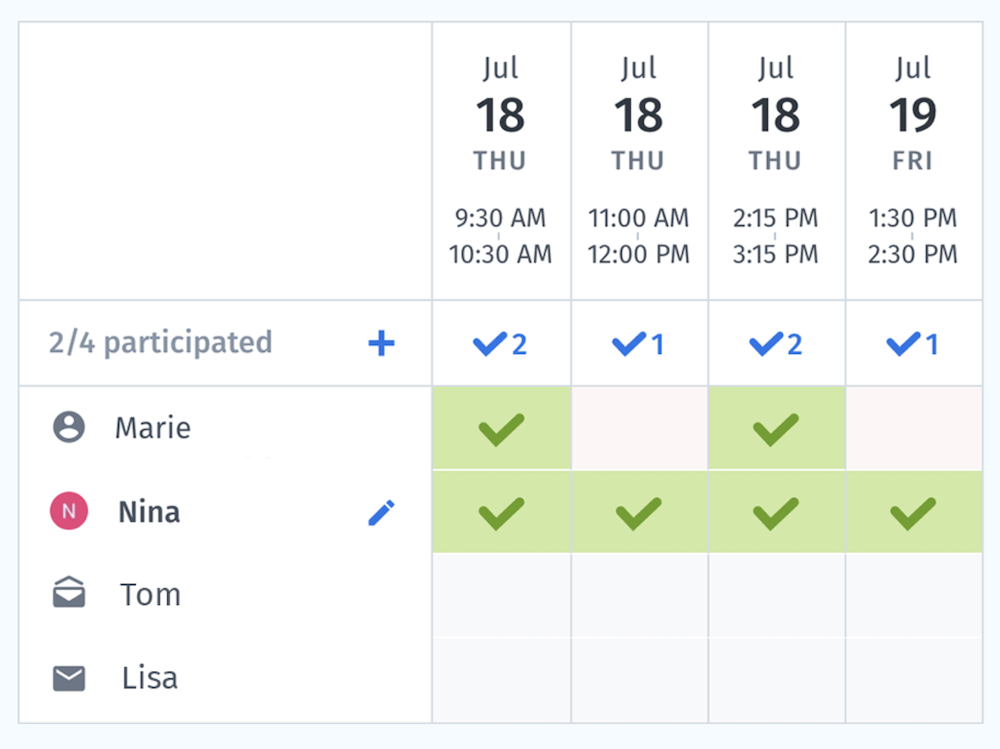 Doodle is versatile scheduling software that enables to schedule meetings with clients, colleagues, and teams.
Top features
Integration with a wide variety of platforms
Sync with Google Cal, Office 365, or iCal.
Automatic reminders
What's special about this tool: Doodle syncs to Slack so you can easily manage meetings inside your Slack workspace.
Pricing: Paid plans for teams from $44.75 per month
12. Thryv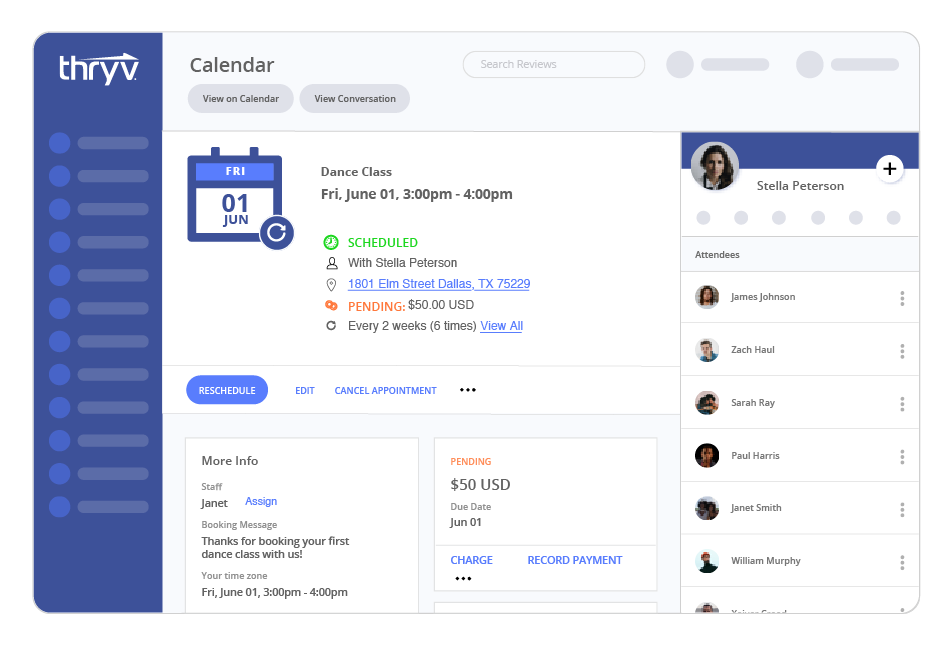 Thryv is an end-to-end client experience platform perfect for small businesses. Thryv automates tasks and puts customers at the center of your business, making it easy to reach more customers, stay organized, get paid faster, and automatically generate reviews.
Top features
Automated reminders

In-app payment capability

Team calendar sync
Syncs with most calendar apps
What's special about this tool: With Thryv, you can create customized classes and events, manage registrations, communication, and payment and choose whether to make them bookable online or keep them private.
Pricing: Only available upon request
Check out these Thryv alternatives!
13. Chili Piper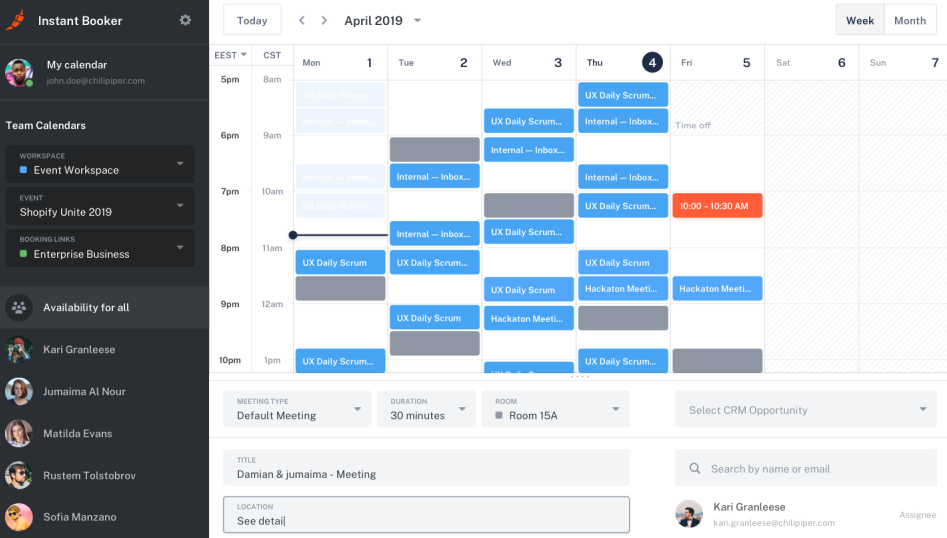 Chili Piper is an advanced scheduling and routing software helping B2B revenue teams connect with buyers faster and convert more revenue. Instantly qualify, route, and schedule inbound leads and book one-click meetings from anywhere.
Top features
Alerts and notifications
Automated appointment scheduling
Calendar sync
CRM
What's special about this tool: With Chili Piper, you can create customizable meeting templates with dynamic fields such as title, location, description, and length.
Pricing: Free plan available, paid plans from $15 user/month
14. Bookafy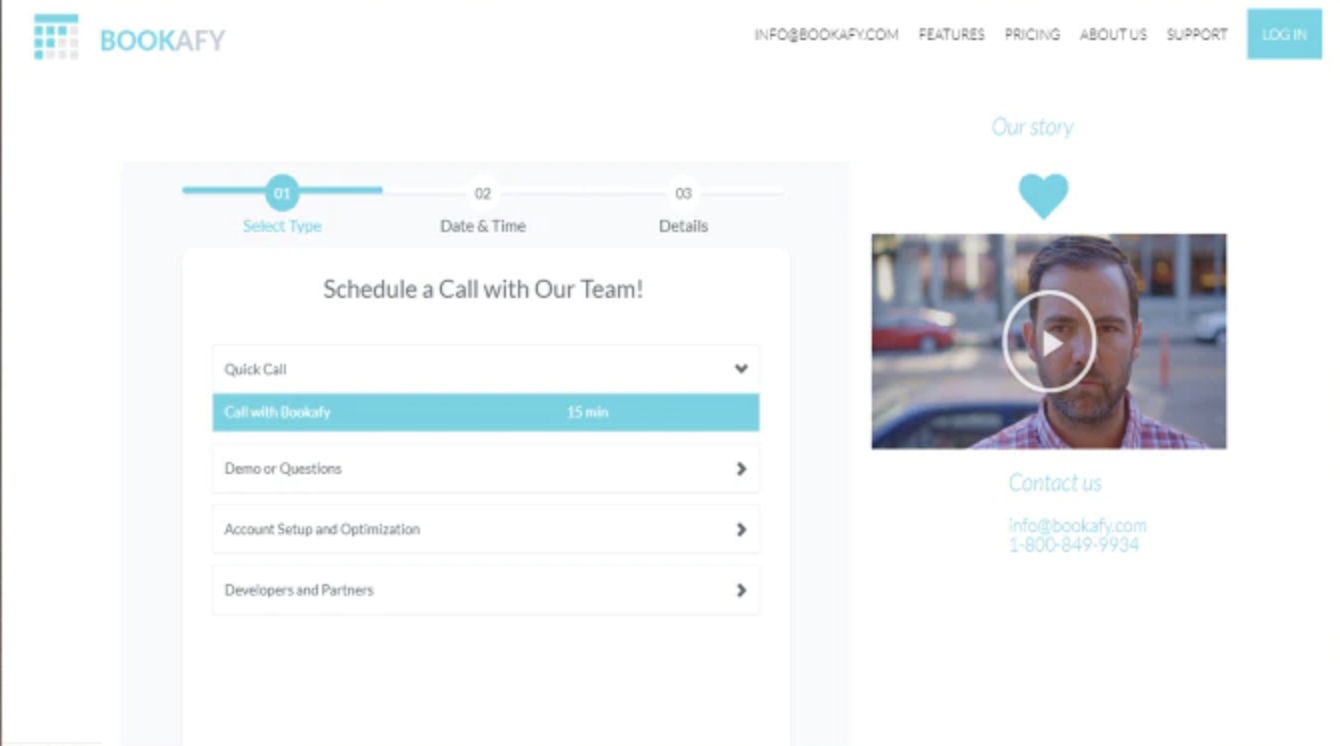 Bookafy is a flexible desktop scheduling tool that offers real-time appointment booking with automated calendar synchronization.
Top features
Multiple time zones
Payment processes
Buffer times
Custom APIs
What's special about this tool: Bookafy integrates with different tools your team is already using
Pricing: 7-day free trial, paid plans from $7 a month
15. Google Calendar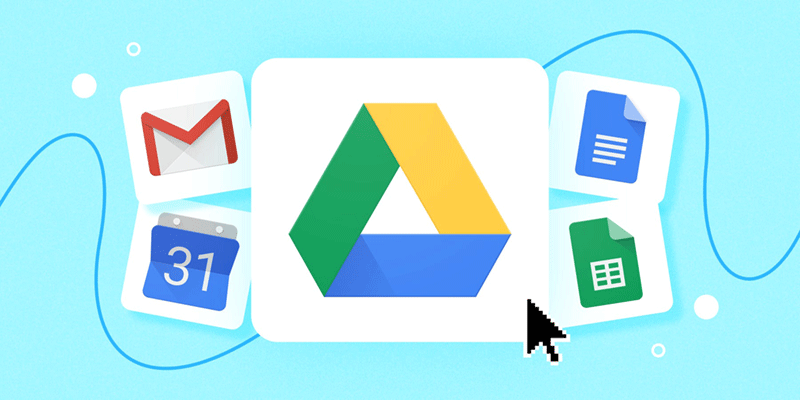 Perhaps the most well-known scheduling solution to individuals, Google Calendar also helps businesses create shareable calendars with scheduled events or meetings and conference room details.
Top features:
Email reminders
"Private" meeting filter
Daily limits based on team availability
World clock
What's special about this tool: It is easy to sync Google Calendar with other programs and software, allowing you to have a better overview of everything in one place.
Pricing: Both free and paid plans available
16. Appointy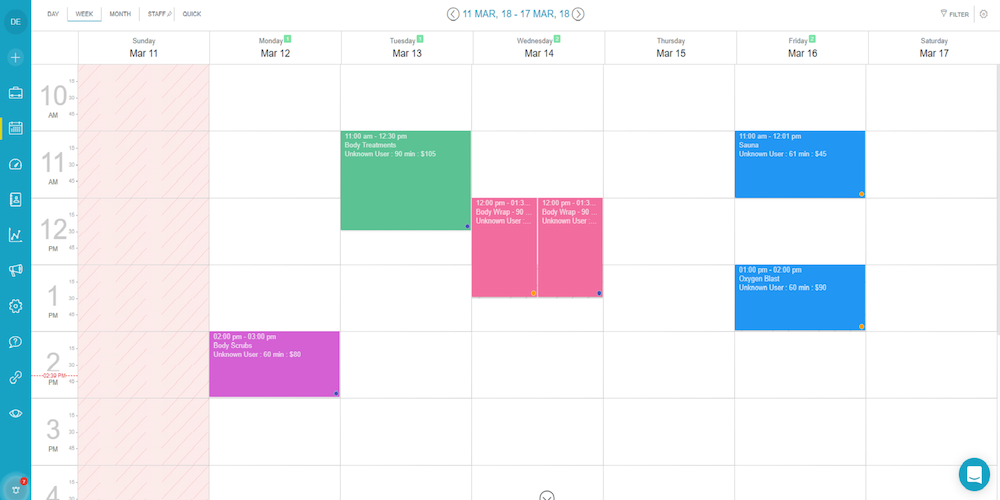 Appointy is online scheduling software that makes it easy to schedule client appointments for a variety of industries. You can use it for classes, workshops, events, and tours.
Top features
Resource management
Flexible time-slot interval
Recurring booking
Back-to-back service booking
What's special about this tool: Appointy allows you to implement flexible time-slot intervals and customize them according to the particular needs of your business.
Pricing: Free plan available, paid plans starting at $19.99 per month
17. EngageBay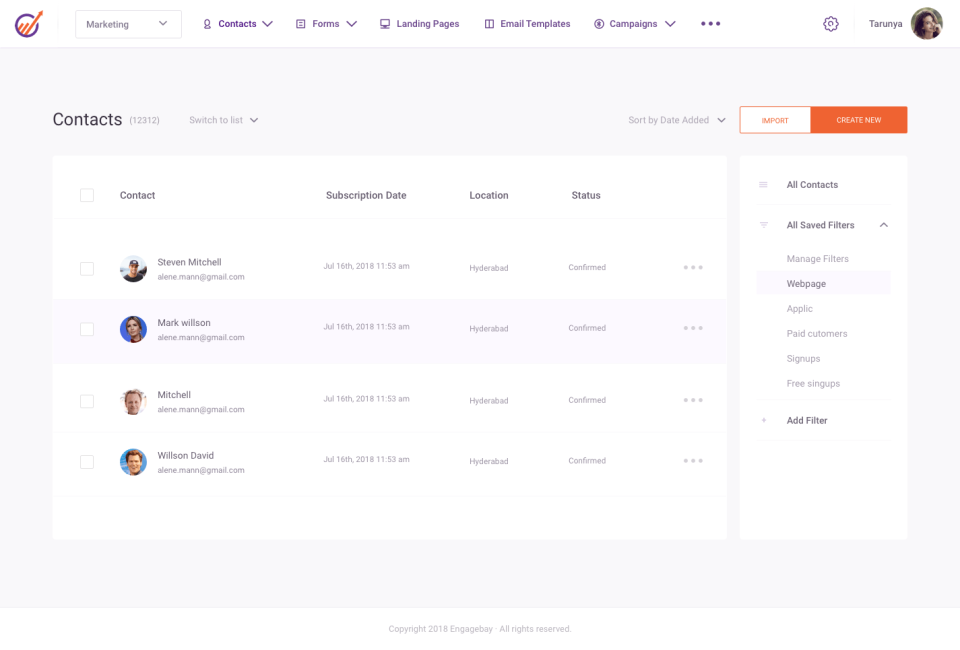 EngageBay CRM offers a rich feature set which enables you to manage your customer relationships better. It also comes with a full stack of marketing, sales, and service automation features to scale your business.
Top features
Automated appointment scheduling
Account management
Live chat
Calendar sync
What's special about this tool: With EngageBay, you can send proactive invitations to prospects to schedule appointments online without human intervention.
Pricing: Free and paid plans available
Everything about your business, one click away