Product
September 2023 Version Update: Shareable Quote View and Google Sign-in
This month the spotlight is on enhanced collaboration with clients as we're making Scoro's quotes all the more interactive and easily shareable. And that's not all – we've packed in a slew of smaller work management improvements as well!
See what's new in Scoro!
Shareable Quote View
A quote is known to serve several purposes in Scoro. It acts as an external price proposal for the client but also as an internal budgeting tool to ensure the desired margins. This month, we're adding a collaborative dimension to quotes as well – you can now conveniently share quotes with clients via a link and get their immediate feedback in the same view to shorten the closing cycle.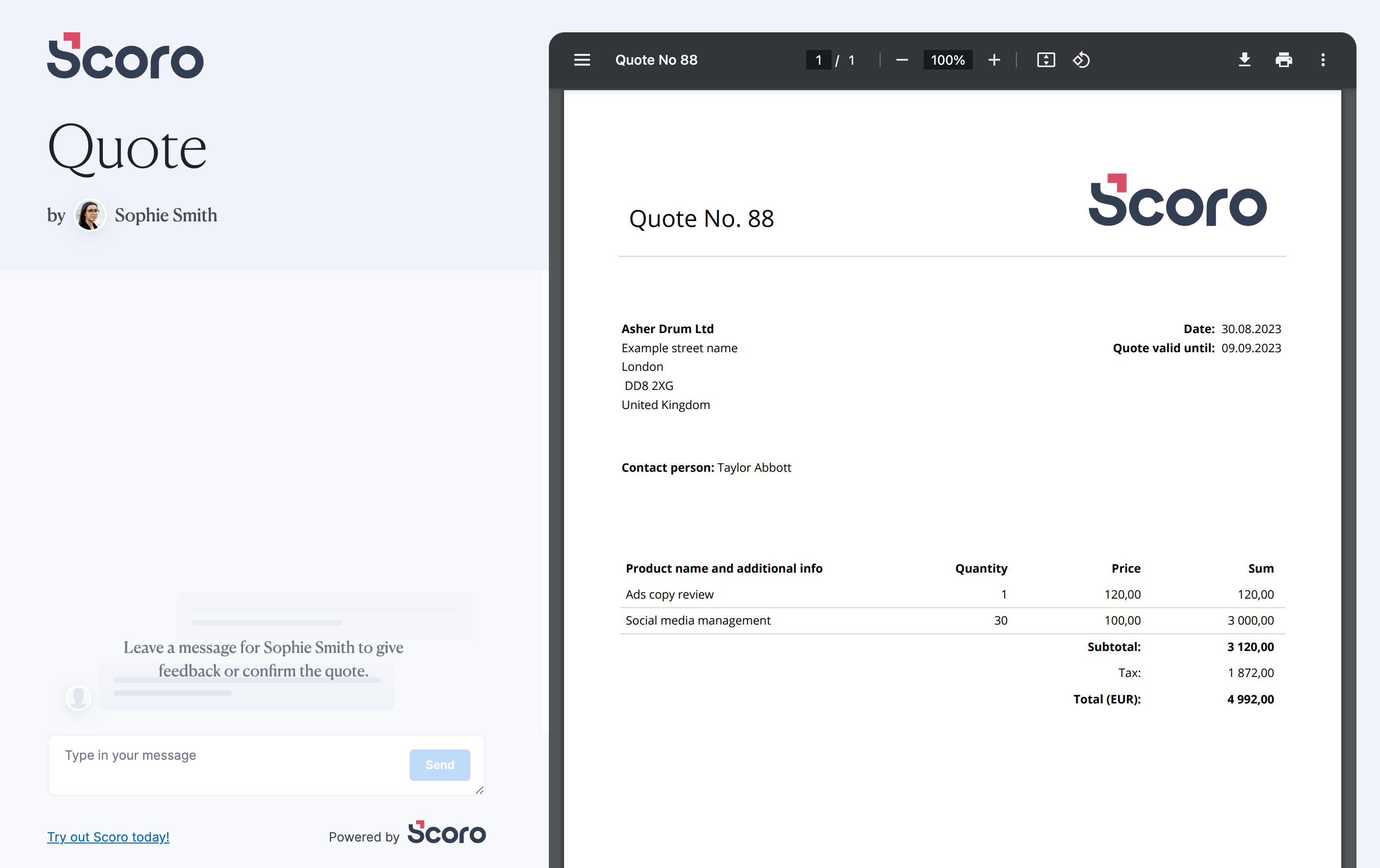 This new shareable view helps to reduce the number of back-and-forth emails and keep any discussions around the quote in a single compact view. No more surfing through long email chains to keep up with all the changes – the latest up-to-date version can always be accessed and downloaded via this shared link.
Let's see how it all works in action. Once you've compiled a quote, click the new Share button to generate a unique link that will give your client access to the latest published version of the quote.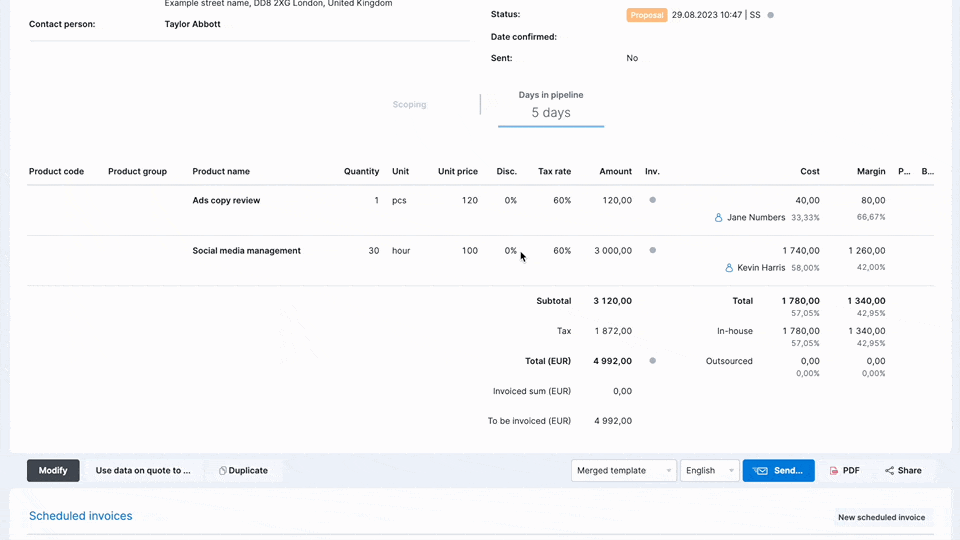 The client can use the link to open the quote directly in the browser and conveniently confirm the proposal or leave their feedback via the chat box in the shared view.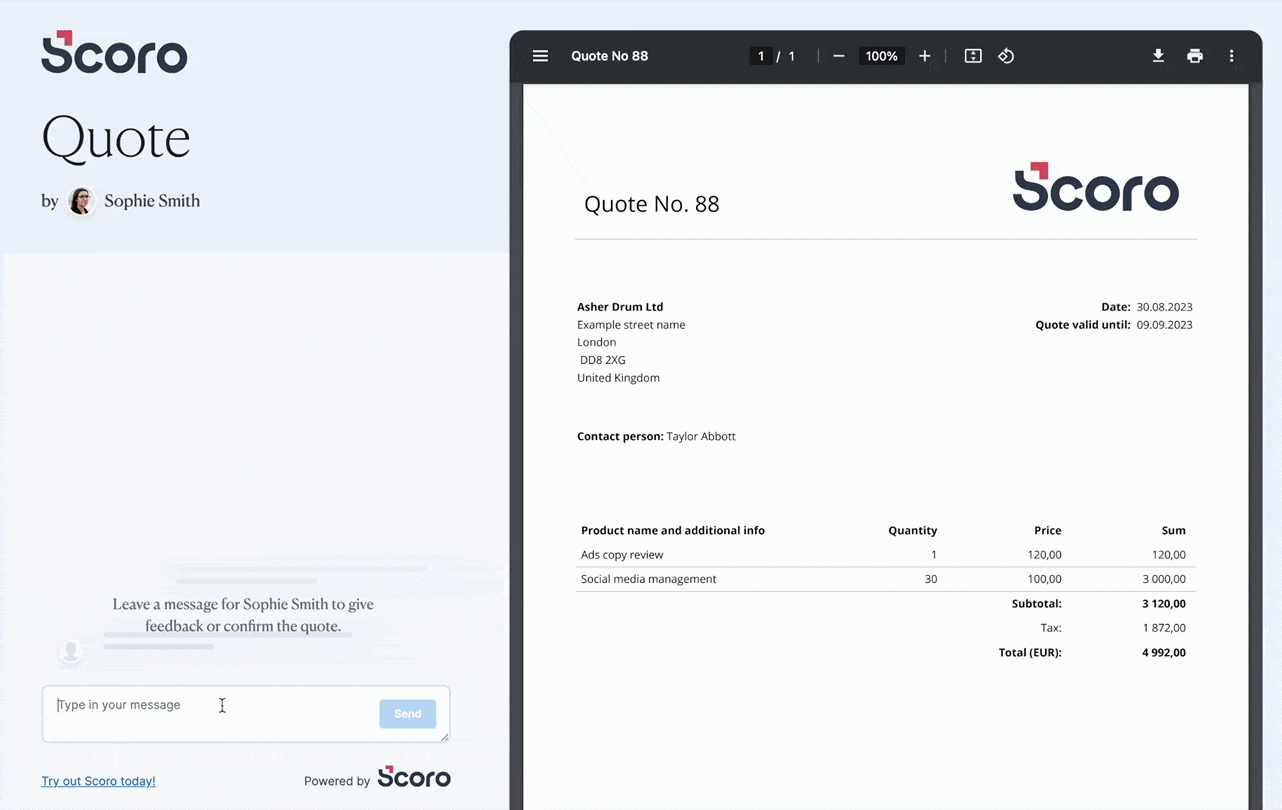 You as the quote compiler will get notified of all their comments directly in Scoro. You can reply to the client via that same comment thread in Scoro – no need to shuffle back to your mailbox.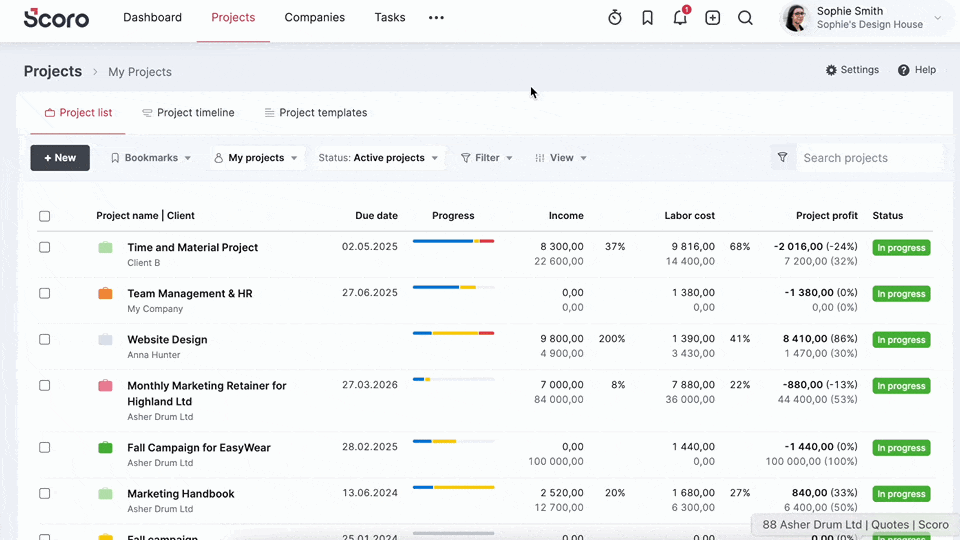 If you modify the quote, the client won't see the updates immediately – you keep the control. Whenever you are ready to share the changes, simply update the shared version by clicking Update PDF. The client will see the updates after refreshing their view.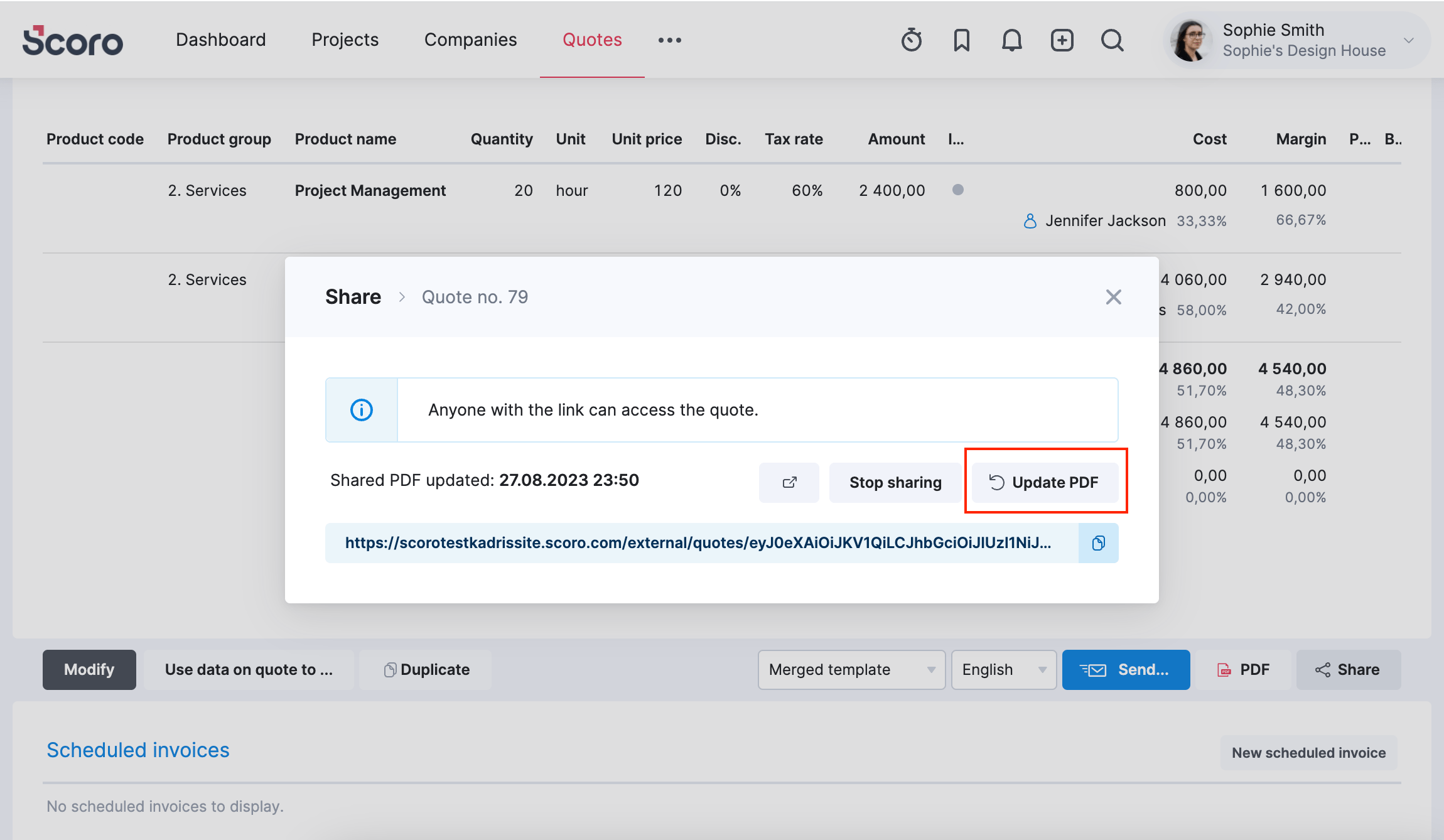 To automate the process further, you can add the quote link to your email template or footer. This way, Scoro will automatically generate the share link for you every time and add it into the email. You can find more detailed instructions here.
Google Sign-in
If you've signed up to Scoro with your Google account, you can now use the Sign in with Google option to log in even quicker. This makes the login process more convenient as you can do away with separate credentials. Admin users can enable or disable the Google sign-in option for the entire site under Settings > Administration > Security settings.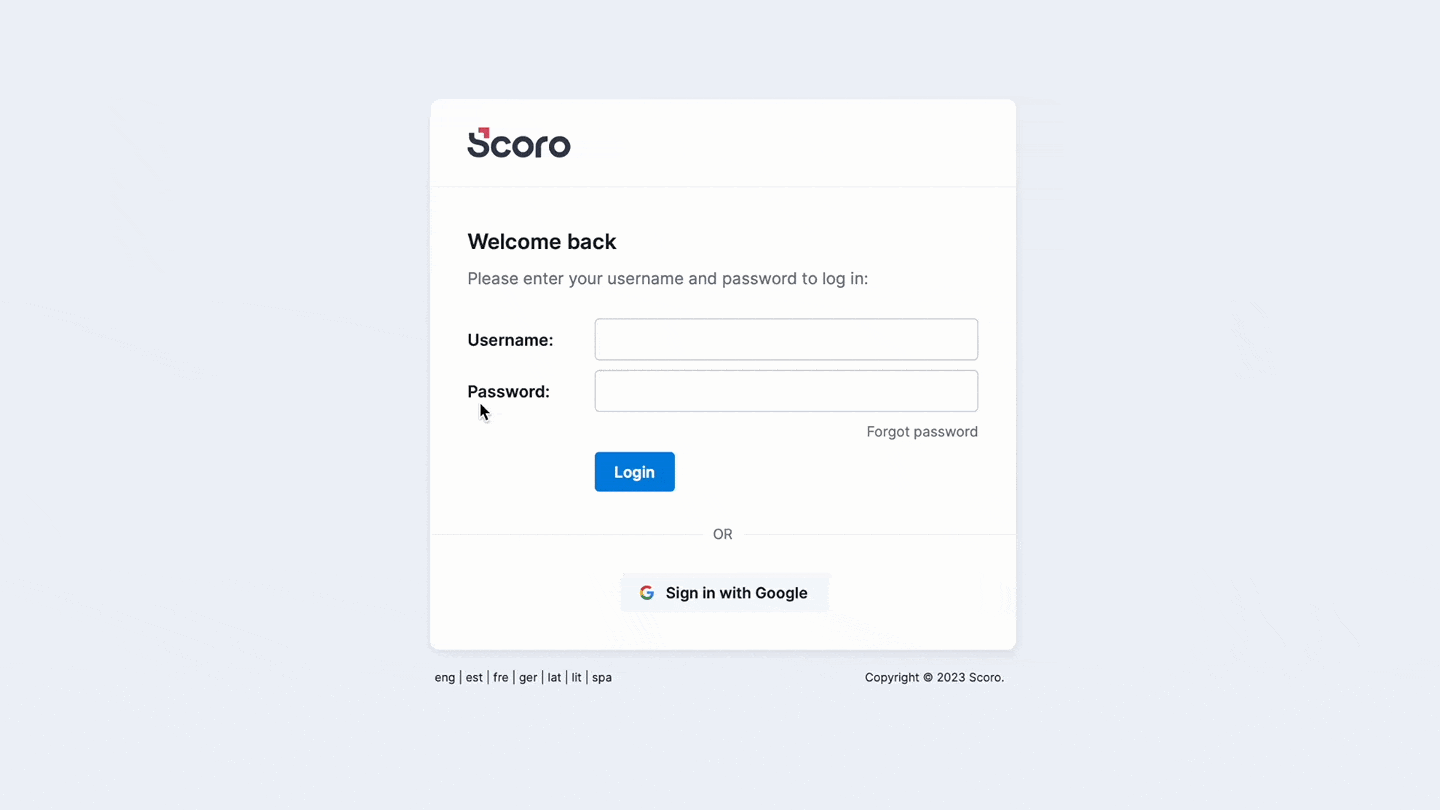 Work Management Improvements
Linking recurring events with tasks. We've further improved task and event linking possibilities. You can now link recurring events with tasks as well. Each recurring event will be scheduled as a separate time entry under the task.

Adding calendar events from the task view. If you want to link an event with a task, you can now create that event directly from the task view, so it's automatically linked. For example, let's say you've budgeted 10 hours for all project-related design activities and created a bucket task for it. Now you want to schedule a 30-minute design review meeting with the client and deduct it from that same time budget. Simply open the task, navigate to the Time entries section and click the Add calendar event button to schedule the meeting from there. This way, Scoro will link it automatically with this task and deduct the event duration from the planned task duration – allowing you to accurately track the time spent on all design activities.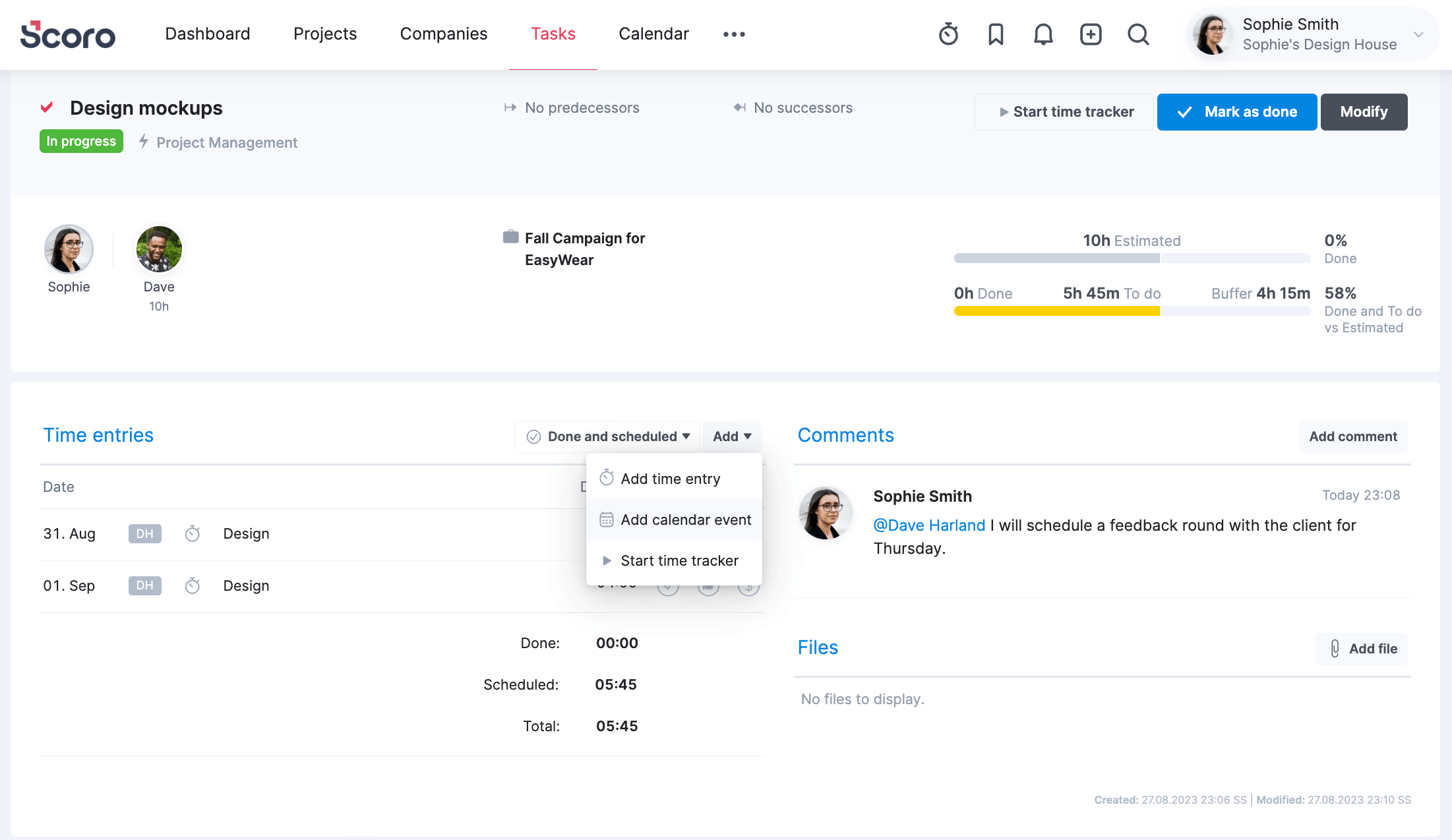 Weekend start and due dates. Project, phase and milestone start and due dates can now fall on weekends even if weekends are not included in the workweek. This gives you more flexibility with project timelines. For example, you can easily align billing periods of retainer agreements with the beginning of the month, no matter what day the date falls on. However, the Include weekend in workweek setting under Settings > Work and projects > Projects will still continue to govern tasks – if this setting is disabled, task start and due dates are not allowed to fall on weekends.
Recalculation of retainer periods. If you change the start date of a retainer project after its creation, billing periods will be automatically recalculated based on the new start date as long as no periods have yet passed. This way, you can conveniently fine-tune the project timeline retrospectively if you discover that billing periods are off or plans change.
---
We're working on…
Revenue forecasting. Seize

 full control of revenue recognition on a project level and use a revenue report to analyze the forecast and understand if you're hitting your targets or need to generate more business.
Wishing for your improvement ideas to come to life on your Scoro site? Send us feedback.
❗Not to worry, if your Scoro site hasn't been updated yet, the update is rolling out gradually over the next few weeks.
We do our very best to make Scoro better every day, so we appreciate your feedback. Let us know what you think at [email protected].
Want to learn more tips to use Scoro to its full potential? See these guides: