Product
June 2023 Version Update: Introducing Reports Library and Shareable Gantt Chart
This month we're all about better insights – our brand new Reports Library makes it easier than ever to delve deep into various aspects of your business while a tiny new button in the Gantt chart will forever change the way you share project insights with your clients.
See what's new in Scoro!
Shareable Gantt chart
Scoro's Gantt chart is a powerful visual tool that helps you plan out your project and maintain a real-time overview of its scope, timeline, current state, and progress. Now you can easily share these insights with your clients as well – improve visibility by showing them the Gantt chart! 
That's right – we've added the long-awaited Share chart button to the Gantt chart view. It creates a snapshot of the current state of the chart and generates a unique link which you can share with people outside your organization. This makes it easier to confirm timelines, align expectations and keep all interested parties up to date and on the same page. Those with the link can see the same tasks, events, and project phases as the sharer sees in Scoro.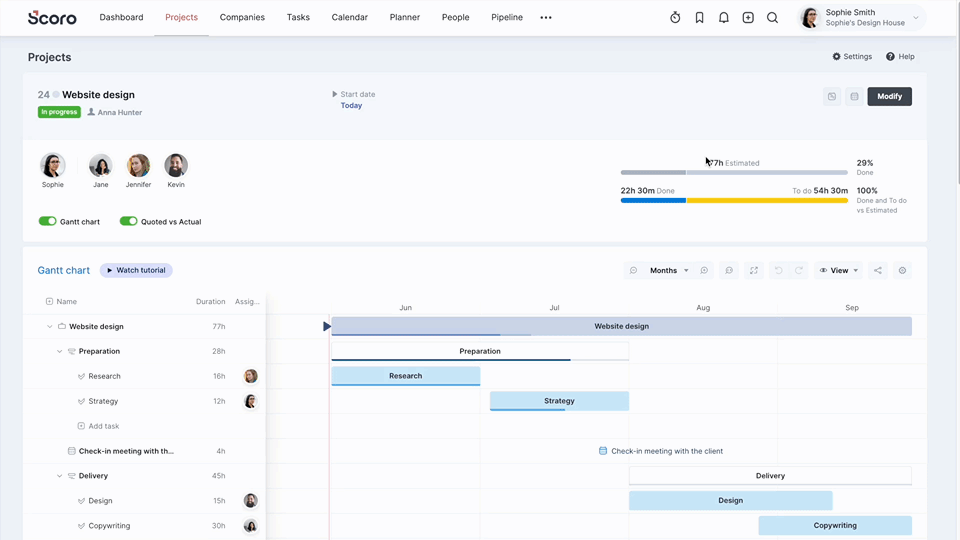 The shared chart is not editable and internal data, such as assignees, is not displayed. You can update the snapshot manually at any point to ensure it reflects the latest changes and developments. If you no longer wish to share the Gantt chart, simply click the Stop sharing button.
Reports Library
Powerful reporting capabilities are one of the pillars of Scoro, helping you analyze various types of data so you wouldn't have to run your business on a hunch. To save you time and give you even quicker access to valuable insights, we've now launched a Reports Library. It includes shortcuts to almost 50 useful reports that help you measure and analyze the key aspects of your business. The reports are divided into six bigger categories for easier navigation – productivity, utilization, revenue, cost, profitability, and sales.
Head on over to the Reports module to browse the library. You can easily customize these ready-made reports further with any additional filters or data columns you need. Read more about the Reports Library or check out the video below!

New financial metrics
Scoro's completely customizable project list view is the go-to place for a quick and compact overview of all your projects and their core financial indicators. You can now update this view with three new metrics that offer further insights into how effectively you are running your projects.
Gross income

shows you how much revenue you are generating purely with your internal resources. In other words – how much money is left over once you pay the external vendors. All costs that simply pass through your business, such as bills and expenses, are subtracted from the total invoiced amount. It gives you an indication of how much money you actually have to cover all your fixed costs and make a profit.

Delivery margin

shows you how profitable is the work your internal team is doing. It helps you evaluate how much it costs your business to earn revenue. The formula behind the metric: (gross income – labor cost) / gross income. 

Average billable rate

shows you how much money you've made for every hour you've invested into the project, so you can evaluate how efficiently you are generating revenue. Gross income is divided by the actual hours spent. 
You can enable any or all of these metrics from View > Data columns. And don't forget to bookmark the new view!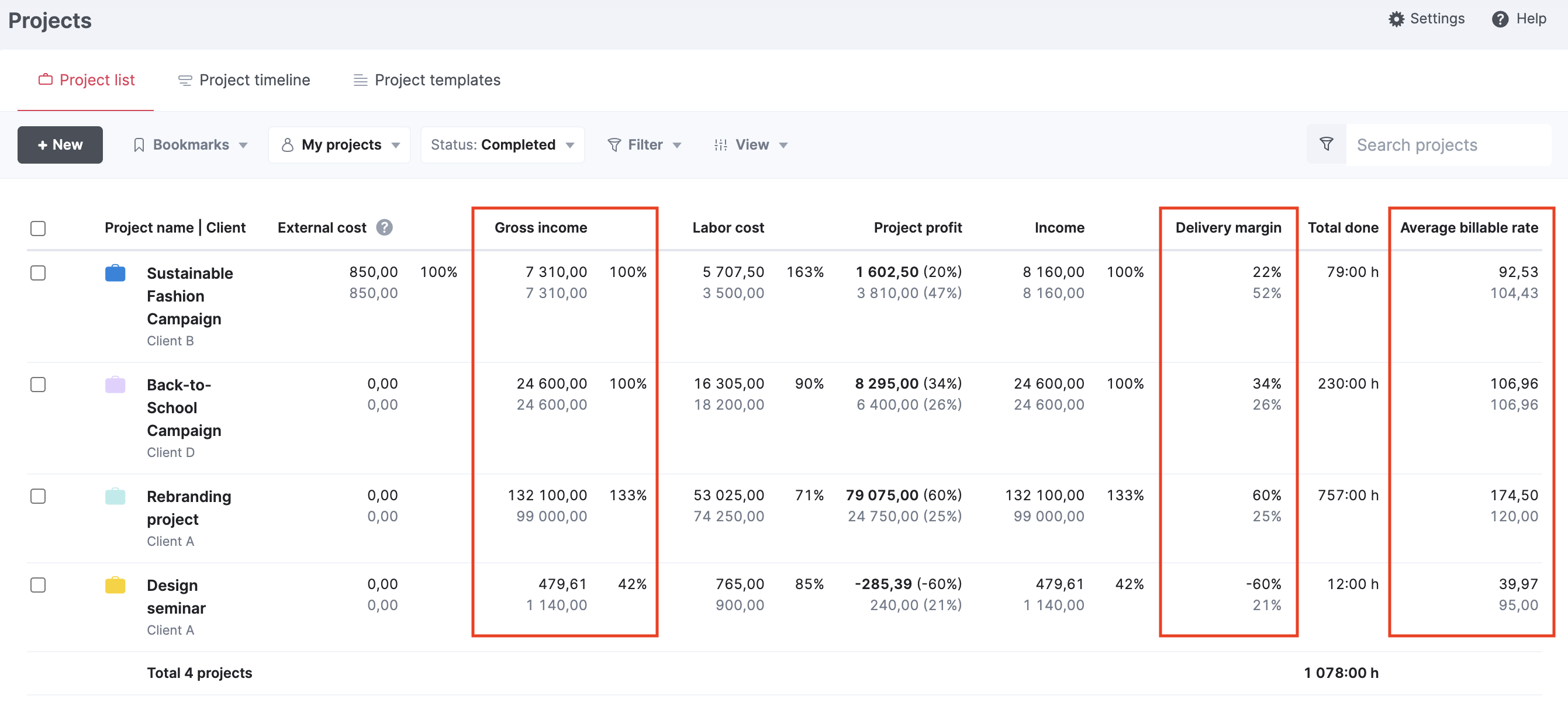 Other…
Triggers and actions: dynamic exclusion. Last month we launched our new and improved Triggers and actions to support more complex automations. As a result of the update, you can now also assign dynamic roles, such as creator, responsible user or assignee, as notification recipients. This month we're adding another dynamic group into the mix – the All users except me option makes it easier and faster to set up rules to notify you whenever anyone but you modifies some task, event, quote or any other relevant item.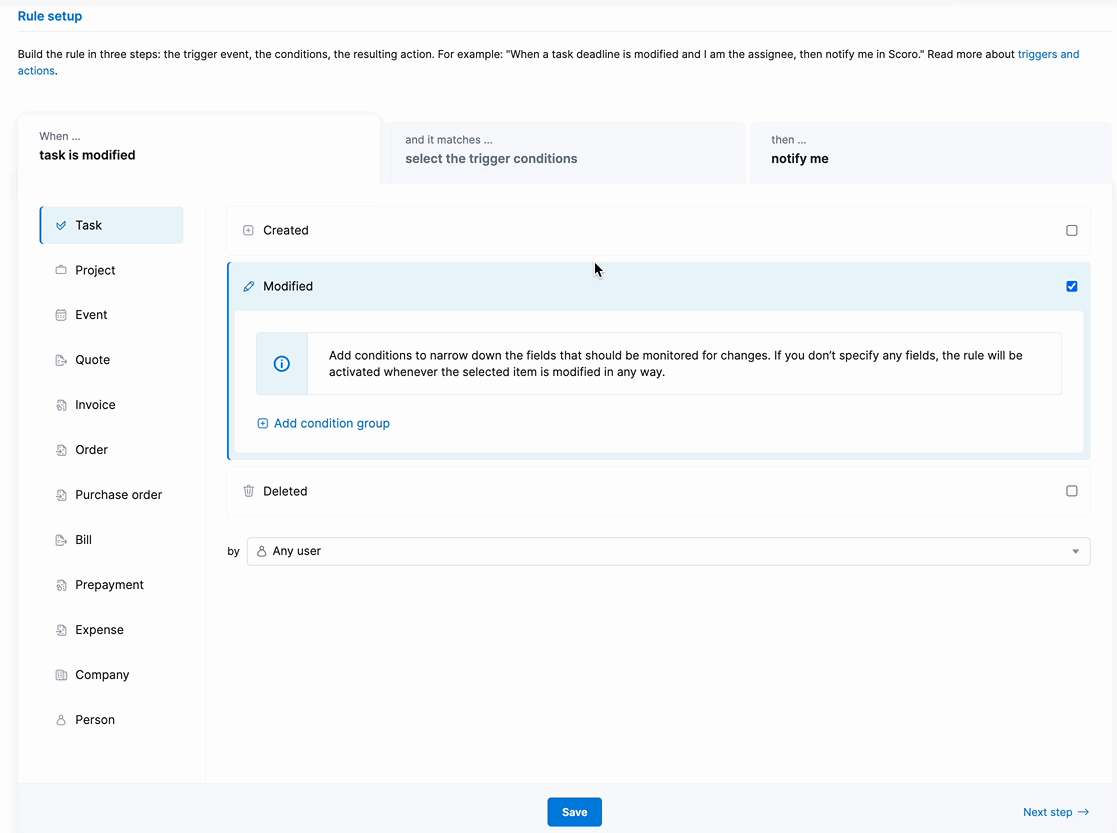 ---
We're working on…
Streamlined retainer projects.

Easily plan, manage and track your retainers period by period and across the entire project duration.

Exact Online integration.

Seamlessly sync invoices and bills between Scoro and Exact to ensure data integrity and maintain a real-time overview of finances in both systems.
Wishing for your improvement ideas to come to life on your Scoro site? Send us your feature request.
❗Not to worry, if your Scoro site hasn't been updated yet, the update is rolling out gradually over the next few weeks.
We do our very best to make Scoro better every day, so we appreciate your feedback. Let us know what you think at [email protected].
Want to learn more tips to use Scoro to its full potential? See these guides: