Product
September 2022 Version Update: Timesheet and Google Calendar Sync Updates
This month we're tweaking various aspects of time management in Scoro. From a more customizable Timesheet view and improved sync options with Google Calendar to a few smaller updates in between, we are tirelessly working on helping you plan, manage and log your time more efficiently with Scoro.
See what's new in Scoro!
Timesheet
Timesheet is a useful tool if you are used to reporting your time manually at the end of each work day or week. It gives you an instant overview of the tasks and hours you've already scheduled or completed and lets you log any unrecorded time conveniently in one view. This month we've made several updates to our timesheet to help you reduce the time you spend on logging your hours.
You can now group and sort the tasks in your timesheet list to find the ones you're looking for faster and tackle them in the desired order. For example, group them by project and sort them by due dates.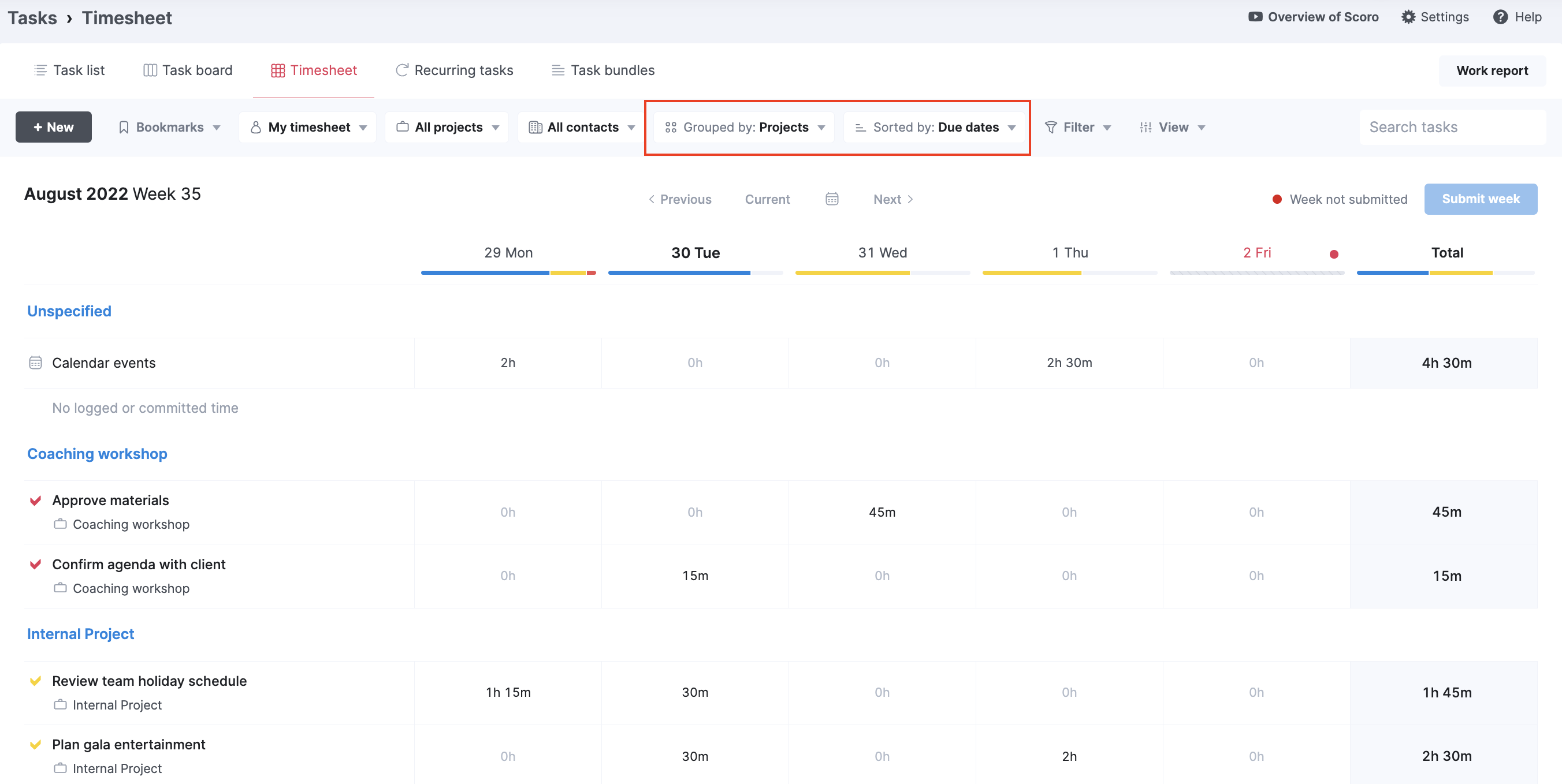 You can also customize which task-related data you'd like to see in your grid view. Filter out the information you need to tell tasks apart quicker and ensure that you always log your time against the correct activities.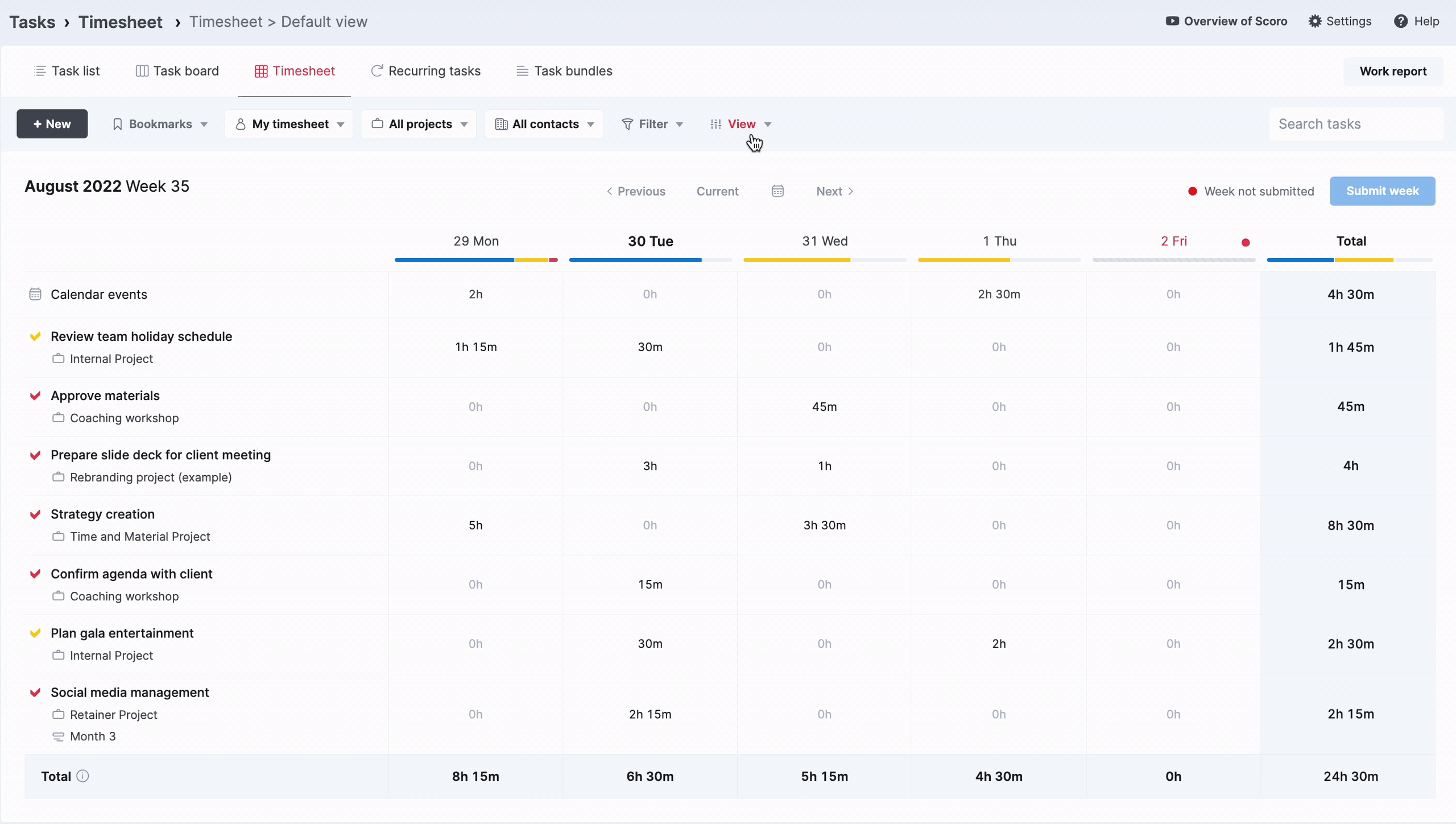 We've also added the option to Show only current week's tasks to help you easily eliminate any tasks that are not relevant for the current week.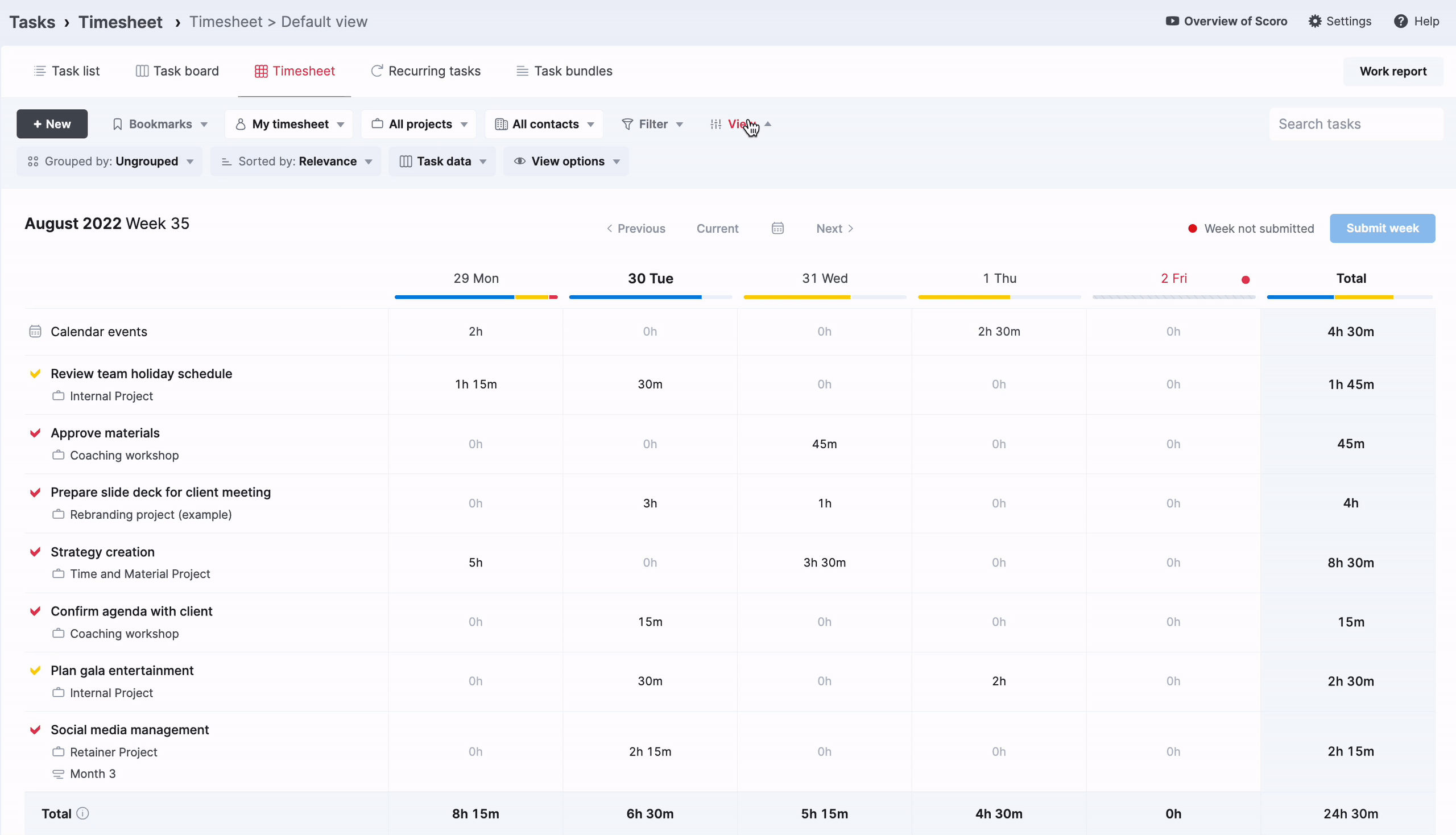 Furthermore, you can now also search tasks by project name to log all project-related hours conveniently in one go.
We've also made sure that the progress bar and the totals bar always remain visible as you scroll through your task list. Regardless of the filters you've applied, they always reflect all the hours logged and scheduled for the day, so you can easily keep an eye on your totals as you fill in your timesheet.
The Timesheet feature is available starting from the Pro plan.
Google Calendar
Our Google Calendar integration now supports synchronizing recurring events from Google Calendar to Scoro. For the sync to work properly, you should:
make sure that Scoro supports the recurrence pattern defined in Google Calendar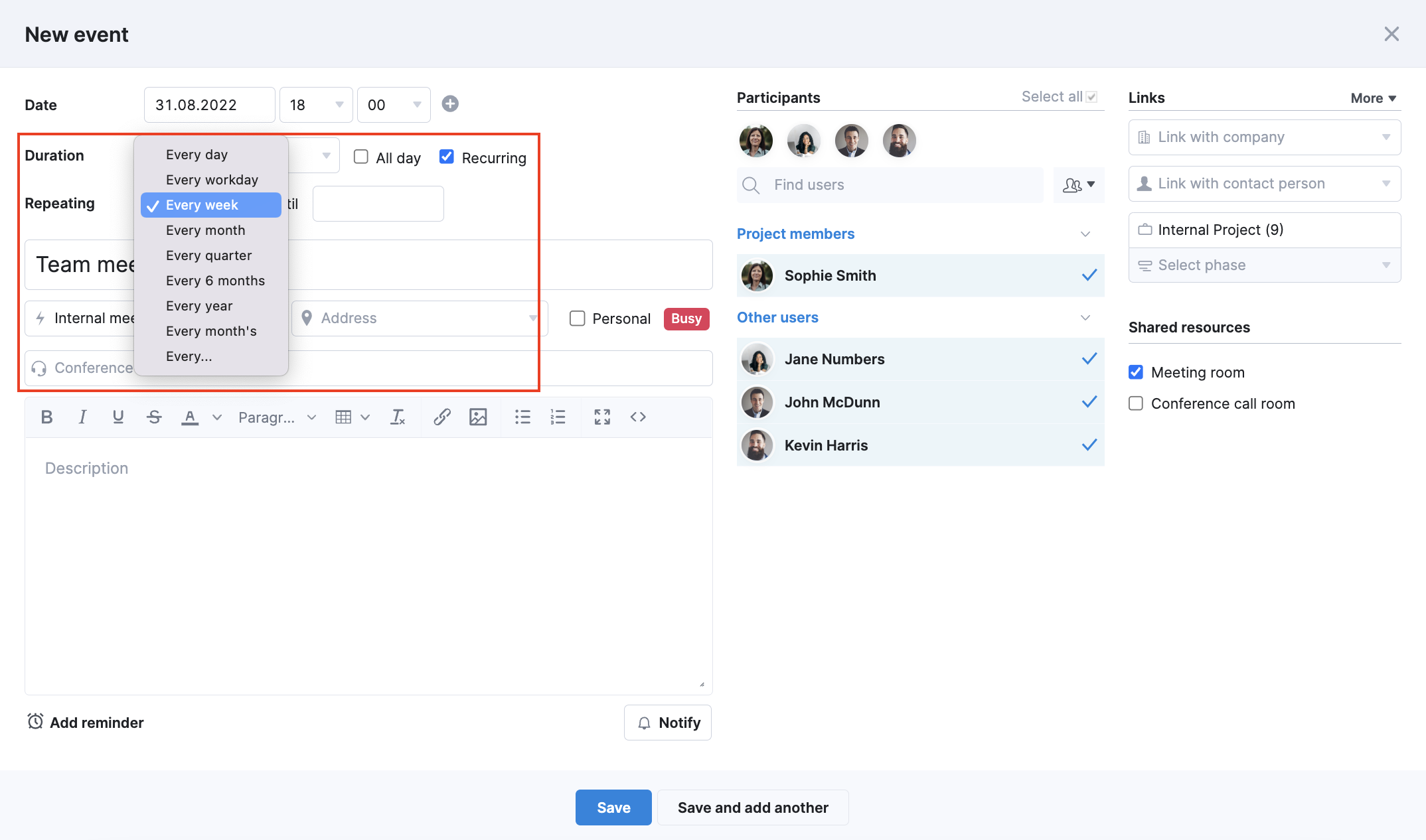 AND
assign either an end date to the recurring event or limit the number of its occurrences in Google Calendar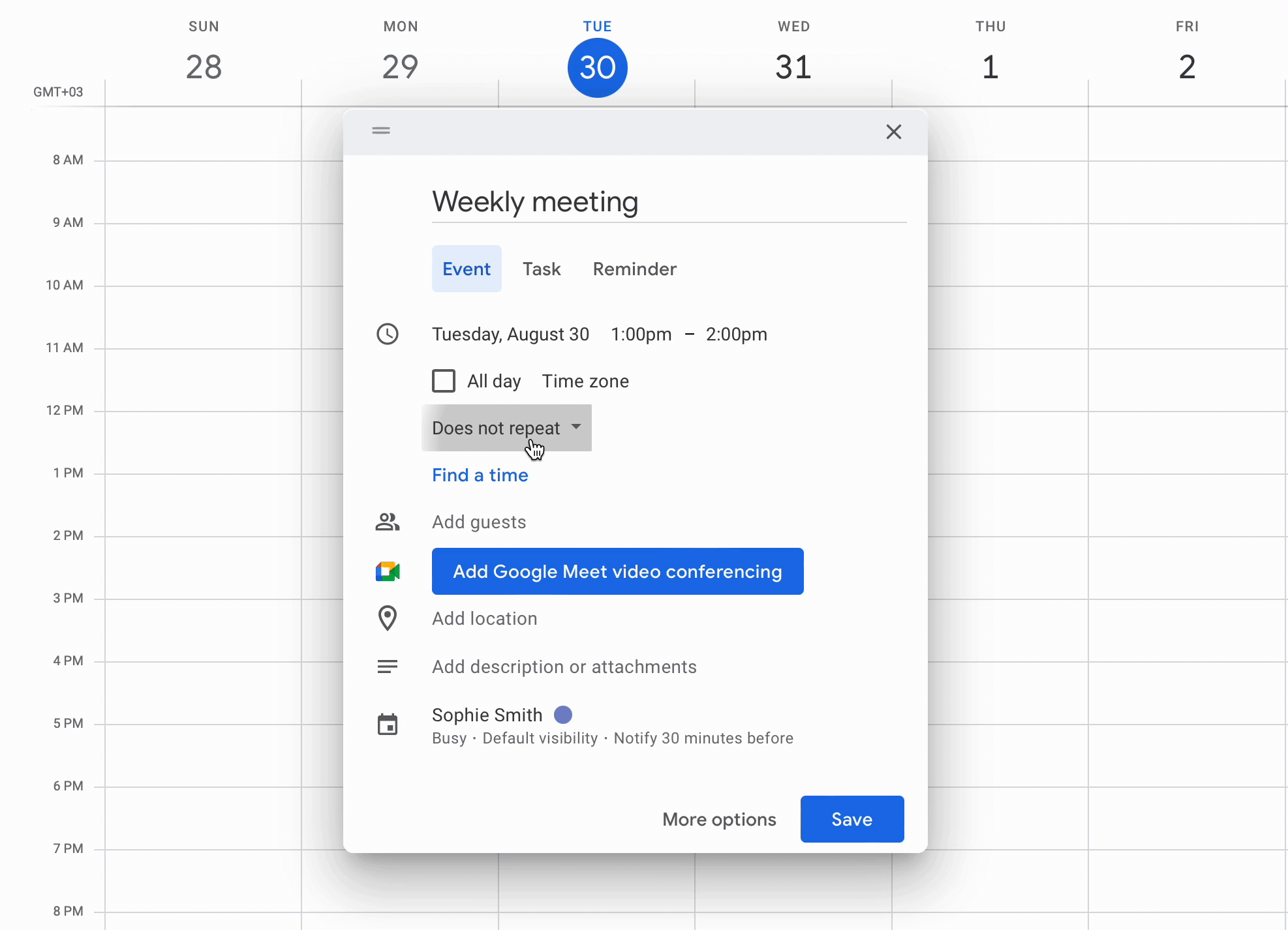 This way, if you create, modify or delete a recurring event in your Google Calendar, the changes will also be automatically reflected in your Scoro calendar, so you no longer need to worry about keeping data manually up to date in several places.
NB! If you have previously added a recurring event both into your Google and Scoro calendar manually, you may need to delete the old event from Scoro before modifying its equivalent in Google in order to avoid duplicates. Read more here.
Planner
It is now possible to group tasks by project phases in the Planner. This makes it easier to sort through similarly named tasks within one project, so you can distribute them quicker.
Smart inbox
Now you can set the default activity type for tasks sent and created via Smart inbox. Moreover, you can have them automatically marked as completed. This helps you save time on repetitive manual work if you process a lot of similar tasks via Smart inbox. It's possible to define the default activity type for Smart inbox on a site level, but you can easily adjust your profile settings to match your personal workflow under Settings > My Settings > My calendar and tasks.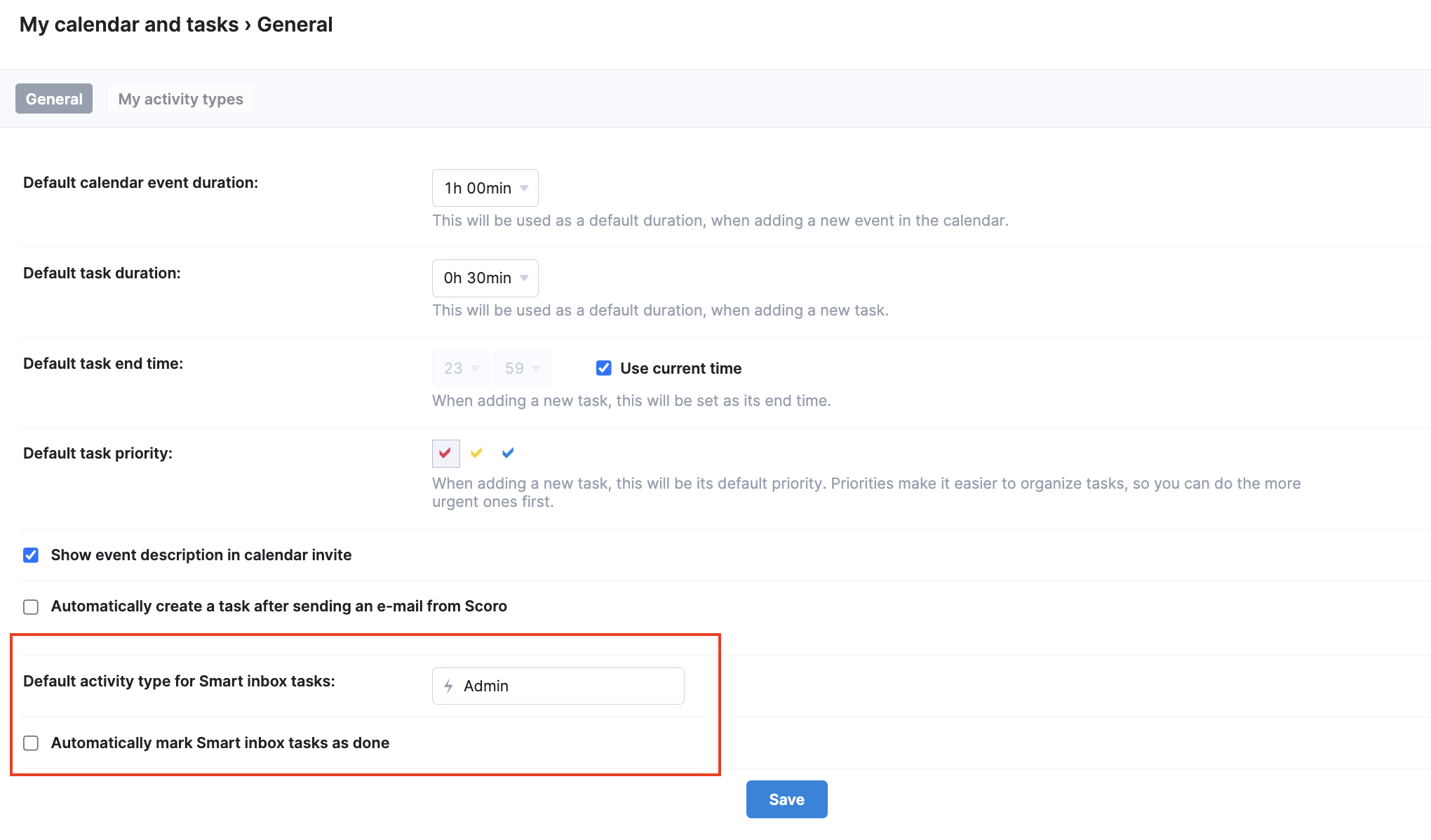 QuickBooks invoice links
You can now add QuickBooks invoice links into Scoro PDF and email templates to streamline payment collection. To set this up, simply enable the respective settings under the QuickBooks integration and add the link placeholder into your Scoro invoice PDF or email template. After this, the QuickBooks invoice link will appear in your Scoro PDFs or emails automatically once you have created your invoice in Scoro and synced it with QuickBooks.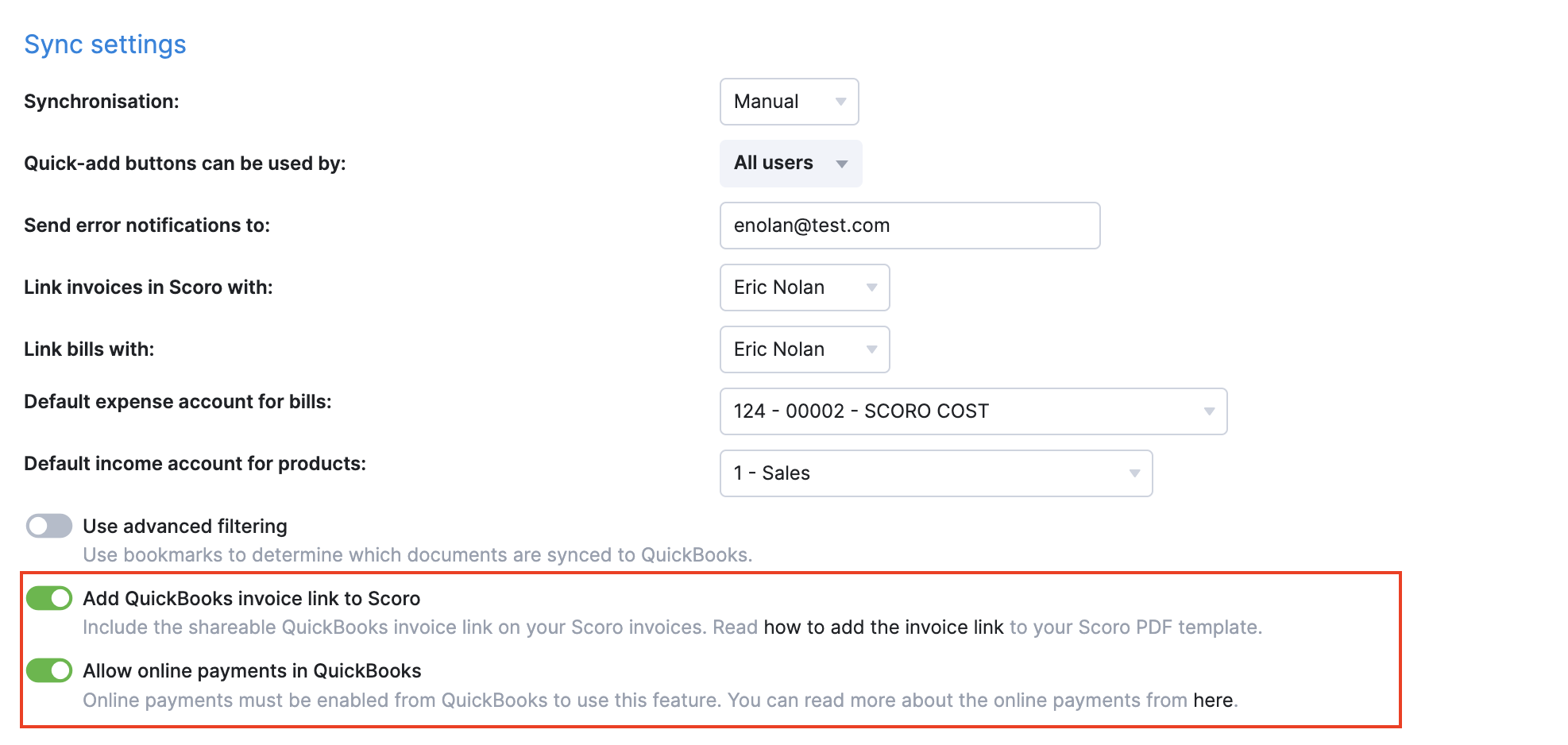 This speeds up the invoice payment process as customers who use QuickBooks can conveniently proceed with the payment directly from the link.
Other…
Performance improvements. We have also significantly improved response times of various features across different modules. So if your task lists, Calendar, bookmarks or Gantt charts hold a lot of data, these pages now load quicker and return results faster.
---
We're working on…
Charts in Reports

.

We'll be making our reports more visual by including graphs, so it's easier to understand, compare and present data. First up – adding bar charts to the detailed work report.
Wishing for your improvement ideas to come to life on your Scoro site? Send us your feature request.
❗Not to worry, if your Scoro site hasn't been updated yet, the update is rolling out gradually over the next few weeks.
We do our very best to make Scoro better every day, so we appreciate your feedback. Let us know what you think at [email protected].
Want to learn more tips to use Scoro to its full potential? See these guides: