Product
June 2022 Version Update: Smoother Project Management
At Scoro, we're all about getting rid of those tedious extra steps in your workflow. With this update, we are introducing several project management related improvements that significantly reduce manual work with similar or standard projects. Plus we've got some news on the emoji front!
Here's what's new in Scoro.
Standard projects and templates
Adding task bundles to project templates
Now it's possible to link one or several task bundles to each project phase when creating project templates. This means you can save yourself some valuable time when managing similar or identical projects by predefining relevant sets of tasks already in the template.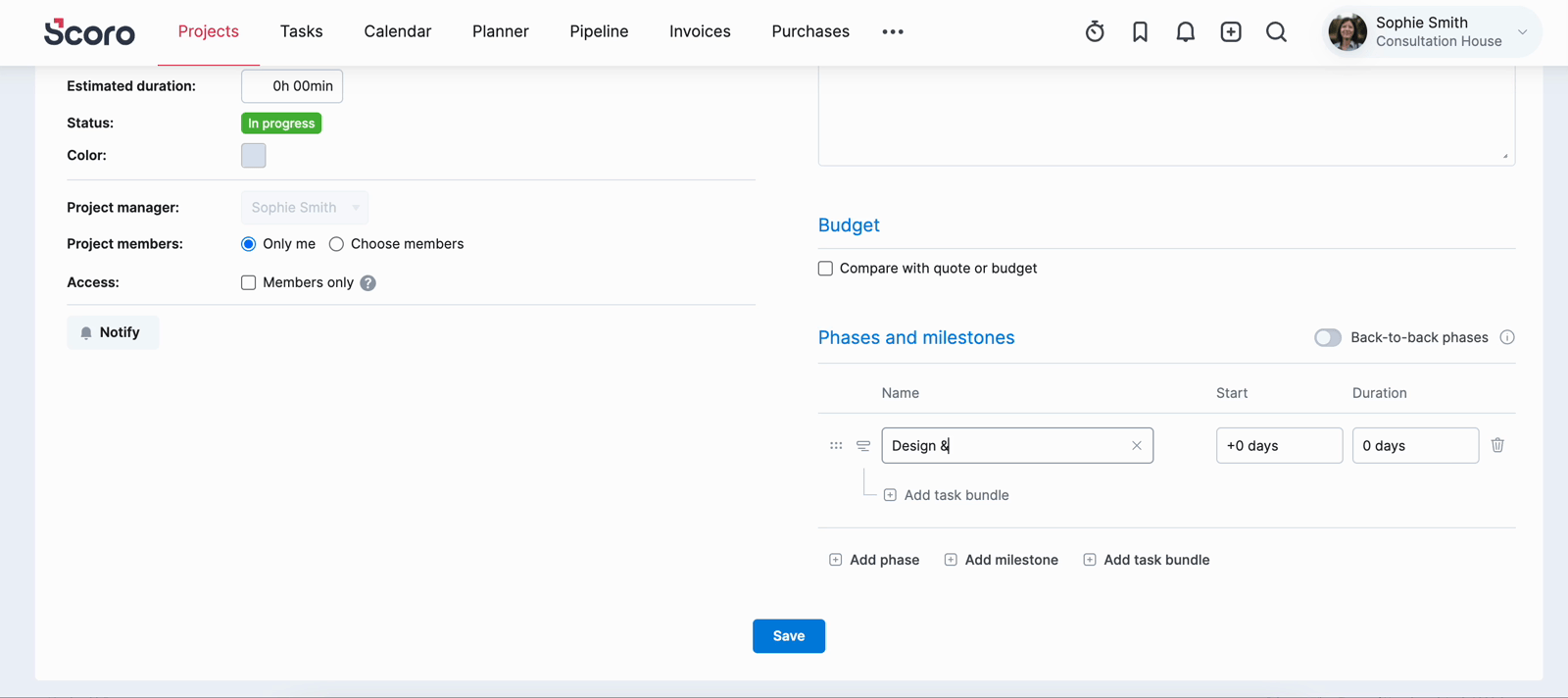 Back-to-back phases
Now you can also effortlessly set up a waterfall project, either from scratch or from a template, using the Back-to-back phases toggle switch. It automatically creates finish-to-start dependencies between project phases and milestones. The length of the dependent phases can later be easily adjusted on the project Gantt chart. With the toggle off, you can define the start day of each phase and milestone manually.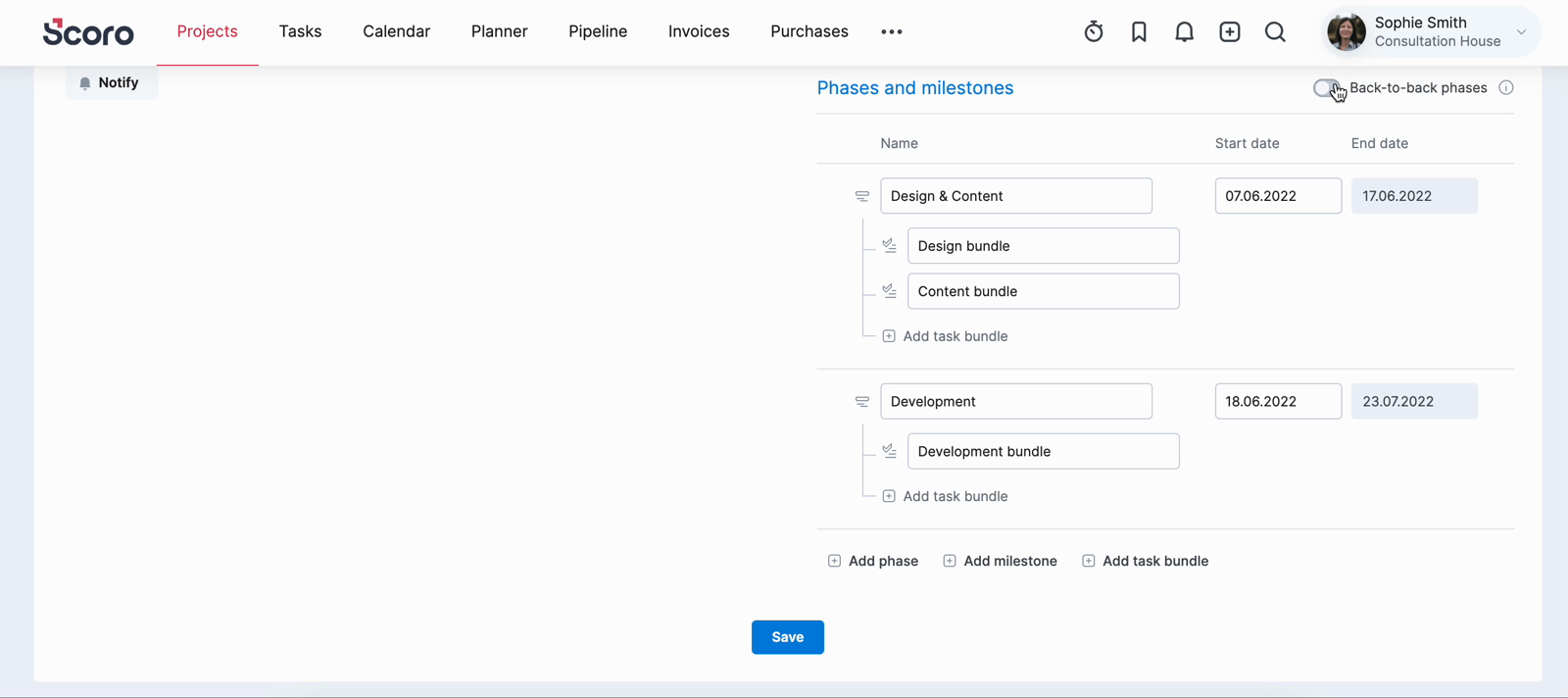 Task bundles, phases and milestones and project templates are all available starting from the Standard plan.
Time entries
Time entry completion dates
We've also updated the way that Scoro treats any scheduled but uncompleted time entries with due dates in the past. Previously, when you forgot to mark your time entry as done on the right day, the original due date was overwritten once you did get around to closing it at a later date. Now all such time entries will be marked as having been completed on their scheduled due date, no matter when you actually tick them as done. Same logic is automatically applied to all still open overdue time entries when completing tasks.
Text editor
Improved formatting tools
With this update, we've also made some significant improvements to our text editor, making it more similar to other commonly used text editors and, therefore, more intuitive to use. For example, you can now also insert tables and various block styles when adding task, event and project descriptions.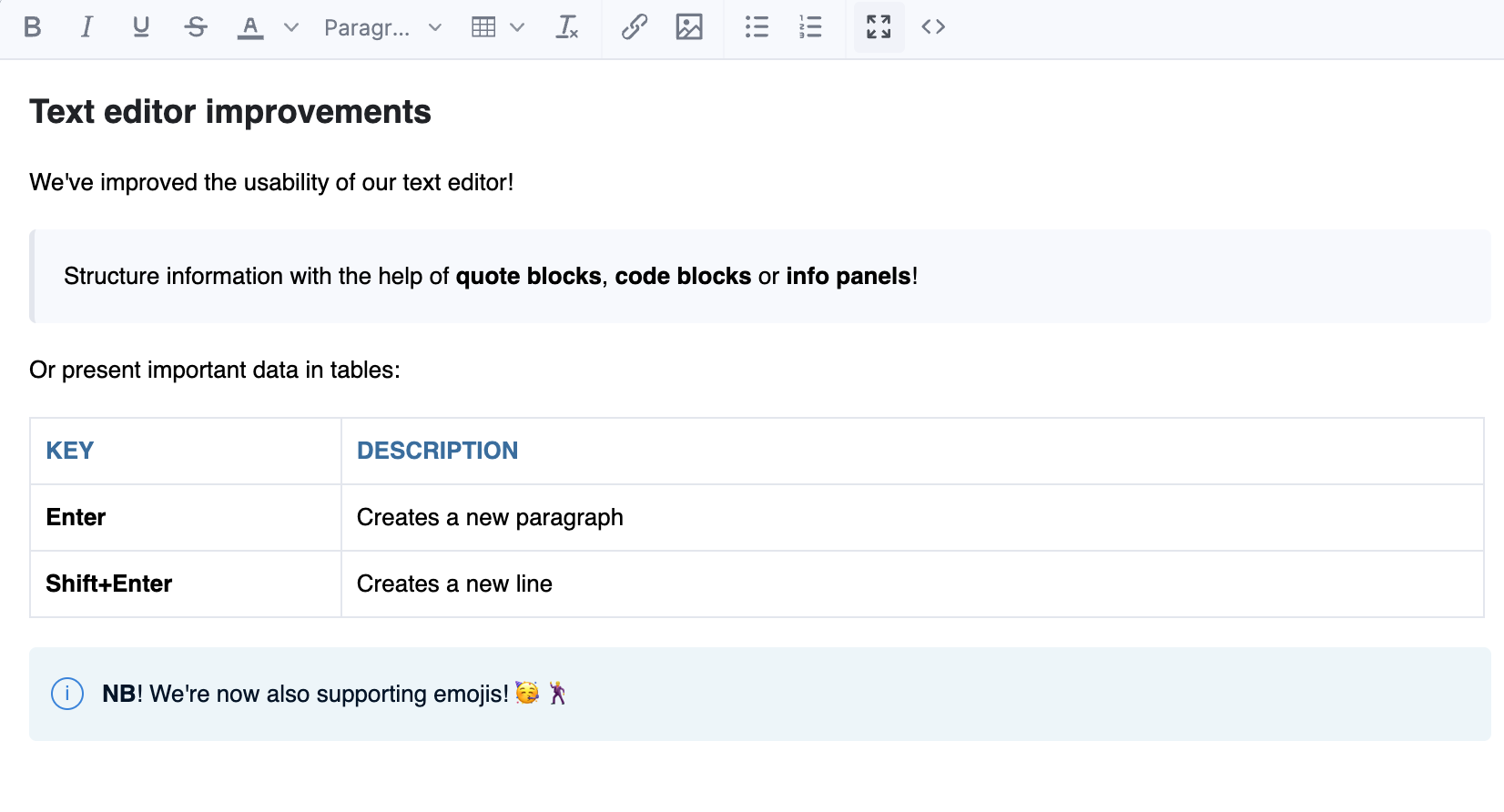 Gone are the days of unexpected formatting changes as what you see in the editor view is exactly what you get after you save your changes.
Emoji support
That's right! Scoro now supports emojis in any text field across the site. Simply type in a colon and at least the first two letters of the keyword to reveal the dropdown menu with emoji suggestions. In the comment box, you can also access the full emoji menu directly from the button on the toolbar.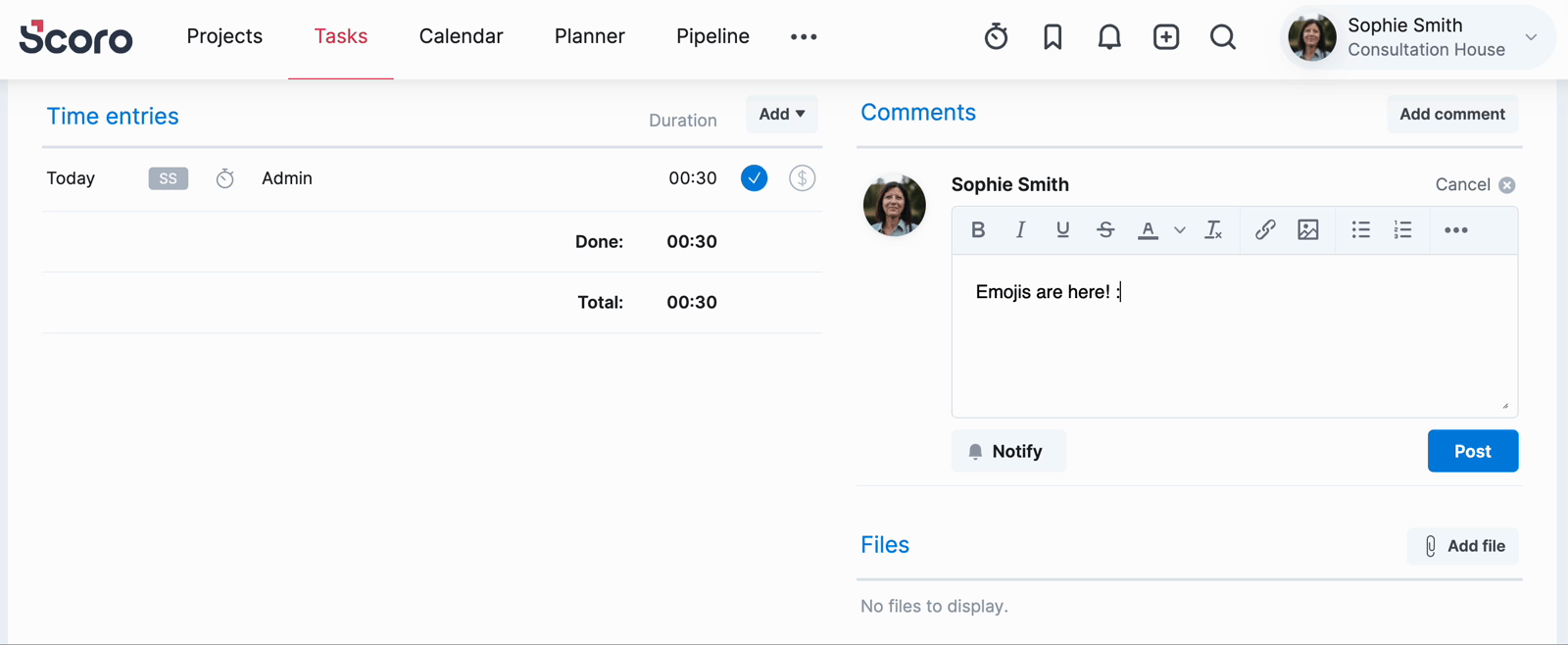 Other…
Xero and Quickbooks: product sync via quick actions
Now you can sync specific products manually from the product list view or the product Modify view whenever you want, either one by one or in bulk. As a result, it is now also easier to grasp which products are synced, see which items they are linked to, and detect and fix any sync errors.
---
We're working on…
Retrospective linking of cost documents.

Link your bills and expenses with relevant quote lines retrospectively to maintain an accurate and up-to-date overview of your project's profitability in the Quoted vs Actual table.
Wishing for your improvement ideas to come to life on your Scoro site? Send us your feature request.
❗Not to worry, if your Scoro site hasn't been updated yet, the update is rolling out gradually over the next few weeks.
We do our very best to make Scoro better every day, so we appreciate your feedback. Let us know what you think at [email protected].
Want to learn more tips to use Scoro to its full potential? See these guides: