Product
April 2022 Version Update: Smarter Financial Reporting
In April, we're diving into finances and improving our revenue tracking options. This month the spotlight is on revenue recognition in the WIP report, so let's have a closer look at what we've done with it. 
Here's what's new in Scoro.
WIP report
With the Work In Progress report, WIP for short, you can keep an eye on the profitability of your projects while they're still in process. We've now added a new convenient feature to it that tracks revenue in Scoro as it is earned, as opposed to when the invoice itself is created.
Recognized revenue based on completed activities
The WIP report now tracks recognized revenue based on project progress and budgeted income. This long-awaited addition to the WIP report increases Scoro's revenue recognition capabilities and improves profitability tracking. Earned revenue is calculated by multiplying the percentage of completed activities with the project's budgeted income.
For example, if the estimated duration of your project is 100 h and you have completed 10 h worth of activities in the selected period, project progress is 10%. If the total estimated budget for this project is 20,000 €, then the recognized revenue for this time period is 2,000 € respectively. 
This revenue recognition method is especially well-suited for companies who record their earned income based on services they have already provided.
Modify your WIP report view by ticking the Project progress and Recognizable income data columns to see these statistics.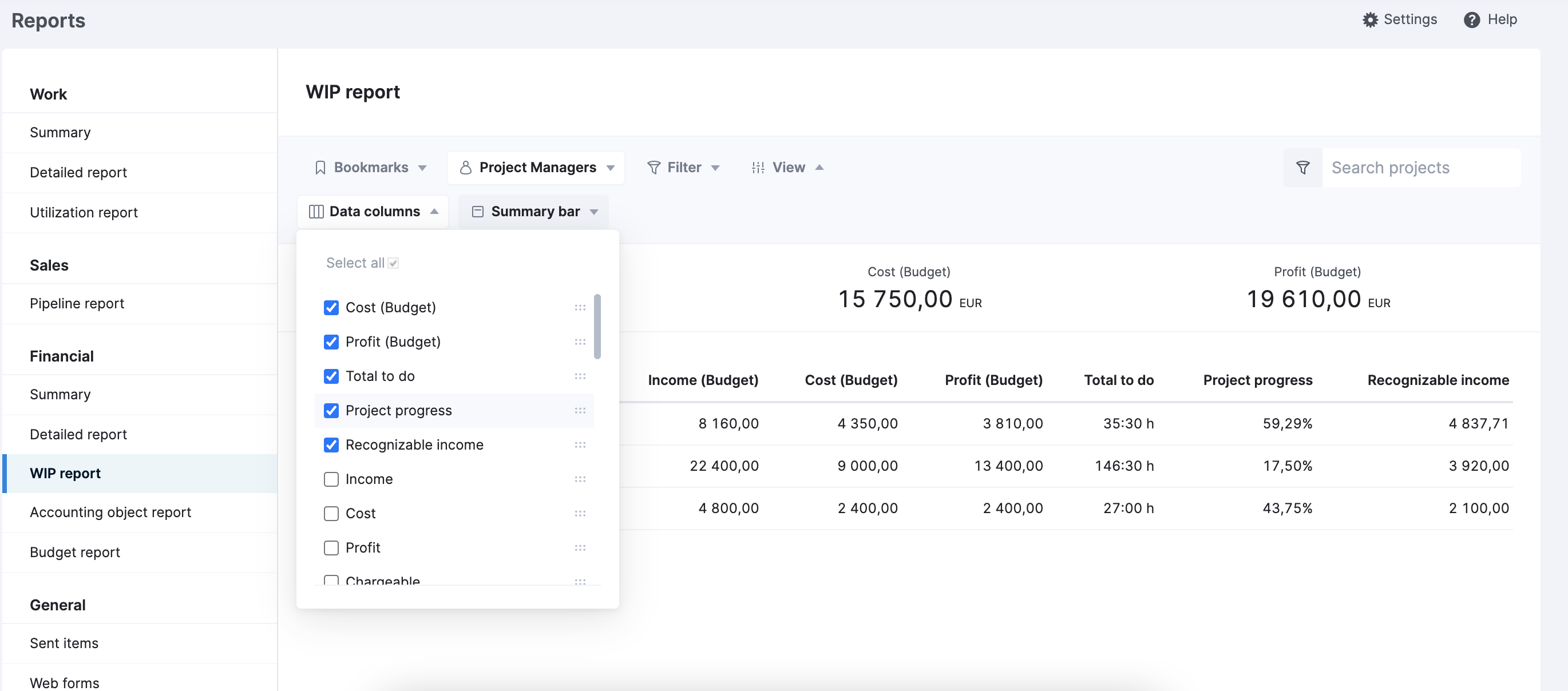 Note! A project is displayed under the WIP report only if you have ticked the Compare budget estimates with actual results option in the project's Modify view.
The WIP report itself can be found under financial reports. You can give users role-based rights to view it under Settings > Administration > Roles and permissions > Modules and actions.
---
We're working on…
Field level triggering.

Set up rules to get notified of changes only if some specific value is changed.

Subheading subtotals.

The option to display subheading total sum and margin amounts on the go when compiling sales and purchase documents.

Project templates: bundles and back-to-back phases.

Streamline setting up standard projects with the ability to link task bundles to project phases and make project phases sequential in the project templates.
Wishing for your improvement ideas to come to life on your Scoro site? Send us your feature request.
❗Not to worry, if your Scoro site hasn't been updated yet, the update is rolling out gradually over the next few weeks.
We do our very best to make Scoro better every day, so we appreciate your feedback. Let us know what you think at [email protected].
Want to learn more tips to use Scoro to its full potential? See these guides: