Product
December 2022 Version Update: Introducing Online Payments with Stripe
This month we're helping you accelerate payment collection and boost your cashflow with our brand new Stripe integration. And that's not all – we've also got a few work management related improvements up our sleeve!
See what's new in Scoro!
Online Payments with Stripe
Giving your clients an easy way to pay invoices online optimizes the whole payment experience. Fewer obstacles result in fewer delays, which means money arrives in your account faster. Integrating your Stripe account with Scoro makes it possible to add an online payment link to your invoices. As a result, your clients can conveniently proceed with the payment directly via the link – from any device, at any place and any time, hassle-free.
With the help of Stripe, you can enable a variety of payment methods for your clients, such as credit cards, digital wallets, bank redirects, etc. All payments made via Stripe are automatically synced back to Scoro. Scoro then marks the respective invoices as paid, which means you maintain a real-time overview of all the transfers.
You can integrate your Stripe account with Scoro from Settings > Site settings > Integrations > Stripe. Read more about the benefits of Stripe and how to set it up in Scoro.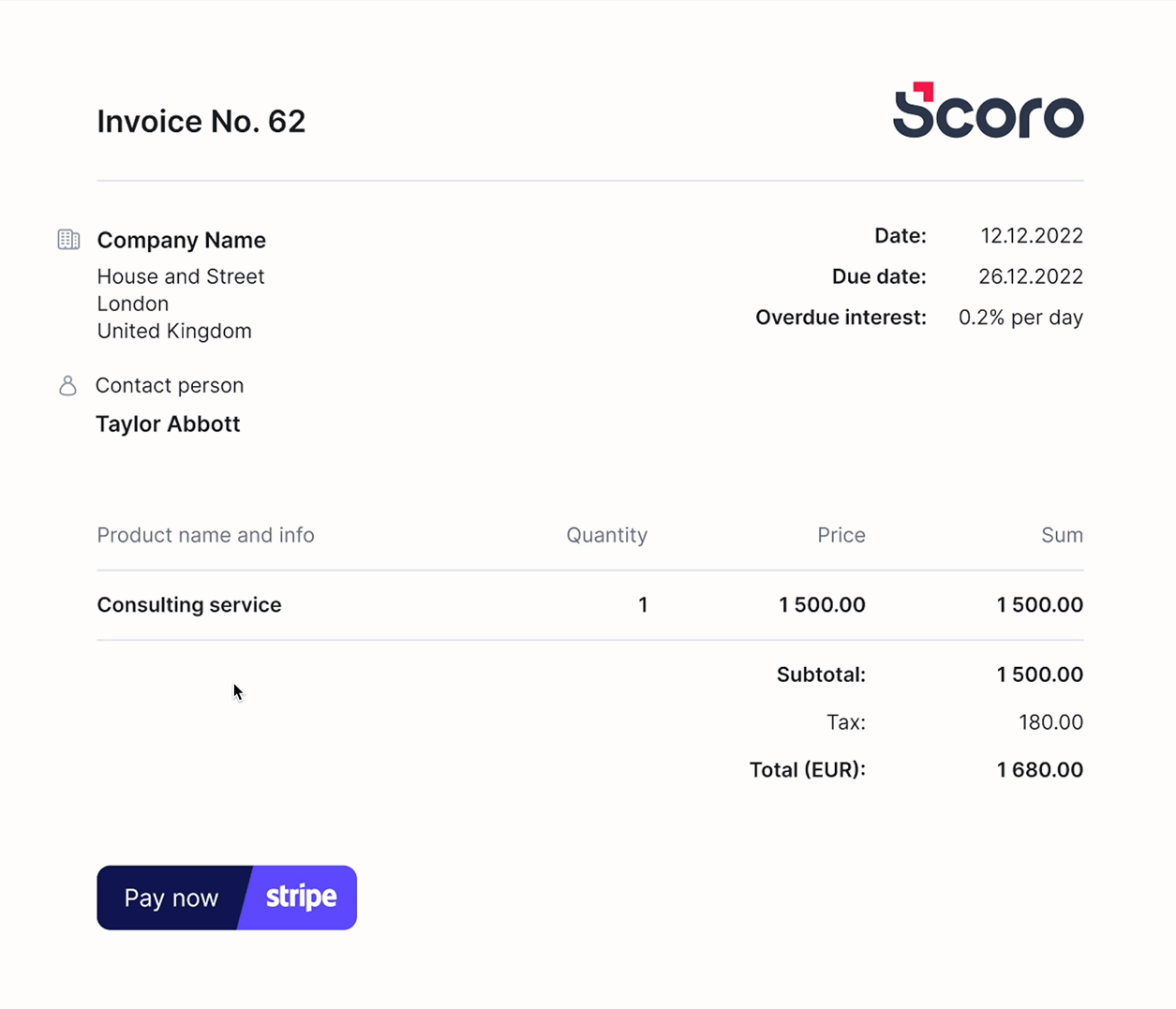 Calendar
Default conference call link. Each Scoro user can now store their default online meeting link under their profile to eliminate the tedious manual task of having to copy-paste the same link over and over again for every new event. If you use a static personal link for most of your online meetings, go to Settings > My Settings > My calendar and tasks and save your personal meeting ID in the Default conference call link field. Scoro will now auto-fill the conference call field for you by default every time you create a new event.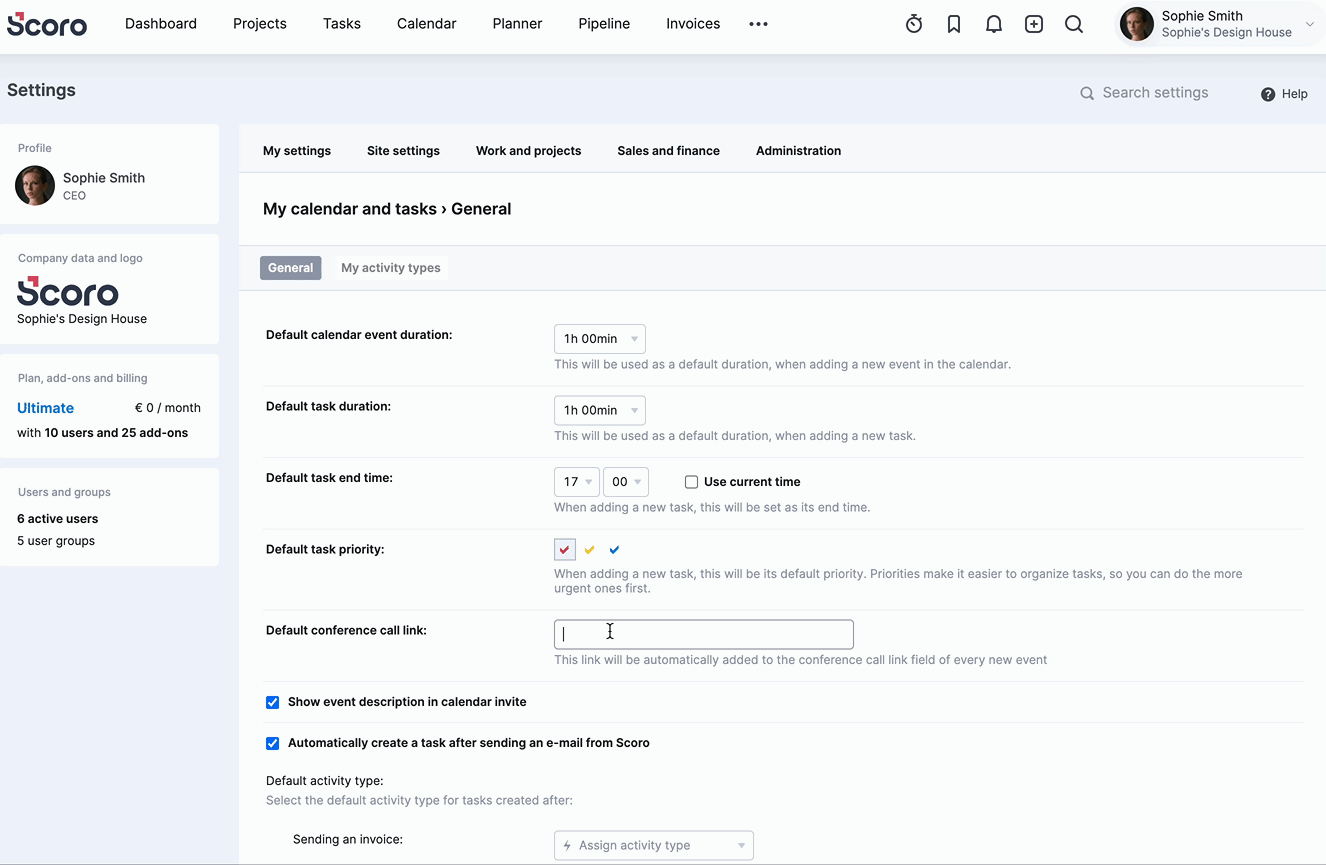 Planner
Grid height. We've added an Extended grid view to the Planner. If the days look quite busy and it's difficult to grasp people's schedules due to all the short events and time entries, simply play around with grid height in the header. The new Extended option lengthens the columns further and therefore minimizes the need to hover over activities one by one in order to see what's already planned.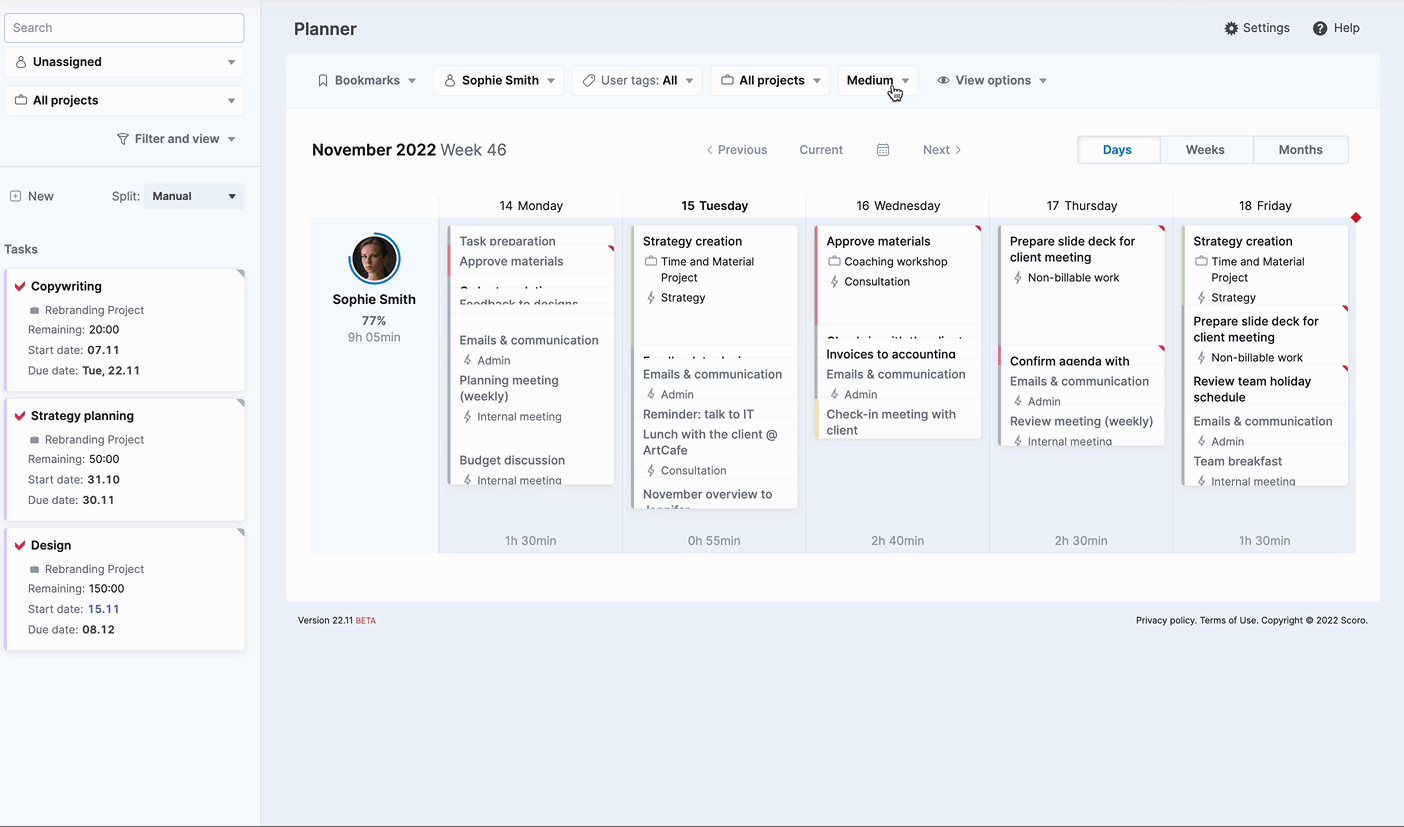 As always, don't forget to use Bookmarks to set the most convenient view as the default one and save the rest of the favourites for easy access.
Productivity tip!
Take advantage of various time input shortcuts in Scoro! These can be big timesavers if you often schedule or log chunks of time manually. The shortcut logic works the same way across all time-logging features, from the Timesheet to the Planner to the Time Tracker, etc.
3 = 3 hours

30m = 30 minutes

3h30m = 3 hours 30 minutes

3:30 = 3 hours 30 minutes

0:30 = 30 minutes

3,3 = 3 hours 18 minutes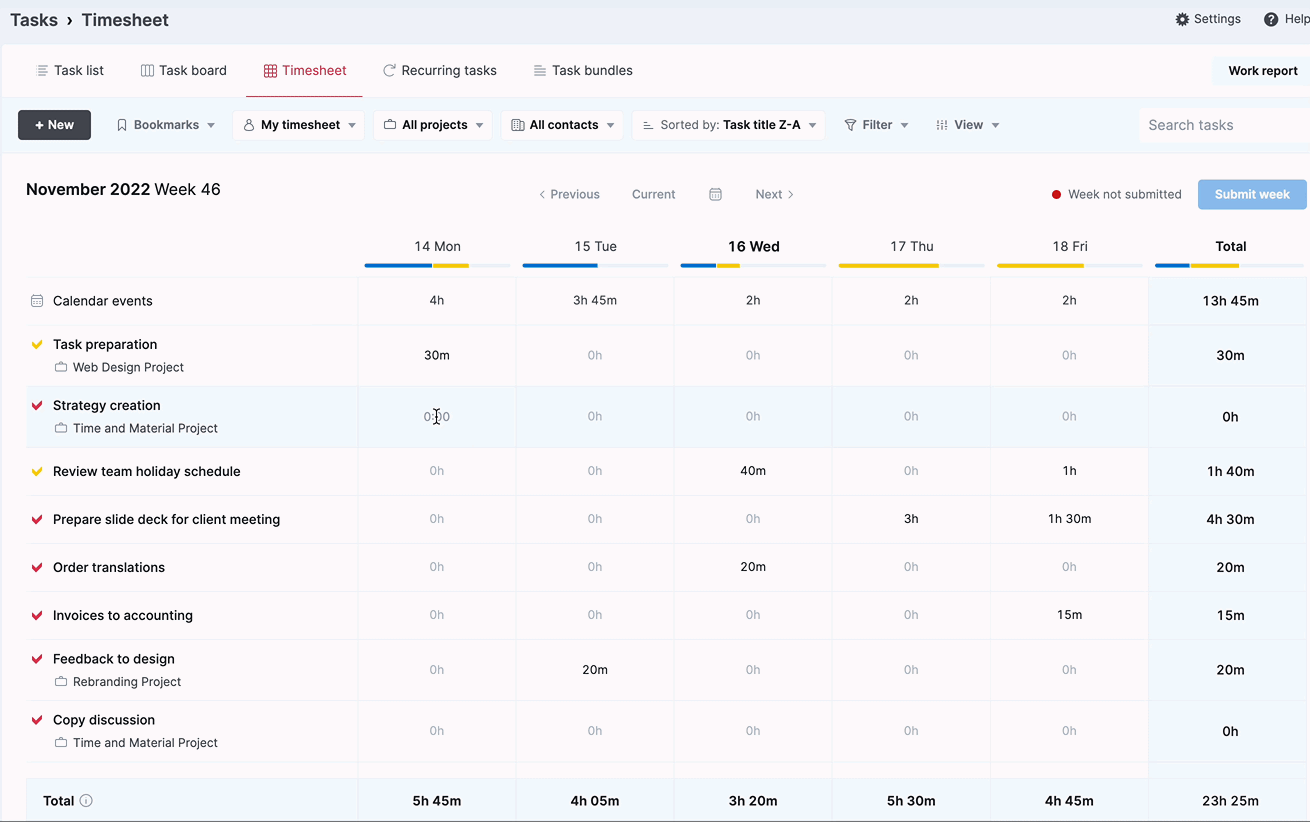 Xero
Sync options for products and services. Now you can toggle the product sync between Xero and Scoro on or off as per your own preference. If you switch the automatic sync off for your site, Scoro will sync only the products and services that are used on financial documents. This helps to keep things neat in Xero as you can skip any unnecessary historical data and send over only the relevant product information. You can also use quick actions in the product Modify view to sync any specific products manually.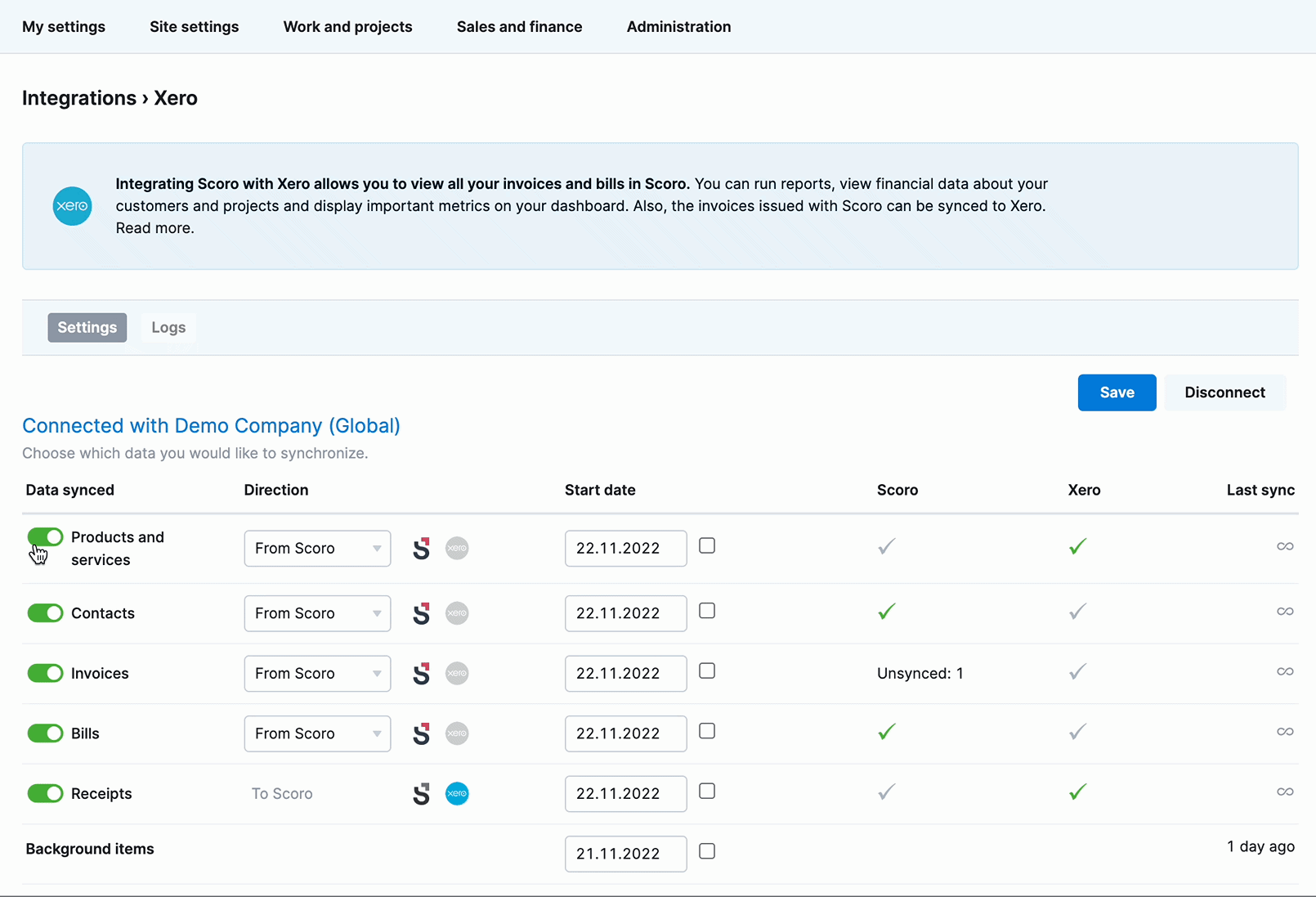 ---
We're working on…
Schedule management in the Planner.

Organize your day and prioritize activities directly in the Planner view by re-ordering events and time entries with a simple drag and drop.

Advanced triggers and actions.

Set up even more complex rules in Scoro to get notified of very specific changes across the site or trigger custom workflows via webhooks.

Time entries in the detailed task view

. Sort the order of time entries and filter out done or scheduled ones to focus on what's important.
Wishing for your improvement ideas to come to life on your Scoro site? Send us your feature request.
❗Not to worry, if your Scoro site hasn't been updated yet, the update is rolling out gradually over the next few weeks.
We do our very best to make Scoro better every day, so we appreciate your feedback. Let us know what you think at [email protected].
Want to learn more tips to use Scoro to its full potential? See these guides: