Work management
How to Find the Best Project Planning Software?
PROJECT PLANNING software is the universal tool needed by most busy teams. Its users go from coffee shops to coders to contractors modernizing London Underground. In fact, a survey showed that 97% of organizations believe that project management is critical to business performance and organizational success.
Project planning software's wide popularity has prompted more and more entrepreneurs to take on the laborious task of creating the world's most helpful project management tool.
It's safe to say that there are hundreds of project management systems out there. So how is one to make a pick between all of those? Choosing the right tool without proper guidance can make us all feel a bit confused.
Finding the best software is a journey with many questions that need to be answered. To reach your destination, start by defining the reason you need project software in the first place and move on to more specific requirements.
1. Do you really need project management software?
If you're reading this article, the chances are that you do. But stop for a sec and think it through. What are the primary activities and processes you'd like to manage with the tool? Is it task management, project scheduling, team communication or budget and expense tracking?
Make sure you're familiar with the problems and shortcomings that you expect the new project planning tool to solve. Don't forget to talk to your team members about their needs and expectations as they're the ones who have to use the new software.
Maybe you don't need a project management tool after all. Maybe everything you need is a simple task management tool or another specific solution for managing a small process inside your project.
2. What features do you need?
Before you head on to conduct research on Google, make sure you know what to look for.
Start by listing all the activities that you want to manage with the new work planning software. To give you a bit of inspiration, here's the list of most widely used project management features:
Task management and to-do lists
Project scheduling and shared calendar
Collaboration tools and messaging/commenting
File storage and sharing
Resource management
Reporting and performance tracking
Project dashboard with KPIs
Customer relationship management
After you've determined all the features and tools you expect the project software to have, you're more unlikely to get carried away with cool but irrelevant features of expensive project tools.
Tip: if you're looking for a tool for managing many large projects, look for software with a project dashboard to measure and evaluate all your important project KPIs.
Moreover, make additional lists of functions that are nice-to-have and another list of not required tools (that might make the project software way too complex for your needs).
3. What type of PM tool works the best for you?
Desktop, client-server, web-based, integrated… Grasping all these choices can be highly confusing.
If you're looking to collaborate with multiple people and remote workers, a web-based PM tool is likely the best solution. The primary benefit of web-based tools is that they can be accessed from any computer without the need to download software.
You might prefer a desktop solution due to privacy concerns and faster loading speed. But be prepared to pay for these perks with less collaborative system large storage space on your PC.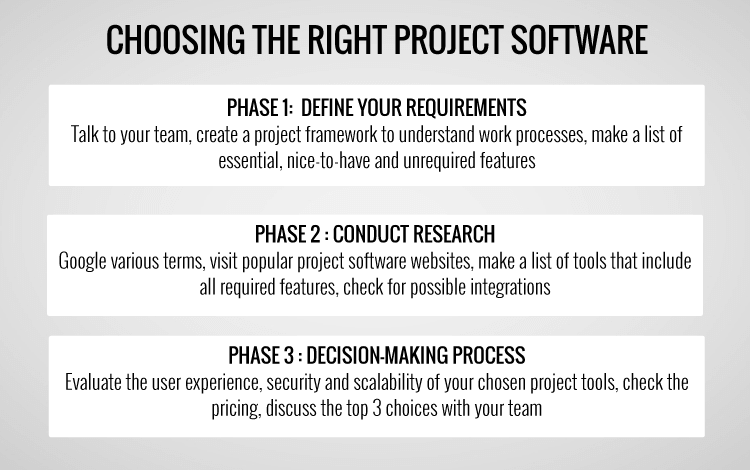 4. Where does project software fit in your workflow?
Reliability, ease of use, and effortless integration are the top three requirements project managers consider when searching for software.
If you're a relatively small project team or work in an agency, the answer is simple – a comprehensive agency project management tool is all you need to manage your work, time, budget and clients.
But if you're part of a larger company, it's best to make sure that the project tool fits into the overall workflow and complies with other software. If you'd like to have your customer profiles linked with projects, you have to synchronize data with CRM software used by your sales team. See the next section for more information on software integrations.
Sometimes, using comprehensive project planning software allows you to stop using other tools. As a result, you have less different tools to switch between and have a centralized overview of your project performance. Sounds like a nice benefit, right?
For example, many companies that start to use Scoro for work scheduling, and cease to pay for task management and budgeting software as these are already included in Scoro.
5. Do you need any integrations?
The answer to this question depends on the complexity of your workflow and projects. For example, if you run an agency working with multiple clients, such as digital, creative, or PR agency you need a project tool that lets you track time and bill your clients accordingly.
The easiest solution is to keep true to your list of required features and only look for software that includes all the necessary tools. However, if you're already using software that covers CRM features, file storage or accounting, you can integrate these with your project management tools.
Not all project planning tools let you synchronize data between multiple solutions but look for the ones that do, e.g. Asana, Scoro, and Zoho Projects.
Read on: 43 Best Project Management Software and Tools
6. How much should you pay?
Occasionally, online project management software providers charge a monthly fee for the usage of their tool. This includes customer service and frequent software updates.
Some project tools start from 10$/user per month, but more comprehensive tools can go up to 50$/user month. Make sure the monthly price includes all the features you need as some project software providers charge a high price for little add-ons.
Also, there's a big difference between tools that let you simply manage your tasks or collaborate with the team and software that includes budgeting, invoicing and detailed reporting. Keep in mind that more comprehensive tools are more expensive, but help you with more tasks.
7. How fast can you get all up and running?
Light project tools can be launched in a matter of days while more comprehensive tools might take weeks to execute. Tasks like data import, system configuration, and customization usually take some time.
To make the software implementation process easier for your team, start to build user acceptance before even buying the new project planning tool.
Don't be put off by a two-week onboarding process as proper set-up and customization take time. You'll benefit from it later when everything's working correctly, just according to your team's requirements and specialities.
When buying project software with extensive features and integrations with other tools, there might be a one-time onboarding fee. Think about it this way: how much is your own time worth that you would spend on implementing new software? After this thought exercise, a small onboarding fee starts to seem like a fair deal.
8. What's the best way to conduct research?
After you've established your team's requirements to the new project planning software, you can move on to research.
Use Google, Capterra, and Quora to find popular project tools. Pick the ones that cover your requisite feature set and add these to a spreadsheet. Next, make a column for the pros and cons of each of these project tools.
Get a Google spreadsheet template for finding and comparing project planning software.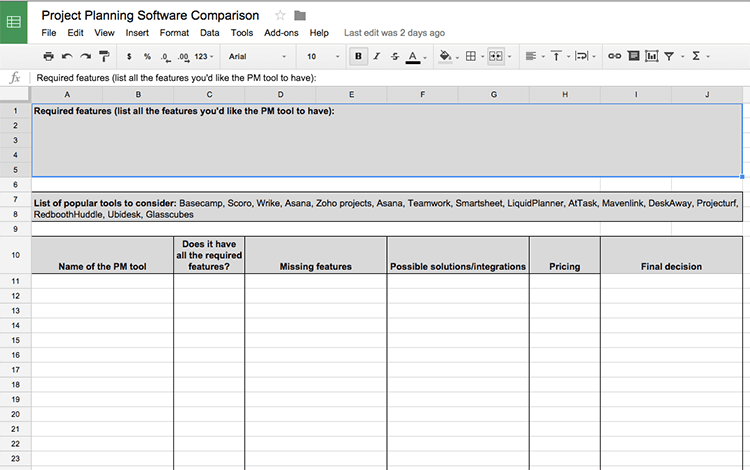 If a tool doesn't include all the features you'd like to use, see whether these can be incorporated as add-ons or integrations.
Would you like some of your currently used tools to synchronize data with the new project management software? Make sure to include this requirement to your spreadsheet. After you've conducted this part of the research, your choices should be narrowed down to no more than ten tools.
9. What about the software's scalability, support, and security?
Scalability – make sure that the project planning tool can keep up with a growing team and still answer to all your requirements. You might want to look for software with hierarchical user roles, access rights, and permissions.
Support – It's best if you don't need help at all, but that's a best-case scenario and unlikely to happen. Check whether the software provider provides a support portal, email or phone support, a helpful set-up guide and demo sessions. It is best to arrange a demo session before you commit to purchasing a project tool.
Security – as you're looking for software that might sometimes handle sensitive data, security should be one of your concerns. This information isn't usually on a software vendor's website, but you can easily email them and find out about their processes to control infrastructure access and access to customer data.
Last but not least, check the user experience and pricing of each tool. Don't let your judgment be shadowed by low prices at the beginning of your research. Leave the cost of software the last element in your decision-making process.
Now that you're familiar with all the possibilities and best practices, it's time to put your pen on paper and start your research.
Get a Google spreadsheet template for finding and comparing project planning software.
Here are the key takeaways:
First, consider all the features and tools that the project planning software should include.
Take into consideration your currently used tools and company framework.
Remember to check for data synchronization and integration opportunities.
Use pricing as the last element in your decision-making process, software's capabilities are much more important.
44% of project managers use no software, even though PWC found that the use of commercially available PM software increases performance and satisfaction. Join the winners and find the best project tool now.
Use a free spreadsheet for comparing various project software to research and compare project multiple tools and make the right choice.
Everything about your business, one click away