Teamwork management softwarewith the focus on team.
Make complex projects simple.
Manage & track your team's work, and get a complete overview of the project progress.
Schedule work and avoid overbooking people.
Set realistic deadlines with a simple work planning tool that lets you schedule everyone's time hour-by-hour.
Increase productivity.
Learn to plan your team's time more efficiently with thorough work reports that break down completed tasks by members, categories, and projects.
WORK WITH YOUR TEAM ANYTIME AND ANYWHERE.
Manage and share projects, schedules, files, comments, reports - and keep everyone updated.
Project Management
Track your project progress from estimates to invoices.
Manage an unlimited number of projects.
Assign and delegate tasks within the team.
Schedule events and plan tasks hour-by-hour.
Set priorities and deadlines to organize your teamwork.
Collaborate and share files.
See real-time reports on your project progress and deliver work on time.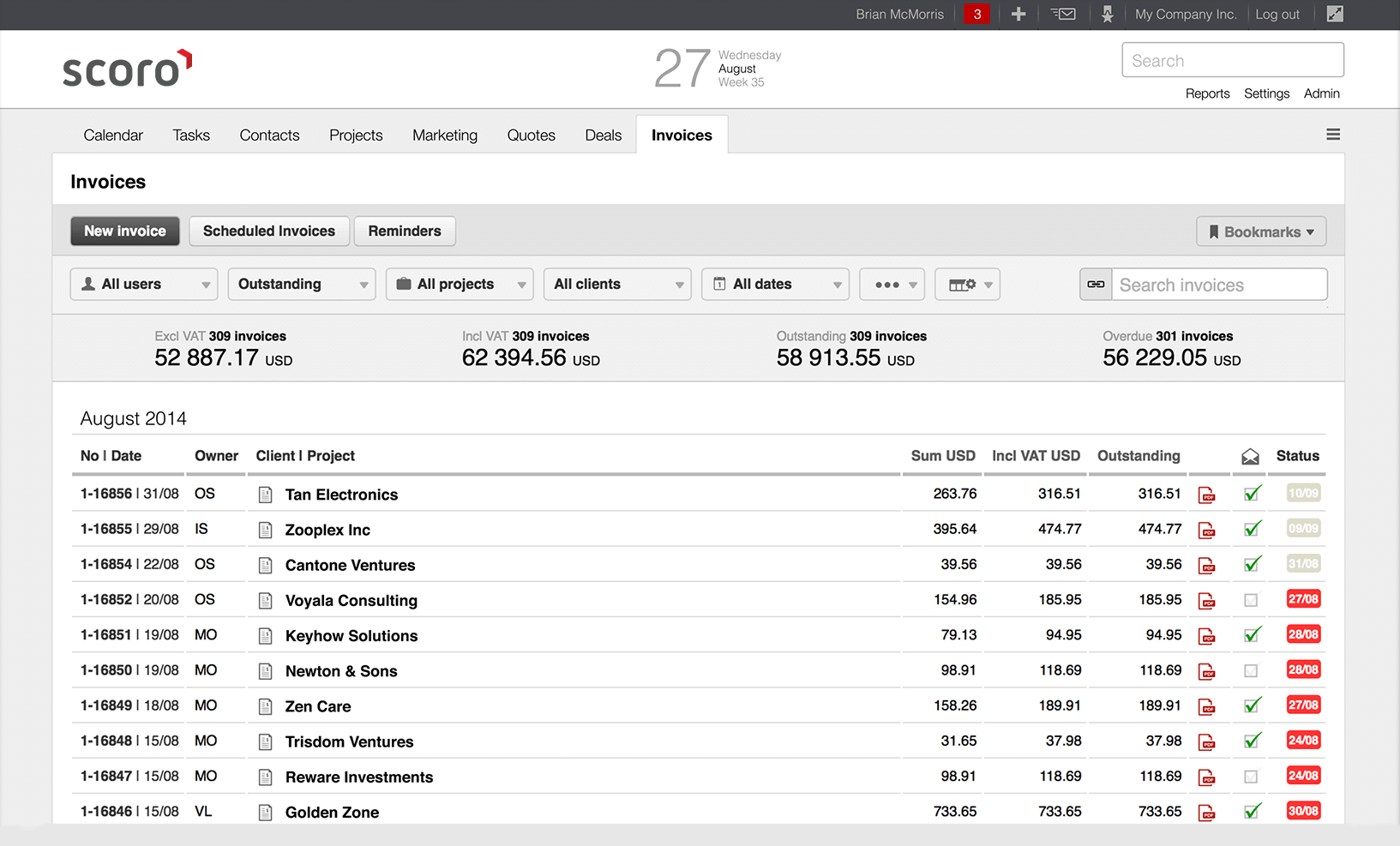 Billing
Turn completed work into accurate invoices.
Log both actual and billable time spent on tasks, projects, and meetings.
Set multi-currency custom rates based on employees, clients or projects.
Create invoices based on your quotes and work reports in a few clicks and send these as PDF-files.
Automate late invoice reminders, scheduled and recurring invoicing.
Management & reporting
Stop shuffling between spreadsheets and emails.
Get a complete overview of your team's performance with work reports that you can break down by dates, users, projects or accounts.
View all your important information on a real-time dashboard: current projects & cases, upcoming meetings, crossed deadlines, etc.
View real-time financial reports on sales, quotes, orders and compare two periods to see trends over time.
Empowering 10,000+ usersin 30 countries.
Instead of using five different applications to coordinate your team's work and manage finances, you can do it all within a single solution – Scoro.
Thanks to Scoro, you can save more than 50% of the time that you're currently spending on reporting, meetings, and double data entry.
Not interested in changing the way you work? We thought so! You can customize almost any aspect of Scoro to fit your workflow.
Before Scoro, we used five separate applications that left us in the dark regarding the whole business picture.

Jonathan Lee