Time management
Our goal is to help our customers save time and money with Scoro and we are good at it. No other product on the market does this the way we do. If we invest a lot of time every day to build such software and grow globally, we have to be aware of where this time is spent. Are we working efficiently? Are we doing the right things? For this, we have set up activity types, which help us figure out who spends the most time on what type of work and we can see where do we get stuck, where we shouldn't spend time, where do we have bottlenecks and things are piling up. Therefore we can optimize that type of work, automate it, delegate it, hire people to do it, all according to what our reports are telling us: what our people are doing. Exactly like on Instagram, if you don't record it, it never happened. Start keeping your diary and track your way to success in Scoro today!
At the beginning of each month Sales Operations exports all your activities last month and analyses how do our results correlate with the time you have spent doing certain activities. Hence, it's super important that you use the correct activity types for different activities. To make marking activity types easier, make sure you set up your most-used activity types like this. This helps you save a bit of time and energy. You can find the full list of our activity types here.
How to log your time properly?
Sales workflow
SDR time logging workflow
Inbound activities
Calls should be logged to Landmark under each person/company card to record the history with the specific lead. The Outreach-Landmark integration doesn't currently transfer over any tasks so there is some manual work involved.
Since people and companies are created in Landmark automatically with inbound leads, they can be easily added to Outreach. You can then simultaneously record the 2 calls, one in Landmark and one in Outreach under that lead.
Emails for inbound leads are easy to add to the past activity using the smart inbox option that sends all emails to Landmark as tasks. You just need to mark them as done and link them to the right company/person if not already filled.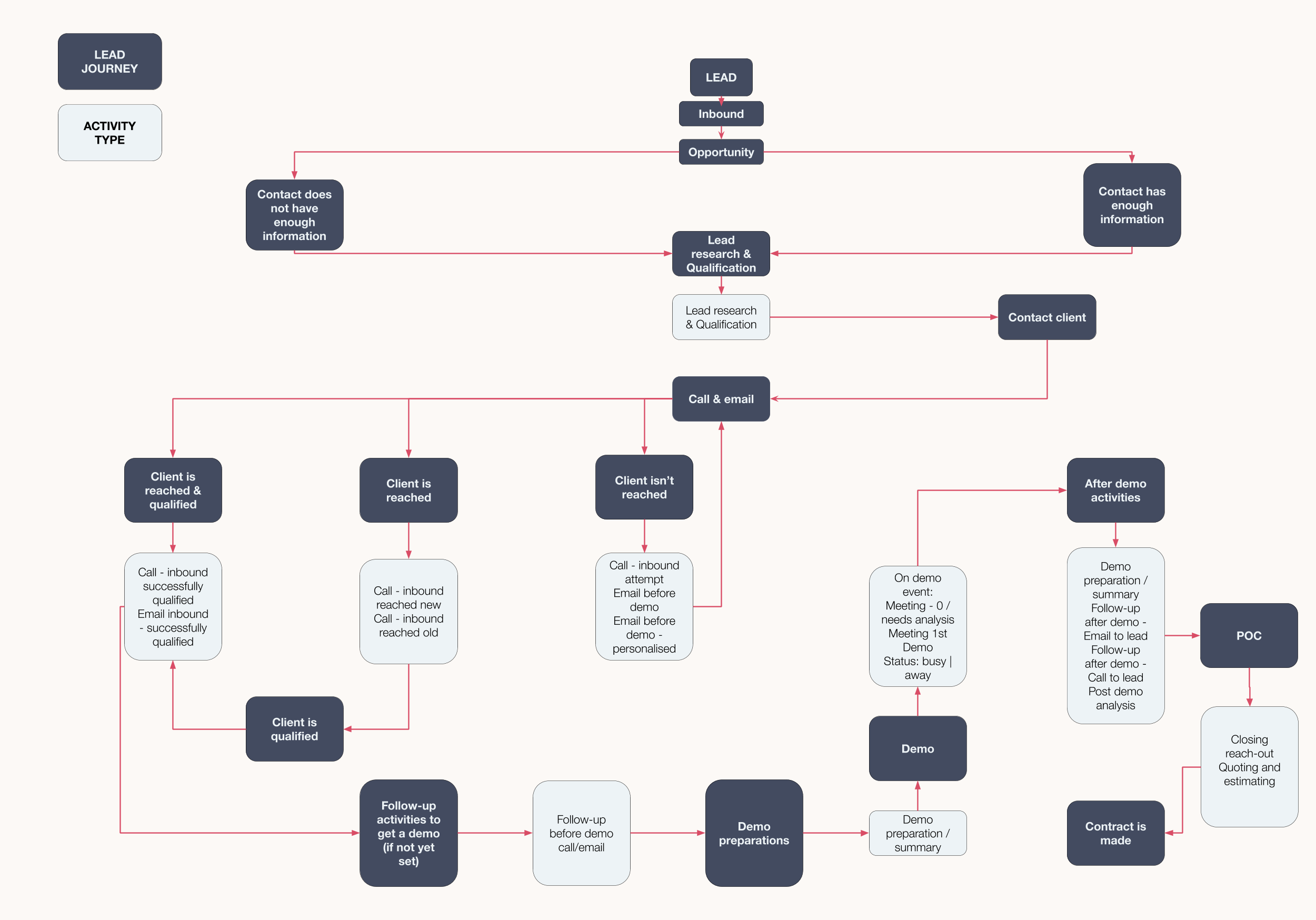 Outbound activities
Just like inbound calls, outbound calls do not get recorded in Landmark automatically as of today, these will have to be manually added to the system under the right company/person card. This has been made easier than before thanks to the integration between the two systems so the prospect will already exist in Landmark if it's been added to Outreach. The approach should be the same as with inbound, you find the right person/company and log the two calls at the same time with notes in the description (for consultants and any future sales person to have the history).
All outbound emails you send will also automatically be added to Landmark as tasks if you've marked your smart inbox as a bcc recipient. Once again, thanks to the integration between Outreach and Landmark, the prospects will have been created automatically. You'll then just have to use the mass command to add an activity type to the automated campaign emails and mark them as done.
Here's the workflow map for outbound leads.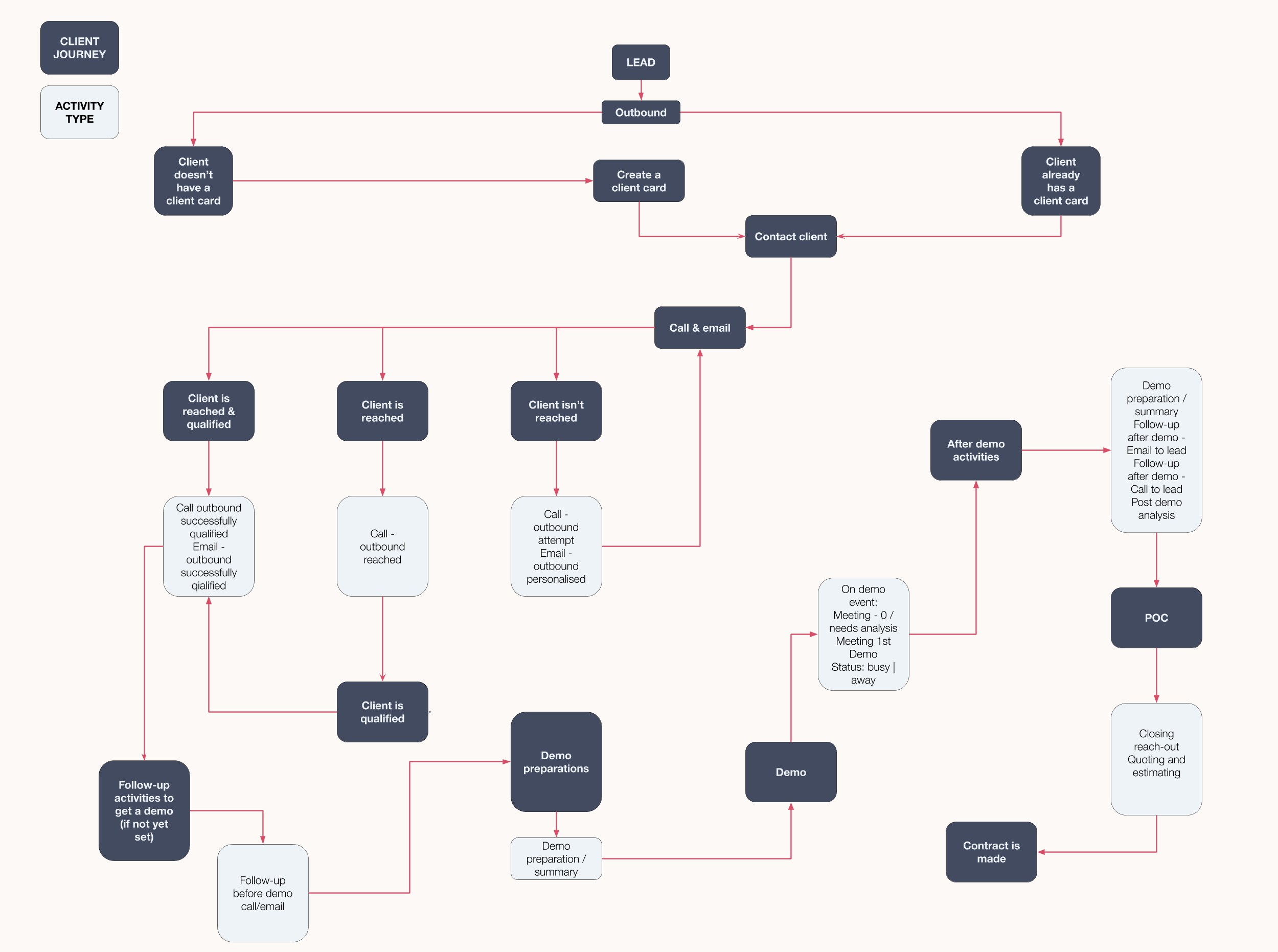 Lead research
Lead research and qualification are also an important part of SDR's activities so we should log it as such in Landmark. You can also do this in blocks in your calendar and go over a bunch of leads for that day in one go or do it while calling. Either way, it's important to do this and make sure all the leads we deal with do get qualified/disqualified and marked accordingly in Landmark using statuses and quote fields.
You can book time off your calendar to do calls in blocs but do not use the 'call-inbound attempt' activity type for those blocs as they give false information, not all of them might have to be logged as such and we then miss out on the individual calls as tasks under company/person cards. If you do both, it would end up double logging the time, which isn't correct either.
Landmark does not currently have the option to use 1 minute as a default task duration and the option is between 0 and 5 minutes. Therefore 5 minutes should currently be used and SalesOps will take it into consideration that some of the tasks we log might be slightly over-logged.
You can choose whether you log your tasks done while actually doing it or leave this activity to the end of the day where you go over everything you've done during the day and log them into Landmark. Experience shows that time-wise there it doesn't make much of a difference, it takes the same amount no matter when you do them. Two things to consider: when you log them right away, they are usually more accurate and you don't forget BUT it might disturb your workflow and you might get distracted (but that's only until this new way becomes your workflow and you do it automatically without noticing). Logging them at the end of the day helps to be focused on one thing at a time but you risk missing and forgetting tasks.
Data & reporting
Data Hygiene
To improve the internal data hygiene management, SalesOps have created Sales Weekly Data Check dashboard with incorrect data related to sales and guidelines for each and every sales team member to follow. Of course, we need all of our data to be correct, but most important data to review on a weekly basis include:
Expired leads. Leads in the top of the funnel (opportunity, pre-qualified, qualified in communication) should not be expired. We have to actively engage with them and when we see that they are not going to move forward in the pipeline, we either have to move them to delayed or lost.
Demos. We need the number of demos to be correct because this forms the basis of the key metrics that we review and report on. Thus, we need the 1st demo event marked as "busy/away" in the calendar, and "demo held" ticked on the quote. If for any reason the demo was not actually held (e.g. canceled by the lead), set the status as "free". This way we can ensure that the number of demos is correct.
Leads from demo held status. All leads from demo held status are especially important for us because the chance of converting leads into paying customers from demo held is over 50%. Therefore, in order to be able to forecast pipeline, MRR, and new users accurately, we need all leads from the demo held status to have up to date:
Nr of users;
monthly fee total;
status update – this can not be missing;
estimated closing date;
client activity – can not be missing in the last 30 days. We need to communicate with our potential customers, otherwise we will lose them.
KTAs from demo held status. Key target accounts (50+ seats) have to have at least 4/7 filled out in MEDDICC from demo held status:
Identified pain – Have we identified their problem? What is that they need and can we help them solve their need with Scoro?
Decision Criteria – What are the commercial and technical specifications and requirements needed for the company to make the buying decision?
Decision Process – What is the process for reaching the buying decision?
Champion – Who is the champion? Who is the key internal player with power and influence to close the deal?
Estimated closing date can not be in the past. When we move closer to the end of the month, review the estimated closing date critically and if it is actually not estimated to close this month, move the estimated closing date into the future.
Reason for lost. When a lead has been lost, you have to also mark the reason why we lost them. Whether it be that we lost them to a competitor or we lost them because of a missing feature – we need to know the reason, so we can assess the competitive landscape and know whether and how we need to improve our product and/or strategies.
Demo & call recordings. Previous week's pre-scheduled demos and calls have to be recorded and added to the Google Drive folder. This is important from both the internal quality control and learning perspective.
Penalty system
If any of the above is incorrect during the Sales Weekly Data Check it will be documented in the Sales Weekly Data Review file and if there is any incorrect data for two weeks in a row, a penalty will be applied – you will be taken out of the sales rotations for a week. These guidelines have been created and applied in order to improve data hygiene across the CRM. This is important:
To help you (and the whole sales team) forecast your own pipeline correctly and manage your leads;
For reporting purposes: whether it be a pipeline report for the board or internal reporting across different functions, we need to improve the internal data hygiene so that we can report and analyze correct numbers;
We need to gather insights about whether the applied sales and marketing strategies have helped to reach desired goals or if and how we should change these strategies going forward;
These insights will also help to understand why we have lost potential clients, e.g. whether we have a powerful competitor, whether we need to develop an additional function or we are missing an important integration.
Reporting
In addition to the internal data hygiene management, SalesOps also does most of the sales-related reporting:
Report
Description
Needed input
Conversion report (monthly)
Conversion report gives insights about key conversions with regional break-down. Key conversions:

Total leads → MQL
MQL → SQL
SQL → Demos held
Demos held → Orders

In the very near future, we also plan on breaking conversion reporting down by source type – inbound, outbound or partner referral, by size – SMB/Enterprise, and by industries.

Nr of total leads
Nr of SQLs (lead qualification: sales qualified)
Nr of demos actually held
Industry tags on company cards
Lead sources

Pipeline report (weekly)

This report gives general insights about the pipeline generation: how many new leads have been generated at the top of the funnel and how existing leads have progressed in the pipeline within a week.
Pipeline report helps us to forecast the monthly new MRR and number of users.

All leads from demo held have to have up to date:

MRR
Nr of users
Estimated closing date
Correct statuses

Industry Data Strategy project report (monthly)

This analysis gives insights about which industries we currently operate in and which industries actually have a need for Scoro, but maybe have not caught our attention previously.
These insights in turn give a thorough understanding of which industries to target both from sales and marketing perspectives.

Correct industry tags on company cards.
Going forward, we also have bigger dreams of becoming data-driven in all of our decisions (where possible and reasonable), analyzing more thoroughly all sales-related data. Nevertheless, we can't do that without your help in improving data hygiene – this is why SalesOps spends so much time on reviewing the data hygiene on a weekly basis.
Landmark: best practices
Default quote lists
Scoro is a comprehensive system that is really flexible with data you really want to see. The information Scoro offers you by default usually isn't as you actually need to see it. With filters, you can find the relevant quotes with specific values, with the View function you can get information in columns from the quotes you have filtered out.
Filters to use:
My quotes (change to your name)
Status: Opportunity, Pre-Qualified, Qualified – In Communication, Demo Scheduled, Demo Held, POC, Needs met, Confirmed, Closed, Delayed
Issued: Relevant dates
View options to use:
Issue date
Status
Tier
Initial number of users
Users
Monthly fee total
Research summary
Estimated closing date
Demo scheduled
Lead Qualification
Pipeline view
Life has shown that the best view for a sales consultant / AE is the pipeline view. In the pipeline view, you can have a better overview of all your leads in the funnel.
Filters to use:
My quotes (change to your name)
Status: Opportunity, Pre-Qualified, Qualified – In Communication, Demo Scheduled, Demo Held, POC, Needs met, Confirmed, Closed, Delayed
Issued: All dates
View options to use:
Summary in the column header
Quote data

Overall age
Days in status
Monthly fee total

Summary bar

Total
Overdue
Monthly fee total
ARR
Your goal is to go through these leads and ensure that all of them are qualified. This will give you an overview of your leads and an opportunity to prioritize them to build your pipeline. In the Pipeline module, you can just drag the lead to a new status. The only exception is the Opportunity stage, where you also have to change the Lead Qualification field.
Dos & don'ts
A quick overview of some of the things you should be aware of:
When adding an event with a prospect, Scorers should be added to the event as attendees, the prospect should be added as a related contact. This way everyone involved has the event in their calendar and their work reports reflect this as well.