Outbound Sales
We all have the obligation to act professionally and responsibly. To make sure that we do all our reach-outs by the book and are not breaking any rules, we have gathered everything you need to know about outbound sales privacy here.
Breaching this policy constitutes a breach of your professional obligations as an employee.
Opting out
Automatic unsubscribing
If they are in an Outreach sequence, they have the opportunity to click on the 'Unsubscribe' button and they will be automatically unsubscribed. After they have clicked it, they will be unsubscribed from any sales messaging and cannot be added to sequences in Outreach. Also, the will have the checkbox 'Unsubscribed from emails' will be marked as 'Yes'.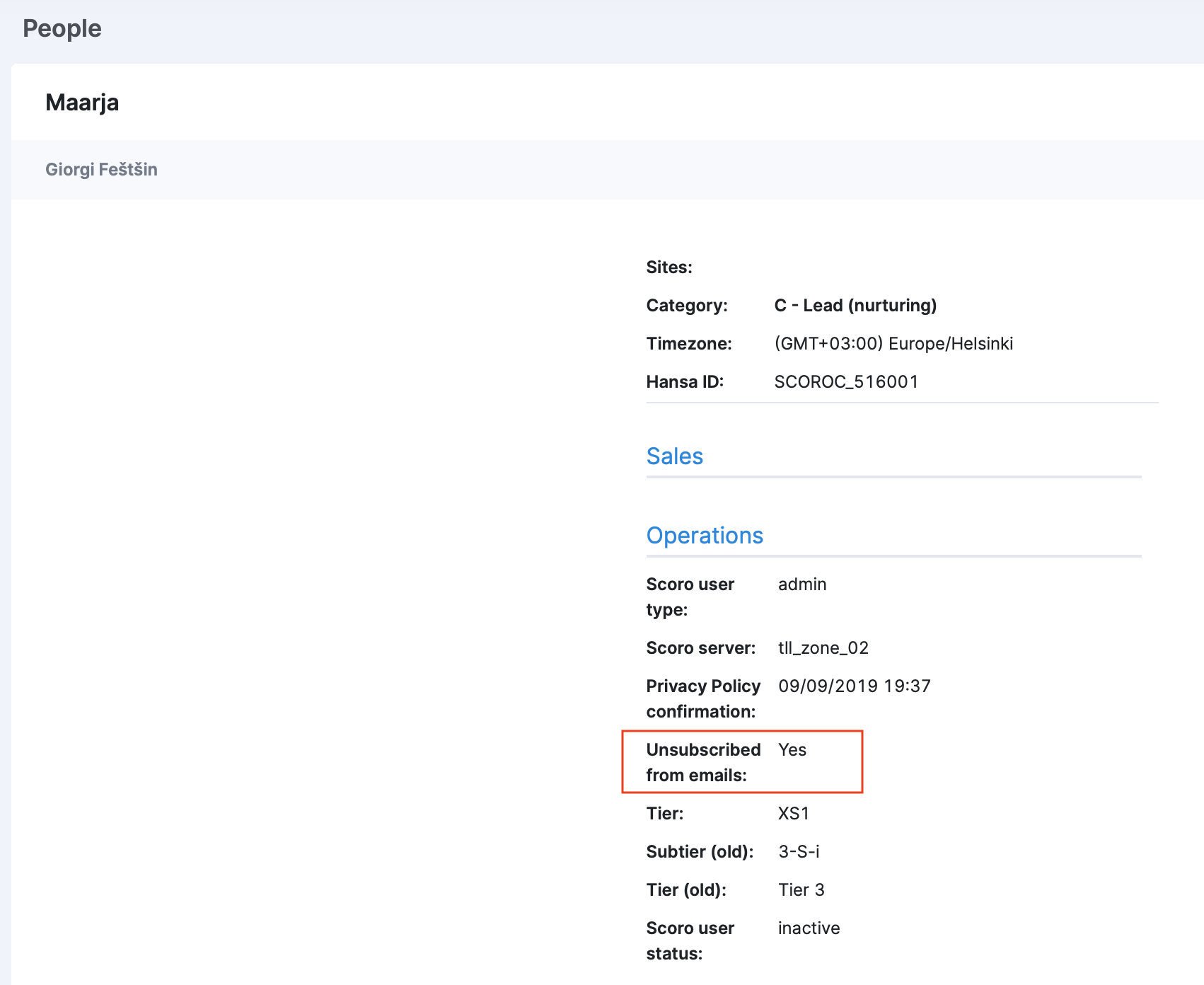 SalesOps adds Opted out to all leads' names once a month so that we can visually distinguish opted out leads.
Manual unsubscribing
Sometimes you write to somebody personally and they answer that they do not want to receive any information about Scoro. In this case, the first thing to check is if they have any demo drip-mails enabled (see drip email management). After you have disabled the drip emails, add 'Opted out' in front of the contacts name. This way we can see who has opted out and no one will contact them.
If they ask to delete all their information, you can use this template: "Your details will be automatically deleted after 75 days from the end of your subscription/trial. If you choose not to continue after the trial, you will not be charged. We will not share any of your personal details with third parties for marketing purposes. No further emails will be sent to you unless you initiate the contact."
Dos and don'ts
List of things you can do and you cannot do. You can find specific details from the policy.
Disclaimers. You always have to have a disclaimer of our standard privacy and opt-out notice, even on LinkedIn. The standard disclaimer text is available under section 7 in the Policy. A lead always has to have an option to opt-out.
Data processing. All data and data processing must be managed with official tools and be documented on Landmark (and/or Outreach)
Sales lists. All separate lead lists have to be in the shared Sales drive. >You cannot have any lead/customer lists on your hard drive or personal accounts.
Opting out. If a lead opts out, we respect it.
Expired contact. If we haven't had contact in a year, we cannot contact the user.
Third source. If we got data from a third source (e.g Zoominfo or other vendors) we have to notify the lead within 30 days that we started processing their data. The standard disclaimer text is available under section 7.2.1 in the Policy.