Overview of the Customer Journey
How are our leads organized?
We use Scoro for almost everything we do:
we manage our leads in Landmark
we quote our leads
we bill them straight from Landmark
we forecast based on data in Landmark
We have different types of leads that we manage and try to close. Most leads come from inbound activities, which include leads that come to our website and create a trial or schedule a demo. To have more opportunities to sell, we also do outbound activities like cold reach-outs, we attend events and reach out to our networks. Our Partnership team works daily towards requiring new partners who would bring on new clients. We also work together with referral sites, where we can get leads who are actively searching for new software. For XS leads, we have created an automatic system where all leads with 1-5 users will not be handled by someone in sales, but they can sign up on their own.
We have divided our internal lead management into two: Enterprise and SMB sales. Enterprise leads are all leads that have more than 50 users, and these are managed by our Enterprise sales teams (UK & Canada, USA, and ROW). SMB leads are leads that have up to 50 users, and these leads are managed by our SMB sales teams (USA & ROW).
Overview of the Sales Handbook
In this section in the Handbook, you can find our internal sales process. Since this part of the process is quite extensive, here's a quick overview of what topics we cover.
Lead Management
Here's an intro to our inbound and outbound leads, mostly focusing on how are both added to Landmark.
Lead research
Lead qualification
Demo & POC stage
Closing the customer
Finance in Scoro
Cancellations
Here you can find the process for clients who are planning to cancel their subscription.
Lead Management

Inbound leads
All inbound leads are automatically rotated between SDRs, Sales Consultants & AEs based on their experience and are differentiated by the size and location of the lead. The goal of the lead rotation is to give all consultants an equal chance to meet their targets and distribute the workload so we would perform best as a team, fully utilizing leads from all segments. The relevant Head of Sales will set these rotations, and these are managed by SalesOps. In some regions, like the US & UK, all leads are rotated between the SDRs who then distribute the leads to the relevant AEs.
It is up to the SDR to qualify the lead and get in touch with them within three days of the creation of the quote. The leads are divided between SDR's to ease cooperation and avoid bombarding the leads by multiple people. Consultants are also responsible for making sure their priority leads get enough attention and move through the sales funnel.
Before the consultant is added to the inbound lead rotation, several things have to happen:
Head of Sales has to confirm the rotations where the consultant will be added
Sales Operations sets up everything for their drip-emails to work
A lead can sign up on our website by creating a trial or scheduling a demo. A trial is valid for 14 days; after that, the site expires, and they cannot access it anymore. The lead will be assigned to a consultant / AE / SDR based on their rotation. When creating a trial, all information they insert will be automatically added to the customer's client card & quote (status Opportunity).
You will also receive this information with an email named 'New site created | amount of users | Company name.' This email will come to the sales@ email but will have a sales consultant or an SDR attached to it. To make managing your leads a bit quicker, add a widget to your dashboard with all your leads, so you have an overview of all the leads that are under your name.
After the lead has started a trial through our website, multiple things will happen:
a site is created with the info the lead gives us and is set to a consultant based on the rotations
a company is created in Landmark in the B – Trialists category
if the site is created with a valid company email
As choosing software can be a long process, leads might ask you to extend their trial. For that, we change the trial end date on their site view, so that the lead can have some more time with Scoro.
When you see a new lead in your name:
In the case where a lead has created a trial site and requested a demo through our website, the contact will have two separate quotes, both in 'Opportunity' status. This means that they also have two company cards. To make sure we don't have duplicate data in our system, these two company cards have to be merged.
When a client schedules a demo on the Scoro website without creating a trial, they will add their basic info and can schedule a demo with the Sales Consultant or an SDR appointed to them. This is the same rotation that is set up for the leads that have created a trial account of Scoro. The lead can choose any time and date that is available in your calendar, starting from the next day, so you have to make sure all your events, including personal ones, are in your calendar. All demos are set for 1h by default. After they have done that, this will appear in your calendar at your local time.
If they only create a demo, you will have one company with one quote (the quote doesn't have a site attached to it). At the moment, we cannot turn off drip emails for leads that have only created a demo and have no trial site. If a customer only has a demo site from the start, you will start adding data to the quote created from scheduling the demo. This means that when they create a trial site along the way, and they are reaching the end of the sales cycle, you would have to copy and paste all the information from the demo quote to the quote that has a trial site.
Outbound leads
Our outbound sales consist of cold prospecting, attending events, getting contacts from our networks, and we also buy GDPR compliant leads from Zoominfo. We use Outreach to contact our UK & US inbound and outbound leads.
Although inbound leads are a good source of business, they are not enough to keep the pipeline full of high-quality leads. Because of this, it is everyone's job to search for companies that may not yet know Scoro but have an interest in the offer. For this, KTA lists are created. These serve two main purposes, as sales target lists and as ABM (account-based marketing) lists for the marketing team to create campaigns around. These lists can be created both in Google Docs and Sales Navigator.
KTA lists should be made in the right format that allows easy imports of contacts into Outreach, and the marketing team can easily run ABM campaigns. Lead lists can also be created in LinkedIn Sales Navigator to keep track of your identified contacts.
It is very important to note that as a company located in the EU, we need to be mindful of the GDPR rules. You can find them here if dealing with Canadian customers, we also have to be CASL (Canadian anti-spam law) compliant.
The actions that should be taken are relatively similar to the inbound approach, but remember, they do not know Scoro yet, so we might need to be more persistent.
Emails. Add the contacts to Outreach from the KTA / Zoominfo / LinkedIn lists and put them in an appropriate sequence (campaign) to send out the first message.
Calls. Follow up with a call, can then refer to the email you already sent them (have they seen it? what do they think?). Might also help get through the gatekeeper
LinkedIn. For key accounts, make sure to also make yourself visible to them on LinkedIn (visit their profile, connect, message, like posts, comment).
It is key to stay persistent. People rarely reply to the first or even second email; sometimes, they don't even see the first ones. So we need to be persistent and keep up the quality of emails until the end (easily ten emails!)
Outbound via Outreach
Outreach is a tool that we have adopted to make the SDR's life easier by automating a part of their everyday life. This tool is especially useful for the outbound approach but can also be used for the inbound strategy. The Outreach integration will add a company card and a related user to Landmark, but since all of our reporting is based on quotes, we need to add a quote to the system to have a monetary value.
Since getting in touch with an outbound lead is a degree harder than with inbound leads (who show interest themselves), we will not add a quote (monetary value) to the quote until they are responding to us. This means that a quote has to be added only from the Qualified – In communication status when the customer has answered and shown interest in taking the communication further. Here you see the full Outreach integration logic.
Steps to using Outreach:
Create a sequence (and templates)
Add prospect to Outreach.
Add prospect to appropriate sequence.
Outbound via personal UTM link
After you join Scoro, the Sales Operations Specialist will create your personal UTM link, which looks like this: https://www.scoro.com/?utm_medium=email&amp%3Butm_source=your landmark initials. UTMs are set up in a separate module, so if you'd change your initials in Scoro, we would have to create a new UTM link.
After you give this link to a prospect who is interested in Scoro, they will be directed to our website; they will create a trial like an inbound lead and the lead will end up as a new quote (and company card) which is automatically under your name. If you have added a company card and a quote previously, you have to merge the companies. Remember, one company card can have only one active quote, so make sure to change the one without a trial site to Lost & mark it as duplicate and go forward with the quote that has a trial site attached.
Outbound via manual insert
If you are approaching a client that is not in our system, we need to add them. We don't have the advantage of having automation with this process, so the sales consultant / AE / SDR has to add a company + quote (starting from Qualified – In Communication) manually. The first thing you should do is check if we have this company in the system already by using search. If we have a company card in the system, just add a new active quote.
Creating a company card
To create a new company, go to the company module, click on 'New' and, 'Enter company info manually.' If it's an Estonian company, you can search from the credit database.  We have made all necessary fields mandatory, so if you forget something important, the system will remind you. Of course, all the mandatory fields are mandatory, but if you have more information about the client, please add it by filling in the correct fields. Also, add tags to make sure we can find specific companies easier.
Creating a quote
If you have created a company card or if you already have a company card, you can add a new quote. You can do it from the Quote's module or straight from the company card. The newly created quote also has mandatory fields.
Adding a monetary value to the quote
If the status of the quote you added is Prospect, you don't need to add a monetary value. If it is Qualified – In communication or in some cases, Pre-Qualified, we need to know an estimated value. Of course, we understand that this is not 100% correct, but we need to have a ballpark figure. To add the value, you need to fill in the fields on the bottom of the page.
The default plan for our inbound leads is Scoro Ultimate, since it has everything the trialist might want to try out. So that we could report on the same principles, you should add Ultimate as their plan and the number of users they have in their company.

The default currency in this view is EUR. If you want to change the currency, choose the correct price list.

Of course, we are aware that the value isn't correct since they might not join with this plan and not with the number of users we have added, but with the value, we can add them to our preliminary reporting.
XS Lead management
To make our sales process more focused on bigger and more relevant leads, we have set up an automatic XS lead management system. An XS lead is a lead with 1-5 users from any region and industry.
Main changes with the system are:
XS leads will not get a dedicated sales manager. Their company card and quote will be owned by Sales Manager EE.
The first point of contact will be customer support. They will respond to all emails that XS leads send in, but will not initiate the communication.
We do not offer demos to XS leads from our website, or in the trial.
We will not negotiate with them – either they buy, or they don't.
Lead research for XS leads is minimized – SDR keeps an eye on the leads to spot big brands.
The flow for the XS lead is as follows:
A contact card and a quote are created in Landmark, no dedicated salesman is assigned to it.
A new drip email campaign is triggered (without demo offers. Goal: self sign-up)
An SDR reviews XS leads' quotes once a week (to make sure we would not overlook big brands). If they find a lead that is actually a good lead, they will qualify it (Status: Pre-Qualified; Lead Qualification: Sales Qualified) and hand it over to a consultant.
SalesOps puts XS leads' quotes that were not qualified to Lost when their trial ends (in every two weeks). To make sure we can find them if needed, their Lead Qualification field will be added as Disqualified – Low Priority.
If an XS lead has any questions, they may turn to the helpdesk. The Help teams answer them based on pre-made templated answers.
If the same lead approaches us for the 3rd time with the same sales topic (and templates do not cover it, nor common sense), then HD can involve sales.
What a consultant needs to know:
XS leads will not be in your sales pipeline.
You do not have an obligation to review (qualify) XS leads.
You do not have to hold demos, negotiations with XS leads.
The support team might ask help from consultants in the initial XS lead rotation, please respond in a timely manner.
Partnership leads
At Scoro we have identified partnerships to be one of the main driving factors and contributors to our sales efforts. We are looking to partner with established businesses that want to help their customers find and implement a better solution for their teams and earn service revenue while doing it.
Some of the different partner models we are after:
Referral partners. Partners that help us generate new leads, refer their customers to us, and help us close new business.
Implementation/service partners. Partners that have dedicated resources and capacity to implement Scoro for our clients, train them, and help them get the most out of Scoro.
Technology/integration partners. Partners with a technical background and resource to help us build client-specific integrations or do custom development work.
From a partnerships perspective, we are mostly working with various IT consultancies, change management consultancies, business advisories, and other similar teams that help businesses to select and implement new software, lead their digital and change management initiatives, or help with general business process improvement.
If Sales comes across someone in their pipeline that either has enquired about partnership opportunities with Scoro themselves, fit our ideal partner profile, or are working as external consultants for software selection on behalf of their clients, please do mention our Partnerships initiative.
If the prospect is interested, the Partnerships team would appreciate a warm email introduction so we can take the discussion forward. You can email partnerships@scoro.com to let us know. You can find more info on our partnership options and share the link with anyone interested – https://www.scoro.com/partnership.
Review sites
Lead research
Before we can do a deep-dive into the leads' business problems, we have to understand if we are dealing with a valid company and if we would like to sell Scoro to them. For that, we need to research the lead.
To make researching the leads easier, more systematic, and for them to make sense, we have created a 6 point lead research checklist for you to go through.
Check for duplicates
Verify their info in Scoro
Google
LinkedIn
Update tags in Scoro
Check for duplicates in Landmark
Our system creates duplicates automatically, which means that if we don't mark duplicates in the system, our data will be incorrect, and our CRM is a mess. It is part of the lead qualification process to make sure we do not have a lead with the same name already in the system.
Search for:
Same/similar company name in Scoro
Contact's first & last name
Website domain
Exact email address. For that to work, enter your search criteria to the search bar, click on 'search settings' and set companies and contacts to 'advanced.'

After you click on search settings, you can edit your advanced search options.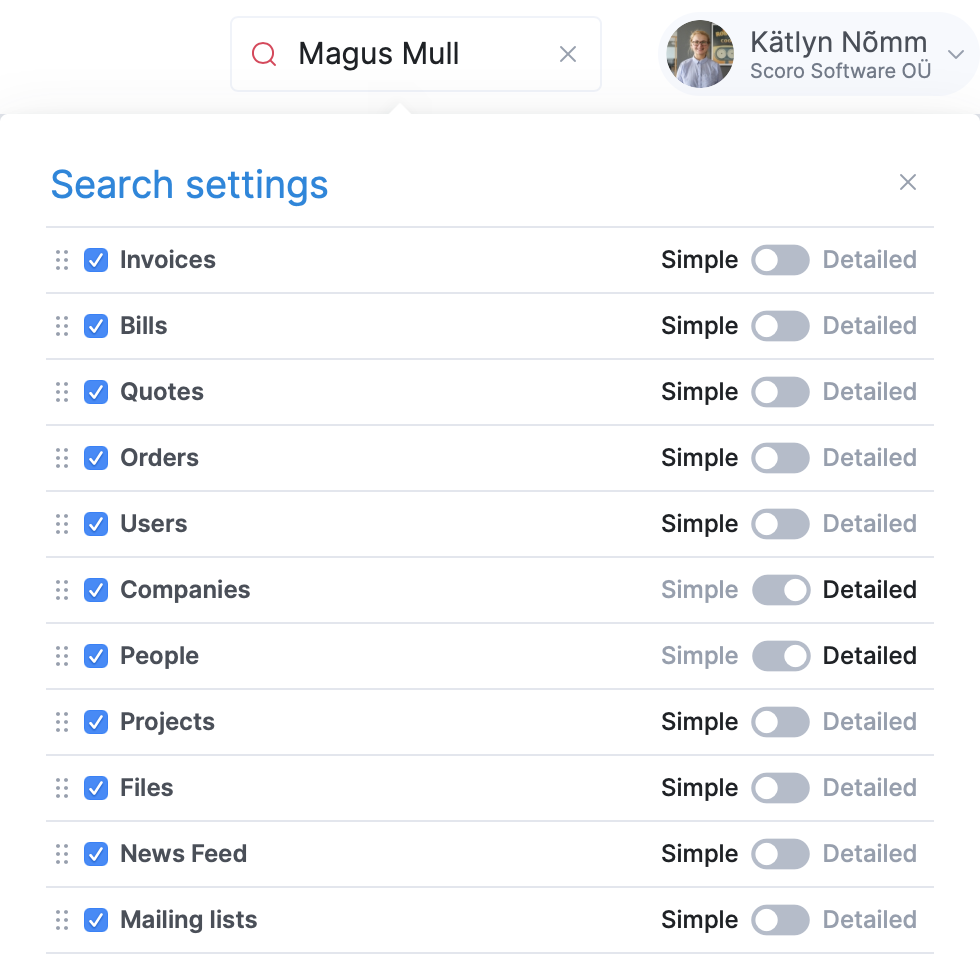 If you find a duplicate lead, because the customer has created different trials, merge the companies and continue with the quote that has a site attached.
If there are multiple trial sites linked to the client, they might have signed up for a trial several times, or there might be a real site they use with real data and additional test sites with fake data to test integrations, etc. Always make sure which is the priority site and be clear with the client on where we are doing modifications and applying discounts in the self-service, to avoid the client signing up on another site.
Verify their info in Scoro
When a lead first creates a trial or schedule a demo, they will add the information you see below, and this will be automatically added to their company card.
As anything can be added to those brackets, we have to confirm the info they have given us. What we are looking for is, do we have enough information to make sure they are a valid company with a way to contact them. These are the basics.
Google the following information:
correct website (are they even an actual company?)
industry specification
personal or office number
If they have incomplete information added to their contact card, here are a few tips to googling:
"first_name last_name" – "email address"
"email domain"
"+44 phone no"
"phone no w/o area code" – "company_name location"
"lastname@companyname.com"
"firstname@companyname.com"
"first.last@company.com"
"firstlast@company.com"
"f.last@company.com" "first.l@company.com" "flast@company.com" "firstl@company.com"
Also, use LinkedIn, here are some tips for searching:
first name last name
email address
first name last name + location keyword
first name last name + company keyword
Filters: company, title, location, industry (one-by-one)

company name
company name + location keyword
The goal is to find a personal and company's LinkedIn page, so check their job title, team size, industry, location & connections.
Merging companies
If we have two companies with the same name in the system, the companies need to be merged.
The reasons why we have to do it are simple: we don't want our reporting to be incorrect, and we don't want to have two separate consultants / AEs / SDRs contacting the same person. You can merge companies if both companies are created by the same person. An email address is a good indicator.
After you have merged the companies, you will have one company card with two active quotes. All company cards can only have one active quote.
The quote without a site has to be changed to:
Status: Lost;
Lead Qualification: Disqualified – Duplicate.
If the lead creates more trial sites, all of these have to be marked Lost; Disqualified – Duplicate. This is super important for our pipeline reporting since then we have a clear overview of how long the lead has been in our pipeline. Now you have only one quote to work with and which you have to qualify.
If the lead has had a trial before, but it's marked as Lost, you shouldn't touch that quote, but you should go on with the freshly created one.
Tags
To make sure we can find relevant companies easier, we tag them. After you have verified they are indeed a real company and worth our time, add the following tags on their company card:
Industry
Company size (based on LinkedIn)
After talking with them, you should be able to add these tags as well:
Lead qualification
Now that you have confirmed that the lead is valid, they have the correct email attached, you have checked for duplicates, we can officially say they are pre-qualified. You can now change the status of this lead to 'Pre-Qualified'.
After you have done lead research, the active quote should have the following data:
status: Pre-Qualified;
research summary;
lead qualification: Sales Qualified;
the company card should have an industry tag
If the data cannot be validated by checking the contact card, googling, cannot find them on LinkedIn or the company isn't a fit for us for different reasons, the lead will have to be set to 'Lost' status and a disqualified reason has to be added.
If the client is a quality lead for us, but they decide not to go on with Scoro, we need to know why. So, for this type of client, the status should be 'Lost', Lead Qualification should be Sales Qualified, and the Reason for lost in sales (Qualified leads) should be set.
If we have this information, we can pass it on to our Product team (missing feature), Marketing team (not enough quality leads), Solution Engineering (lost to a competitor), etc.
Drip email management
We have an automated system set up for drip emails to make sure we engage the lead at an early phase. Here's a thorough overview of our current drip email logic.
If you wish to contact the lead right from the start, you should turn off the drip emails from their site. If the lead has only scheduled a demo and they do not have a site, currently, it is not possible to turn off drip emails for them.
Quote statuses

Prospect. This status is for leads who you want to contact, but are not in communication yet. We do not include this status in any of our pipeline reports since this is not an active status. We can use this to 'put my hand on a lead' and be transparent on who's tracking which prospects. We do have to manage this phase properly, so prospects would not get stuck and sit in someone's pipeline.

Opportunity. These are all leads that have either scheduled a demo or created a trial on our website. Leads can't stay in this phase for long and have to be either pre-qualified or disqualified in 4 days (inbound) or one week (outbound).

Pre-Qualified. This means that you have completed the research and have verified this as a valid lead we want to sell to. They seem like a good fit and meet our qualifying criteria, but are not in communication yet, so we haven't fully qualified them. We might not know their steering committee, DM's, timeline, budget, pains & requirements.
Requirements:
lead research field,
duplicates removed,
tags added to the company card

Qualified – in communication. This status means that you are in contact with them, and they have indicated that they are looking for new software, and we can help them with their pain points.
Requirements:
client communication under past activities,
status update

Demo scheduled. This status means that you closed the demo (from reach-out) or confirmed a demo request which you have qualified. The requirement for 50+ size is that the discovery call is held. For smaller ones, it's enough if the discovery is made via email or thorough research. SDR's/consultants mark the custom field 'Demo from reach-out' on the quote as 'call/email' and mark the custom field in the calendar event as 'demo closed by (name).
Requirements:
demo event added (demo scheduled via; demo scheduled by),
demo scheduled field filled on the quote

Demo held. You have had a demo with them. When the status of the calendar event is Busy, and the activity type is 'Meeting 1st Demo', the custom field 'demo held' will be automatically filled on the quote. When the status is moved from Busy to Free (cancellation), the custom field is not automatically updated to Demo not held. If you have a demo in your calendar that didn't happen, you should always check if the checkmark on the quote is also removed.
Requirements:
demo notes
MEDDICC filled in (50+ users)
status update
estimated closing date updated
'user' field updated with the correct amount of users
monthly fee total updated

POC (Proof of Concept). It means the demo went well, the probability of purchase is higher than 50%, we shouldn't be afraid to disqualify leads after the demo and even if soft interest, flag them as unlikely and not invest time in them. So the client has said the solution 'seems to fit,' but we need to clarify details, talk to the team, test, etc. – ok, great, we have a plan, let's do it. Requirements for this phase are: demo summary, planned next step with a timeline, what needs to be done in the testing phase to get to the next phase, what is the agreed timeline.
Requirements:
planned next step with a timeline

Needs met. The lead is a technical & commercial fit. They might still have other vendors shortlisted & comparing price offers, but overall, we have proven that we can solve the problems they have listed.

Confirmed. The lead has selected Scoro as a vendor but is still dealing with legal or with other paperwork.
Requirements:

Closed. This status will be automatically set when the customer adds their payment information, and a contract is created from the quote.

Delayed. We change the status of the lead to Delayed when the evaluation is on hold.  A lead cannot stay in Demo held, POC, Needs met statuses for longer than 60 days if they are S, M, L sized leads, and 90 days id they are an XL or XXL size lead.
Requirements:

Lost. Will be set if the lead isn't going forward. When the status is 'Lost,' but Lead Qualification is Sales Qualified, the field Reason for lost in sales (Qualified leads) is mandatory.

Test. This status is automatically added if a site is created with a @scoro.com email.
Reach-outs
Once a lead has been pre-qualified, time to start taking actions. When using Outreach, the lead will need to be added to the appropriate sequence. In Landmark, you can work with regular tasks or bundles. Depending on the priority of the lead, the number and scope of the actions may vary.
The bigger and better the lead, the higher the number of reach-outs needs to be.
At the same time, know when to let them go, don't invest time if a positive outcome is very unlikely. To help out, call checklists, scripts, and email templates have been prepared (available in the resources list). Ask Annette about the resources – add them to the resource table. 
Phone calls. If a number is listed (or you find it via research), you should always start with a call.
First emails. If a valid number isn't listed, an email is a way to go.
Follow-up emails. If you cannot reach the lead by phone, follow up with an email.
Value-added emails. If you reach the lead by phone, follow up with an email to provide additional value (article/video about something they mentioned)
Once you've done the first calls and emails, you can turn off drip emails for the leads to make sure they receive your emails, and they don't get lost in the drip-emails sent out automatically.
Things to double-check in Landmark:
Different countries: e.g., the lead did the trial in Hawaii, but is based in London. Update the country on the company view
Different industry: Research or conversation reveals that they have misinformed us. Update the Onboarding industry field in the Quote view and add tags to the company card
Different sizes of the company: e.g., lead said 3, but it is a 100 person team (or vice versa). Update the number of users in the Quote view.
Outcomes
There are different outcomes that may come from the reach-outs:
Cannot reach the person or any other DM in that organization
The right person reached but not interested
The right person reached and successfully qualified
The right person reached and demo scheduled – this is the best outcome!
The demo will need to be scheduled to the consultant under whose name the quote is (with some exceptions) by the SDR or by the consultant / AE if they schedule the demo themselves. Follow this to make sure your efforts are documented in Landmark.
Once a demo is scheduled, the quote needs to be updated with the fields 'Demo scheduled' and 'Demo from reach out.' The status of the quote will then also need to be changed to 'Demo scheduled.'
Keep the lead engaged even after the demo is scheduled to make sure they do not cancel or decide to go with a competitor.
Outbound reach-outs
As with the inbound approach, the goal is to set a demo with the prospect. It is important to note that the success rate will be lower (1%) with this approach, but the return is also generally higher.
With the outbound approach, the first aimed outcome is to create a relationship with the prospect and make ourselves visible. It's highly likely that people won't come into a demo or buy the first time we contact them, and that's fine.
Persistence is key – it's important that they remember us!
What will help us know the best time to contact someone is the intent data provided by Zoominfo, which allows you to see who is in the market for a specific tool (have they recently googled 'project management' for example?). This also helps to tailor your message accordingly.
Qualification call guidelines
The success of the qualification call is only partly related to the quality of the script (10%) and the client (if the need is very big or not so much, 10%). The majority of it comes down to the SDR/consultant doing the call.
Body-language. Sit up straight or even stand, you'll sound more energetic.
The tone of your voice. Be friendly and interested, smile (you can hear it!)
Don't interrupt. 3-second rule: pause to see if they have finished talking, then continue yourself
Self-confidence. This comes with experience and product knowledge; you'll become more comfortable in time.
Give specific facts. Make sure you sound like you know what you're talking about (even if you don't), you're the expert of the industry, the pains, and the product.
Ask specific questions. Don't make it an interrogation, sound confident, take the pressure off them
(Extended) mirroring. Do check-backs, make them feel you're listening, and understand their pain-points. If they don't mention enough, bring out some 'common' pains yourself and see if these resonate
Provide value. Your sales pitch should match their pains to make sure you bring value to their specific case
Messaging
Messaging is essential for both outbound and inbound approaches. We want to make sure we are sending out value-driven messages to the right people at the right time.
Some templates have already been created to help, but personalization and adaptation according to who we are talking to, are extremely important.
For outbound messaging, have a look at:
the industry of the company and their activity
the position of the person you are talking to
check out something personal or specific from their website or LinkedIn page to make it personal and show you've done the research
Some keywords to remember when drafting messages/emails:
Effort.
Personalization.
Compliment.
Less I/we and more you.
What are you proposing?
How are you doing it (unique, differentiation)?
Why you – proof, trust, social.
Call to action – make it very clear.
Demo & POC stage

Scheduling demos
The lead can schedule a demo through our website, they don't need to create a site for that. When they schedule a demo, a company is created in Landmark with respective data, but no site will be created for them; instead, their site is marked as 'Demo.' This means that when you have the demo with the client, you have to make sure the site that they are creating is attached to the company card that was previously created by merging them.
Preparation for the demo depends on the priority of the lead. If you have a demo with a priority lead, it's super important that you prepare thoroughly beforehand.
This means that:
you have a separate discovery call before the demo to understand their needs and workflow. Activity type to use: Meeting – 0 / Discovery
after you know what they need from the discovery you or the Solution Engineering team should customize their site to fit their needs
if any big data is to be imported or you are dealing with any other specific use case, you consult with the onboarding team (onboarding@scoro.com)
if any integrations are required, you consult with the integrations' team (analysts@scoro.com)
Demo scheduled by the SDR or consultant
Qualifying leads and scheduling demos go hand-in-hand. This means that one of the goals for the SDR is to "sell" demos that the consultant can use for closing. If the SDR finds an excellent fit for us, and the client schedules a demo, the SDR will add this to the consultant's calendar. Since scheduled demos by SDR is one metric that we keep a close eye on, it is important that we can filter out all scheduled demos by the user.
For that, the following fields have to be filled in on an event:
Activity type → Meeting 1st Demo
Related company
Related person
Demo scheduled via → call to inbound lead/email to inbound lead/outbound/other
Demo scheduled by → SDR / consultant name
The meeting room → choose an available meeting room.
After you have added the contact to the event, you will have the opportunity to send an invite to the contact, so that they wouldn't forget the demo.
After you have hit 'Save and invite,' they will receive an email with the invitation, where they can confirm the demo. Until then, the event will not be confirmed (white with a red border).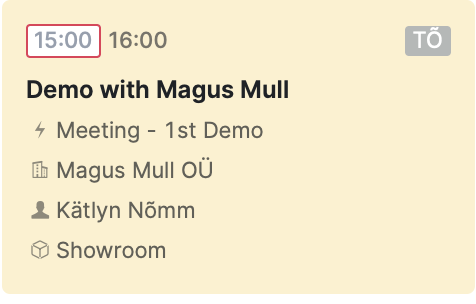 After the lead has confirmed the demo, the event will be automatically marked as busy (red). If the lead doesn't confirm the demo via email, the demo won't be visible under the company card or in our reports. To make sure this doesn't happen, please tell them to click on the icon in the email to confirm the demo.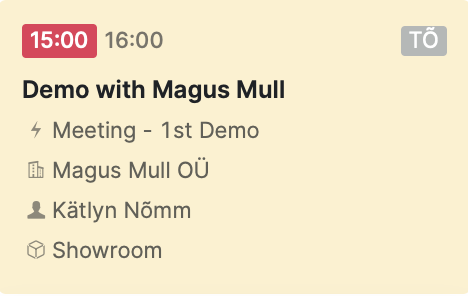 If they don't show up, you will have to change the status to Free. This way, the number of demos will be correct in our reports.
Sending an invite through Calendly
Since we don't have an integration with Calendly, there are some manual steps you need to do if you wish to send the invite out with Calendly.
Sync Calendly with your Gmail account
What this means is that when you schedule a demo through Calendly, it will sync it to your Scoro calendar, but it doesn't know how to find information about the lead from Scoro.
Because of that, you need to add the related customer/contact and activity type manually. If this information isn't updated, this demo will not be in our reports. So, when Sales Operations does their monthly conversion updates by consultants, the number of demos reported as held will be lower than it is. This is bad for the consultant who wants to get the number up and also for the reporting since the numbers are incorrect.
Demo scheduled by the lead
When a lead schedules a demo themselves, it will appear in your calendar with the correct activity type (Demo – Meeting 1st), the status is tentative (green). After the demo has been held or is confirmed, the status has to be changed to busy (red). If the demo is canceled, the status has to be changed to free (grey).
All leads can schedule a demo starting from the next day, meaning, no demos can be scheduled during your workday for the same day. The current process is to have a look at your calendar at the end of every workday to make sure what is ahead for tomorrow. You will also receive an email notification. To make sure you will have no demos in your calendar when you are planning to travel or are not accessible, please add a personal event (to make sure no demos are planned for, let's say, 10 pm) and a traveling event with the activity type 'Travel' (when you are traveling to somewhere).
If the demo is canceled or rescheduled, change the status of the event to 'Free.' If there are two consultants attached to one demo, the one shadowing has to be removed and a new event added with a different activity type for the second consultant.

Our goal is to make sure the client knows what Scoro is capable of, they are informed about all new developments that we will have shortly and are ready to start using Scoro. We have to be sure their expectations for us don't exceed what we can do. We also have to make sure they won't miss out on what we can offer and not know of benefits crucial for them.
Sometimes you just need to use your common sense to understand that all clients cannot benefit from Scoro, so you will have to decide to tell the clients that sorry, this will not work out. Otherwise, the client will discover this in onboarding, or even worse, in a couple of months and will want a full refund and give us a bad review, which can cost us new clients and revenue growth.
Enterprise team flow
Enterprise leads are all leads with more than 50 users. Since they are bigger customers, they usually need more nurturing; they might have more specific special requests and stricter legal and security criteria. The sales cycle is usually three to six months, but in some cases might take longer.
Trials & Demos
Our US & UK / Canada Enterprise team SDRs get all demo requests and trials under their name via the rotation. If the lead creates an inbound trial, the relevant SDR will research the lead, adds this lead to an inbound sequence in Outreach, and starts doing regular reach-outs with the goal of scheduling a demo.
Our EMEA Enterprise consultants are in the rotation; all leads are automatically allocated to their names. They continue with regular reach-outs and do product demos themselves, but include Solution Engineering in the process.
If a lead books a demo directly through our website and we have enough time and can get a response from them, then the SDR will include the Account Executive in a  30-minute discovery call. This time is used to get all elements of MEDDICC. After the discovery call, the AE will give all the needed information to Solution Engineering. If the demo is booked for an hour and we get no response from the customer, we can split the hour booked into 15/20 mins discovery call and a 40/45 mins demo.
Another option is for the SDR to this time to do a discovery call, which they tell the client before the demo to manage expectations. The discovery call is held to understand if it's worth the time to do a full product demo. If the discovery call goes well, the SDR will schedule a product demo with the Solution Engineer and a relevant Account Executive. After the demo is held, the SDR will change the quote & company card owner to the relevant AE.
The first demo is usually an overview of Scoro, where we introduce our end-to-end system. If the lead requests a demonstration on a specific module or topic, of course, we will provide this for them and will not talk about the functions that are irrelevant to them. If they are interested in moving forward, we will do a more tailored demo for them. To understand their full need, we send them the onboarding questionnaire and the feature checklist. These get them to tell us what they want or if they don't know they have a full overview of what we have.
Before the tailored demo, we usually have a shorter session where we go over the documents they have filled in to make sure the customized trial site is exactly what they need. After that, we will have a tailored demo, which is done by a Solution Engineer. The tailored demo is usually followed by a 1-week POC stage. The AE's involvement depends entirely on the client; some need more hand-holding; some want to test everything out themselves.
If all goes well, they will move forward to the Needs met phase where most of the price negotiations and contract overview is done. From there, they move to Confirmed and, after that, to Closed.
SMB team flow
SMB leads, aka small/medium businesses, are all leads that have under 50 users. SMB leads' sales cycle length is around a month, but of course, this can vary.
Trials & Demos
If the lead schedules a demo via our website, they will receive a drip mail listing different questions, which they are asked to answer. The consultant can use these instead of a discovery call to prepare for the meeting. If the lead is a bigger one or seems more complicated, the consultant should always do a discovery call to map all needs.
All our SMB consultants do all product demos themselves, but if we have a more complicated workflow or business case, the SMB team can include pre-sales in the first demo to make sure all relevant questions can be answered.
For a standard demo, we use the Sales Keynote managed by Product Marketing. With that, you can go through the standard workflow with the lead and can explain how Scoro is right for them. It's also common to use a live site.
To make sure all first demos that were held are shown in our reports, the demo event has to have the Meeting – 1st demo activity type, and the status has to be busy | away. If the client canceled the demo, it's enough if you change the status to free.
After having the demo, the information that needs to be filled in on a quote:
Quotes → Demo summary
Quote → Lead source. If the lead is marked as Direct, you should change it to the correct one. For that, you just need to ask the client where they found us. This way, we know from which marketing channel did we get the client, and we can plan our marketing budget better. Also change it, if it was an outbound lead.
Depending on the lead, they will either move straight to the POC stage (a set timeline, budget, and a legitimate use case is required) or will stay in the demo held until they have the listed requirements. After the lead has tested the system and we are sure they are a good fit, they will move forward to Needs met stage, where usually price negotiations start. If everything goes well, they will confirm they will buy and will become our customers.
Sandboxes
We currently have three different sandboxes, i.e. live sites that are set up in the system where you can show the lead how something works. These sites are overwritten every night, so all changes you do will stay there until midnight. If you want to show something to the client that you want to stay there, you should modify the lead's live site instead.
We have created resources in Landmark, so make sure to mark it as a resource when adding a meeting to your calendar to make sure no-one else is using it at the same time.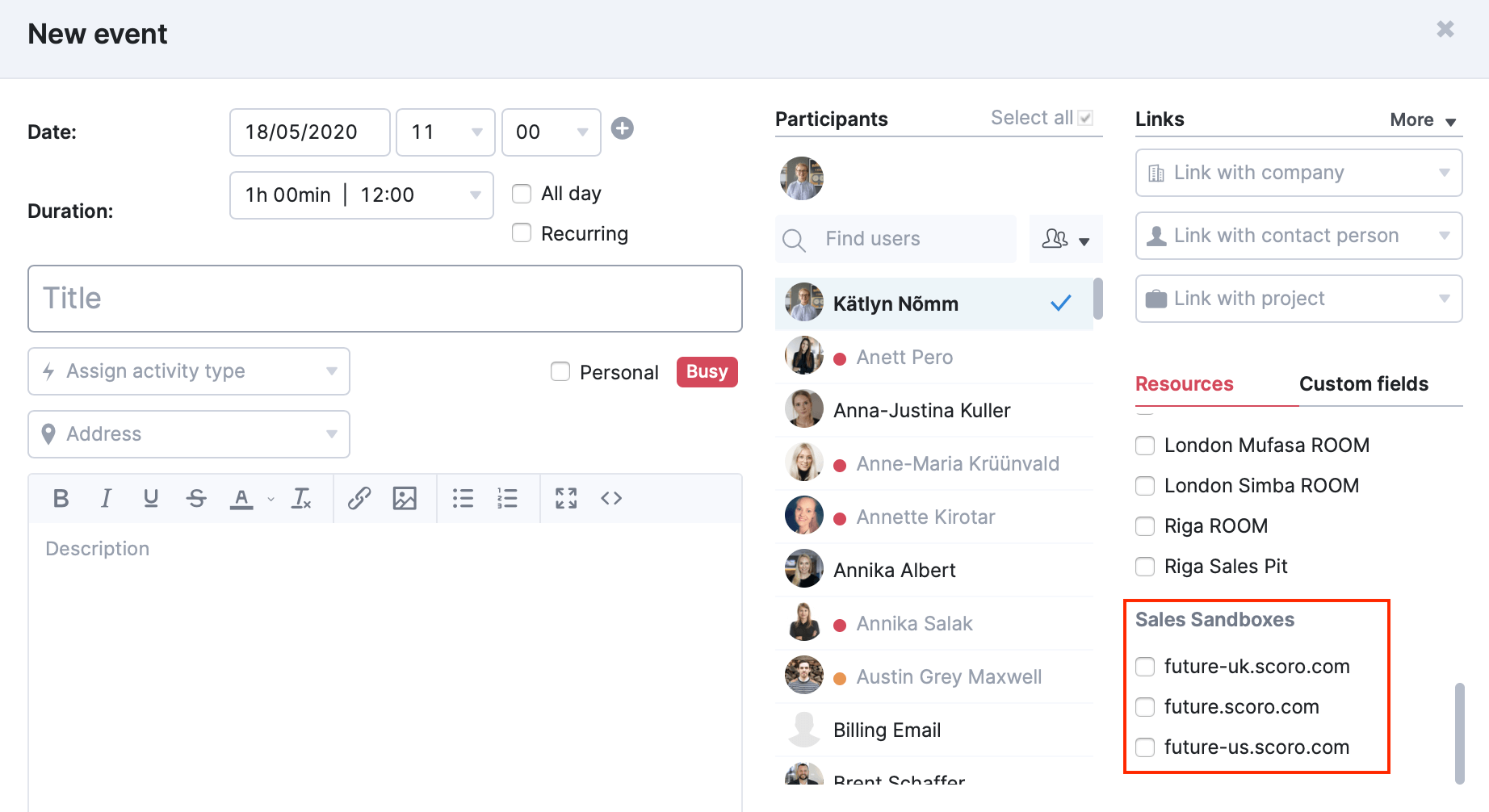 Sandboxes to use:
EMEA: future.scoro.com
UK: future-uk.scoro.com
US: future-us.scoro.com
Access:
MEDDICC
We use the MEDDICC methodology to map our leads' processes and needs.
| | | |
| --- | --- | --- |
| | MEANING | EXPLANATION |
| M | Metrics | What is the economic impact of the solution? |
| E | Economic buyer | Who has profit and loss responsibility for this? |
| D | Decision criteria | What are their technical, vendor and financial requirements? |
| D | Decision process | Then what happens? Define validation and approval |
| I | Identify pain | What are their primary business objectives? |
| C | Champion | Who will sell on your behalf? |
| C | Competition | Who else are they looking at? |
The MEDDICC has to be added to the quote starting from the Demo held phase. By adding a checkmark before the criteria, you will have the opportunity to add all the needed information under the MEDDICC.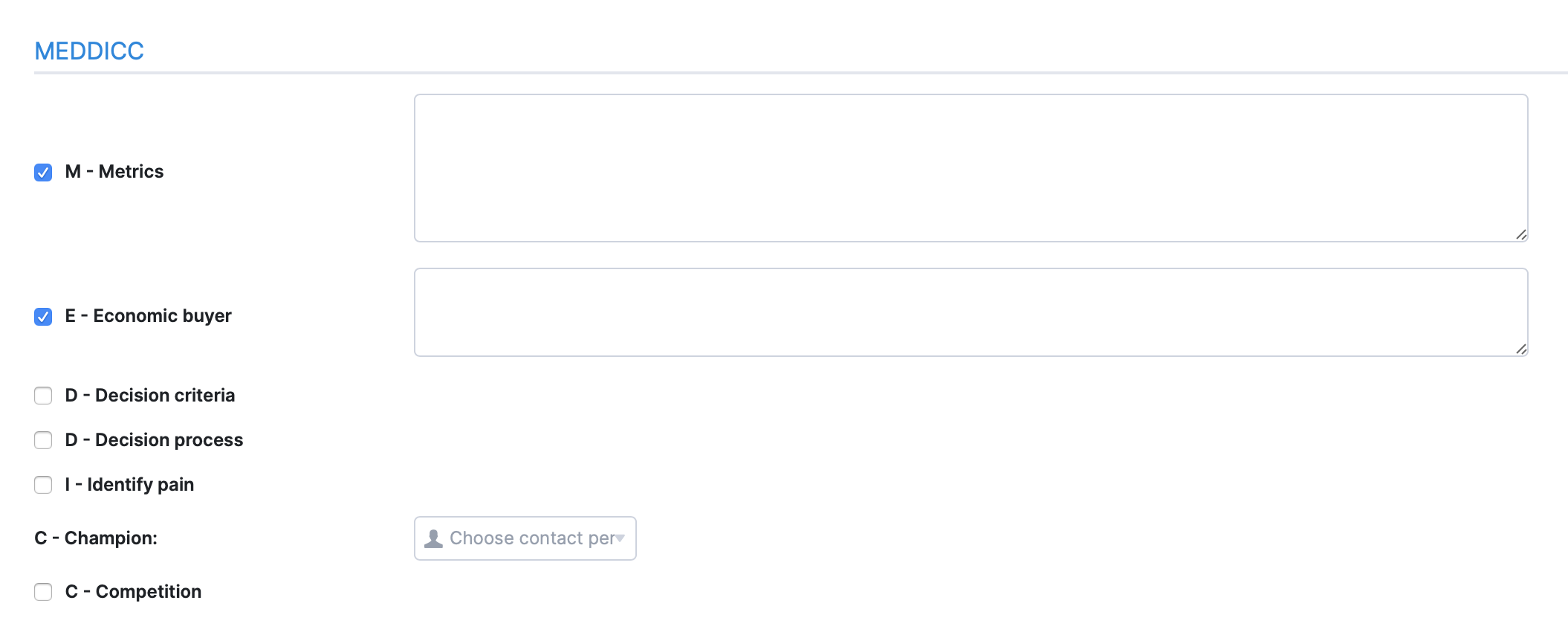 Checking client activity
If the lead has created a trial site, there is an easy way for you to understand if they are logging in and if they are, what actions are they doing. You can personalize your reach-out emails and calls based on this information. You can also see if they are active in the trial, or they would use some warming up.
Pricing
We have divided our pricing into four, where the Work Hub and Sales Hub are divided into two: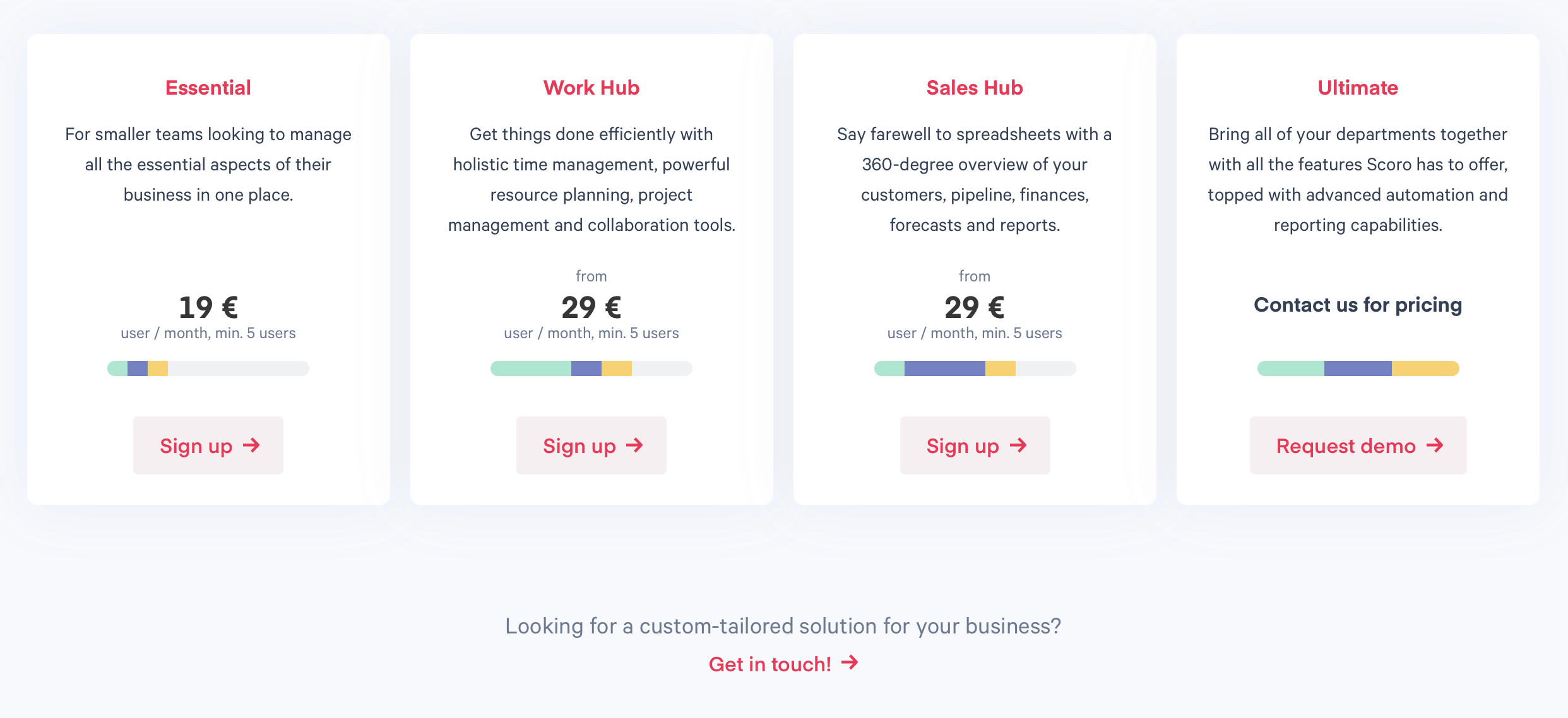 We have four different Onboarding pricing depending on the help of the lead's needs. If you understand that the lead could benefit from the Custom onboarding, you should always contact the Onboarding Team Lead, who will give you the price for the custom onboarding plan.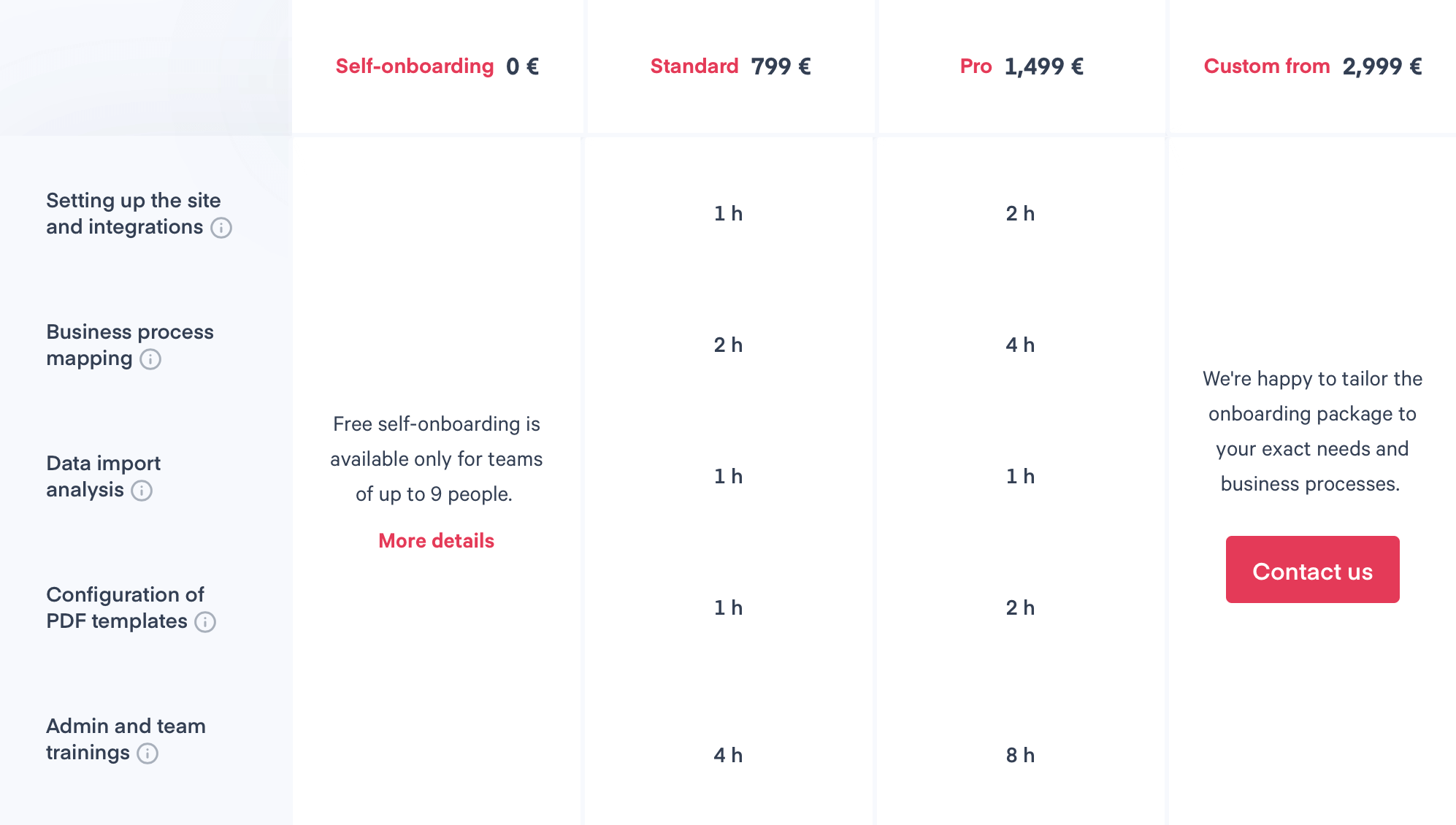 You can also add hidden custom add-ons to most plans. You can see the full pricing comparison here. All the prices for each plan are here.
Quoting the customer
If the customer is requesting a quote, first of all, you have to make sure the values are correct in their self-service. If they aren't, the values on the quote will be overwritten by the self-service at midnight, and the amount on the quote will change.
After you have made sure the values are correct, both in the self-service and on the quote, you can send out the quote using our pre-made quote templates.
Closing the client
You're almost there! The client has confirmed they will start using Scoro.
Since you're great at sales (you wouldn't be in Scoro if you weren't), you have done everything to make sure this is THE client, and we can start setting up their payment info and preparing our onboarding team for the new client.
Sales → Onboarding
To make sure the lead you are closing will get up and running as soon as possible, we have mandatory onboarding for all clients who have more than nine users. Here you can find the list of our onboarding plans, their hours, and what they consist of.
Some things you should know about our onboarding:
Ensure that you communicate to the customer that the typical time to complete onboarding is 3-6 weeks (SMB customers). Enterprise customer onboarding projects can take 3-6 months depending on their business processes and needs. Contact the onboarding team if you are unsure.
Never promise or confirm that we offer custom development as part of our services.
Onboarding discounts cannot exceed more than 20% of the total package. If further discounting is required, please contact the Customer Onboarding Team Lead to discuss the individual case before speaking with the customer.
Here you can see the process for including Onboarding in the sales phase, or you need help with scoping a custom onboarding package. After a customer joins, you can use these templates to send the welcome mail.
So that we don't exhaust the lead by asking the same questions first by sales and then by onboarding, we have created handovers from Sales to Onboarding. Since the process is different for smaller and bigger leads, we have two different handovers, so keep that in mind when contacting onboarding.
Here is the handover for all leads from 1-50 users.
Here is the handover for all leads from 51 users.
Payment methods
For the client to be a client, they will have to pay, right? The client can choose between a credit card payment or a bank transfer. We take all types of credit cards, including Amex. We always recommend to the clients to pay by card, this way we can charge the money directly from their card.
For the customer to have different options of payment shown in their self-service, those have to be set up on the customer's site view. It is set with 'credit card' and 'invoice' by default, but this can be changed if needed. So if one of the existing customers turns to you saying they want to start paying by credit card but don't have the option in their self-service, the reason usually is that they don't have both options activated.
All card payments are managed by our partner Adyen, which is one of the biggest all-in-one payments platform. So, when you have sent the payment link to the customer, they will have to add their credit card details in their self-service.
All credit card data is stored in Adyen; we do not store that information in Scoro. After that, Adyen reserves 0.01€ on their card, and with that, checks if the card information is correct. After we get it verified, the system will automatically charge the sum from their card. When they don't have enough money or have some other issues, we will get an error message. The finance team will contact them to resolve the issue. If a card payment has to be charged manually, Finance can do it from our side as well.
When the customer pays with an invoice, they will add their billing info into their self-service and will receive an invoice with a 10-day due date. If the lead requests a longer due date, this request has to go through the Finance team by adding a task to the Sales Invoice Management task board.
Discounts
It is possible to add discounts to leads' sites. Almost all monthly and onboarding invoices up to 15% you can add yourself. For that, go to the client's site view (on their company card, click on their site name) and if you scroll down, you see a subcategory called 'Vouchers'. To add the voucher, just click on the dropdown menu and choose the right one. You can apply all vouchers that have a "*" in front of their name.
Here's the list of vouchers you can use without a confirmation (these vouchers don't have an end date):
FULL5 – Gives a 5% discount from the whole invoice
FULL10 – Gives a 10% discount from the whole invoice
MONTHLY5 – Gives a 5% discount from their plan
MONTHLY10 – Gives a 10% discount from their plan
MONTHLY15 – Gives a 15% discount from their plan
ONB5 – Gives a 5% discount from their onboarding
ONB10 – Gives a 10% discount from their onboarding
ONB15 – Gives a 15% discount from their onboarding
So, you understand that you cannot close the client with the conditions offered and you need a bigger discount on their monthly invoices, what's the process?
If there is a need to add a bigger discount, this will have to be discussed with either the Head of Sales or the VP of Sales and after receiving the confirmation, the Finance team will add the discount based on the task on the Sales Invoice Management task board. If you offer them a bigger discount than 15%, it is crucial that you set a date when the discount will end. Make sure to communicate it clearly with the client and we can find the communication from Landmark as well. This way we can manage all the discounts more efficiently and will not have to deal with angry customers when we need to raise their prices.
Self-service
The self-service is the hub for the client to have an overview of their payments, change their plan, amount of users, and additional add-ons. Before the client signs up, it's your responsibility to make sure everything is set up for the client, they have the correct amount of users, correct add-ons and all the vouchers have been applied.
The default plan for all trials is Ultimate, which allows them to get the full Scoro experience. Their final plan and amount of users should be confirmed as fast as possible, but no later than in 'Needs met' status. This way we can keep our forecasting as precise as possible.
You can see their active plan marked in blue. Their current payment is marked on the left: onboarding payment as initial payment and monthly payment as the sum they will pay every month or the annual if they have chosen so.
If you click on 'View detailed breakdown', you (and the trialist) will see all overview of their payment and discounts.
Here you can see that if the lead joins at the end of their trial period, they would have to pay for the 6 days left in May. Also, the trialist has 5% off of monthly payments.
The pricing is based on a simple formula: (amount of licenses x price per user) + add-ons – discount.
An important thing to know is that all pricing is based on licenses, not users. This is the place where clients are often confused. It's most common with new customers when they join with their total amount of licenses, but they start onboarding with fewer users. To avoid the confusion (and crediting of invoices), it's important you make sure the amount of users is correct in their self-service before they sign up. We do have a minimum 5-user limit, so you will have to be transparent about this beforehand.
Below you can see the add-ons the lead can add to their site. The list of add-ons depends on the plan they have chosen (blue = active). Some add-ons are for free, some are lump sums paid monthly and some are based on the number of licenses and billed monthly (5€ / £4.5 / $6 / AUD $8 / CAD $8 per user/month).
Custom add-ons
If a customer wants a feature that is not active in their plan, with some features, they have the chance to purchase hidden add-ons. This means that they are not included in their current plan, the add-ons are not active in their self-service, but we can add them from our side. This is helpful when a lead needs 1-2 extra features but doesn't have the budget or need to choose a bigger plan.
Here you can see the full list of our plans and what features they include and which hidden add-ons can be added to the plan.
May 2020 note: We changed the names of some of our plans, but have not finished the new file yet. Until then, please use this cheat sheet:
Work Hub Premium = Work Hub Standard
Sales Hub PremIum = Sales Hub Standard
Work Hub Ultimate = Work Hub Pro
Sales Hub Ultimate = Sales Hub Pro
Business Hub Ultimate = Ultimate = includes all features
To add a custom feature to the client's site, please add a task to the Sales Invoice Management task board.
Legal
NDAs are usually requested at the beginning of the sales cycle. If an NDA is requested, turn to Legal.
If special conditions are requested by the client – push back and Legal assists you with the response why these conditions are not relevant. If they are really necessary, then the special conditions must be confirmed with all relevant teams (onboarding, legal, finance, pre-sales, product, integrations). All special conditions must always be confirmed with the CEO.
If the client requests a data processing agreement or data processing addendum then refer to paragraph 7 of Terms of Use. This covers the request for the data processing agreement.
Specials conditions always require a special conditions agreement.
Final steps before closing
So, if the client has confirmed that they will sign up today, first of all, you will need to send them the sign-up link. You can find it in the lead's site view under 'Main details.' Just copy the link to the client, and they can see the payment section as a pop-up.
As a norm in a SaaS business, we do not have classic paper contracts, but the contract is signed after the lead accepts the Terms of Use. The information on the quote (plan, user amount & onboarding plan) will automatically update from the information in their self-service. The contract will be automatically created from a quote, which has the correct site attached) after they sign up.
Before you send them the link, make sure:
The customer has given you a verbal/written sign to evaluate a potential start.
You've confirmed the needs-solution fit with the client or concluded the fit personally.
You have mapped out the decision-maker, confirmed budget, and timeline.
You have explained and proposed to the client their implementation plan and monthly plan.
Technical and legal requirements have been met, including integration requirements.
The quote is correct, and the correct site is related to the active quote.
They have the correct plan, add-ons & user amount set in their self-service.
The quote, company card & the scheduled invoice is on your name.
All needed vouchers have been added.
In the case of 50+ users, onboarding has been included
Congrats!
After the lead has added their payment info, the whole Scoro team will receive an email, where they see that you brought on a new customer.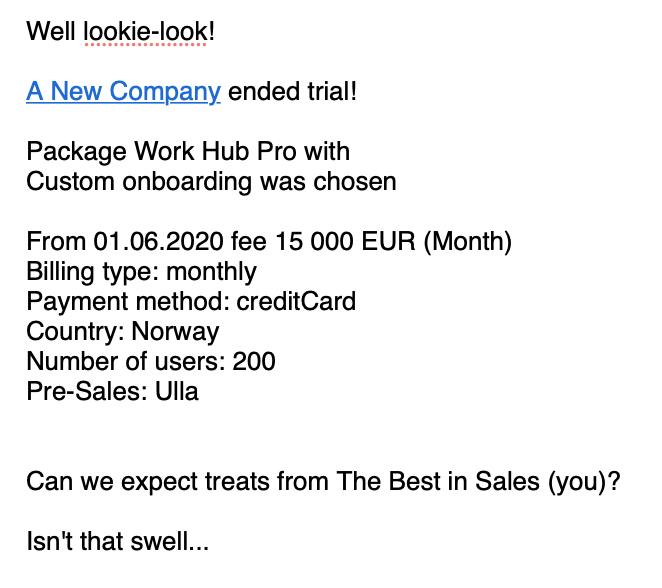 The following things will automatically happen in Landmark:
the company moves under A-category (paying customers)
a scheduled invoice will be activated for them, which you can see on the bottom of the client card
their contract will be changed to 'Completed.'
their quote status will be changed to 'Contract made.'
their onboarding invoice will be issued
the monthly invoice will be issued (if the trial is over)
Finance in Scoro
Monthly invoices
We send out all of our monthly invoices on the 1st of the month. The logic of our automatic invoices is set up like this:
On the 1st day of the month, the customer is billed for the licenses that are active (billing happens at 00:00 on 1st of every month)
The monthly invoice issued on the 1st is considered a prepayment for the month (ie, 1st of April invoice is for the period of 1-30 April)
If licenses are added during the month, they will be billed separately on the last date of the month (i.e. one license added on the 25th of April means an invoice for 6 days is issued on the 30th of April (25/04-30/04).
Starting from the new month, all licenses are billed on the same invoice.
If a license has been removed, we won't automatically credit the part that was not used. In very exceptional cases, we can do this manually if needed but have no obligation based on ToS. The next monthly invoice will have a reduced number of licenses.
Both the end-of-the-month invoices (partial), as well as the regular monthly invoices, are issued around 00:01 on the 1st date of the month. This is the moment the self-service is checked, and the number of licenses and selected plan information is taken for billing purposes. For example, if a license is removed at 23:30 on 31st, it will not be added on the monthly invoice issued on the 1st.
Scheduled invoices give us an overview of the next invoice that will be sent out to the client straight on their client card. This means that the detailed view in the self-service and the scheduled invoice on the company card have to be the same. If it isn't, you just need to save over their self-service. This means that you can just activate and deactivate an add-on for a second and then save the 'changes.' This way, the scheduled invoice is overwritten.
Here you can see the client will receive an invoice on the 1st of June, and starting from 01.04.2021, their price will be higher. This means that their discount period will end in April 2021, and they will start paying us more.

The scheduled invoice date (the date when the monthly invoice is sent out) is tied to the trial expiry date. Meaning, when a lead decides to buy, they will receive their monthly invoice on the day their trial ends, but the onboarding invoice on the same day they signed up. So, when a lead comes in on the 28th of May, you do a quick and good sell, and they sign up on the 31st, they still have ten days of the trial period left, and they will receive the monthly invoice on the 11th of June.
Annual invoices
Clients can also be charged for the whole year, but this doesn't mean they can't cancel before the period ends. The annual fee is approximately 10% lower than the sum of monthly payments. Below you can see that the discount isn't exactly 10%.
Monthly: 5 * 75€ = 375€/month → 4500€/year
Annual: 5 * 69€ * 12 = 4140€/year → 345€/month
When the client confirms the annual payment, they will receive an invoice immediately (except if their trial expires later) for the licenses and add-ons they have chosen. When they don't make any changes during the year, they will not receive any more invoices. Should the client add licenses, add-ons, or change their plan, they will receive an additional invoice immediately after saving the changes.
Let's say the client chooses the annual payment on 01.06.20 with 11 users, Ultimate plan, and the time tracker. They receive an invoice on 01.06.20 with the period 01.06.20-31.05.21. They pay for it and go on with their lives. On 18.08.20, they add two new licenses. After saving the changes, they will receive an invoice for the extra two licenses AND the time tracker for those two licenses (5€/user) for the period 18.08.20-31.05.20. On 18.11.20, they decide to remove three licenses. They will not receive their money back. Instead, the system remembers they have paid for these, and when they decide to add three licenses on 02.02.21, they will not have to pay for them again.
When the client decides halfway that they don't want to pay annually but would like to have monthly invoices instead or if they have permanently removed licenses/add-ons and need to be credited for the unused part, this can be done in exceptional cases. This has to be discussed with the relevant Head of Sales. If this is confirmed, add a task to the Sales Invoice Task Board, and the Finance team will change it accordingly. It's preferred to keep the credited amount as prepayment for the future invoices, but we can also refund if needed.
What what is VAT?
VAT or Value Added Tax is a consumption tax, which is added to the sales invoices. When the customer is adding their payment information, they can add their VAT number as well. The Accounting Specialist is doing a monthly check-up of all the new clients that don't have their VAT attached and only turn to the sales consultant / AE only for some cases where there's an ongoing communication about billing, or we're unable to reach the customer for some reason. So, to make the process easier, you will have to remind the client to add their VAT number when you are helping them set up their payment method. For that, you need to know when VAT is applied and when not.
We use three types of VAT:
Estonia to Estonia
Estonia to the EU
Estonia to the rest of the world
When we sell EST to EST, we always add VAT to the invoice (20%). When creating an invoice, this is added by default. This hasn't been a problem with any Estonians.
When we sell EST to the EU, and they have a valid VAT number, no VAT is added. We check the validness here. This means both the VAT number and the correct country has to be added to the client's profile. Otherwise, I cannot see if it's valid or not.
When we sell EST to the EU, and they don't have a valid VAT number, we add VAT to the invoice. We check the correct % here.
When we sell to the rest of the world, we never add the VAT because we export services outside the EU, and this is tax-free. In the US, there is no such thing as VAT.
So, if you have a client from outside of the EU, no need to ask them anything. Got a client from the EU, make sure they add their VAT. If they don't have a valid VAT, information about that should be added to the client card.
Unpaid invoices
After the client receives their invoice, they start receiving automatic reminders if the invoice is not paid. The interval is 4-7-13-17 days after sending the invoice, which is on the 1st day of the month by default. This means that around the 24th, after they have received three reminders (the last one being 'we will limit your site if we don't receive the payment by tomorrow'), the Finance team starts limiting their sites. This action is often done by having a case-by-case approach. If it is a key customer, they have a special deal or similar, the finance team will give them more time or consult with their sales manager before limiting their site. Limiting means that the customer can log into their site and see all the data, but cannot change, add, or export anything. They will also have a notice on top of their page that says that their site is limited due to unpaid invoices. Of course, no manager or CEO doesn't want their team to see that, so they are highly motivated to get rid of it asap, and they will pay the amount almost immediately.
As mentioned, we send out the invoice the moment they sign up. However, the onboarding team doesn't start the project until the client has paid the onboarding invoice. This should be communicated to the lead to manage their expectations. People often ask us why they have to start paying monthly fees right away, even though they are not yet using it. Well, the thing is, they have full access to Scoro with the capability to use all features, and there are costs managing the servers, backups, and access to our support. So, when they are not paying the first invoice, the Finance team will leave you a notification in Scoro to contact them and figure this out instead of limiting their use right away. We always check if they are using the software, and this is a great opportunity for the consultant to make sure the client is okay and if they need any extra help.
The client is canceled by us when they have received all the automatic reminders, have received a personalized 'how are you doing' email, haven't responded, after that have received an email saying that we will cancel their contract in one month (regulation in our TOS). They haven't answered to that as well and haven't logged in at all or rarely.

Refunds
Sometimes the client is not happy, cancels, and wants a refund for the payment they have already made. Fortunately, this happens very rarely. We have different kinds of requests for a refund, here's an overview.
Mid-month cancellations
The one where we almost always say no is when a client cancels mid-month. All invoices are sent out on the 1st of the month and are for the same month, so they pay in advance for the upcoming period. This means that on the 1st of June, they pay for full June, and no refund is valid according to our Terms of Use clause 6.10.
6.10. Already made prepayments will not be returned, including when:
the Client has not used the Platform during the prepaid period, or has only done so partially;
the Client changes the Platform price package;
the Client terminates the Contract unilaterally, by the Terms of Use or under the law, without the Operator having breached the Contract;
the Operator terminates the Contract unilaterally, by the Terms of Use or under the law.
Mid-annual period cancellations
The second most common one is canceling during the mid-annual period. This means that the client started using Scoro in June, pays the annual sum, but cancels in October. We don't refund the money for the time they were using, and if they request a refund for the rest of the period, this is handled case-by-case and will have to be confirmed by the relevant Head of Sales. Of course, we are not happy they are leaving, but we also don't want them going on to review sites and giving us bad reviews. If the client starts negotiating, you should always include our lawyer Rainer and the relevant Head of Sales in the process. This minimizes the possibility of legal action taken against us.
Incorrect billing
Sometimes there's a bug, and we bill the client incorrectly; we always refund the money, no questions asked. We also add our sincere apologies, and if the client is super pissed off, depending on the size of the customer, we always offer them some kind of bonus, like one month free or similar.
Remember – almost every refund case is different, so you should always consult with the relevant Head of Sales on what to do next.
When they have confirmed that we will do a refund, you should add a task to the Sales Invoice Task Board, and the Finance team will refund their money. When they have paid by card, the money will be refunded to the same card the payment was made from, and if by invoice, the same bank accounts the payment came from. Either way, the refund will take approximately 3-5 business days, which should be communicated to the customer.
Cancellations
Clients might have different reasons for canceling their subscription and with that, terminating the contract. According to our Terms of Use section 10,
10.1. The Client has the right to cancel the Contract at any time unilaterally without cause by informing the Operator thereof by email or via the Platform.
If the customer asks you to cancel, please forward the email asap to Lauma or Help Desk.
If the customer would like to cancel – double-check with them from when they would like to cancel and if they actually are planning to cancel. Maybe they are just wondering about what will happen if they cancel. If you can't understand if they want to cancel or are just asking about it, always say them that they can cancel in self-service.
If we have a written email confirmation from the admin user (not a verbal one) then we can use that email to continue with the cancellation. If you have just talked about it or the person is not an admin user then we need them to either request it via self-service or send an email. If they say that at some point this month they would like to cancel, then it is anyways better to do it via self-service as we receive the actual date and time stamp when they requested this, not when they were thinking and talking about this.
This also applies to customers, who have selected an annual payment, so they are not tied to us for a year. If a client contacts you with the request to cancel, the first thing is to understand why and try to find a solution for them to stay. If they have made up their mind and they still want to cancel, you should follow this process.
The client has the opportunity to cancel the subscription themselves as well. For that, they should go to their self-service and click on cancel the subscription, then they have to fill in the reason they are canceling. This will be redirected to Lauma, who will then contact them to understand if there is anything we can do to keep them. If not, the request will be confirmed.
They will be able to access their Scoro site on a full access level until the end of the period they have fully paid for. After that, for 30 days they will be able to access Scoro on a limited level (viewing, exporting data). Their company's site data will be automatically deleted 75 days from the last day their subscription was duly paid for in full. After the 75 day period, the data will be deleted permanently, and further actions with the data (including exporting) will permanently become impossible.