Resources
In Scoro, we have put together useful materials to help you with marketing, sales, and product-know-how. In case you don't have access to referred Google Drive links, please turn to Inkeri Parman.
GLOSSARY
In this section, we have written out the most common abbreviations and terminology used regarding Scoro. These explanations should help make sure we are on the same page in day-to-day communication.
MRR
Monthly Recurring Revenue. The net subscription fee our customers pay each month for use of Scoro.
ARR
Annual Recurring Revenue. Annualized value of subscription fees taking into account discounts and based on the number of active licenses.
LTV
Customer Lifetime Value. The amount a customer is estimated to throughout the entire time (lifetime) based on the average expected length of time before they are likely to churn.
CAC
Customer Acquisition Cost. The average spend on sales and marketing related costs attributed to securing a new customer in a given period.
CRM
Customer relationship management, a system to manage and analyze sales and service interactions with past, present, and potential customers. In Scoro, we consider the Sell It functionality (Companies, People, Quotes, Pipeline) as the CRM functionality of the software.
PPM
Project Portfolio Management is centralized management of the processes, methods, and tasks by project managers to analyze and collectively manage projects based on key indicators. In Scoro, we consider the Do It (Projects, Tasks, Planner, Reports) as PPM functionality.
NPS score
Net Promoter Score measures customer experience and predicts business growth. Ranges from -100 to +100. NPS is calculated based on scores given by types of clients as follows: detractors (who answer 0-6), passives (7,8) and promoters (9,10).
DWR
Detailed work report
DFR
Detailed finance report
Task Matrix
Scoro's tool to present initiative-related tasks on a monthly time-scale
API
Application Programming Interface. Basically, API is needed to make other software solutions communicate with Scoro. In more detail, API makes it possible for software solutions to share data and take actions on one another's behalf without requiring developers to share all of their software's code.
MRP
Material requirements planning is a production planning, scheduling, and inventory control system used to manage manufacturing processes. Scoro is not an MRP.
ERP
Enterprise resource planning is the integrated management of main business processes. Since MRPs often manage cash, raw materials and production capacity, and the term is associated with producing physical goods, we do not classify Scoro as an ERP.
SEO
Search Engine Optimization. Strategies and tactics used to increase the number of visitors to a website by obtaining a high-ranking placement in the search results page based on key words found using a search engine.
BDR
Business Development Representative. This sales role focuses on generating qualified prospects using cold email, cold calling, social selling, and networking.
SDR
Sales Development Representative. A type of inside sales rep that solely focuses on outbound prospecting. SDRs focus on moving leads through the pipeline. They are often given lead lists by marketing and then email and call prospects in order to qualify which leads quota-carrying sales reps should spend their time with.
Churn rate
% of customers who stop subscribing. The rate at which our customers are leaving us/cancelling their Scoro subscriptions.
KPI
Key Performance Indicator. These help us to measure how well each team is performing against their most important goals.
Feature Request
A request to add functionality to Scoro. A Feature Request should be submitted via Scoro Helpdesk.
Roadmap
A product roadmap is a plan that outlines how Scoro as a product will develop in the short-term and long-term.
PP
Privacy Policy
Marketing resources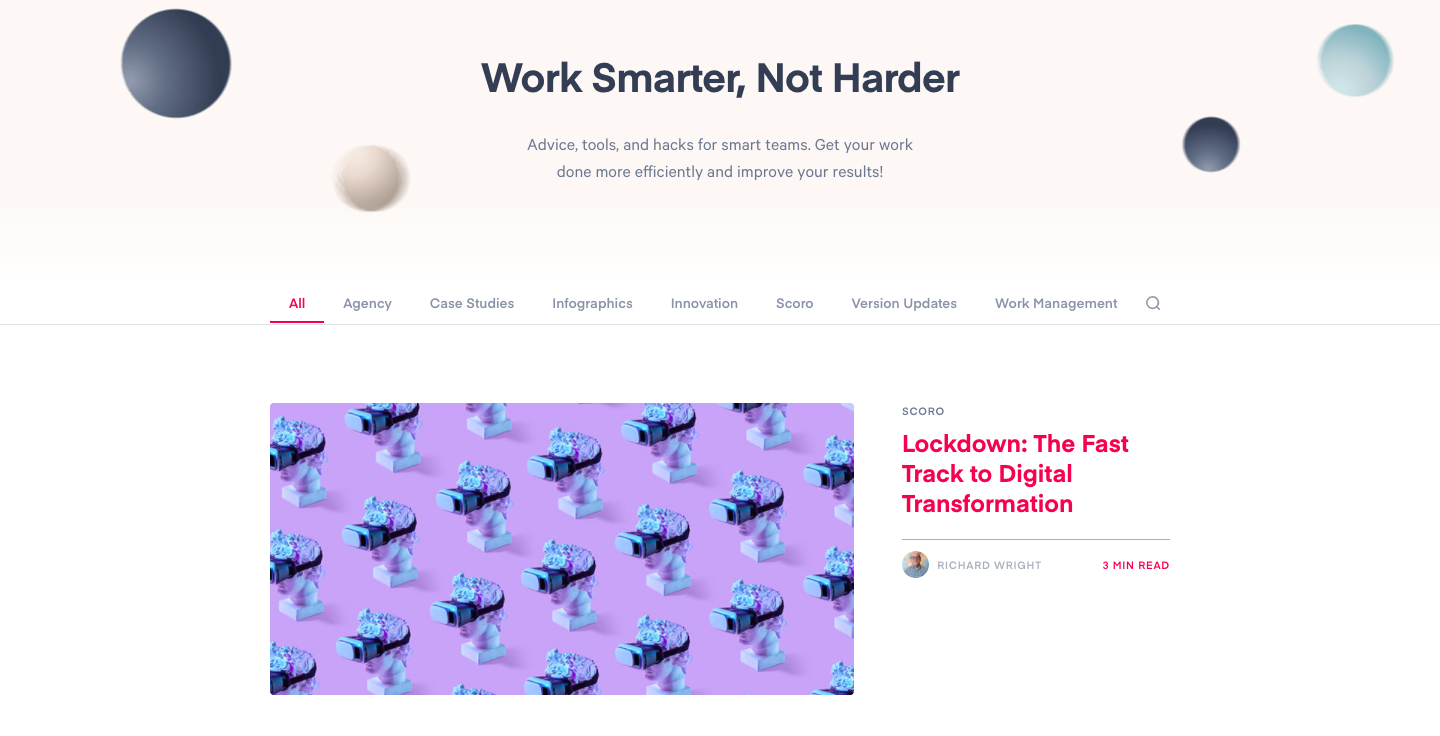 One of our most powerful marketing tools is the top-rated Scoro productivity blog. Here, you can find customer case studies and interesting stories on work management. Feel free to share interesting articles on your social media or re-purpose the content for email campaigns, events, or presentations. We kindly ask you to always reference Scoro and the blog when using any materials.
Also, our talented Product Marketing team has put together beautiful shareable content with customers.
Sales resources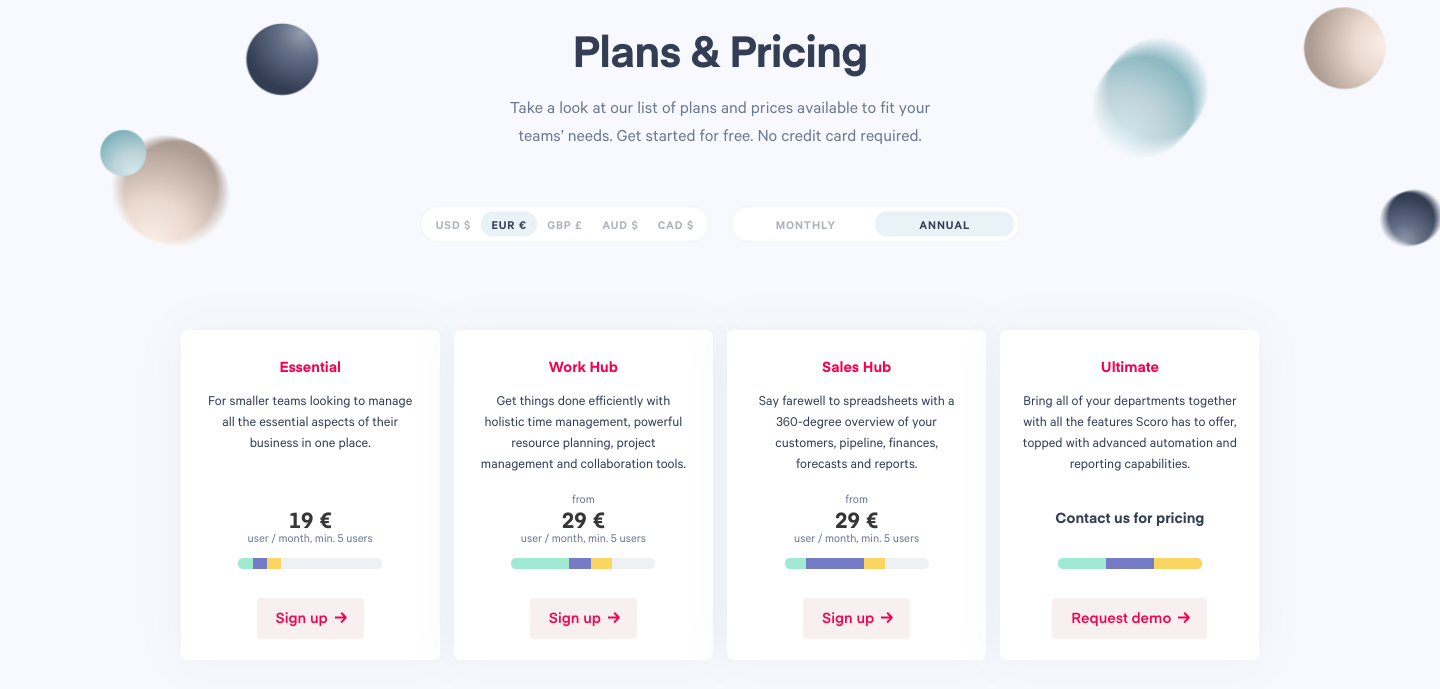 Our short (under 2 minutes!) introduction videos illustrate how anyone can start working more efficiently with Scoro.
For people who like moving images, we have created helpful video tutorials. Feel free to use these for getting to know Scoro better and share these with your customers.
The Scoro Partner sales materials Google Drive folder has a number of helpful sales resources. Here, you'll find Scoro fonts and logos, our sales presentations, information about buyers, how to pitch Scoro against similar software solutions, and more.
For creating your sales approach, we suggest turning to Scoro Value toolkit. This Proof of Value concept is how Scoro is leading sales conversations. In the toolkit, you'll find our consultative sales approach. In addition, it describes different buyer personas based on their role (CEO, CFO, COO, etc) and which aspects of Scoro are likely to offer the most value for them.
Our Pricing and packages page has everything you need to know about helping the customer pick the right plan and add-ons.
Resources for product know-how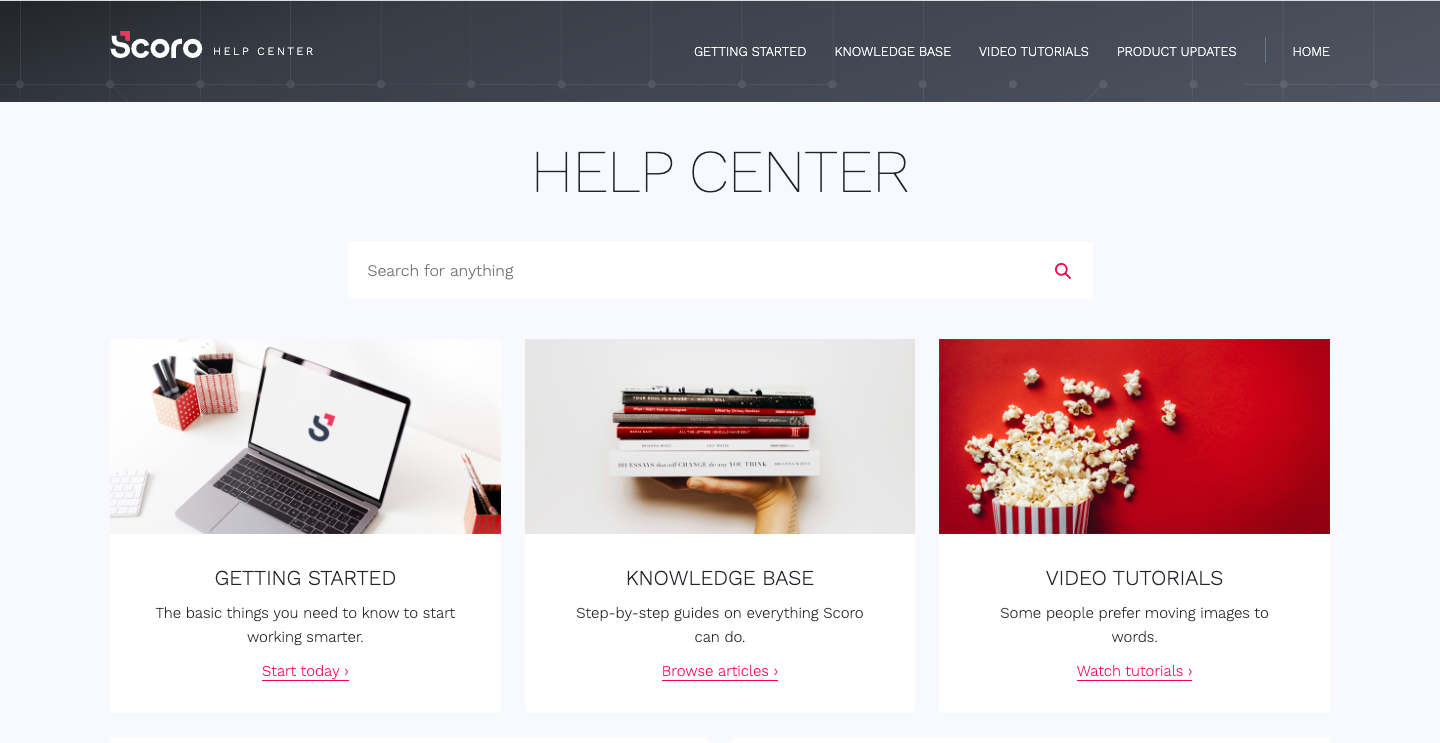 Scoro's Help Center is an amazing resource for finding answers to any product-related question. We take pride in keeping it tidy and up-to-date with easy to follow instructional content and videos. Just start with searching for a topic or browsing the knowledge base. You can keep track of all version updates here.