All the features you need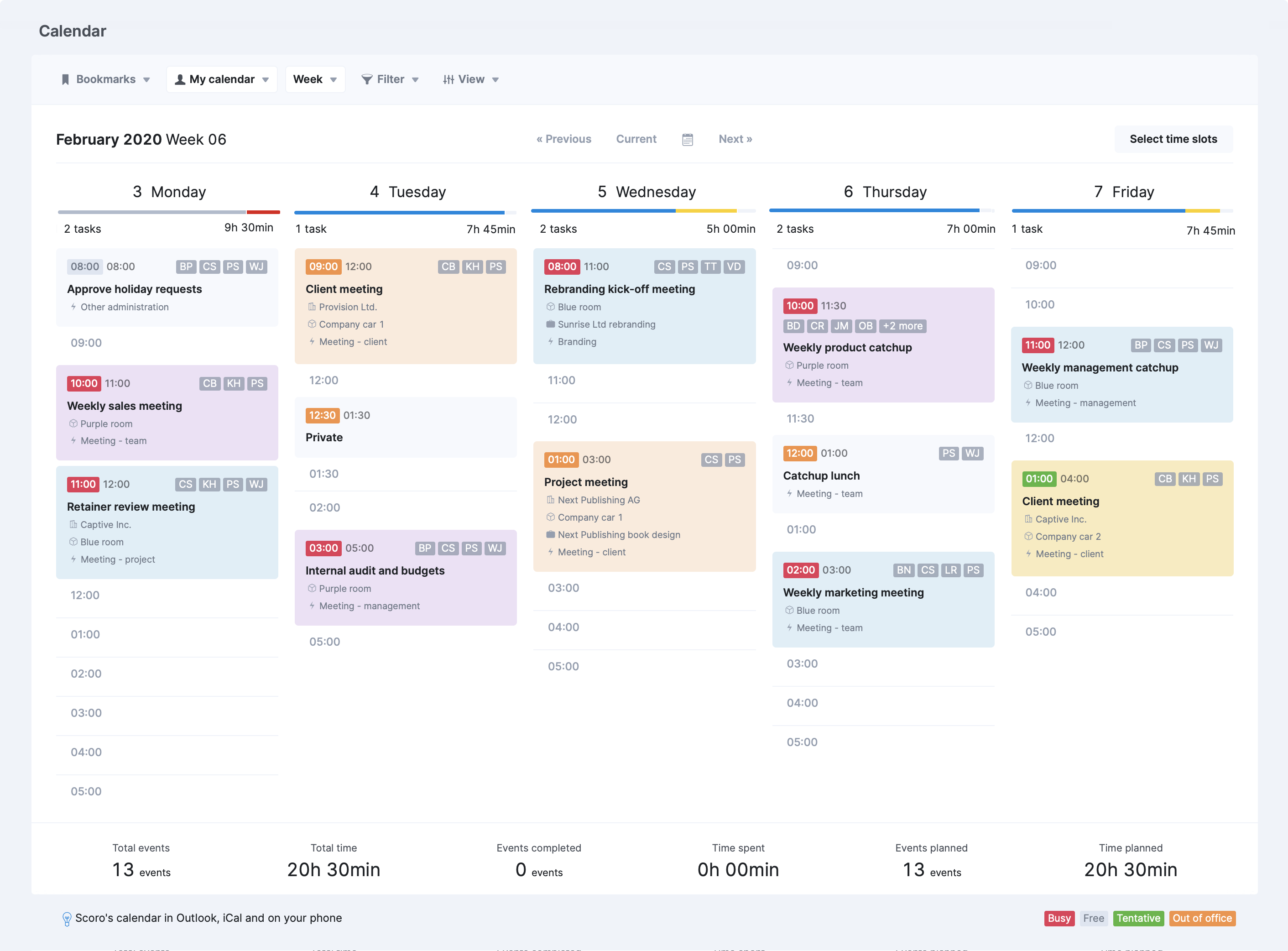 Personal & shared calendar
Get a clear overview of all events you and your team have planned. Link events to projects and customers for a holistic overview of your activities.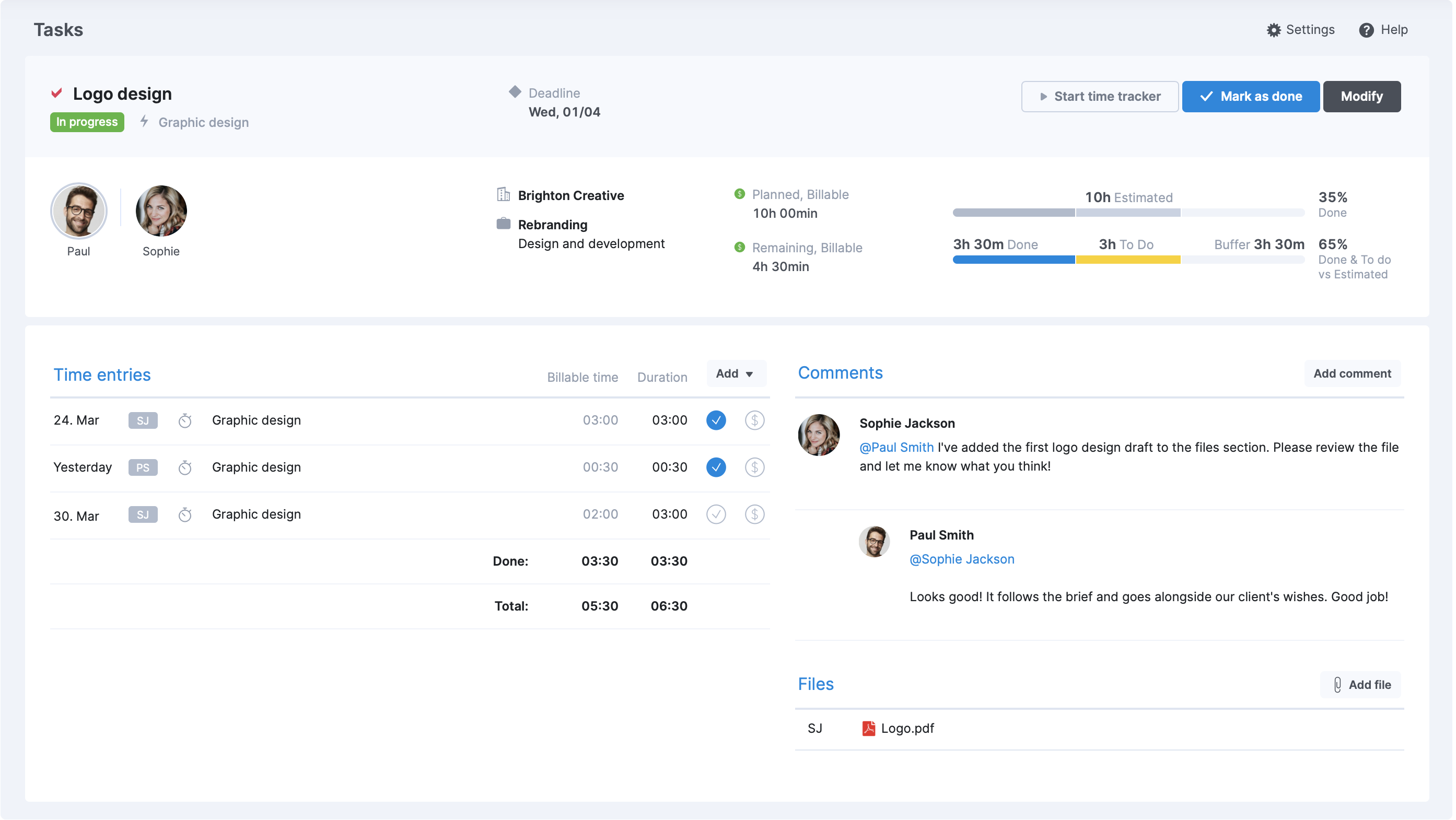 Tasks
Create and plan tasks for yourself and your team. Log time entries under each task and get a visual overview of task progress.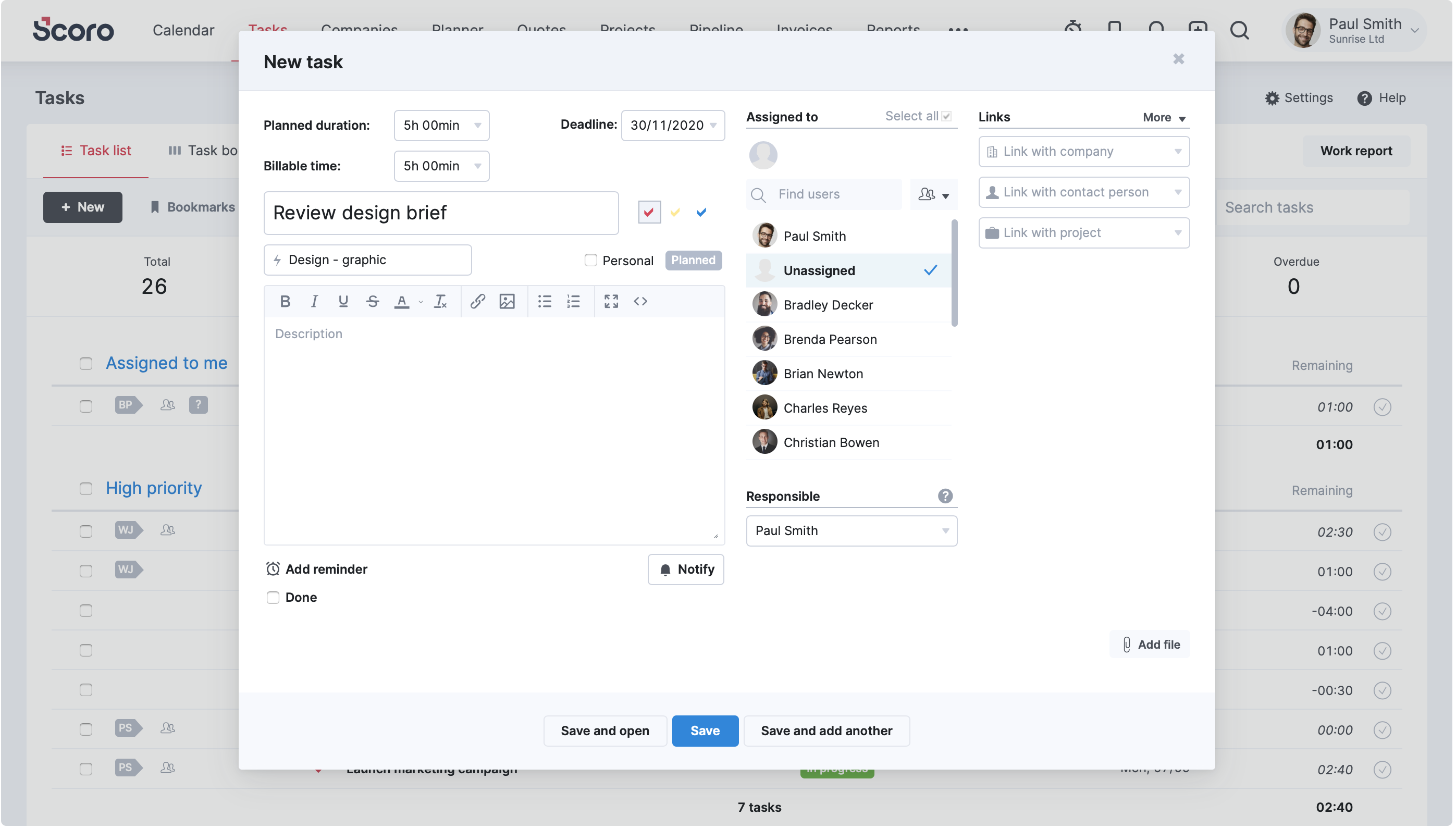 Unassigned tasks
Add unassigned tasks to assign them later or allow team members to choose tasks themselves.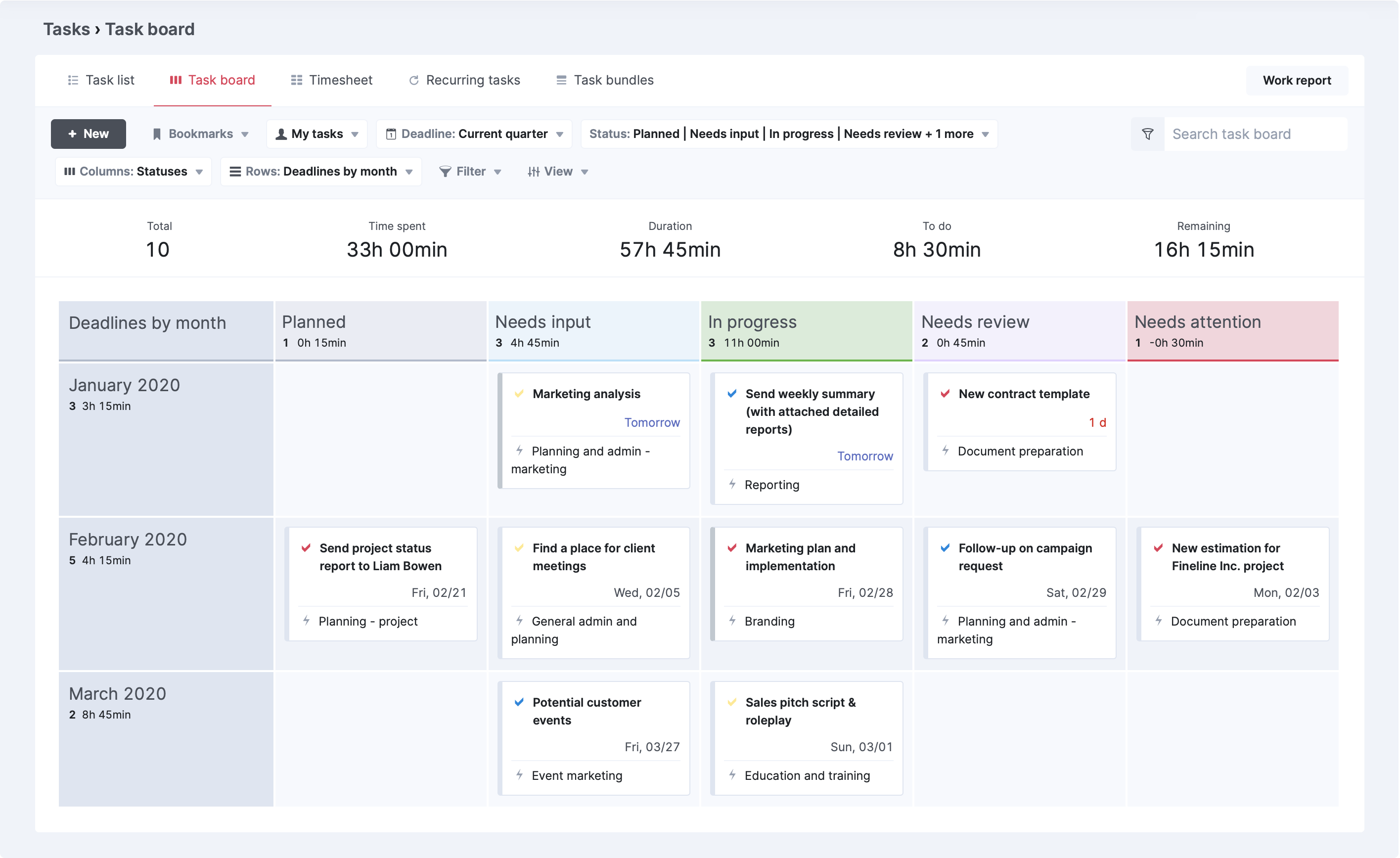 Task matrix
Add rows to the task board to manage tasks, prioritize assignments, deliverables and team initiatives in a grid view.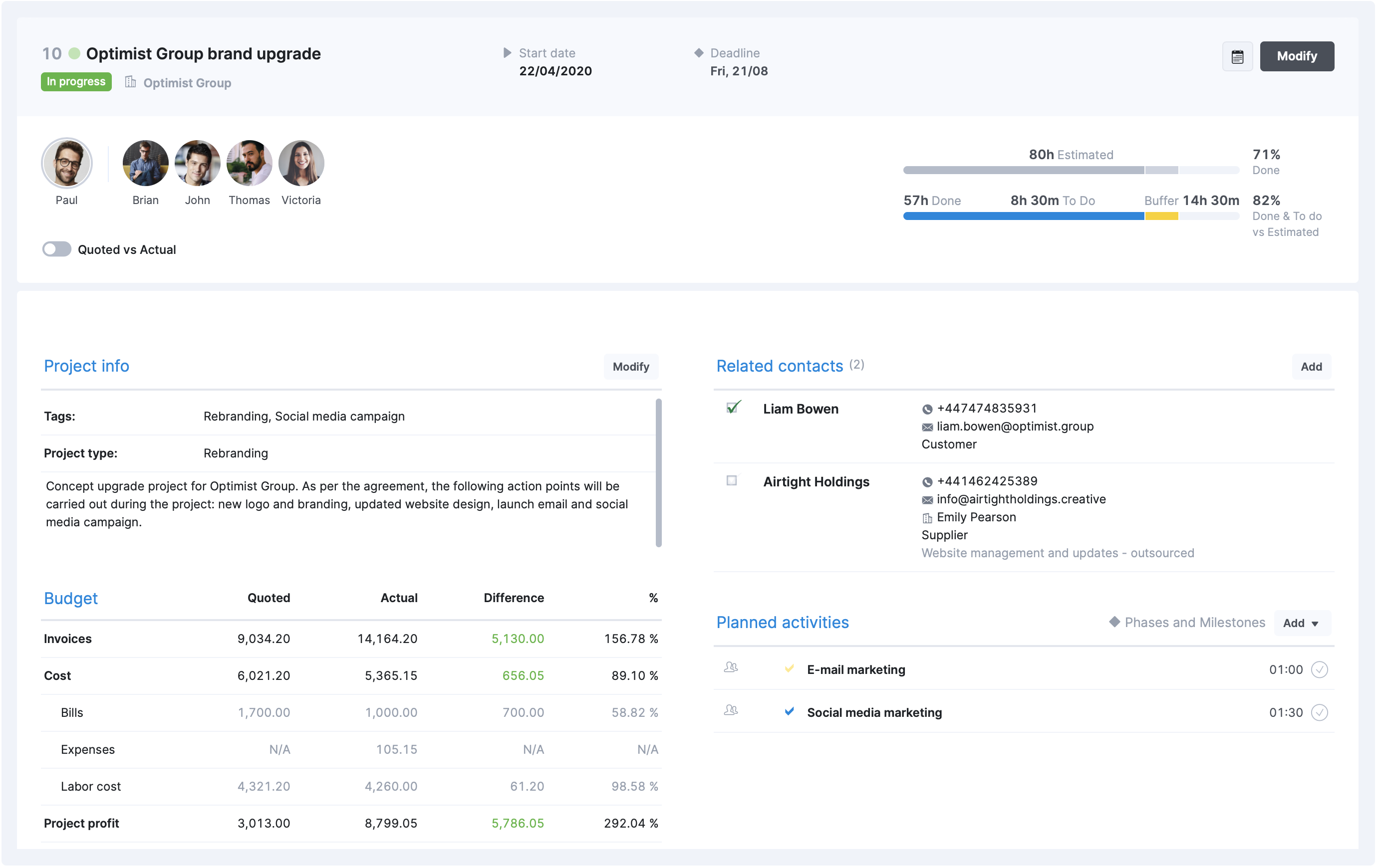 Project management
Oversee every aspect of your projects and their progress, including time spent, planned tasks and meetings, invoices, expenses, comments and files.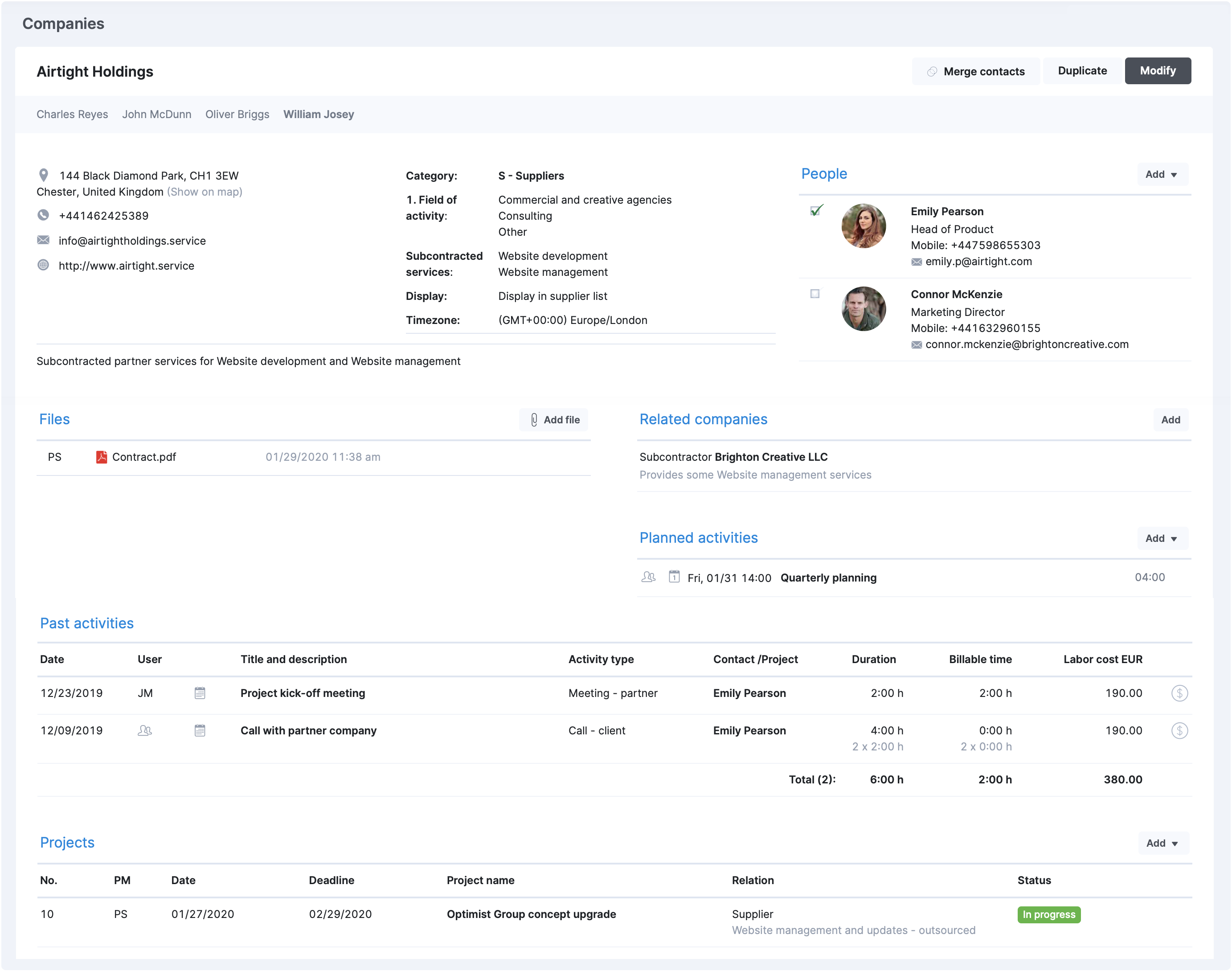 Contacts & customers
Get a 360-degree overview of each contact on one page – including contact details, communication history, projects, files, and related sales documents.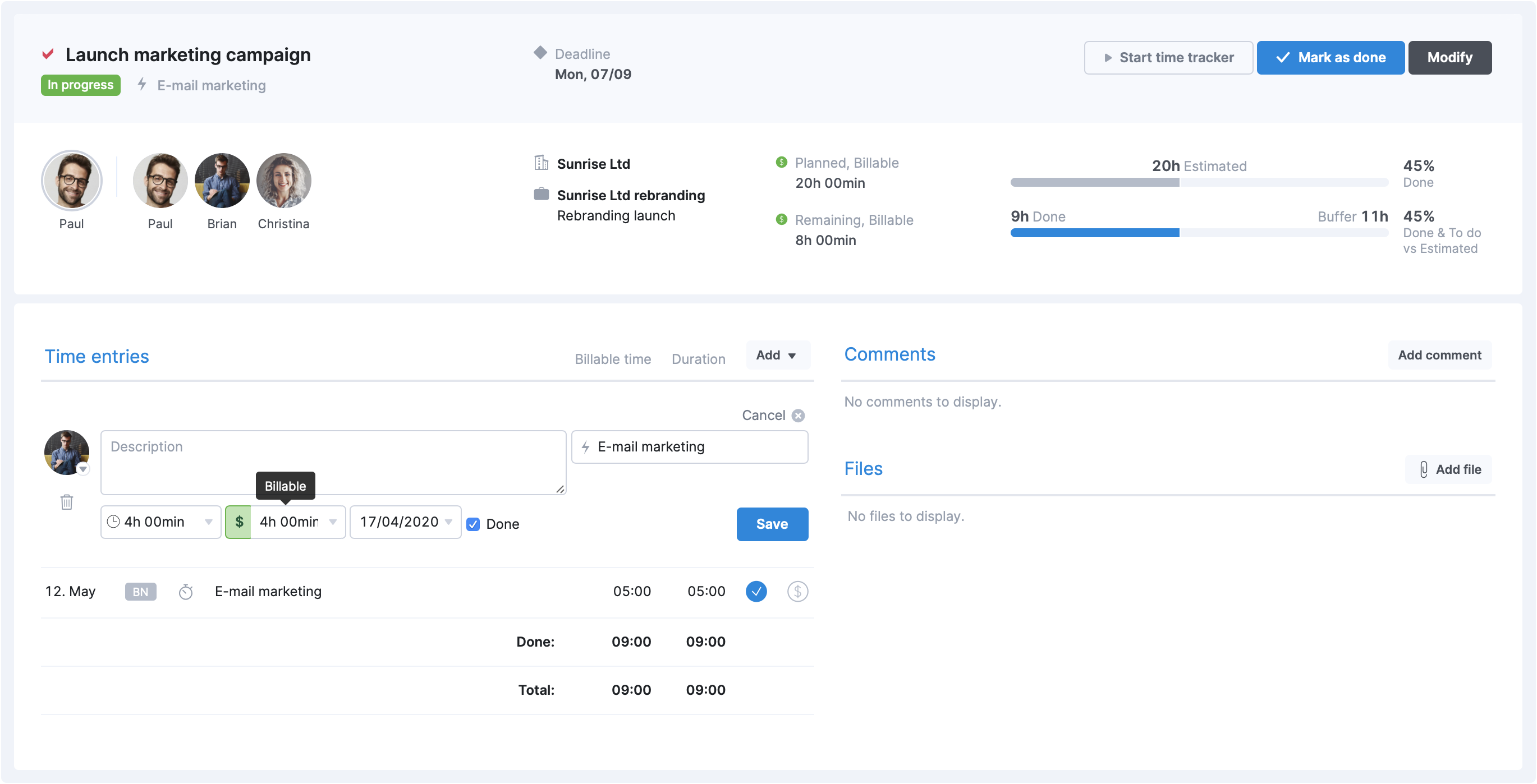 Track non-billable time
Track non-billable hours and activities for a complete overview of what your team's time is going towards.
Timesheet view
Manage and get an
overview of your time-use
in a straightforward grid view. Quickly add or modify time spent on tasks during any given week.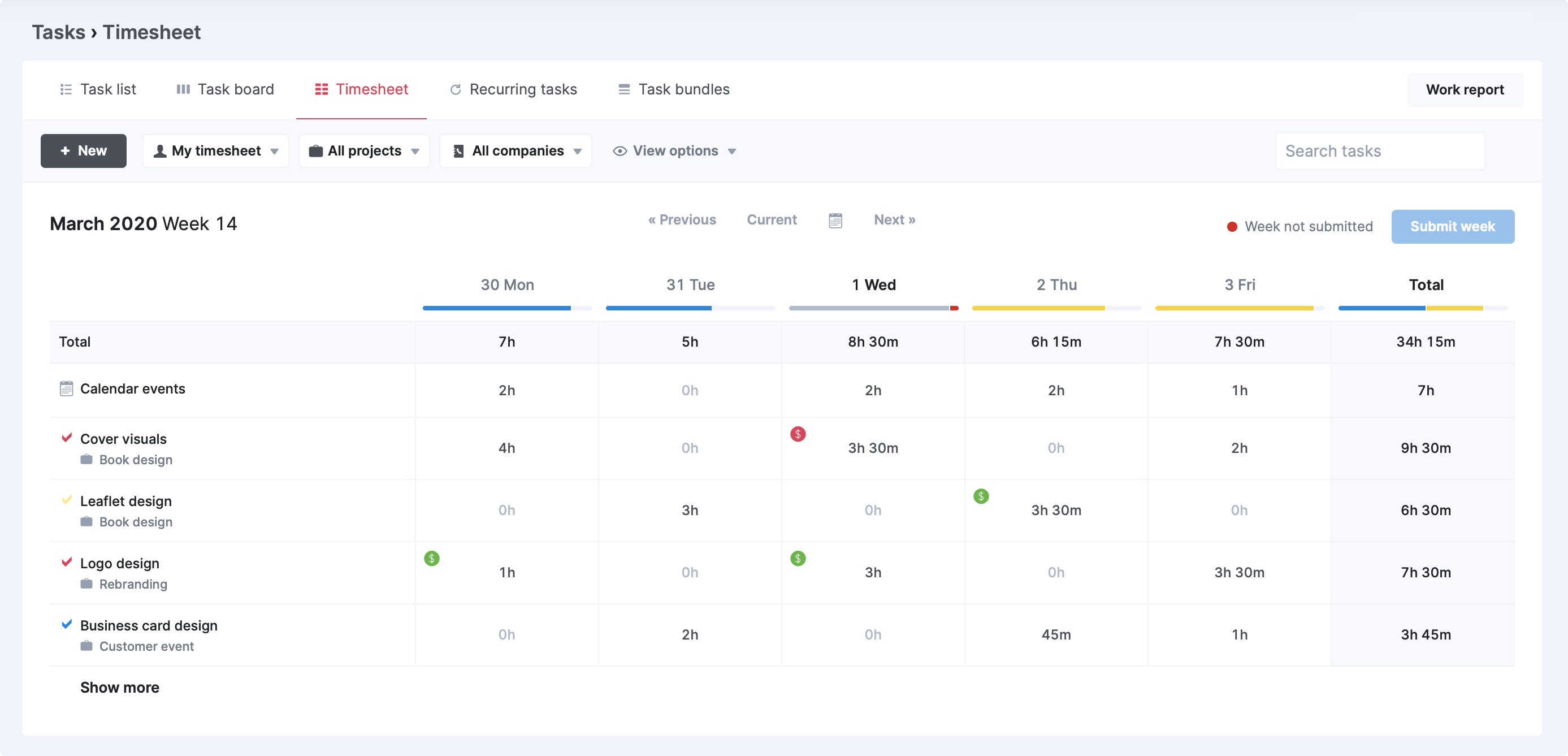 Time locking
Preserve accurate time recording by locking your team's timesheet entries on a weekly basis. This way, the data used for financial reporting and time billing is always accurate.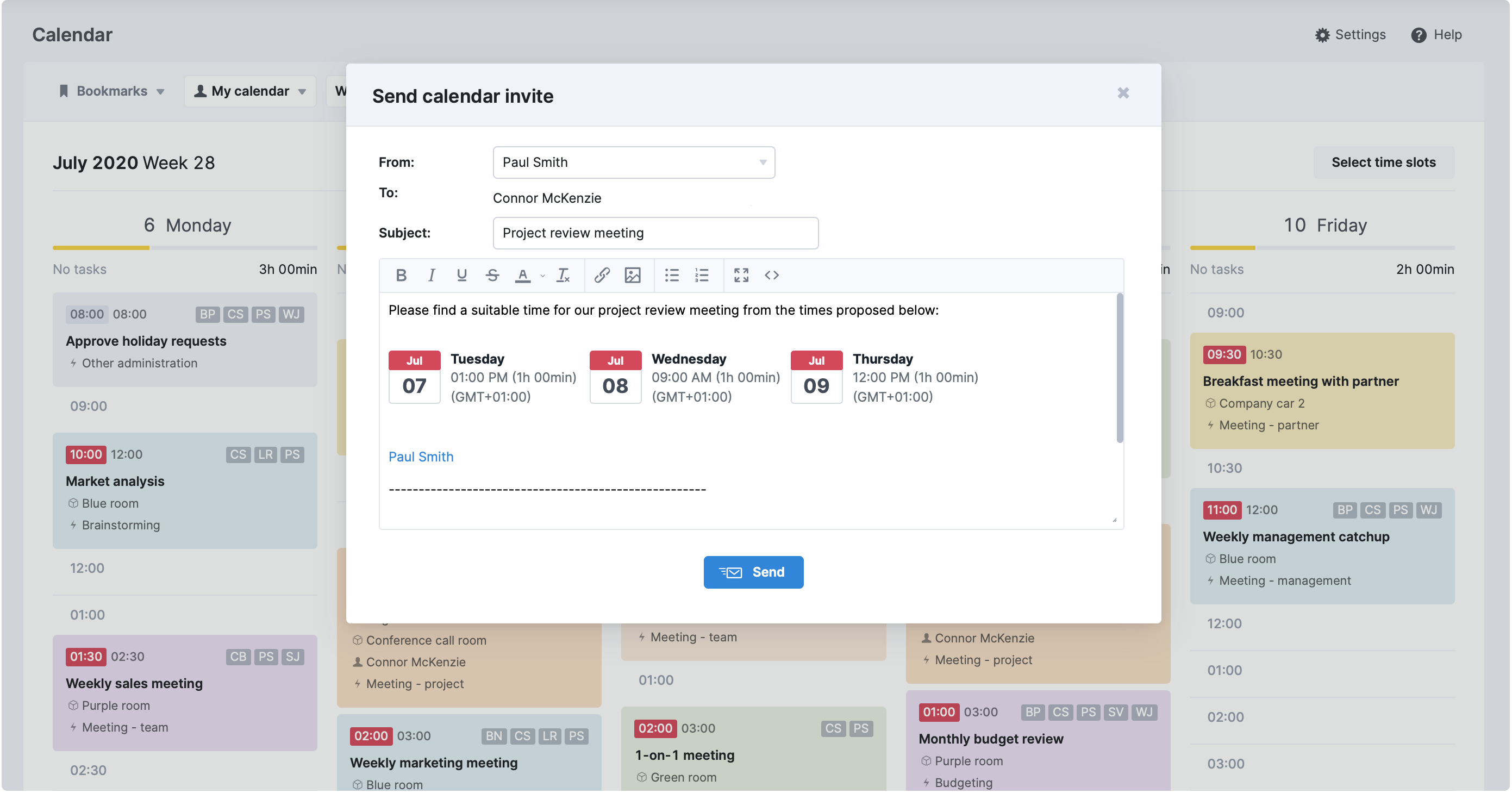 Calendar invites
Send out email invites to contacts and let them pick the most suitable time for a meeting based on available time slots in your calendar.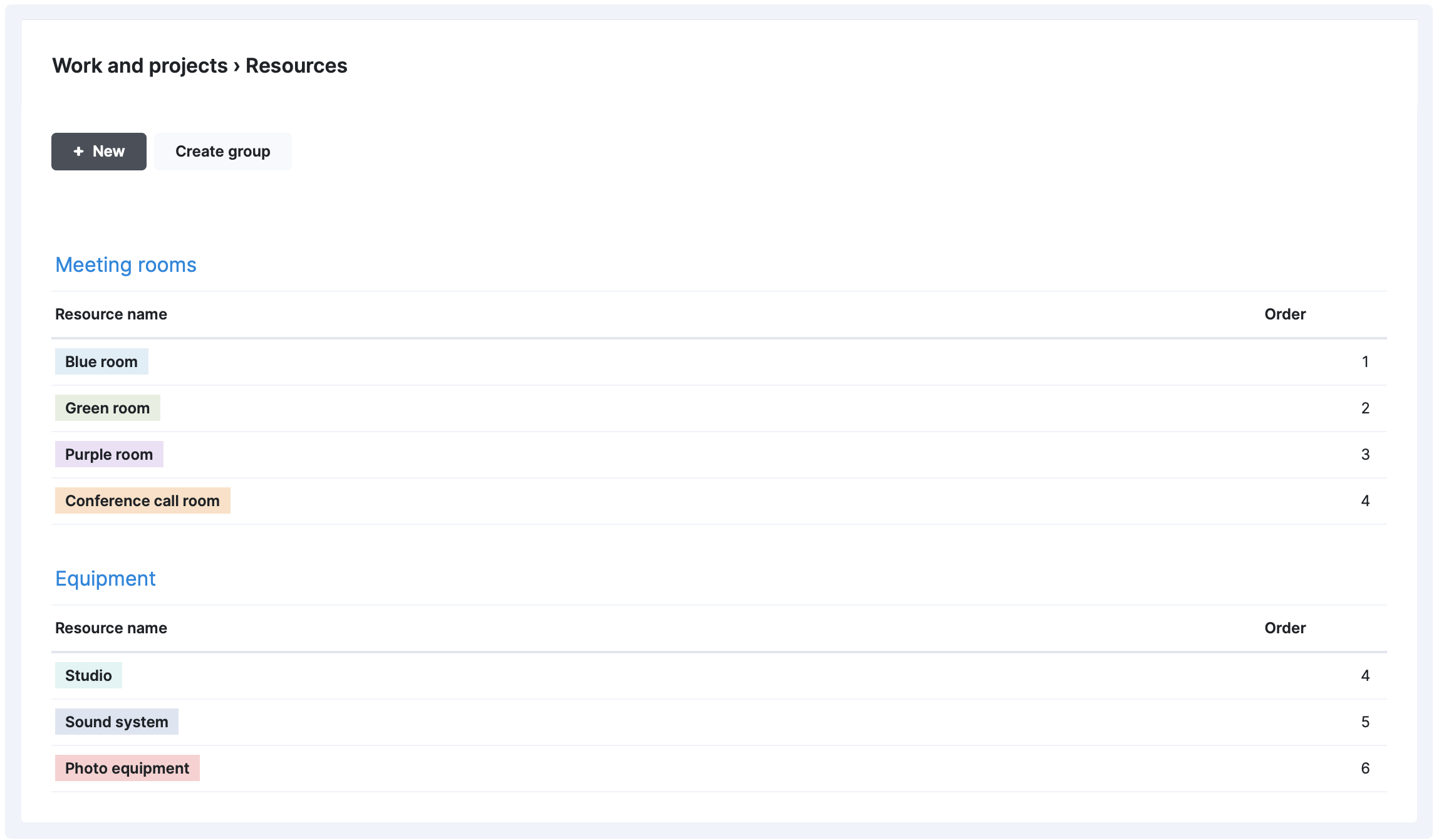 Resource planning
Add company resources, such as meeting rooms, cars, and equipment, and link them with calendar events to avoid double-booking.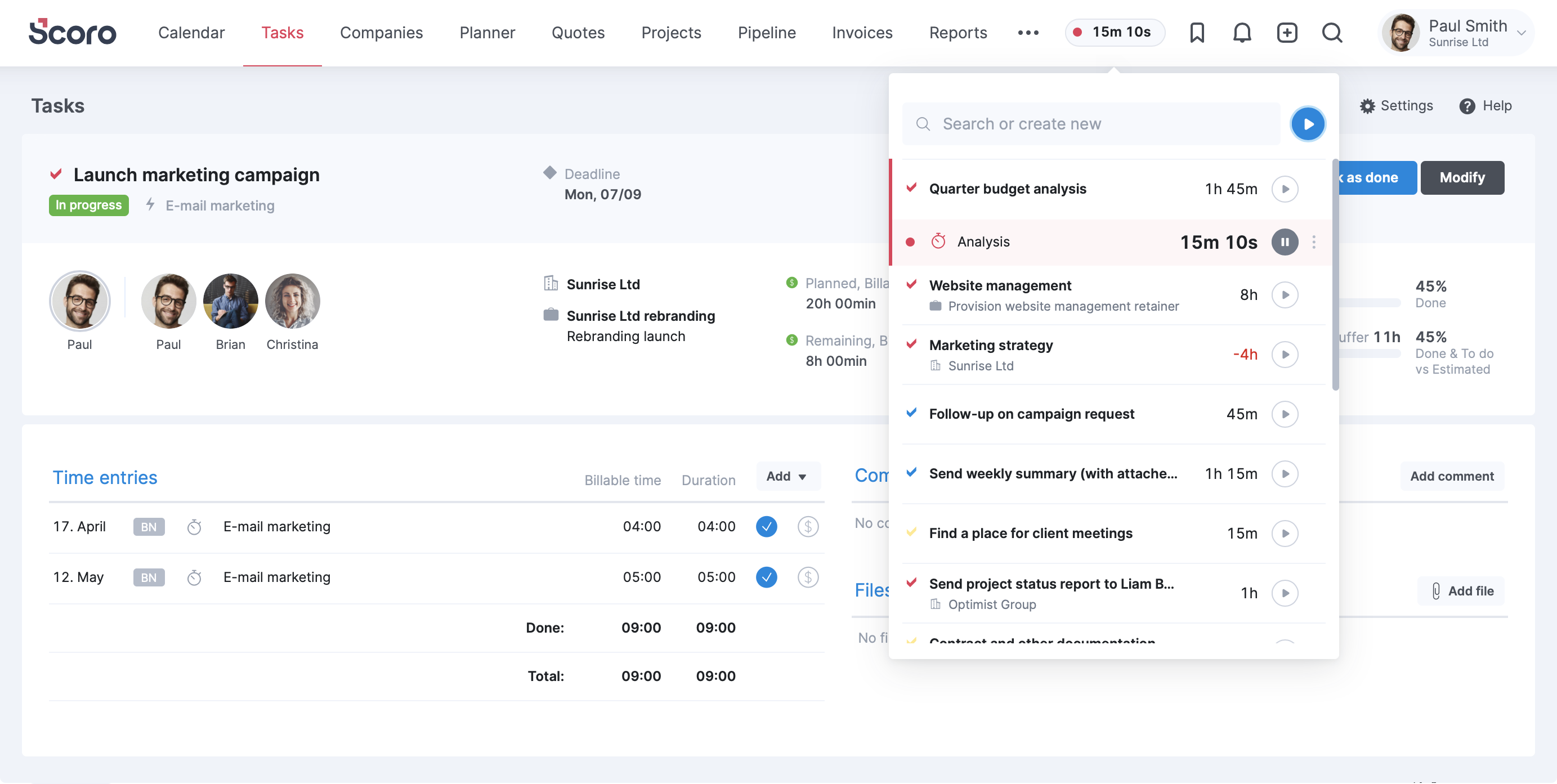 Time tracker
Track time spent on any task and automatically add tracked time as time entries in Scoro.

Create project from quote
Save time and eliminate manual work by turning the services or products into a project with one click straight from the quote.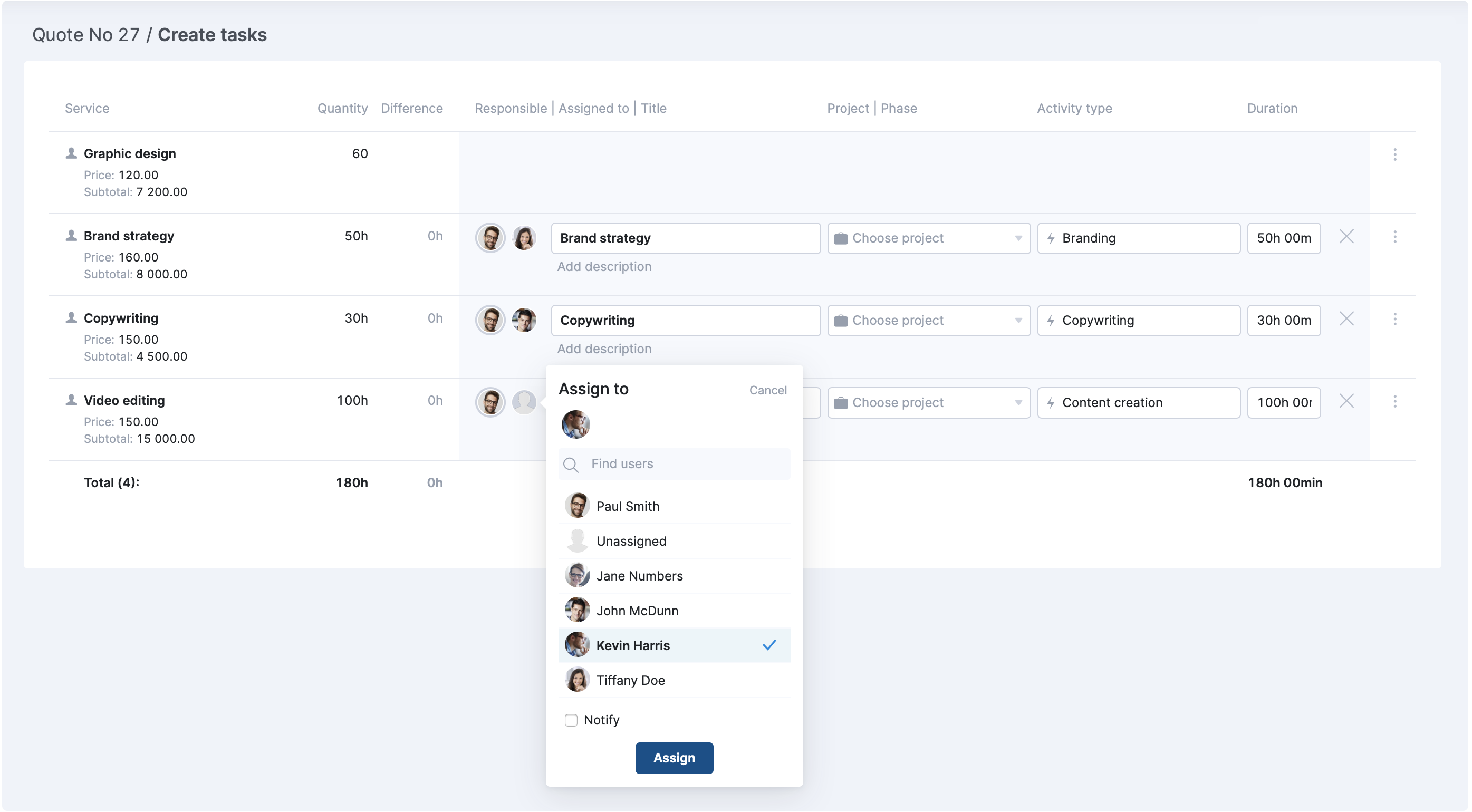 Create tasks from quotes
Turn the services or products on a quote into tasks for you and your team in just a few clicks.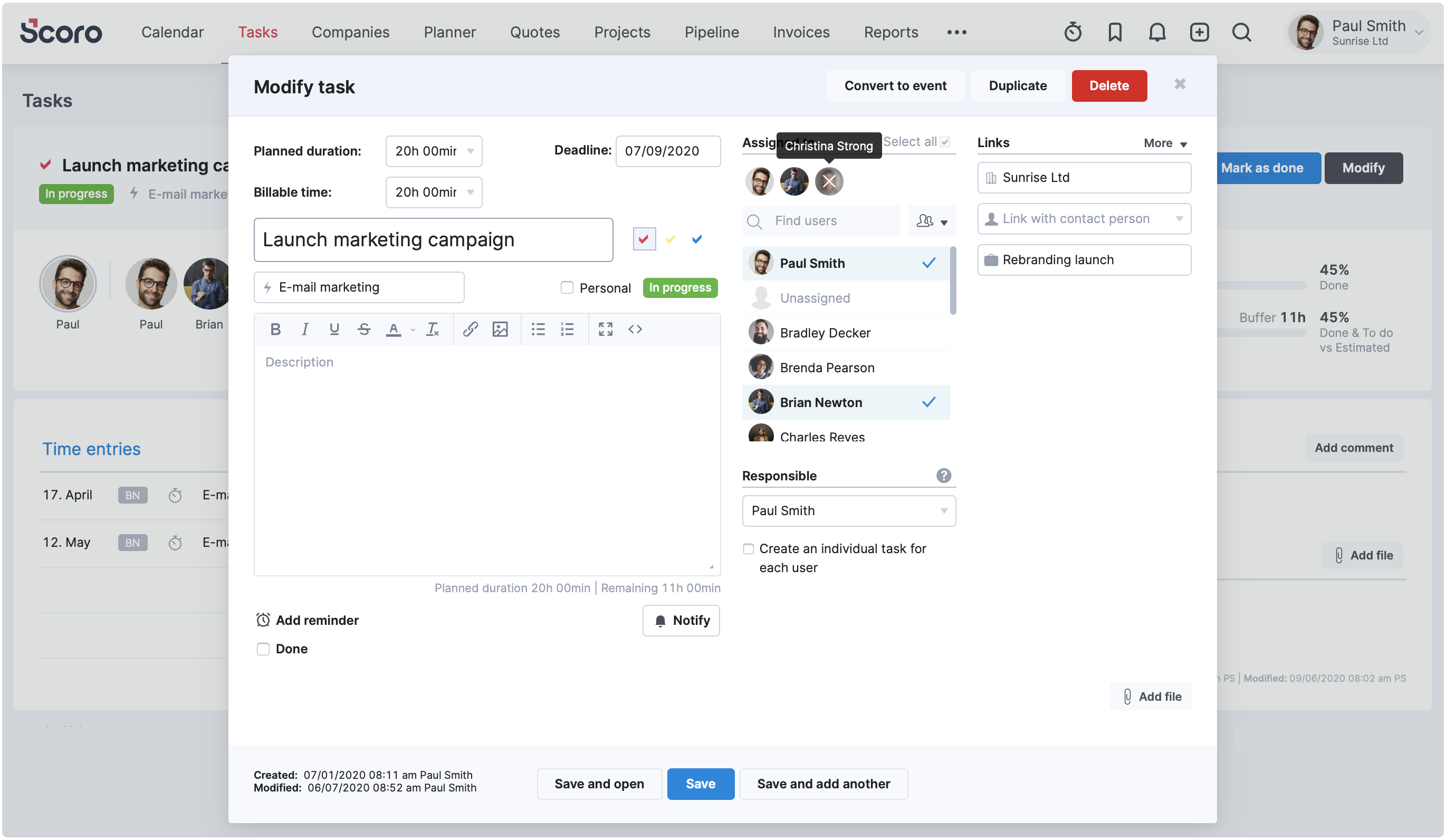 Modify responsible user
Change the responsible user for any assignment in just one click right in the task modify view.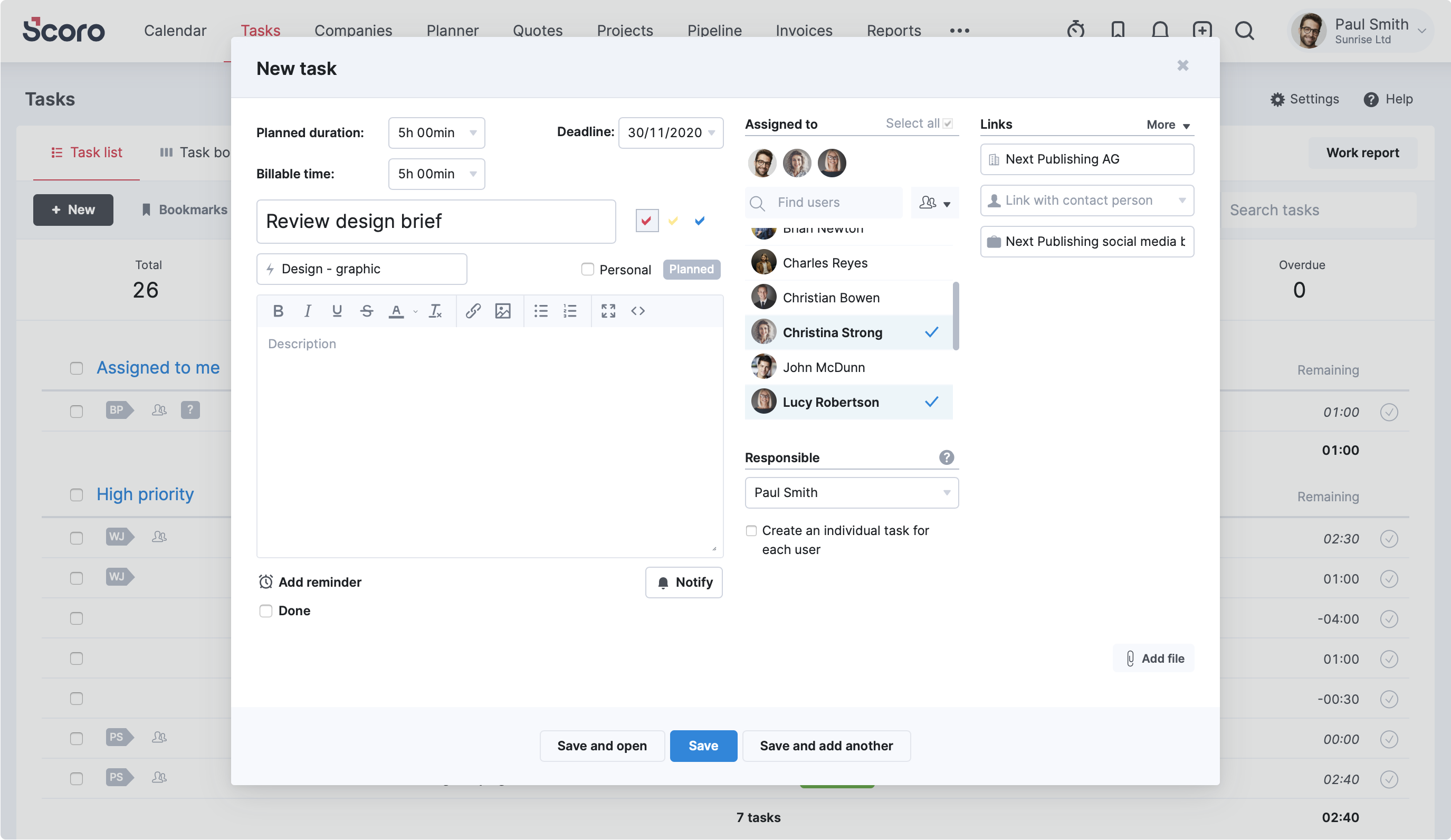 Task to multiple users
Assign bigger tasks to multiple team members, under which all assignees can jointly log their time. Track their progress in the list and/or detailed task view.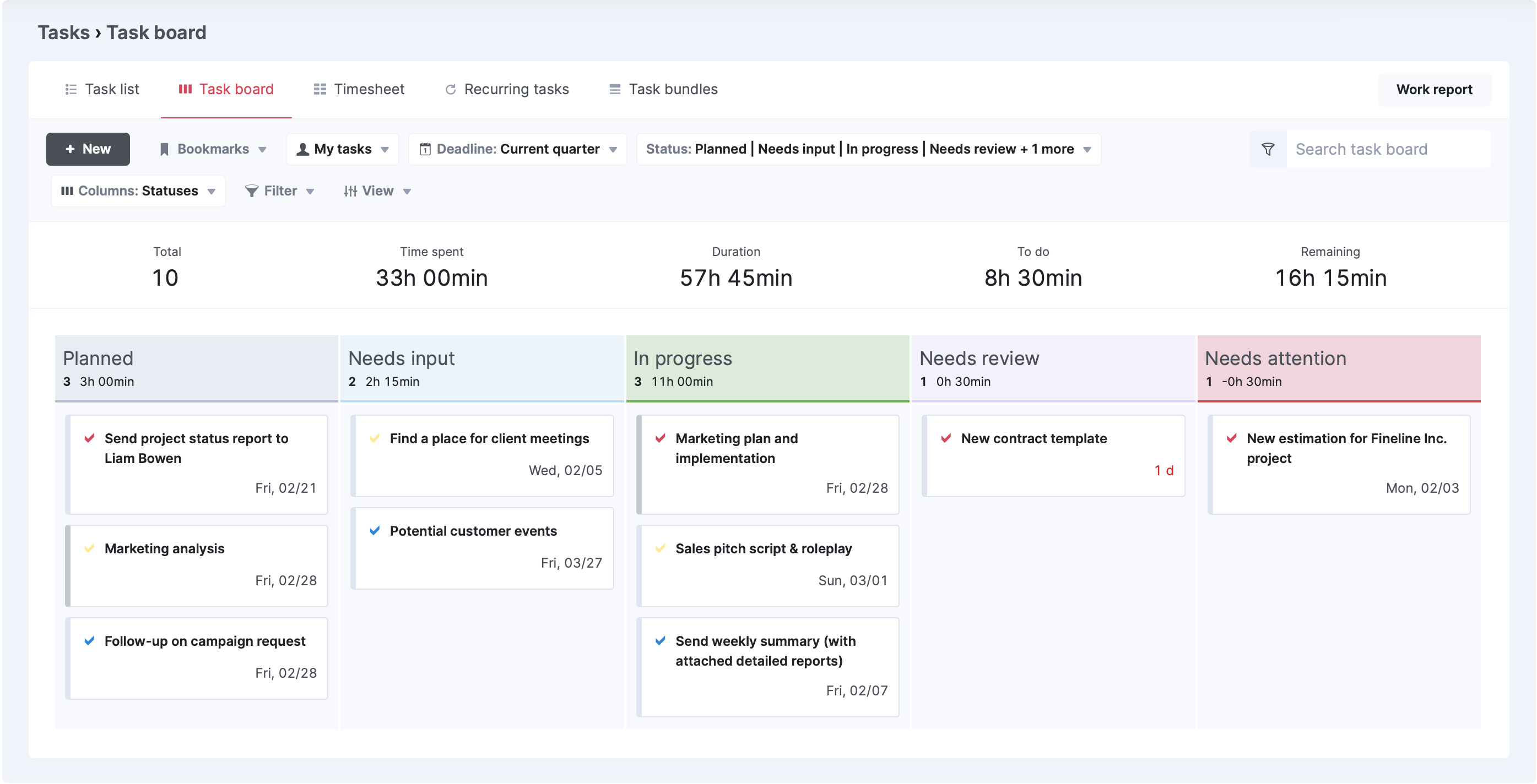 Task board
Visually group, filter, and manage tasks in a Kanban-like drag-and-drop board view.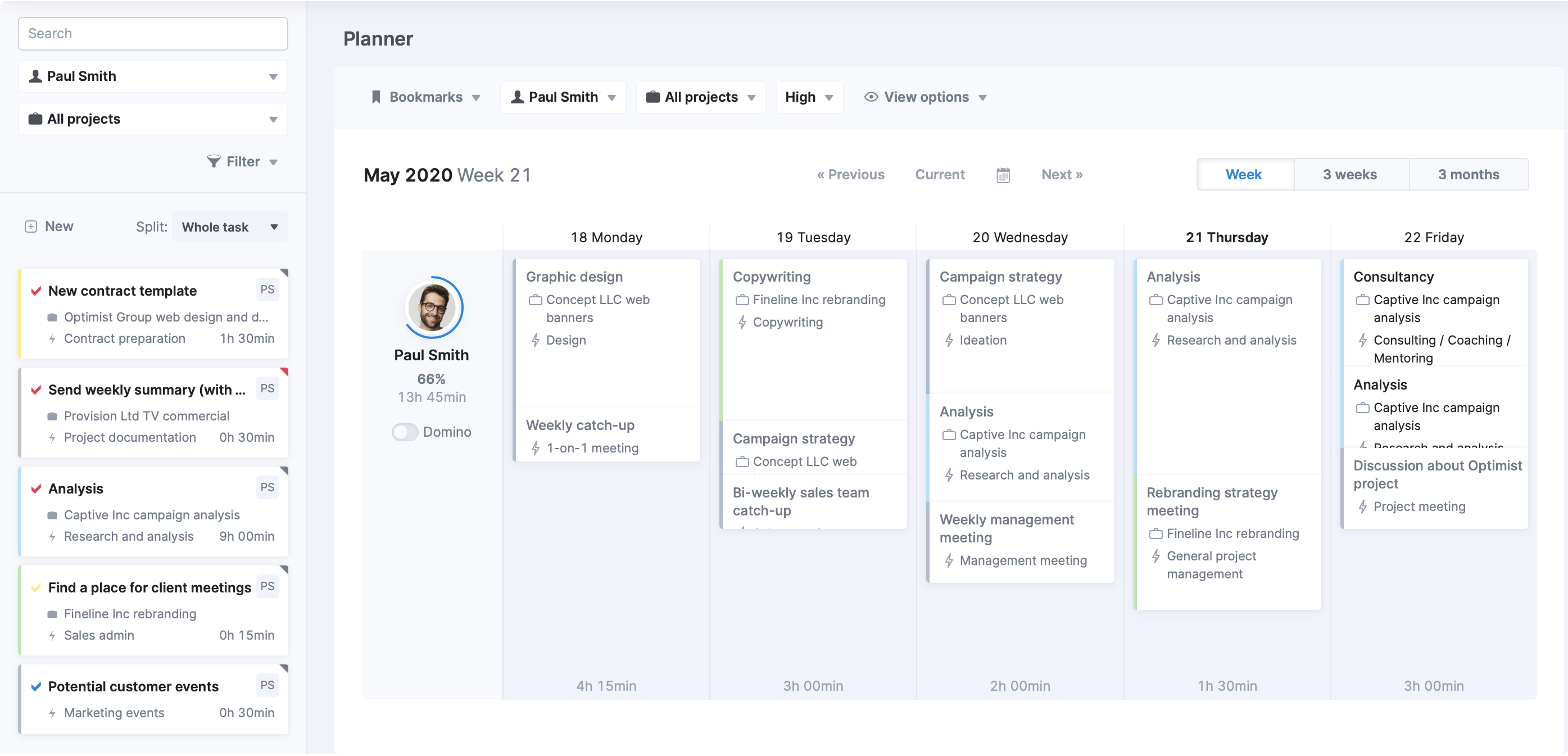 Planner
Get a visual overview of each team member's availability and schedule unassigned tasks proportionally among team members.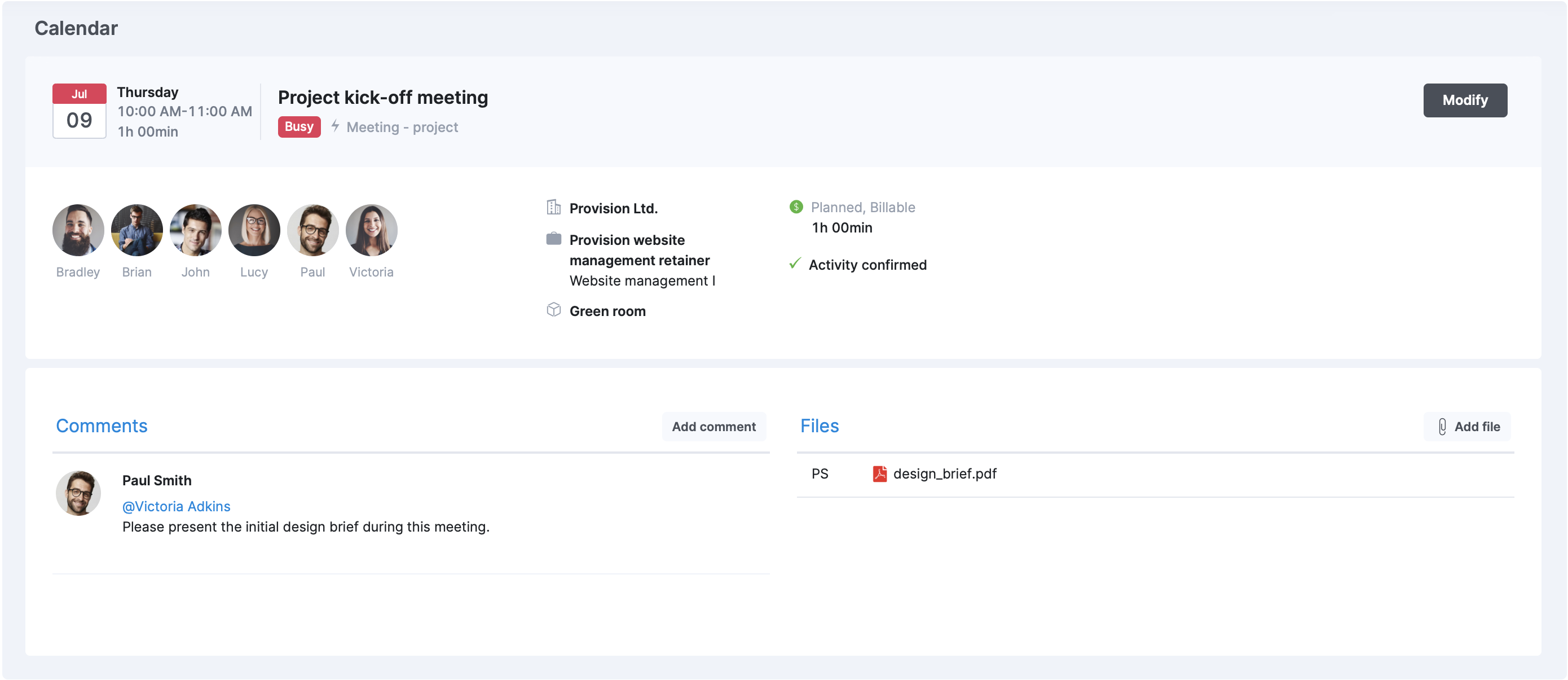 Activity confirmation
Confirm team members' calendar events, tasks, and time entries before their activities are billed for.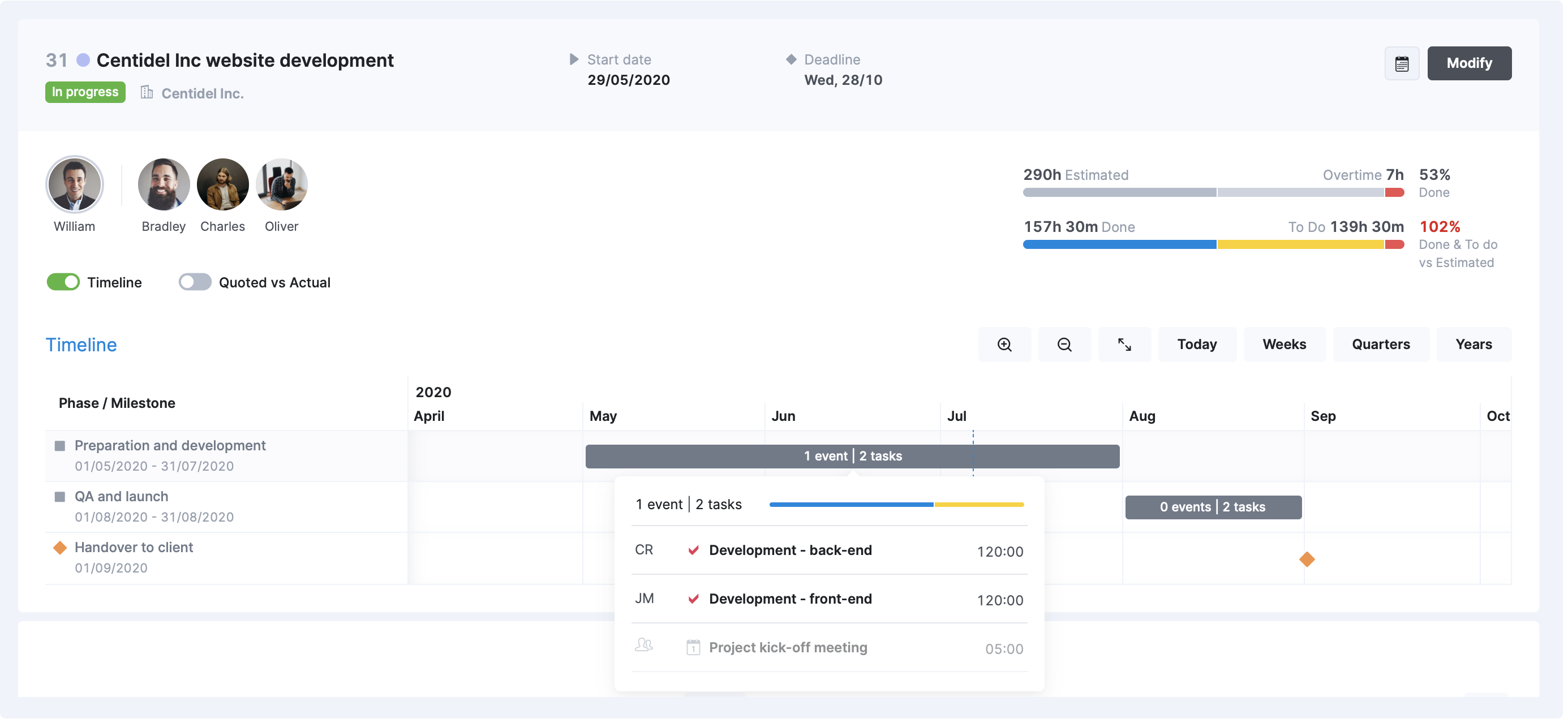 Phases & milestones
Plan and track project progress by defining phases and milestones. This way, you know what goals and activities need to be completed during each phase.

Recurring tasks
Schedule tasks that recur weekly or monthly to automatically add them to your task list instead of creating them manually.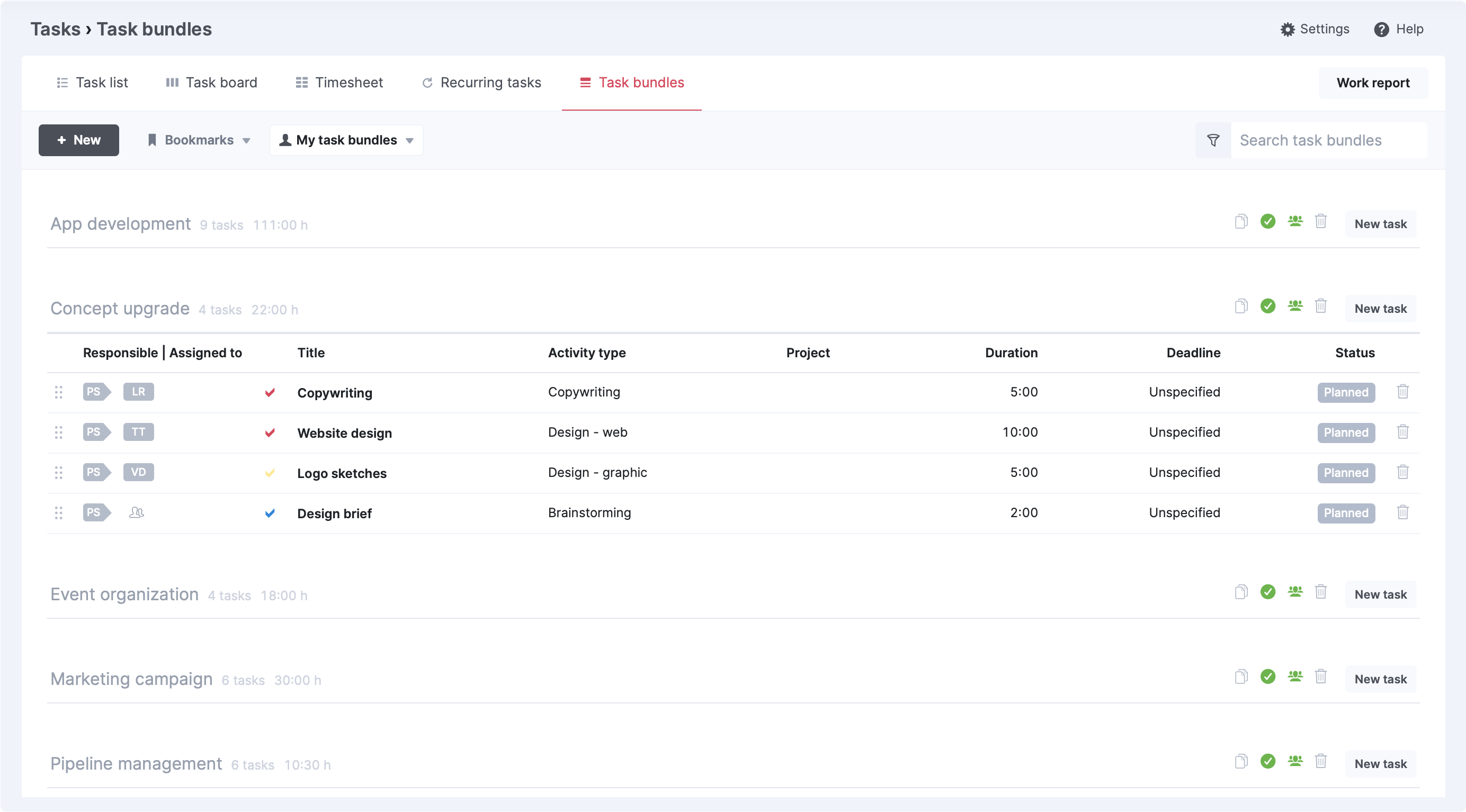 Task bundles
Create sets of tasks to be completed with each new project or customer. Set a default duration, deadline, or activity type for each task.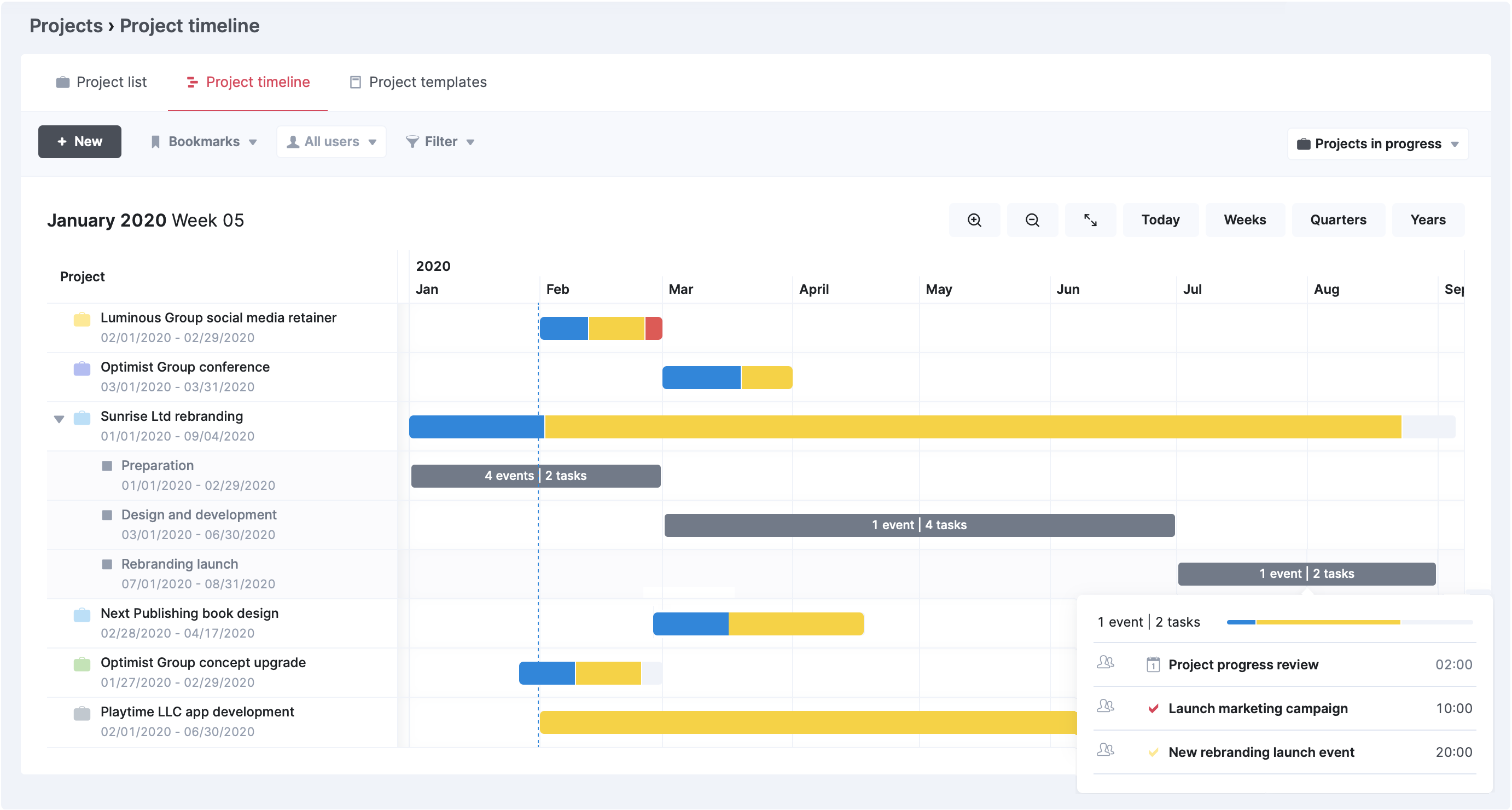 Project timeline
Visualize progress and get a detailed overview of your entire project portfolio, including their duration, phases, and tasks, in a holistic timeline view.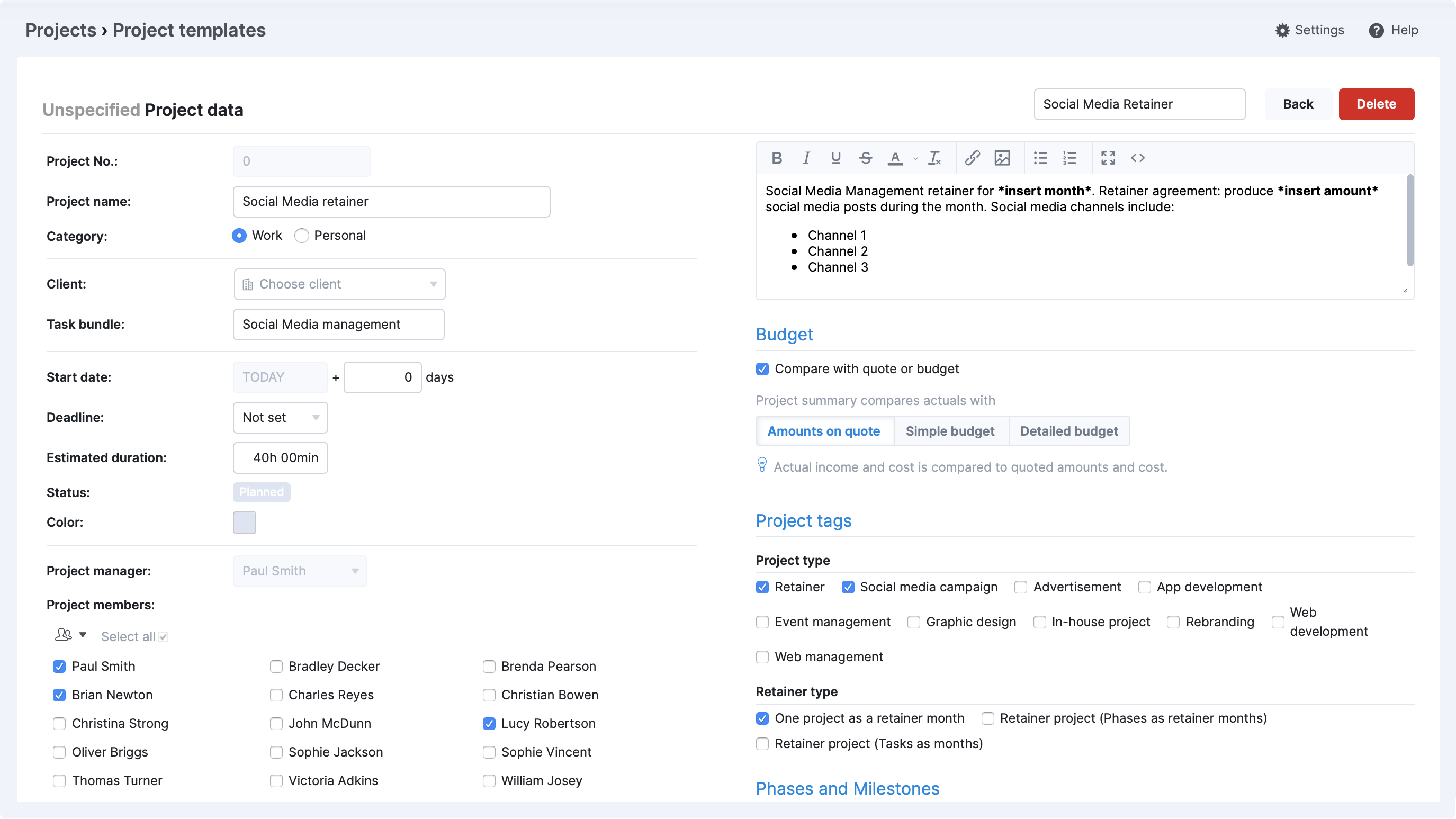 Project templates
Instead of creating a project from scratch every time, use a project template with automatically prefilled data to save time and eliminate manual work.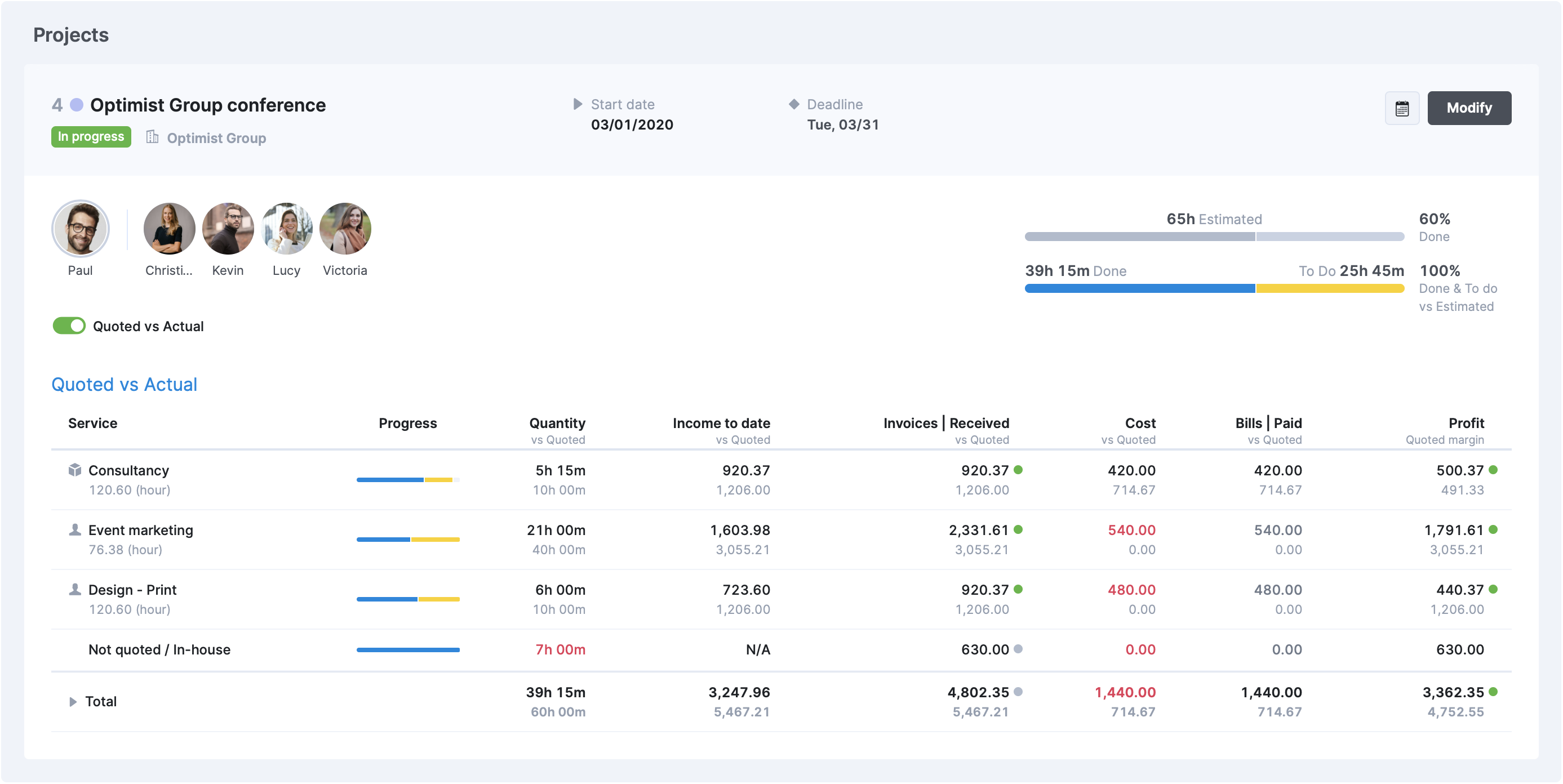 Quoted vs Actual table
Keep track of all project-related activities and their progress by combining project estimates, quoted service lines and actual results – all in one view.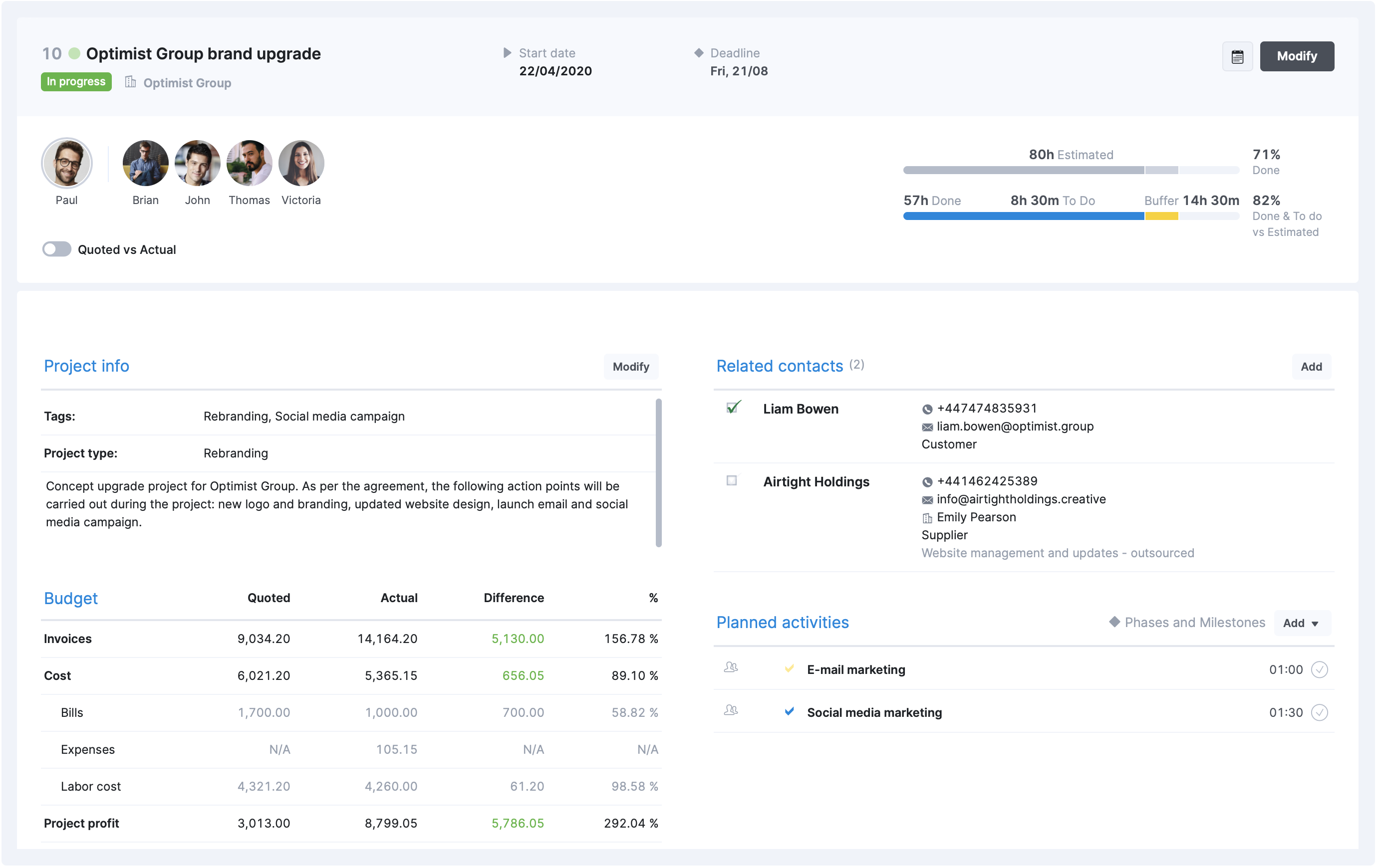 Advanced project management
Use project-based price lists and budgets, compare estimations to actual results with the help of Quoted vs Actual table, use automated quote statuses and see project profit calculations.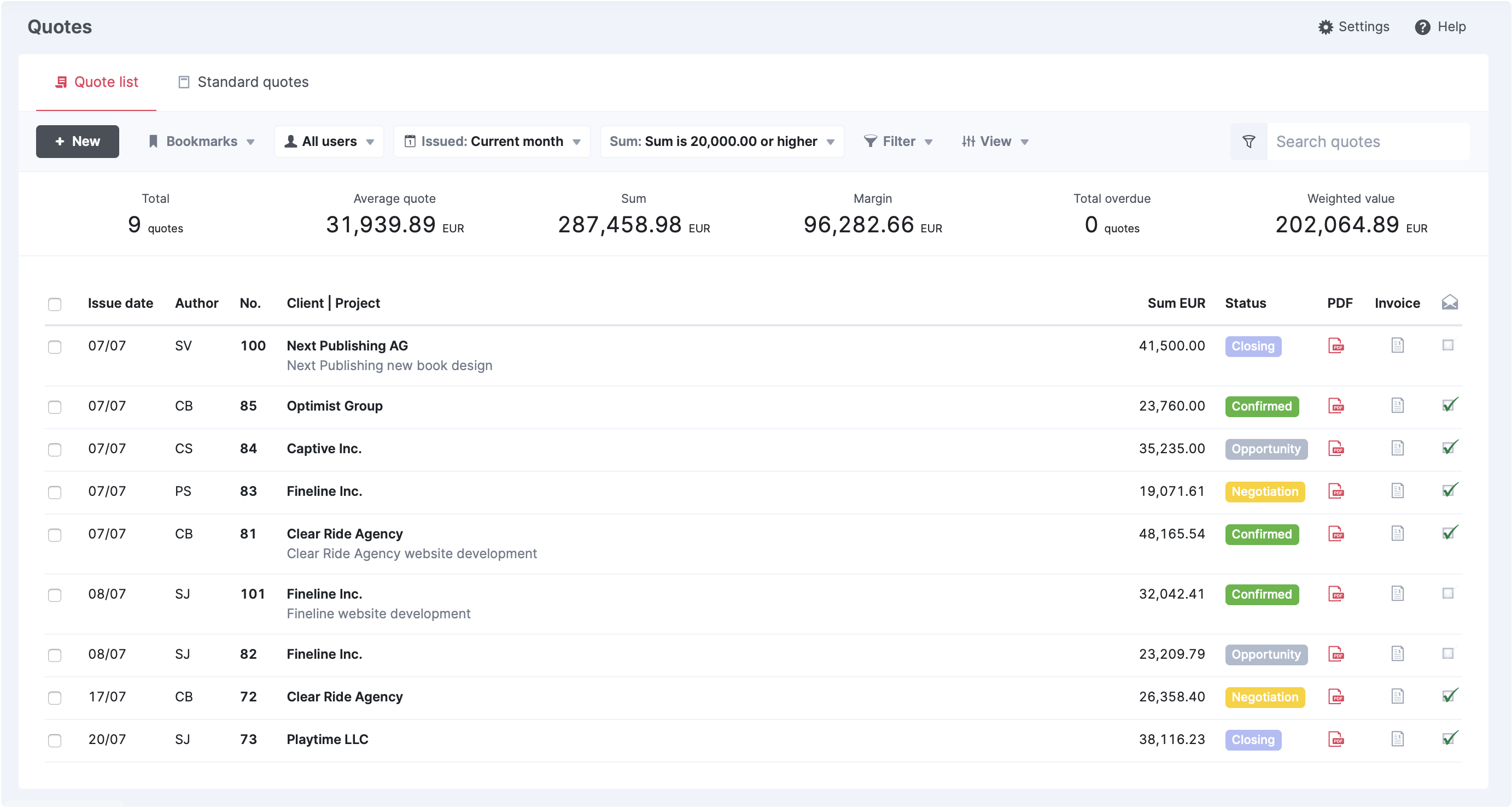 Quotes
Create fully customizable quotes and send them as PDF files in just a few clicks. Keep track of all quotes in a list view.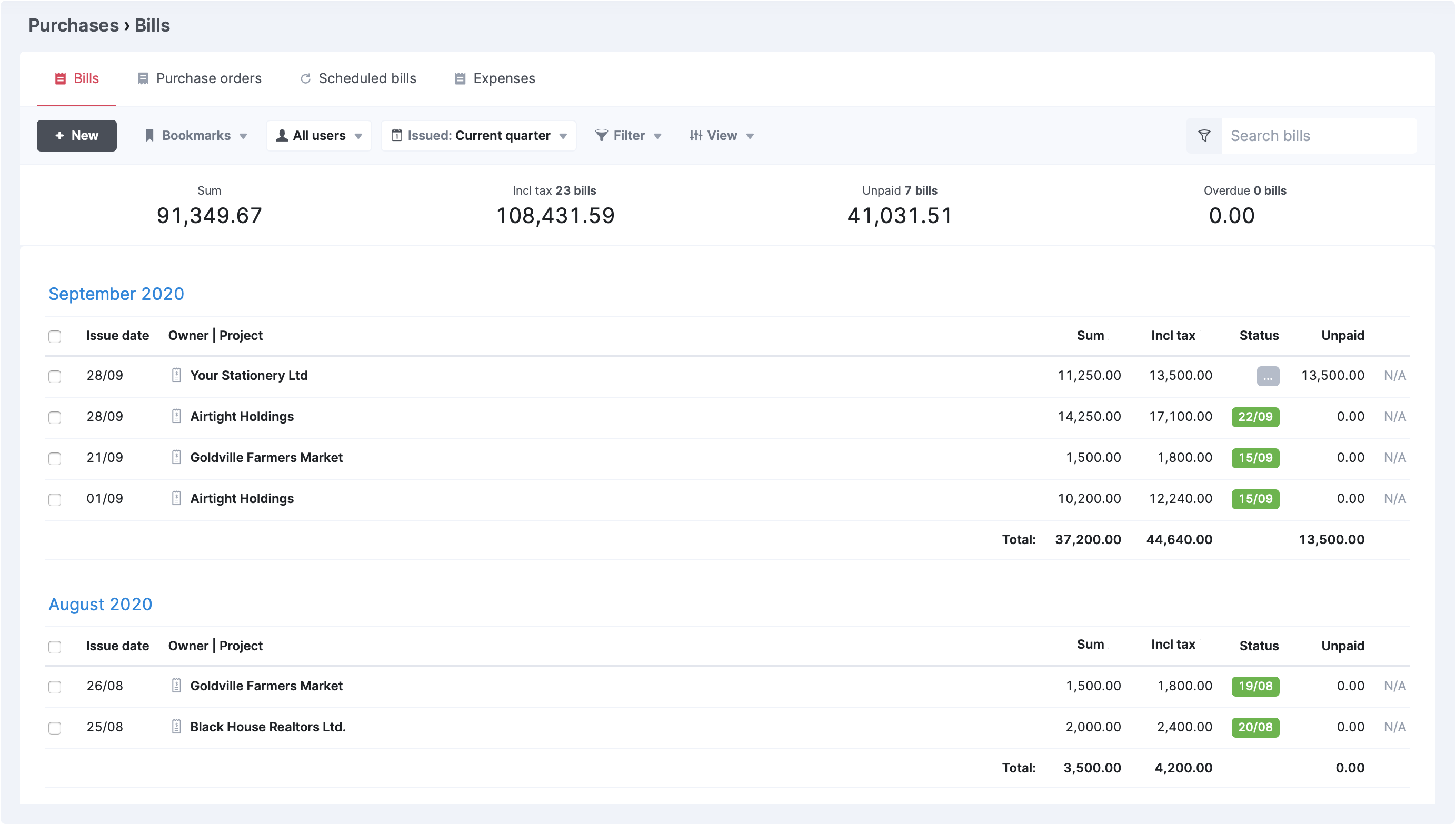 Bills
Add and keep track of your purchases and costs.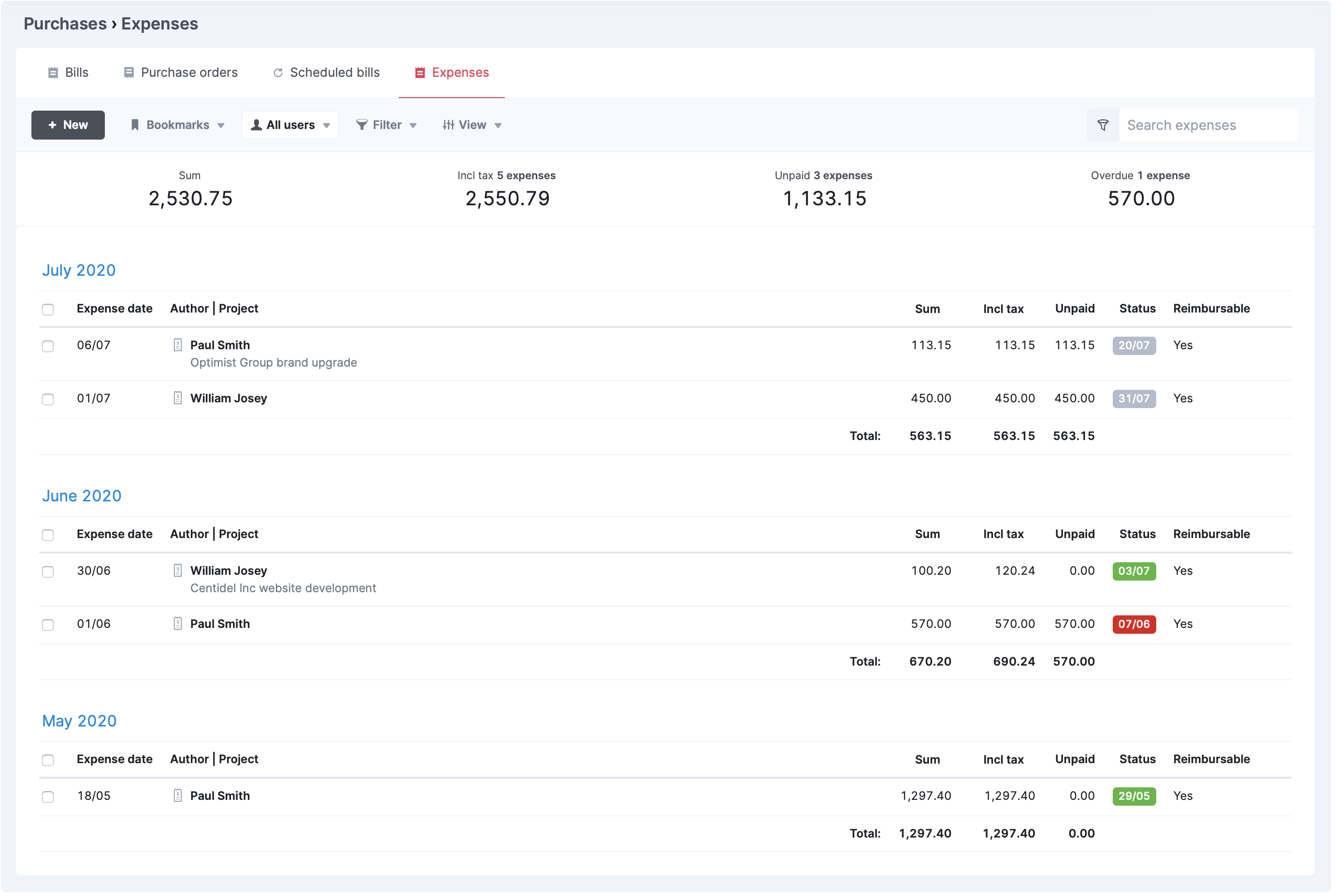 Expenses
In addition to purchases, effortlessly manage different work-related expenses in Scoro and reimburse them with a couple of clicks.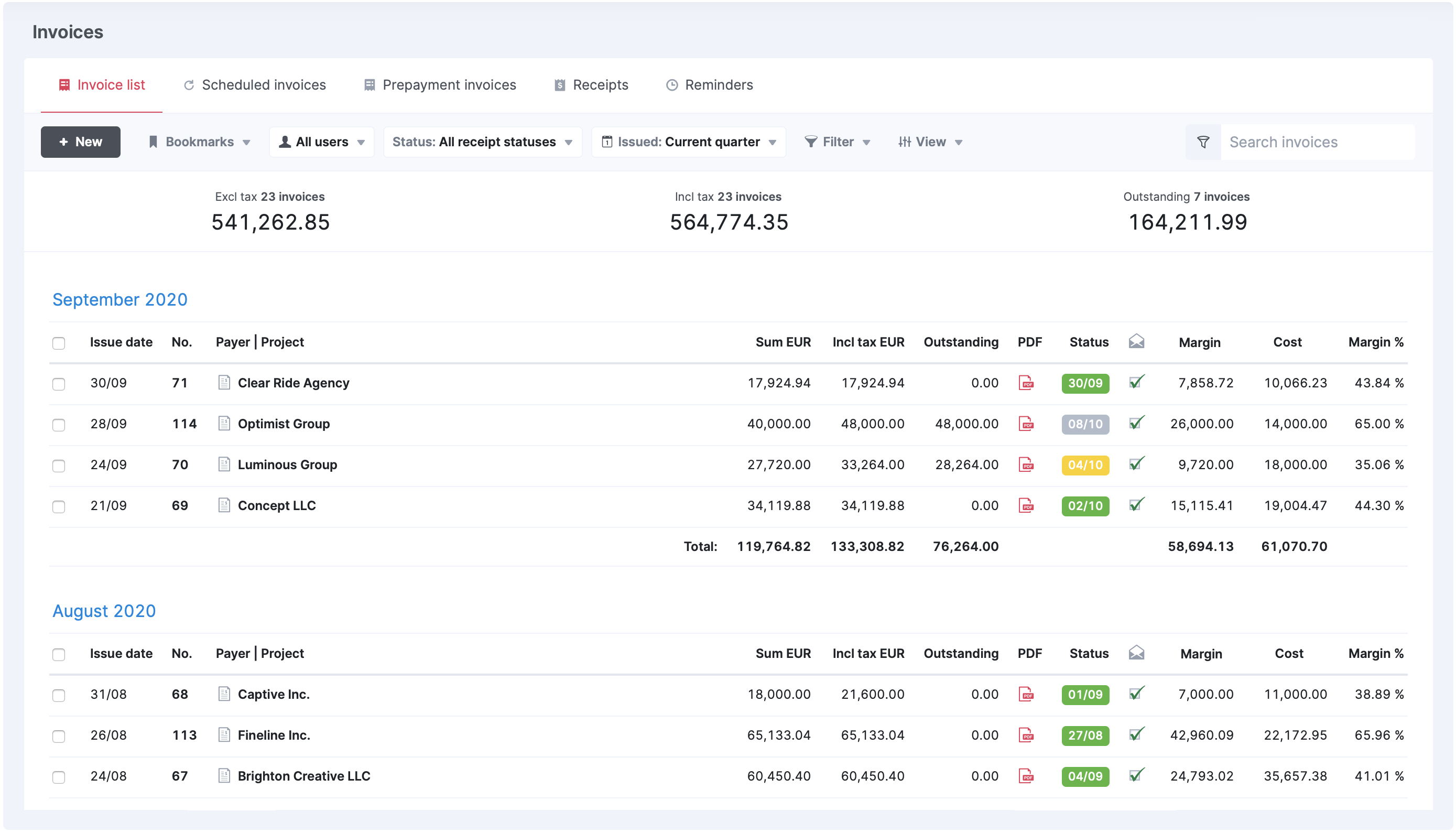 Invoices & receipts
Create fully customizable invoices from scratch or based on quotes, orders, or work reports (based on work-time billing) in just a few clicks.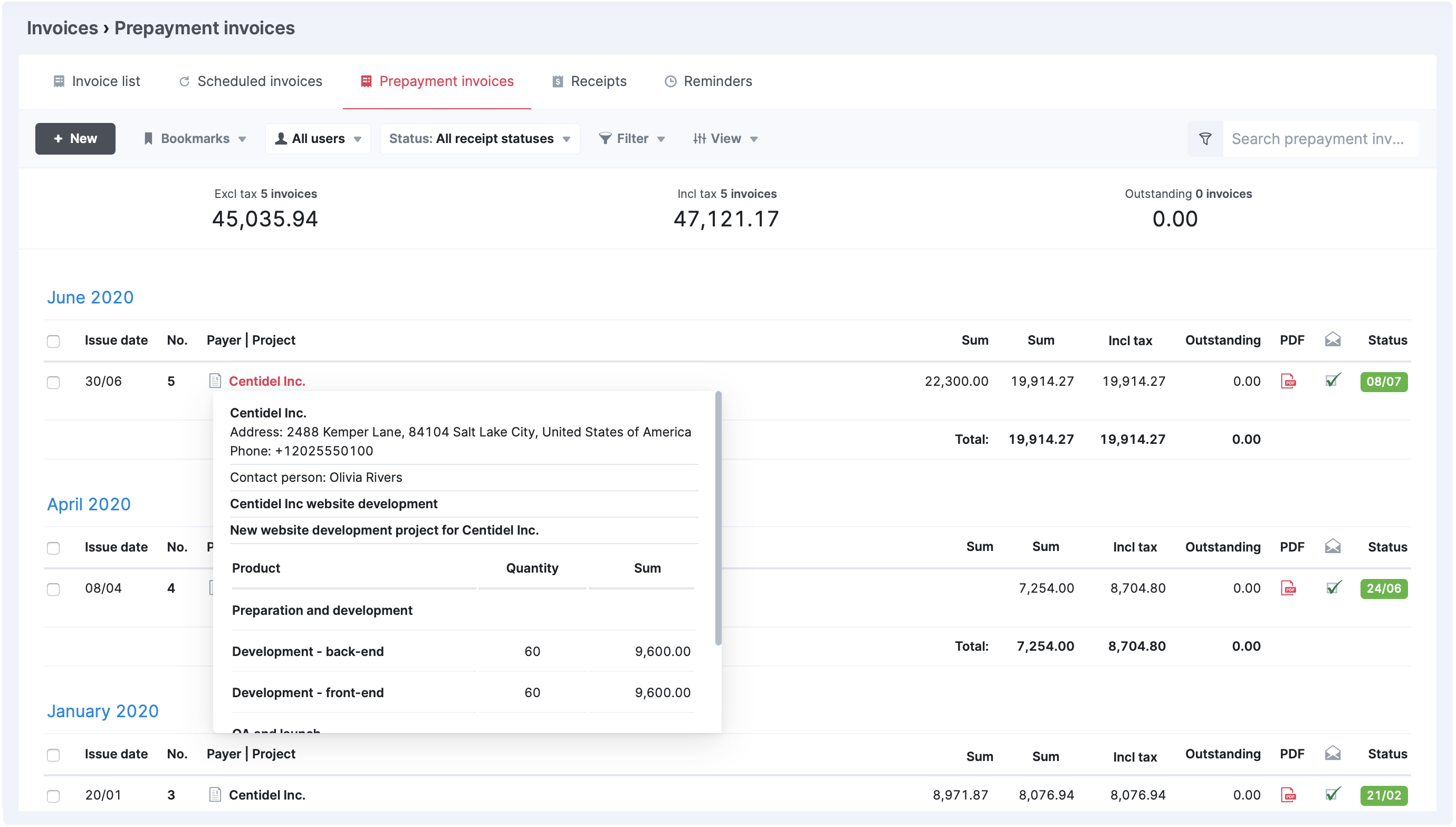 Prepayment
invoices
Create and send out prepayment invoices. Use prepayment invoices to mark invoices as paid and keep track of each contact's prepayment balance.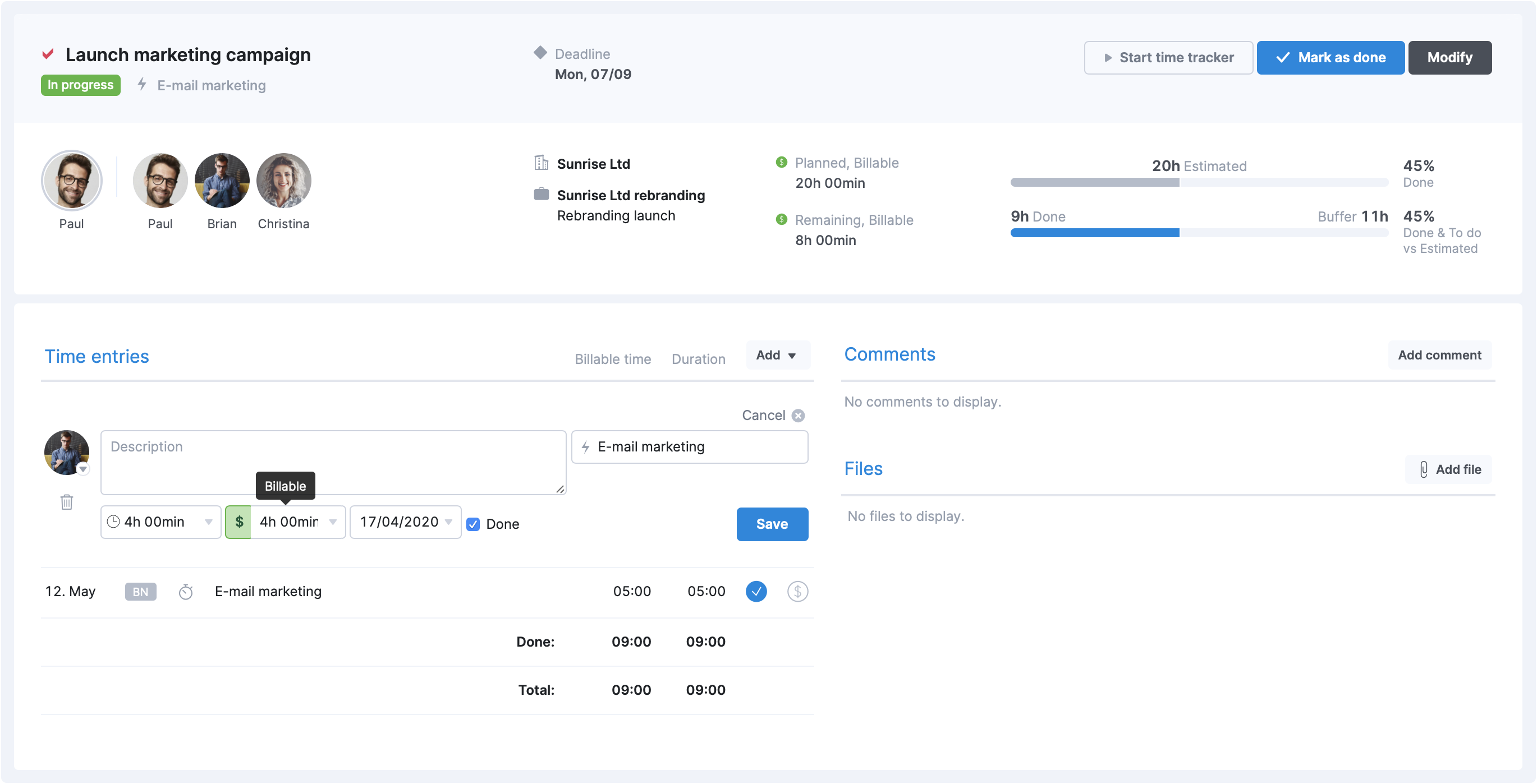 Billable
time
Log billable time spent on tasks and meetings, and invoice your clients based
on automatically generated work reports in just a
few clicks.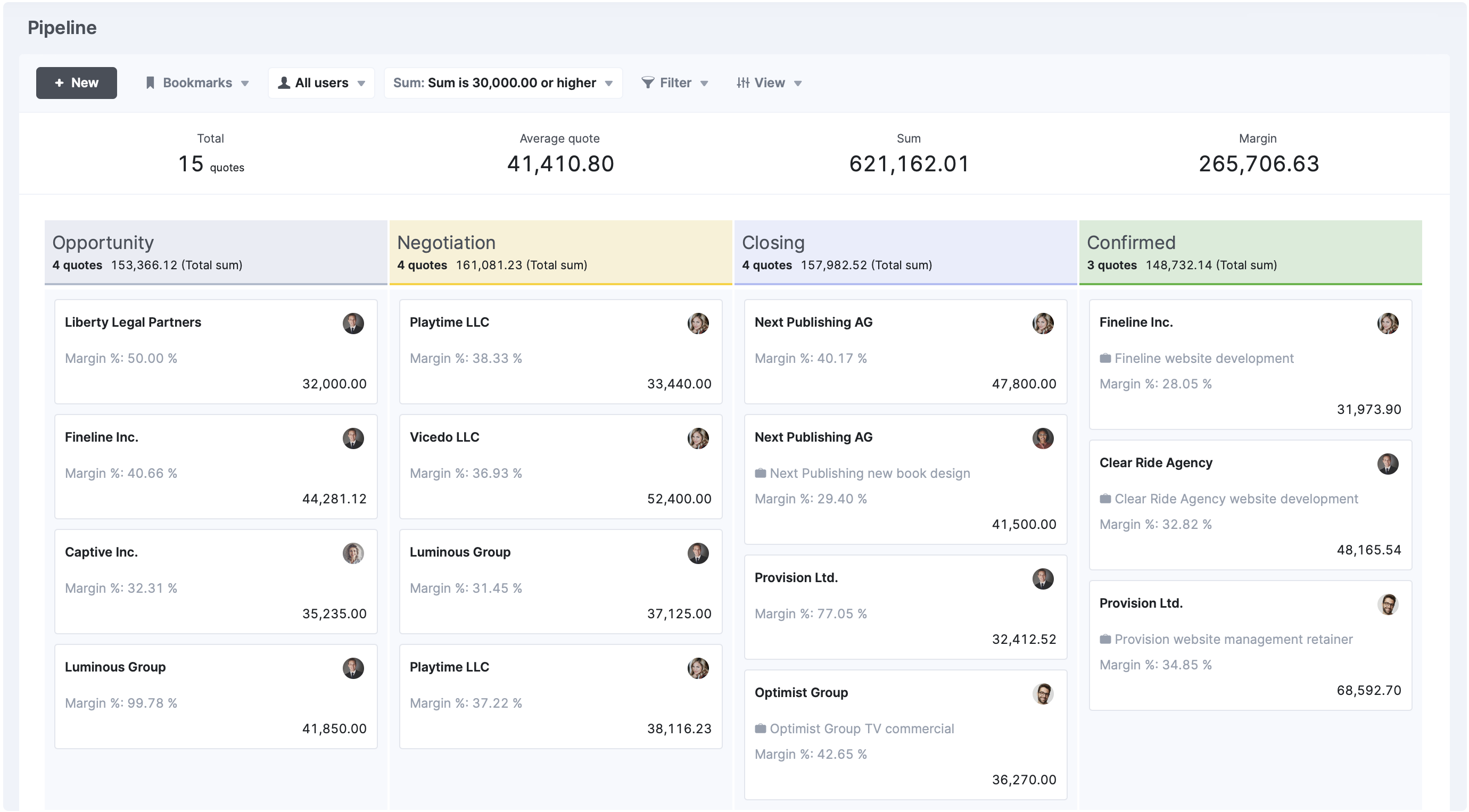 Sales
pipeline
Visually manage quotes and get an overview of your sales funnel. Drag and drop deals as they move from one stage to the next.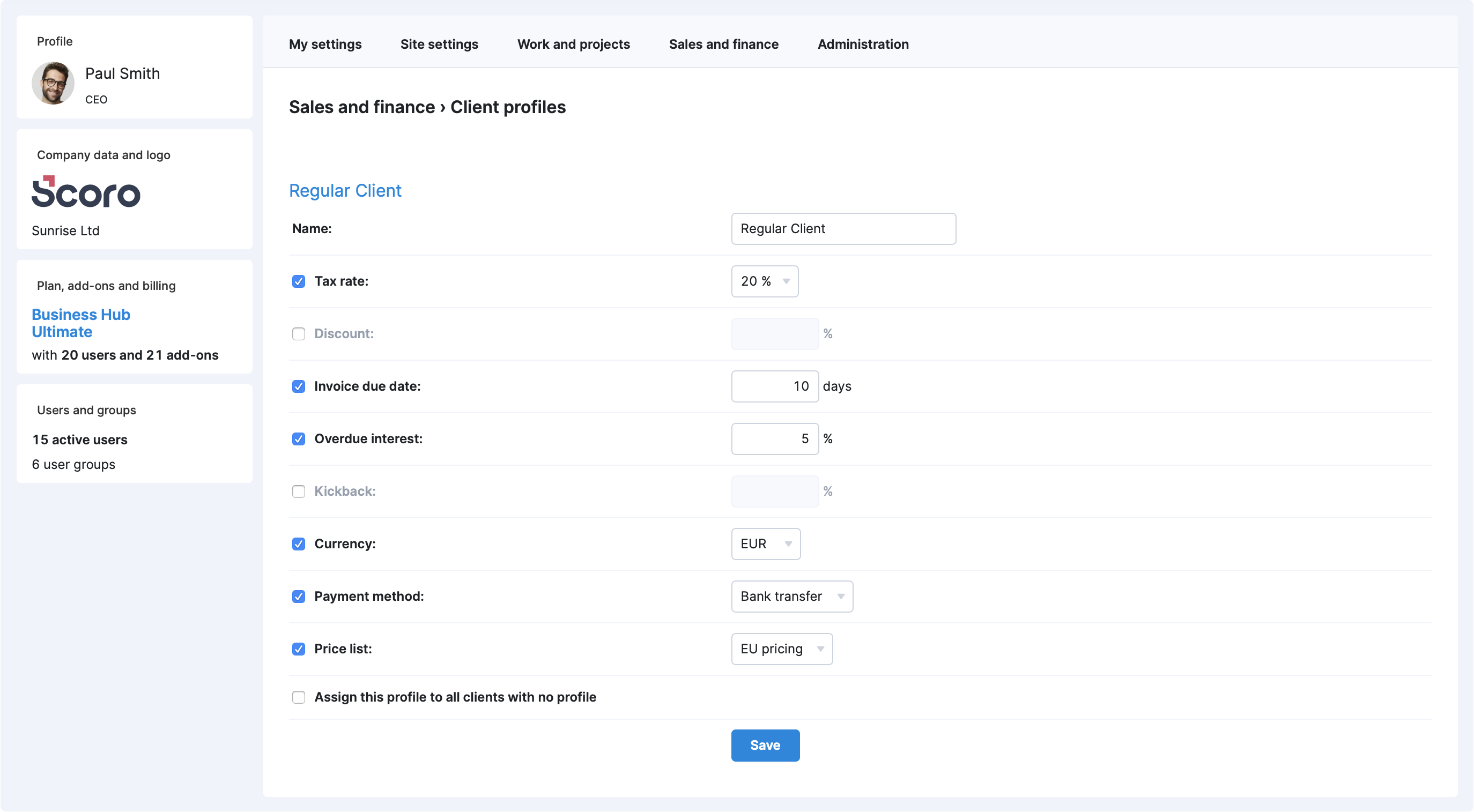 Client
profiles
Differentiate and automatically set the tax rate, discount, due date, overdue interest, currency, payment terms, price list, and/or language based.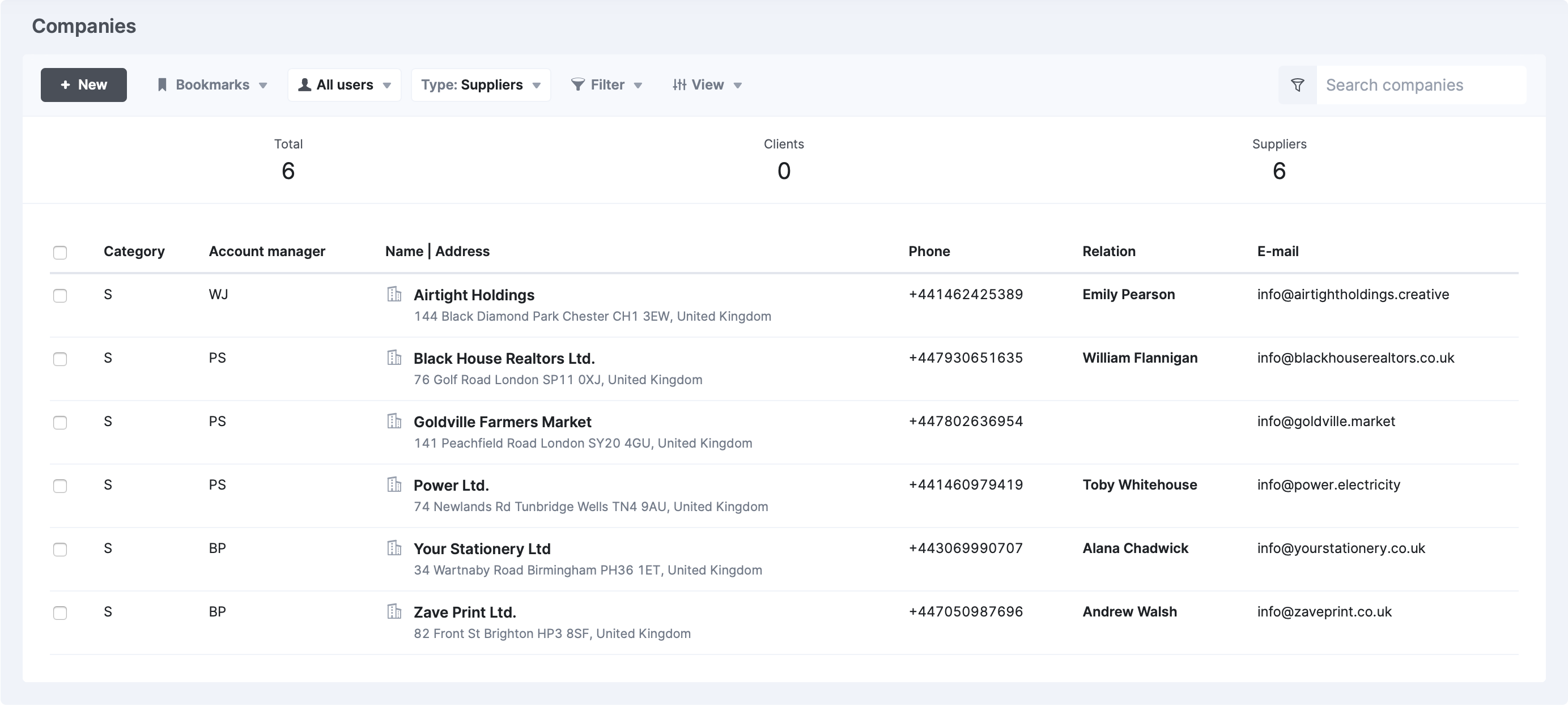 Suppliers
Add and keep track of your suppliers and separate them from the rest of your contact base.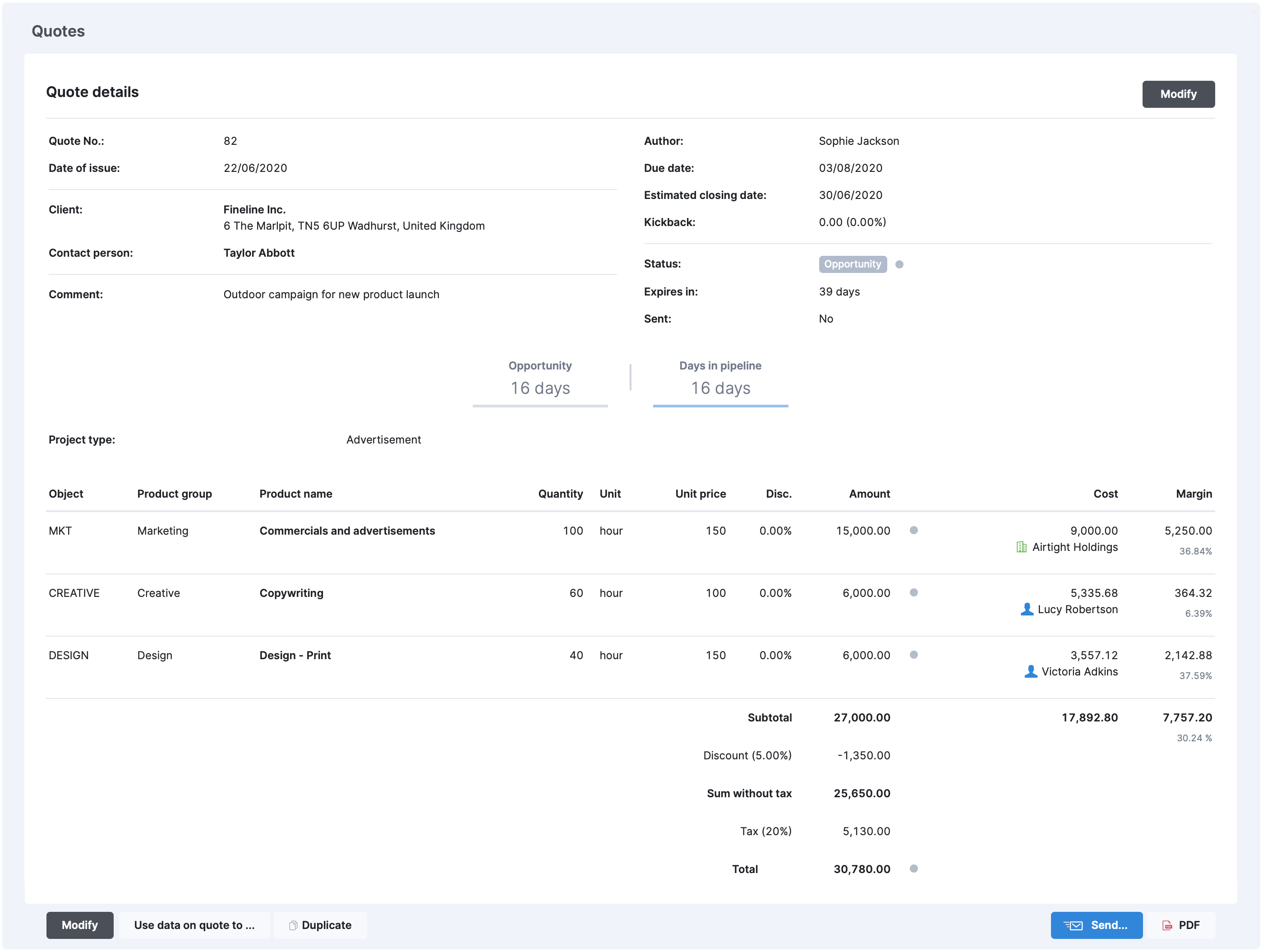 In-house and outsourced services
Easily differentiate which services on a sales document are done in-house and which are outsourced.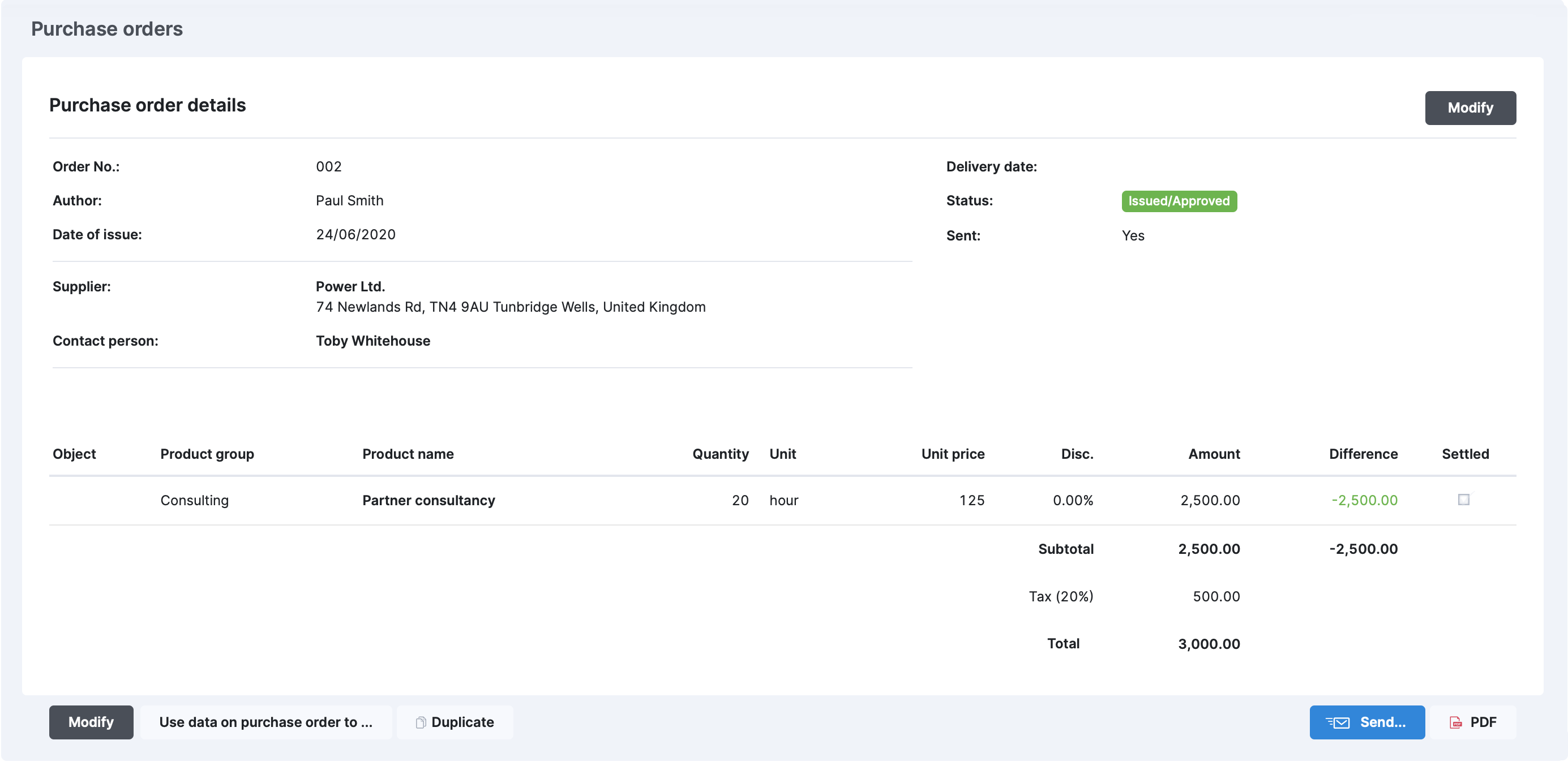 Purchase
orders
Create and send out purchase orders. Keep track of when and which products or services you have ordered, and from which suppliers.
Standard
quotes
Instead of creating frequently compiled quotes from scratch each time, create standard quotes to predefine conventional quote data automatically.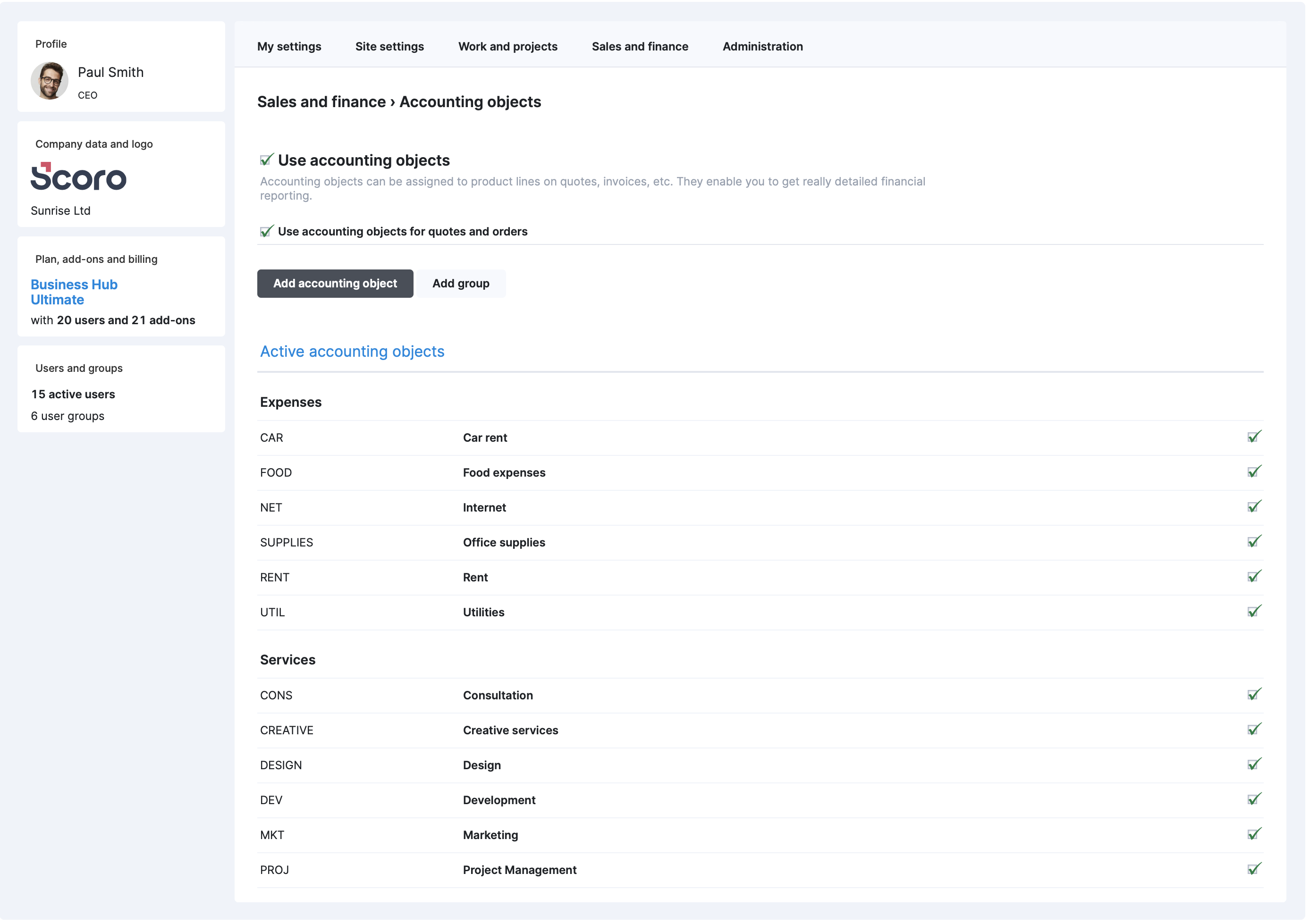 Accounting objects
Define income and expense objects based on products, projects or departments.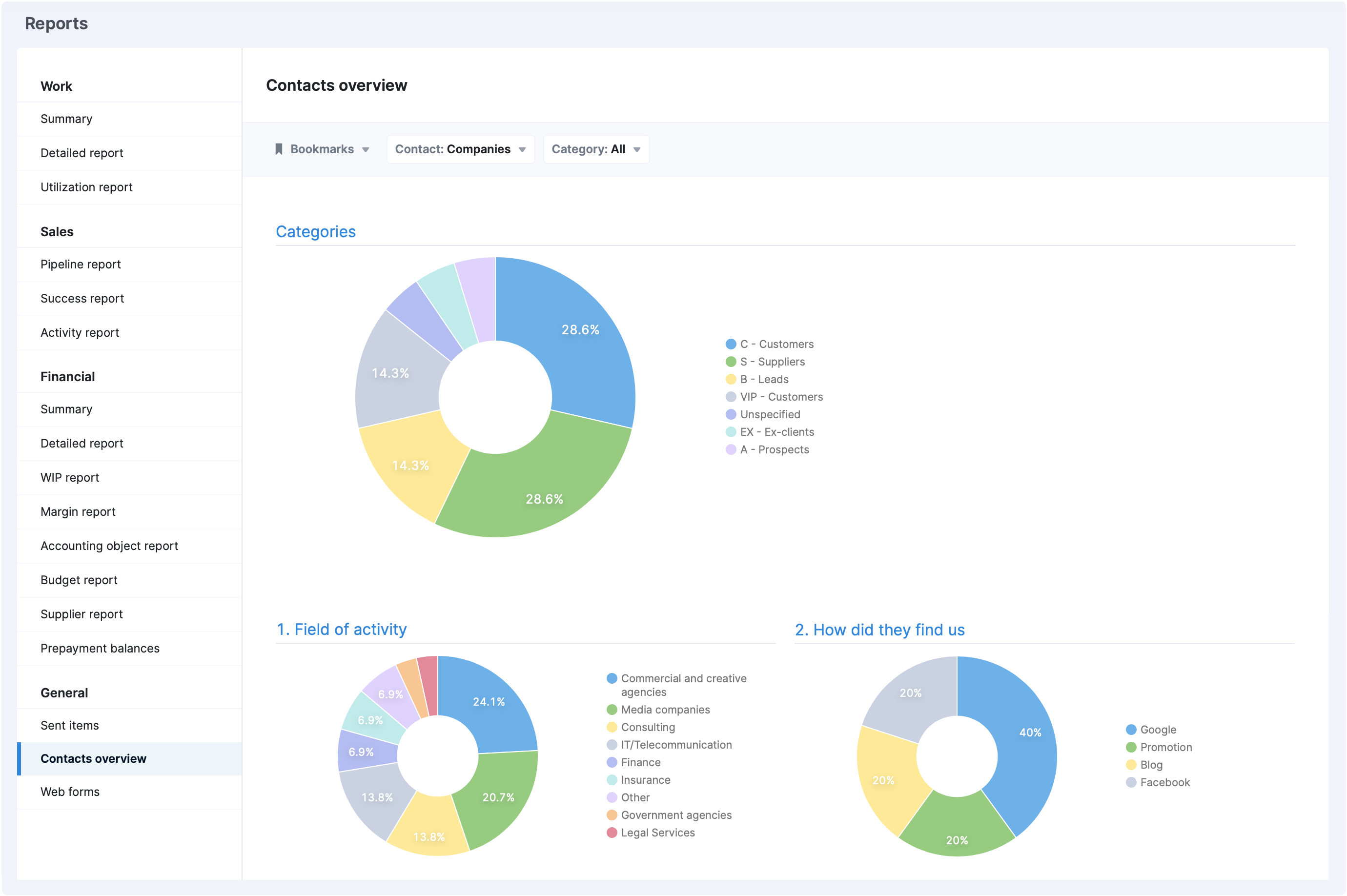 Customer database statistics
Use customizable list views and contact overview graphs to get insights about your customer base.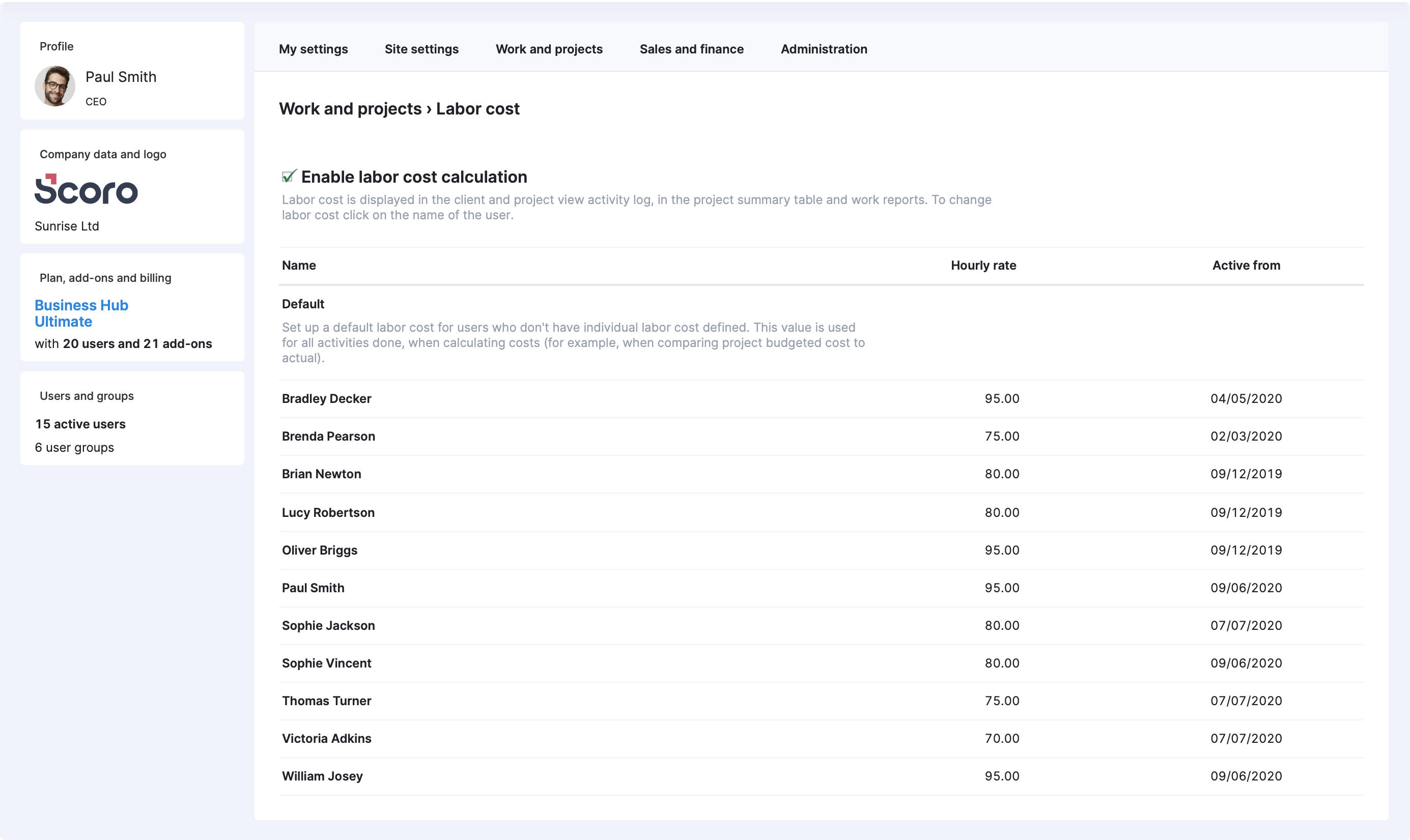 Labor cost calculations
Define the hourly rates of your employees to get automatic labor cost calculations in client and project views and in reports.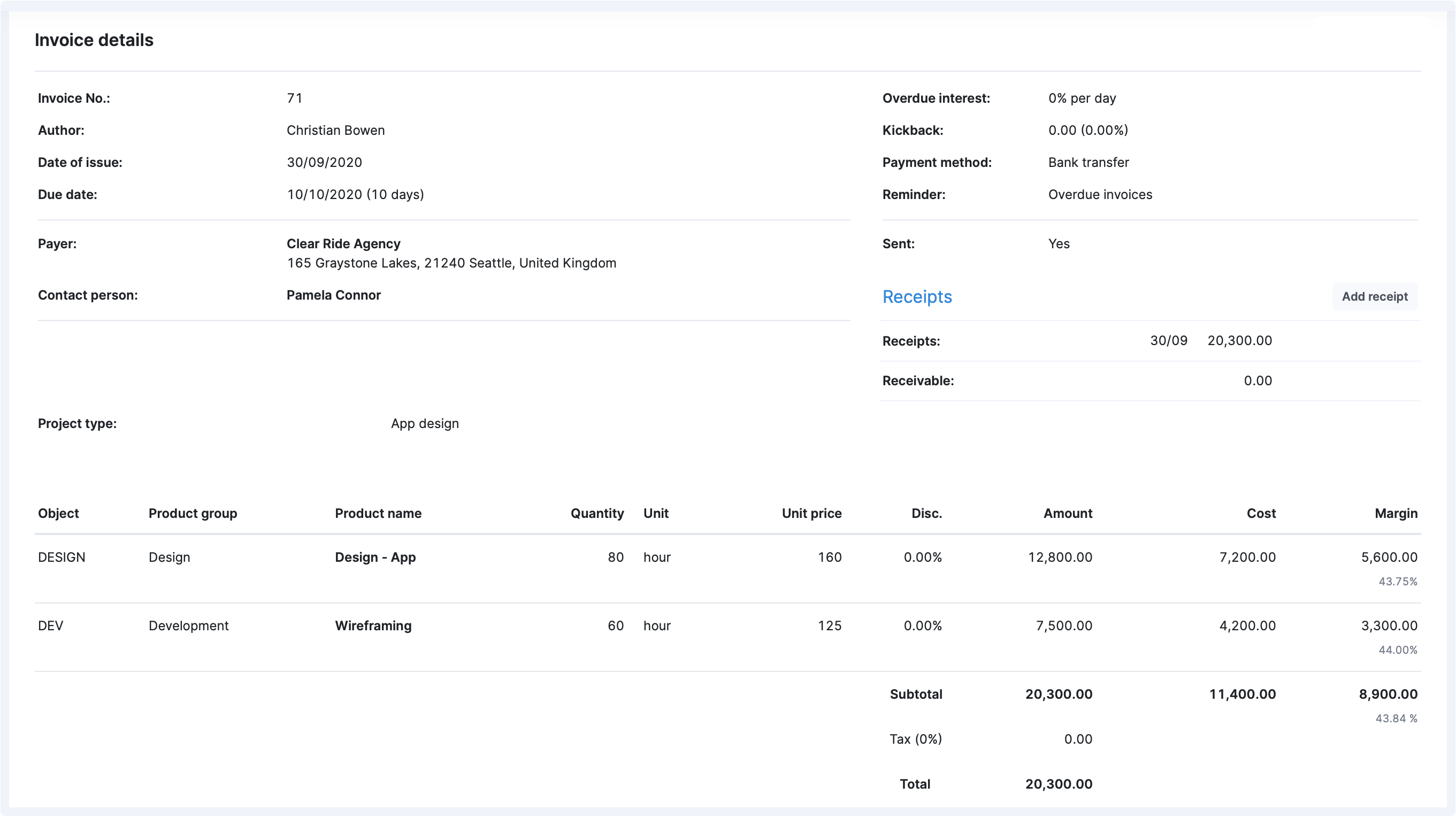 Sales margin
Get an overview of your sales margin and calculate profit in advance by defining both selling price and cost for your products or services.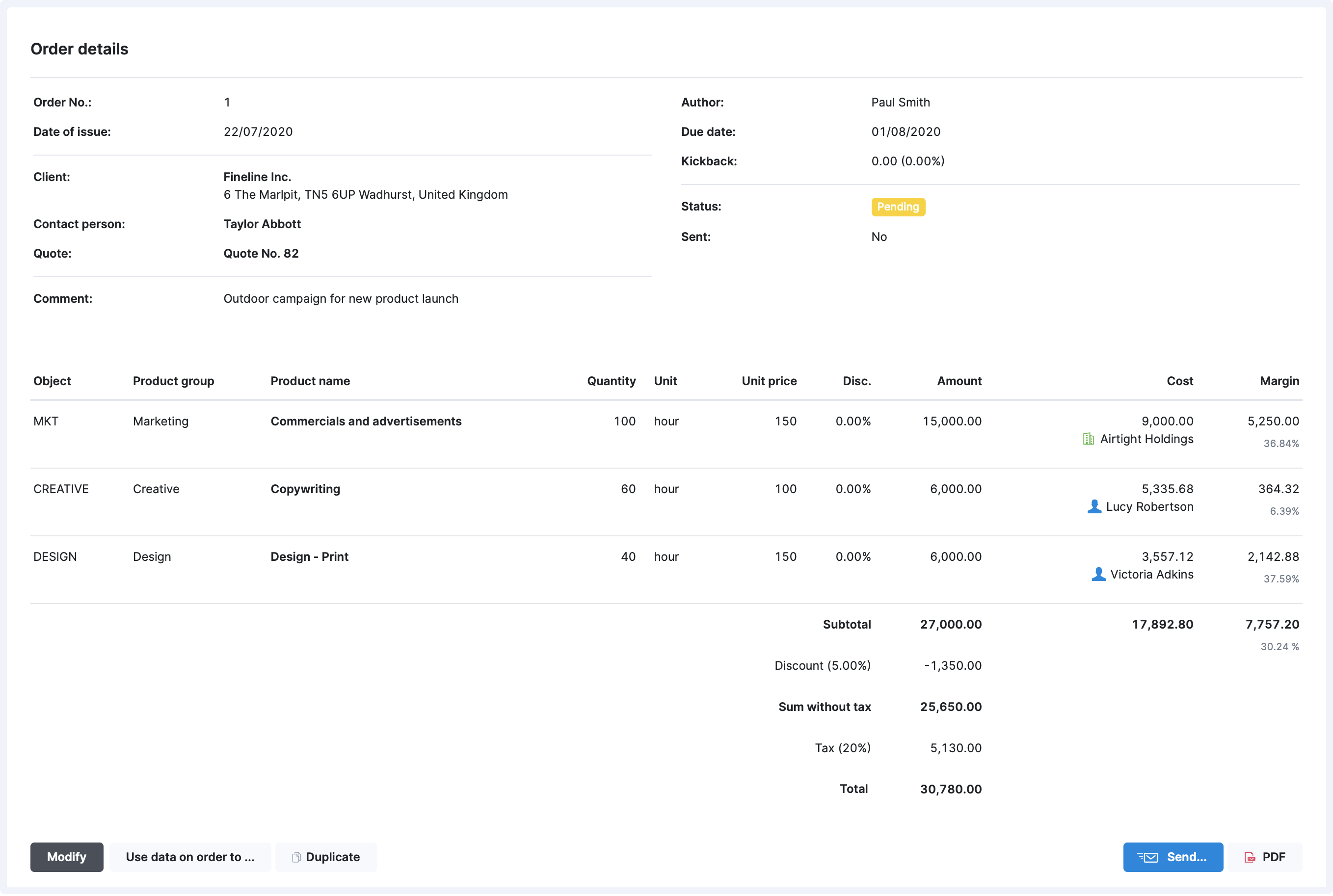 Orders/Contracts
Compile and send orders as confirmation of sales deals to your suppliers and clients. In addition, use order PDF-templates to create and send out contracts.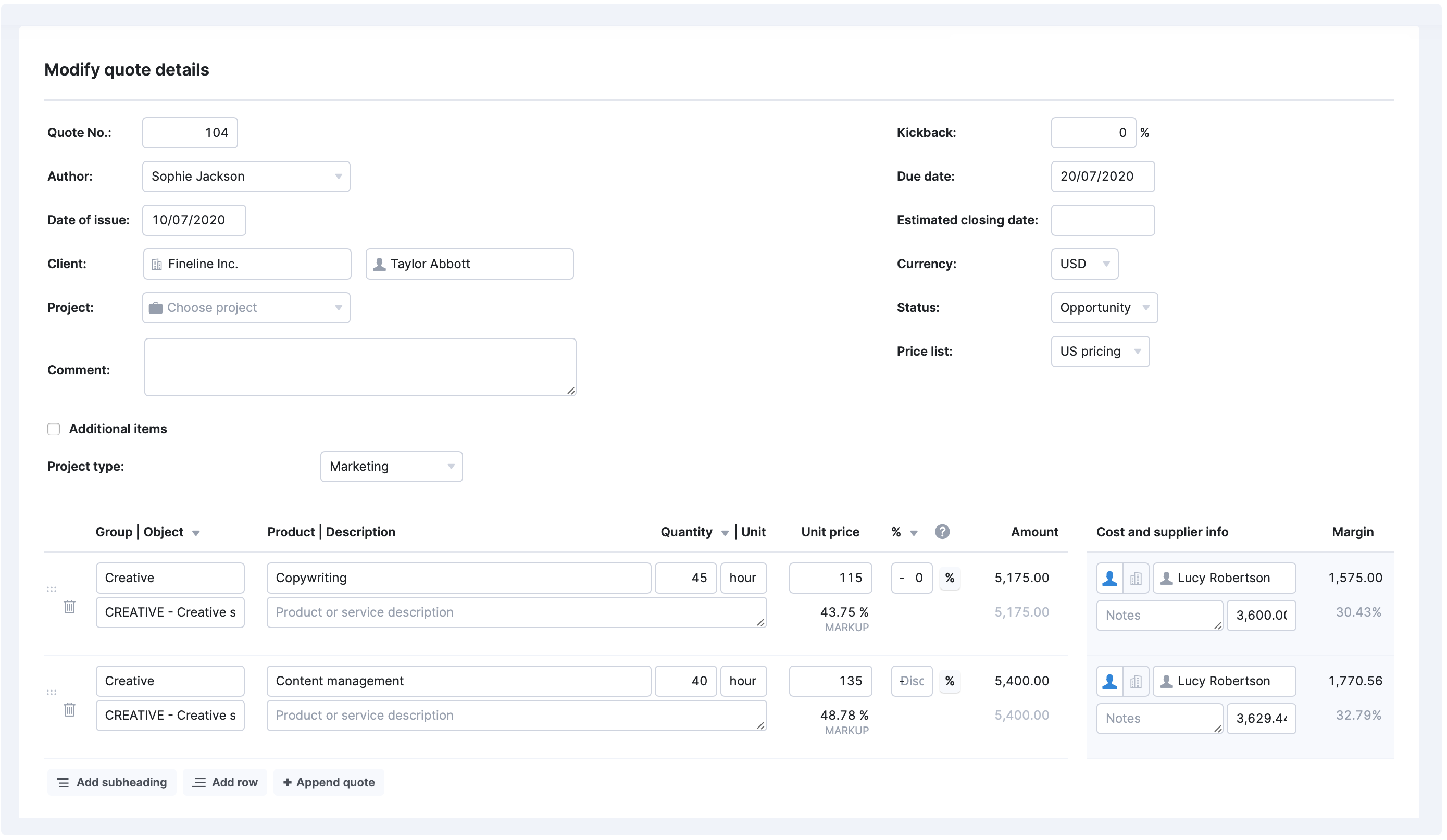 Markup
Automatically calculate and adjust the selling price based on the buying price for each individual product or service when compiling sales documents.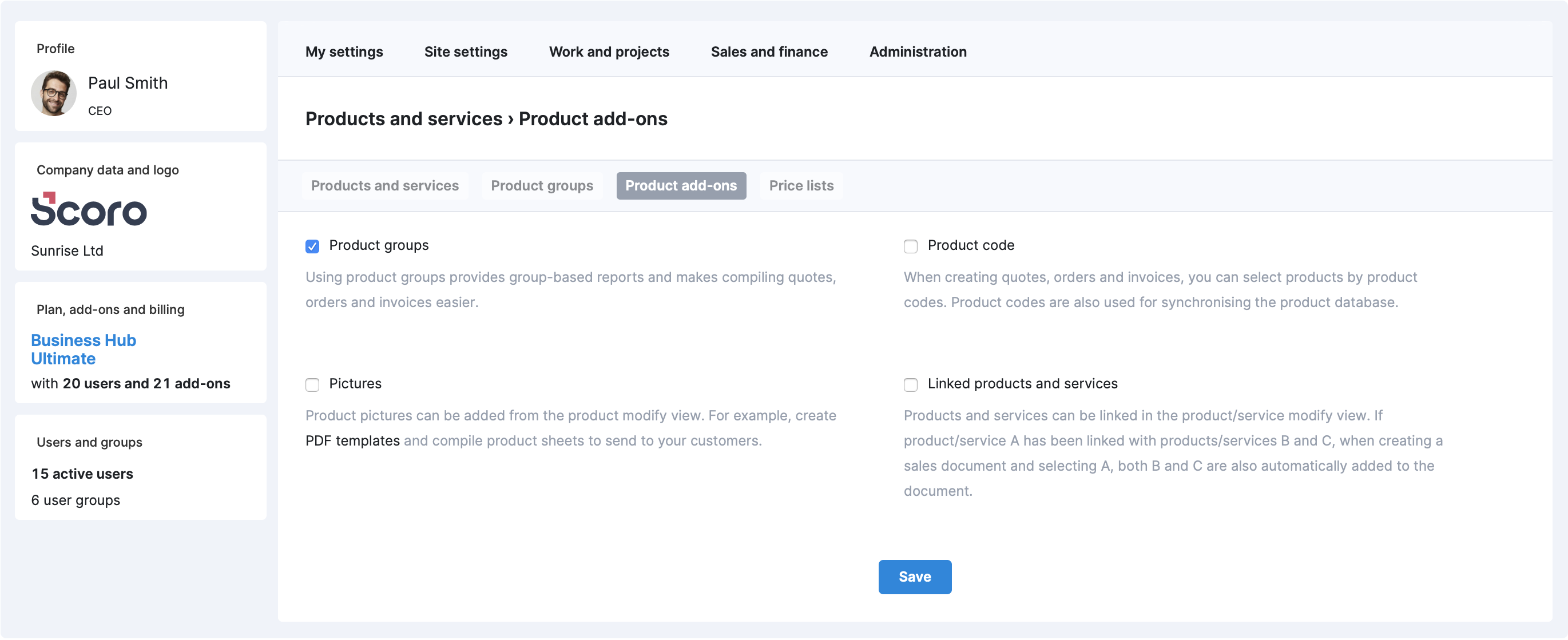 Product add-ons
Use product groups and codes to simplify compiling sales documents, add pictures to your products, or link products to automatically add multiple products or services to a sales document.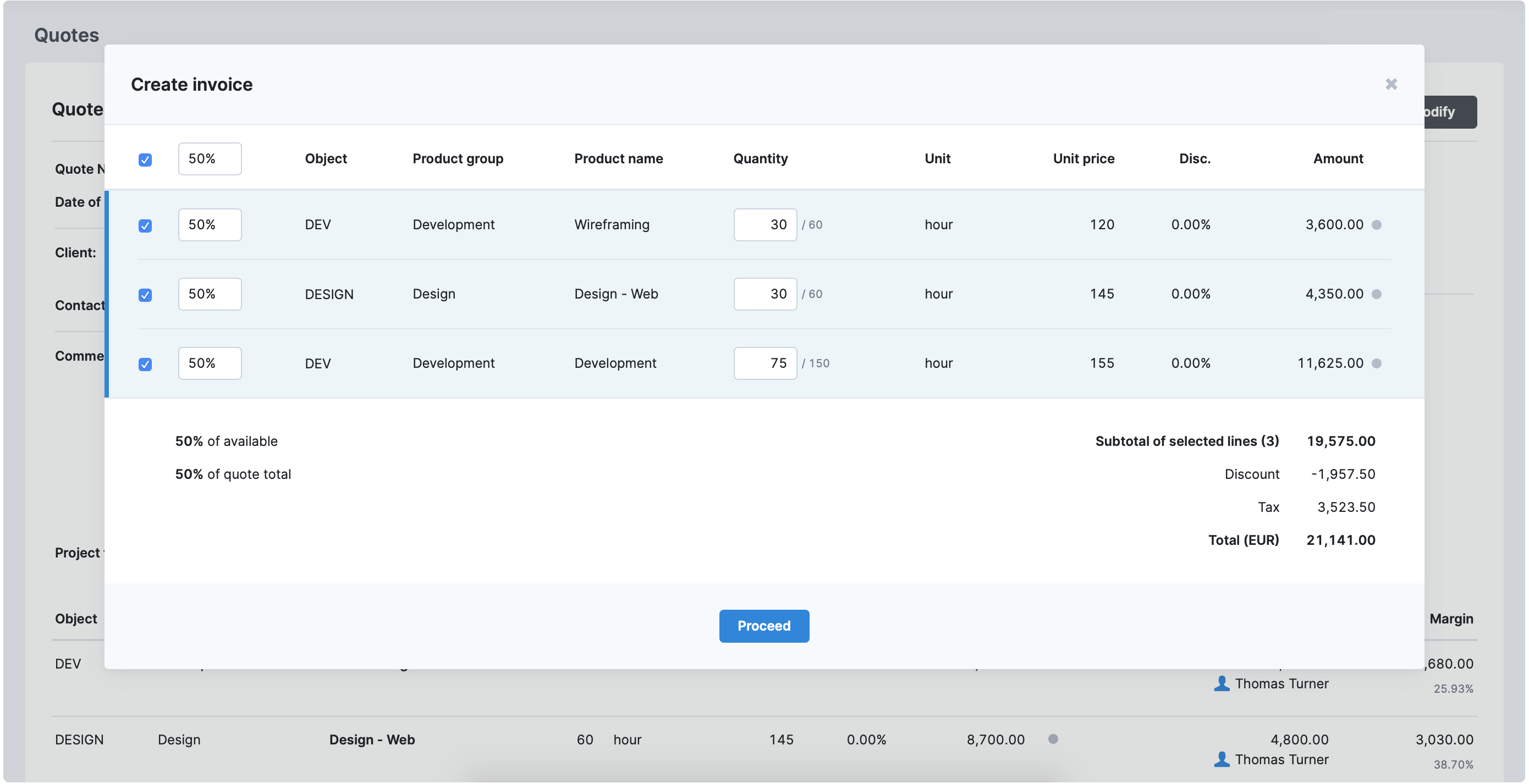 Partial invoicing
Invoice the customer for some of the quoted jobs or a certain percentage of done services as soon as they're ready. Bill for the rest of the work when the project is finished.
Scheduled invoicing & bills
Automatically generate an invoice after a predefined time period/interval has passed. Send the invoice to your customers as PDFs.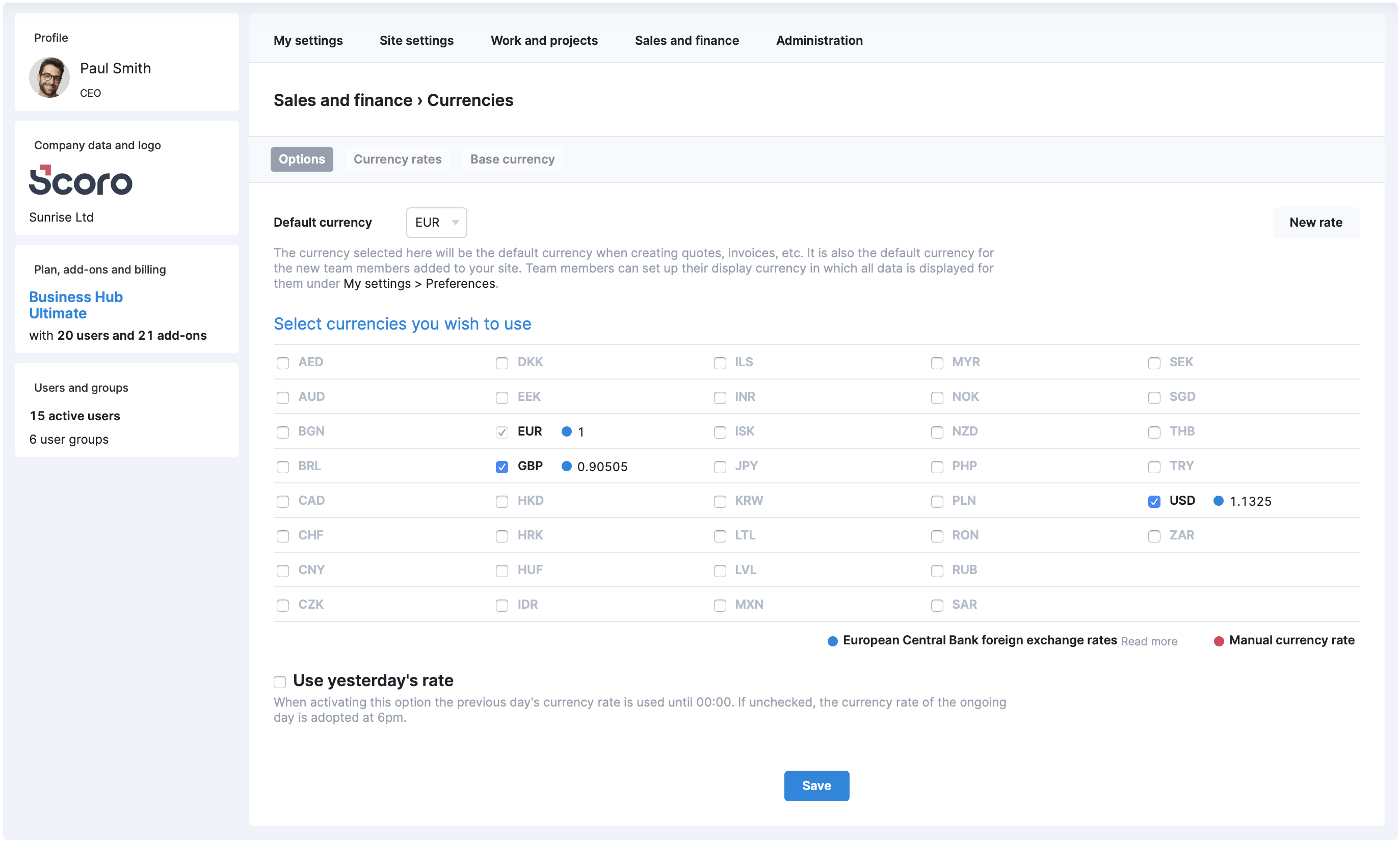 Multiple currencies
Define different currencies for each client profile and/or price list, as well as for individual sales or finance documents alongside your site's base currency.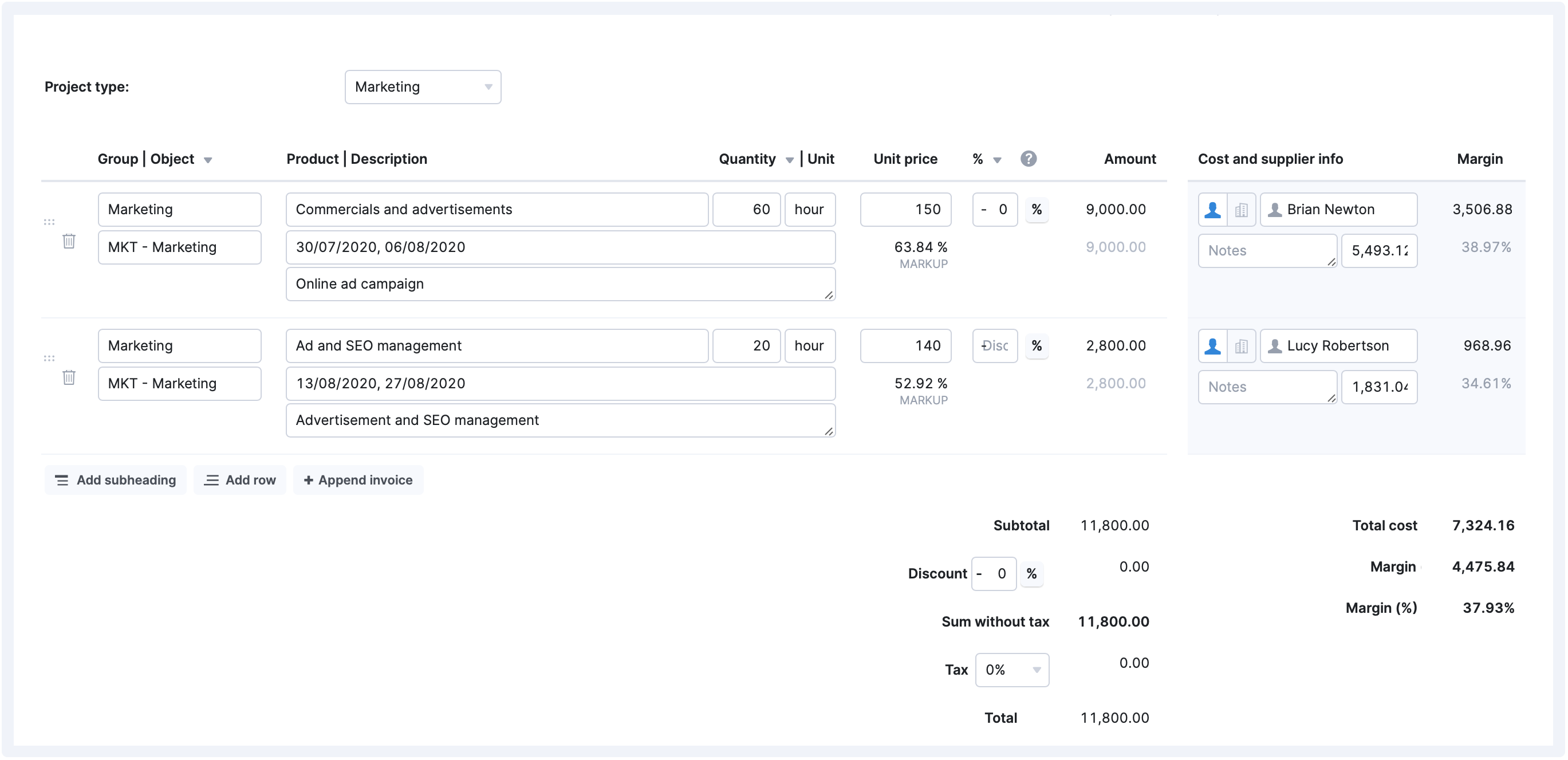 Dates on invoice lines
Add dates to invoice lines to automatically distribute the cost of a product or service across a certain time period and get accurate reports.
Price lists
Set up several price lists to automate pricing for customers based on their currency or client profile.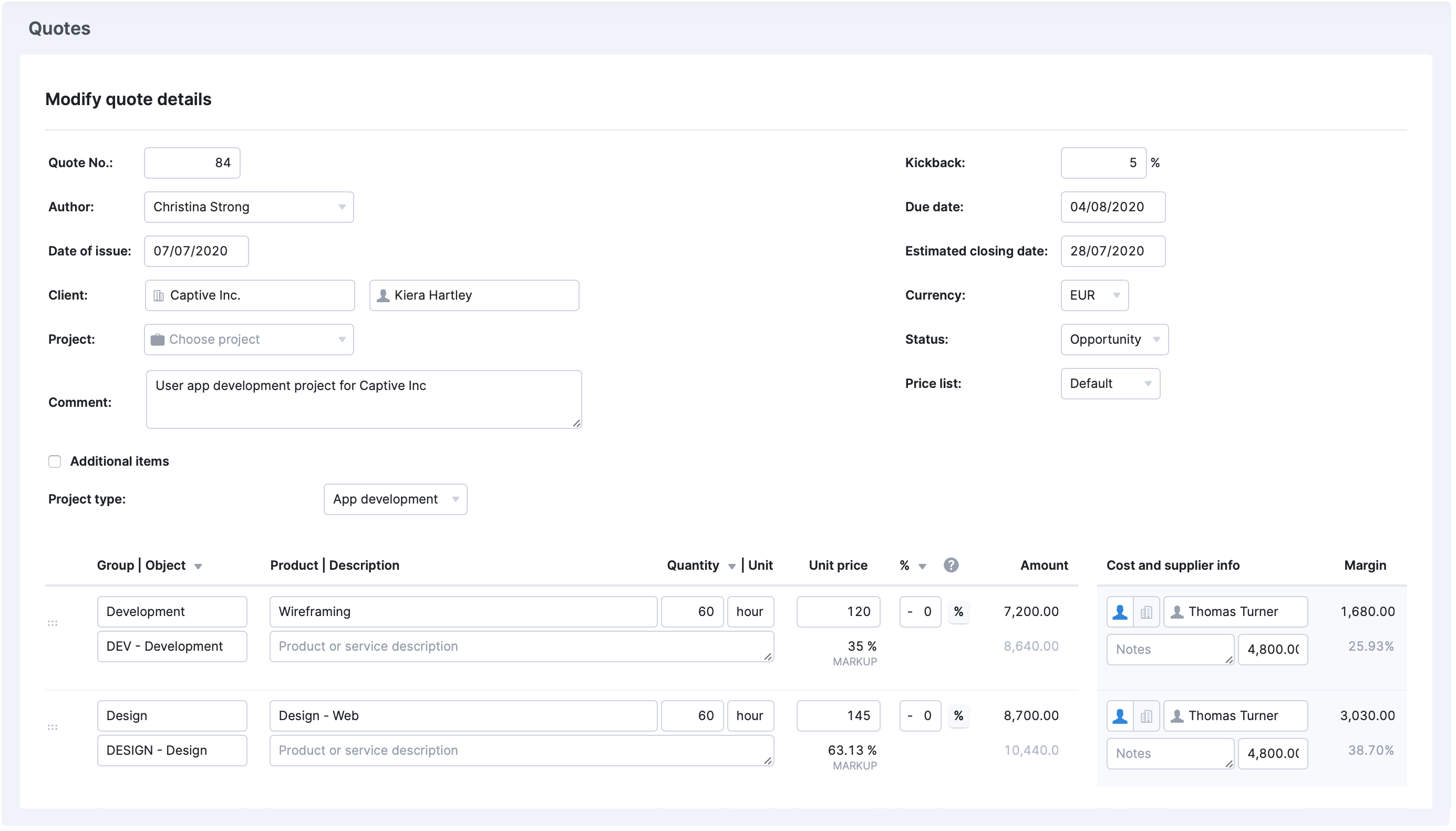 Kickback calculation
Calculate and get an overview of commissions to be paid in exchange for services rendered by your business partners.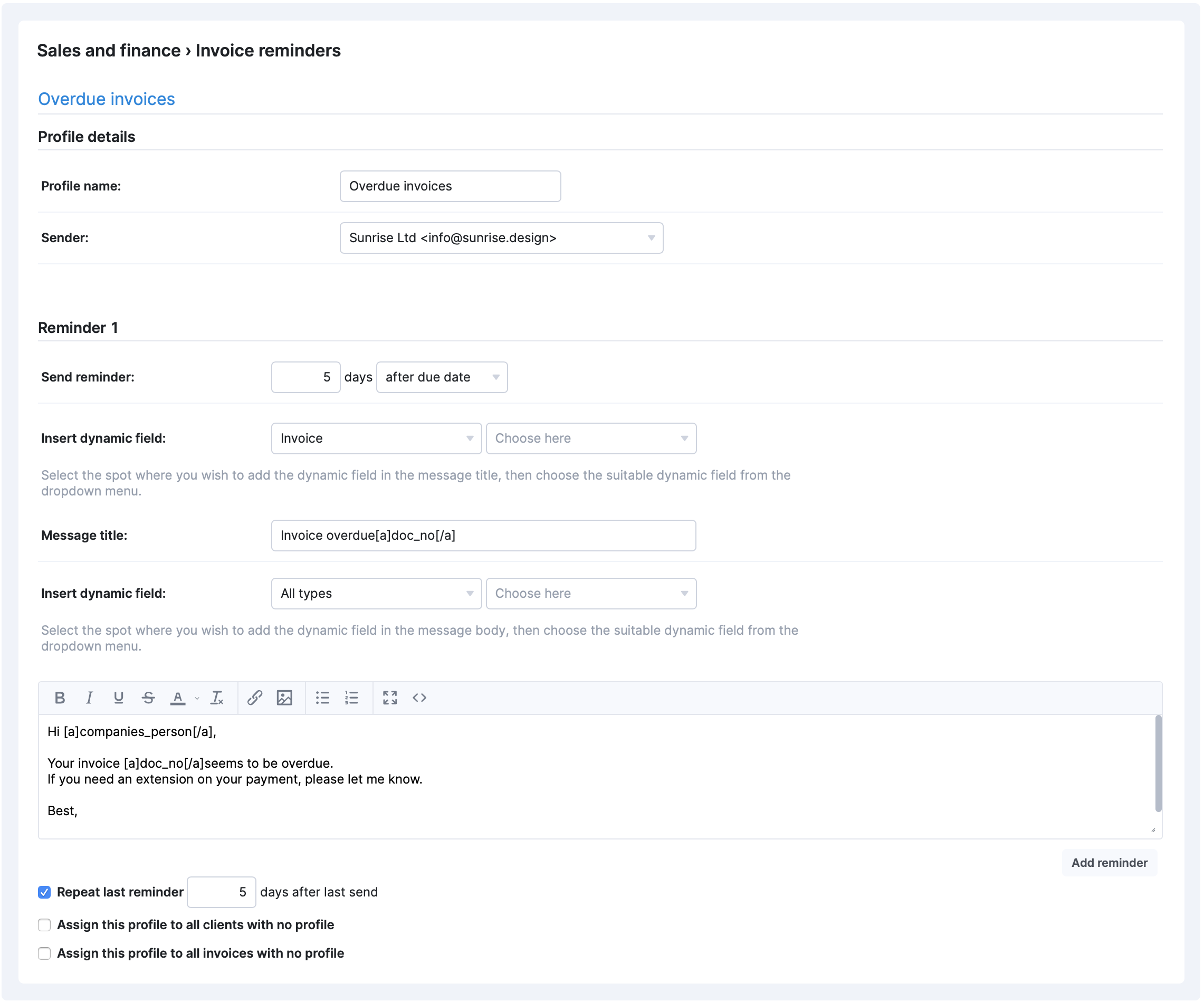 Late invoice reminders
Set up automatic reminder emails for invoices with nearing or overdue due dates. Create different reminder profiles and email templates and link them with contacts.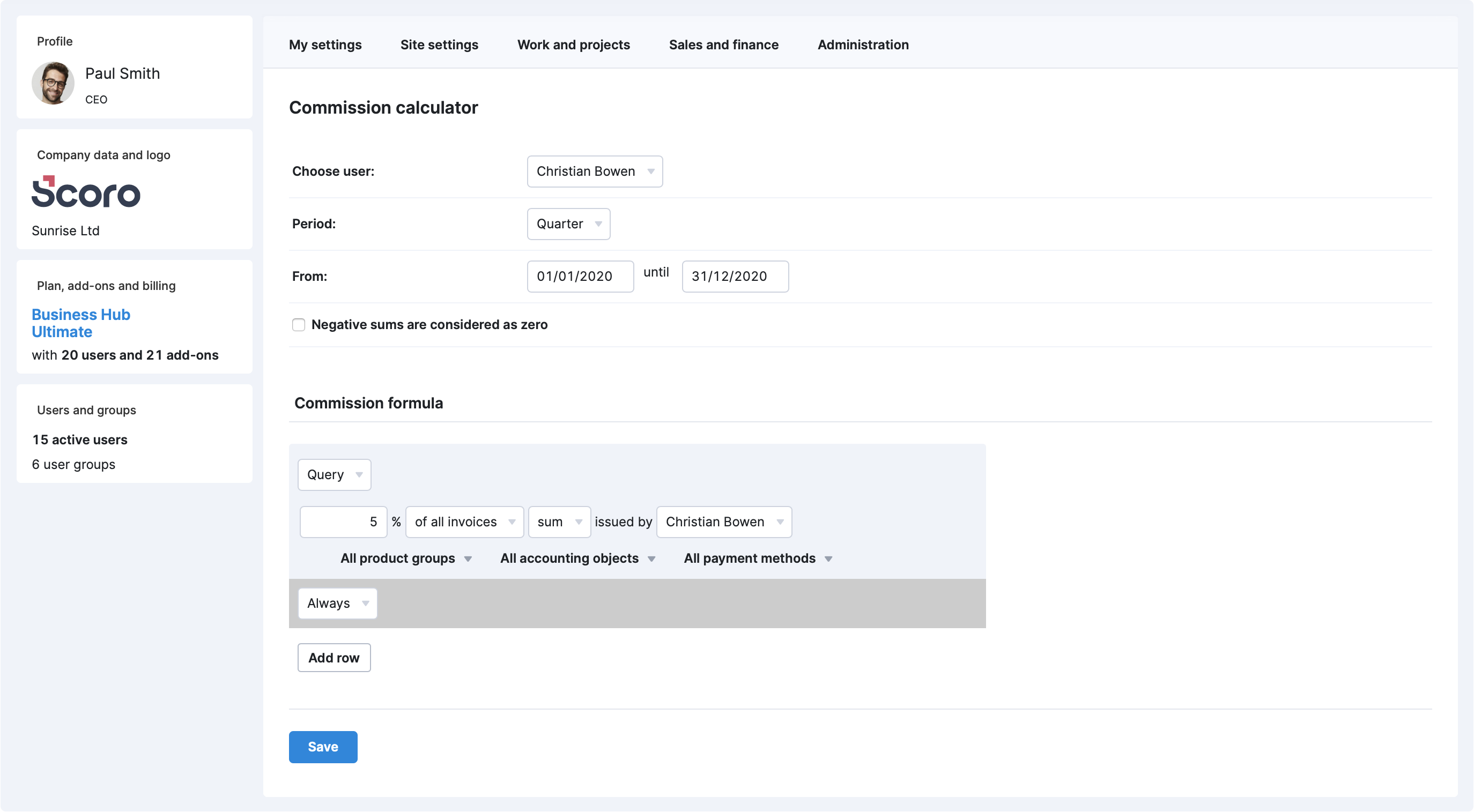 Commission calculator
Calculate individual bonuses for your employees based on issued invoices, invoice receipts, or quotes.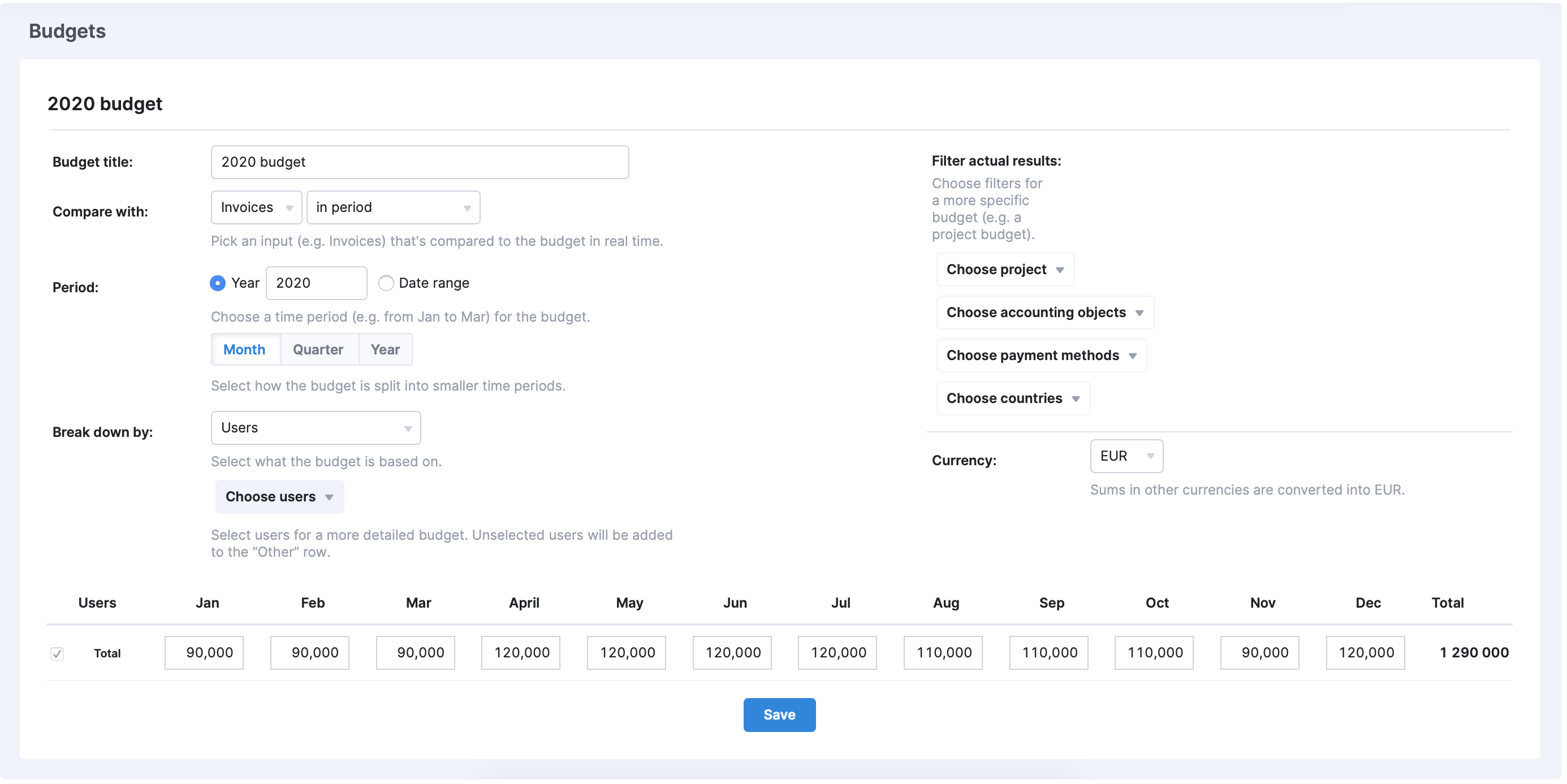 Budgets & forecasts
Compile budgets, compare budgeted data with real-time results and get a clear overview of budget allocation.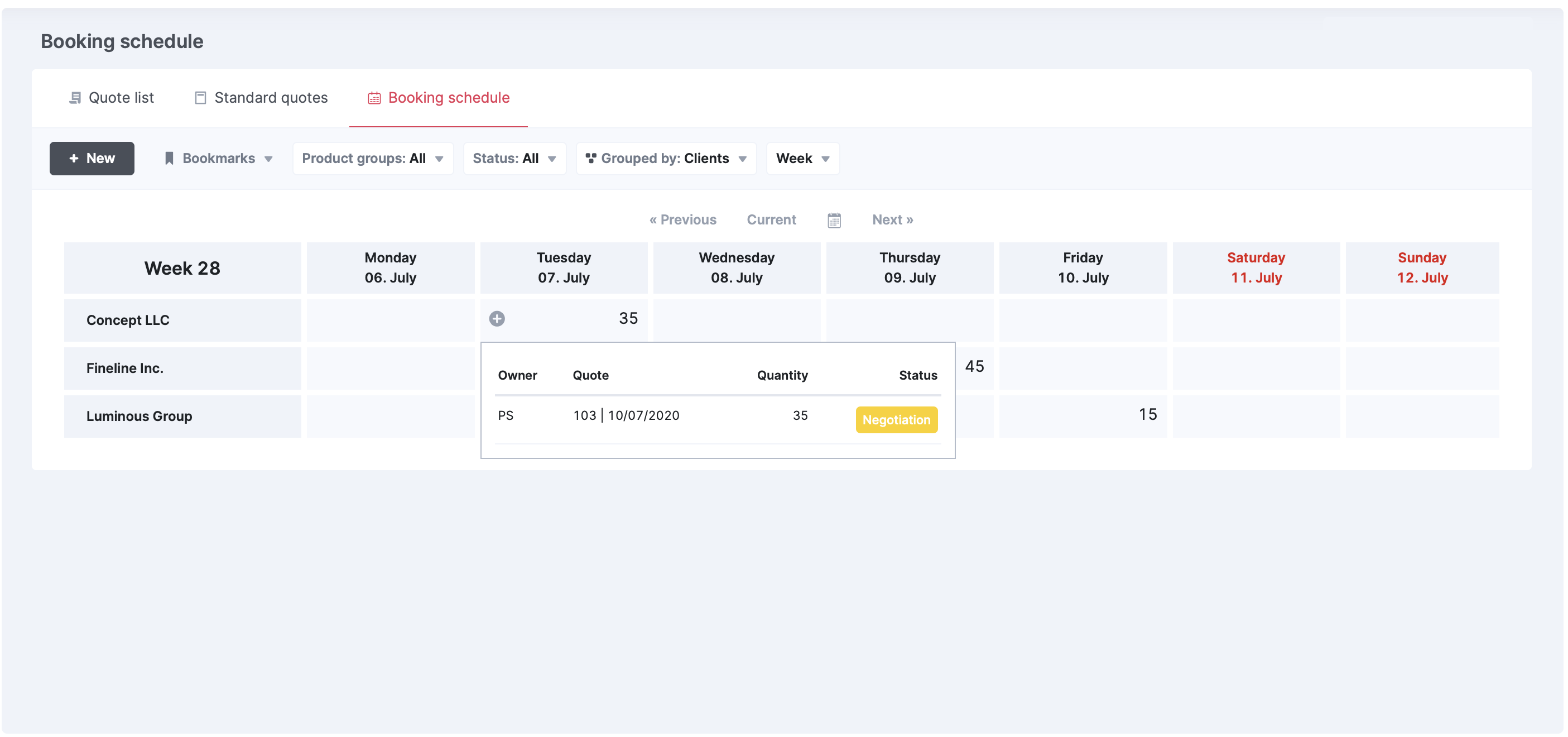 Media booking features
Get a real-time overview of sold and booked media. Filter past and future revenue by users, clients, media platforms, and product groups.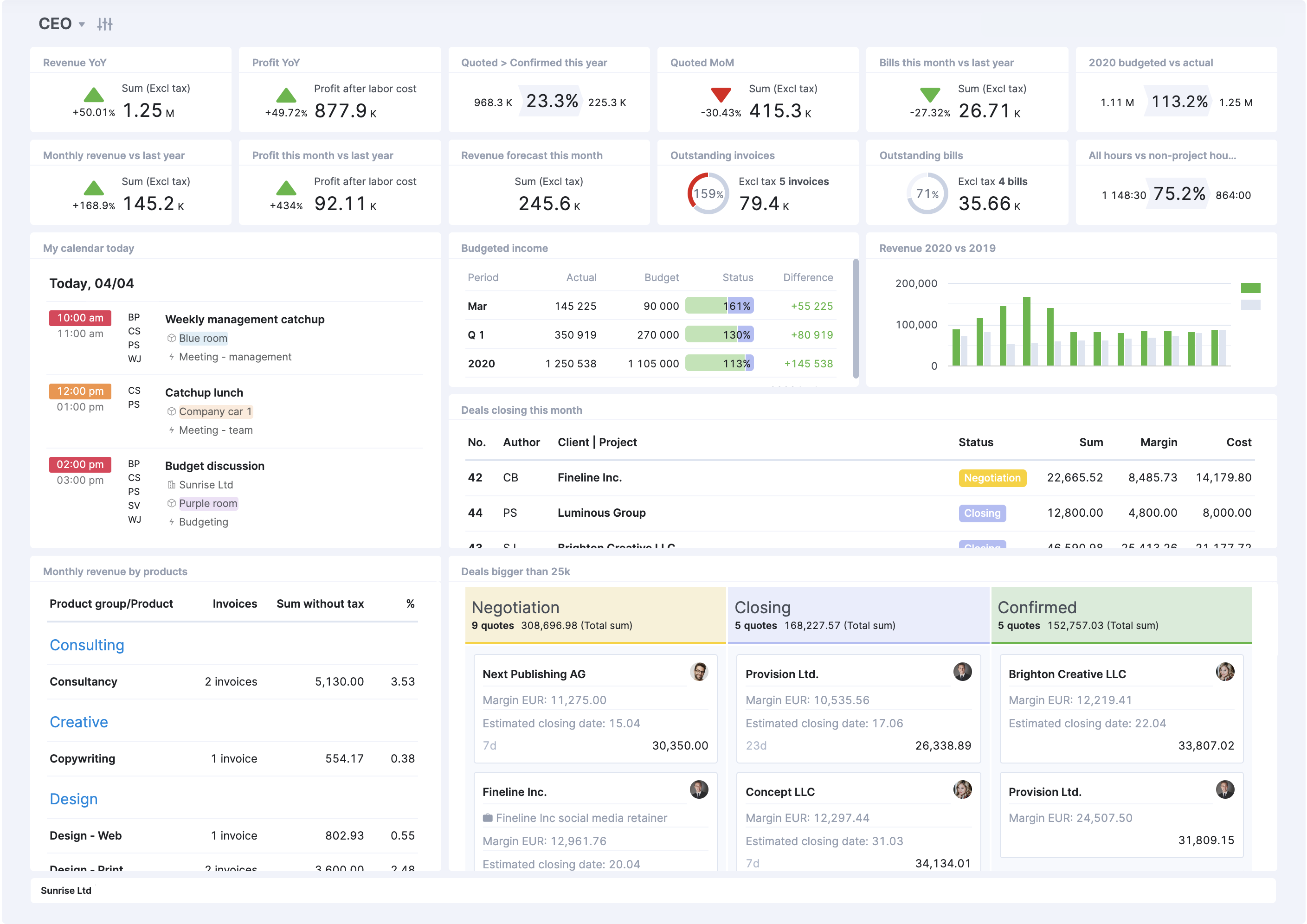 Customizable
dashboards
Create result metrics, ratio metrics and charts to track any KPIs directly on your dashboard. Add widgets to keep track of actionable items and oversee detailed reports.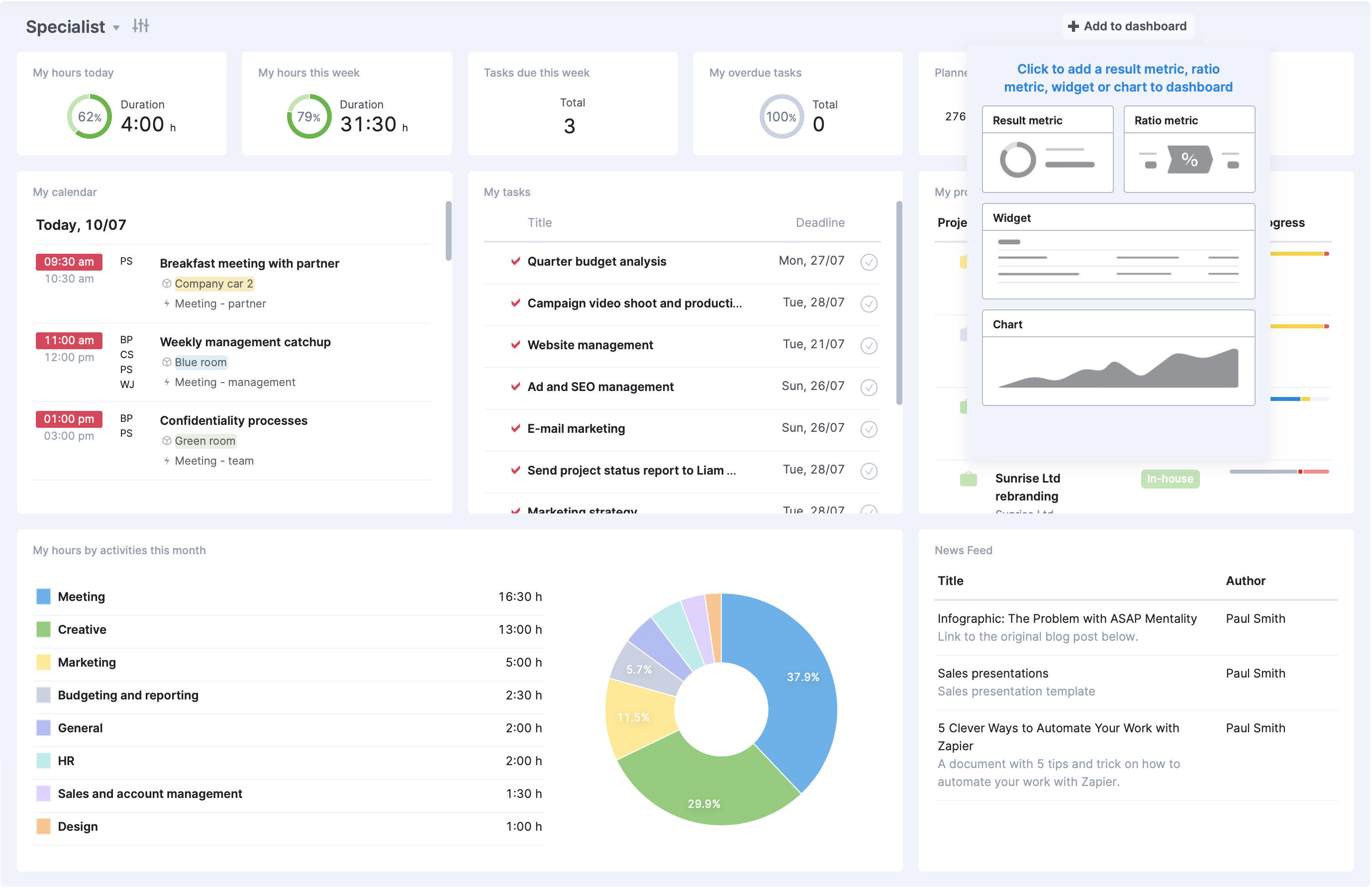 Dashboard
widgets & metrics
Create result metrics, ratio metrics and charts to track any KPIs directly on your dashboard. Add widgets to keep track of actionable item.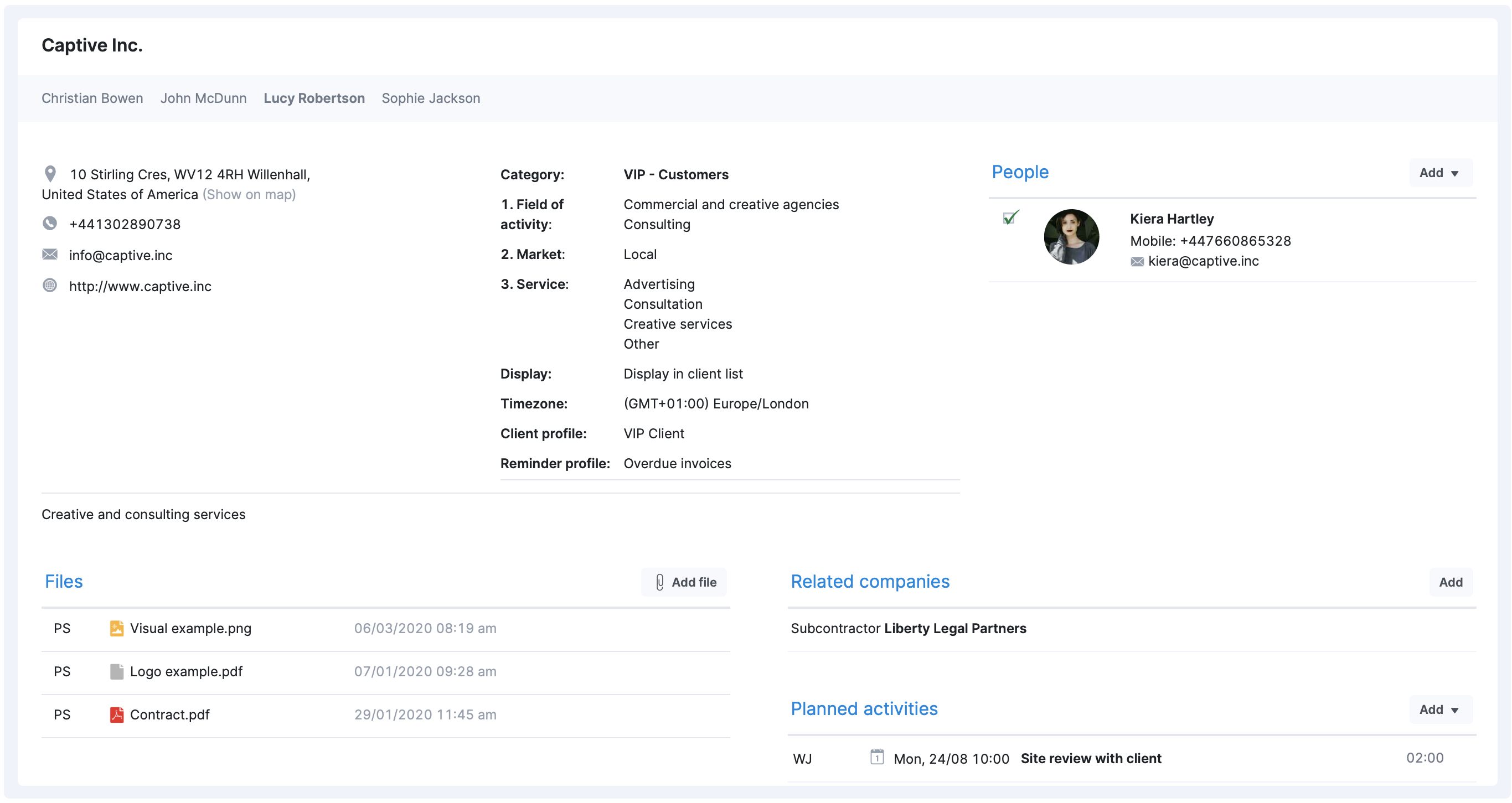 File
management
Upload and keep all your files in relevant project, task, event or contact views.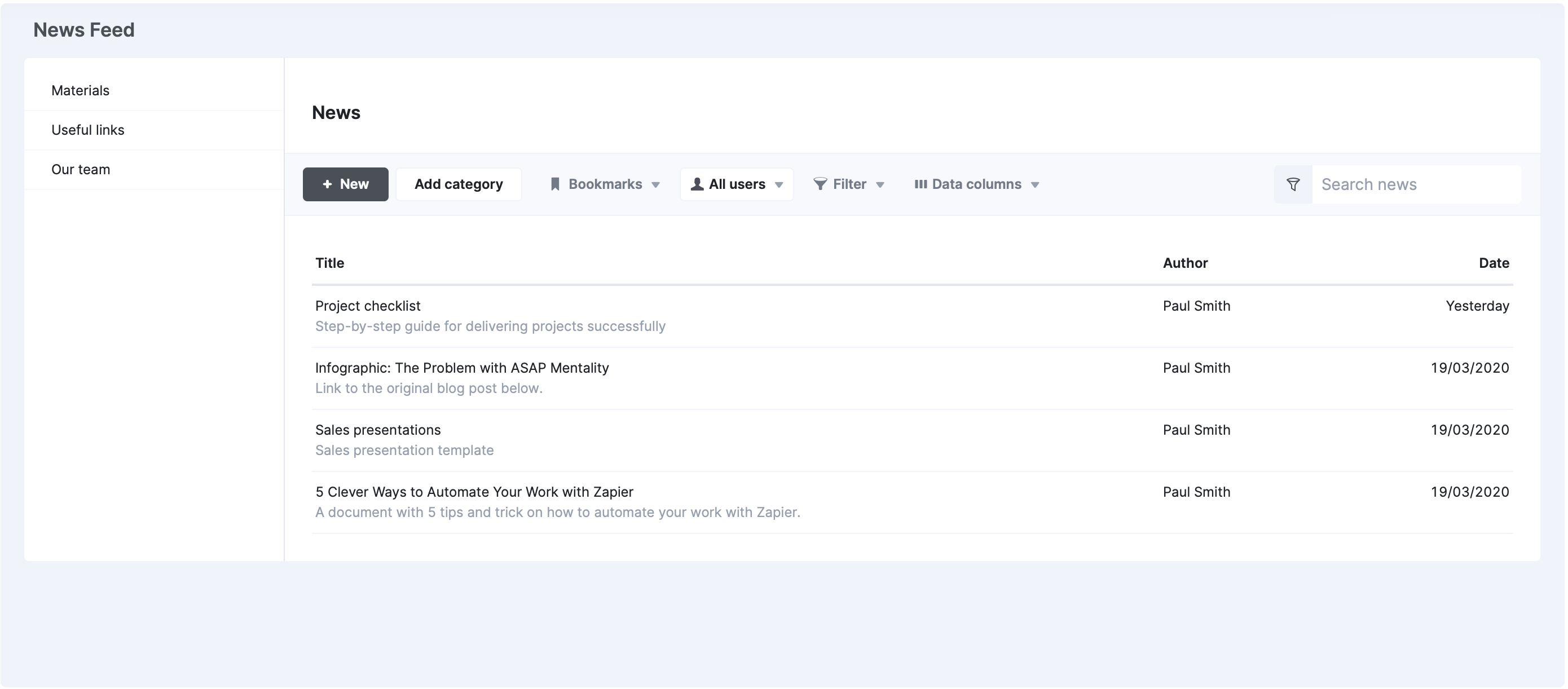 News
Feed
Share internal information, guides, materials and media with your team."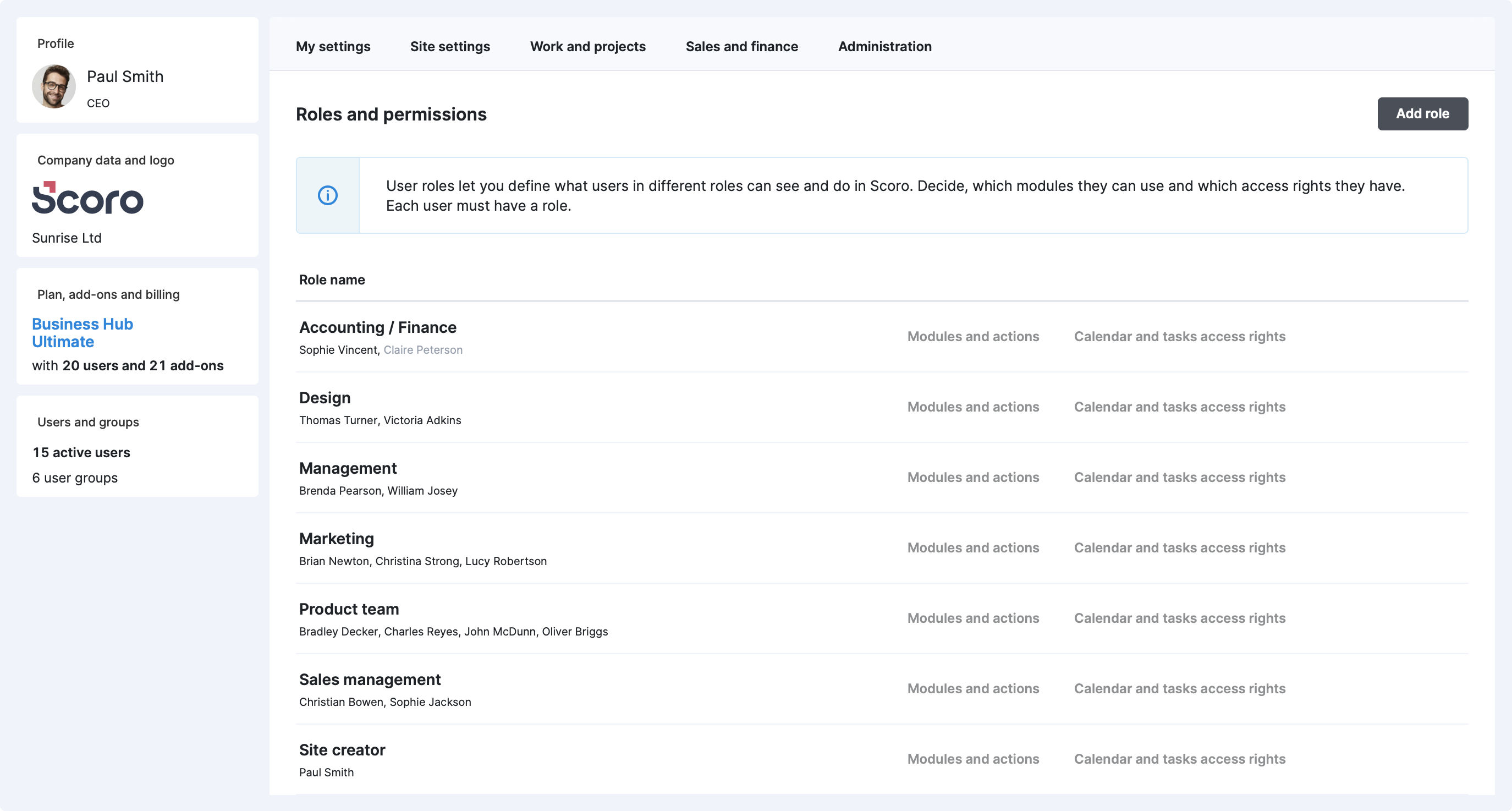 Simple
permissions
Define module-based access rights for different user roles.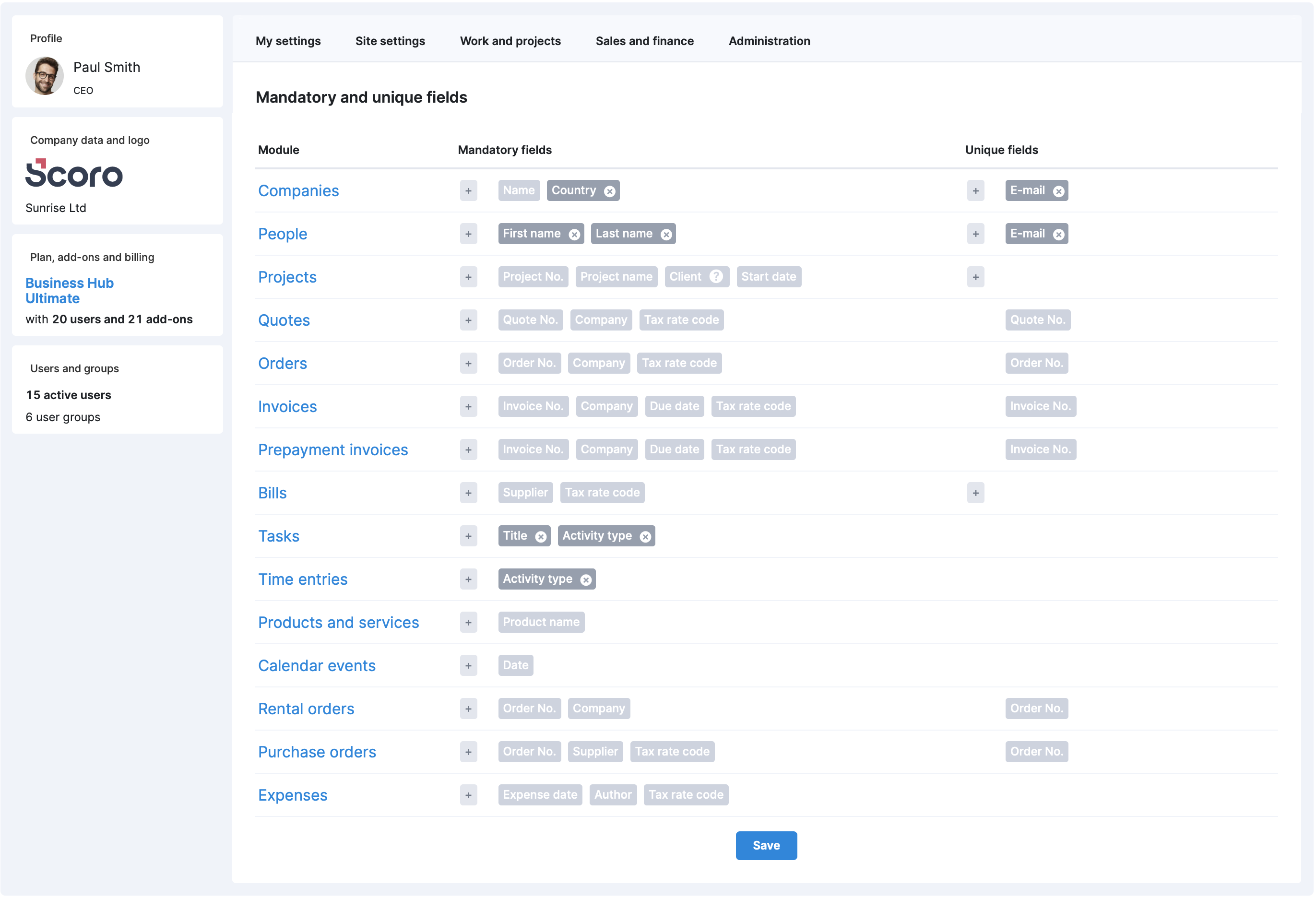 Mandatory &
unique fields
Ensure all necessary data is always added to whichever new item in Scoro. Avoid duplicated information by defining fields which must have unique values.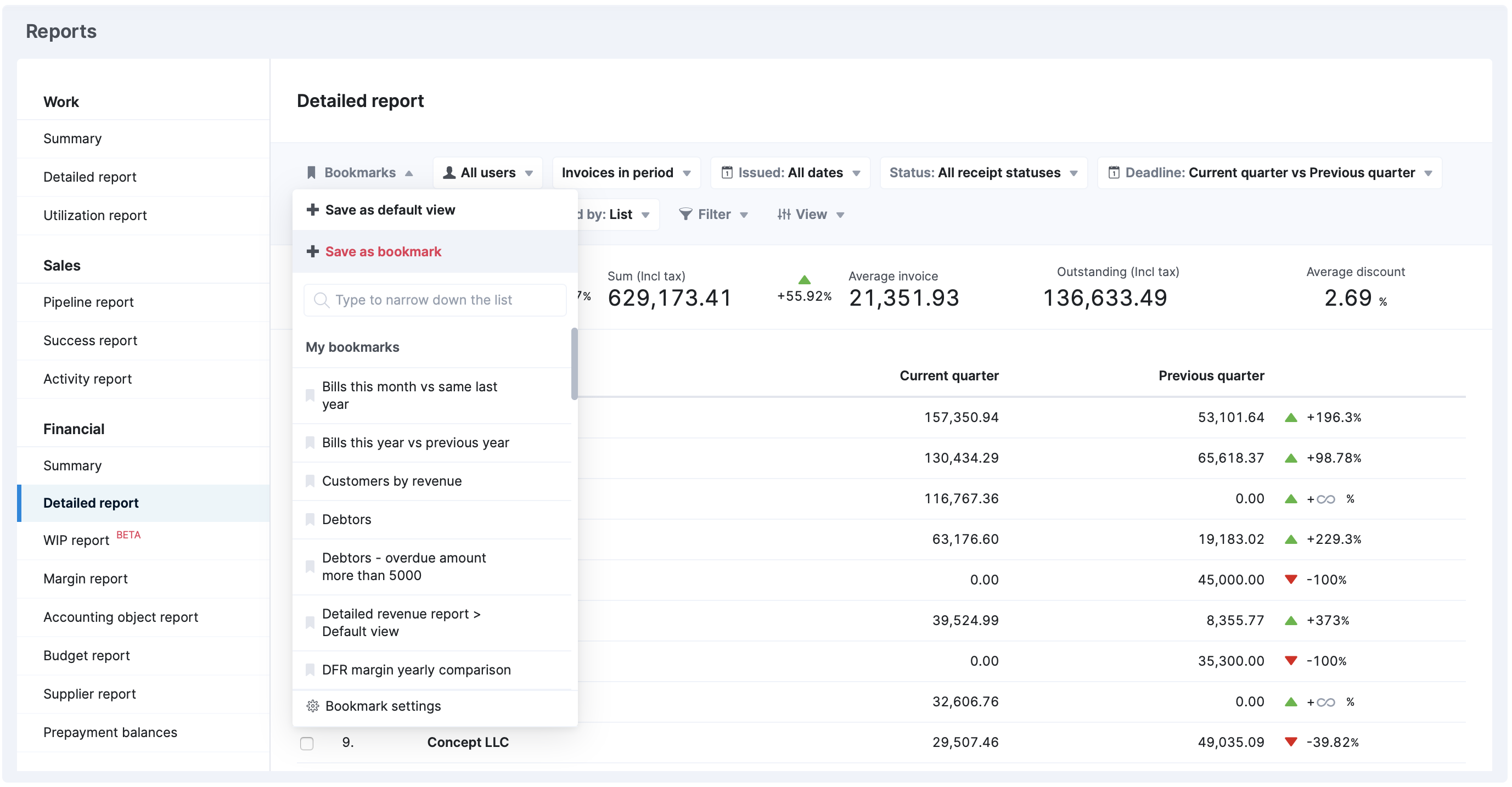 Saved filtered
views
Filter any list view or report according to your needs, 
and save it as a bookmark or default view for quick access.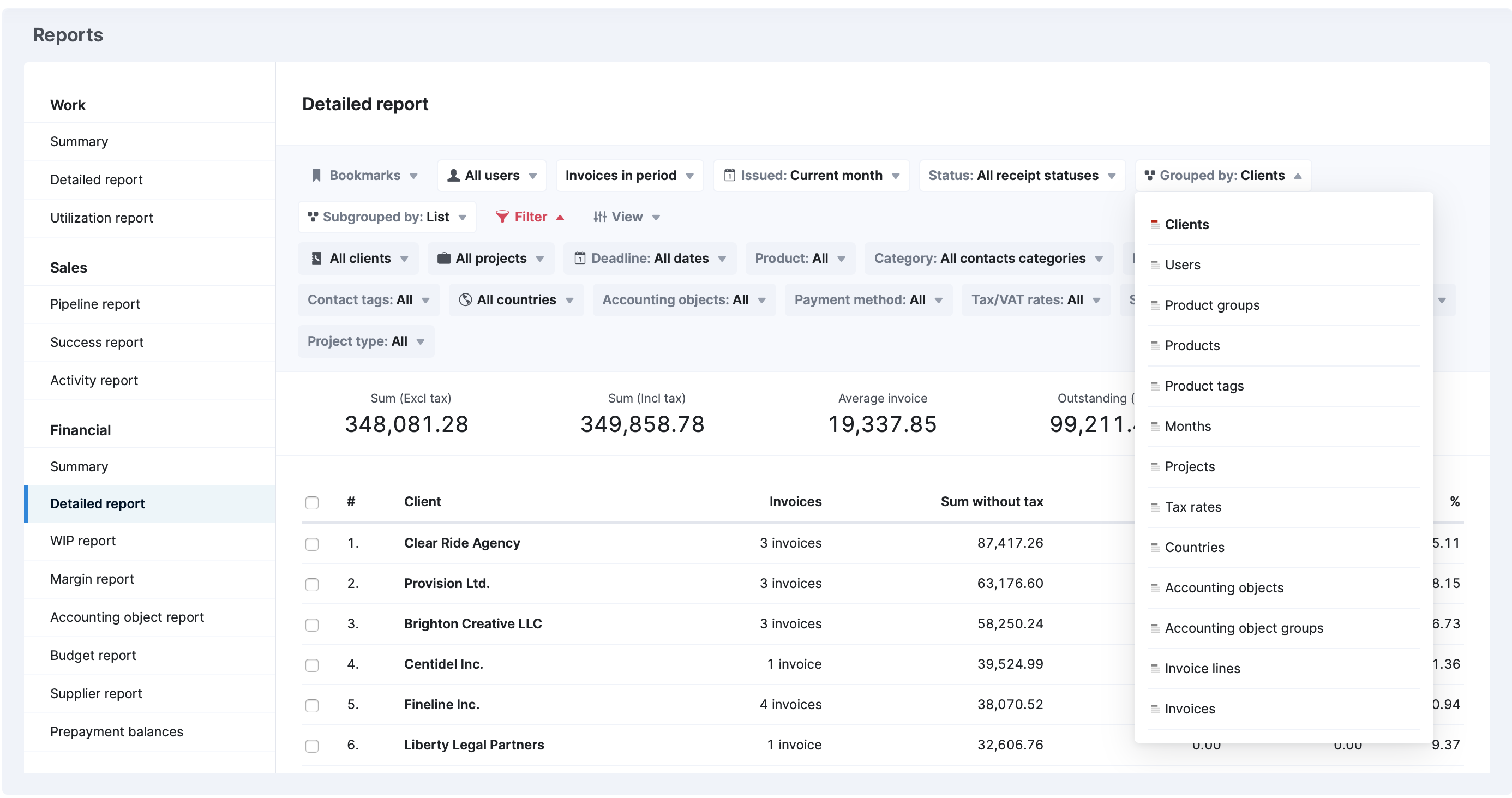 Custom views
Customize and filter any list according to your needs to create hundreds of custom views.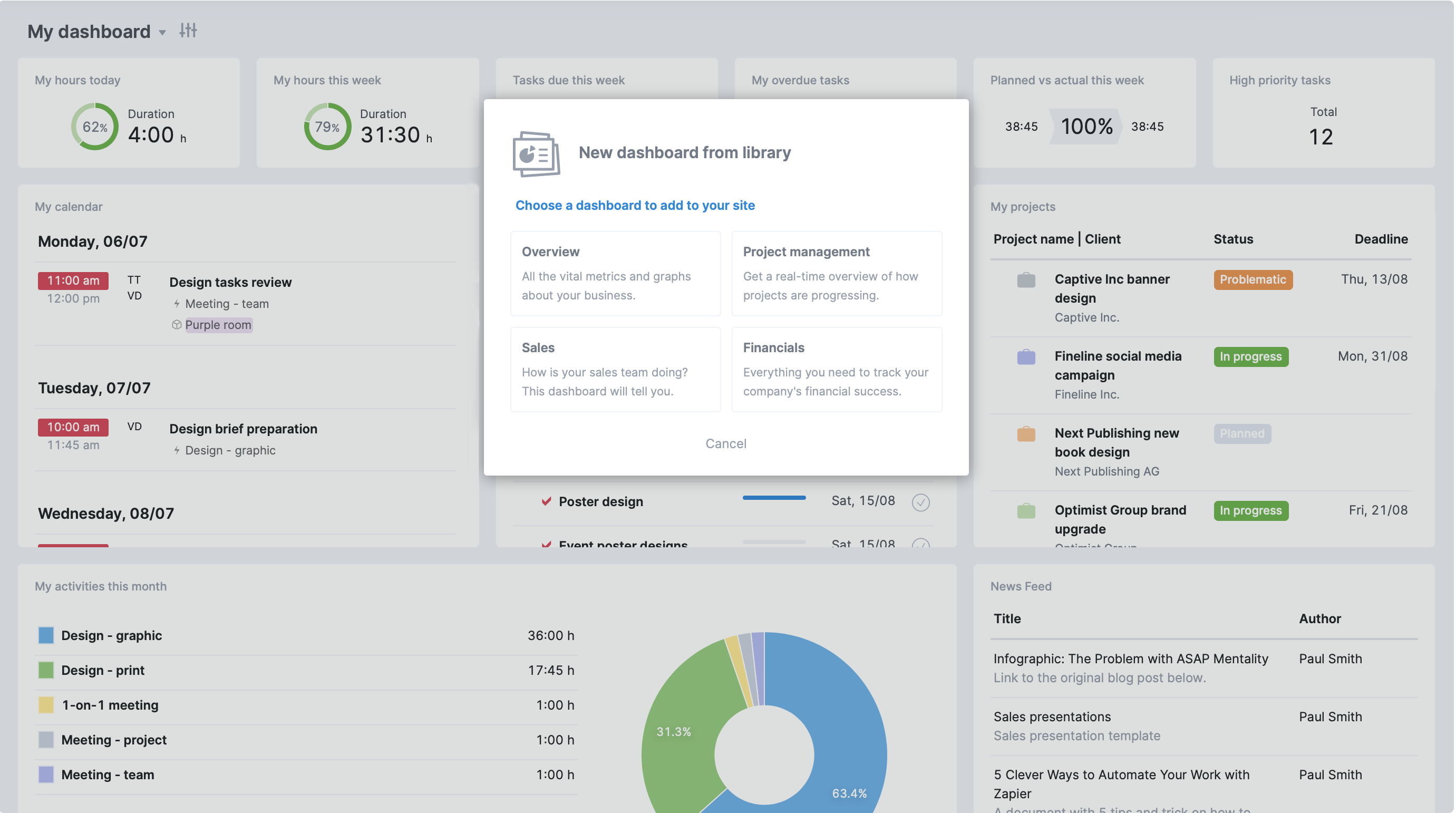 Dashboard library
Choose preset dashboards, widgets and metrics from the dashboard library to quickly get an overview of the most important aspects of your business.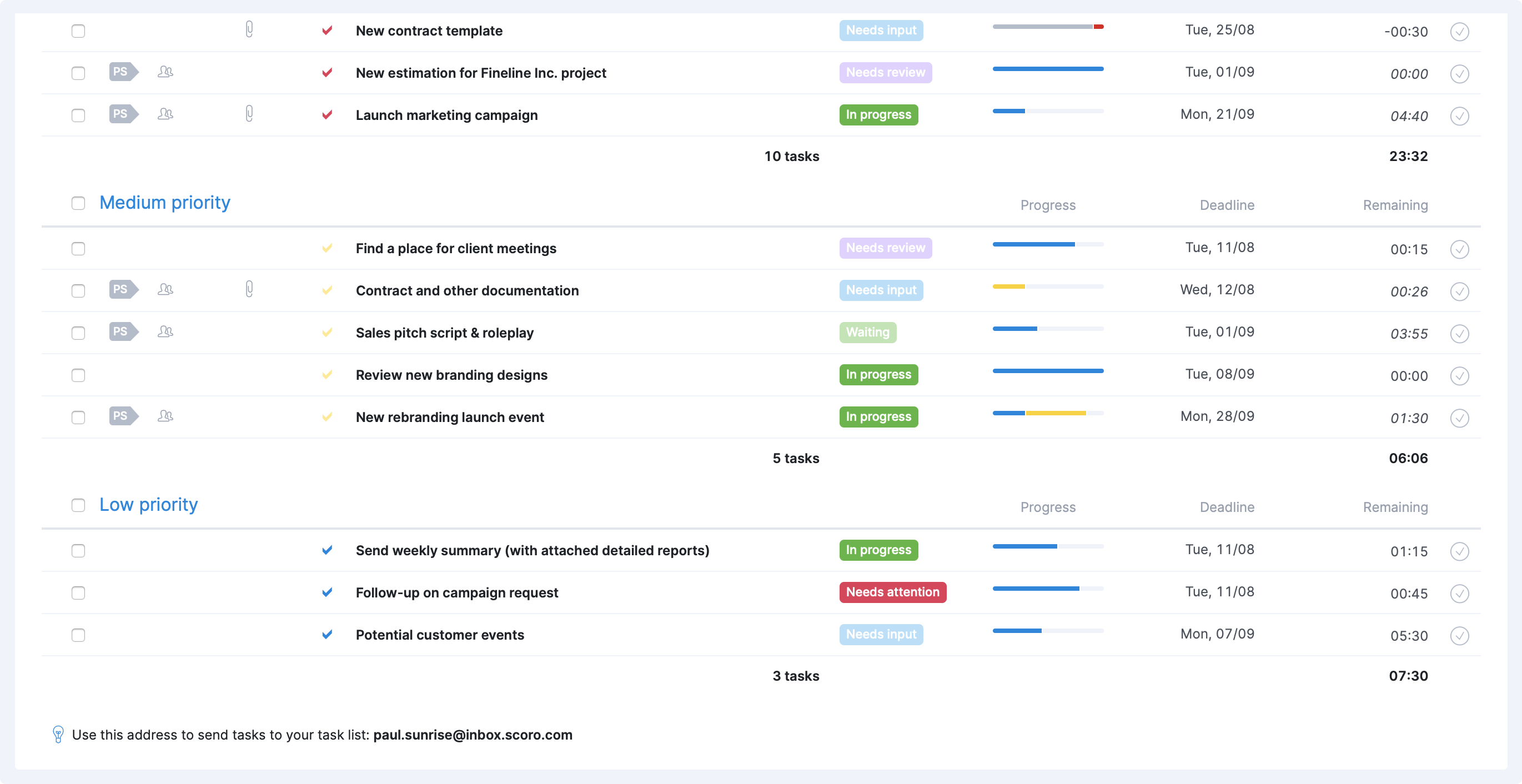 Smart inbox for tasks
Forward any email to your Smart Inbox to automatically create a relevant task in Scoro.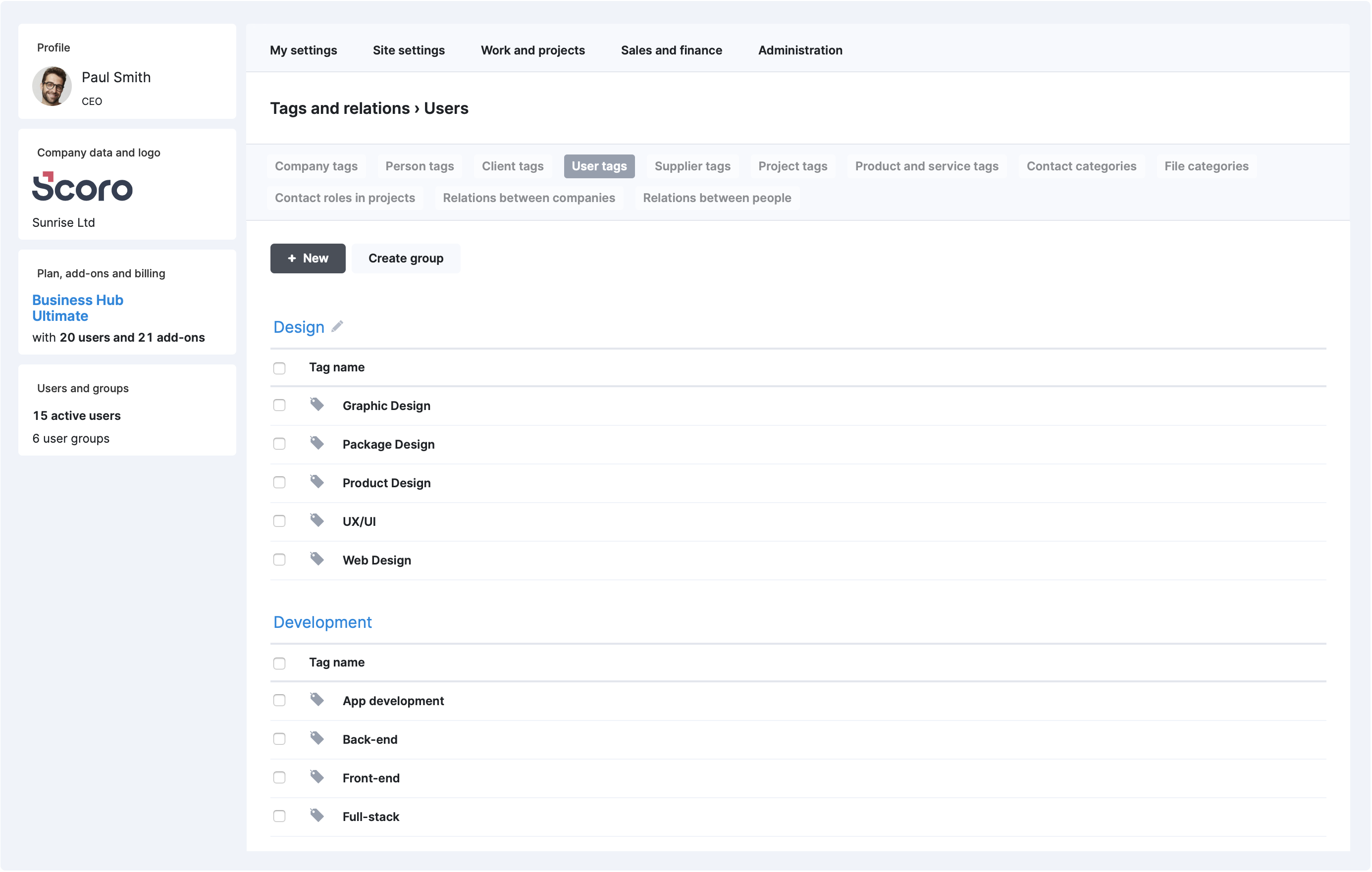 Custom tags
Create custom tags to make identifying and filtering contacts, projects, products and files easier.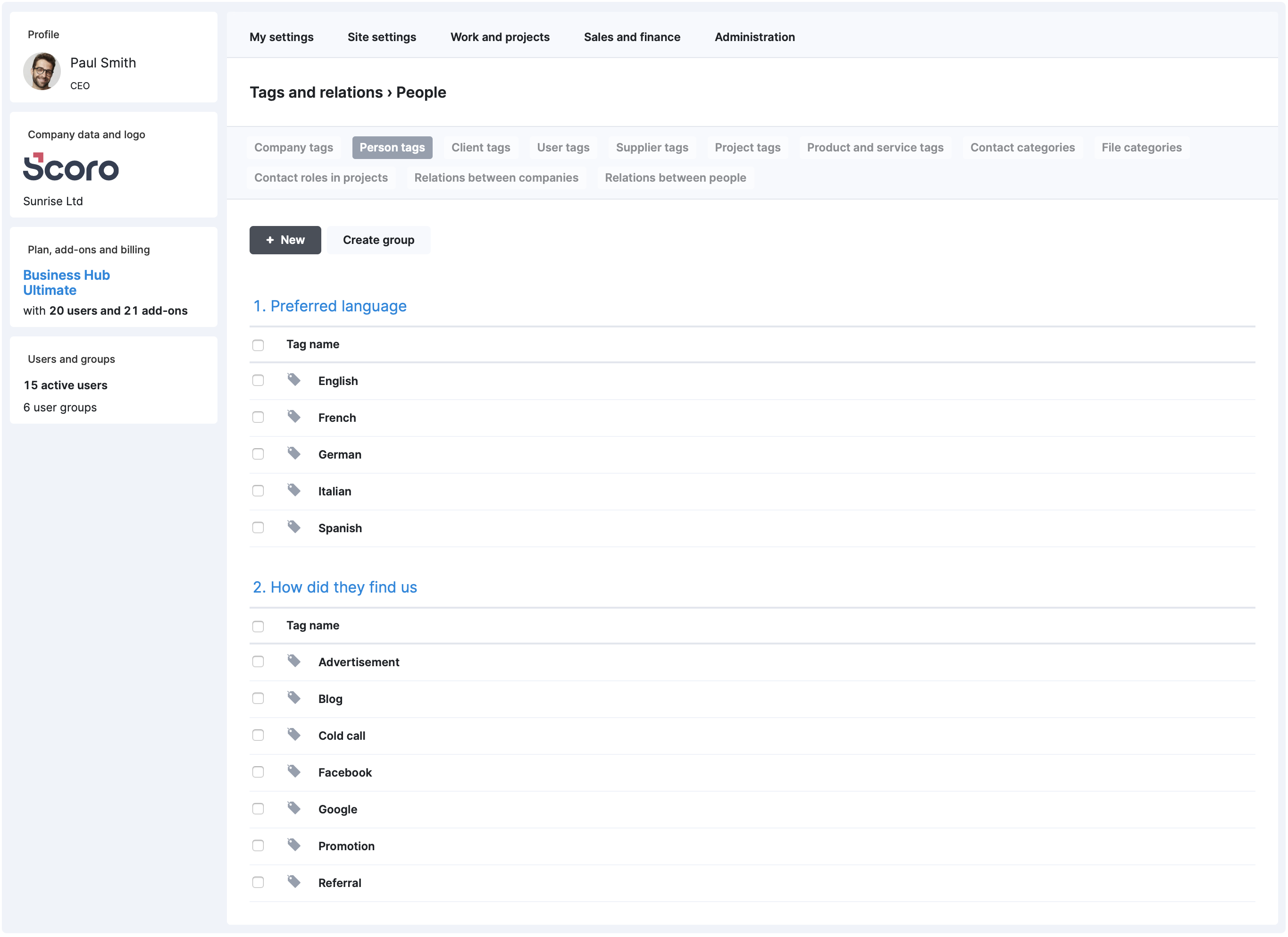 Tag groups
Organize tags in groups for even more detailed data management. Easily filter and get reports based on multiple tags.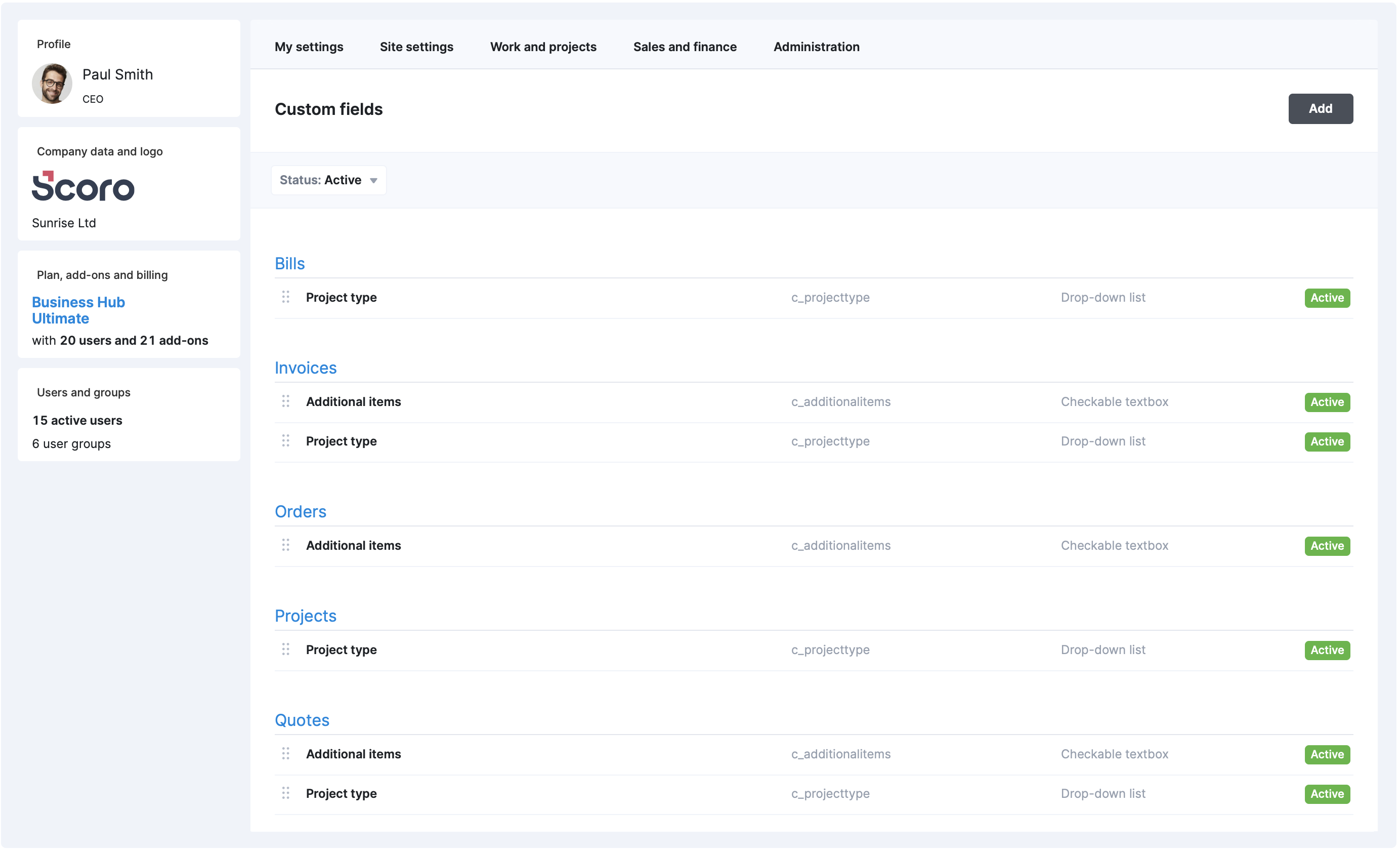 Custom fields
Create custom fields for any module to match Scoro to your workflows. Display custom fields on PDFs or use them to filter and group relevant information across reports and views.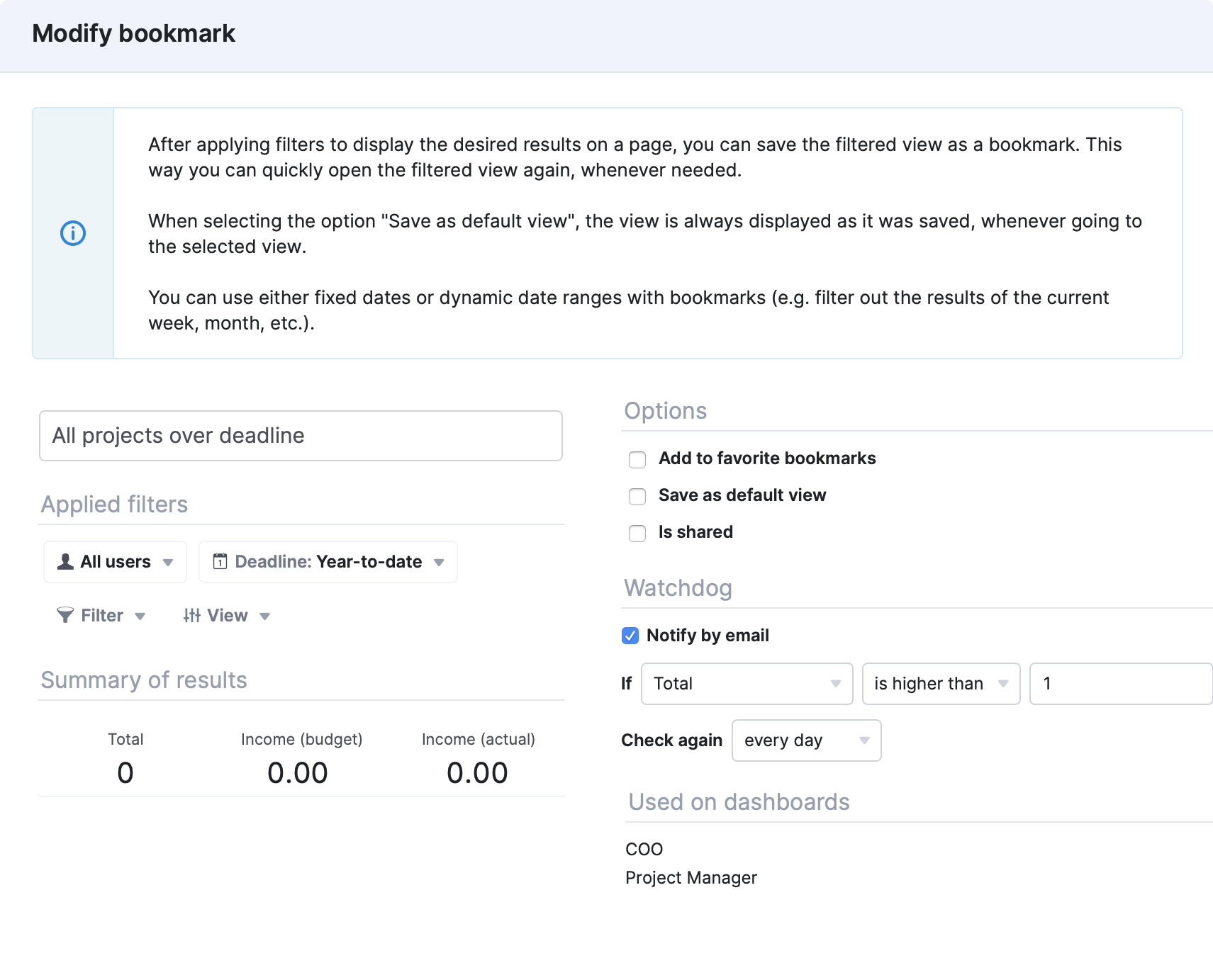 Watchdogs
Keep track of various bookmarked views in Scoro by setting up automatic notifications for whenever certain conditions are met.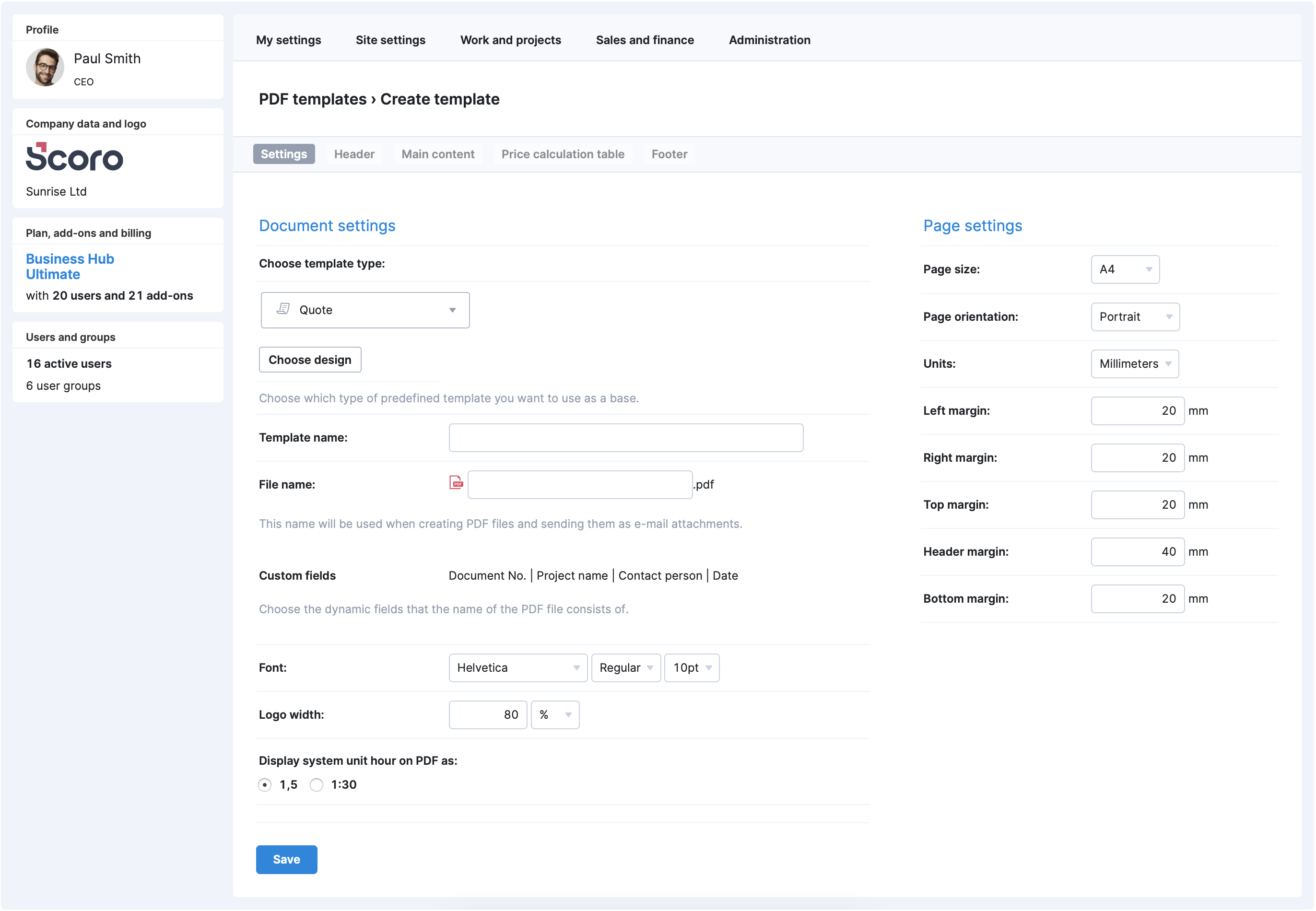 PDF templates
Customize PDF templates to deliver sales documents to your customers that match your desired look and feel.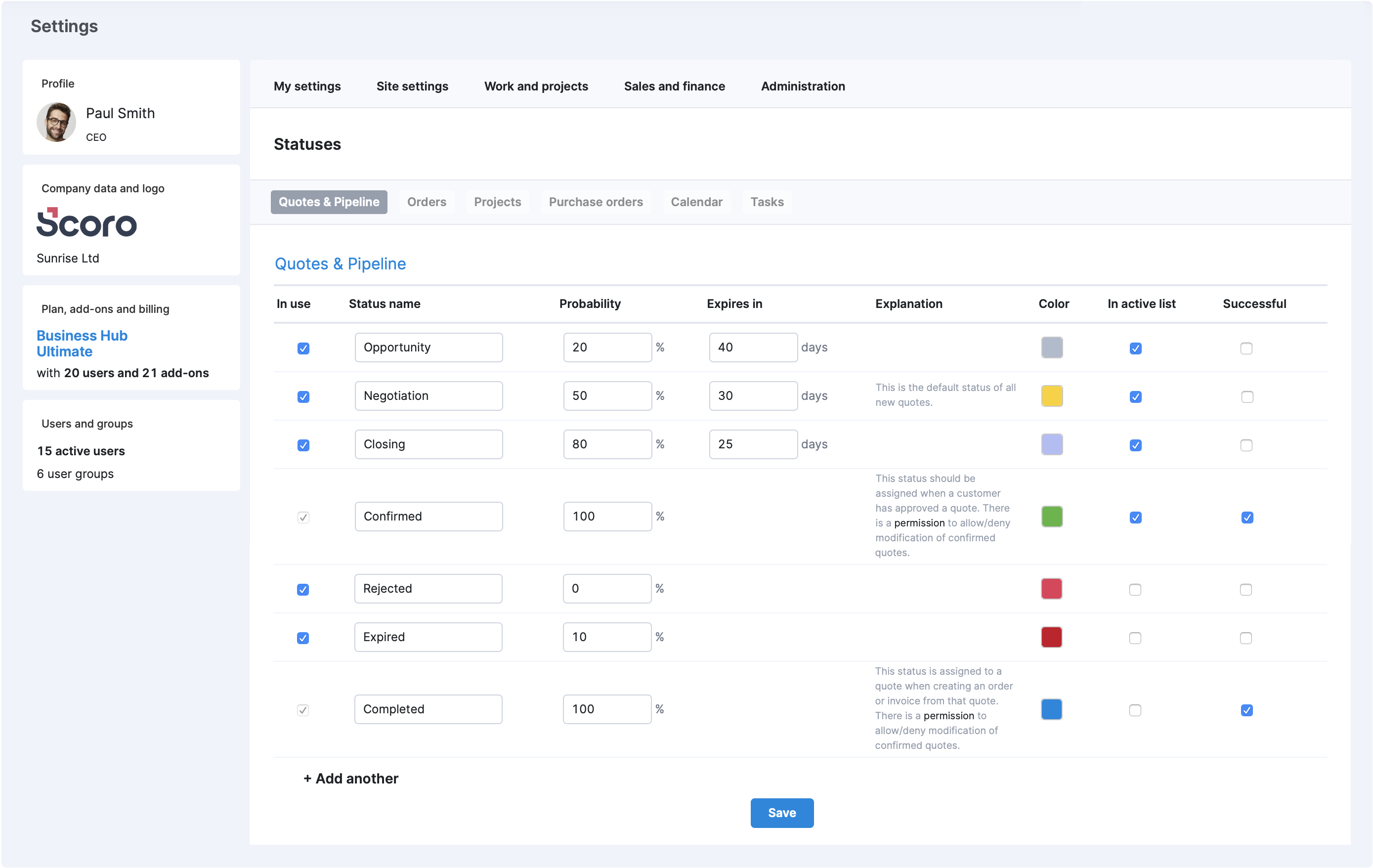 Custom statuses per module
Manage your workflow using custom statuses and/or stages for sales documents, tasks, projects, calendar events, and orders.
Additional company accounts
Centrally manage customers, projects and finances of different companies within one Scoro platform using additional company accounts.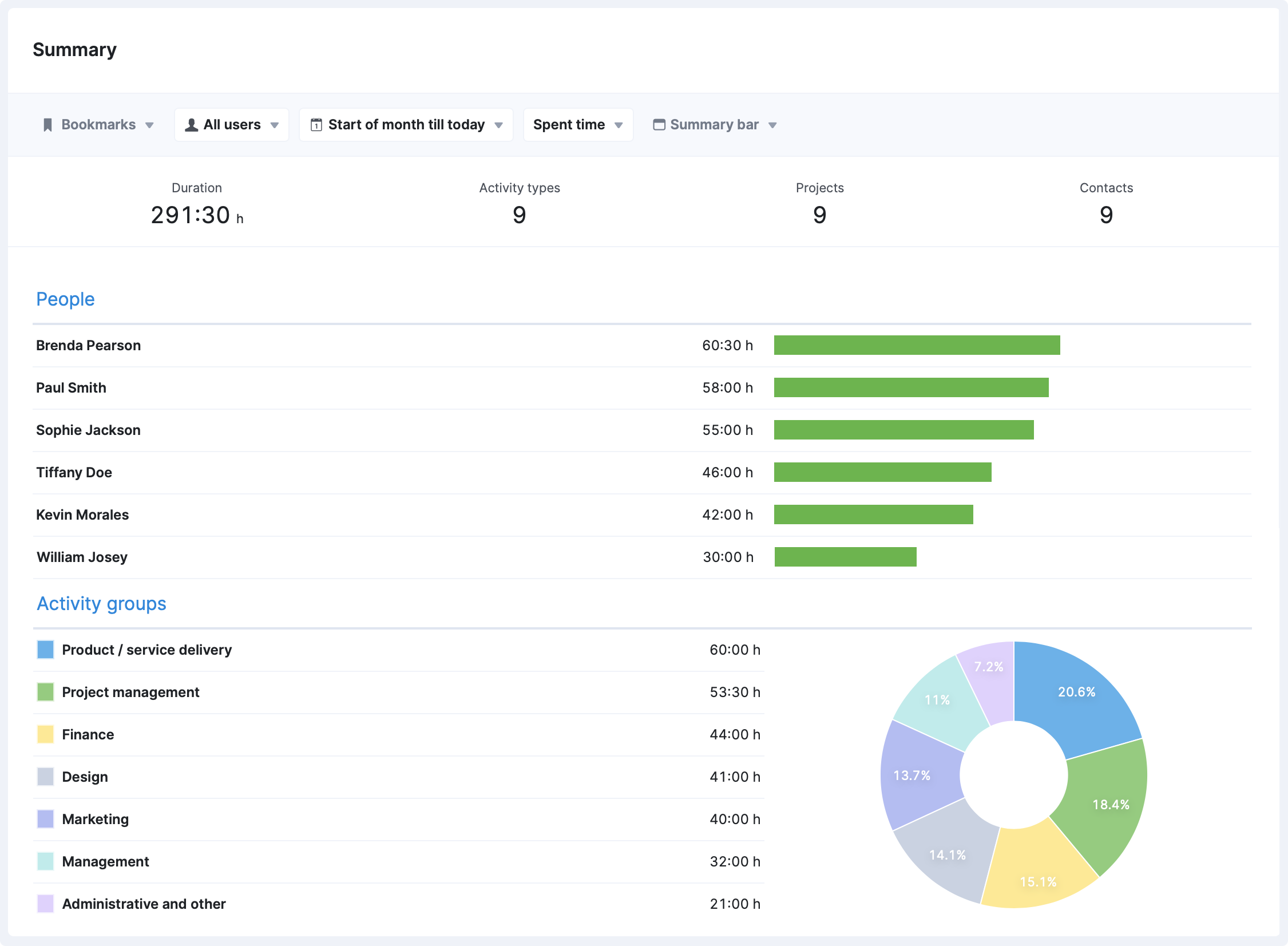 Summary work report
Get an overview of the time logged by your team during a specific time period and see which projects, activities, contacts, and resources they have spent the most time on.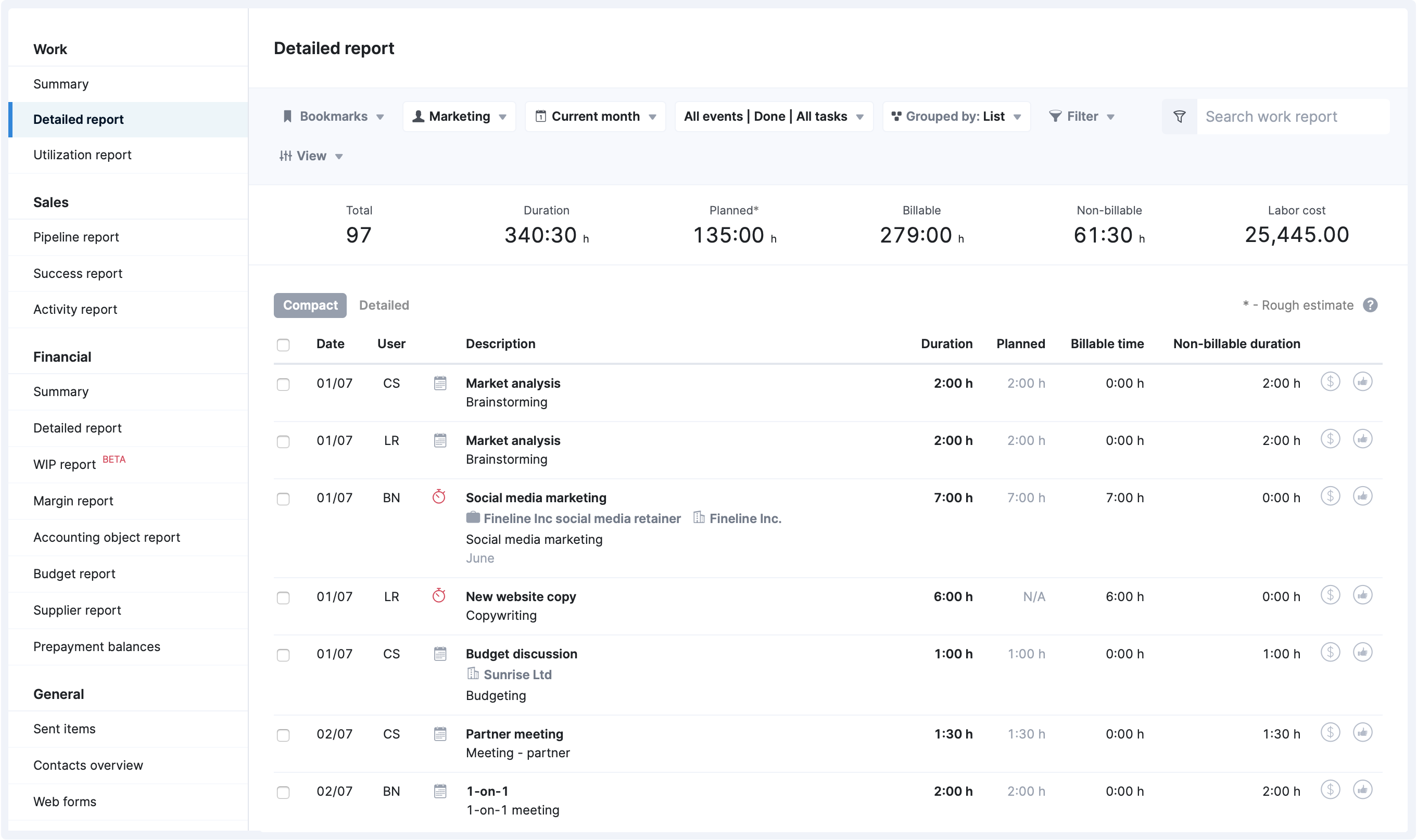 Detailed work reports
Get detailed reporting based on all events, tasks, and time entries that have been scheduled and/or marked as done during a selected time period, and get thorough insights into any aspect of your team's work.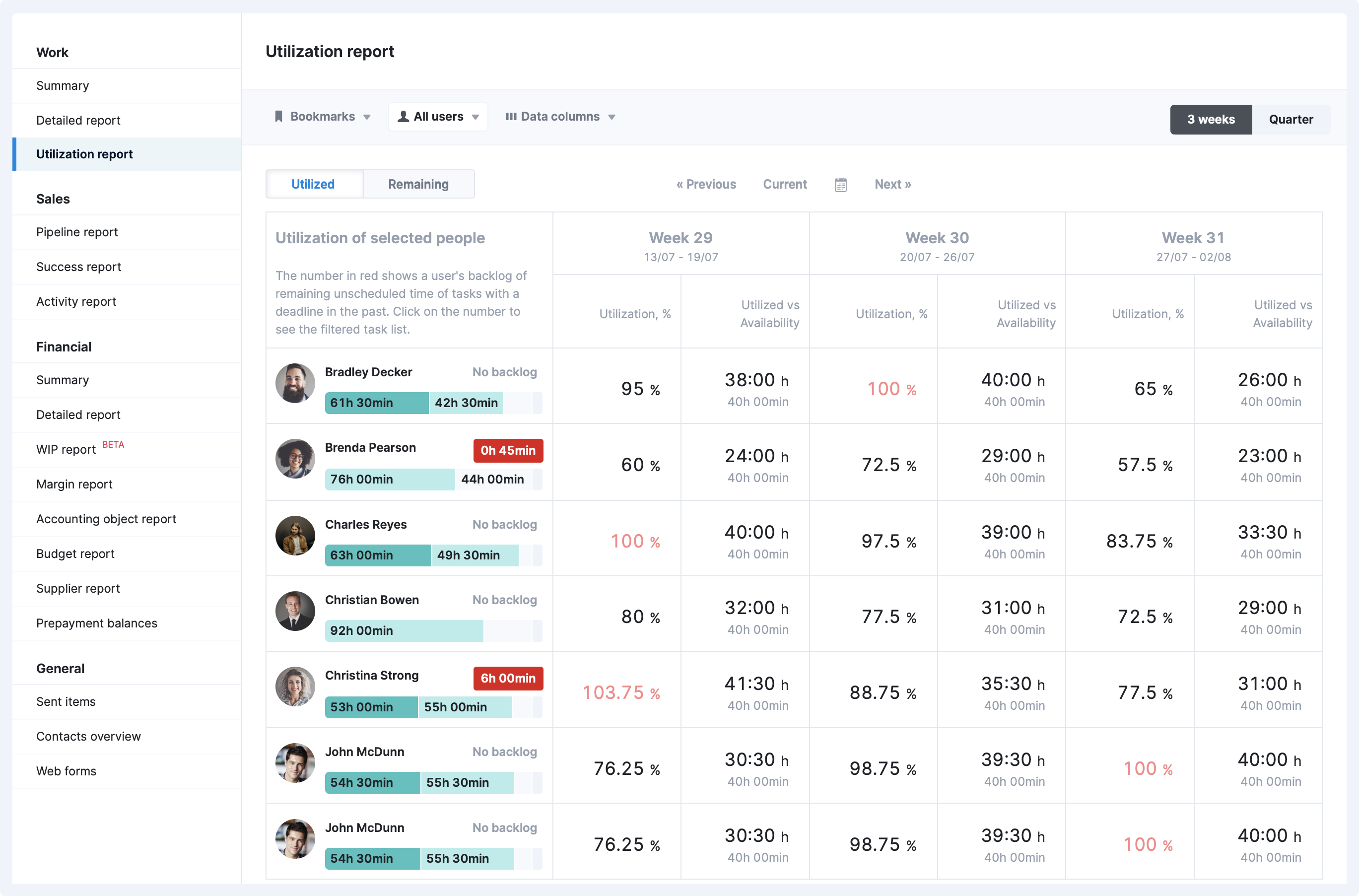 Utilization report
Get an overview of how much of your team members' time has been utilized, planned, overbooked, or left unscheduled.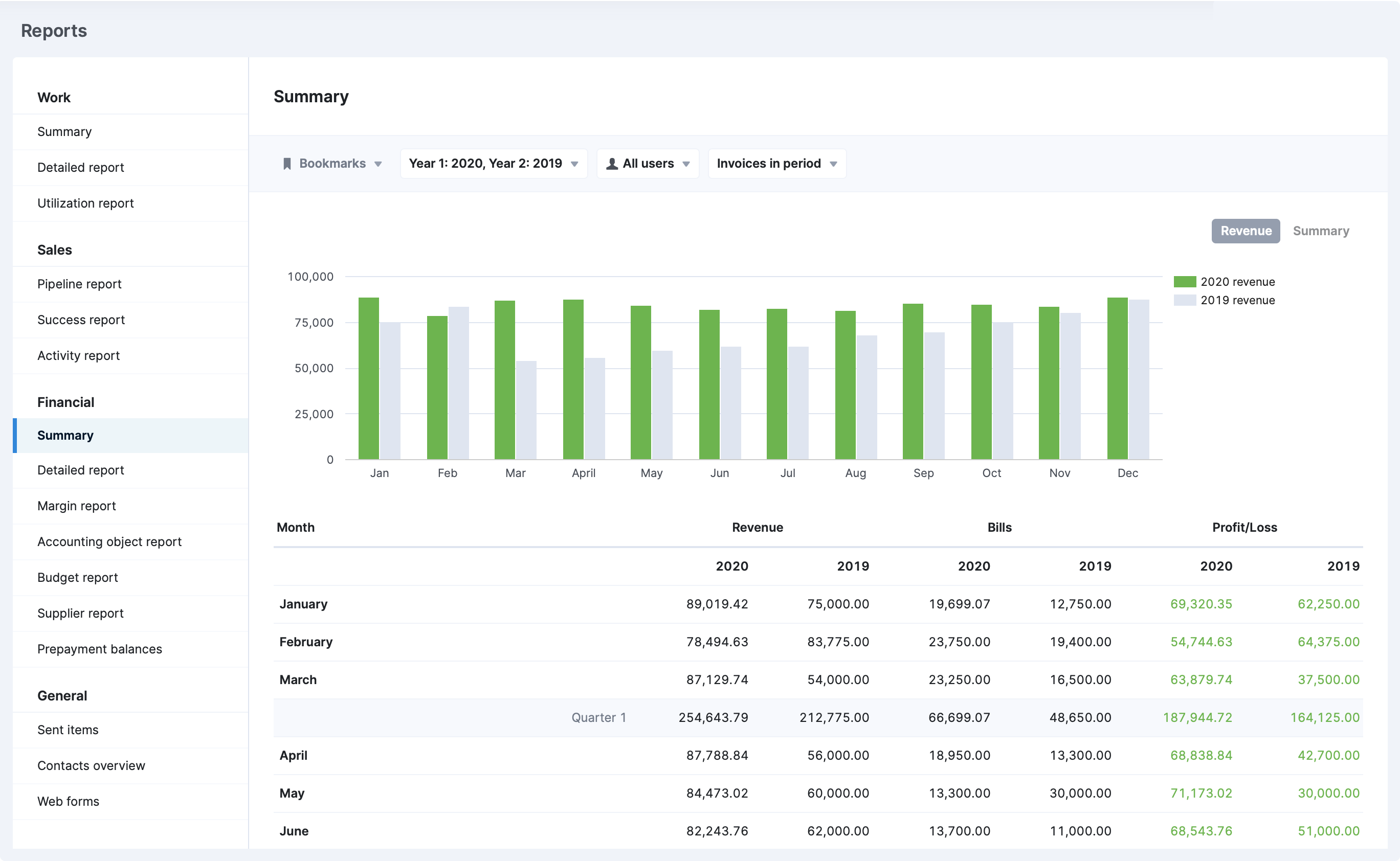 Detailed financial reports
Get detailed financial reports based on invoices, receipts, bills, purchase orders, quotes, or orders. Group and filter the reports in thousands of ways to get thorough insights into any aspect of your finances.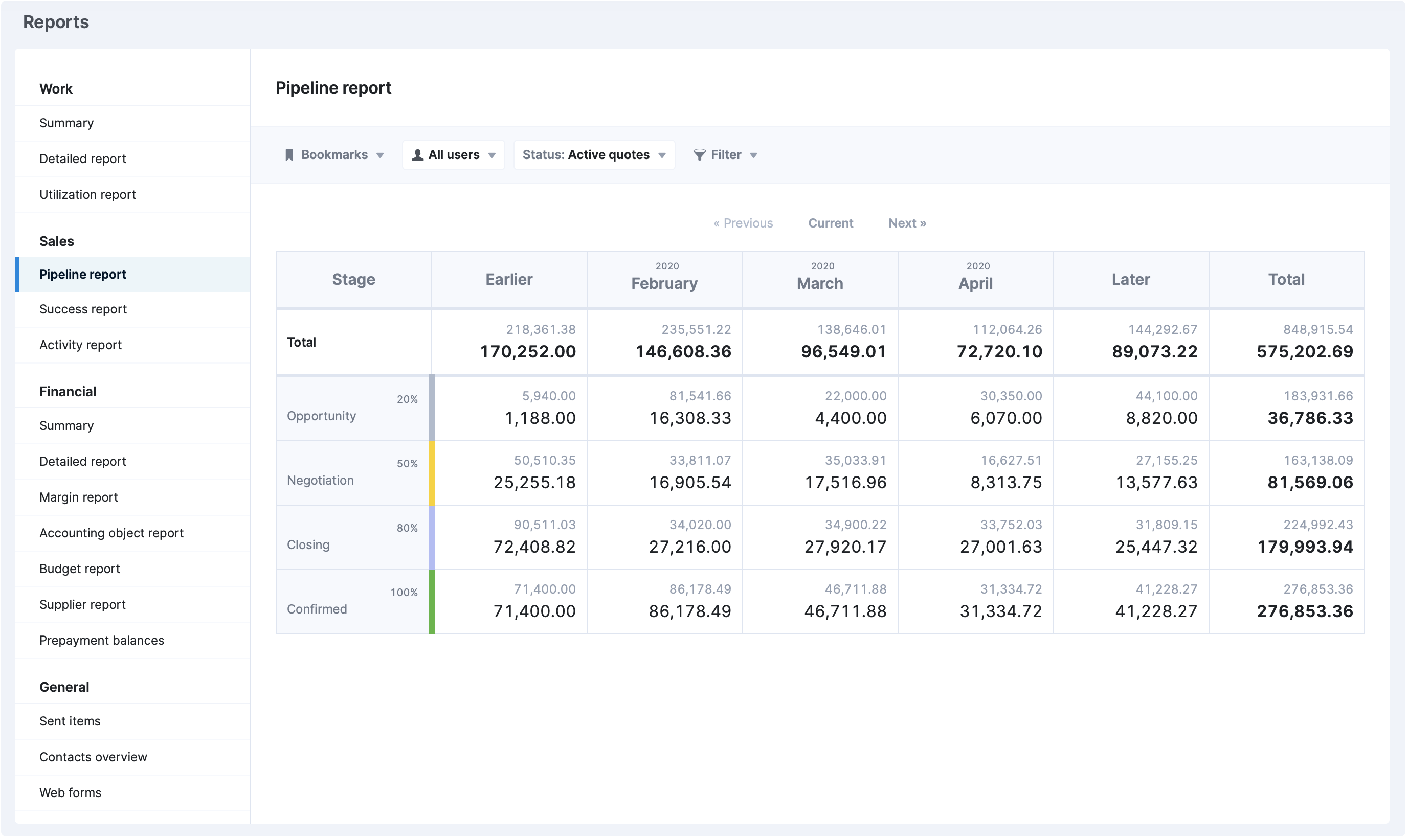 Pipeline report
Forecast future sales in different pipeline stages based on closing probability rates and estimated closing dates.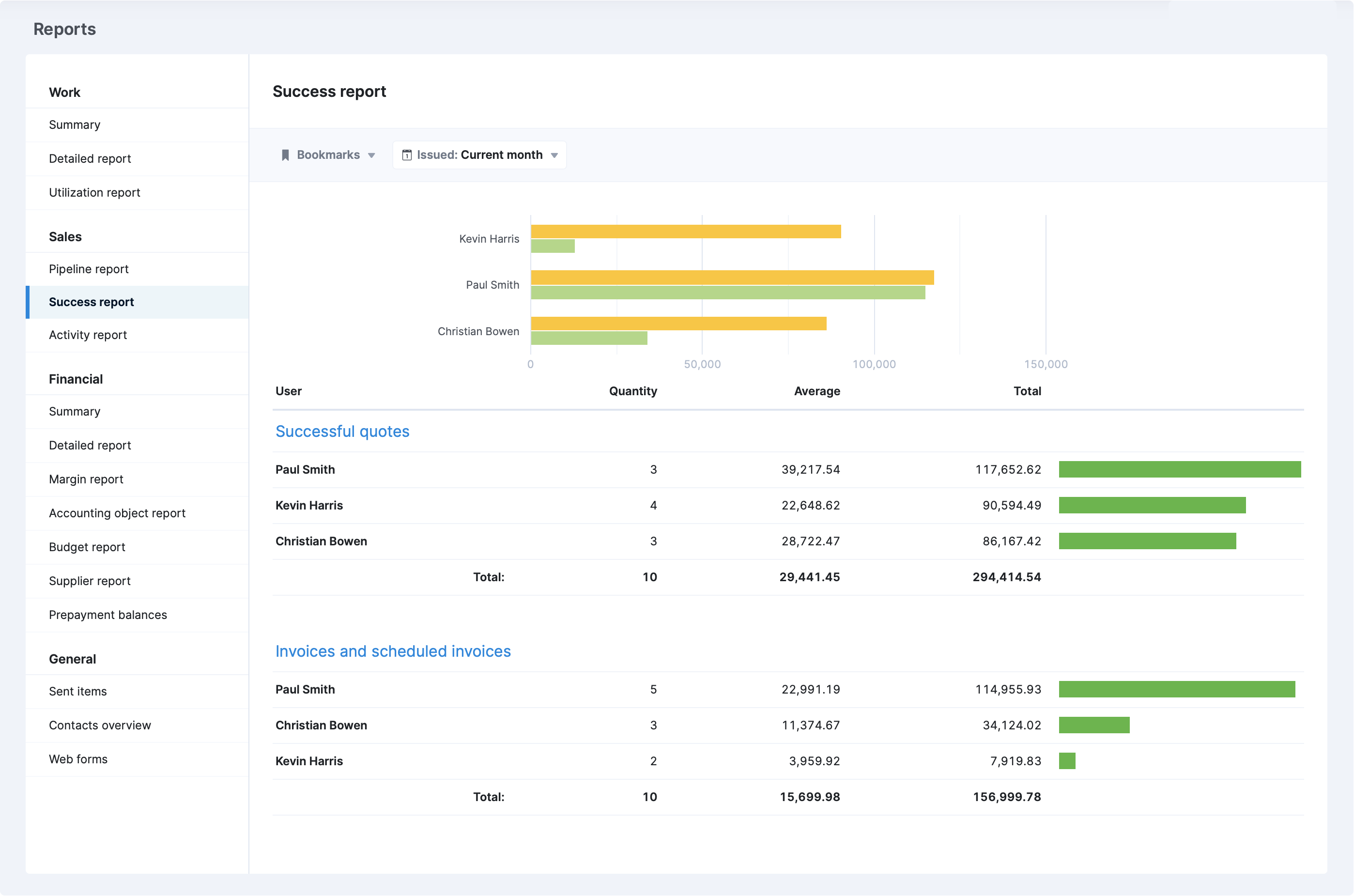 Sales success report
Get an overview of all successful quotes and orders alongside invoices and scheduled invoices issued during a chosen time period.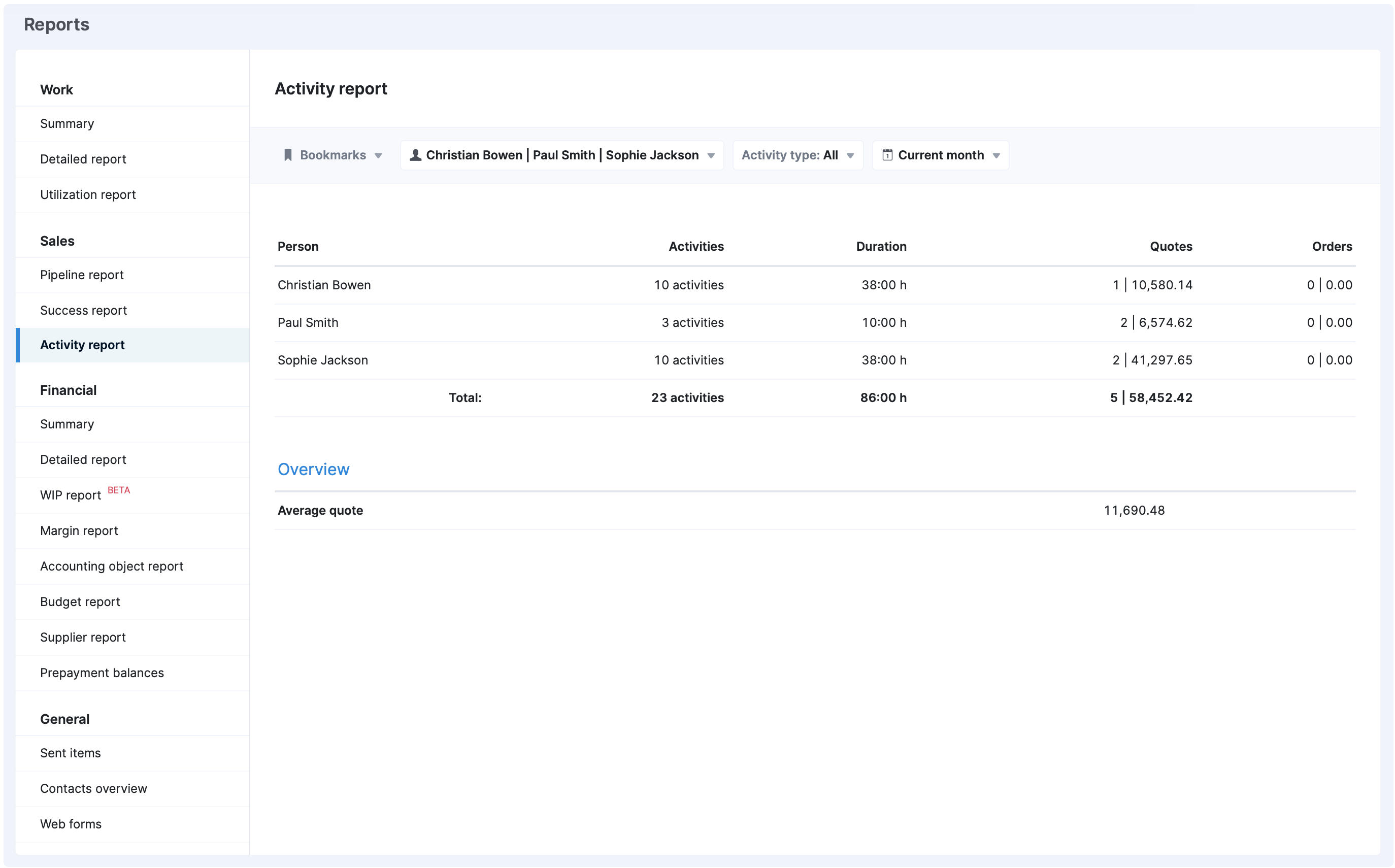 Sales activity report
Get an overview of all activities conducted with clients alongside quotes and orders issued during a chosen time period. Filter the report by activity types and/or users.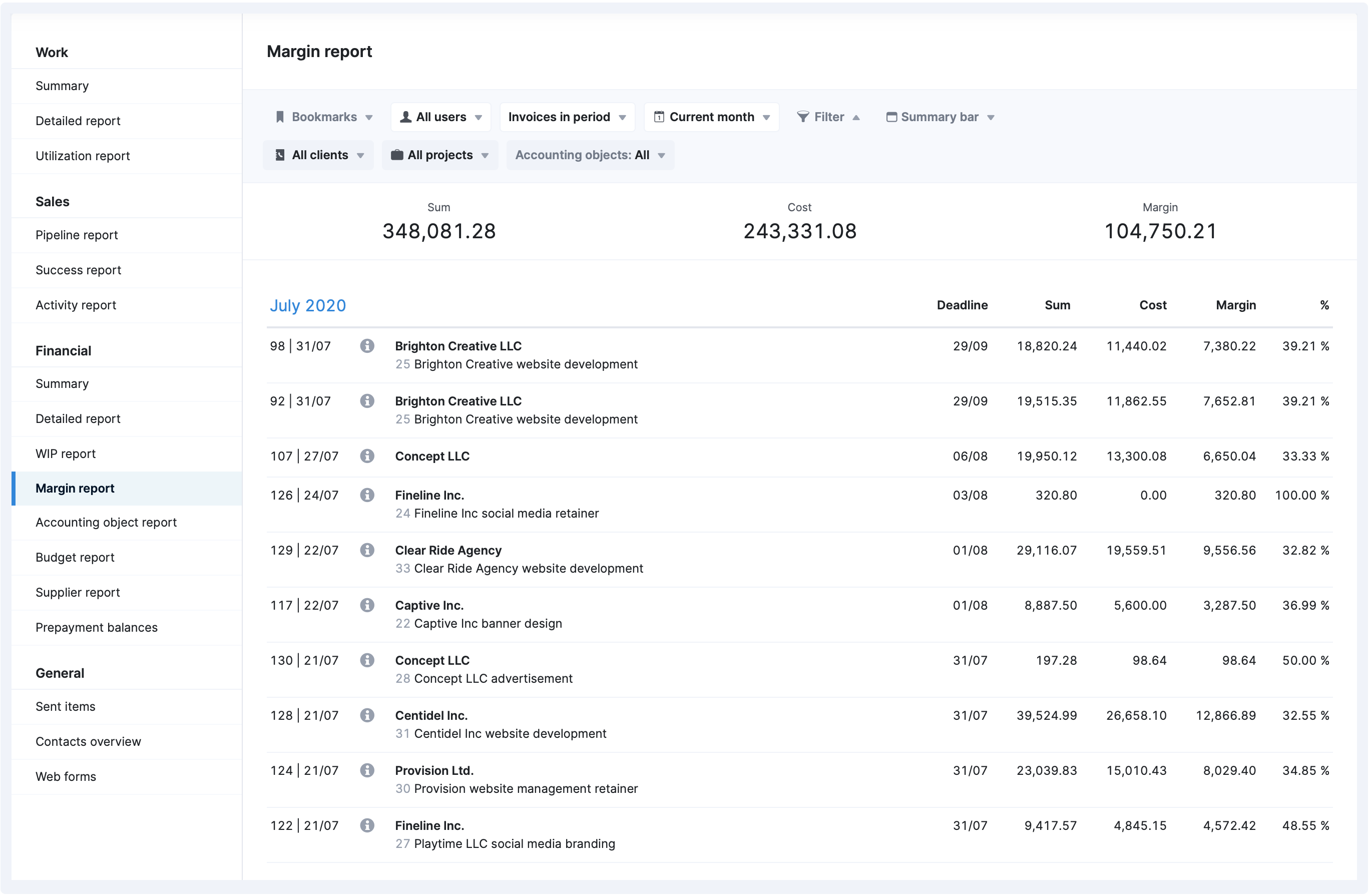 Margin report
Get an overview of your margin based on invoices or receipts in a specific time period. Filter the report by user, client, project, and/or accounting objects.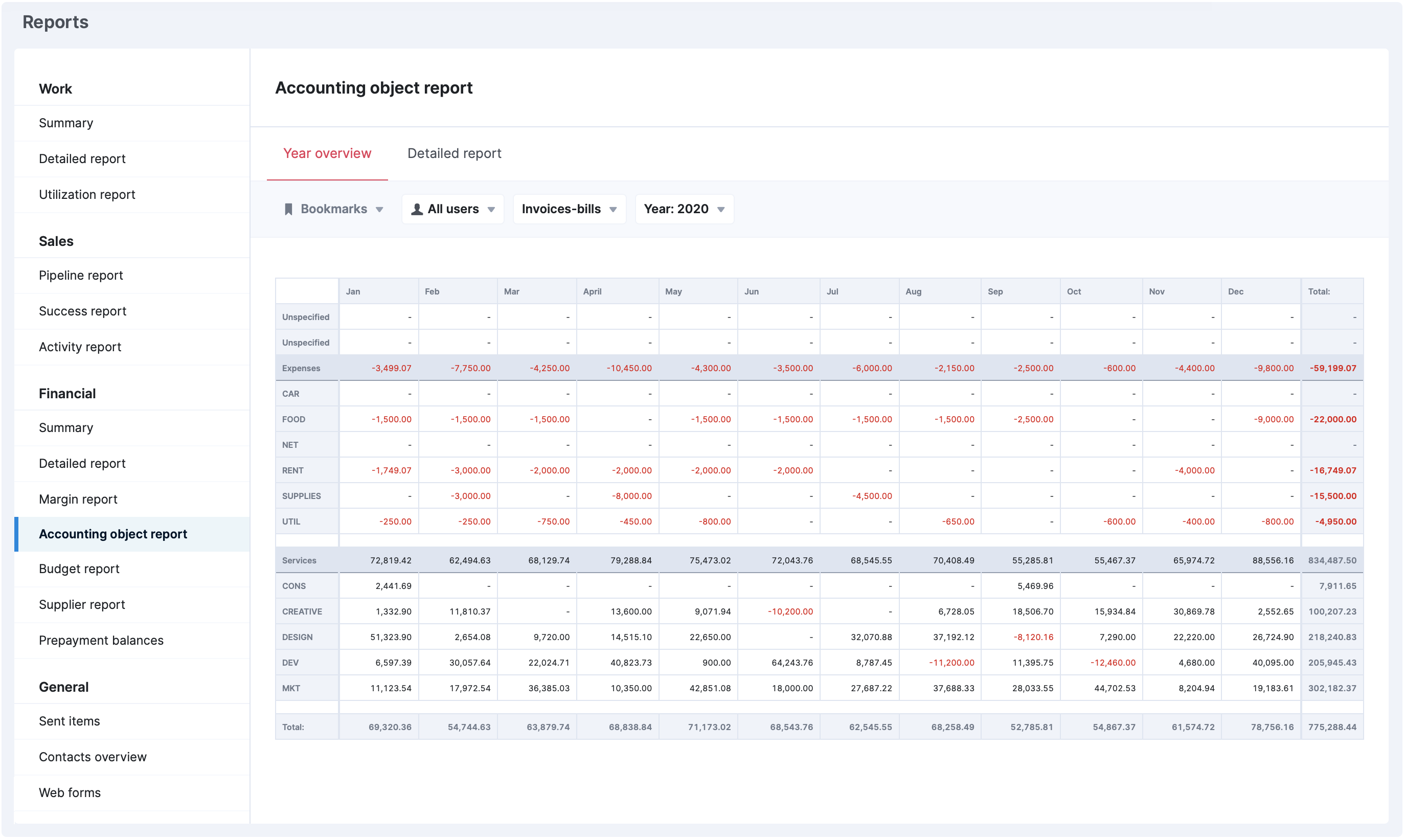 Accounting object report
Get an overview of product, project or department related expenses and income.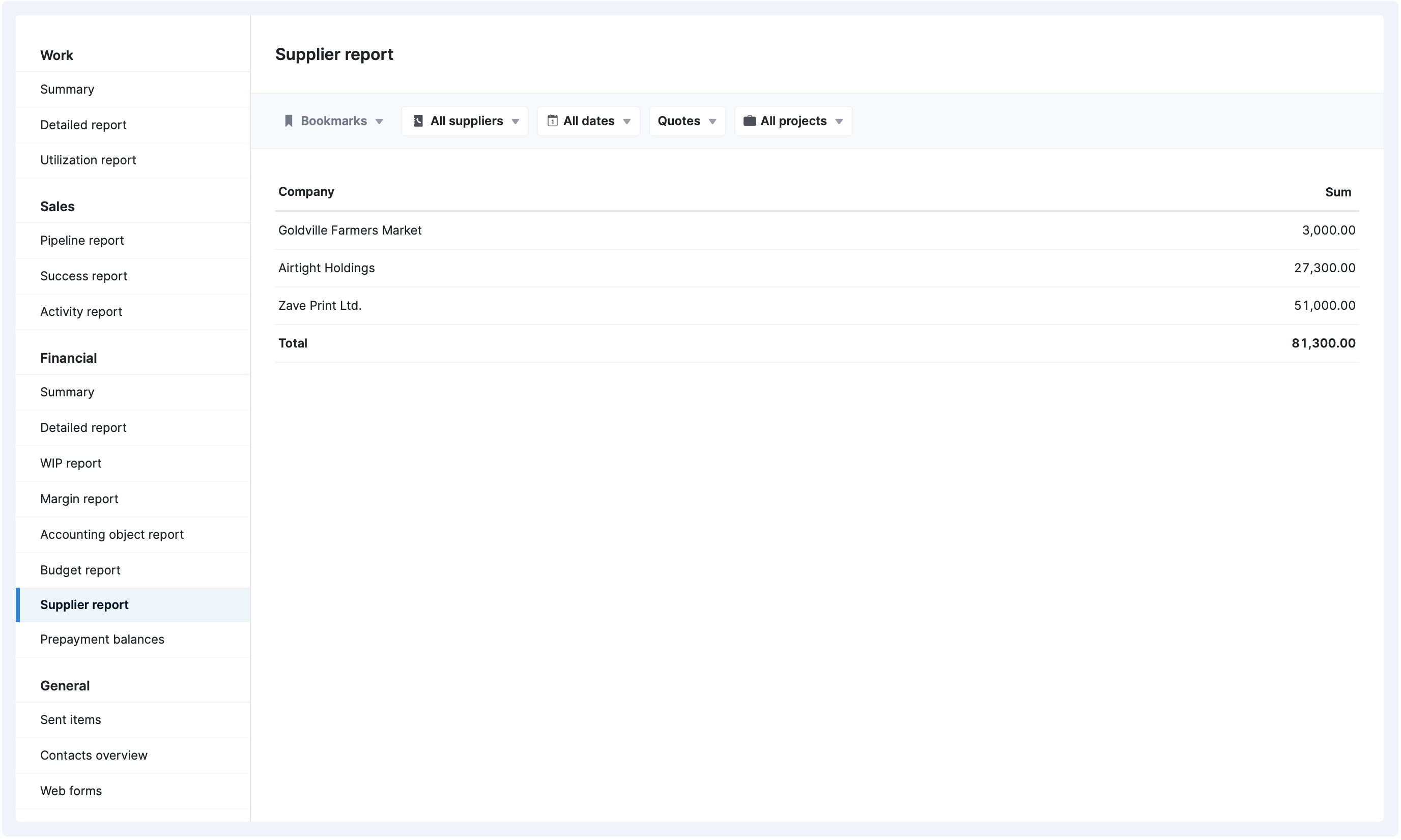 Supplier report
Get an overview of your expenses broken down by suppliers. Filter the report by suppliers, dates, projects and sales documents.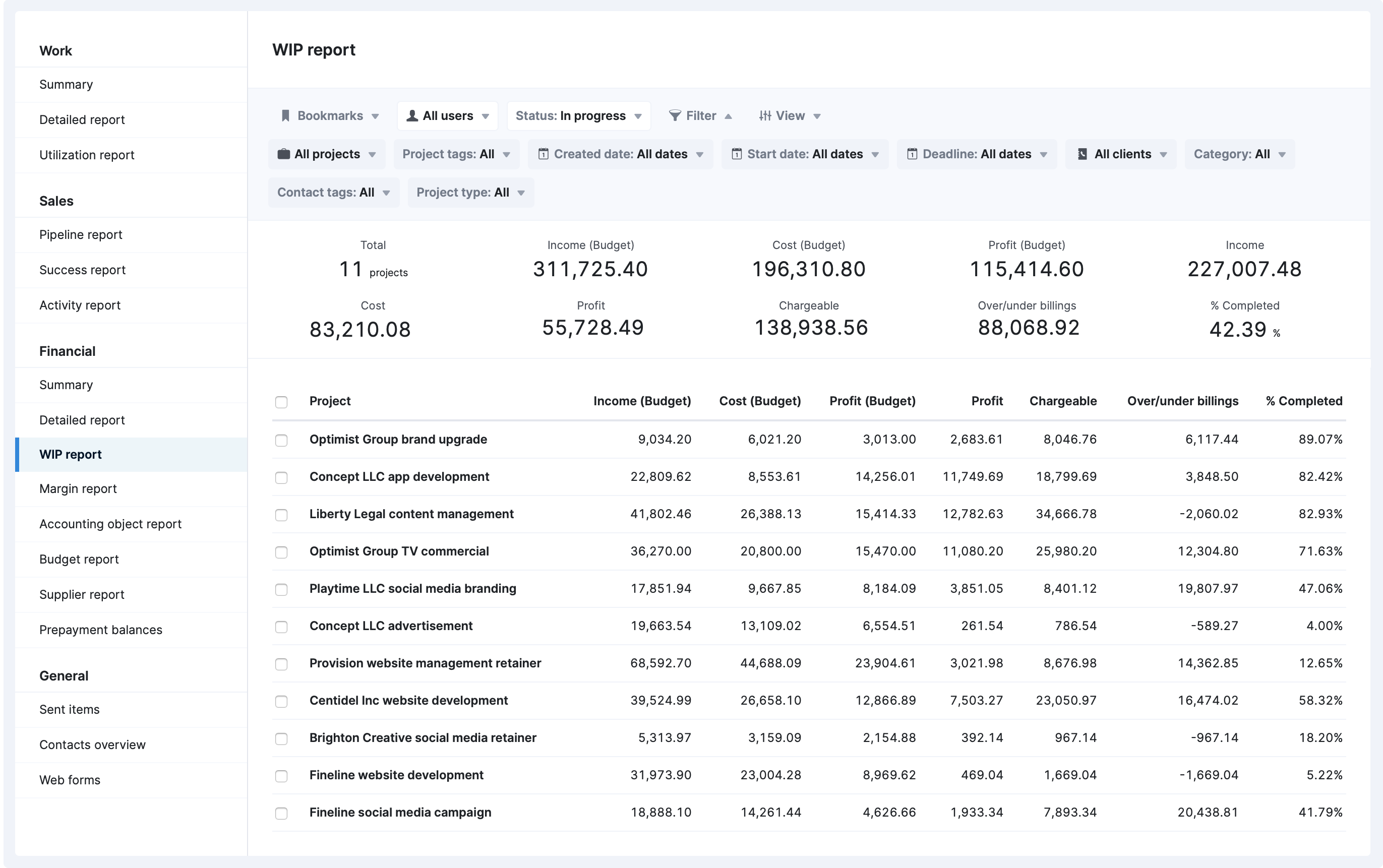 WIP report
Get an overview of yet-to-be-charged billable time and project-related costs for ongoing projects.
Multi-account reporting
Effortlessly create custom summarized financial reports based on the data from your various company accounts.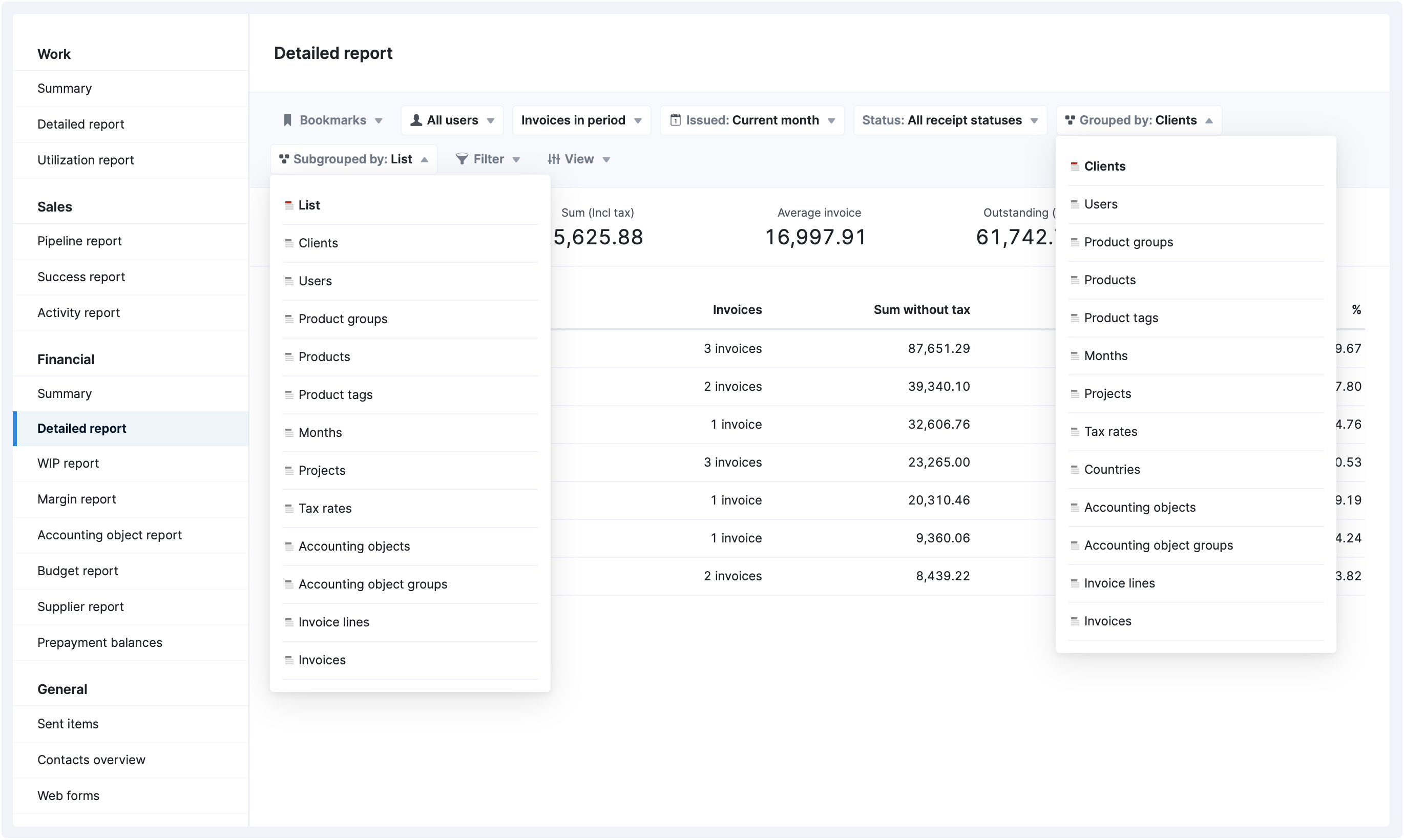 Double grouping in reports
Group information in detailed work and finance reports to get the exact breakdown you need of your team's work, projects, sales and finances during a certain time period.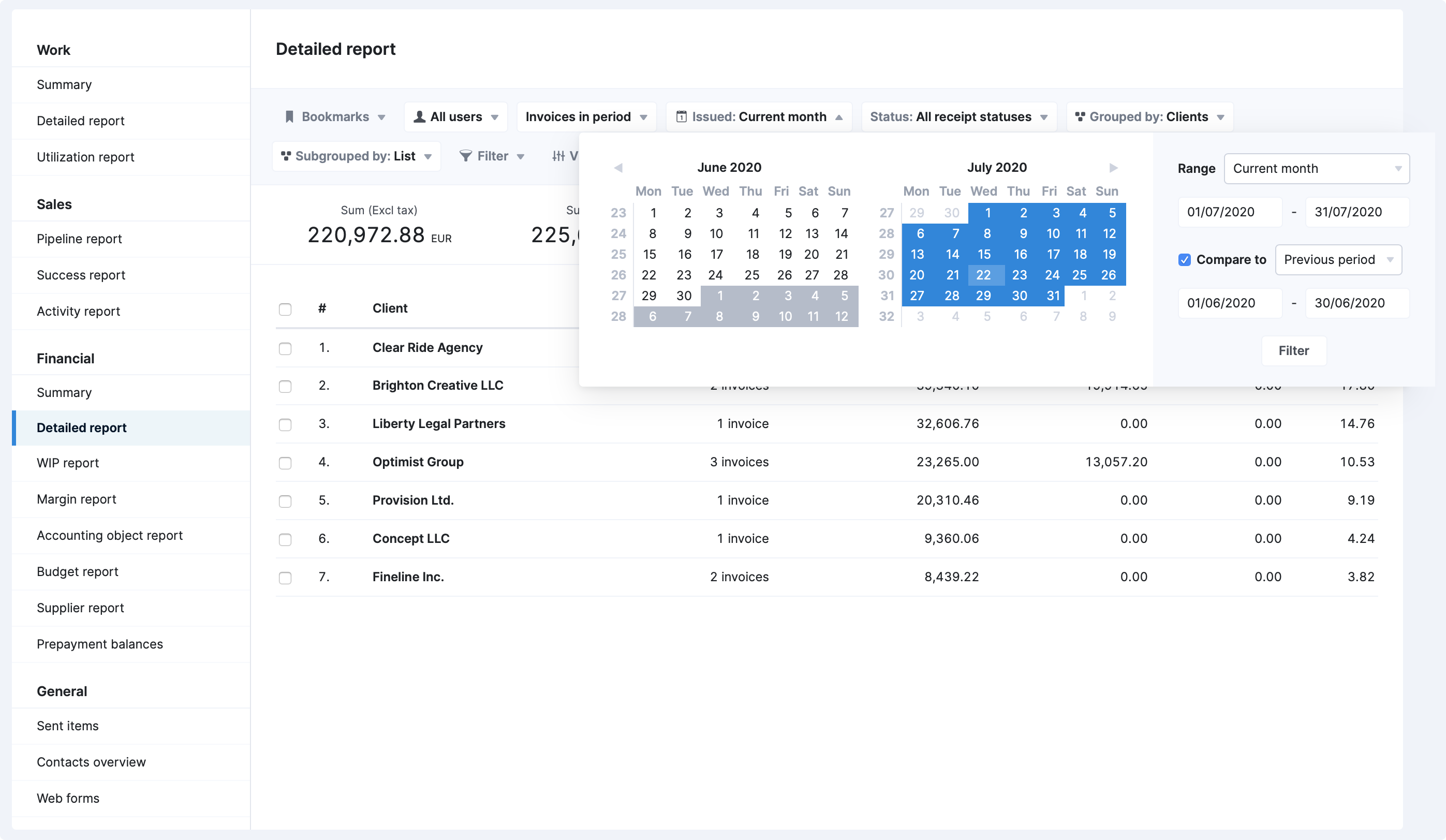 Compare periods in reports
Compare results across two time periods in detailed work and finance reports to see if your team is meeting their goals, managing projects efficiently, and more.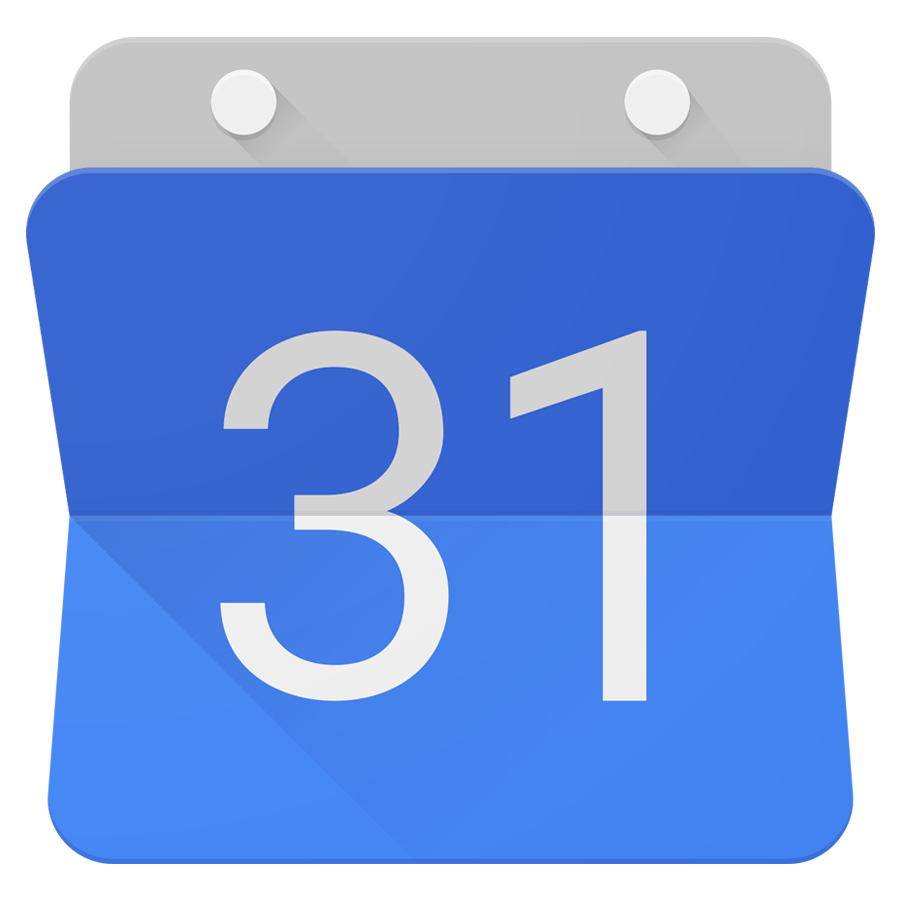 Google calendar
integration
Connect your Scoro calendar with Google Calendar to access your events in both applications.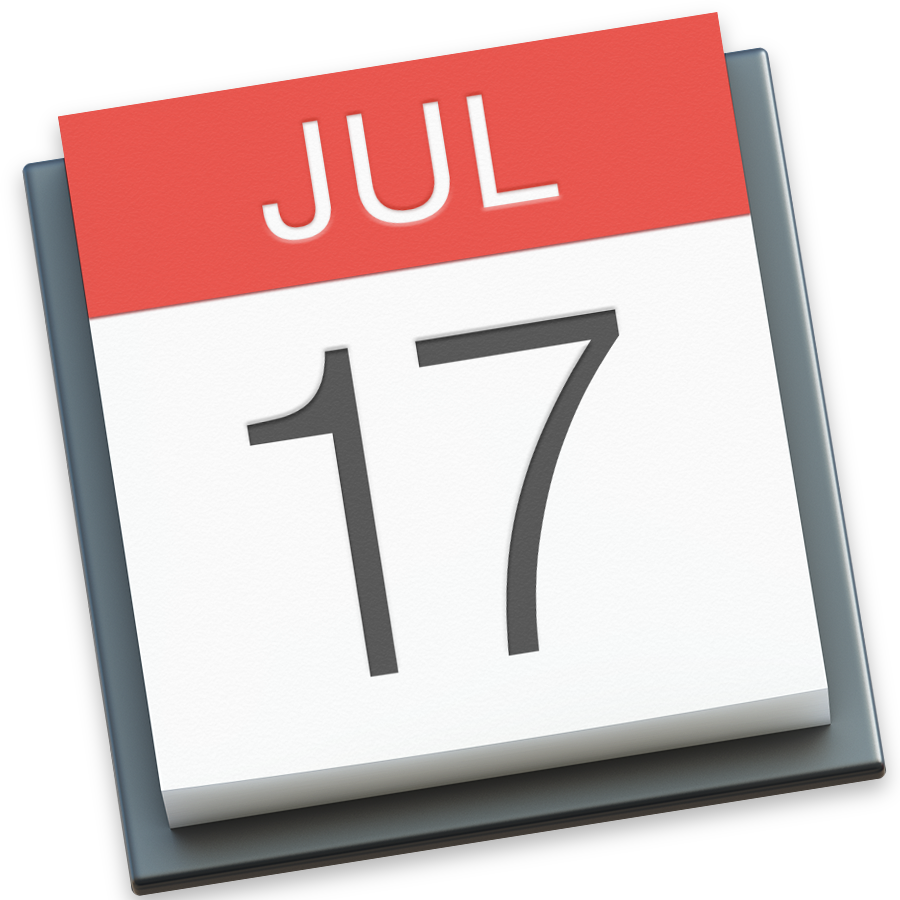 Apple calendar
integration
Connect your Scoro calendar with Apple Calendar to access your events in both applications.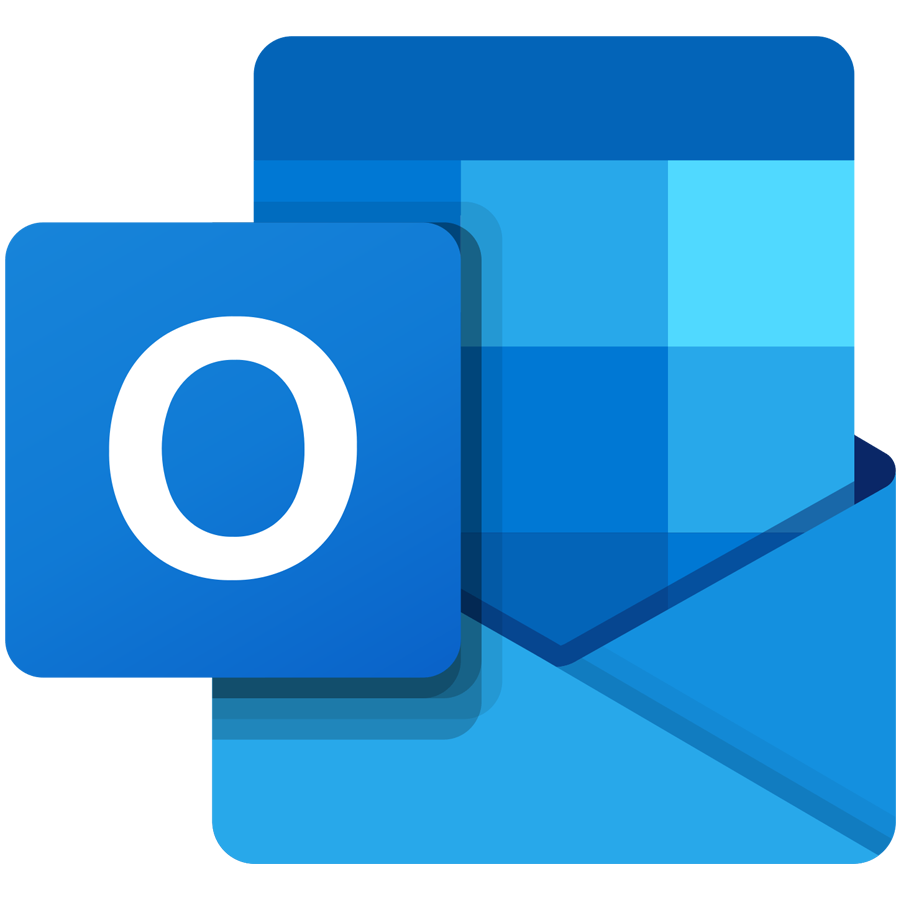 Outlook
integration
Connect your Scoro calendar with Outlook to access your events in both applications.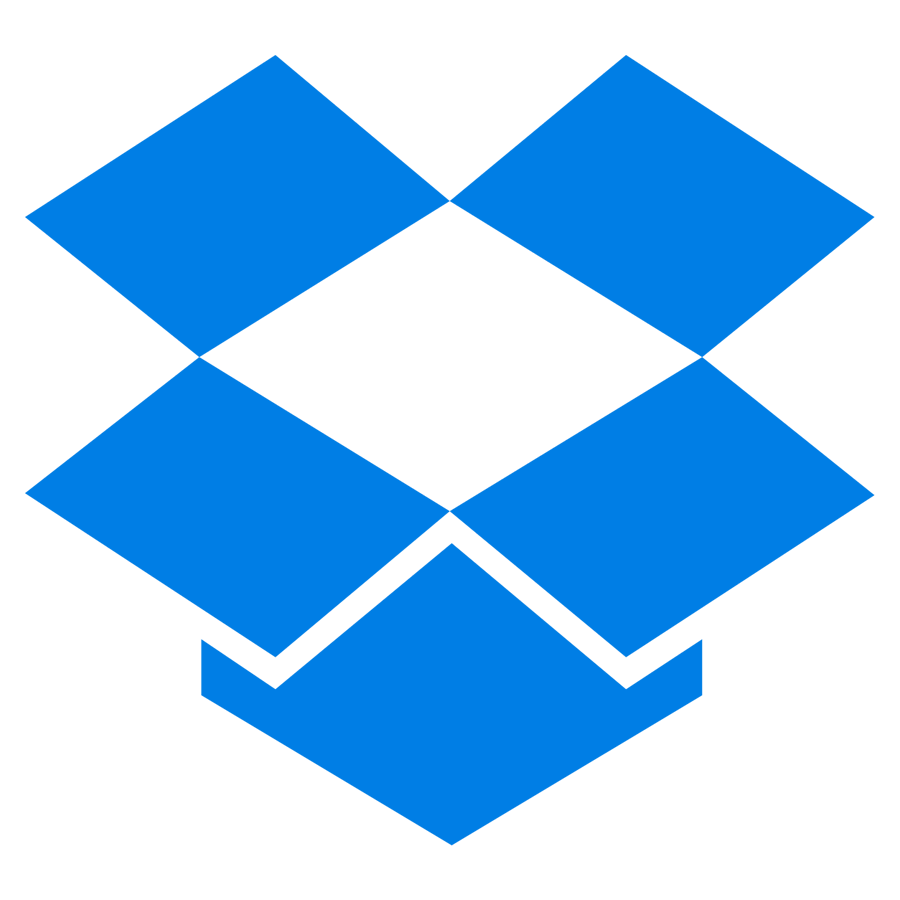 Dropbox
integration
Automatically sync files
linked with clients and projects in Scoro to appropriate folders
in Dropbox.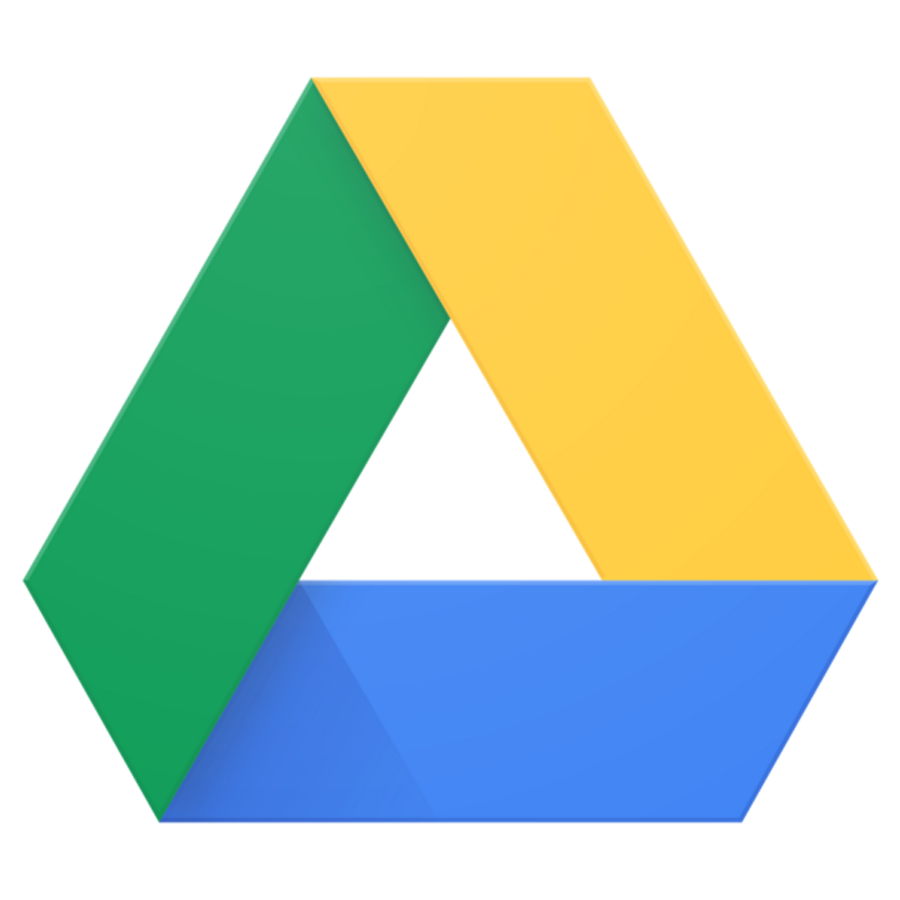 Google Drive
integration
Automatically sync files linked with clients and projects in Scoro to appropriate folders on Google Drive.

Zapier integration
Use Zaps to organize and automate your workflow by connecting Scoro with thousands of apps via Zapier.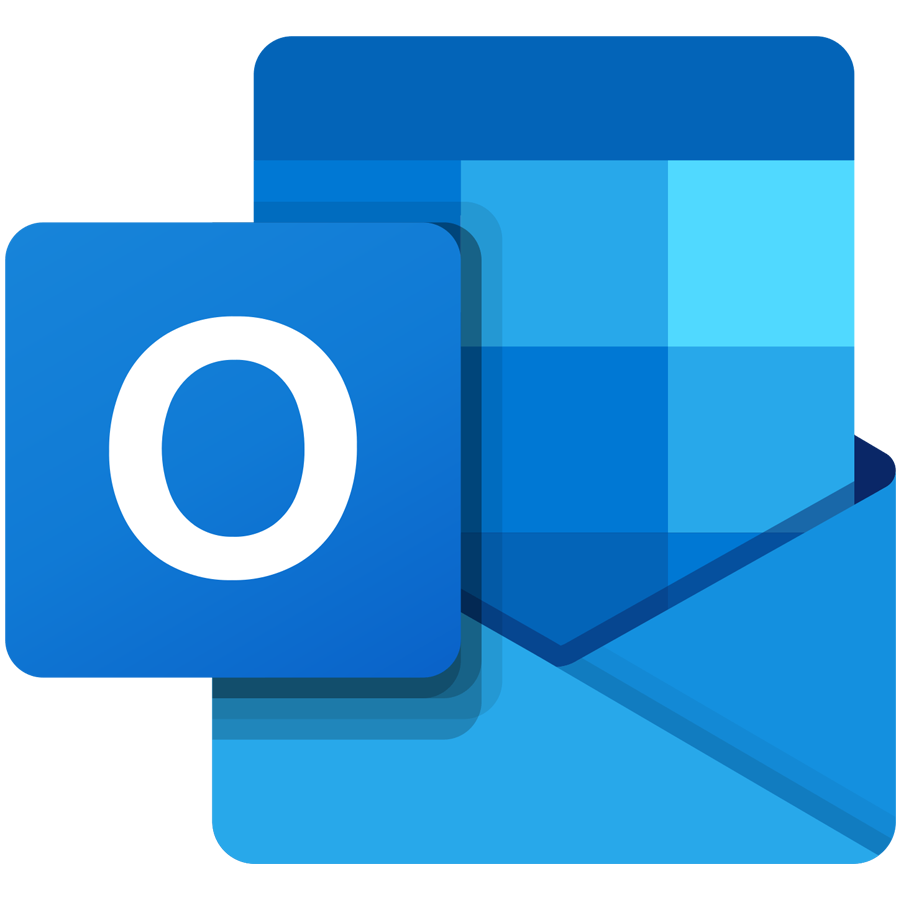 MS Exchange
integration
Connect your Scoro
calendar with MS Exchange to access your events in 
both applications.

FTP integration
Store and access files linked to projects and clients in Scoro on your own server.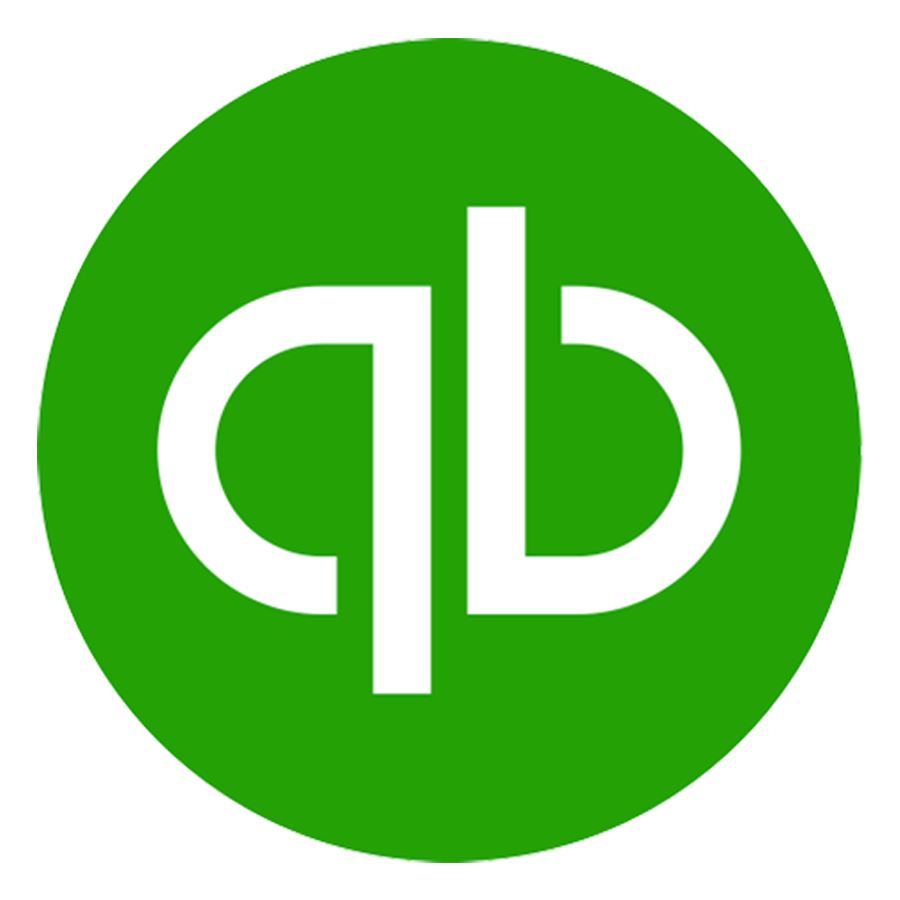 QuickBooks integration
Use the two-way integration to keep contacts, invoices, payments, and expenses up-to-date in either Scoro or QuickBooks.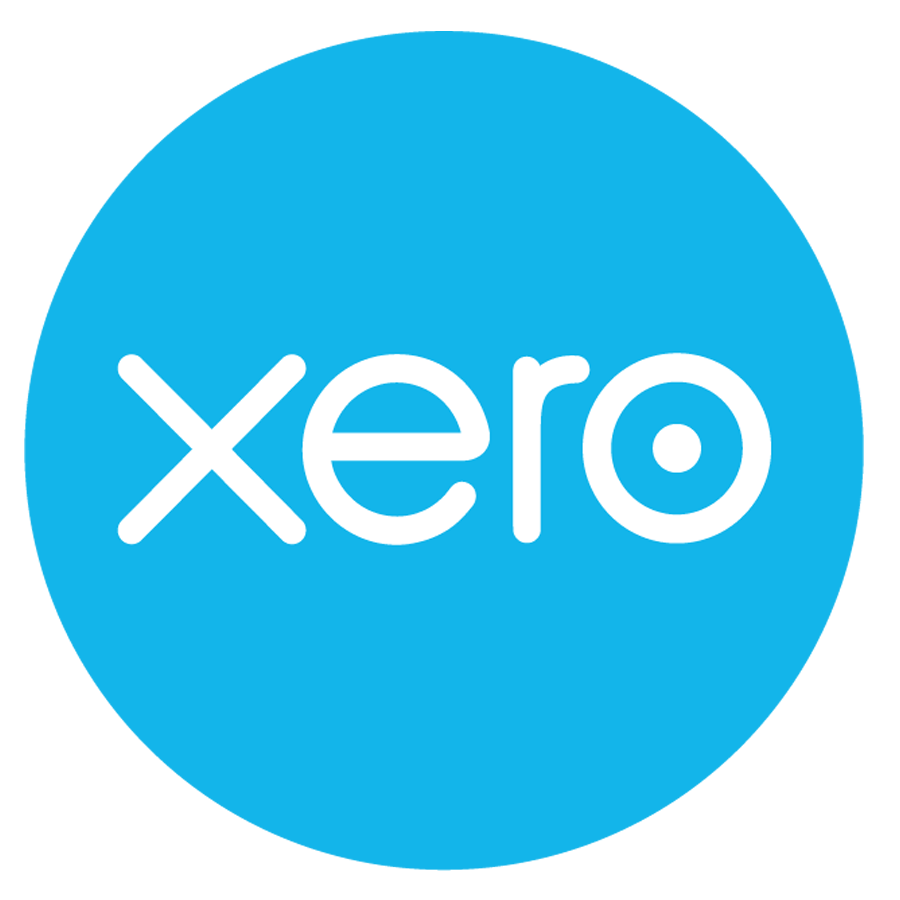 Xero integration
Use the two-way integration to keep contacts, invoices, payments, and expenses up-to-date in either Scoro or Xero.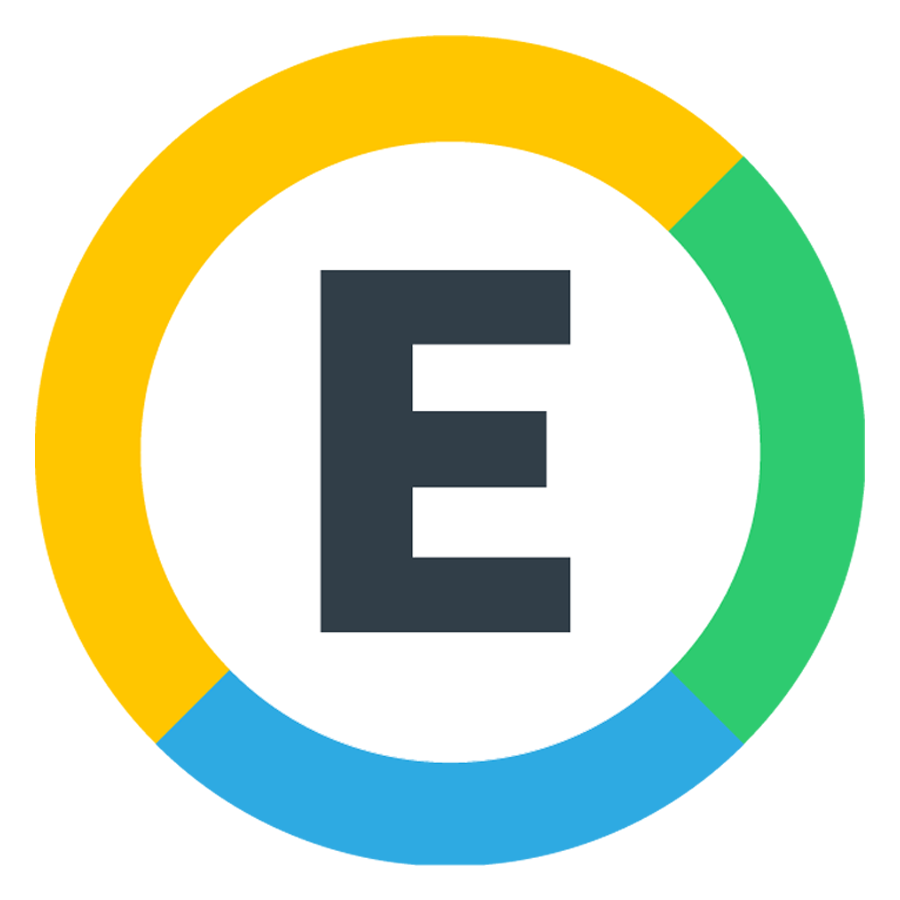 Expensify integration
Automate your entire expense management process. All expenses are automatically linked to the relevant project to make project-related expense handling and cost management simple.

MailChimp integration
Sync filtered contact lists in Scoro as mailing lists in MailChimp.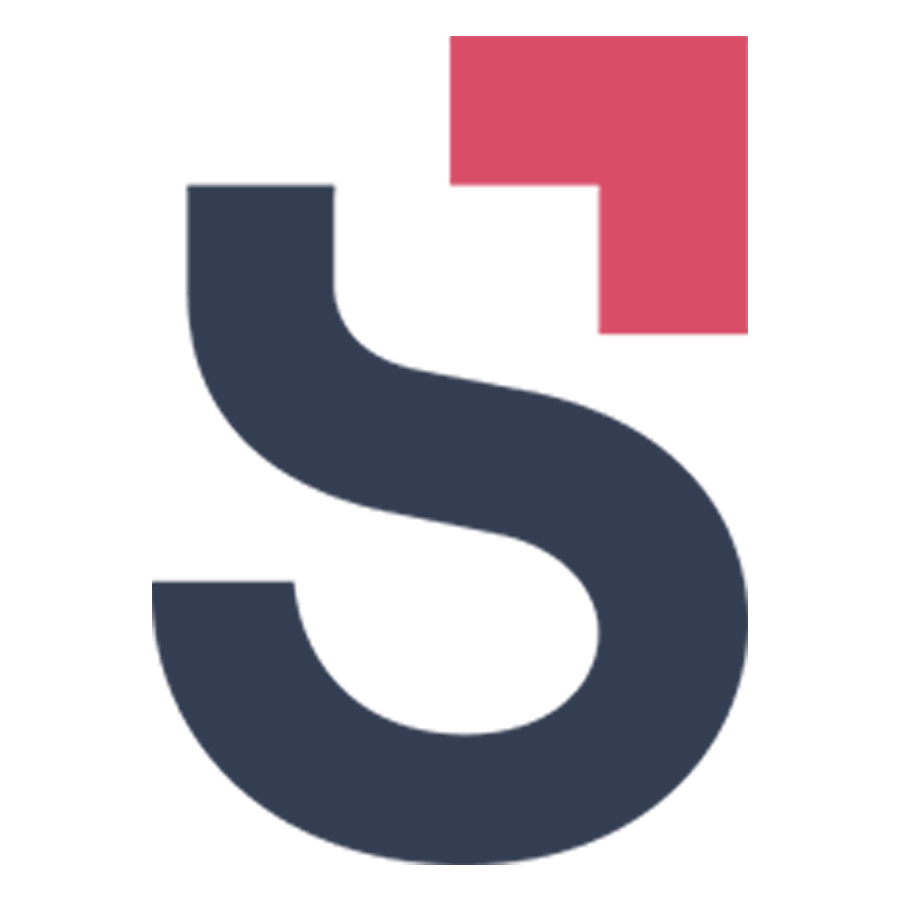 API
Build limitless integrations with almost any software solution using Scoro's API.