Customer stories
Who Uses Scoro? Six Most Common Cases
Every business is different – in industry, size, structure, workflow, and processes. There is no such software solution that fits all business types perfectly. Just like you are searching for the best suitable tools for your team, we want to reach businesses who will benefit the most from Scoro.
So, who is using Scoro and why? After going through hundreds of our most common use cases, we have merged the highlights and similarities into 6 examples. Let's see if you recognize any of these challenges, goals, and potential outcomes.
CASE 1: More accurate time-billing to increase profits
| | | |
| --- | --- | --- |
| | Branding & Marketing agency | |
THE CHALLENGE:
Using different tools without getting the desired results.
"Firstly, we need to evolve from very client-focused to process-focused. Our current tools do not support the fluency and transparency of our processes. Secondly, we use too many project management tools, and we need to unify our efforts to a single platform. As our team is growing, we are constantly implementing new tools, but honestly, it is just getting more and more confusing."
THE GOAL:
Get the most out of our time & bill accordingly.
"We do a lot of work for our customers and it's hard to make sure we bill everything 100% correctly. For every agency, time is the most valuable resource, and we want to make the most of it. In fact, we are currently losing money, because our time and task tracking is not correct. I believe about 30% of our time is lost to figuring out our tools, double-entries, small unaccounted tasks, and just chaos."
TOOLS BEFORE:
Toggl for time tracking
Asana for project management
Calendly for scheduling
Pipedrive for contacts and CRM
Proposify for creating and sending quotes
AgencyAnalytics for tracking metrics on a dashboard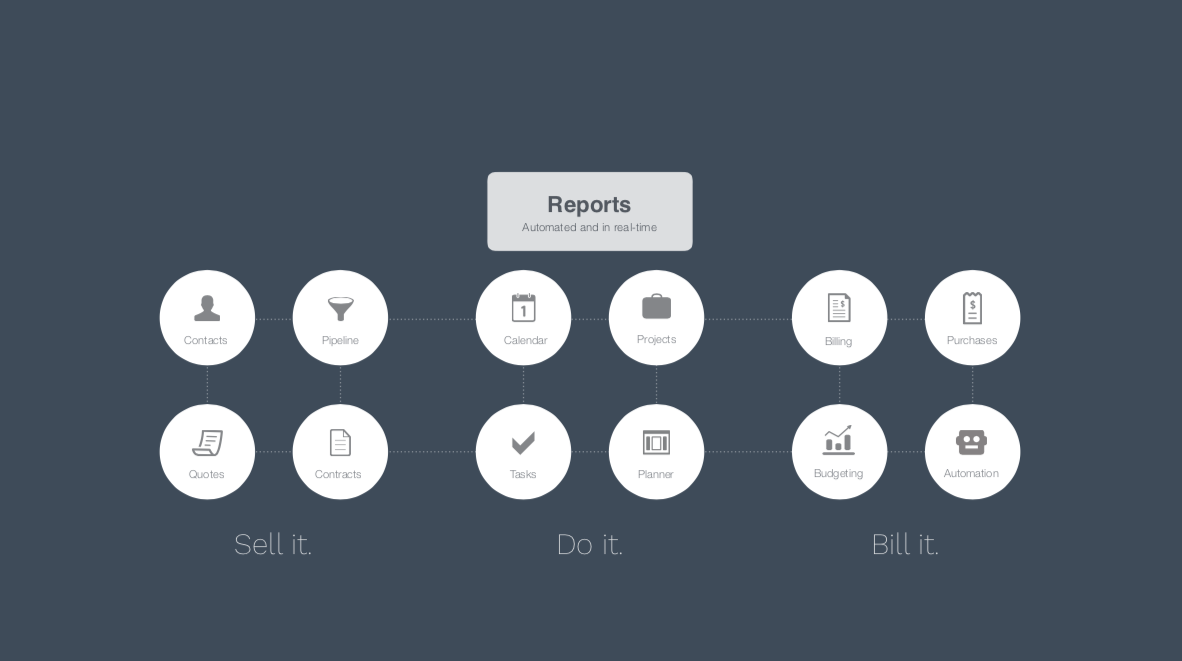 With Scoro you have all the tools you need within one control hub.
THOUGHTS ON SCORO:
"Scoro is very intuitive and very well integrated – from projects to CRM and billing. Instead of worrying about losing time & money, we are more productive and track every billable (and non-billable) hour. Replacing 6 tools with 1 also means a huge saving on costs as we have over 300 users."
CASE 2: More efficient time management to improve service delivery
| | | |
| --- | --- | --- |
| | Creative & Video Production | |
THE CHALLENGE:
Too much time gets wasted shuffling between tools.
"We do a lot of double-entries and shuffling between tools – time we would rather spend on actual work. All the tools are great separately, but creating an organized workflow is very difficult. They just don't pull and push data as needed, so we have to do it manually."
THE GOAL:
A centralized tool to streamline processes and standardize service quality.
"Our goal is getting all the needed information in front of everyone so that they can plan their time most efficiently. We can't manage all team members' time, they have to do it themselves. As a manager, I just want to make sure they have all the data needed to make the best decisions on where to spend their time. Standardizing our processes is how we can deliver projects faster, increase customer satisfaction, and of course, make more money."
TOOLS BEFORE:
QuickBooks for estimates & invoices
Harvest Time Tracking & Harvest Forecast
Slack channel for every customer
Trello for task management
Spreadsheets, Dropbox, and emails for everything else
Read more: Workplace Chat Is Killing Our Productivity
THOUGHTS ON SCORO:
"It seems as if forever we've been looking for a single tool powerful enough to plan all our work. Nobody wants to enter the same job in three places. With Scoro, we have everything we need in one solution. We have been able to take on more projects because our time allocation is more efficient."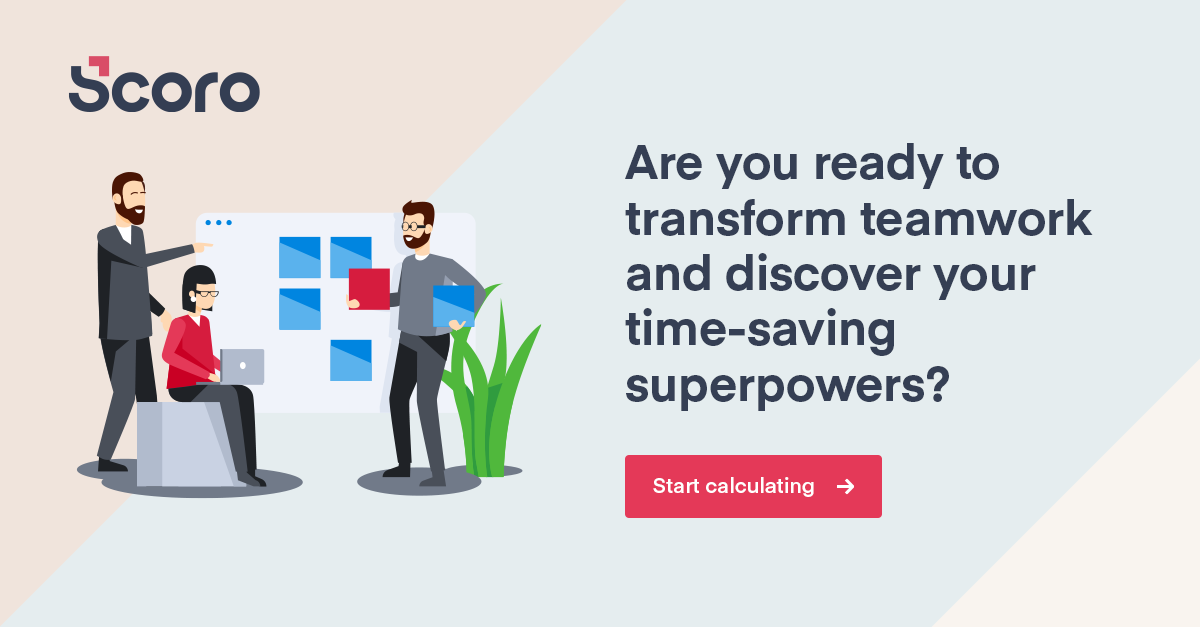 CASE 3: Improve team communication and move away from spreadsheets
THE CHALLENGE:
The trouble with maintaining a fluent and consistent workflow.
"Too much time is spent on data entry and double-communication. Our team members have no idea what their colleagues are currently working on, nor of their progress. Our spreadsheets are quite well organized, but they do not display the real-time situation and collaboration is rather poor."
THE GOAL:
Transparency – a better overview and team communication.
"We would love to achieve clarity in our communication, and a better overview of our work, planning, progress, and results. Getting rid of spreadsheets and having a unified system for our projects, contacts, documents, activity logs, and reports would be the ultimate goal."

TOOLS BEFORE:
Filemaker database called JobPro
Loads of spreadsheets for everything
THOUGHTS ON SCORO:
"We love that everything is tied into one system. The most important features for us are Projects, Calendars (workload), Pipeline, Quoting, and integrations such as MailChimp, Xero, and Dropbox. No more spreadsheets!"
CASE 4: Bring project management into a single system to save time
| | | |
| --- | --- | --- |
| | Construction & Engineering | |
THE CHALLENGE:
Too many tools to manage a single project.
"Having multiple tools and workflows to successfully plan & accomplish a single project is too exhausting and time-consuming. We believe it can be done in a more efficient manner. My team is often overwhelmed and reluctant."
THE GOAL:
Seamlessly integrated, yet powerful project management system.
"Our focus is on detailed and fluent project management. For that we need to be able to:
easily assemble and manage our project pipeline and portfolio;
add contacts, documents, communication & activity logs;
track our expenses & profits, tasks & time, hourly cost per team member;
collaborate and share information with each other and our customers."
TOOLS BEFORE:
ProWorkFlow for work planning and management
Zoho for project management
QuickBooks for budgeting, invoicing and expense tracking
Various spreadsheets
THOUGHTS ON SCORO:
"It seems unbelievable that we only now came across such a great solution for construction management. The adaption from multiple tools to a single software has been a challenge, but we are saving so much time and money (and nerves!) in the long run."
CASE 5: Real-time and complete overview of what's going on
THE CHALLENGE:
The constant need to bother my team and customers for updates.
"The main challenge is not having a complete overview of my business and team. For example, I have no idea what's going on in a project without asking my team or customers. Are the invoiced paid? Which tasks are completed? How many hours were spent on different activities?"
THE GOAL:
Real-time and accurate data on every single aspect.
"It would be great to have all data displayed in real-time. I'm sure a better overview would decrease the duration of completing projects for our customers."
TOOLS BEFORE:
Basecamp for projects, tasks, and files
Resource Guru for work management and scheduling
Spreadsheets for the contact database, CRM, and everything else
THOUGHTS ON SCORO:
"We were only looking for project management & collaboration solution, but Scoro comes packed with features – we got much more than we expected. And the web interface and dashboards look very attractive!"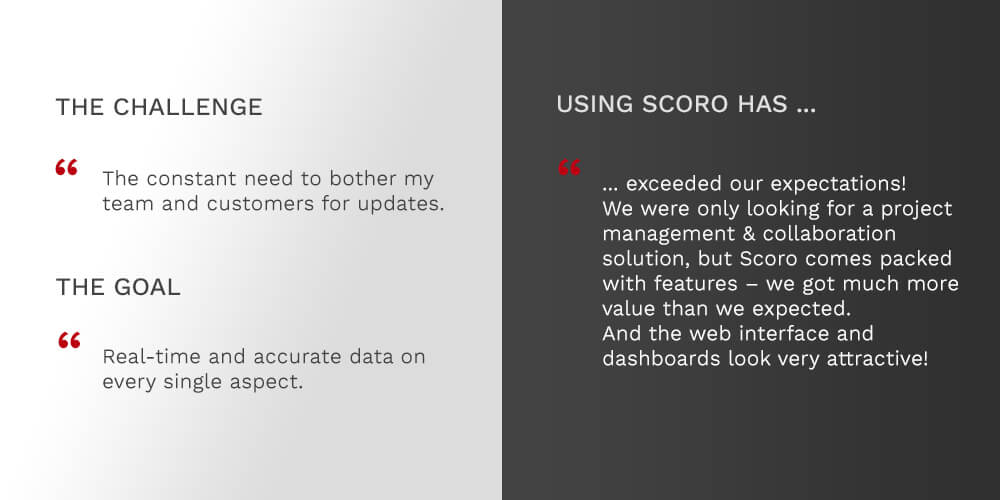 CASE 6: Decrease micro-management and improve task allocation
THE CHALLENGE:
An unreasonable amount of responsibility for the manager.
"Since the team members do not use the MS Access and Harvest programs, the manager needs to do all the work planning and scheduling, reporting, invoicing, and everything else. The team does not find spreadsheets convenient, so the manager also needs to keep those in order."
THE GOAL:
A centralized system transparent for the whole team (but with different levels of access).
"As the management has got so many tasks on their hands, cost overruns, crunch time, and other errors go unnoticed too often. This could be solved by having a better overview of our business processes and more shared responsibilities. "
TOOLS BEFORE:
MS Access for work planning and scheduling
Harvest for invoicing
Spreadsheets and Word documents for project management, quoting and budgeting
THOUGHTS ON SCORO:
"Automation has freed our time for more purposeful activities. We did have to re-organize some of our business processes, but only for the best. The result is decreased micro-management and better team collaboration. The team is also pleased to have more independence and a good overview of their work."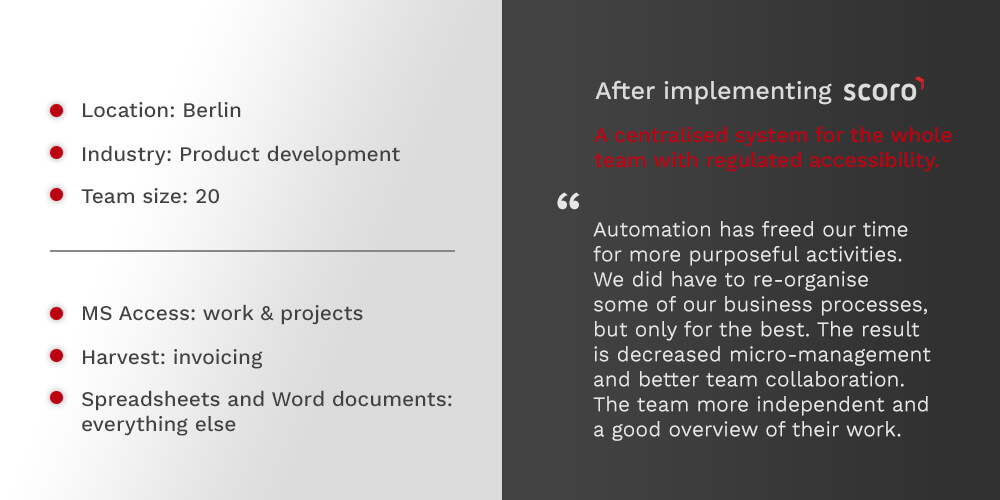 ---
Did you identify with some of these examples? If yes, you should definitely look into Scoro in more detail. To get started, you can take a tour of the software with a 14-day free trial.
If no, just keep researching. Here are some great tips on how to find the best software for your business: How to Find the Best Software That Suits Your Needs