Life at Scoro
What Makes a Great Company Culture? Interview with Kadri Mäe
Kadri Mäe is the People Operations Manager at Scoro. A big part of her job is to help ensure that Scoro retains its strong workplace culture.
We caught up with Kadri to learn her thoughts on Scoro's culture, the role it plays in competing in competitive job markets, and why every leader should care about their company's culture.
You've been at Scoro for almost two years now. What drew you to Scoro?
Like it often is in life, I found myself in Scoro thanks to many interesting coincidences. Today, I can say with full certainty, that I made one of the best decisions of my life.
The decision to join Scoro was much enforced by the fact that I was given the opportunity to pursue my boldest ideas and the leadership style fit my understanding of how a company should be run – and the team was just absolutely fantastic!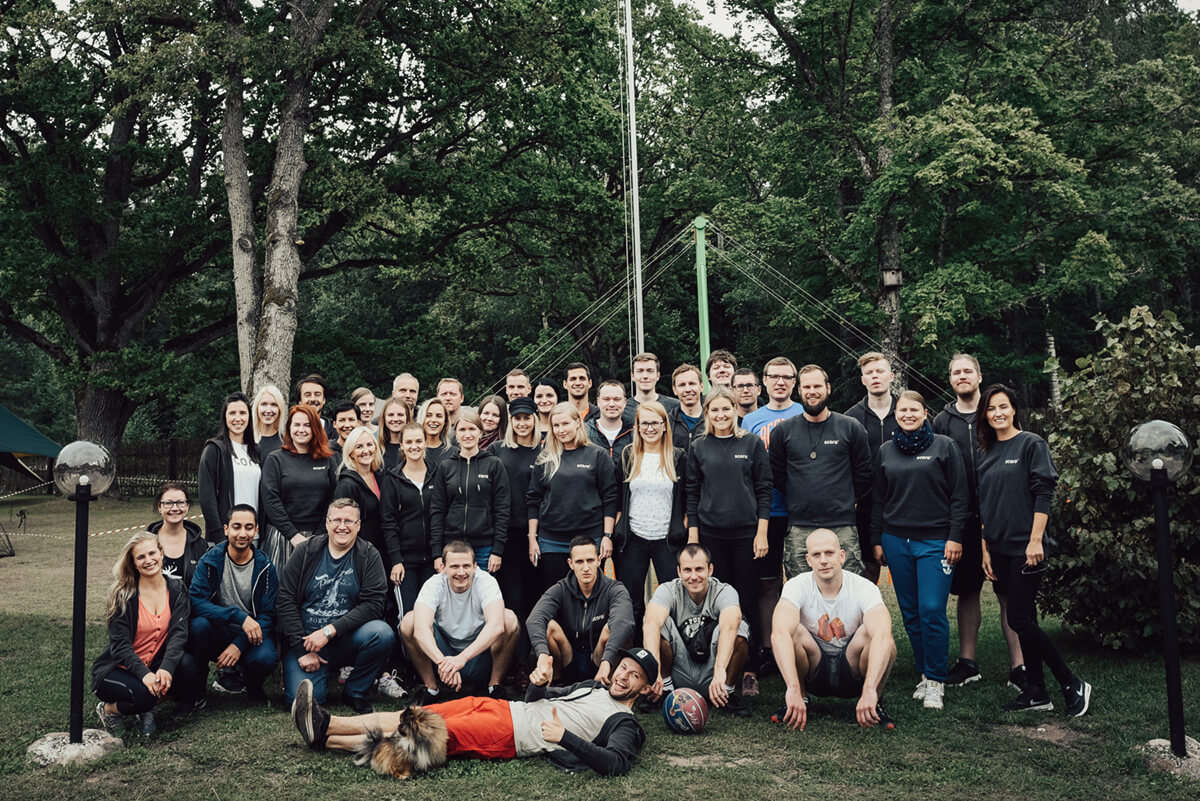 #TeamScoro
When did culture become a big focus for Scoro?
Good atmosphere and chemistry have always been organically important for Scoro, and by the time I joined the company, it had definitely already developed a distinctive organizational culture. But with rapid growth, you need to put more thought and effort into developing and maintaining the culture.
I think that in order to retain a unified team, in the long run, it's important to have the culture in focus from the very beginning.
How would you describe your company culture in five words?
structured
smart-working 🙂
flexible
caring
sarcasm-loving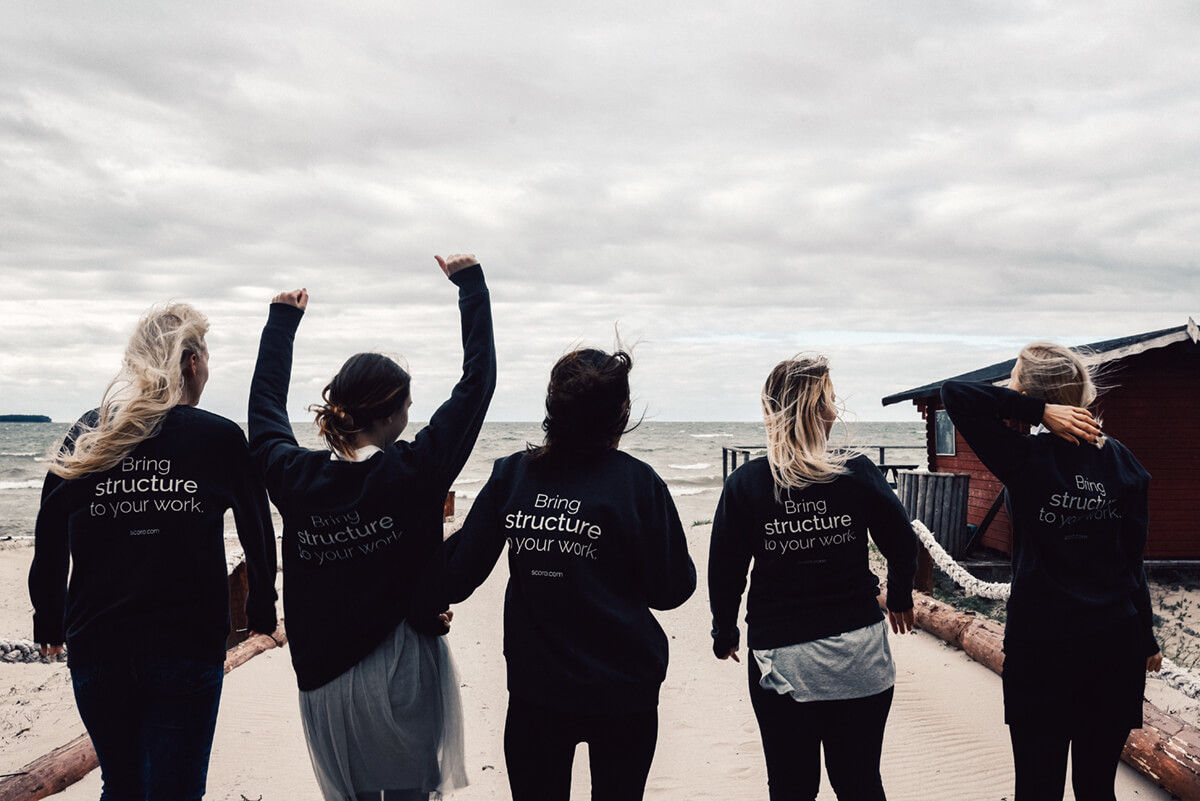 Scoro girls at the spring party
Google calls its employees Googlers, Intercom the Intercomrades, Pinterest the Pinployees – Do you have a special nickname for your employees?
We call our teammates Scorers. A standard definition for a scorer is someone who scores goals or points. We, however, improved the definition and define Scorer as an infinitely curious and productive creature, proverbial for its love for sarcasm, software, and success.
Scorer
/ˈskɔːrə/
noun
an infinitely curious and productive creature,
proverbial for its love for sarcasm, software, and success.
What are the core beliefs that drive Scoro and how do you maintain them?
Never settle for "good enough".
Never settle for "that's how everybody's doing it".
Be curious.
Take initiative.
Take responsibility.
Pay attention to detail.
Have fun.
How do we maintain it? We practice it every day!
Toggl is really keen on implementing remote work culture, while Yahoo! has completely banned working remotely. What is your opinion on remote work, are you a believer or non-believer?
I believe that we shouldn't be talking so much about 'employees', but more about 'people'. People in their entirety, every one of them a unique character, whose life consists of different aspects. Job, as much as it is an important factor, is only just a part of the person's life. So, when we wish to see balanced, wholesome people working in our company, we have to offer them trust and space.
As the People Operations Manager, I have to first trust myself that I have hired motivated and responsible people, who comply with our values. And then trust the employees to implement and utilize the factors that we hired them for.
I have never believed in tracking office hours with a stopwatch, figuratively speaking. Having trust in employees is an inseparable part of Scoro's culture, and offering flexibility (in both working hours and location) is an essential component of that. Whatever keeps the person motivated and happy – as long as the work is done well.
What is interesting is that although we totally support working remotely, then most of the team still spends a majority of their working time in the office. You know why? Because we genuinely like each other!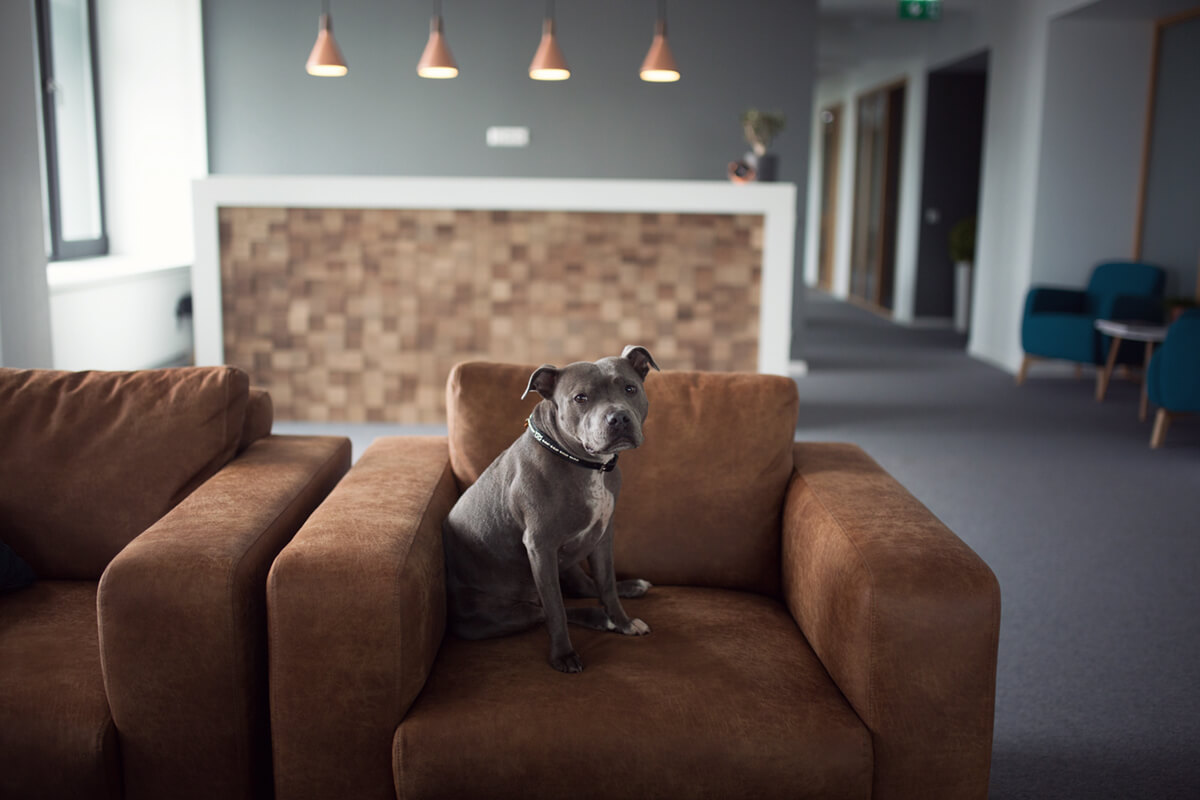 Scoro's office dog Bree is a certified therapy dog
How do you go about the hiring process to make sure you're finding the right cultural fits?
The keywords for our recruitment process are structure, thoroughness, taking time, careful analysis, and most importantly – including the team.
When deciding on the cultural fit, we assess the new members at every stage of the hiring process: from reading the resume and motivational letter to the final interviews where we invite more team members.
We care about the details: the candidate's grammar and self-expression, their hobbies, whether they like animals or if they have a sense of humor, what they value in teamwork, what are their dreams and what do they want to achieve in life.
If the person joining us has a strong drive and can bring something new to the team that everyone could learn from – that's our ultimate goal.
Read further: Scoro's Secret to Hiring the Best People
What are the non-negotiable parts of your organizational culture?
Being honest. Working hard. Caring.
What's the biggest challenge you've encountered so far?
With rapid growth, it's always difficult to find new talents in masses. This is a challenge we share with a lot of tech enterprises because the competition is tougher than ever.
I'm not sure if we've been lucky or just perfect at picking our comrades, but we've dealt with fast growth really well, and today our team is bigger than ever – and we're still having fun!
Read on: 11 Phenomenal Company Cultures With Key Takeaways
What would your employees say are the top three reasons they love working at Scoro?
It may sound like the results of North-Korean elections, but during our last 1-on-1 meetings more than 90% of our team members mentioned that the main motivators of working at Scoro are:
The atmosphere
The team
Being in charge of your own time. Flexibility. Freedom to work whenever and from wherever.
Read on: Scoro Among the Most Family-Friendly Workplaces
How do you reinforce that positive environment as the company continues to grow globally?
It's always a challenge, but I believe that staying true to your values and traditions and acknowledging them to new employees helps to keep the good atmosphere. It needs a lot of attention and should never be taken for granted.
Every team is different, and of course, we need to take into account the cultural differences. But Scoro has a strong and positive DNA – and positivity, evidently, is contagious.
And we've seen that no team-building exercise has the impact of a successful team party.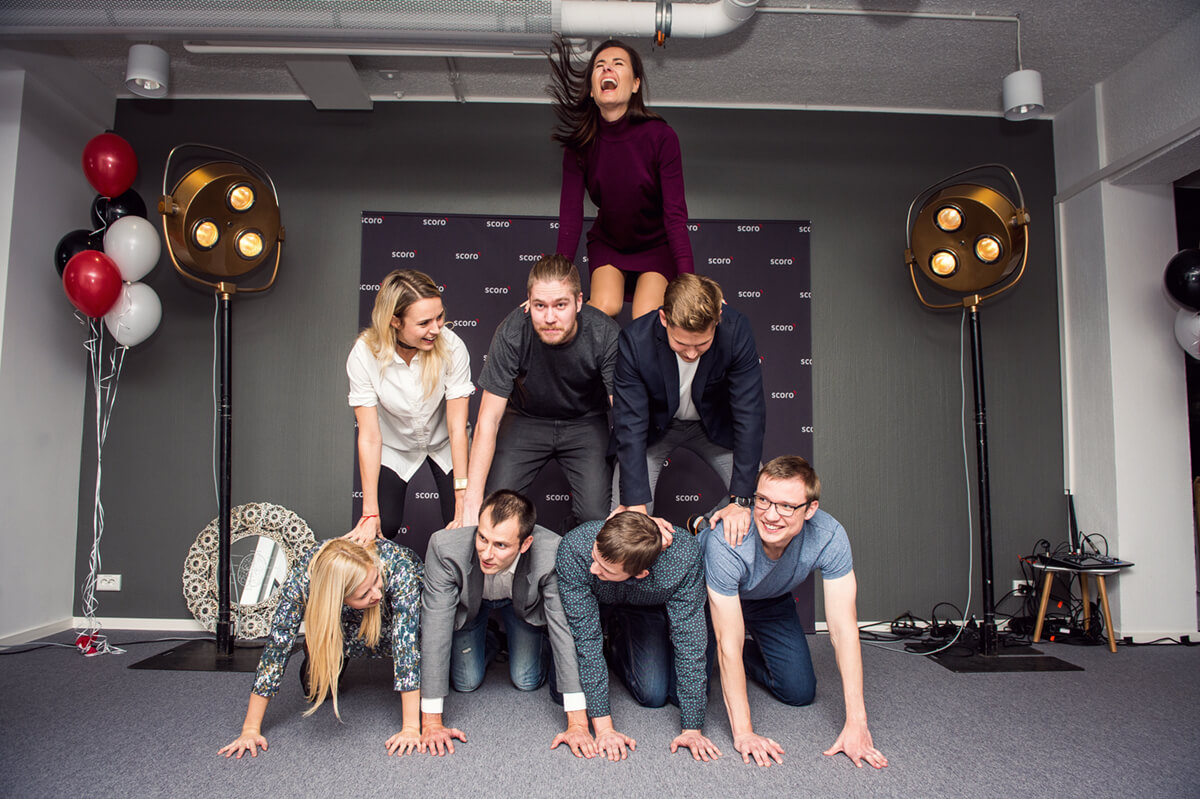 Scoro head office opening
What kinds of employee achievements are recognized by the company?
We praise and recognize any kind of self-development and education. Going to school or finding training opportunities is highly valued, and we love to share new knowledge with other teammates.
Team Scoro is very social and close-knit even outside the office, so whenever someone graduates from university, completes a cycling marathon or organizes a Staffordshire Terrier meetup – we're always there to support. And not just on social media, but face-to-face.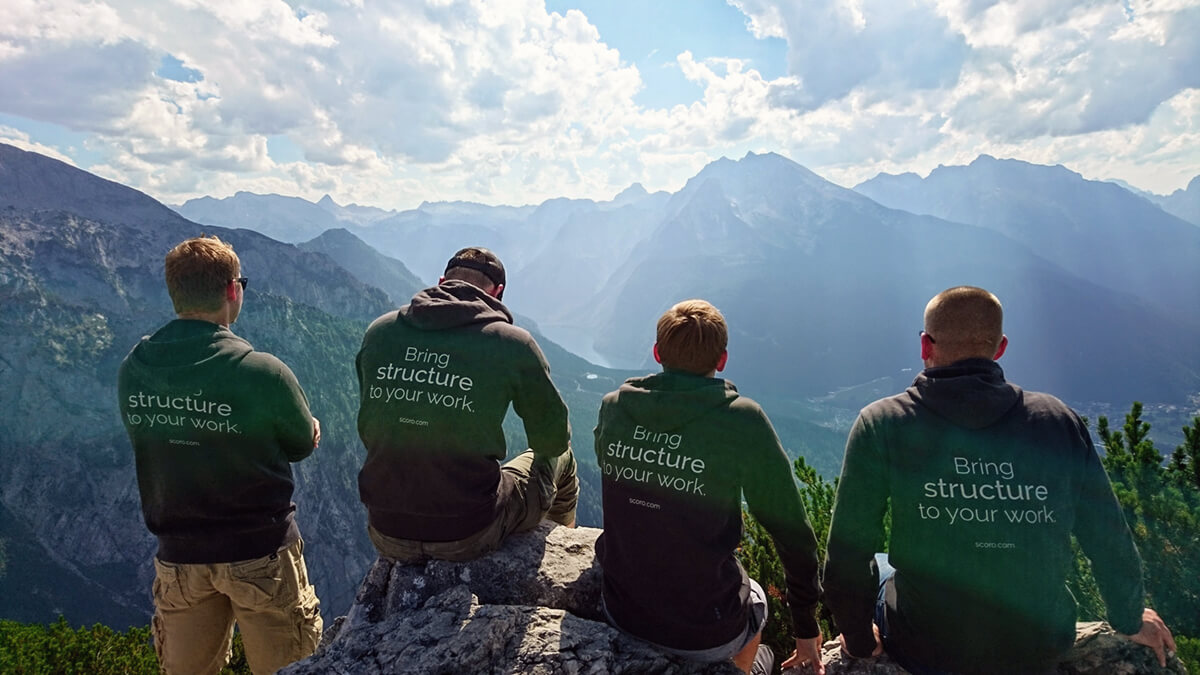 #TeamScoro on top of Hoher Göll (2,522 m) in the Berchtesgaden Alps
According to gallup, not only do close work friendships boost employee satisfaction by 50% – but those with a best friend at work are also seven times more likely to engage fully in their job. What are some ways the company focuses on team development?
We love having breakfast together in the office. A nice meal with a hot cup of coffee, accompanied by planning for the day and an inevitable laugh is an excellent way to spend the morning and create bonds with your co-workers.
We also organize team lunches where we invite a guest lecturer to talk on a topic of our choice. The last lunches have been about first aid, healthy eating and fitness, but also about financial literacy. It's a nice team tradition that creates a so-called collective memory that connects people.
Since Scorers are active and have a lot in common it's no surprise they get along outside the office as well. The whole communication pattern is really different from anonymous corporate communication, and it has an apparent effect on the team attitude.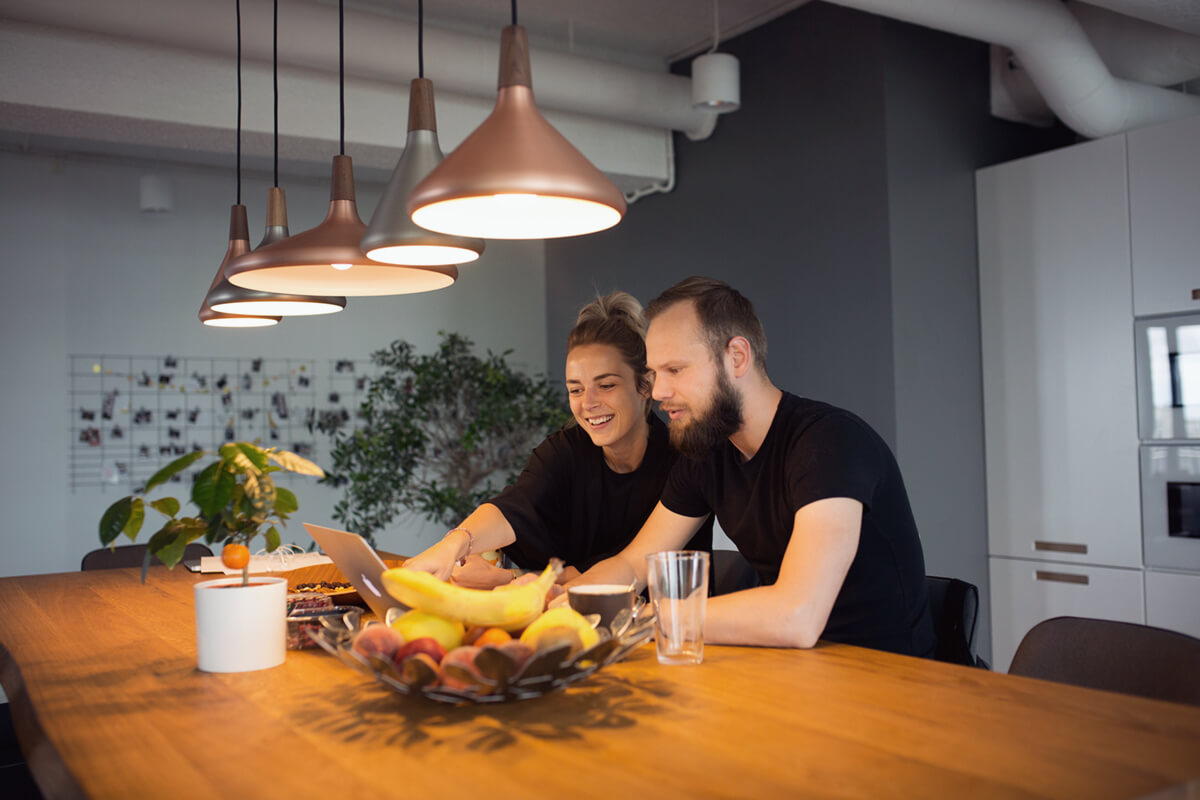 Scoro is a work management software company. How does Scoro's technology align with the culture?
The whole team uses Scoro on a daily basis. It helps to make the team and cross-department communication clear and more efficient. For instance, it's easy to get an overview of everyone's calendar, what they're working on, or if they need any input. And it's really transparent. Another meeting that could have been an email is not a thing in Scoro.
Read on: What is Work Management? The Ultimate Guide
What are the goals and milestones you're looking to hit in the future?
My goal is to grow with Scoro. Like every team here, the People Operations team will grow in the near future as well. It's definitely an exciting challenge to create that new entity.
I plan to hand down an important part of my daily work – recruiting – to a new talented person and dedicate more of my time on developing the team culture and the People Operations as a whole.
What's the single, most important action that someone needs to take in order to improve the culture at their own company?
Be kind, smile more. This way you'll bring positive energy to the office right in the morning. Everyone's energy combined is enormously powerful and will benefit the whole team.
Got inspired? Check out Scoro's vacancies and join #TeamScoro.