Product
March 2016 Version Update: Custom Fields and User Rights
Our product team has once again done an excellent job, and we're glad to announce that we've updated Scoro.
In version 15.4, we focused on simplifying various management processes and made Scoro even more user-friendly. You can now find settings more quickly and assign new types of user rights. Keep reading to learn about the newest updates.
Find all the important settings faster
The Settings page now highlights all the settings that you need to find, including admin settings. Moreover, you can use the search box to find all relevant settings more quickly.
Moreover, we improved Scoro with context-based settings – by clicking on the button "Settings" in the top right corner of the page, you'll see settings related to your current view. This way, all important adjustments can be done faster.
Custom fields for detailed information
We created new types of custom fields, and you can add context-based help next to the fields. To learn about the new custom field functions, go to Settings > Custom fields.
Among other functionalities, you can now complement SalesDocs with line-specific custom fields. This way, your documents will contain all the required information.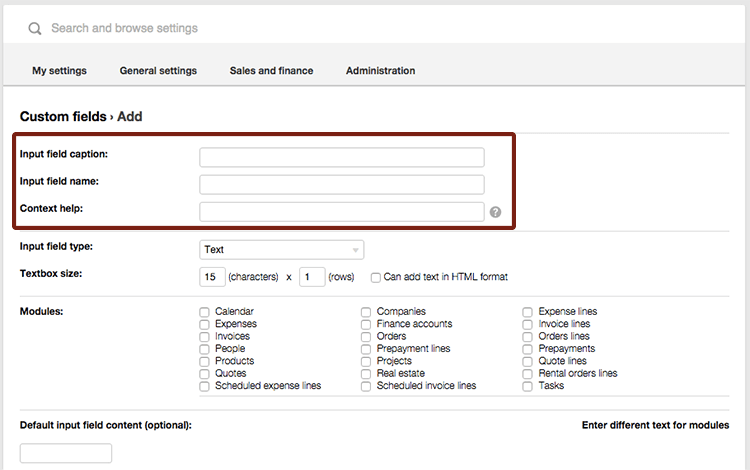 Add new contacts while creating invoices
Have you ever tried inserting a new customer profile while creating an invoice? You should definitely try it now as it just got easier.
Whenever you add a new task, event or invoice, you can create a new contact or company without leaving the page. This way you can insert detailed information to your contact list even faster, without visiting the Companies or People view.
User rights for seeing client- and project-related invoices
Sometimes, salespeople and customer support need access to accounting documents related to their accounts. That's why we decided to take user rights to the next level. To every user, you can now assign the rights to see billing activities linked with their projects and contacts.
You can set user-based rights to Invoices, Quotes and Orders. This way, your salespeople and customer care will have a better overview of your client history and have access to all required files.
You can assign user rights under Administration >> Features & Permissions. For a quick overview, you can choose to manage permissions by user roles.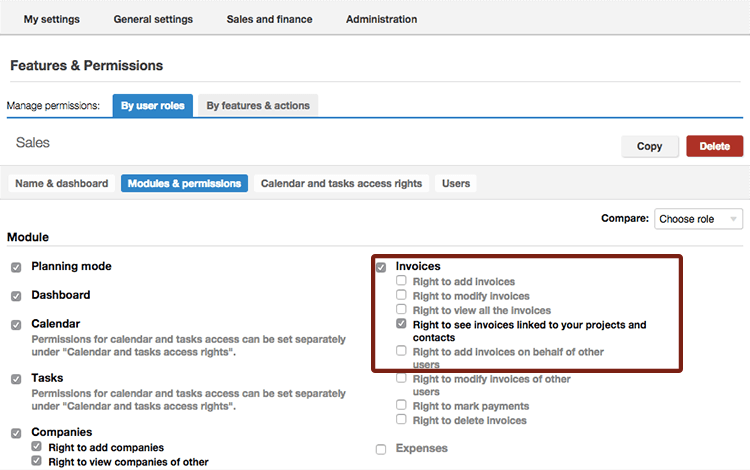 Coming soon
A more handy import/export module
Task sets
Option to lock invoices
If you have any questions or problems regarding the new version update, let us know at [email protected].