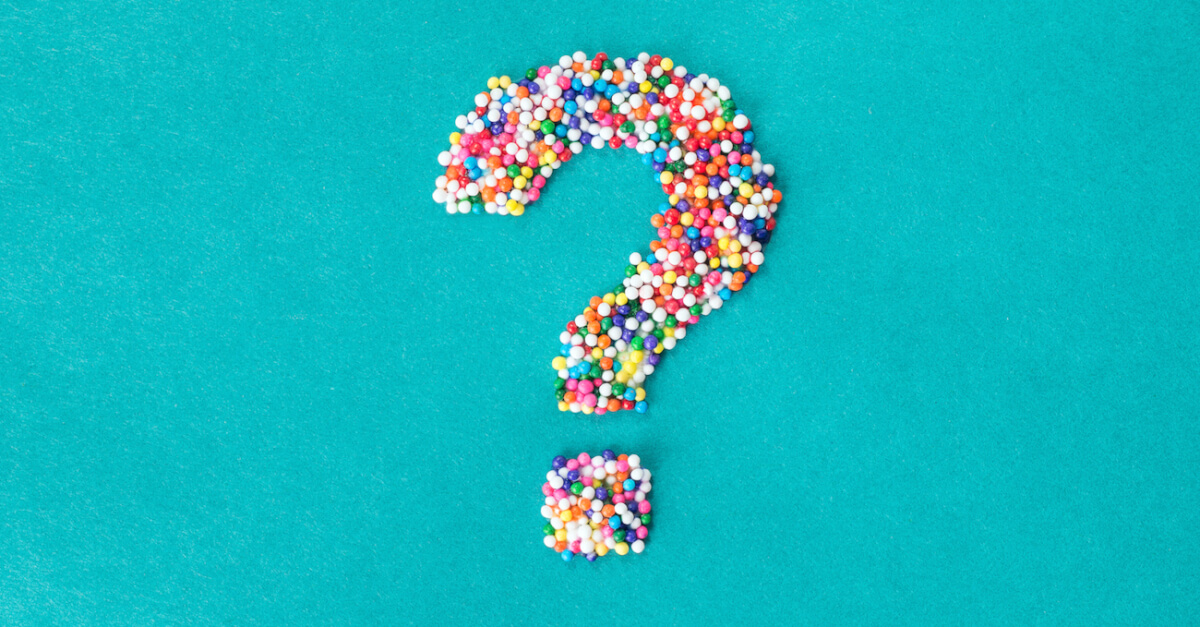 Scoro
Top 20 Questions We Get Asked About Scoro
LEARNING ABOUT NEW SOFTWARE can be exciting and challenging at the same time. There is a lot of information to take in and some wonderful "make-life-easier" hacks to discover. The most important part of that learning process is asking the right questions, whether you are a newcomer to Scoro or just considering Scoro as your software.
Here at Scoro, our Onboarding and Customer Support teams help customers find answers to their questions on a daily basis. We asked them what the top twenty frequently asked questions were in their training sessions and during client calls. Here they are:
1. IS SCORO FOR ME AND MY COMPANY?
Scoro is a work management software primarily for professional and creative services. Scoro helps to plan your team's time and projects, manage your clients, send invoices, and keep track of your business results – all in one system.
Is Scoro is the right software for your company? Well, you never know until you try. To find the answer to that golden question, we always recommend having a personal demo with one of our consultants. A demo helps you better understand Scoro's capabilities, and to see if we have a good fit with your business requirements and company workflow. Feel free to register for a personal demo here.

Read on: How to Find The Best Software That Suits Your Needs
2. WHAT INDUSTRIES DO YOUR CUSTOMERS REPRESENT?
Scoro empowers users all over the world from creative and professional industries. Most of our clients are PR Agencies, Creative Agencies, Advertising & Marketing Agencies, Media Companies & Agencies, Consulting Companies, Event Planning Companies, and IT & Web Development Companies. Some alternative fields include Real Estate, Legal and Construction.
3. HOW DO I GET STARTED?
The best way to get started is to sign up for a free trial – you will get instant 14-day access to Scoro. That should be enough time for you to play around with the software and see if it is suitable for you. As Scoro's mission is to be an end-to-end software, it is packed with an array of features – it can be a bit overwhelming at first. That's why we also warmly recommend to register for a personal demo with one of our consultants. During the demo, you will be able to easily understand how to get the most out of Scoro based on your use case.
Also, check out this video that outlines the basic things you need to know when using Scoro. It covers how views, filters, bookmarks, reports and settings work.
4. HOW LONG WILL IT TAKE TO GET UP AND RUNNING?
That depends on the size of your team and company, and your requirements. You can get instant access to the trial version of Scoro in seconds by signing up for a trial. For most of our clients unlocking and getting to use the full version of Scoro takes from a few hours up to a few days – that includes importing your data (contacts, invoices, etc.), and getting to know the system.
Our experience shows that the entire onboarding funnel, including decision-making, informing your team, preparations and imports, moving to the new system and training your team might take a few weeks in total, again depending on the size of your team and company.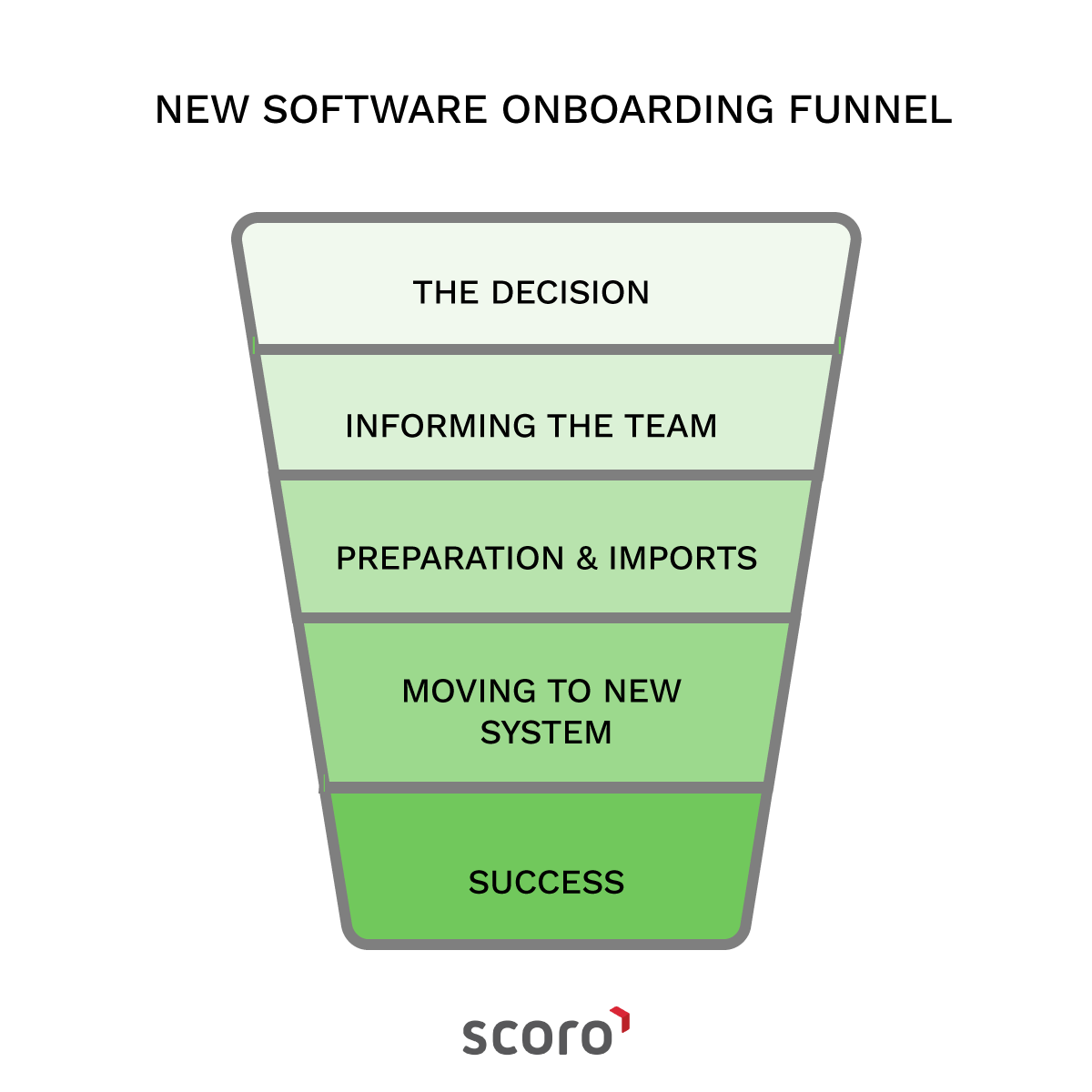 Read on: 79-Point Guide to Getting Started With New Software
5. WHAT ARE THE INSTALLATION REQUIREMENTS?
Scoro is a cloud-based platform, so no installation is required. You can easily access Scoro on desktop and responsive mobile on all major web browsers, including Google Chrome, Safari, Mozilla Firefox, and others. Scoro is now also available as a mobile app on all Android and iOS devices.
Read on: 11 Phenomenal Company Cultures With Key Takeaways
6. DOES SCORO SUPPORT MULTIPLE LANGUAGES?
Scoro is fully available in English, Finnish, Russian, Estonian, Latvian and Lithuanian. You can have multiple languages activated at the same time if you so wish. Additionally, you can automatically translate elements in your PDF invoices, quotes, contracts, etc. into Swedish, Norwegian, Polish and Turkish.
7. HOW DO I GET SUPPORT?
Scoro has a dedicated Customer Support team in place that is happy to help you with any questions – feel free email at help@scoro.com, or if you'd prefer to have a chat with one of our Support Specialists, you can request a call-back by dialling +44 203 808 3300.
There is also a ton of useful support articles and videos available at our Help Center.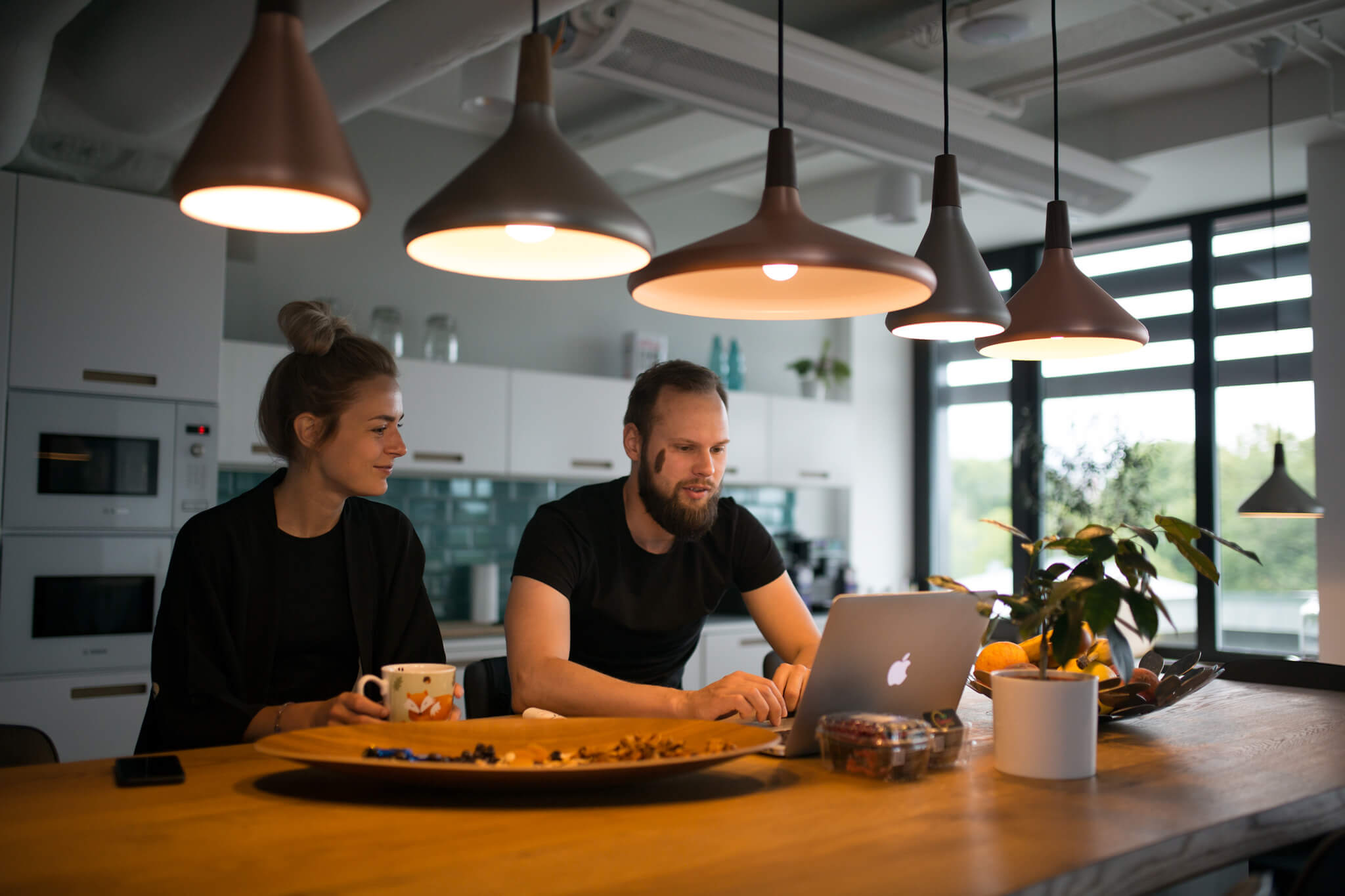 Our Onboarding Specialist Maile and Customer Support Specialist Rauno are always glad to help.
8. CAN I GET SPECIALISED TRAINING?
But of course. In fact, we strongly recommend you to have specialised training – our experience shows that companies that organise one or more employee trainings have an over 70% higher new user acceptance rate.
Our Onboarding team helps you with all aspects of getting started with Scoro and we are re happy to tailor the training package to your exact needs and business processes. A training package may include:
Help on setting up the site
Business process mapping
Help on importing data
Help on setting up integrations
PDF template library
Help on configuring
Training for your team
Read on: What is Work Management Software?
According to Scoro's Onboarding team:
"When we're doing team trainings for Scoro's users, we can solve the questions and issues right away. We are also showing the new users all the tips and tricks on how to use the system in a more effective way. In the long term, a team training ends up saving you tens of hours of time that you'd otherwise spend on troubleshooting and learning on your own."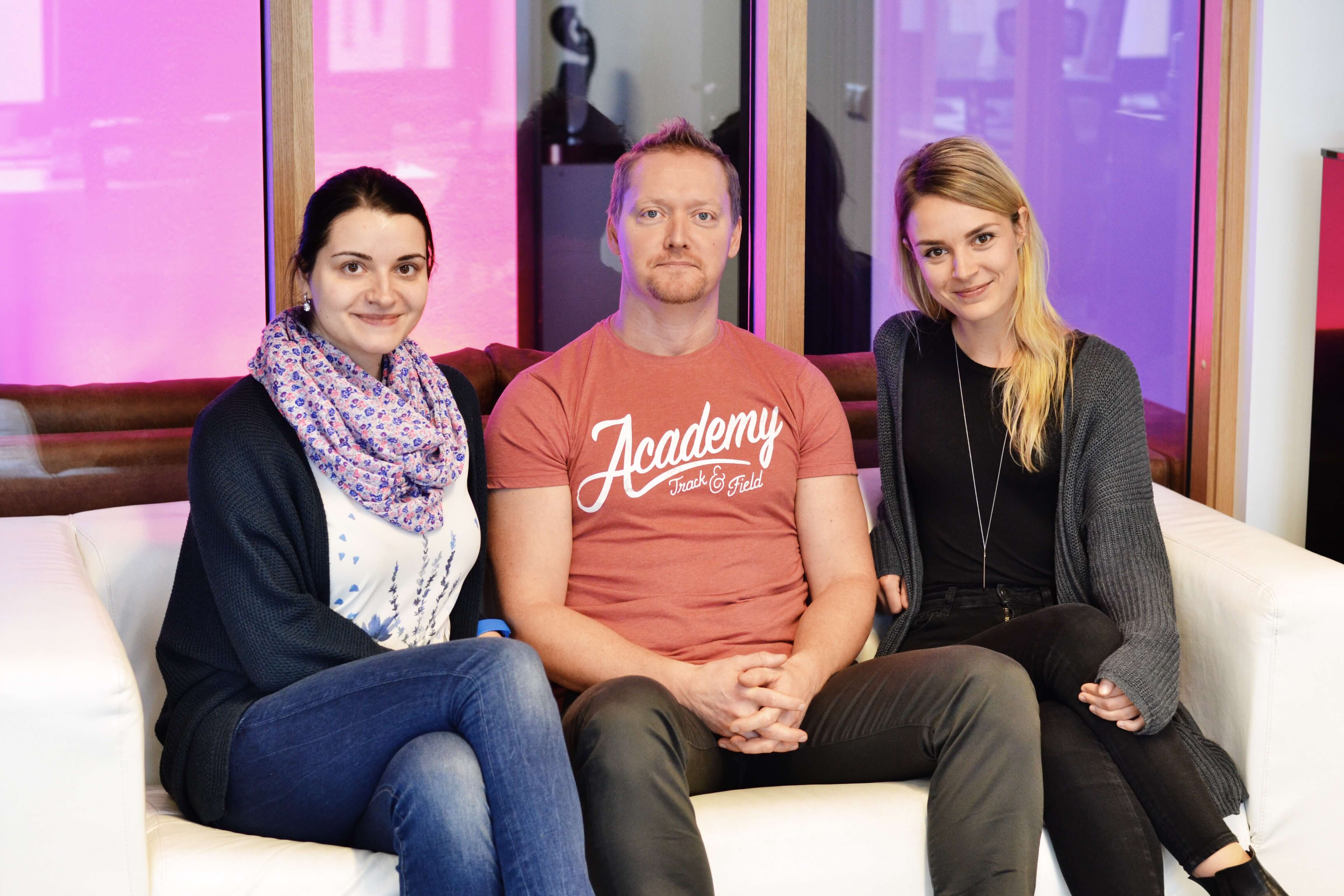 Our Onboarding team will make sure you get the most out of Scoro.
Read on: What Makes a Great Company Culture? Interview With Scoro's People Operations Manager – Kadri Mäe
9. CAN I USE MY OWN BRANDING?
Yes. You can use your own branding for quotes, invoices and other documents. A PDF-file can be made to look according to your wishes and delivered to your client from Scoro. You can also use PDF templates for creating contracts, for example, directly from quotes.
Last but not least, you can also show off your beautiful company logo on the top navigation menu throughout the site!
10.  CAN I USE MY OWN SIGNATURES?
Yes, you can use your signatures in Scoro. You can copy your signature from your existing email client (e.g. Outlook, Apple Mail, etc.) or you can import the signature in HTML.
Set up the signature in Scoro under Settings > My Settings > Email. When creating your signature, use dynamic fields to make your life easier. When you have entered your details, these dynamic fields fetch that information automatically.
11. CAN I USE MY OWN TEMPLATES?
Yes, you can use your own PDF templates for creating contracts, invoices, quotes, and all other documents.
A PDF can be personalised and made to look exactly the way you like. Most of the things you see on a PDF can be modified under Settings > Site settings > PDF templates. You can modify an existing template or create a new one. To make it even easier for you, we've added a PDF library with six designs to choose from, so all you need to do, is take your pick.
12. CAN I IMPORT MY EXISTING DATA?
Yes, you can import your own contacts, products, images, invoices, receipts, and more. This can be done under the Import/Export module, and .CSV, .XLS and .XLSX files that have been created based on our example files can be imported. More detailed instructions on how to import data can be found in our Help Center.
Read on: New Software Onboarding – The What, Why, and How
13. CAN I EXPORT AND TAKE MY DATA WITH ME?
Yes, you can also export your data. Exporting can be done from the list views. If you don't see the Export buttons in any views, consult your site administrator about relevant rights. You can export data either in .xls or .csv format. More detailed instructions on how to export data can be found in our Help Center.
14. WHERE IS SCORO HOSTED?
Scoro servers are currently hosted in Tallinn, Amsterdam, Toronto and Sydney. That means Scoro is quite easily scalable. Your server will be selected depending on your company's physical location to give you the fastest site speed available. And, we can add a new server anywhere if the need arises.
15. IS MY DATA SECURE?
Yes. All traffic in and out of Scoro is done over HTTPS protocol, that means all the communication is being encrypted. It is also worth mentioning that we use 256-bit encryption – the same as most banks use – for ensuring the highest level of security for your information. What's more, every Scoro site is held separately from each other so that data cannot get mixed up or accessed without permission.
16. CAN I HIDE/LOCK CONFIDENTIAL INFORMATION?
Yes. Every module (i.e. invoices, projects, reports, etc.) is role based. Access can be removed completely or access can be limited according to viewing and modifying needs. There are also private events, task and projects, locked projects for selected users and more.
Detailed instructions on how to manage user roles and permissions can be found in our Help Center.
17. WHAT DOES SCORO INTEGRATE WITH?
You can integrate Scoro with many of your current tools. For example, you can:
Synchronise your Scoro calendar with iCal, Outlook, Google and other calendar applications.
Connect your Dropbox account or FTP server to access your files right where you need them.
Connect Scoro with MailChimp to keep your mailing lists synchronised.
Synchronise financial information with your accounting software – currently, Scoro integrates with Xero, Quickbooks, Hansa, Directo.
In fact, you can integrate Scoro with almost any other software solution or online tool by using our full-featured API and/or Zapier.
INSERT SPACE HERE
18. DO YOU HAVE AN IOS/ANDROID APP?
We're excited to announce that we've just launched the Scoro app for iOS and Android. Now it takes just a few taps to create a project, assign a task or add an event to your calendar. Not to mention having everything you need to know about your business with you at all times. You can download it from AppStore or Google Play now. P.S. Besides the app, Scoro is of course also available in all responsiveness on your mobile devices' web browsers.
INSERT SPACE HERE
19. WILL SCORO REPLACE OUTLOOK?
You can use Scoro for sending emails, and it has powerful calendar and task management features. But in fact, Scoro is not meant to be a replacement for email clients (Outlook, Thunderbird, Apple Mail, etc.), rather a solution to manage important emails in a better way so that your information is not just in your inbox, but on your client/project card. Nevertheless, Scoro can be integrated with MS Exchange and Office 365's email features.
20. DO YOU HAVE MANUALS/VIDEOS?
Yes, to make sure you have all the knowledge to the get the most out of Scoro, we have put together guiding manuals and videos of Scoro. All this can be found in our Help Center. You can browse content by topic or just type what you're looking in the search box.
A good place to start is watching this Scoro feature overview video:
Kaboom! Now you know the answers to the top 20 FAQs that Scoro users ask. If you need more guidance in learning more about Scoro, then we invite you to register for a personal one-on-one demo here. And remember, you can always drop any of yours questions at help@scoro.com.