Industry insights
21 Must-Have Tools for Agency Growth
According to the 2017 SoDa report and surveyed agency leaders, SaaS tools play a big role in agency growth. There are thousands of applications which either help:
increase operational efficiency and become more data-driven; or
generate revenue – improve or develop agency services.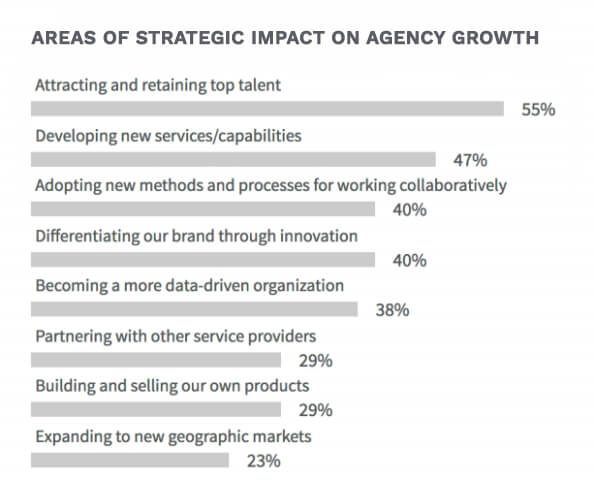 To give you some guidance, we have analyzed various solutions, and put together a list of top tools from most important categories.
Every software listed here:
? Has unique features and/or a large customer base
? Is by a trustworthy provider, with regular updates and high security
? Is relatively easy to use with reasonably short setup time
---
OPERATIONAL EFFICIENCY
Raise your hand if you've heard the term "creative chaos" too many times in your agency. Running and growing an agency is hard. If you're a manager or an agency executive, you would probably prefer to talk more about operational efficiency, maximizing billable hours, and providing better service quality for your customers. Being fast, flexible, and extremely professional has been made easier by various business, project, team, and customer management solutions.
#Business Management

SCORO
Scoro is the all-in-one solution for agency business management. It's built especially considering the needs of agencies and other time-billing-based services.
What's special about this tool: The truly special thing about Scoro is that it combines so many other tools out there. To be exact, Scoro will streamline your whole work process:
CRM
quoting & proposals
project management
dashboards
work scheduling & tracking
invoicing
reporting

This means you'll have one central go-to control hub for your business operations and work management. In any way, you'll need to have a stack of tools which support your daily processes. Scoro is easily customizable to fit your workflow, so you don't have to hassle with integrating 10+ tools into a fluent system.
Pricing: from $26 user/month, onboarding services are available
#Project Management with Client Collaboration

BASECAMP
Basecamp is known for being a simple project management tool with a nice interface.
What's special about this tool: As said in the headline – Basecamp has a Client Portal, which it allows your team members to collaborate with your clients. It's convenient and nicely organized. Comments, conversations, and replies are gathered within each project.
Pricing: fixed price – $99 per month for unlimited users
Read on: 22 Best Basecamp Alternatives for Project Management
#Agile Project Management

JIRA
Jira is one of the most powerful project management solutions on the market. It helps to break large projects down to small and specific tasks, assign responsibility, deadlines, and dependencies.
What's special about this tool: Although it's mainly built for software development teams, agency leaders are also starting to adopt the agile mindset and experimenting with Jira. Set up a plan for each week, track the progress (each day if needed), and review results at the end of the week. Every task and action is accountable.
Pricing: from $10 user/month
Check out this Jira alternative!
#Document Management

PANDADOC
PandaDoc is made to create, send, track, and eSign client-facing documents to win more business. Agencies love the benefit of rapid proposal creation and tracking.
What's special about this tool: PandaDoc is the perfect tool to help your agency grow faster – support customers, communicate more efficiently, make plans, drive sales. Read more from their blog about how companies have reinvented their proposal, quote, and contract workflows with PandaDoc.
Pricing: from $49 user/month, onboarding services are available
#Meeting Scheduling

CALENDLY
Calendly's function is very simple yet important – it helps you eliminate emailing back-and-forth and book client meetings efficiently.
What's special about this tool: I can't say that there's anything especially intriguing about Calendly. It does what it says, and it does it correctly.
PS! There are many alternatives for scheduling tools. If you use a more comprehensive software, they might have a built-in feature for this.
In fact, an interesting alternative to Calendly is Drift. With Drift, you get meetings, chat, a profile, easy scheduling, sales email and more in one place. Check it out!
Or if you have implemented Hubspot, it makes sense to use the Hubspot Calendar to schedule meetings.
Pricing: free plan for Basics, paid plans start from $8 user/month
#Grammar Checker

GRAMMARLY
Grammarly is an irreplaceable tool for anyone who writes emails, articles or any other content. In other words – it's an online grammar checking, spell checking, and plagiarism detection platform.
What's special about this tool: You can use the web application (Grammarly Premium) and upload your content for a check-up and/or download a Chrome extension. If you're kind of old-school and still using MS Office, there also a version for you.
Pricing: the extension is free, the web application starts from $11.66 per month
#File Collaboration & Sharing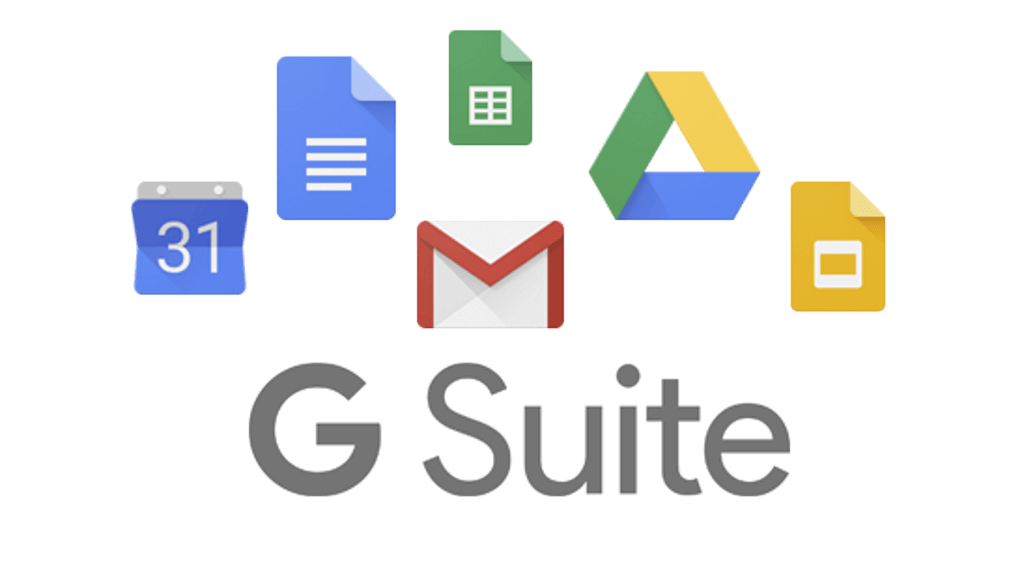 G SUITE
G Suite is one of the most efficient solutions to collaborate with your team to create, share and store documents, spreadsheets and presentations online.
What's special about this tool: I can't even say that there's anything extremely special about G Suite. It's such a basic toolkit for every business. If you're still using Word or Excel to share information with your team – do your team a favor and move to the cloud.
Pricing: from $5 user/month
#Team Chat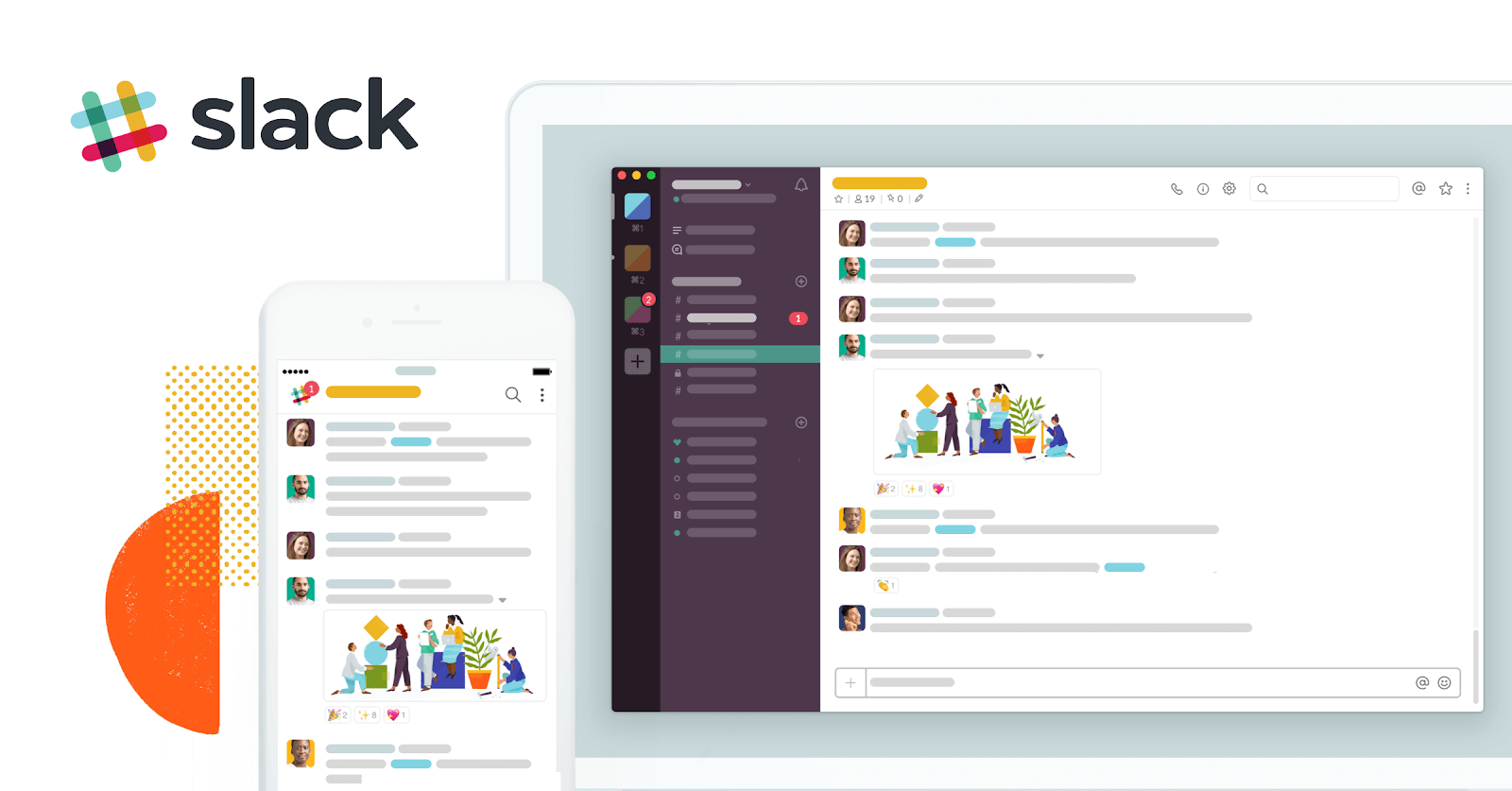 SLACK
Slack is a popular instant messaging platform for your team. You can create channels per topic or per team, set notifications, share files, etc. Some agencies also use Slack for daily communication with their customers – having different channels for each of them.
What's special about this tool: In addition to the extremely nice interface, Slack also boasts with functionality. You can integrate a multitude of apps and tools with Slack to get notifications and have a constant information flow (sales leads, support tickets, press mentions, etc.)
Pricing: free plan available, paid plans from $6.67 user/month
Read more: Workplace Chat Is Killing Our Productivity
#Dashboards
SCORO
Yes, we mentioned Scoro in the holistic business management category, but! There are no other dashboard tools, which are so easy to use and well-integrated with your other tools. Usually, you need to build a dashboard from scratch and pull in information from all the other tools you're using.
What's special about this tool: The benefit of using Scoro is already having all these tools (read: features) in one solution. Creating dashboards is faster and easier, and you have a very wide choice of information to add to your dashboard. From daily tasks and progress tracking to metrics, KPIs and charts.
Scoro also has a Dashboard Library with pre-made templates and suggestions.
PS. To leverage this dashboard fully means you'll have to use Scoro for your whole business. It does not serve as a stand-alone dashboard tool – but that's the beauty of it!
Pricing: from $22 user/month for the whole suite
---
YOUR SERVICES & REVENUE
To provide the best possible services to your customers, you have to be up-to-date with all the opportunities and new tools. All these listed tools might either:
help you increase your own customer base; or
help you suggest the best solutions for your customers.
Every agency leader, creative and marketing professional knows about Google Ads, Google Analytics, Hubspot, Moz, Adobe Creative Suite, Facebook Business Manager, etc… So, we're not going in-depth with the fundamentals, but rather – let's look into some new angles and/or interesting tools you might have not heard of before.
#CRM & Marketing Automation

HUBSPOT
Hubspot definitely does not inquire a long introduction, but for a brief reminder – it's a powerful inbound marketing and sales software. It has four solutions: CRM (which is free!), Sales Hub, Marketing Hub (this is where your money will go), and Service Hub.
What's special about this tool: Hubspot truly is one of a kind – boasting 48,000 global customers globally and millions of engaged community members, who are eagerly consuming their educational content. Regarding functionality, Hubspot seems to be the most advanced and comprehensive solution combining CRM & sales, email marketing & automation, lead engagement & nurturing, and customer support. Go check out the epic list of features.
Pricing: The CRM tool is free, but to take full advantage of Hubspot's possibilities, consider at least a $1,200 monthly investment
#Analytics

GOOGLE ANALYTICS
Google Analytics is the most popular analytics tool on the web. If you're reading this article, you are probably very well aware of its opportunities.
What's special about this tool: For most marketers, Analytics is the go-to platform for website and marketing analysis. But be prepared – to take full advantage you have to have notable experience and technical knowledge.
Pricing: it is free!
#Graphic Design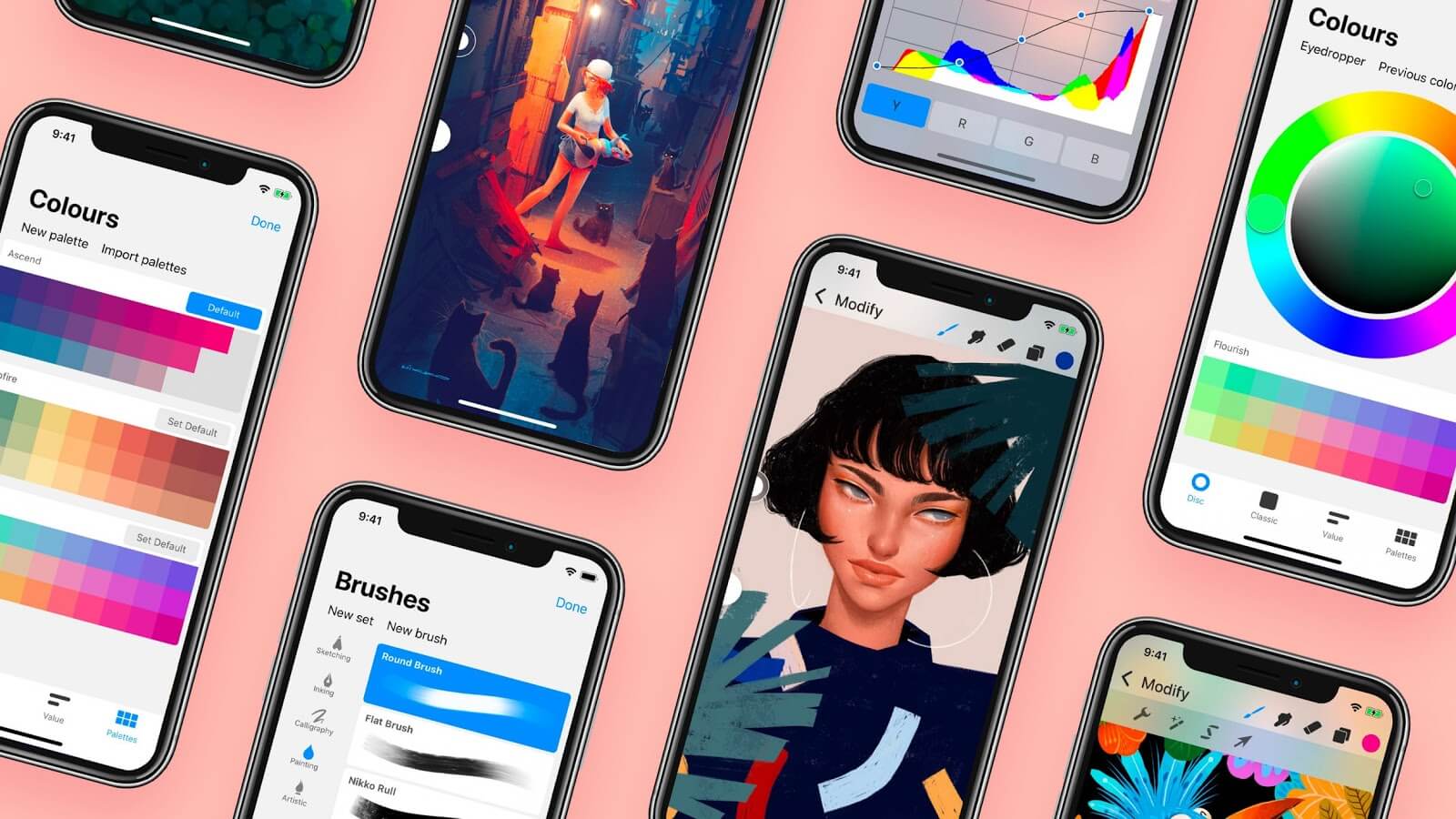 PROCREATE
Content consumption is trending towards easy-to-comprehend visuals, leaving lengthy texts behind. We all know that Adobe's Creative Cloud is the industry standard for any design professional – the range and depth of its tools can't be compared to any other tool stack out there.
This doesn't mean you can't use additional tools to bring your brand to life. For instance, explore Procreate – an intuitive illustration app to be used with an iPad (or iPhone) and Apple Pencil.
What's special about this tool: Procreate saves work as .psd (with different layers) or .pdf which completely integrates with Adobe – so you can tweak your work later.
Pricing: a very good bargain for $9.99
#SEO Insights

SEMRUSH
SEMRush calls itself "an all-in-one marketing toolkit". Whilst I can't agree it has all a marketer needs, SEMrush does provide very good tools for marketing analysis for SEO, keywords, your website, social media, competitors, and more.
What's special about this tool: There are a lot of players on the SEO software market. Other's tend to be more focused on planning and analyzing your own SEO and keywords. SEMrush also lets you have quite advanced insights about your competitors.
Here are some alternatives. To find out what works best for you, try them out yourself.
Pricing: from $99.95 monthly
#Conversion Rate Optimization

AIVA LABS
Aiva Labs is an AI-powered conversion rate optimization tool. It uses website stories to engage and convert visitors.
What's special about this tool: At first glance, I can't really figure out what's the magical AI concept (all comments are welcome!), but the tool seems to help personalize your website content and streamline experimentation. Aiva is definitely worth checking out.
There are literally hundreds of conversion rate optimization tools for slightly different functions, and you might even want to use several of them combined. Here are some solid options:
Pricing: from $19 per month
#Conversational Marketing (CM)

DRIFT
Drift is a cloud-based chatbot, live chat, in-app messaging, and email management solution designed for sales and marketing teams. Lately, we've heard a lot about the term "Conversational Marketing" (look it up!). It's great to see more and more of these customer-centric and customer-lifecycle approaches emerging.
What's special about this tool: As our customers' attention spans are shortening, the first impressions are crucial. There's only a small-time window to grab their attention and get them engaged. It's much easier to find what you're looking for if someone talks to you and guides you through the process. Drip gets that.
But before using Drip, you have to shift your mindset from traditional forms and drip emails to having persistent client conversations and combining marketing, sales and customer service. It's all about your processes. Not a single tool will help you reach your goals if your head is in the wrong place.
Drift boasts to be the first and only CM platform, but there are alternatives, such as:
Pricing: a free plan is available, but to get the full experience – it's $500 per month
#Customer Messaging

INTERCOM
Intercom is a customer messaging app for sales, marketing, and support, connected on one platform. Its main focus is on customer support and communication (in-app and email).
What's special about this tool: Intercom has an angle for every step of your customer's journey – from lead generation to engagement to retention and support. It has similar functions to Drift, but with more opportunities throughout the whole customer lifecycle.
Pricing: from $49 per month
#Email Marketing for E-commerce

DRIP
Drip is a CRM + email marketing and automation tool which helps to deliver personalized content across multiple channels. Every retailer is online nowadays, so there's a high probability your agency has a client in e-commerce – Drip might just be the secret growth hack to boost their sales.
What's special about this tool: Drip has a unique ECRM concept – meaning it's specialized for e-commerce, but I've also heard some praise from agencies and SaaS businesses. With Drip, you can:
Send personalized emails to first-timers and return buyers.
Use a visual workflow builder to create marketing automation campaigns.
Integrate with Facebook Ads to create highly targeted campaigns.
Easily integrate with other e-commerce tools, such as e-commerce platforms, payment processing, surveys & pop-ups, lead capture, etc.
Pricing: from $49 per month
#Interactive Content Creation

CEROS
Ceros is an interactive landing page, ebook and infographic builder. No developer input needed.
What's special about this tool: In the age of inbound & content marketing, agencies are constantly on the lookout for new ways to create the "wow" factor. Ceros is a powerful, yet highly intuitive tool for designing interactive graphical content which is easily consumable and much more engaging.
It is just not possible to create these kinds of dynamic graphic with Adobe Creative Suite products, so Ceros is quite unique in that sense. Of course, there are other applications which do a similar task as Ceros, but in my opinion, none of them reach the same level of sophistication.
Pricing: On request
#Quick Ebook Creation

BEACON
Beacon enables to compile beautiful ebooks (lead magnets) without hiring a designer. Plus, they promise you can get it done under 10 minutes! Well, let's try it out, shall we?
What's special about this tool: Beacon has over 20 pre-made templates, which already look quite nice. You'd probably want to customize them – you can make modifications with drag-and-drop or create your own custom template.
In addition, there are two features which make Beacon truly stand out:
PDF reporting – get analytics on how well is the content performing. For example, find out which pages are most popular.
WordPress integration – turn any blog article into an ebook with just a few clicks.
Pricing: free for Beginners, paid plans start from $49 per month
#Content Collaboration with Clients

CONTENTSNARE
ContentSnare helps agencies get website and marketing content from their clients on time and in the right format.
What's special about this tool: ContentSnare solves a truly relevant problem all agencies and client-side marketers have to deal with. It will help lagging projects get off their feet and save tons of time. You don't have to set tasks, organize Google Docs or send endless emails. Plus, it has a really good-looking and intuitive interface.
Pricing: from $24 month
#Social Media Content Scheduling

BUFFER
Buffer is a straightforward easy-to-use social media management platform.
What's special about this tool: In comparison with Buffer's main competitor Hootsuite, Buffer has a very pleasant clean interface. Although the feature set is more simplistic, Buffer gets the scheduling job done, and even provides you with content suggestions and analytics.
Pricing: from $15 per month
---
Hope you got some new ideas from this list! We encourage you to try out new tools and see what works best for your team. Best of luck!