Work management
A Perfect Toolkit for Managing Remote Teams
Remote work has become more popular in recent years, with 2020 speeding up the transition drastically. Further, thanks to the emergence of countless digitized platforms and online collaboration tools, it's now easier than ever to manage a remote team. Working remotely has actually been found to increase productivity by up to 13%, and we can expect remote teams to become more and more common in the near future.
Here are some of the reasons remote work gains ground every year:
Better work/life balance
Less stress
Reduced work-related expenses for both companies and employees
Ability to work from anywhere, even when traveling
Larger pool of candidates for companies to choose from
Difference Between Managing Remote Teams and Office Teams
Managing remote employees is not the same as managing a team in the same office. Remote work has lots of advantages for everyone involved, but it can also be fraught with challenges.
Managers who want to succeed in making the transition from an office team to a remote one need to be upfront with themselves and their teams about the challenges they're facing, says Andrew Dawson, Entasis Therapeutics, for Forbes.
It's also essential for leaders to trust the members of their team and avoid micromanagement, which is annoying enough in the office, but can be truly destructive when it comes to remote teams, says Alex Kvamme, CEO and co-founder of Pathlight.
Communication is the basis of team management, but it becomes even more critical with a distributed team. When everyone in the team works remotely, you can't pop into the manager's office to ask about the status of a brief, and you can't discuss timelines and deadlines with co-workers by the water cooler.
As such, it's vital for team managers to use proper communication channels to make sure everyone is kept in the loop. In the beginning, you may find it necessary to overcommunicate to make sure everything is running smoothly.
Being transparent with the workflow and defining each task clearly is a way to see big strides in processes and collaboration. Making sure everyone on the team is on the same page is the key to success for any remote team.
Read on: What It Takes to Become Remote-Ready
What Tools Are Needed to Manage a Remote Team?
Knowing what to do as a manager of a remote team in terms of workflow and communication is one thing, putting it into practice is another. To run a remote team successfully, it's paramount that you have access to the right tools.
Whether you're running a remote team where everyone is in the same country or a distributed team with members who live everywhere from Boston to Hong Kong, you need to have tools that enable everyone to collaborate, while keeping engagement and motivation high. Unfortunately, with so many tools to choose from, it can be a time-consuming and challenging task to put together an ideal tool kit for your team.
To help make your decision process easier, we've taken the time to test out various tools and put together a list of the best tools on the market from five main categories:
All-in-one tools to bring everything together into one system
Cloud services for file storing and sharing
Productivity tools to remove distractions and improve efficiency
Communication and collaboration tools for online meetings and better team collaboration
Security tools to keep your data safe
BEST ALL-IN-ONE TOOLS
Scoro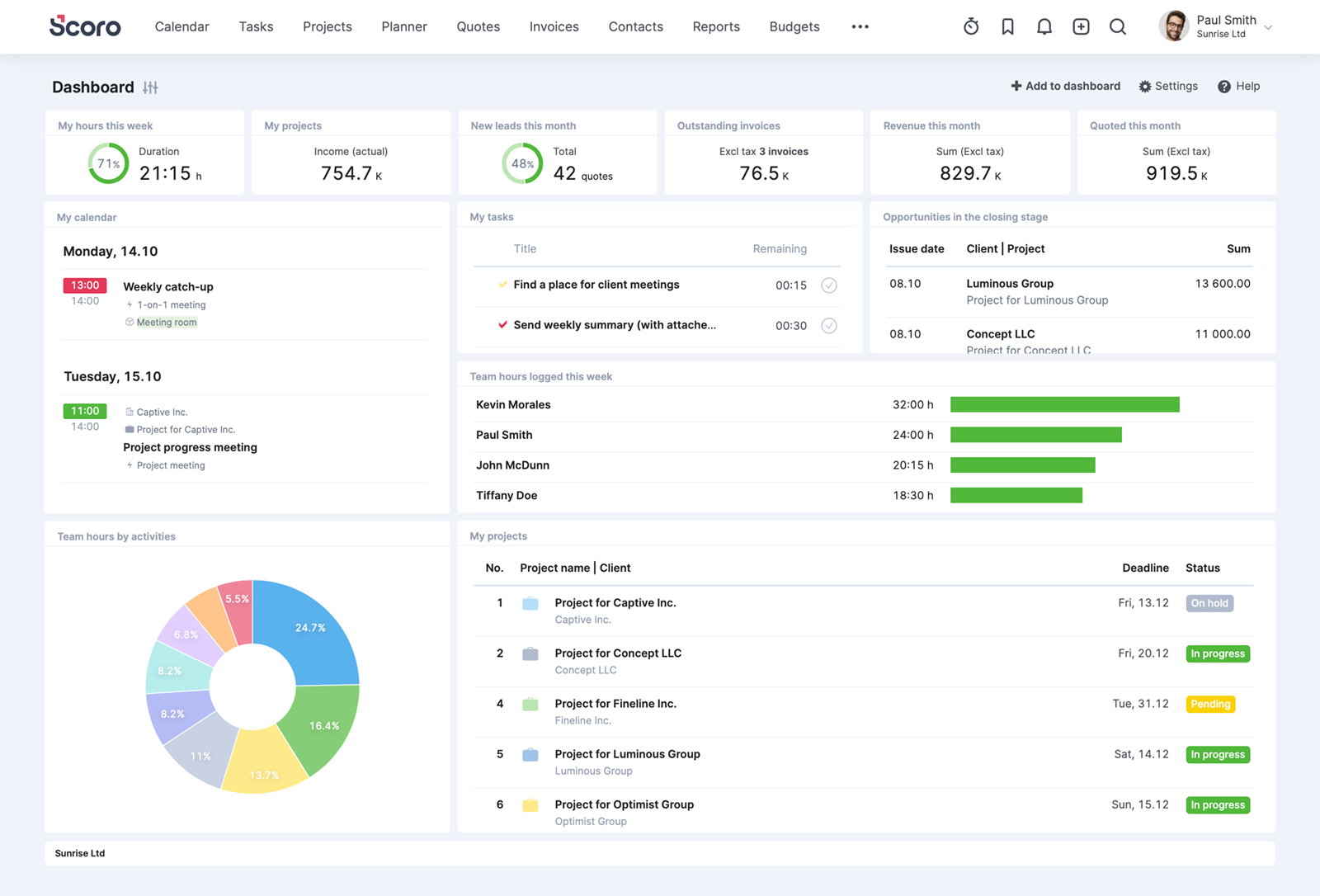 Scoro is a powerful end-to-end business management solution with all the necessary features for managing a company successfully. These features range from project, tasks, and contact management, team collaboration, quotes, billing, and reporting. With Scoro, you can streamline work and eliminate routine tasks to run your company as smoothly as possible.
Pros:

single source of truth

highly customizable dashboard and detailed reports

excellent project management features

Cons:

not suitable for individual use
Pricing: Free 14 day trial, paid plans from $26 user/month
Try Scoro for free for 14 days
Hubstaff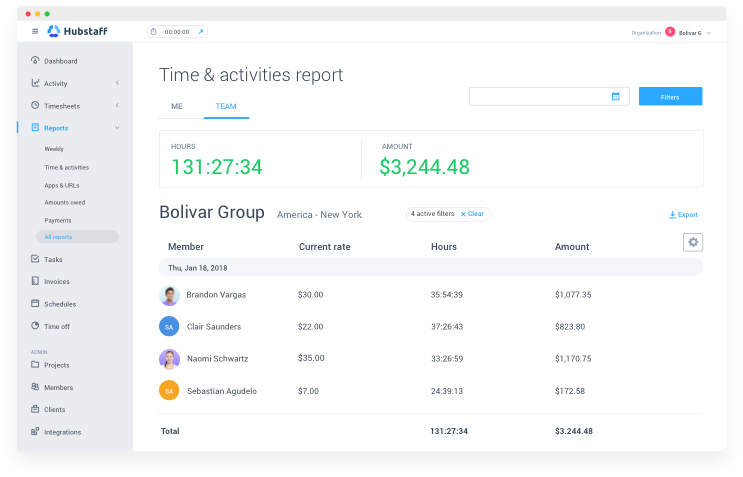 Hubstaff is a time tracking and productivity monitoring tool that enables your team to streamline their work and improve productivity with features like screen recording, online timesheets, and more. Easily manage various projects and teams, and keep track of where each team member spends their time.
Pros:

Screen recording capabilities for sharing

Productivity tracking features for remote team

Cons:

Basic reporting capabilities

time tracking can be faulty
Pricing: Free 14 day trial, paid plans from $11.57 user/month
Jira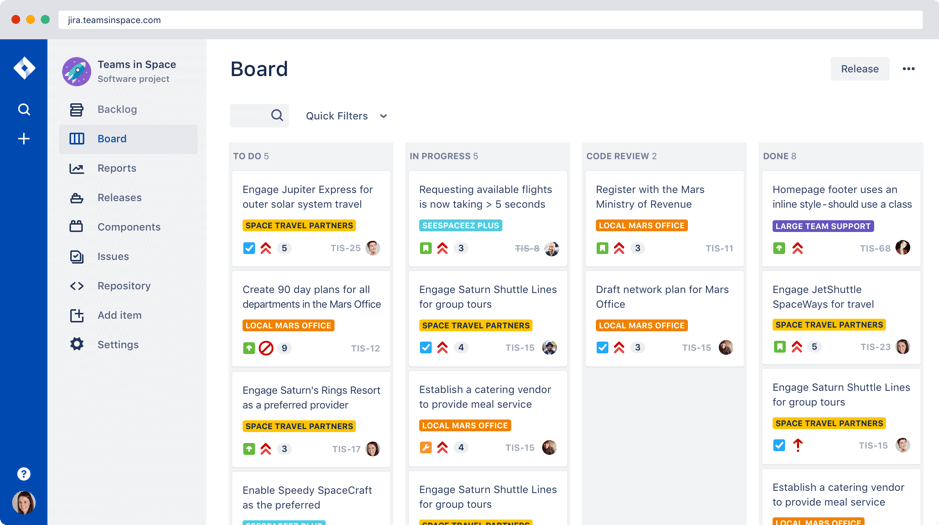 Popular choices among developers, Jira is a great tool for those looking for ways to improve team performance. It started as a bug-tracking tool but now offers various other features, including an agile planning suite and other resources needed to track large projects.
Pros:

Good for issue management (bug tracking)

Very customizable

Cons:

Can be difficult to set up

Fairly complicated user interface
Pricing: Free trial, paid plans from $7 user/month
ClickUp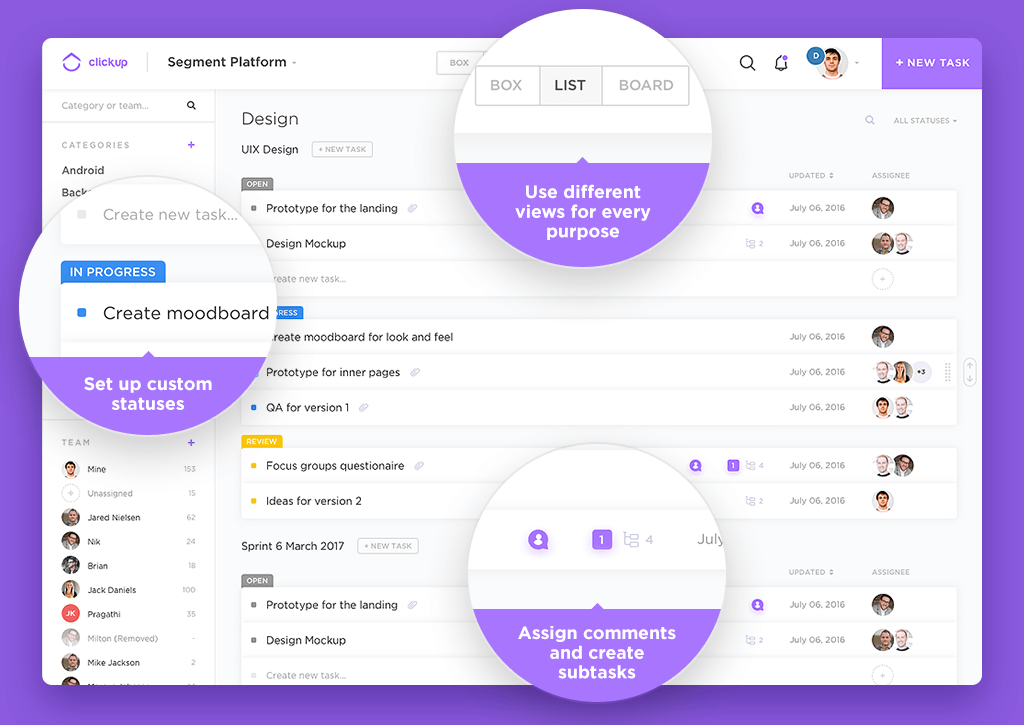 Another all-in-one platform suitable for small teams, ClickUp is a flexible solution that allows you to see projects organized by assignee or from an Agile dashboard. Other features that make managing a remote team a breeze include task assignments and statuses, communication and collaboration tools, and real-time alerts and notifications.
Pros:

Project templates for easier project management

Responsive support team

Customer-centric with regular updates

Cons:

More affordable plans don't include two-factor authentication

Only enterprise plans come with onboarding and training
Pricing: Free trial, paid plans from $5 user/month
BEST CLOUD STORAGE SERVICES
Google Drive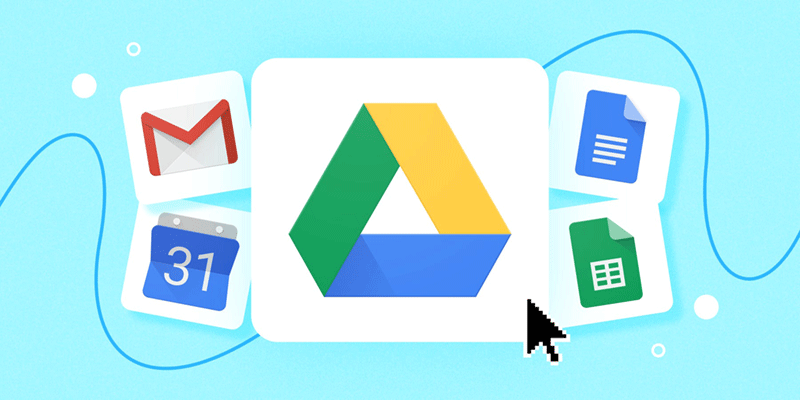 Google Drive is a very popular cloud storage solution because it offers real-time collaboration functions and it's easy to use. Use it to create documents, spreadsheets and presentations, and enable your entire team to edit and proofread in real time. Further, there's no need to install any software — everything can be done online.
Pros:

Syncs across all devices and can be accessed everywhere

The ability to see revision history and restore older versions

Real-time collaboration with teams

Cons:

Google Drive comes with potential security risks and their system can automatically browse all your shared content (including emails).
Pricing: Free for the first 15 GB of storage
Dropbox Business
Dropbox Business is a cloud storage system with multiple features making it easy to collaborate and share documents. It comes in handy when you need to share large files with the team and can't do so by email.
Pros:

Can be used offline

Easy to use

Multiple versions of the same file can be shared

Cons:

Compared to some of the other cloud storage services, the price is relatively high.
Pricing: Free 30 day trial, plans for teams starting from $12 user/month
Microsoft OneDrive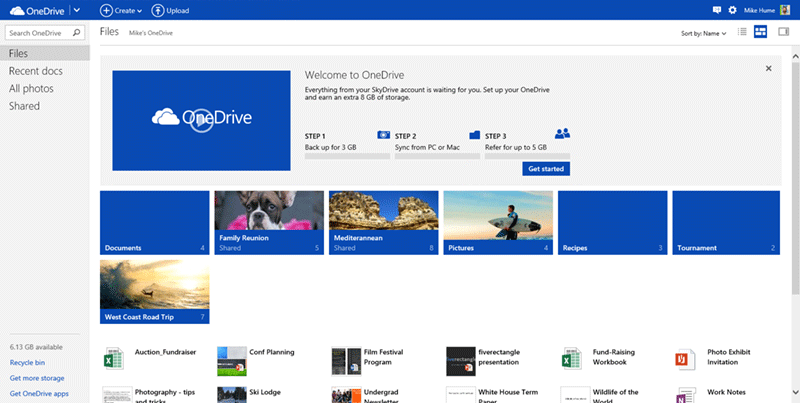 Microsoft OneDrive works similarly to Dropbox and Google Drive, enabling you to store large files and quickly share them with the team. It's also a good option for businesses who are already using Microsoft's Office 365 suite.
Pros:

Integrated with Office 365

Access information everywhere

Great permission levels and sharing options

Cons:

Some concerns over privacy have been cited by users – Microsoft has reserved the right to scan files saved in OneDrive
Pricing: Free 30 day trial, plans from $5 user/month
BEST PRODUCTIVITY TOOLS
Todoist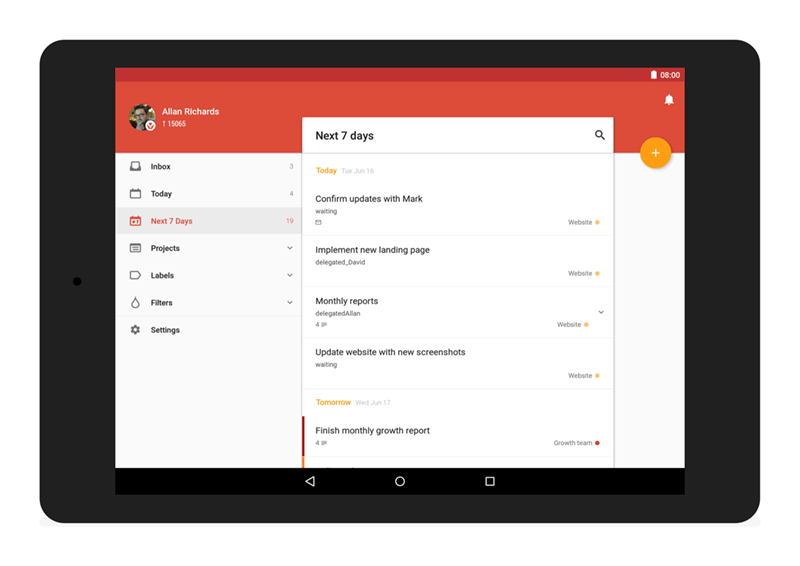 Todoist is a powerful to-do list app that can help anyone get organized and achieve peace-of-mind anywhere. From planning large scale projects to simply remembering to pay the rent, it's ideal for anyone looking for a simple way to organize their tasks.
Pros:

Good cross-platform capabilities

Can be used offline

Easy collaboration

Cons:

It can be challenging to work on larger projects because the subtasks don't work very well and can't be indented
Pricing: Free 30 day trial, plans for teams from $5.90 user/month
Krisp

Krisp helps remote teams to boost productivity by removing background noise. This way you can make calls with greater confidence, even from busy places like airports.
Pros:

Removes any background noise

Interface is simple and easy to use

Compatible with all major communication apps, such as Zoom and Slack

Cons:

High CPU usage can occur because all the audio-processing happens on the device
Pricing: Free 30 day trial, free and paid plans available
Toggl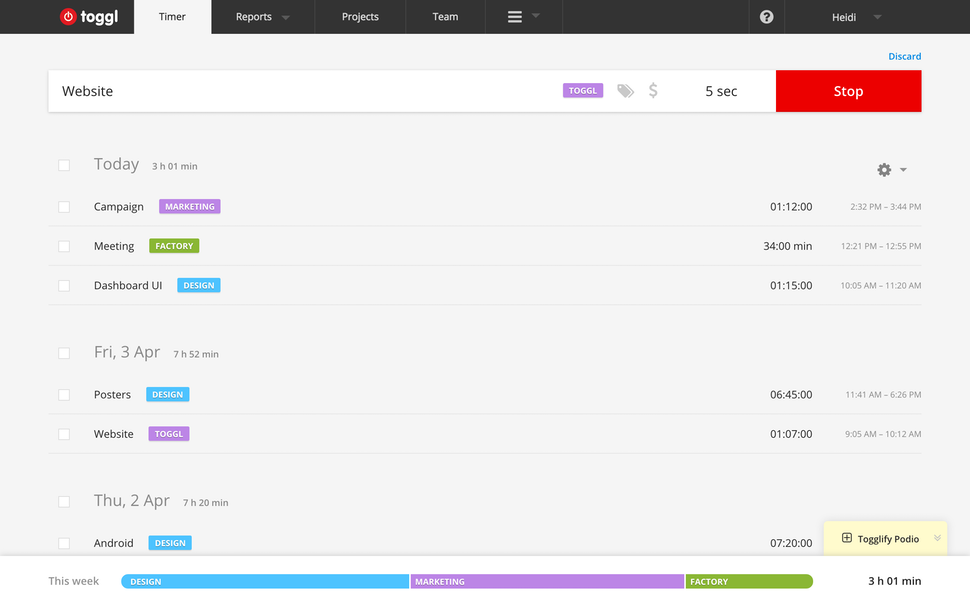 With Toggl, you can choose to track time real-time or insert information manually afterwards. Further, you can easily compile reports for customers and managers, showing how long team members spent on different projects and progress toward team goals.
Pros:

Easy to use

Free plans available for small teams (up to 5 people)

Good reports for analysis

Cons:

Not suitable for teams looking to manage their entire projects from one place as it doesn't include some important features, such as invoicing
Pricing: Free trial, paid plans for teams from $9 user/month
BEST COMMUNICATION AND COLLABORATION TOOLS
Zoom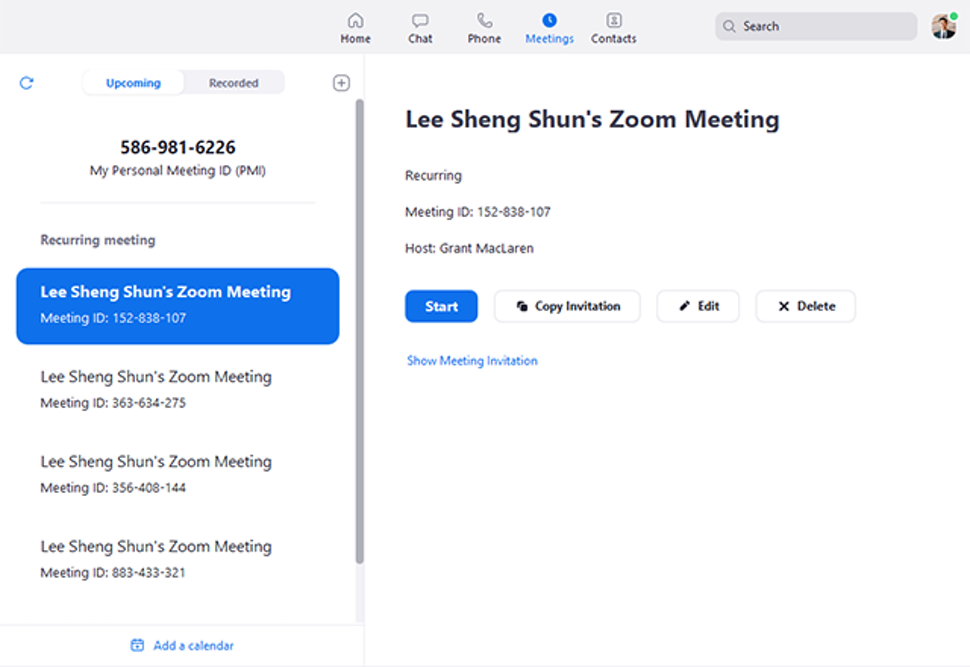 One of the most popular communication platforms for businesses, Zoom brings teams together to get more done in a frictionless and secure video environment. It offers high video quality and enables you to record your team meetings.
Pros:

Easy setup and intuitive interface

Screen can be shared with all the attendees

Save videos and share with people who couldn't attend

Cons:

If you have problems with your internet connection and no co-host, connections can be lost very abruptly
Pricing: Free plans for single users, paid plans from $14.99 license/month
Slack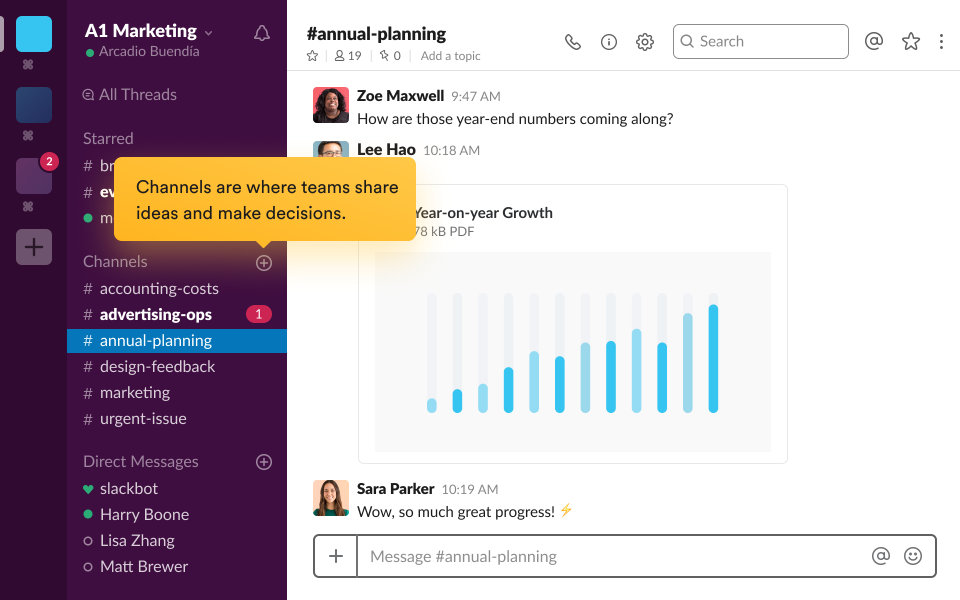 Slack is more than just a messaging tool. It's a digital space that makes it easy to communicate with teammates. Remote teams can use it for instant messaging and collaboration. Slack offers complete functionality on iOS and Android so you can also remain connected on the go.
Pros:

Ability to create public and private channels

Customizable interface

Integrates with different software

Cons:

Not the best option for video calls
Pricing: Free trial, paid plans from $7 user/month
Read on: 5 Clever Ways to Automate Your Work with Zapier
InVision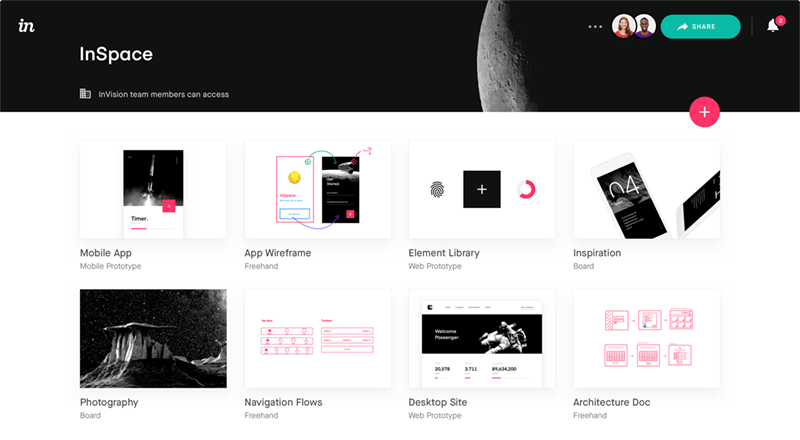 InVision is a cloud-based digital product design and development platform used to create and manage prototypes. It enables users to collaborate, test and experiment with designing templates and ideas on a digital dashboard.
Pros:

Easy collaboration and in-document commenting

Code (different programming languages) for design functionality

Great for prototyping

Cons:

Many users have reported poor customer support services
Pricing: Free plans available, paid plans from $7.95 user/month
BEST TOOLS FOR SECURITY
LastPass
LastPass makes it easy for managers to empower their employees to work remotely and have access to data securely. With the help of this tool, you can generate passwords for the members of your team, which can be backed by two-factor authentication for an extra layer of security.
Pros:

Easy to share access and manage passwords

Good pricing options

Password audit to check the existing passwords

Cons:
Pricing: Free 14 day trial, paid plans for businesses from $3.50 user/month
1Password for Teams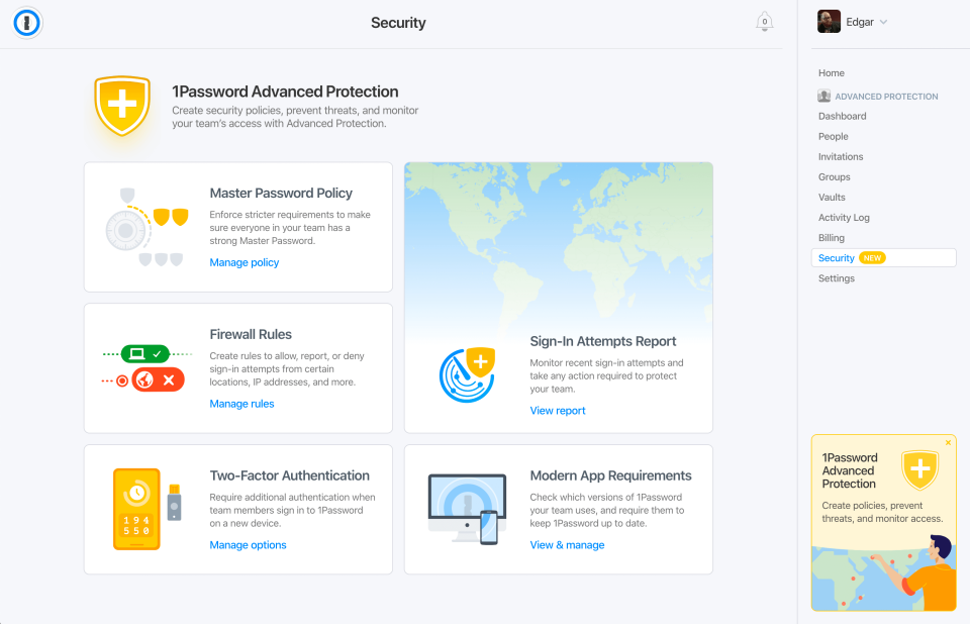 1Password is another great password manager tool that makes it easy for remote teams to stay safe online. 1Password for Teams is a scalable solution that makes it easy to bring new team members onboard. You can use this tool on as many devices you want and benefit from advanced encryption and total privacy.
Pros:

Various secure note templates for storing sensitive information

Intuitive password organization

Two-factor authentication

Cons:

No automated password changing capabilities
Pricing: Free 30 day trial, paid plans for teams from $3.99 user/month
Everything about your business, one click away
---
Keep in mind, technology should make our lives easier. And with the multitude of tools available, creating the perfect tool kit for any team, but especially for remote team, may take some time. The key is to test out different apps and combinations until you reach your most productive workflow.
Read on: