Work management
The 6 Best Alternatives to Mailchimp to Integrate With Scoro
Although social media marketing is currently in vogue, email marketing has long proven to be highly effective at boosting a business's customer base, building customer loyalty, and reinforcing brands. In particular, Mailchimp has shown itself to be one of the best email marketing platforms for companies in need of email marketing tools.
Mailchimp takes businesses through a simple step-by-step process to realize highly effective email campaigns – no coding or development skills required. If you need to build up your contact list, it can help you design an attractive custom landing page, and their intuitive email builder and email templates let you create and test how your emails look. Finally, businesses can schedule and launch their bespoke emails and present the data you gather into reports to gain insight into your next moves. What's more, their advanced features allow you to automate customer journeys, transactional emails, and much more, so you can connect with your customers meaningfully.
Scoro's comprehensive end-to-end marketing agency management platform integrates seamlessly with all email automation programs. With our software, your team can collaborate effortlessly in record time, wherever they are, via a single centralized source of information and data. This allows you to plan, manage and track your clients, campaigns, team, and business, all in one digital workspace. Interlinked data and automated workflows give you more time to focus on creating quality work.
Scoro and Mailchimp can also easily join forces to streamline both your management and your marketing processes, enabling remote collaboration and efficiency. Mailchimp provides beautiful emails, connects your e-commerce store, advertises, and builds your brand. When you sync the two, you can do even more with minimal effort. Schedule a demo or sign up for a free trial today.
What Are The Pros and Cons of Mailchimp?
As popular as Mailchimp is, exactly how good it is as an email automation tool has long been the subject of debate. Here are the Mailchimp pros and cons most commonly cited by users.
PROS:
An abundance of professional email templates to choose from

User-friendly drag and drop editor, and easy to use email designer tools

Very detailed reporting, with clear monitoring of campaign results

Integrates well with other platforms and apps,

including Scoro

Accessible pricing for start-ups and small businesses
CONS: 
Can be expensive to get advanced features like segmentation

Having the same subscriber on multiple lists counts multiple times, which limits your ability to reach more customers, forcing people to move up to a higher payment level to build their list.

Having to create siloed lists will require more work to create a more effective targeted campaign.

Mailchimp makes use of linear automations, so you can't easily veer off into new branches from the original automation path. For example, if you want to send individuals down separate paths, you'll have trouble achieving this.

Although A/B testing of subject lines, content, and send times is possible, Mailchimp offers no split testing of complete automations, or emails inside automations.

Mailchimp can't send affiliate marketing links – in fact, users get penalized for doing this, so if your business needs to incorporate these links into its emails, your best bet will be elsewhere.
Mailchimp's pricing plans: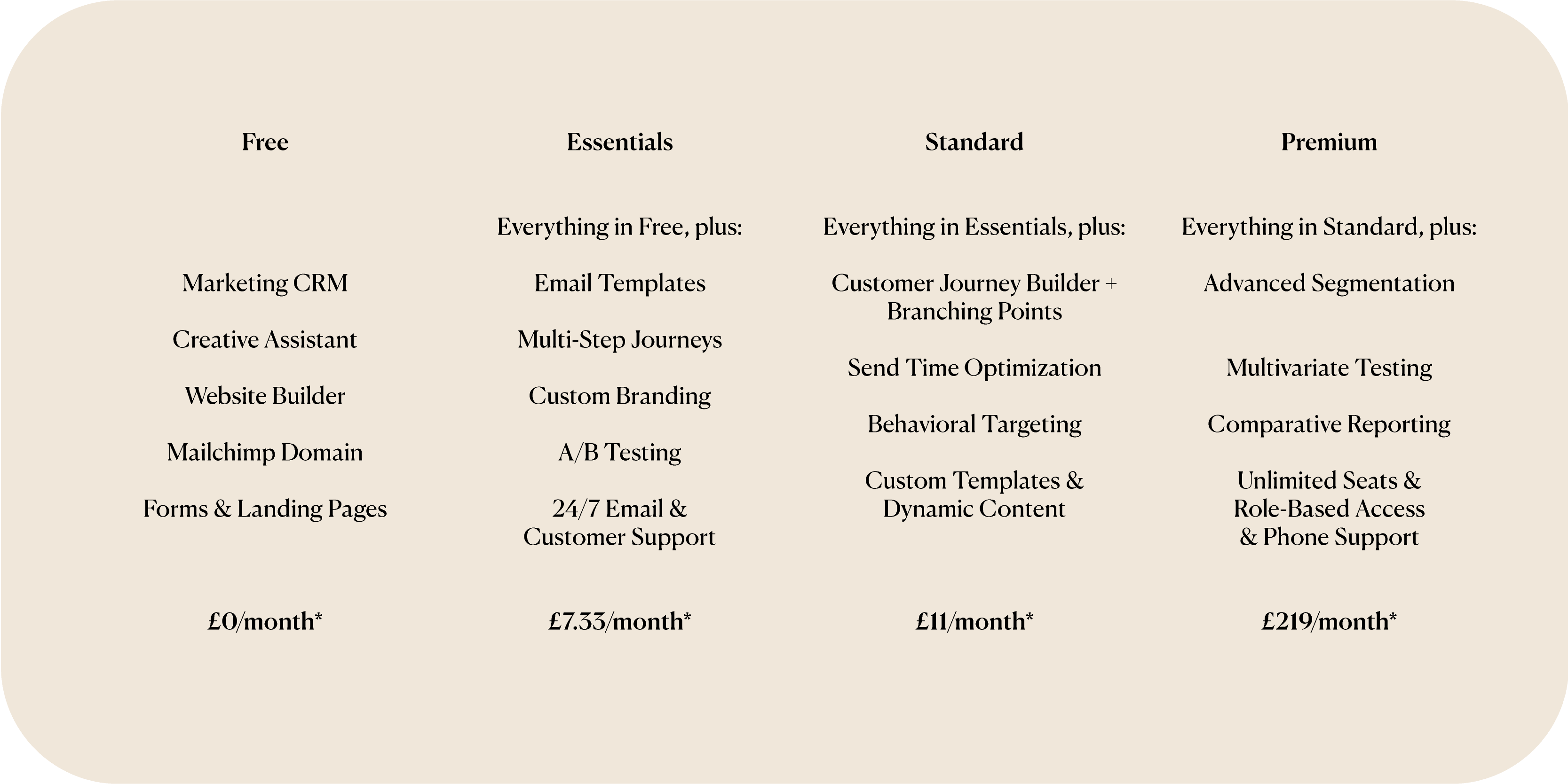 *overages apply if limits are exceeded
What Are the Best Mailchimp Alternatives?
1. Hubspot 
Hubspot is a CRM platform which creates great customer experiences with the help of several tools and integrations for managing your business's marketing, sales, content management, and customer service. Their email marketing tool is supported by their CRM, so you can store customer's info and keep a log of every interaction each customer has with you. This means your emails can be more personalized.  
Hubspot's free email marketing tool helps you grow your contact list, create landing pages with lead capture forms or add a live chat or bot to your website to interact with visitors. From there, you can create professional emails with an easy drag-and-drop editor and a variety of email templates. With the free plan you can send 2,000 emails a month with an unlimited number of subscribers (25 static lists and 5 smart lists.) Hubspot also allows you to integrate email marketing with sales CRM for more personalized email marketing campaigns.
When you need to scale beyond 2,000 emails, look into Hubspot Marketing Hub's 3 levels of automated, advanced features within their paid plans: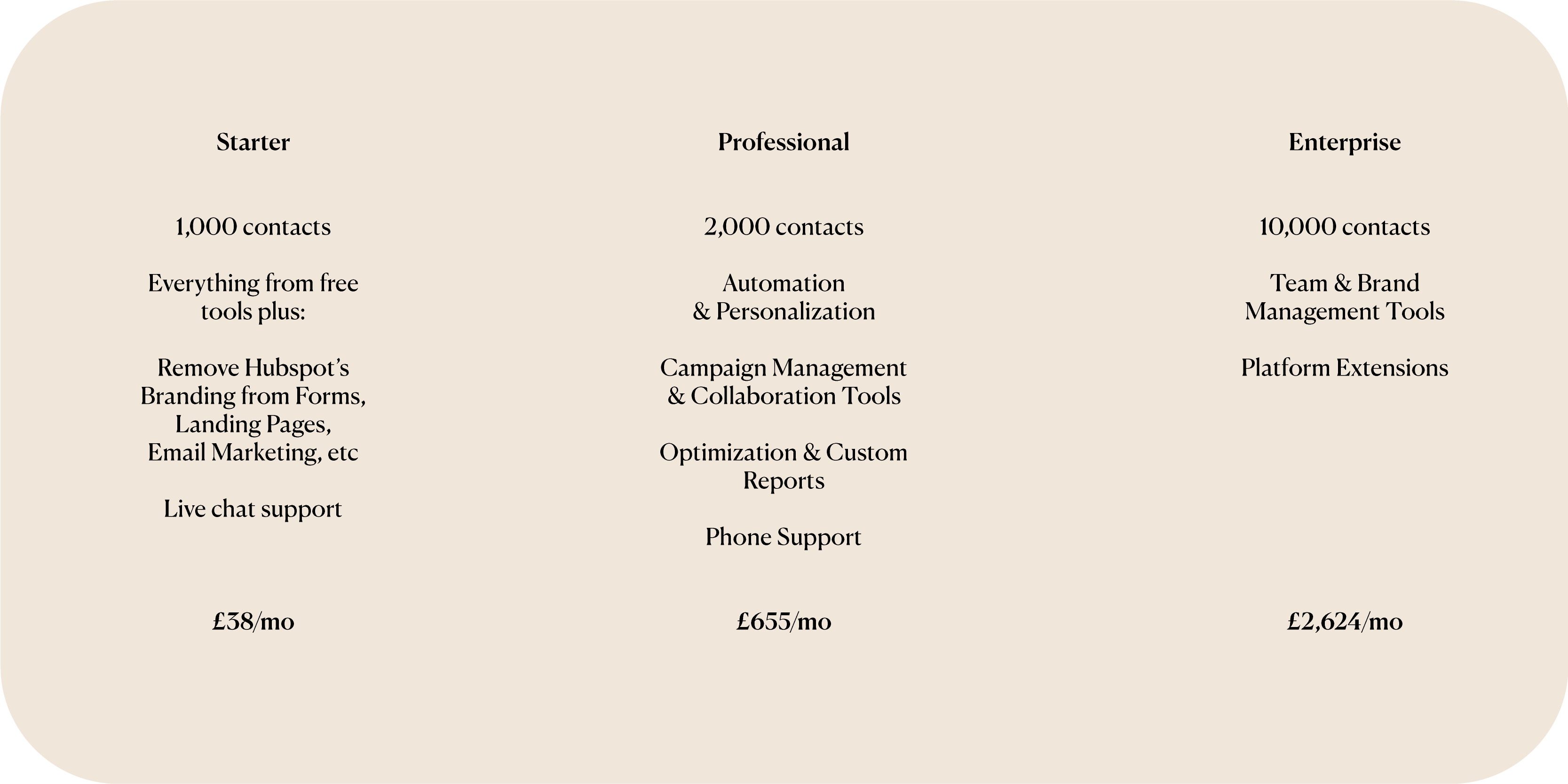 2. Sendinblue
This platform is a promising alternative to Mailchimp, offering email marketing, unlimited contacts, and transactional emails in their free plan, which may be just the right fit for some small businesses. What's more, it includes an email builder with plenty of well-designed templates as well as segmentation, behavioral targeting, remarketing, and combining SMS with emails. Sendinblue's paid plans are primarily based on the number of emails sent and additional features, so if you need to send more than 300 emails per day, you will want to consider subscribing.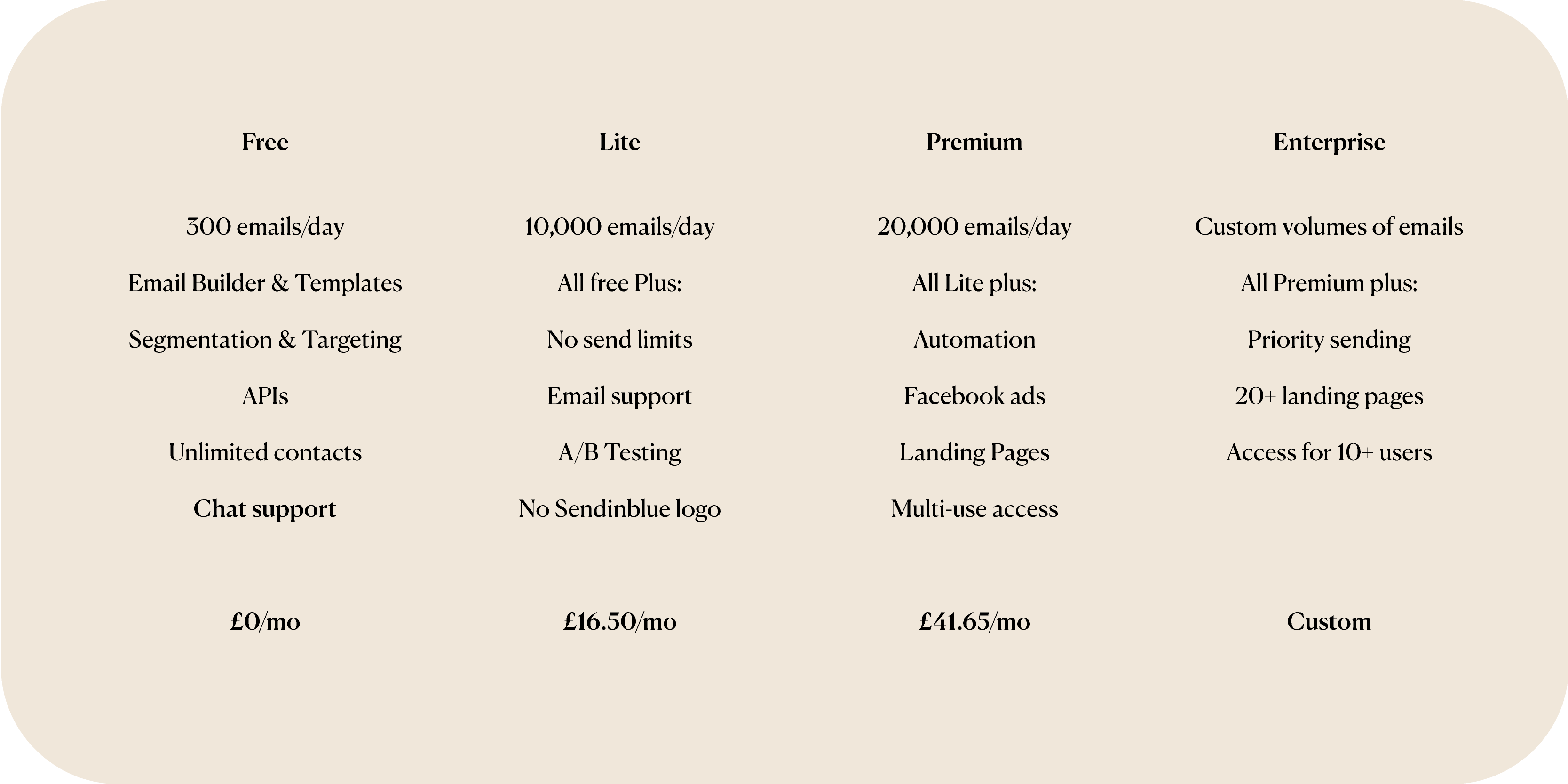 3. ConvertKit 
ConvertKit is perhaps the newest offering on the market, and targets content creators, musicians, authors and bloggers. They aim to help their customers pull in new subscribers with attractive landing pages, sign-up forms, and link pages. Their excellent email editor and powerful sales funnel helps you build relationships with your subscribers, so you can directly communicate with your customers with no technical expertise. 
It does seem to be simple to get things up and running, and they provide support as you go, so it's the perfect option for beginners to email marketing. Their targeting features are reliable, thanks to their tag-based subscriber system, while the automations builder has attractive features for easily creating effective automated campaigns. 
However, there are some concerns with ConvertKit – notably, its A/B testing is a bit basic, and it offers a limited range of email templates and reporting features. The paid plans can also get somewhat expensive if your subscriber list becomes sizable, as you pay according to the number of subscribers you have.
4. Drip 
Drip was created by landing page specialists Leadpages, and appears to be oriented towards the e-commerce niche. They aim to boost your company's revenue with powerful email, SMS, and social media marketing tools, all in one place. It is an interesting alternative to Mailchimp, with some great, unique features. 
First of all, Drip has a tag-based system, but they also have a segmentation option called "events", which have much more information like the price or time of the purchase, letting the emails you create be more targeted than those from other email marketing tools. Another unique feature is their "sharable workflows", which are pre-built automations that save a lot of your time, while also integrating well with e-commerce platforms like Shopify.
Nevertheless, there are a few shortcomings with Drip. The email templates, form builder and A/B testing are not quite up to scratch. However, the real problem is that you pay according to the number of contacts you have, which can escalate quickly.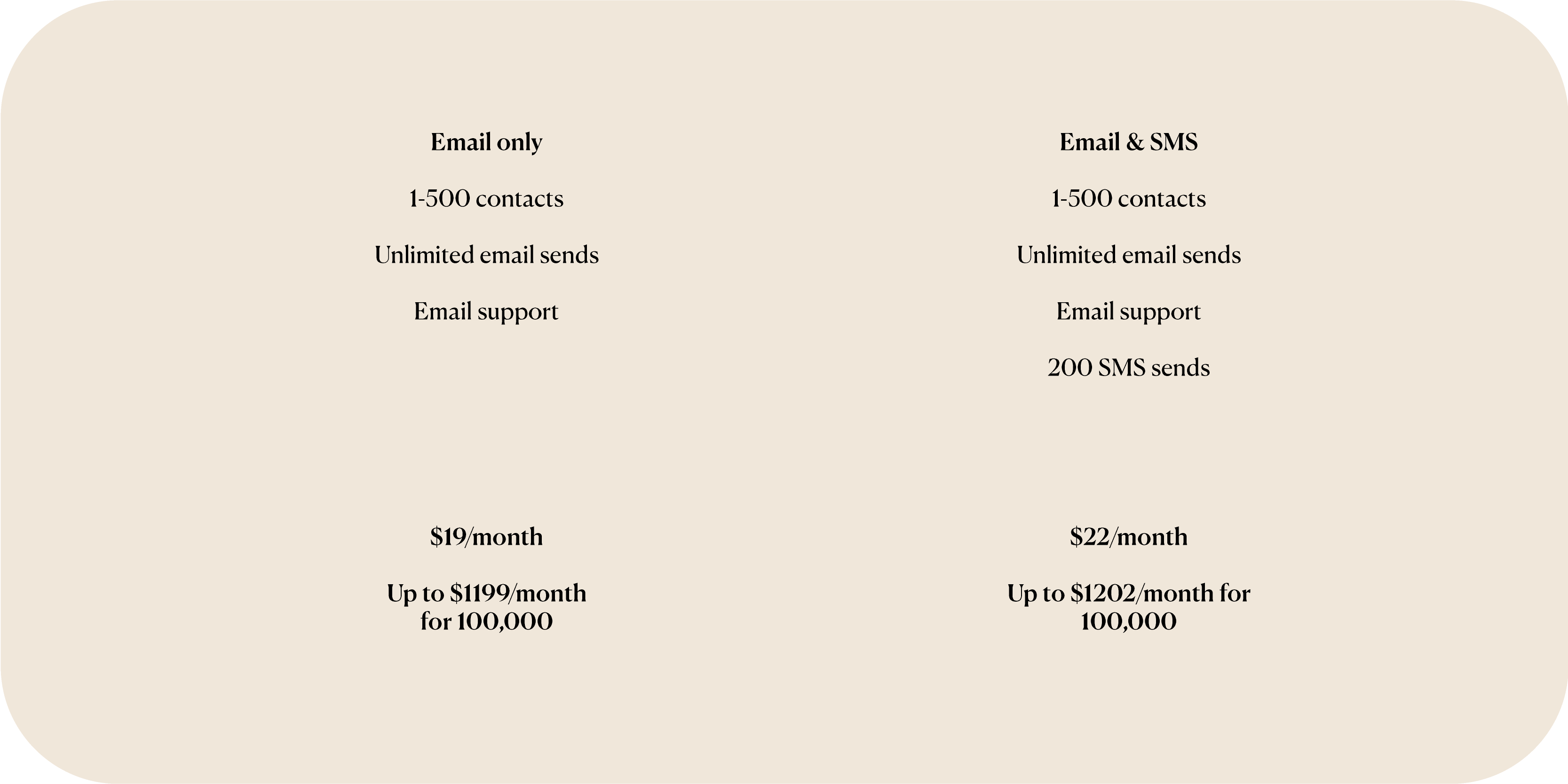 5. Moosend 
Moosend positions itself as an all-in-one marketing platform, offering more than just email building and sending. Along with an email builder and templates, it incorporates a landing page builder, e-commerce integrations, behavioral targeting, email analytics, and marketing automation workflows.
Their free plan is one of the best offers out there because, despite having a limit of 1,000 contacts, you get access to all of their advanced features – including unlimited email sending, removal of Moosend branding – though you will not be able to send transactional emails.

6. Constant Contact 
This powerful, easy-to-use email marketing service platform is a well-established Mailchimp alternative for small businesses. For over 25 years, Constant Contact has been delivering results, driving sales, engaging audiences, and tracking what's working for their customers. They help startups get online, attract attention, and boast a good drag-and-drop editor, with email templates, list-building tools, and analytics to track success. However, established businesses will also appreciate the ability to scale up, with time-saving email automation, a variety of integrations, and all the personalized support you need. There is no free plan, but if you aren't ready to buy, there is a 30-day free trial.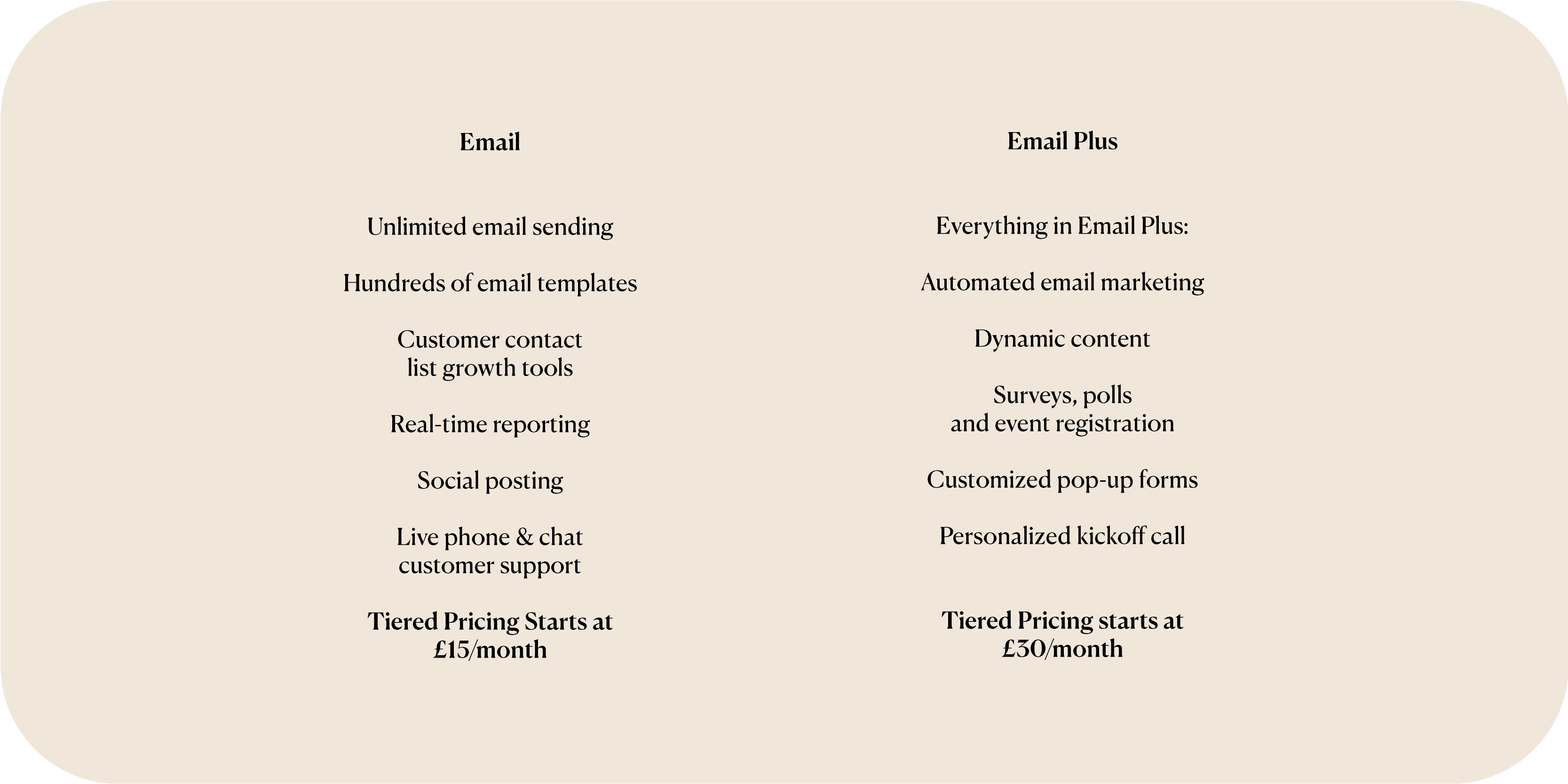 Having explored these alternatives to Mailchimp, you may still want to stick with the biggest name in the business, or make the switch to one of their competitors. Whatever conclusion you come to, the best way to maximize the usefulness of your email automation software is by pairing it with an award-winning end-to-end solution that manages your campaigns, sales and customers, helps plan your team's time and projects, and keeps track of all your results. Well, that solution is Scoro – when you integrate Mailchimp or any of its competitors with our software, you can streamline, automate, and supercharge your marketing activities.
Everything about your business, one click away