Product
Supercharge Scoro With Zapier
With Scoro you can manage your team, projects, clients, and finances in one solution – making it an irreplaceable one-stop shop for your business. But what about the business-specific tools that are indispensable for your business?
We're excited to announce our integration with Zapier!
Zapier is a business automation platform that gives you the power to integrate Scoro with hundreds of other apps to automate your work. Connect the tools you already use and love, no coding required. With more than 1,300 apps to choose from – including products like Intercom, Pipedrive, Zendesk, and more – automating your workflows by connecting your various sources of data has never been easier.
Zapier can automatically trigger workflows in other apps whenever new calendar events, tasks, people, companies, or projects are created in Scoro – or vice versa.
While Scoro is the heart of thousands of businesses around the world, it can't do everything. Spreadsheets, surveys, chats, visual editors, and other business-specific tools are essential to how many businesses are run. Connecting these other systems to Scoro has, until now, required some programming or developer work – something that makes it much more expensive and difficult for non-technical people to accomplish. With Zapier, you can achieve a friction-free workflow with minimal effort.
How to Automate Scoro with Zapier
If you don't have a Scoro account already, sign up first.
Create a free Zapier account.
Build a custom workflow with Scoro and Zapier.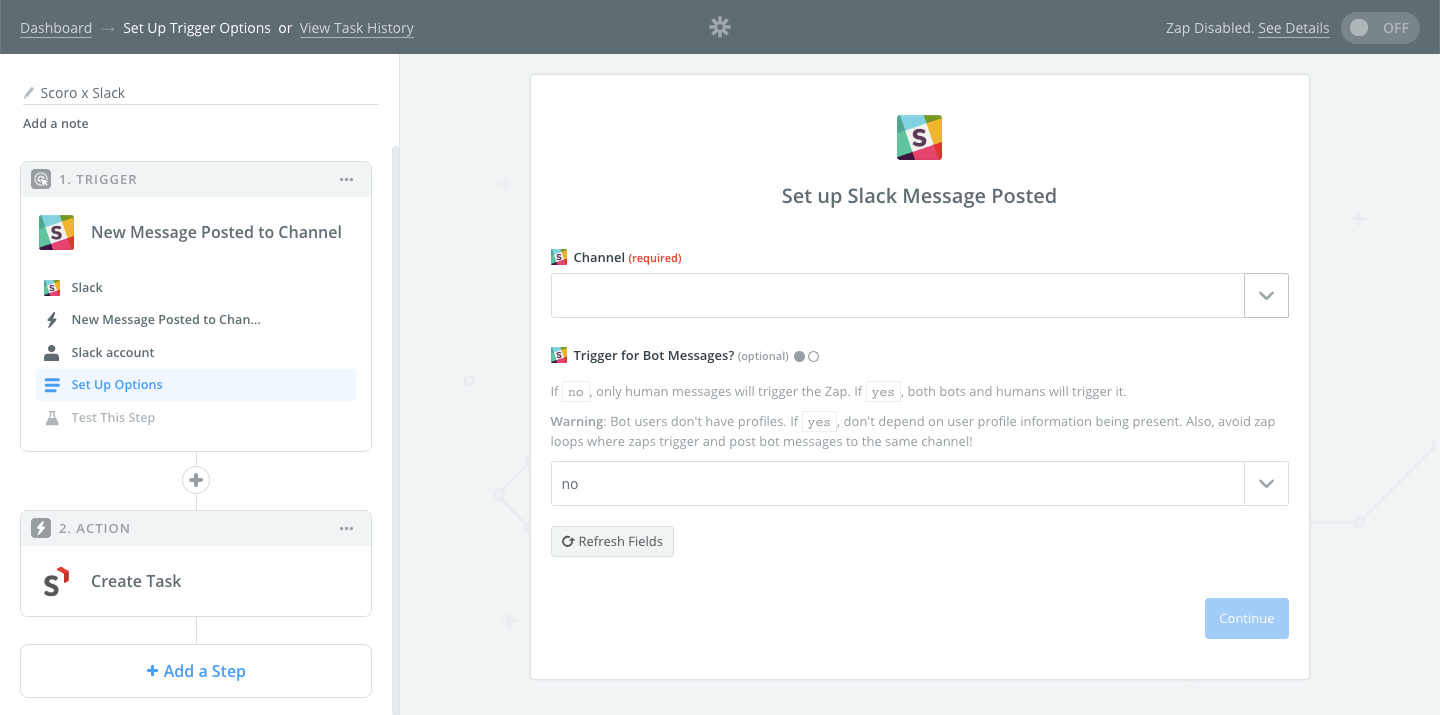 Which tools does Scoro's integration with Zapier work with?
Head over to Zapier's Integrations page to explore workflow ideas.
Some popular Zaps include:
Basecamp
Sync your projects and people from Basecamp to Scoro.
Slack
Create projects from Slack channels and new tasks from messages.
Read more: Workplace Chat Is Killing Our Productivity
Asana
Create Scoro tasks from new Asana tasks and add new Asana projects to Scoro as projects.
Jira
Create Jira issues from new Scoro tasks.
HubSpot
Sync HubSpot and Scoro events and people.
Pipedrive
Sync companies and people at Pipedrive and Scoro.
Salesforce
Add new Salesforce contacts to Scoro as people.
Intercom
Create new conversations as tasks, and add new companies in Intercom to Scoro.
Eventbrite
Create new people in Scoro from registered attendees in Eventbrite, and create new Scoro calendar events from Eventbrite events.
WooCommerce
Create new tasks in Scoro from new orders in WooCommerce, and create new people in Scoro from new WooCommerce customers.
SurveyMonkey
Create new tasks in Scoro from new responses in SurveyMonkey.
Zendesk
Create Scoro tasks from new tickets in Zendesk.
PayPal
Create new tasks in Scoro from successful sales through PayPal.
---
To connect Scoro with 1,300+ other apps head to Scoro's Zapier integration page.