Work management
How to Rock Personalized Email Campaigns With Your Customer Data
CRM continues to be one of the fastest-growing software. Unsurprisingly, CRM systems are used by millions of companies worldwide, helping companies to gather valuable customer data.
But not many companies know how to harvest their customer data.
Marketers mainly use CRM software to measure their results. However, they often fail to recognize the full potential of customer data.
It's about time that marketing teams grasp the power of unlimited customer data and start using it to deliver highly targeted campaigns, leading to a rapid increase in sales.
Want to learn how to rock your email marketing campaigns by using the data in your customer database software? Let's roll.
1. Increase sales to existing customers with upsell campaigns
Marketers often allocate their time and resources to chasing new leads while forgetting about existing clients. In fact, harvesting the existing customer base and using your data to make the product offers is one of the fastest ways to increase your sales revenue.
If you're a SaaS company, there's always room for selling a more complex version or some new features to your customers. If you're a creative agency, you can offer bigger campaign ideas and different media solutions.
Whatever services or products your company provides, there's always room for some upsell. Not all customers are using your services and products with the same frequency. They're already ordering different products or using various software plans.
"If you make the same upsell offer to everyone, you're unlikely to hit the nail."
In order for your upsell campaigns to succeed, you need to create a strategy for offering personalized upgrades. Every upsell email you send needs to take into account the customer's previous purchases. You can't offer a 3 times more expensive software package to someone who has been using your cheapest monthly plan.
What you want to do instead is to make them an offer to try your next expensive plan free for 2 months and then decide whether they'd like to continue using it for a slightly higher monthly cost.
Let's see what makes a great upsell campaign by looking at three examples:
Buffer
This Buffer's upsell campaign is actually an offer to test a free beta version of their new product Respond. By creating a user base for a beta product, it will be much easier to monetize the product later.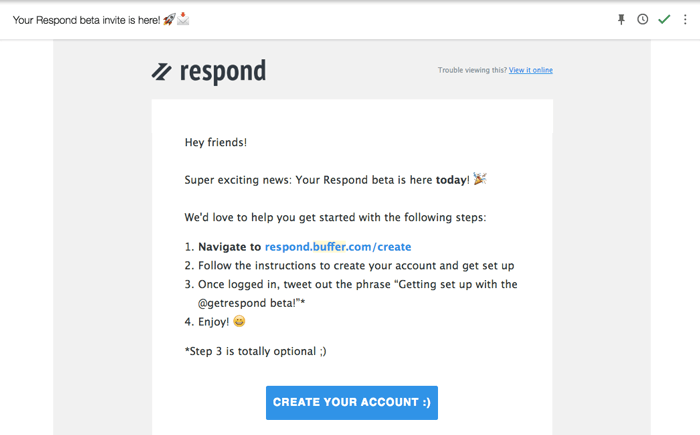 Buffer is an expert when it comes to upselling. Here's another example of an upsell offer. This time it shows up in-app, when clicking on some premium features (they leave the buttons for all premium features inside the free tool). Ain't that a smart move?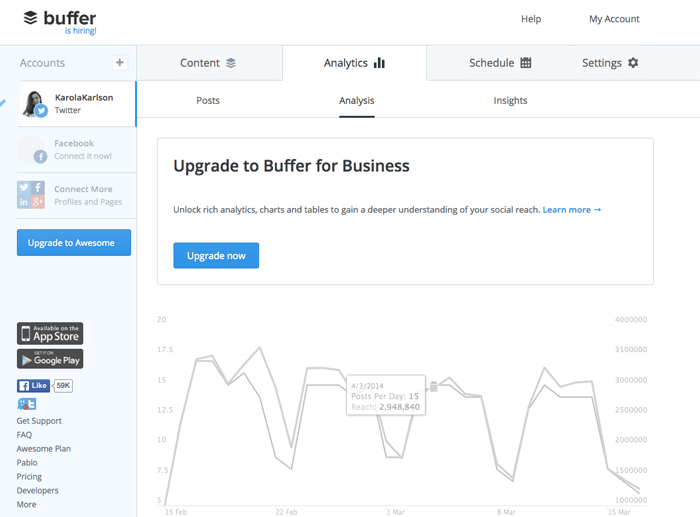 Spotify
Spotify lists all the benefits of their Premium package to make it easier to decide which one you need. It complements the offer with a 30-day free trial to let people first test the service, fall in love with it, and then subscribe to the Premium plan.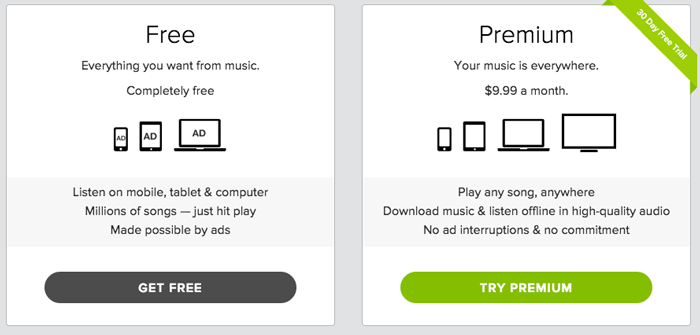 Virgin Atlantic
Virgin Atlantic understands the power of psychology and doesn't hesitate to apply this to its marketing campaigns. Notice how the images strengthen the wish to upgrade your tickets to a higher class and spend the flight enjoying the extra legroom (and a long nap)?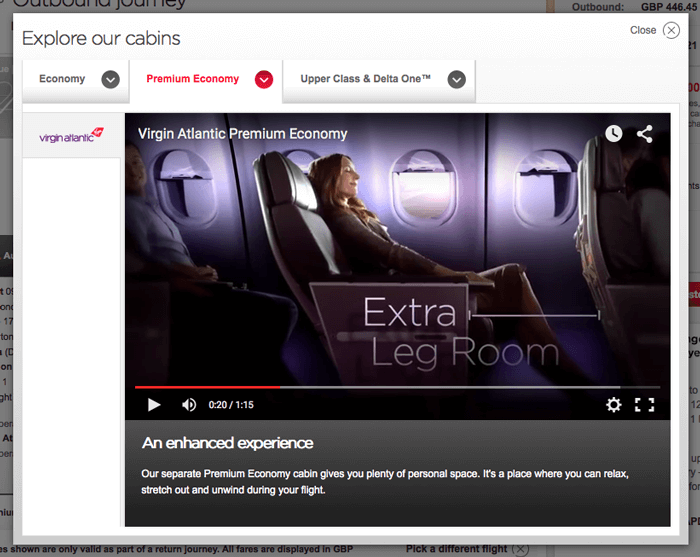 Key takeaways about the best-performing upsell campaign examples:
Use psychology to show how much better the upgraded service/product will be
Offer your products free for at least 14 days so that people can learn about their value and benefits
Insert upsell offers to your website and match these with your ad design. There's no need to limit yourself with only emails (although you should definitely try an email upsell campaign as well)
How to use CRM and customer data for upsell campaigns
The easiest way to create personalized upsell campaigns is to collect data about your customer's previous purchases. You can use your CRM system to collect all the relevant data.
Next, export (or synchronize) the lists with different types of customers to your email automation software to compile several email drafts and forward these to the right people.
The most popular email automation tools include MailChimp, Emma, Drip,  Sendloop, Customer.io, and many more.
You can create a new list for every upsell campaign variation or use merge tags to send personalized emails with only slight differences in the campaign messages.

You can find the complete list of popular merge tags here.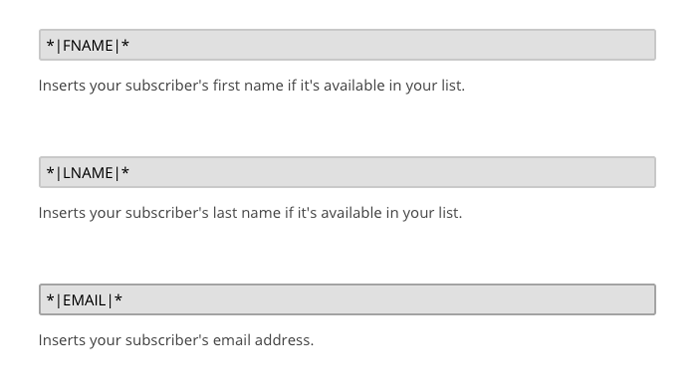 Everything about your business, one click away
2. Build brand loyalty with discount offers
Discount offers not only help to increase your revenue, but they also serve as a means to build customer loyalty and make your clients happier in the long term.
Here are the three most popular types of discount offers:
Weekly/monthly offers to drive sales and meet revenue goals – these campaigns work well with a percentage-based discount
Free shipping offer – works well for e-Commerce marketing
Free gift – works best if you have a valuable gift offer
What's the best message for a discount offer email campaign?
According to a 2016 Q1 benchmark study conducted by Experian Marketing Services, here are the keywords that returned to the highest message engagement rates:
Birthday: 43.5% lift in unique click rate;
Win: 28.4% lift;
$ offer: 19.1% lift;
Coupon: 13.4% lift; and
Free shipping: 8.8% lift.
Let's have a look at three discount email examples that yielded high engagement rates.
Amazon
Amazon sent a holiday offer email 1 month before December 25 – right when people were starting to think about Christmas gifts to give to their loved ones. The campaign was timely and useful to the recipients.
Coach
Notice how Coach creates a sense of urgency by making an offer that "ends tomorrow". The company combines the 50% off discount with an extra 20% off that makes the offer almost impossible to resist.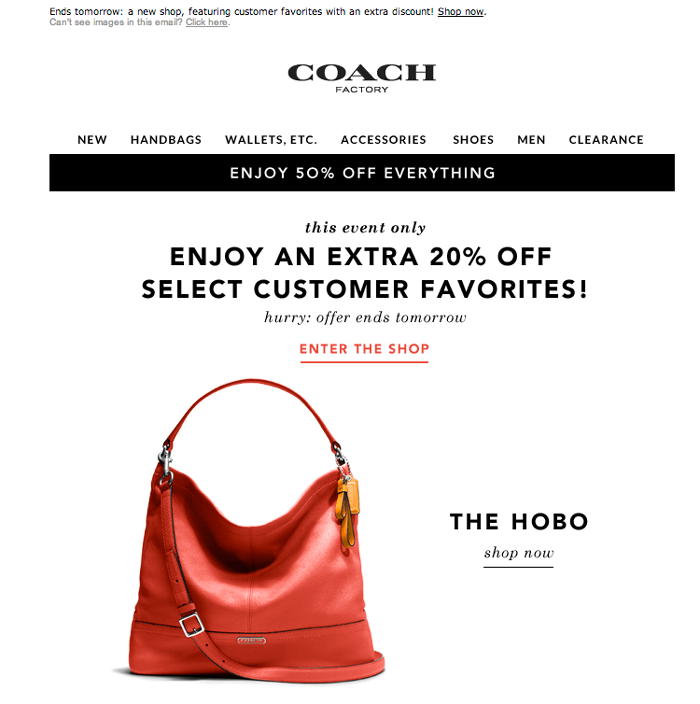 AdEspresso
The upgrade offer by AdEspresso is my personal favorite. I received the email after being on a free trial for about a week. This makes this email highly relevant to my goals of improving our Facebook ad performance. The bold style and yellow colors add even more urgency to the offer, making me instantly want to reply to this email and say "yes please, give me the discount!"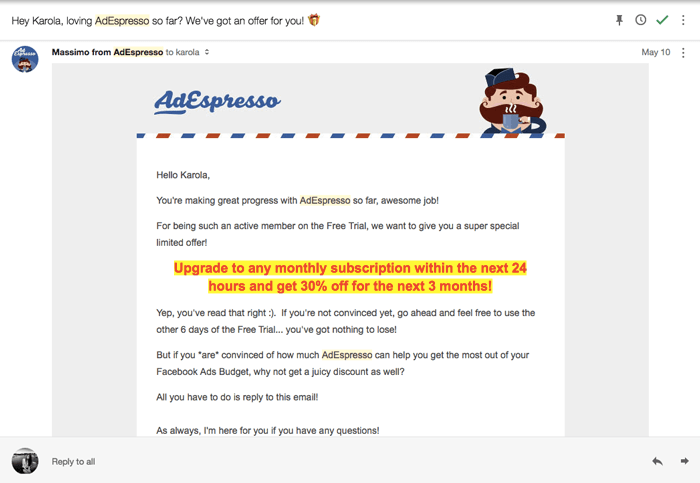 Here are the key takeaways for creating a successful discount campaign:
Offer a numerical value, such as 50% of discount or – $20 from a $100 purchase
Make your offer timely and relevant to the receiver
Create a sense of urgency by limiting your offer to a short period of time
How to improve discount campaigns with a CRM system and customer data
As you can see there are many various offers on which you can build successful email campaigns. By using the data your CRM system, you can easily set up a trigger email campaign that sends an offer 2 days before a client's birthday, offering them a larger-than-usual discount on something they might need.
A CRM system can be of great help when it comes to determining which types of discount offers work best with different types of customers.
Also, it's an invaluable tool for tracking and measuring your campaign results. Use a CRM tool to track campaign performance and find out whether your monthly discount offer performed equally in all customer categories.
Maybe there was a particular type of client that returned the highest engagement rate. In this case, you can test sending this group of customers additional discount offers, increasing the frequency of sales emails they receive from you.
3. Attract highly committed customers with referral programs
The third type of sales campaigns we're going to explore is the referral campaign.
Referral campaigns serve as a reflection of your company's ability to engage customers and build meaningful relationships. If your clients suggest your products or services to their friends and acquaintances, they must deem your brand worthy of their effort.
Another benefit of referral campaigns is the high level of targeting – people know their friends and understand whether they might need your product/service or not. Combined with the trust factor, a referral campaign can bring you high monthly profits when done the right way.
If you're still doubting the power of trust, see this chart published in Neilson Trust Study: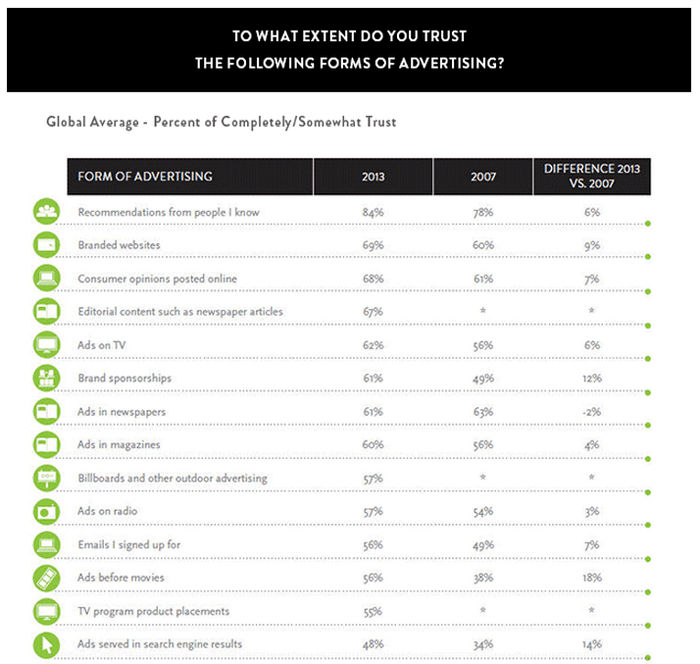 To learn how to create a successful referral program, let's have a look at three referral campaign examples.
Dropbox
Dropbox's campaign provides real value to both the person in charge and the person signing up. Moreover, the offer has a clear design, straightforward message and the email addresses can be inserted without leaving the web page.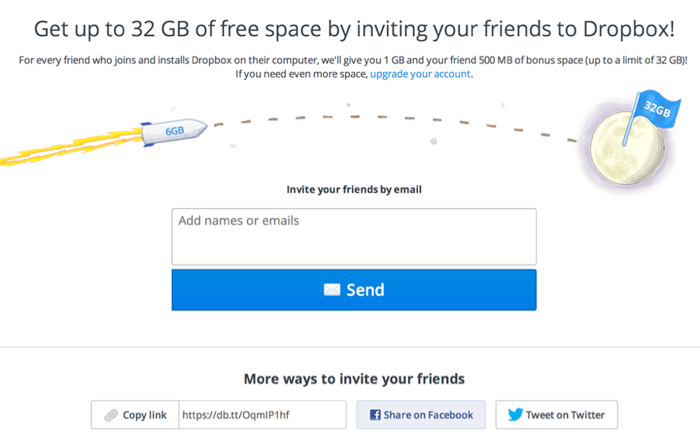 Uber
Uber's referral program gives a free ride up to $20 to both the person inviting a friend and the new customer taking a ride with one of Uber's cars. The results bar below the message adds a level of playfulness and nudges people to invite even more friends.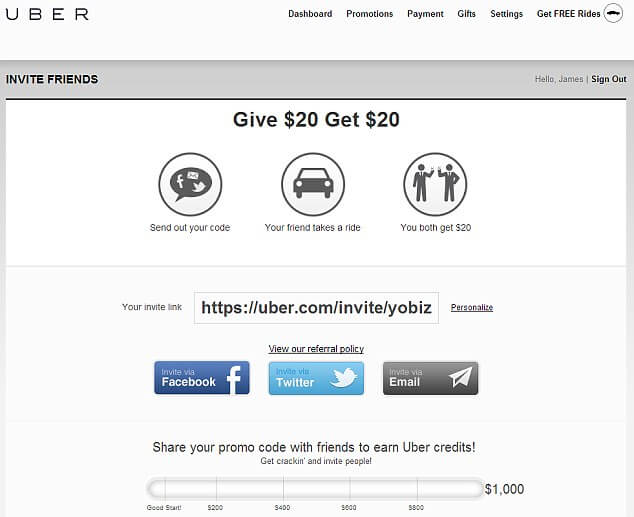 Hulu
Hulu's business model doesn't let it offer free GBs or rides. But the brand nevertheless has a value offer that can be measured in dollars saved. Noticed how the message field has already been filled in for you to make the inviting process as effortless as possible? Similarly to Uber, Hulu showcases personal progress in the bottom of the email to motivate people to invite even more friends.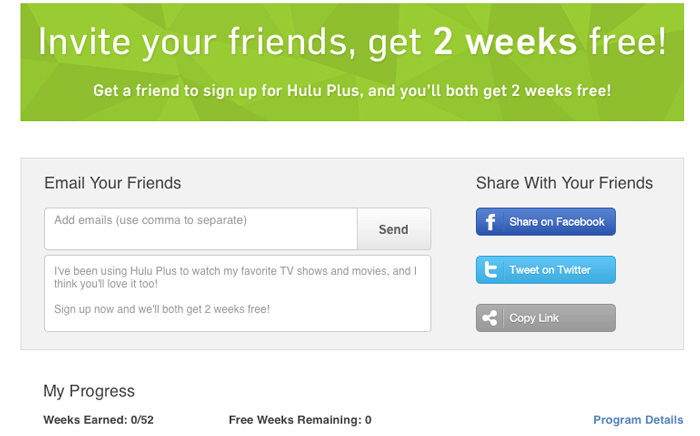 The key takeaways from best-performing referral campaigns:
Offer something of value to both the person inviting and the person joining your service
Make the invitation process as effortless as possible, letting people insert their friend's emails and taking care of the rest (e.g. forwarding the invitation)
Make the offer easily shareable, including social media share buttons to your message
Motivate people to invite more friends by showing their progress in every email
How to improve your referral campaigns with a CRM system
Check your customer data to find the top 30% of most engaged customers, and include them to your referral program.
Use your CRM system to track all the invitations sent and discover new customers serving as your brand advocates.
As someone has been inviting many profitable new clients to join your service, make sure to send them a thank-you note. There is nothing people like more than being recognized for their effort.
If you're doubting in the effectiveness of your referral campaigns, check your customer data to analyze the engagement rate of new clients acquired via a referral. If there's a high churn rate among people joining via invitations, you might need to reconsider the entire referral campaign.
---
Key Takeaways
Alright, folks. We've gone through three effective yet fairly simple email campaigns that you can implement right away.
Here are the key takeaways to remember when setting up a sales campaign:
Use your customer data to send the right emails to the right people at the right time
Make personalized and timely offers instead of one-size-fits-all campaigns
Use consumer psychology to make your campaigns hard to resist
Test both upsell, discount offers, and referral campaigns to see which one works the best
We'd love to hear your thoughts on this article and using a CRM system to create personalized email campaigns. So make sure to leave a comment or two!
Everything about your business, one click away