Life at Scoro
Scoro's Secret to Hiring the Best People
Have you ever wondered how the mysterious recruitment process looks like at a fast-growing tech startup? Whether you're in the role of the candidate, or a manager looking to get some new ideas  – here's the story of how we recruit kick-ass talent at Scoro.
---
Hi, I'm Mai ? Nice to meet you!
As a recruiter at Scoro, I'm responsible for managing the full cycle of our recruitment process: actively sourcing and headhunting, interviewing, and selecting applicants to find awesome new Scorers. Basically, making sure that we have the most talented people in our team.
Scorer

noun. /ˈskɔːrə/

an infinitely curious and productive creature, proverbial for its love for sarcasm, software, and success.
We follow the usual hiring process, which is quite similar to most companies: attracting potential applicants via various channels, reviewing resumes, conducting phone screening calls and interviews, and finally evaluating and deciding. The real magic, of course, lies in the details.
At Scoro, we're all about structure – in our work planning, meetings, and even at our company parties. The same applies when hiring the brightest minds. Kadri Mäe, our People Operations Manager, describes the hiring process with the following keywords: "Structure, thoroughness, taking time, careful analysis, and most importantly – including the team."
Let's take a closer look at how we recruit, and what's unique about it. You might want to strap in for this quite a detailed reading, or just skip to the parts you are most interested in. Here we go!
---
The recruitment process
1. Preparation
Preparation is the first and probably the most important step in the recruiting process. For each position, we need to put together a team, who will participate in the interviews, help evaluate the candidate and make the hiring decision. Typically, the team consists of the recruiter, the future team lead and some team members of the candidate. The team also gives the input for creating the job description and persona profile. Then the recruiter will choose suitable advertising channels, and finalize the recruiting and onboarding plan for each specific role.
It's important to have a clear understanding of who we are searching for to attract and source the right applicants. Thorough preparation also ensures a structured evaluation process.
2. Sourcing and headhunting
Kick-ass candidates do not just appear on your doorstep wrapped in a pretty bow. They are not easy to find, they need to be sourced, and kept on the radar. Headhunting and sourcing are an inevitable part of recruitment. It means creating interest in passive candidates – those who are currently employed and not job-hunting.
How do we chase passive candidates and turn them into great team members? The key lies in developing a distinctive employer brand, but it's also important to be persistent in communication and try to truly understand the person you are talking to.
PS! Check out our @TeamScoro Instagram account dedicated to showing off our team's daily life, events, and spirit.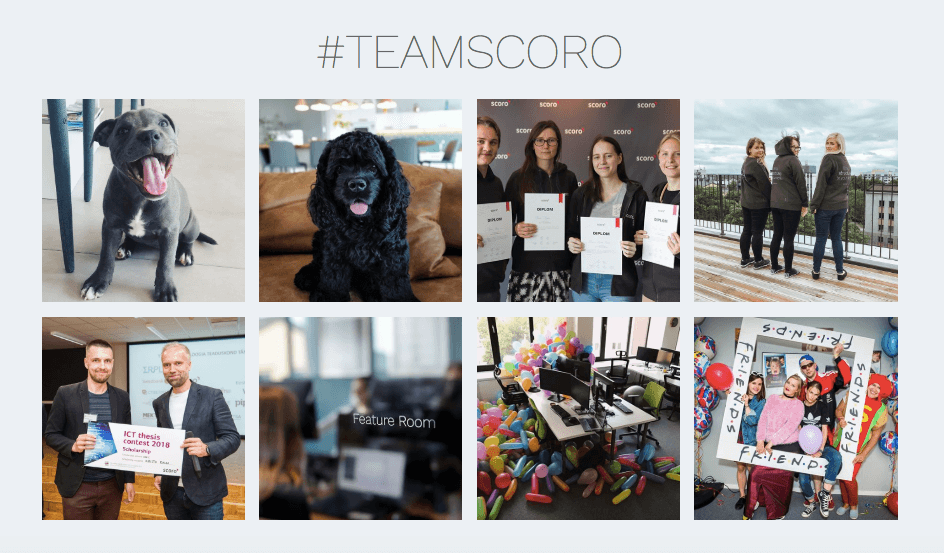 3. Resume screening
Active candidates – those who are actively searching for a job – submit us their resumes. This means we are evaluating the (usually hundreds of) resumes to select the most suitable candidates for the next rounds. The first thing we look at may be surprising – it's grammar. It shows how detail-oriented and professional the candidate is.
Here are some other pointers for a great resume:
Be specific about the roles and projects you've worked on.
Clearly highlight how your experience aligns with the position you are applying to.
Keep it short. It can be quite a challenge to give as much relevant information as possible, yet keeping the overall appearance light and easy to comprehend.
Take time to double-check your resume.
Nevertheless, we don't make assumptions only based on resumes. It gives us a glimpse of the candidate's background, but it never tells the entire story. Often, the level of experience is outweighed by the candidate's motivation, attitude and cultural fit with the team.
"For me, it is more important to meet a candidate with a spark in their eyes as opposed to someone with a great resume." – Priit Matiisen, Co-Founder & CTO
4. Phone screening
The second screening stage is a phone interview. Candidates are usually surprised by the call – it's not pre-scheduled. That way we'll get a more natural reaction and see how the candidate responds to this unexpected situation.
We'll ask some questions about the expectations, experience, reasons, and motivation for applying. This allows us to quickly determine if the candidate suits the role and whether our basic goals line up.
"When talking to a potential employee, I always look for their drive or excitement about the job. You sense it right away if the passion is there or if it's a rehearsed speech." – Indrek Voksep, Product Team Lead
5. Interviews
Resume with proper grammar ☑️
Relevant experience and motivation for the position ☑️
The unexpected phone call went nicely ☑️
Great! Now we move on to the most fun part – interviews.
The in-person interview is the make-or-break moment of the entire hiring process. A chance to deep-dive into the candidate's professional background, personality and skills to see how well they are suited for our available position and team.
Most of the interviews are held in our office to introduce the working environment and give the opportunity to meet our team. But it can be an interview via Skype, over lunch, or held in a different city – flexibility is important. We usually make travel arrangements for the candidate to meet us at our headquarters in Tallinn.
"After two Skype interviews, I was flown out to Tallinn for a full day with the team. That involved having conversations with multiple people in the company including the CEO, which felt like a very personal approach." – Ralfs Henkuzens, Consultant
6. Homework
Depending on the position homework might be required. The results give us the final proof of the candidate's skills and suitability to be successful in their role. For example, if we are looking for a Video Content Specialist, we ask the candidate to prepare a video to see the candidate's video editing skills. Or if the candidate wants to join the marketing team, it's important to know how fluently the applicant is able to write articles.
Usually, homework doesn't require an enormous amount of time. It just helps us to make the final decision, especially when we have to decide between two great candidates.
7. Background check
Once the top candidates have been shortlisted, we will contact their referees. For that, we ask the candidates to choose the referees whose contact they prefer to give us.
The best source of information comes from their past managers and colleagues who verify the candidate's employment details, working performance, their relationship with the team, etc. One of the questions we ask is "Would you rehire this person?".
We also consult the all-knowing Google to make sure potential employees are likely to represent Scoro in a professional manner on social media. As we are not trained spies and respect your privacy, we only check the information you share publicly.
8. Decision time
The recruitment team, which varies based on the position, gathers for a discussion. We evaluate candidates based on all criteria – resume, interviews, job experience, skills, interests, personality, test results, etc.
We take our time making the decision. Better to spend more time on the hiring process than eventually hiring the wrong person.
"We care about the details: the candidate's grammar and self-expression, their hobbies, whether they like animals or if they have a sense of humor, what they value in teamwork, what are their aspirations and what do they want to achieve in life." – Kadri Mäe, People Operations Manager
9. Job offer (or feedback)
The sweetest part! A new awesome teammate! Hurray! ?
Alternatively, if the journey for the candidate ends here and the applicant is not getting an offer, we give honest feedback regarding why they weren't the most suitable fit for this specific position. The aim is to avoid the lack of feedback after a "no". We stay in touch with the candidate. For that, we ask for a confirmation to keep the resume in our database for the future openings. Maybe the candidate was not ideal for this specific role, but perhaps we'll have a perfect role for them in the future.
10. Onboarding
After the job contract is signed, it's time to onboard the new Scorer. Every new team member has a personalized training program and a mentor, who takes care of and supports the newbie. It assures that settling in is smooth and efficient. But this is a whole other topic – onboarding at Scoro is something very magical – shh, let's keep it a secret for now.

---
Key aspects we focus on when hiring new Scorers
1. A stress-free experience
"Absolutely no pressure and I never felt nervous. It didn't feel like I was being interviewed for a job – I was just telling my life story to a friend I have not seen for a while." – Maria Begiševa, Software Engineer
We pursue a stress-free environment. Our goal is to make the whole hiring process as smooth as possible and guide the candidate through every step. We keep our communication tight, explain the process and inform about the upcoming steps to make sure the candidate is less nervous and shows their true self. As we all know, people tend to act like somebody else if they are nervous.
"I always try to speak to candidates as I would meet them in a bar or at an event to see how they communicate in the everyday atmosphere. This helps to take off the interview pressure and helps the candidate to express themselves comfortably. It also gives an idea of how this person would act in the office, not only what they are trying to present at the moment." – Mait Ojamaa, Head of Sales, EMEA.
This is also the reason why we meet the candidates several times. The second and third time they come to our office, everything is already more familiar.
2. As fast as possible, as thorough, as needed
Usually, the entire recruitment process takes approximately one month from sending the resume until the hiring decision. We try to keep it as short as possible, but at the same time not to rush.
Of course, there are some exceptions. For some key positions, it could take several months from finding the right candidate to meeting with them for the final decision. We fight and hunt for talent, we're sometimes willing to wait for them to join the team.
3. Multiple rounds of interviews
The goal of the interviews is to predict how the candidate will perform once they join the team. How do their background and skills match with the requirements? With every hire, we try to understand the candidate's drivers, motivators, and whether they align with our values.
1. The first one-on-one interview is with the recruiter who will dig a little deeper into the motivation. Most importantly, of course, we'll try to figure out if the candidate has everything needed to be successful in this position and what are the underlying reasons for applying. To get a wholesome understanding, we are also interested in finding out more about general life goals – personal and professional, greatest accomplishments, and personality.
At this stage, we ask our candidates to take a grammar test – to assess accuracy and language skills. Also, some of the roles require a professional skills test.
2. The second meeting is with a hiring manager. Some of the roles also require a professional skills test.
3. And last but not least – meeting with some of the prospective colleagues whom the candidate will start working with. At this stage, Scoro's founders also participate.
We aim to involve as many team members as possible while interviewing. As mentioned before – the candidate's attitude and personality tend to be even more important than their experience. So after talking to several Scorers, we have a better understanding whether the candidate fits our team culture and values.
It's important to remember that interviews are a two-way street. The candidate has to get the "right" feeling too, not just us.
"During three rounds of interviews, I only met the kind of people that seemed like a total blast to work with." – Ann Kaer, Product Marketing Specialist
4. Candidate assessment: four main points
1. Cognitive ability. It's not all about the previous work experience. It's more about the values the candidate can bring to the team. Do they think outside the box? Are they creative and fast problem solvers? We want to get a feeling of how they could react in different situations.
"Candidates must have a growth mindset – about personal development, the future role, and the company. If the person is able to perform only by specific rules and processes, they're usually not a good fit for us." – Fred Krieger, Founder & CEO
2. Personality. Candidates who want to work hard, but also know how to relax and have fun – #goals?.
We value dedication and enthusiasm to try and suggest new approaches and continuously challenge the old ways. Life's all about constant improvement.
"Curiosity and hunger for learning new things are the two most important traits in a person." – Fred Krieger, Founder & CEO
Plus, there's always room for silly jokes and sarcasm. "Working together on a daily basis makes it important to have fun while doing so, hence teasing and trolling each other, and cracking jokes are essential." – Janeli Ojatamm, QA Team Lead

3. Cultural fit. "When deciding on the cultural fit, we assess the new members at every stage of the hiring process: from reading the resume to references. The person joining us should have a strong drive and should bring something new to the team that everyone could learn from – that's our ultimate goal." – Kadri Mäe, People Operations Manager
At Scoro we don't talk behind someone's back. Nobody has time for that. "We have zero-tolerance for politics and intrigues," says the CEO. Hiring positive-minded and honest people trumps many other problems. So, even if the candidate has an enormous experience and is highly skilled, yet lacks the ability to work in a team, we won't hire them.
Read on: What Makes a Great Company Culture? Interview with Kadri Mäe
"The thing I value most about potential new hires is the 'get shit done' attitude. At the age of Google, it's not acceptable to admit not knowing something. If you don't know it, find it out – it's as simple as that." – Merily Leis, Digital Marketing Manager
4. Last, but not least – previous job experience, education, and the skills. Crucial, but not the most important. No degree, no worries – you should still apply. Education is important, but in the end, it's your skills and mindset that will carry you forward, not the paper you got from the university.
5. Unusual interview questions
There's actually nothing scary or complicated in what we ask. People tend to be afraid of job interviews because a lot of recruiters grill them for questionnaire-like answers. I personally think that we have more style. ? We just want to get to know you, without turning on the spotlights.
There are some basic interview questions, but we also like to ask strange ones just to take the candidates out of their comfort zone. "It's good to throw them off balance with a totally off-topic question and see their capability to adapt to rapidly changing situations," says Indrek Voksep, Product Team Lead.
We might ask some silly questions to understand the personality of the candidate. "I remember being asked about the series I'm following on Netflix – that came as a surprise but showed me how important it was for Scoro to find the right person/personality to complement the team." – Karmen Velberg, Office Manager
We also let the candidate do the speaking. "Depending on the position it's often good to test how the candidate leads the conversation or presents themselves without too many specific questions. This shows character, preparation, focus, motivation, ability to understand what the company is doing, and the ability to express how they see they can help and contribute," says Mait Ojamaa, Head of Sales, EMEA.
6. The right decision: cultural fit and gut feeling
After the tests, interviews and other information we have gathered – we still trust our gut feeling too. It has proven to be the right thing to do. You can tell quite quickly if the person fits our team or not.
"One influential statement by the CEO during the second round of meetings was: "We somehow have a gut feeling, that you are the person we have searched for a long time". It strengthened my own sentiment that this is the company I have searched for a long time." – Merle Rannala, Head of Finance
Here are some questions which help us to make the final decision:
Does the potential candidate have a "wow" effect?
"If there's no wow! there's no go." – Kadri Mäe, People Operations Manager
Does the person bring something new to the team?
Does the candidate fit the team?
---
That's it!
…the secrets have been revealed. Structured, thorough, stress-free, and clear – this is how we hire at Scoro.
Yet, recruitment is an ongoing process, and we continuously find ways to improve. The goal is definitely not just filling a position as fast as possible with the most immediately available candidate. Scoro's culture depends on the people we work with; our productivity, our workflows, and mindset. If we don't hire the right way, the working culture can change for the worse.
Now you know what to expect from sending the resume until the final decision. So, if you've been wondering about applying to join our team – do it! As Scoro is growing quite rapidly, we are expanding our team and always looking for exceptional talent.
Check out our Careers Page to find your dream job.
Maybe you're a brilliant Front-End Developer, a talented Video Content Specialist, or a driven Sales Consultant? 
And when meeting us, remember to "Be yourself, everyone else is already taken."
Let's talk soon!
Mai