Company news
Fostering Flexibility and Productivity in the Work-From-Anywhere Era
If there are two things the events of 2020 have taught us, it's the need to remain flexible when it comes to our working practices, and to ensure we maintain the highest levels of productivity as we approach the dawn of a new work-from-anywhere era.
Whether we venture back to the office; stay at home; pursue other avenues such as coworking, or opt for a combination of these – it's safe to say our working culture will never be the same again. The ways in which we work, communicate and collaborate have changed, and the need for flexibility has never been more evident. But how has the shift affected our productivity?
To dive deeper into the benefits and challenges that teams are facing, Scoro conducted an online survey on remote working during the pandemic. We asked Scoro users across the globe, working in various sectors, about:
how their work practices and time usage were affected
changes to their work motivation and levels of productivity
the role of work management software in maintaining these levels of productivity
how communication and collaboration were influenced
Here, we take a look at the findings and share the key takeaways we believe will shape the future of flexible working.
1. Most people had a similar workload or saw the amount of work increase
Increased workload brings a sense of stability for many
Over a third of respondents (38%) claimed their workload didn't change during the lockdown, while 34% reported an increase in their workload compared to the earlier practices. Further, 27% of respondents saw a decrease in workload, and few reported having no work during the lockdown.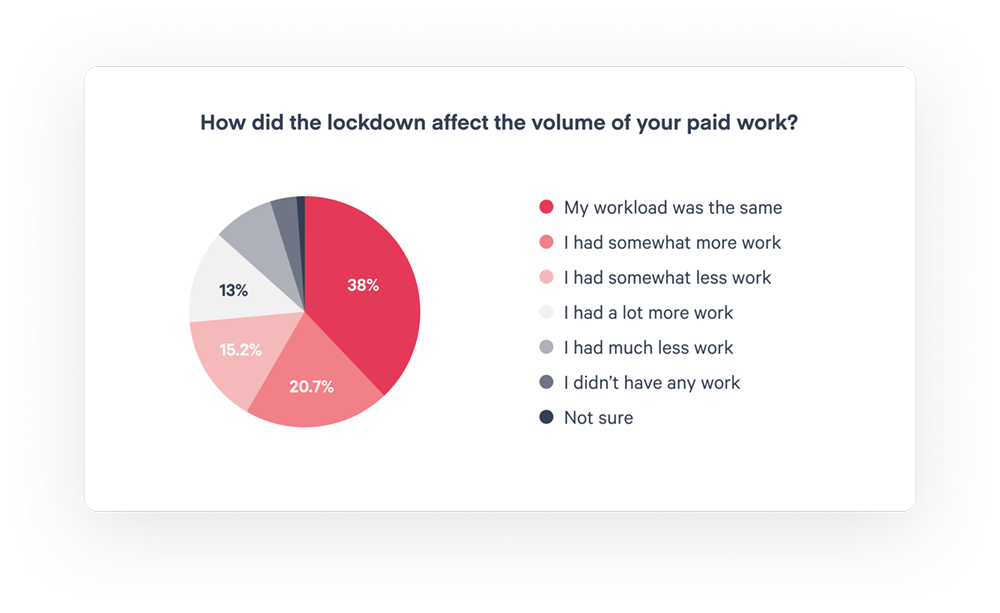 These results give some support to the notion that companies worldwide have learned to innovate and adapt to changing needs during the pandemic.
Disparity between the ranks
While the trend towards a stable workload might seem reassuring for the global workforce, not to mention the economy, it's important to note that the majority of those whose workloads increased held the role of manager or above, with half of the leaders saying they had more work to carry out, while only a quarter of junior employees claimed the same.
It is likely that at least for some of these employees, the increase in workload was the result of taking on additional tasks as some of their colleagues were furloughed or made redundant. Although the reasons weren't specified, well over half of the respondents (57%) did report a change in the nature of their work.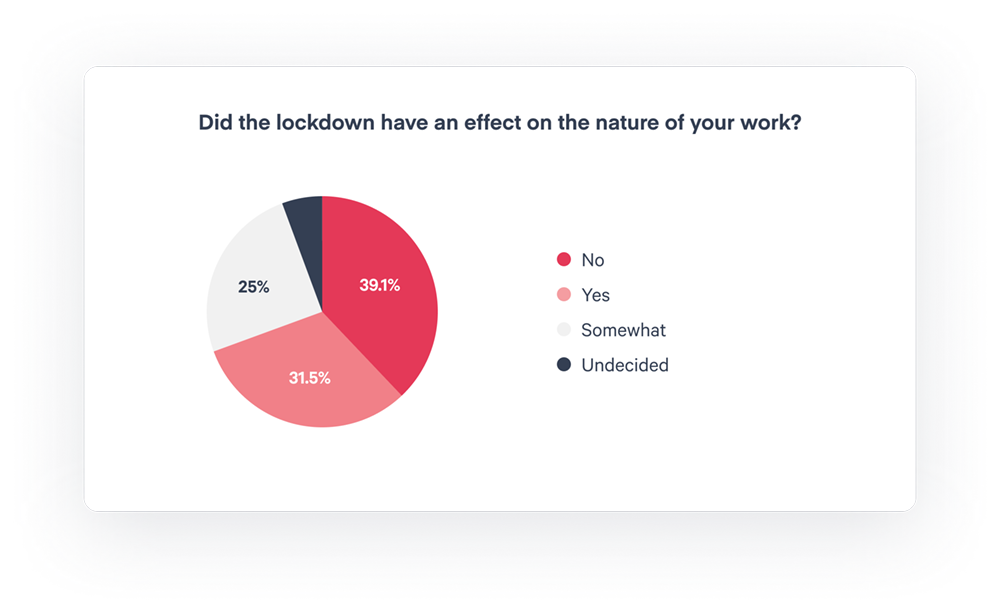 Blurred lines between work and play
Since the beginning of lockdown, we've seen a distinct rise in the number of employees migrating from their traditional office space to either work at home or co-work close to home. Before the lockdown, 86% of respondents worked mainly from the office, and only 12% were working from home regularly. Since lockdown began, the proportion of employees working from home expectedly grew to 96%.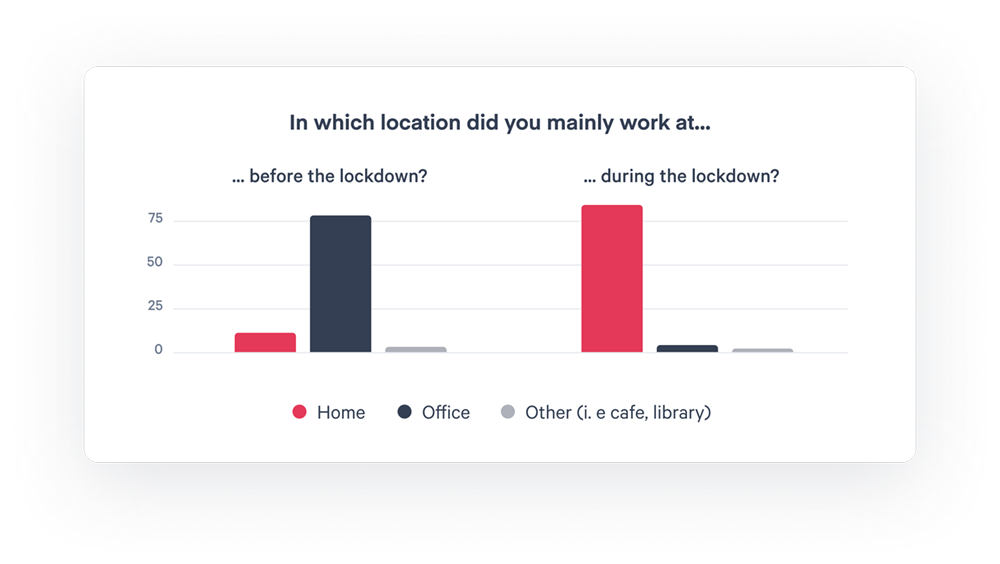 Working from home resulted in 44% of respondents being happier with their physical work environment, while a further 30% reported no change. The remaining quarter claimed their physical work conditions at home were worse.
In terms of technology and hardware, for most employees, the transition from office to home has been relatively smooth, as most office-based work nowadays is carried out online, using either personal or work devices. However, in a couple of cases, employees said they missed a critical piece of office equipment, such as a printer or a copy machine.
Working from home also meant that most employees spent less or no time on work-related commuting or getting ready for work. And even though 39% of the respondents reported having more time to rest and relax, 31% expressed the opposite. Without the change of environment, it was challenging to switch from work mode to downtime.
Read on: The Art of Forgetting About Work When Not Working
As a result, over half of the respondents (56%) said they spent more time working than before. With their work laptop always around, the majority of respondents often found themselves catching up on work-related tasks late at night or on the weekend.
However, the flip side of longer, irregular or inconsistent working hours means that for many, the lines are beginning to blur between work and personal time. In fact, many respondents admitted they found it difficult to find the optimum work-life balance. Sharing time between work and home was especially challenging for parents who were attempting to balance work obligations with homeschooling.
2. Lockdown drives motivation and productivity
With the pandemic prompting such a sudden shift in working patterns at the beginning of 2020, it's been interesting to see the impact on staff motivation over this period. When questioned, 46% said their work motivation did not change. A further 27% said their work motivation increased, while 23% felt less motivated to carry out their work.
Having established that most employees feel they have put in more hours since the pandemic began, let's take a look at the impact of these longer work sessions on productivity. Over half of respondents (58%) claimed their work productivity increased.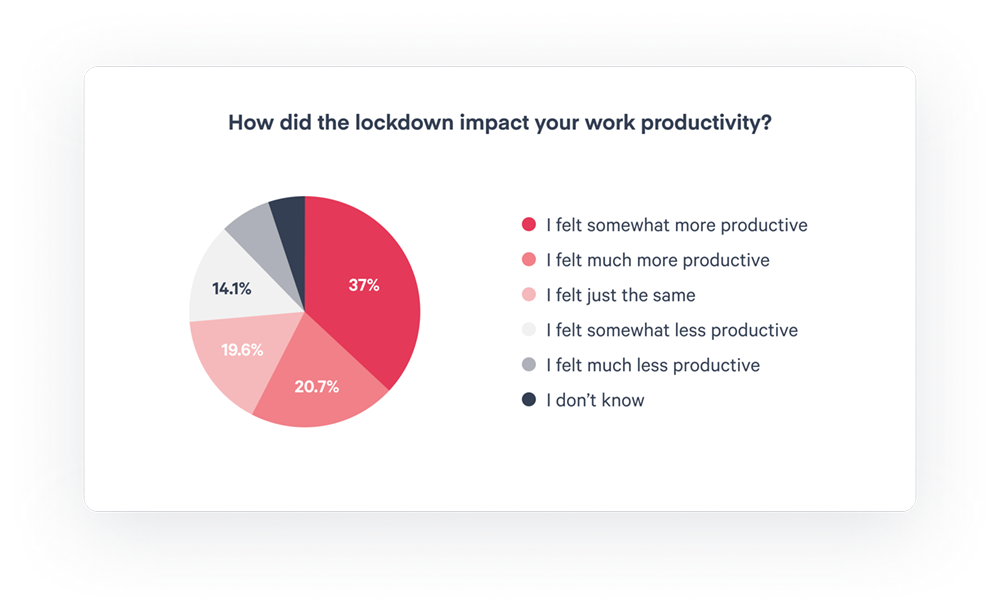 When considered alongside the 56% above (who spent more hours in the day working), these figures suggest a correlation between increased hours and increased productivity. To support this, the majority of respondents felt that more input in working time also resulted in greater output. In fact, just over a fifth (22%) reported a decrease in work productivity.
Interruptions during lockdown
38% of the respondents reported more interruptions, although they attributed most of these to non-work-related obligations, such as attending to children. Almost a third of respondents (32%) said that while working from home, the number of work distractions decreased, while 27% felt there was no change.
Many felt that while it was easy to interrupt someone in the office, messages and calls received during remote work hours were more planned and deliberate, with colleagues knowing why and what they were asking. As a result, several stakeholders felt their teams became leaner and more efficient due to the crisis:
"The lockdown threw sharp relief into areas of the business that were superfluous. It also made clear where some employees were redundant, and we are definitely a leaner operation now."
3. Collaboration is still key
Even before the pandemic, advances in technology made online collaboration easy and efficient. As a result, almost half of employees (49%) saw no change in the level of teamwork and collaboration across their organization. A further 28% said that teamwork improved, while 19% reported team collaboration deteriorating somewhat. Interestingly, managers and directors had a significantly more positive outlook, with 43% believing team collaboration improved.
However, almost every other employee was disheartened by the prospect of not being able to communicate with colleagues face-to-face during the lockdown. The dissatisfaction varied from mild inconvenience about missing casual social office interactions to more serious frustrations about not being able to carry out work effectively. As one respondent observed:
"Video calls and online documents are great, but nothing compares to actually being in the same room, bouncing ideas around and working on things together."
Despite isolated concerns over delays in being able to progress work due to colleagues and other stakeholders being less responsive, most respondents agreed that the lockdown prompted staff to be more empathetic and understanding towards each other's living and working situations.
4. Work management software keeps productivity in check
The challenges of maintaining productivity
For those who find themselves suddenly working in a new environment, and away from colleagues and leadership teams, there will naturally be a period of adjustment while they assess which systems and processes best support not only their workload but collaborations with other members of their team. Common pain points highlighted in the survey included
not having everything in the same place;
not being able to track the time spent on each activity;
not knowing the status of wider team tasks at any given time.
Seeking scalable software solutions
Perhaps unsurprisingly, given our reliance on technology today, three-quarters of respondents (76%) said that software solutions played an important role in maintaining their work productivity during the lockdown. A similar proportion (72%) used Scoro daily. Within the Scoro platform, the most important functionalities, in terms of maintaining productivity, were Tasks, Planner, Projects, Dashboards and Quotes.
The majority of respondents agreed that while working remotely, Scoro's project management platform was invaluable as it provided a real-time overview of work, helped to maintain transparency and accountability, and in general, facilitated effective work management.
---
Flexibility and productivity to drive the new normal
The results of the survey demonstrate that to maintain the optimum work-life balance, it's important to make a conscious effort to set clear boundaries between work time and personal time, for instance, putting away the laptop (or any other screens) for the evening. Several studies have shown that doing this will induce a better night's sleep, and therefore, a higher level of productivity the next day.
It's also important to embrace a flexible work culture as we enter a new normal, which may include a combination of homeworking and office working. When looking to the future, over two-thirds (68%) would prefer to work from home every day or often, while only 39% said the same about the office. This means that a significant proportion of those used to work from the office are keen to work from home more regularly. In fact, 82% confirmed the freedom of choosing their working location is important to them – a clear indication that employees are expecting more flexibility in the future.
Among those who used to work from home regularly before the pandemic, there is also widespread satisfaction about "seeing others start to catch up with the work-from-anywhere culture". As one respondent observed:
"It has been good to see my industry realizing that it is possible to work productively away from offices. The global work culture needs to catch up with technology."
Leveraging software solutions is also paramount to productivity. Having a full technology stack comprising project management tools, video conferencing, instant messaging, and email is key to maintaining consistent levels of productivity throughout the working day without technological interruptions.
Work management tools, where possible, should provide end-to-capabilities to ensure optimum productivity is maintained throughout the working session. This also empowers employees to switch off at the end of the day – making the clear transition from work to relaxation, wherever they are – and achieve the ultimate work-life balance.
By exploring employee expectations as we head into the new work-from-anywhere era, it's clear that flexibility and productivity will remain top considerations for teams across the globe.
Methodology
The Scoro Work-From-Anywhere online survey was conducted in July 2020 among 92 Scoro users, across 24 countries worldwide, aged between 18 and 64. Respondents ranged from entry-level employees to C-suite executives of SMEs across a range of sectors including Architecture & Engineering, Advertising, Construction, Business Consulting, Creative, Education, Finance Services, and Government Institutions.
Everything about your business, one click away
About Scoro
Scoro's business management software enables collaborative teams to work more efficiently and make data-driven decisions. Thousands of businesses in 60+ countries trust Scoro to increase productivity and eliminate the friction of shuffling between different tools. The company has been listed in the Technology Fast 50 list by Deloitte, in the Inc. 5000 list, and has been selected as one of the top software companies in EMEA by G2.