Product
April 2021 Version Update: Workflow And Usability Improvements
In this update, after launching two of the biggest and most significant features yet (hint, we're talking about the Gantt chart and Customer portal, of course), we've been doing some spring-cleaning. This means improving and fixing seemingly smaller, yet essential things all over Scoro.
See what we've been up to.
Breakdown of cost and margin on sales documents
We've added a breakdown of cost and margin to the summary section of all sales documents (quotes, orders, invoices, etc.). This allows you to quickly assess how much different doer-supplier combinations would cost you as a service provider, for example, and therefore minimize expenses. Or with margin, find the most profitable option for providing the services.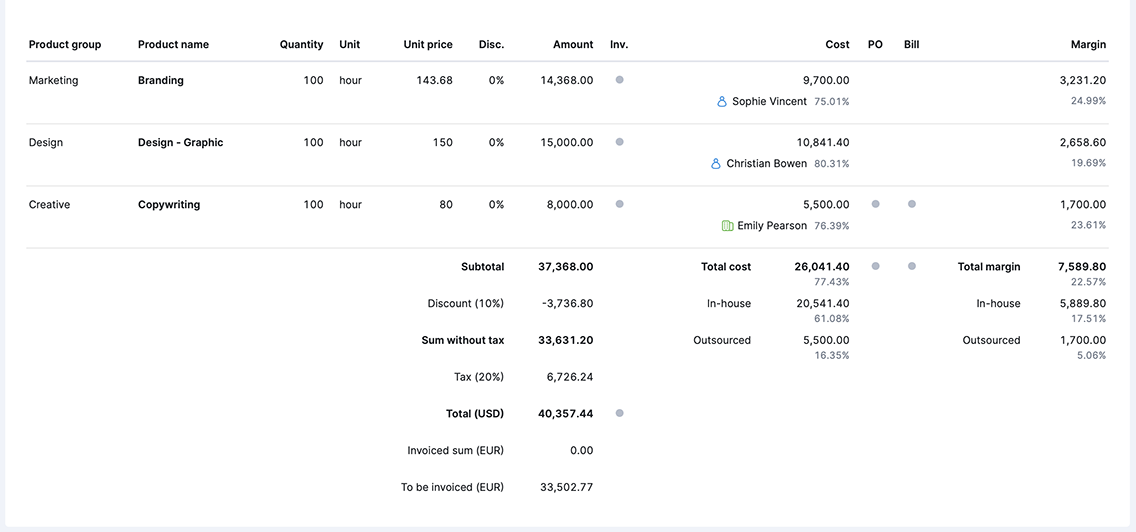 Scheduling time entries in Calendar
When dragging and dropping a task to a specific time slot in the calendar, an event (as a time entry) is created and logged under that task. This is a quick and simple way of booking your time for tackling a specific task. Until now, the length of this time entry was dependent on your availability for that day. Plus, the remaining time of the task was also included in the calculation (as time already booked). Because of that, the duration of the event didn't always match the duration of the task. We've simplified this logic a bit and, from now on, when dragging a 5h task to the calendar, a 5-hour event is created (which is how it should have been all along).
In addition, you can now also schedule time entries in the calendar by just dragging-dropping them to suitable time slots. This is convenient, for example, if the project manager plans your team's time in the Planner, assigning time entries to each team member for the day. The team can then easily schedule these time entries in their own calendars to organize their workday as they see fit. Simple as that!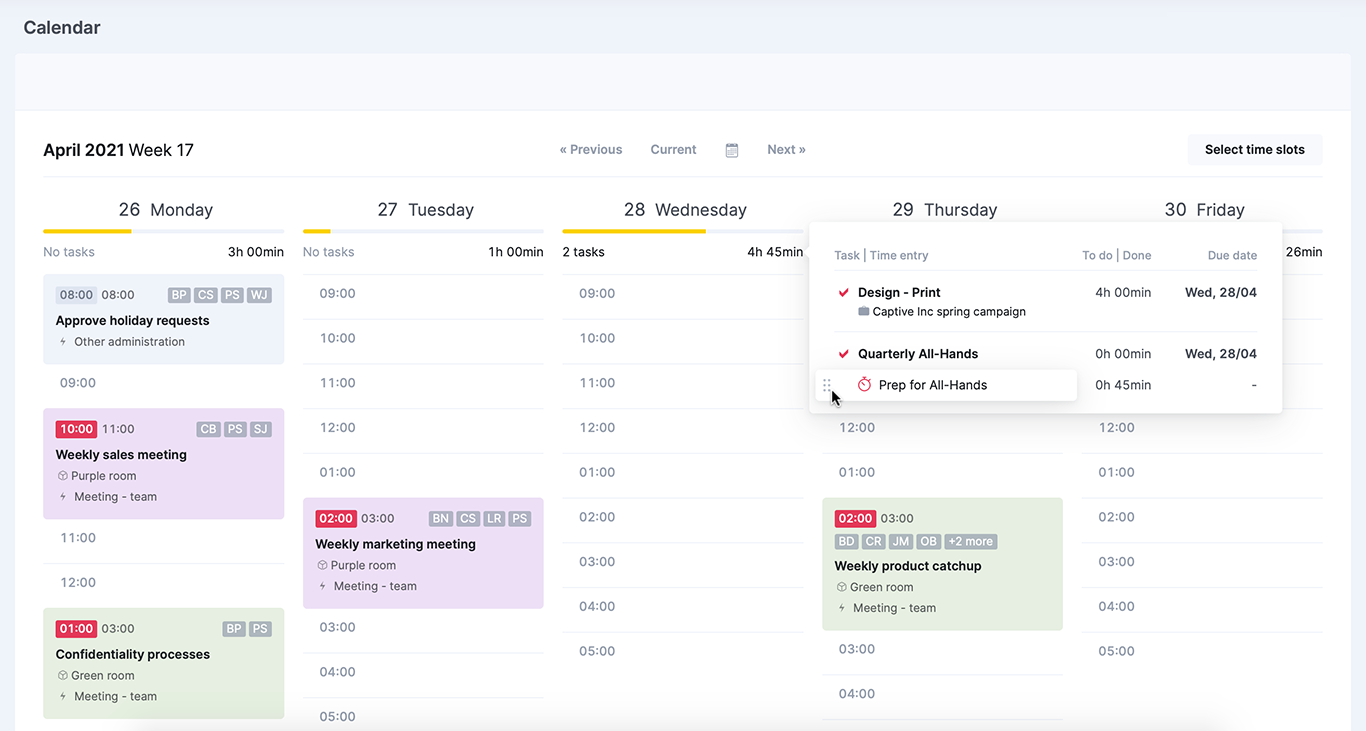 More updates…
Turning off personal projects
In Scoro, in addition to work, you're able to use projects for personal reasons, for example, to plan a trip for a holiday. Personal projects are not included in work reports and their contents are hidden from anyone not listed as a project member. To avoid situations where projects are marked as personal by accident (and essential information is therefore excluded from reporting), we've added a setting under Settings > Work and projects > Projects and Gantt chart, allowing you as an administrator to decide whether personal projects can be used on your Scoro site.
Even with this setting disabled, it's still possible to create private projects that are only accessible to project members, yet are covered in reporting.
Flagging custom and mandatory fields
When using subheading type custom fields in different views, you now see an indication in case the custom field under the heading needs your attention before saving that view (quote, for example). This covers things like mandatory fields that need filling out, or unique fields with duplicate info, fields with errors, etc. This is important to help keep your database hygiene in top condition and make sure no bit of important information can go missing.
In a case where any of the fields need filling out, there's an exclamation point with a number (of fields needing your input) shown next to the heading. Just click on the heading to collapse the list and make sure all the necessary fields (highlighted in red) are properly filled.
All mandatory fields are now marked with an orange asterisk to easily see which information needs filling out before saving a new project, quote, etc. This saves you the trouble of looking for and adding valuable information later.
Search in WIP report
In the coming versions, we're adding data columns and filtering options to the WIP report. This time, we've built a search option to the report for increased flexibility in project reporting. Use the search for easily displaying projects according to different criteria such as project number, name, description, or client.
Indication for completed or overdue projects
When linking new activities or other items to projects, you now have an indication in the project selection field in case the project is completed or over deadline. This is a small fix, yet an important one to avoid adding documents and assignments under projects after they're finished, or the activities for them have already been billed, for example.
Project number included in export
In addition to project ID, the project number is now also included in the project export file when exporting items (quotes, for example) that use a relation type custom field on them. This provides better reporting options outside Scoro.
---
We're working on…
Single sign-on. Handle all your team's user accounts with a single sign-on platform to easily manage account setup and provide team members with just one user account instead of separate logins for each app used in your business.
Permissions improvements. Additional permissions related to projects and tasks to cover more business use-cases and workflows.
❗Not to worry, if your Scoro site hasn't been updated yet, the update is rolling out gradually over the next few weeks.
We do our very best to make Scoro better every day, so we appreciate your feedback. Let us know what you think at [email protected].
Want to learn more tips to use Scoro to its full potential? See these guides: