Product
January 2021 Version Update: Introducing The Gantt Chart
The past year has proven that even with good planning, everything can change in a blink of an eye. It's even more important now than ever to be able to foresee unexpected events, adapt, and be ready to change pace or even direction when things don't go exactly as planned.
See what's new in Scoro.
Gantt chart
Initial projections may look like a dream when you've done a good job planning the project, yet everything can change once work actually starts. In addition to visualizing the project in the planning phase, Scoro's Gantt chart is great for tracking real-time project progress and managing the project from start to finish.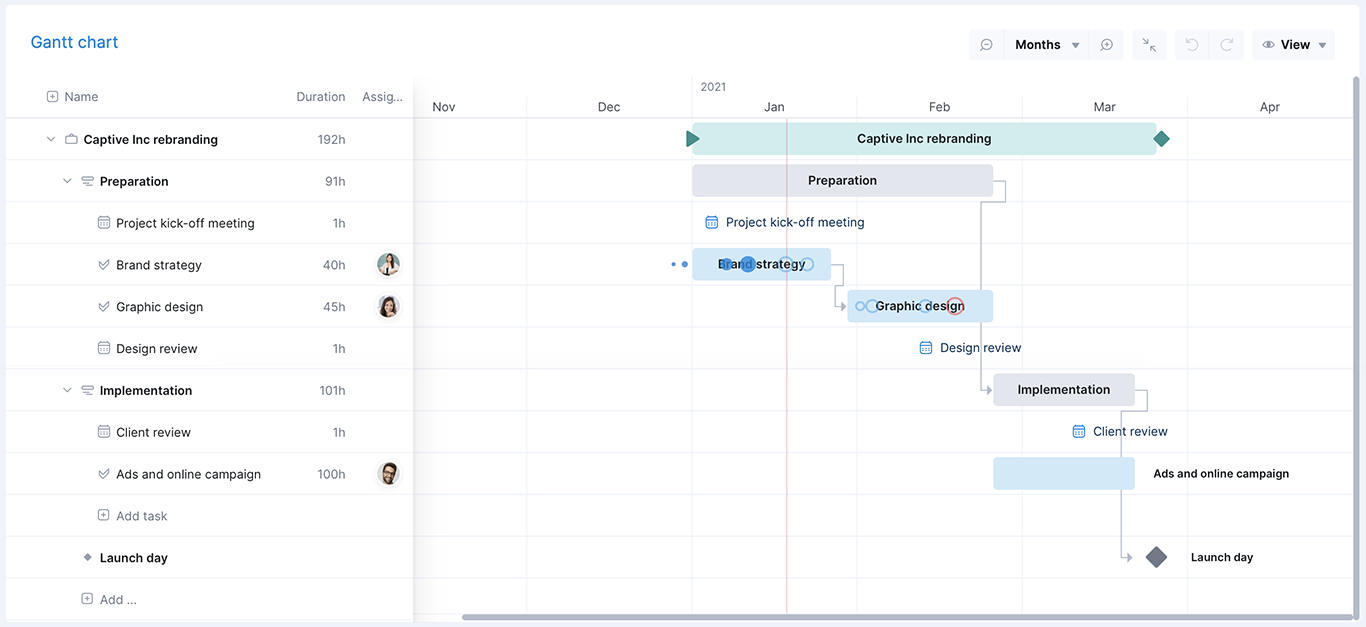 Scoro's Gantt chart gives you a full overview of your project with everything in one single view.
Split project-related work into manageable chunks with phases. Add dependencies to phases and tasks to define exactly what needs to be finished before tackling the next assignments or moving on to the following phase. Dependent tasks are automatically rescheduled when something takes longer to finish and is moved on the chart, saving you time on manual updates.
Avoid over-booking and scheduling clashes. Visualize how changes in the schedule affect the timeline of the project; how a delay in one job (including different activities related to it) can hold up resources and affect everything else your team is currently working on. Quickly adapt based on real-time utilization and readjust to hand over the project without delay.
See a realistic overview of the project schedule. Complete interlinkage between high-level and granular planning, all in one single view. With different information layers, go as deep into detail when managing a project as you wish, or get a quick overview of the project in a glance, if needed.
Track real-time progress. Progress bars automatically show actual work done, planned, and overdue based on the tasks on your team's list and the time spent.
See the full picture, not just a fraction. In addition to tasks and time entries, Scoro's Gantt chart includes calendar events, giving you a full overview of project-related activities your team has on their hands. Planned time entries are automatically rescheduled when changing the length or moving the phase. When looking for the next available time slot in their schedule, Scoro takes your team's actual availability into account.
Estimation vs actual time-frame. In case some activities (already done time entries) are scheduled outside the task (and phase) time frame, Scoro's Gantt chart shows you the actual length of the phase compared to what was initially planned (the planned start and end date).
What else is better with the Gantt chart:
Easily rearrange the order of phases under the project by dragging and dropping.
Effortlessly drag and drop tasks to a different phase, when plans change.
When adding a new task from the Gantt chart, the mandatory fields under the task are flagged, helping you to notice which important information still needs to be filled out.
Improved filtering in the Detailed Work report, Planner, and other views to enable filtering by project phases.
Note! Gantt chart is a paid add-on that you can activate for your site under Settings > Administration > Plan, Add-ons and billing.
Task matrix improvements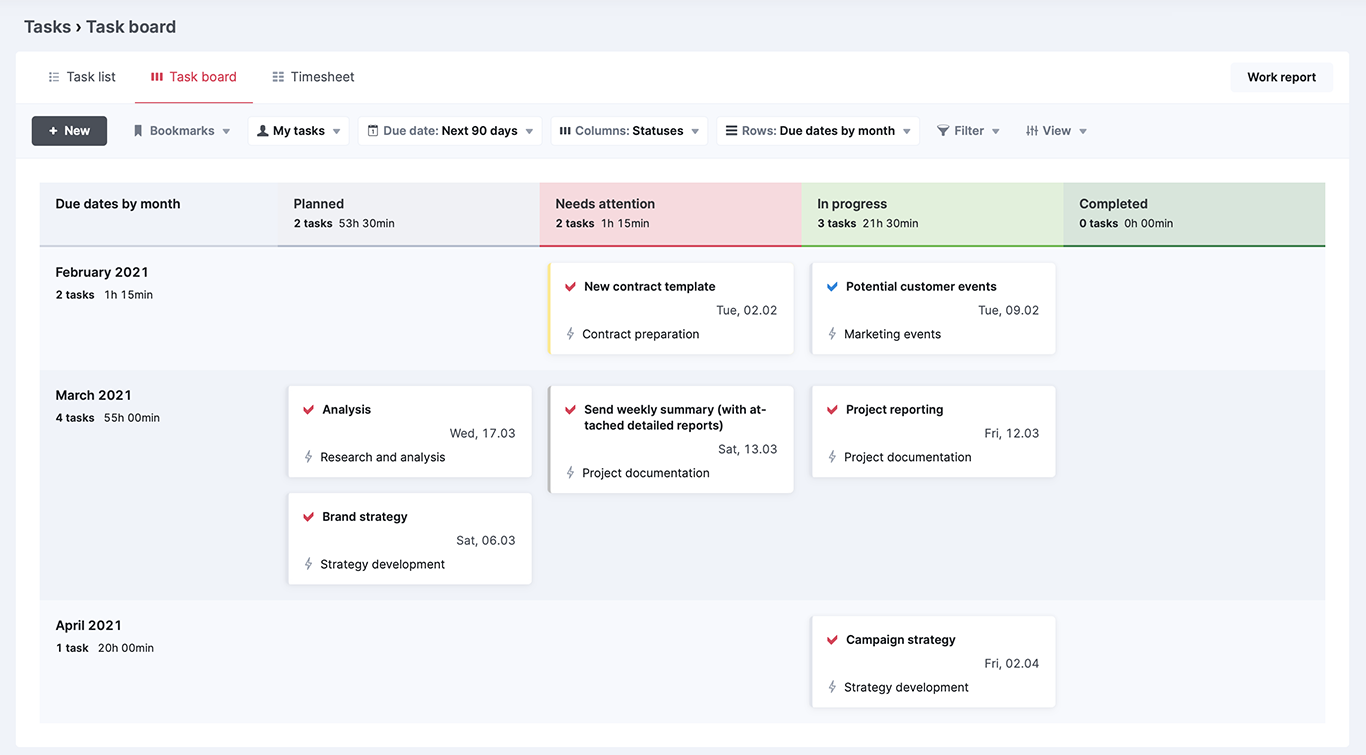 We've given our task board a facelift, rejuvenating colors, placements, alignments – not only making the board visually better-looking but also enhancing its usability.
Easily open and close board rows to show or hide data when dealing with vast amounts of tasks, projects, or just a longer period, for example.
Stability and speed improvements to help with rearranging the board smoothly.
During the year we saw that the task board, especially the task matrix helped many teams plan, visualize, and structure their work and initiatives notably better. We've decided to keep the Task matrix free of charge for another year to empower even more teams to work smarter.
MS Exchange integration
As the first step in the list of improvements, we have renewed our MS Exchange integration with the new OAuth 2.0 authentication method to increase security and ensure a seamless connection between Exchange and Scoro. In addition, we've improved the logic behind syncing events with multiple participants to Exchange. Now only one single event with all the related users attached is synced from one app to the other.
Meanwhile, we're already working on additional usability updates, so stay tuned.
More updates…
Task start date for task bundles and recurring tasks
From now on, add task start dates (as well as due dates) to task bundles and recurring tasks. That way each new task automatically has the correct starting date. This helps to keep your project Gantt chart up to date, for example, and ensures that the information on project-related activities is accurate.
Search project by number
We've improved the task search in the Task list, Timesheet, and the Planner to support searching tasks by the number of the linked project. Just type the project number into the search field in the relevant view and voilà!
---
What we're working on:
Customer portal. Grant customers access to your Scoro site to collaborate on projects, allow them to review quotes and other sales documents, get feedback on assignments, and so on.
❗Not to worry, if your Scoro site hasn't been updated yet, the update is rolling out gradually over the next few weeks.
We do our very best to make Scoro better every day, so we appreciate your feedback. Let us know what you think at [email protected].
Want to learn more tips to use Scoro to its full potential? See these guides:
Top 20 Questions We Get Asked About Scoro
12 Quick Tips To Get More Out Of Scoro (Beginner Level)