Product
November 2020 Version Update: Better Pipeline And Purchases
In this update, we're introducing a couple of handy ways of reducing manual work in your sales process. Keep your sales pipeline moving with new options to track opportunities by sales stages. After closing, easily compile multiple purchase documents of the quoted third-party services with minimal effort.
Take a closer look.
Quote to multiple purchase documents
Compile a single quote for your customer when offering services provided by various third-party partners. Then, when creating purchase orders, or already adding the relevant purchase invoices to Scoro as bills, create all purchase documents from the original quote in one go.
When compiling numerous purchase orders or bills, Scoro automatically takes the suppliers defined on the quote into account and suggests creating multiple individual documents. As a middle step, easily adjust quantities and unit prices, if needed, or even compile a partial purchase document. For example, compile partial bills in a case where you only received some of the products/services ordered.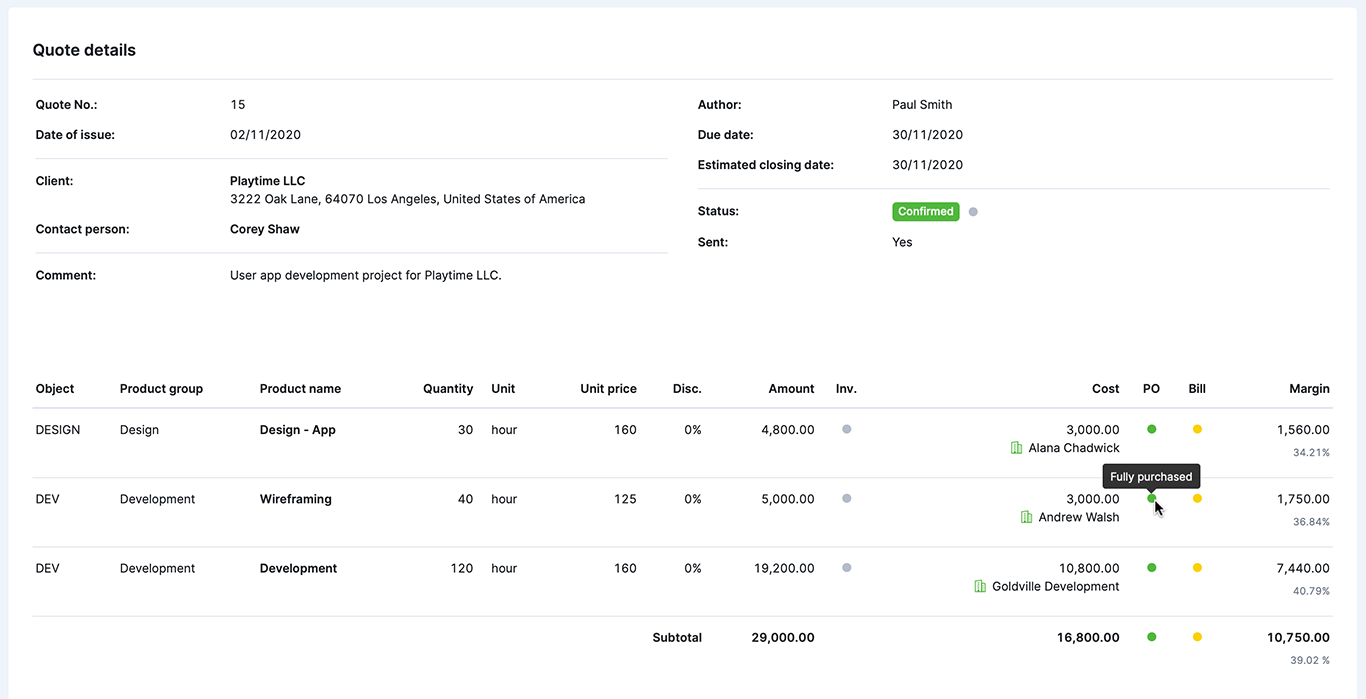 In the meantime, quickly get an overview of how far along your purchases are. There's an indication of whether the items on each quote line have been purchased and/or paid for in the quote detailed view. Grey stands for not yet purchased, yellow for partially purchased, green for fully purchased, and red for over purchased. In the quote detailed view, just scroll down to get an overview of all related documents.
Quote previous status
An effectively managed sales pipeline comes down to constantly improving the process itself. Instead of manually going through your leads when analyzing your sales funnel, you can now easily track quotes by status changes. This is a quick and simple way to find out exactly where in the sales process a deal was lost. Or, instead, how many leads skipped a couple of sales stages and went right on to signing the contract. The quote previous status is visible on each quote, yet an even more convenient way is to just filter out specific quotes in the quote list.
More updates…
Zapier improvements
In addition to contacts and sales/purchase documents, admin users can now also set up universal Zaps for triggering tasks and projects. So, instead of creating multiple Zaps with different user tokens, the admins can create just one Zap using the admin token and trigger all created items to the other app. For example, create Zaps to trigger specific new and updated Scoro tasks to Jira as issues for your development team.
PDF links are now available for invoice and quote triggers. This helps to build automated workflows with OCR or digital signature solutions or upload documents to basically any platform.
You can now search for a person added to Scoro by their name or e-mail address, pull this data to Zapier and use it in Zap action steps.
Mark task as done action added.
The possibilities with Zapier are endless, so try it out and create your own custom workflow.
Invoice reminders update
We've touched up the logic behind invoice reminders. Now, when turning reminders off and on again, and in the meantime, a reminder (or multiple) should have already gone out, only the most recent (and the next reminders) are sent out, not all reminders listed in the reminder profile.
---
What we're working on:
Gantt chart. Plan and manage projects in one all-inclusive view, where project phases and tasks are dependent on one another. In addition to tasks, see and plan meetings and other project-related events right there in the chart.
Customer portal. Grant customers access to your Scoro site to collaborate on projects, allow them to review quotes and other sales documents, get feedback on assignments, and so on.
❗Not to worry, if your Scoro site hasn't been updated yet, the update is rolling out gradually over the next few weeks.
We do our very best to make Scoro better every day, so we appreciate your feedback. Let us know what you think at [email protected].
Want to learn more tips to use Scoro to its full potential? See these guides:
Top 20 Questions We Get Asked About Scoro
12 Quick Tips To Get More Out Of Scoro (Beginner Level)