Product
May 2020 Version Update: Introducing Expenses And More
Now that we know that a number of meetings could have easily been emails, a vast majority of emails could be skipped altogether by managing your business with the help of Scoro. We're always looking for ways to improve and build an even better product to make your lives easier. With this update, we're adding a brand-new tool to Scoro for handling various business expenses. In addition, we're upgrading the Planner for even more convenient work planning, and making additions to Zapier for creating custom workflows to further increase work efficiency.
Expenses
In Scoro, it's easy to manage your projects from end to end, including handling various types of costs related to them. Until now, you've been able to link bills from service providers and suppliers to projects, as well as the labor cost related to your team. To cover all possible costs (like business travels, lunch with a customer, and so on), we've added expenses to Scoro, making it easy to add all kinds of spendings to Scoro without any hassle, and include them in project budgeting.
Team members can simply fill out expense documents in Scoro, and get reimbursements for them. In case the expenses are due to be settled with the customer, it's just a matter of clicks to include the expenses on a sales invoice alongside the services offered, or just create an invoice from the expense document.
Planner updates
We've been working on and will continue to improve the Planner even further in the coming months. In this update, not only did we give the Planner a facelift, but we also added quite a few usability enhancements focusing on high-level planning, keeping in mind the project managers and other roles using the Planner daily.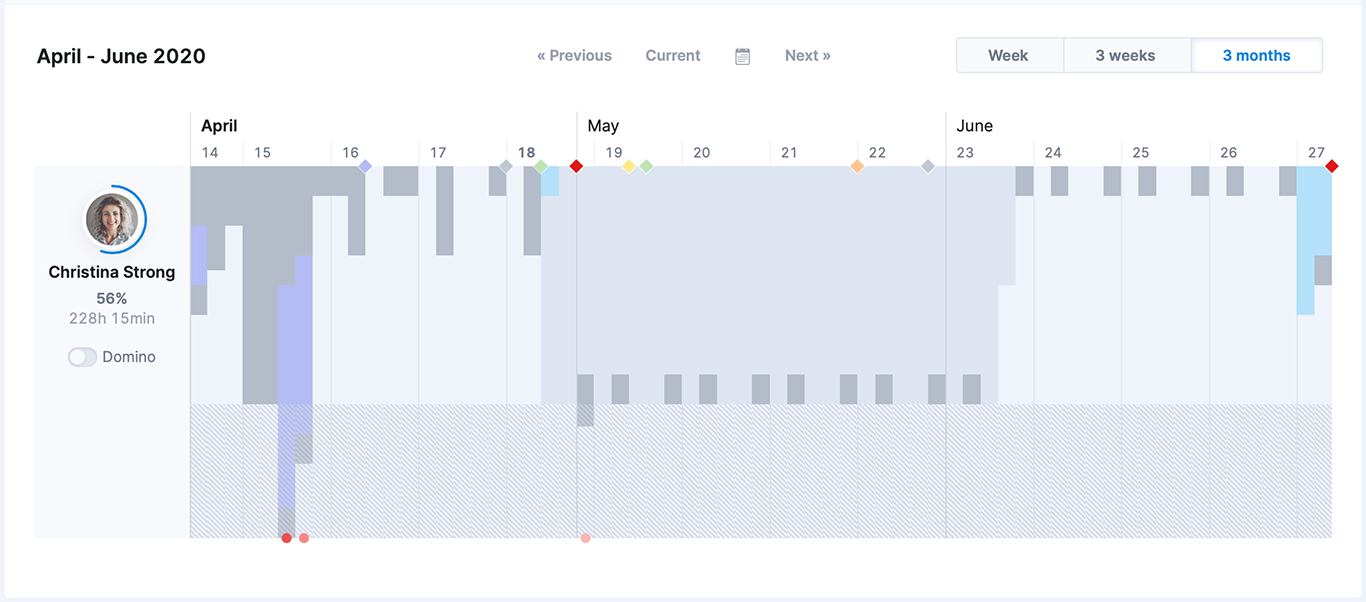 Better on bigger screens. We've optimized the Planner for bigger screens, and the planning area now uses more of the screen space available, making it easier to get a full overview and effortlessly plan your team's daily, weekly or monthly assignments.
Monthly planning. You now have three options to choose from when planning your team's time. For more granular planning, use the week or 3-week view. In the case of lengthier projects, you can utilize the 3-month view to schedule assignments across several months.
Team utilization, progress, and overtime. With new indicators for progress and overtime, it's quick and easy to see how much work has already been planned and make adjustments when any of the team members is overbooked.
Zapier improvements
We've released another Zapier version, this time, including the possibility to select whether to trigger only the objects owned by you or include the objects owned by other users you have access rights to. Easily put, this update allows admin users to set up universal Zaps on Zapier, instead of creating multiple Zaps with different user tokens. Admins can now create just one Zap using the admin token and trigger all created objects to the other app.
This update applies to the following triggers:
People
Companies
Invoices
Quotes
Bills
For example, you can now create zaps to trigger all new and updated quotes to Google sheets to create a list of sales leads. Or sync new or updated contacts to Google contacts or any of your preferred email marketing tools (e.g., ActiveCampaign) to put together marketing campaigns. The possibilities are endless, so try it out and create your custom workflow.
Note! In the near future, this option will also be available for tasks and projects.
That's not all…
Supplier types in Detailed financial report
For more detailed cost management and insight on the sales margin, you can define the supplier type when offering a product/service – each service can be either bought from a supplier or provided in-house by any of your team members. We've now added this information to the Detailed financial report for an easy real-time overview. Just select "Margin in period" or "Quoted margin in period" as input and use the "Provider type" filter to segment the report.
Note! This option is only available if the settings "Use suppliers" and "Assign users on sales document lines" under Settings > Sales and Finance > General are active.
Custom information from quote to task
Until now, when creating tasks from the quoted services, the custom fields active on the quote or quote lines were not linked to the tasks created. We've fixed that, so the custom data used on quotes is also visible in the task view.
Scoro Android app fixes
Among other small tweaks, we've made the following updates to our Android app:
Multiple assignee support. You can now assign tasks to multiple users as you've been able to in the desktop version of Scoro.
Task deadline in the task list. Until now there was an indication of a task being overdue. Now you can see the deadline of the task in the list view regardless of task due date.
Stability fixes. We just made some adjustments for the app to run smoothly.
---
We're working on:
High-level planning. Use less granular work planning and custom periods in the Planner to easily schedule longer tasks.
Customer portal. Grant customers access to your Scoro site to collaborate on projects, allow them to review quotes and other sales documents, get feedback on assignments, and so on.
Gantt chart. Plan and manage projects in one all-inclusive view, where project phases and tasks are dependent on one another. In addition to tasks, see and plan meetings and other project-related events right there in the chart.
Not to worry, if your Scoro site hasn't been updated yet, the update is rolling out gradually over the next few weeks.
We do our very best to make Scoro better every day, so we appreciate your feedback. Let us know what you think at [email protected].
Want to learn more tips to use Scoro to its full potential? See these guides:
Top 20 Questions We Get Asked About Scoro
12 Quick Tips To Get More Out Of Scoro (Beginner Level)