Product
Oct 2019 Version Update: 2-Step Verification, Improved App And More
Even though we really love building new and exciting features for our users, this time we focused on fixing up and improving the essentials. Without a lengthy intro – here's what's new in Scoro.
2-step verification
Just like keeping strangers out of your home, keeping unwanted eyes off your data is major. So using a second layer of defense to protect your accounts is a must. It took us a little while to build, but now it's here – Scoro's 2-step verification to keep your data safe, even if your password somehow mistakenly ends up in the wrong hands.
It's very simple really. You enter your username and password when logging in, we send a text with a unique code to your mobile phone, you type it in and (et voilà!) your account is verified. In addition, you can add multiple devices to your trusted devices' list, so Scoro knows it's you logging in. That way you don't need to sign in via 2-step verification each time. Yet you're still protected when anyone else tries to log in to your account from another, untrusted device.
Even though we know you're careful, here are a couple of easy things you can do to keep your account safe:
Always use a different password for different accounts
Avoid quick logins and saving your password to a web browser
With that said, we've removed the One-click login option from Scoro for no other reason than to keep your data protected.
To set up 2-step verification, go to Settings > Administration > Security settings and switch it on. Scoro will send a verification code to your mobile phone, type it in and you're all set.
Each user then needs to sign in to Scoro again, verifying their account with the security code sent to their mobile phone. Each time a user logs in from a new device, they need to verify their account and they can mark this device as trusted. All trusted devices are visible under My settings > My security settings and every user can remove their old devices from the list, if needed.
Go ahead and secure your account!
App passwords
Calendar integrations are now activated with the help of app passwords generated specifically for this reason. Why? For security purposes, of course.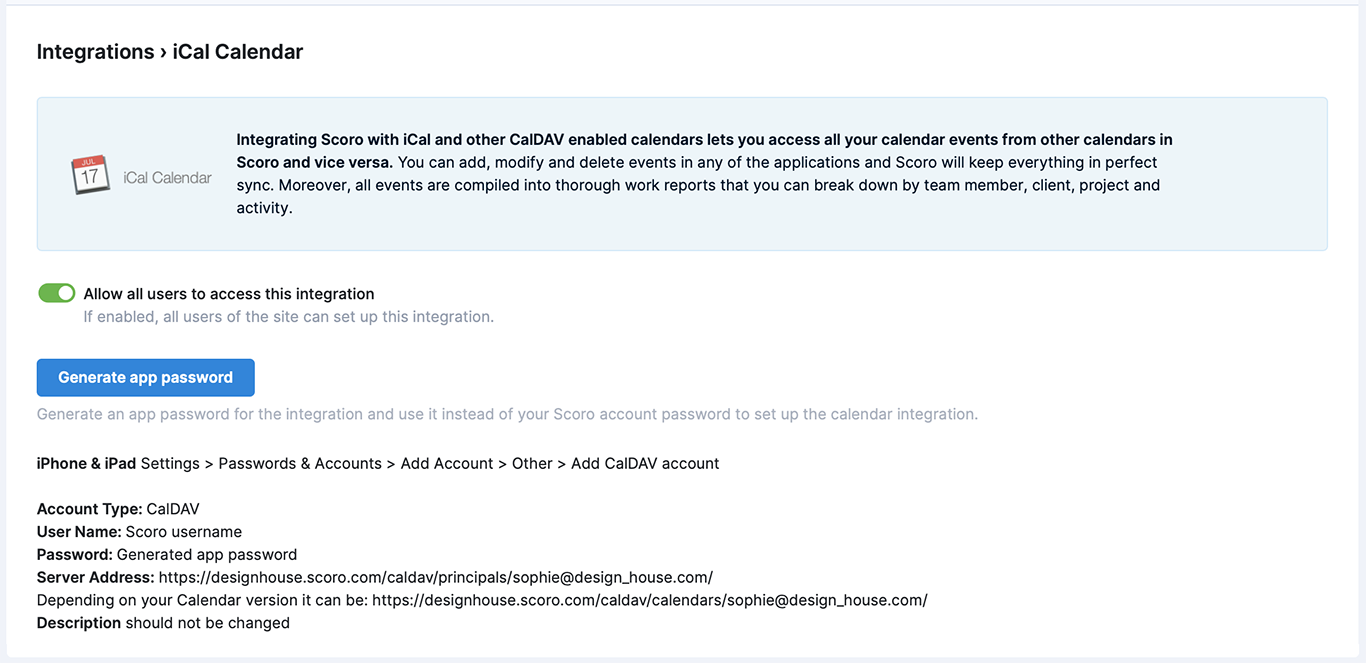 Until now, you were able to set up the integration between Scoro and Outlook or Apple calendar using your Scoro password. If your calendar integration doesn't work after your Scoro site is updated, just go to the integration settings page (Site settings > Integrations) and open that specific integration. Then click on the button Generate app password and copy it to your calendar (Outlook or Apple calendar) app. Just quit the app and open it again, if it doesn't work on the first try. Just let us know if you need our help.
Bigger and prettier Scoro
The new notably wider viewport with improved scaling makes using Scoro enjoyable on all screens, no matter the size or the device. This helps to make the most of your precious screen real estate.
We are gradually making design changes all over Scoro to make Scoro more consistent and improve your user experience. As a result, Scoro is becoming more and more easy on the eyes (pixel by pixel). For example, our new Calendar view is light and airy, with all important details on each event more pronounced.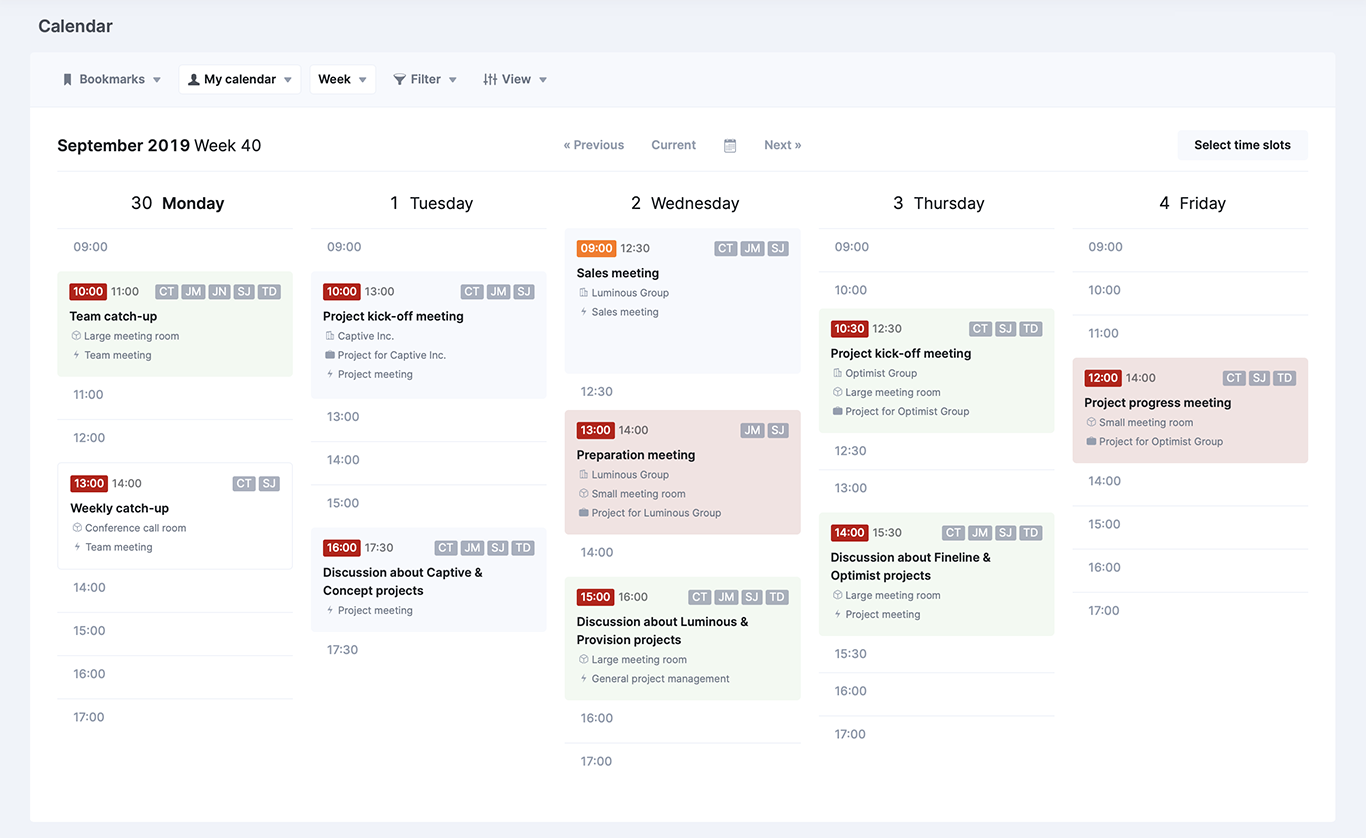 We are implementing a new icon system and, of course, updating colors all over Scoro to a more modern, pastel palette.
Updated Scoro app
While our main focus has been security, we've taken some time to start remastering our app. This time we took on various little details as groundwork to start building on in the coming versions – everything from critical bug fixes to usability improvements.
Multiple user support. You can easily assign tasks to multiple users in the app, as you've been able to do in the desktop version of Scoro.
Notifications. Notify users of different tasks and events, so that everyone knows what's happening.
Improved filtering. Filters don't act out anymore and do exactly what they're supposed to.
Bug fixes. We've fixed numerous bugs that annoyed both you and us.
Note! These updates are only relevant to iOS.
Zapier improvements
We've added quotes to Zapier triggers and actions enabling to create zaps with quotes in the same way you've been able to do with invoices. It's now easy to send both new and updated quotes to another app via Zapier and vice versa, and if the other app supports it, keep them in perfect sync.
In addition, contact tags are now supported when syncing contacts via Zapier.
Coming next:
Drag and drop in the Project timeline. Easily change the length of the project phase or time of the milestone by extending/shortening the progress bar in the project timeline, plus automatically modify related tasks accordingly. If needed, undo all changes with one click.
Partial invoicing. Invoice the customer for some of the quoted jobs or a certain percentage of done services as soon as they're ready. Bill for the rest of the work with one click when the project is finished.
Financial reporting on multiple company accounts. Effortlessly create custom summarized financial reports based on the data from your various company accounts.
Not to worry if your Scoro site hasn't been updated yet, the October update is rolling out gradually over the next few weeks.
We do our very best to make Scoro better every day, so we really appreciate your feedback. Let us know what you think at [email protected].
Want to learn more tips to use Scoro to its full potential? See these guides:
Top 20 Questions We Get Asked About Scoro
12 Quick Tips To Get More Out Of Scoro (Beginner Level)