Product
Aug 2019 Version Update: Timeline For Multiple Projects And More
While you're mastering your role as a true project hero, we just keep building valuable tools that compliment your superpowers. In the process of putting pieces of the puzzle (also known as a project) together one-by-one, take a look at your work from the distance to spot the details that really matter.
Timeline for multiple projects
In addition to keeping a close eye on each project individually, it's essential to be able to zoom out and look at the bigger picture. Project timeline allows you to track multiple projects, the related tasks, and their progress in a single compact view, making it easy to visualize and prioritize tasks in order to avoid overlapping and bottlenecks. More importantly, as you're always up to date with what each team is working on, it's much easier to set accurate deadlines when planning work and arrange the order of assignments as they need to be finished.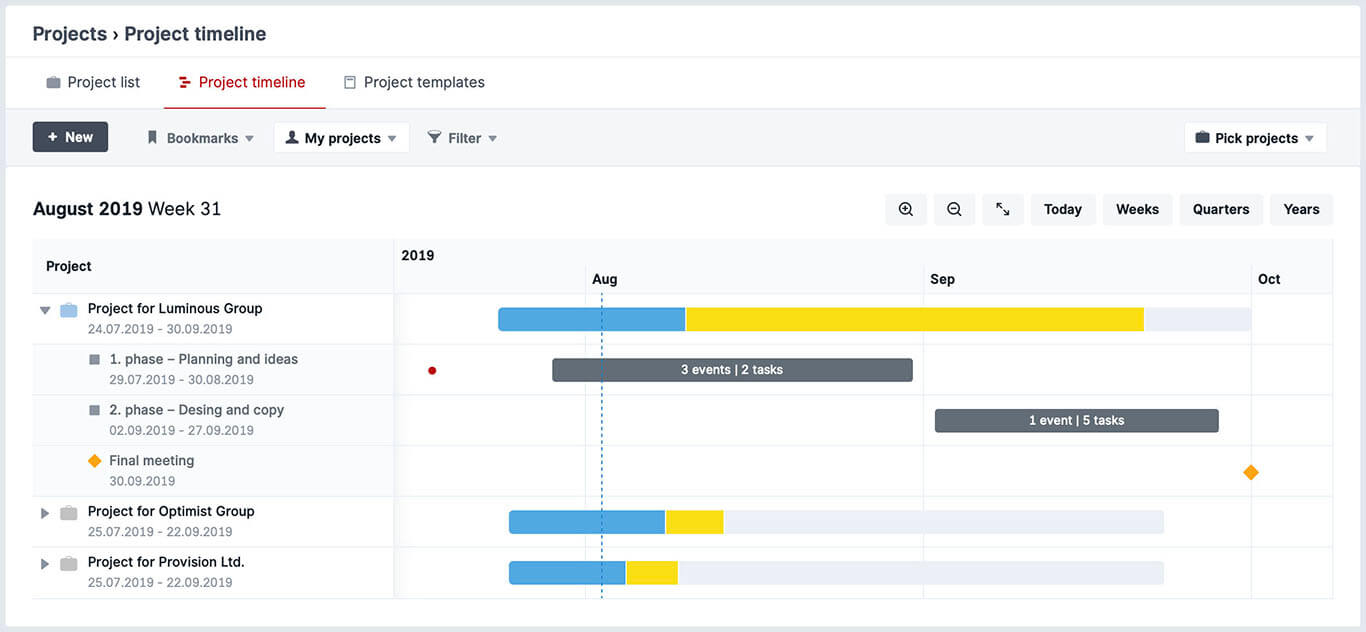 With the help of different filters, take a look at how your work is advancing with a specific client, or get an extensive overview of everyone's in-progress and future projects to make sure everything is running smoothly and projects get finished on time. Expand the projects in the timeline to reveal their phases and milestones, hover over the phases to see a quick overview of the corresponding assignments and their progress. All the data you need, in one simple timeline.
The Project timeline is available as an add-on. Go to Settings > Administration > Plan, add-ons and billing to add it to your site.
Note! In mobile view, the project timeline works in landscape.
Detailed Financial Report: Profit as input
To get a quick and easy overview whether specific work related to a project or client is profitable for your business, create custom financial reports based on profit and profit after deducting labor cost (available only, if the labor cost calculation is activated on your site). Of course, you're able to export these reports, if needed.
Profit = Income – cost
Profit after labor cost = Income – cost – labor cost
Note! Profit is available as input if the Margin feature is activated on your site. The user needs to have the relevant rights to access all finance documents, projects and contacts, reports and also view margin and markup in order to see the profit reports. There's now a new permission "View margin and markup" among Scoro's access rights.
Bulk editing of custom fields in Contacts
With custom fields, you're able to segment and filter contacts (not only – read more on the use of custom fields) by any data specific to your business' needs. Now you can add or modify custom data on multiple companies or people on your Contact list with just a few clicks. Select the contacts you wish to modify, then just add or remove the custom data. As simple as that!
Supported custom field types: relation, dropdown, checkbox, date, date and time
Other updates…
Updated mobile view
In the coming months, we're planning on fixing and improving both Scoro's mobile view and our app. We've made the first series of updates to the mobile view, including performance improvements and usability enhancements. For example, among not so noticeable updates we've also made UI fixes such as better placement of most used links and buttons. That's just a start!
Sorting and filtering improvements for projects
When grouping your project list by clients, statuses or project managers and summarizing the results, you can now sort the list by different columns. Just click on the data column title to rearrange the data displayed in the list. In addition to the existing options, you can now sort the list by the number of projects, income, cost, labor cost, project profit, time planned, total done and total to do.
You can now filter and sort finished projects by their completed date.
Personal activities in Timesheet view
You can now include personal tasks and events to your timesheet view to get a full overview of your daily and weekly activities and time use. Click the View button to add personal things to your Timesheet. As personal activities are truly personal in Scoro, each user can only see their own personal tasks and events. When looking at someone else's timesheet, personal activities are hidden.
Project custom fields to WIP report
From now on, you can see and use project-related custom fields in the WIP report to filter out results by custom attributes as you're able to do in the project list. Your custom options are also visible under View options, so you can add this data as columns to your report.
Subcategories in News Feed
As the name states, you're now able to add subcategories to your News Feed to easily group different posts on a similar topic under one main category. This way, it's convenient to keep all important information in one place, logically sorted and easy to find.
ZIP code filter to Contacts
On each contact card, you're able to define a ZIP code for a contact. Yet, until now, there was no way to easily track down all contacts in one region based on their ZIP code. We've added the ZIP code filter to the contact list, so it's effortless to locate similar contacts.
Quote status to "Confirmed" after creating a project
Until now, when creating a project from a quote, the status of the original quote was set as "Completed". This was illogical, as in most cases, you still need to bill the customer for your work, so your work is still in process. From now on, in the same case, the quote is marked as "Confirmed", meaning the customer has approved the offer and you can get started with the project.
Searching for contacts by email address
The contact autosuggest field now allows you to search for a contact by their email address. For example, when adding a new event and linking a contact to it, you can now type in their email address, easily identify and add the correct contact to your event. The same option works in different views when linking a document or a project to a contact.
Contact tag filter to sales and purchase document list views
With tags, you're able to specify important details about the contacts in your Scoro database. For example, categorize companies by their industry, or clients by their team size. In different list views all over Scoro, you can now filter contacts by their tags making it easier to find important information from a long list.
Quote expiration in Pipeline
Statuses allow you to define different sales stages for quotes and easily use the Pipeline to get a visual overview of how your deals move from one stage to another. For each status, you're able to define a period of time for which this status is active – in what period the quote should ideally move to the next sales stage. Now, you can view and filter out quotes in the Pipeline by their expiration date. The same info is also visible in the quote detailed view. Read more on statuses.
Improved Regions
We've given the Regions functionality a bit of a touch up to make custom regions easier to set up. Instead of adding and selecting regions one by one from a dropdown menu, you can now name a region and just tick all the relevant countries to include them. In addition, we've predefined some commonly used regions (e.g. ANZ, Europe, EMEA, DACH, SEA, etc.) to Scoro to save your time.
Product groups view
Before, when adding a new product group without adding any products or services in it, the group was hidden. To avoid this issue and make groups easier to handle, we've built a new view for product groups. To open the product groups page, go to Settings > Sales and Finance > Products and services and click on the Product groups button.
Note! The user needs to have the permission "Modify products settings". The site must have the product groups option activated under Settings > Products and services > Product add-ons > Product groups.
Scheduled invoice: Automatic line dates
There was an issue with scheduled invoices where the line dates (if using the periodization of product/service lines on invoices) didn't change dynamically according to the creation date of each scheduled invoice but stayed the same as on the original invoice. This problem has now been fixed and the line dates on the invoices are calculated based on the invoice date and issue interval. To use the automatic calculation, tick the option "Calculate line dates automatically" in the scheduled invoice modify view.
Zapier improvements    
Scoro's Zapier integration now includes triggers and actions for sales invoices. It's easy to create new invoices on each side, plus keep your invoicing updated in both systems with the help of Zapier. In addition, it's possible to mark invoices in Scoro as received via Zapier.
We've also updated our API to support these triggers and actions.
QuickBooks integration
You can now sync projects from QuickBooks to Scoro (Note! It is limited to only one-way sync because projects cannot be added to QuickBooks via API). If a bill or an invoice is added under a project in Scoro, it will be linked to the same project in QuickBooks (when the sales documents are synced from Scoro). The same works vice versa. All the already synced projects can easily be opened on the Scoro side with the help of the "Go to QuickBooks" button on each project line. The sync also supports the project on each line functionality for bills.
Note! The sync doesn't support project on each line functionality for invoices, because there's no such functionality available for QuickBooks.
Xero integration
In the past, when a user activated "Sync tracking categories" for Xero integration it disabled modifying all financial objects in Scoro. That also included the possibility to choose whether the financial account is an expense object or an income object. This issue has been fixed and it's now easy to get much better reporting and a full overview of financial accounts and their use in Scoro.
Everything about your business, one click away
Coming next:
2-step verification. Add a second layer of defense to your site and keep your valuable data safe.
Updated Scoro app. Scoro app remastered – everything from critical bug fixes to usability improvements.
We're working on:
Drag and drop in the Project timeline. Easily change the length of the project phase or time of the milestone by extending/shortening the progress bar in the project timeline, plus automatically modify related tasks accordingly. If needed, undo all changes with one click.
Partial invoicing. Invoice the customer for some of the quoted jobs or a certain percentage of done services as soon as they're ready. Bill for the rest of the work with one click when the project is finished.
Financial reporting on multiple company accounts. Effortlessly create custom summarized financial reports based on the data from your various company accounts.
Not to worry if your Scoro site hasn't been updated yet, the August update is rolling out gradually over the next few weeks.
We do our very best to make Scoro better every day, so we really appreciate your feedback. Let us know what you think at [email protected].
Want to learn more tips to use Scoro to its full potential? See these guides:
Top 20 Questions We Get Asked About Scoro
12 Quick Tips To Get More Out Of Scoro (Beginner Level)