Product
March 2019 Version Update: Scheduling Tasks In Calendar And More
When it comes to managing your day-to-day assignments and meetings, it's essential that each step from scheduling activities and logging time to getting thorough reporting is quick and easy. With this update, we're adding yet another bit of automation to Scoro's Calendar, further improving the convenience of task management, time tracking and much more.
Schedule tasks in Calendar
We recently improved our calendar by adding an overview of your daily activities and progress to the calendar week view. We're now taking it a step further by making it possible for you to pick and choose a suitable time for these activities in your Calendar. Simply drag and drop the task from the tasks tooltip to the time slot of your liking. Just like that, an event is created and automatically logged under the original task as a time entry. This makes it easy to plan your to-do list, plus easily find and block a suitable time in your calendar for each assignment. It already goes without saying that all the relevant information from the task is automatically added to the event created.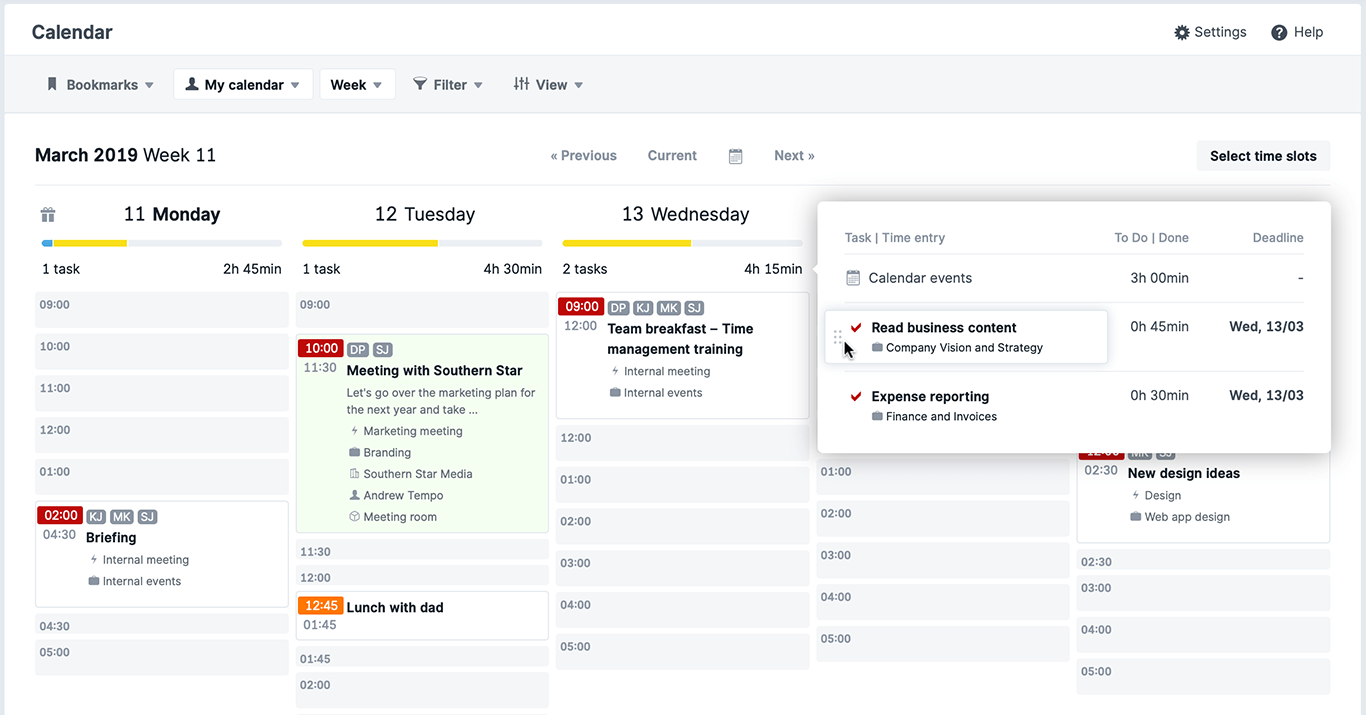 When you're finished with the assignment, just mark the original task as done. All the information on the work done will find its way to the Detailed Work Report allowing you to draw better conclusions, but also bill your customer right there and then.
Predefine regions
Instead of selecting countries one by one when filtering the results of multiple different clients from various parts of the world, set up regions. With regions, you're able to decide which countries belong in a set and what each region is called. For example, easily find all quotes compiled for clients in EMEA, or track down all clients located in South America. Or define regions based on different time zones in order to effortlessly book suitable times for meetings or calls with different contacts.
Go to Site settings > Regions and create your custom sets of countries.
Quote to Tasks: Multiple task assignees
In Scoro, you're able to quickly create tasks from the services quoted to a customer, and assign them to your team. Some time ago we introduced the possibility to assign one task to multiple users. We've now combined these two options, so you can easily create tasks from a quote and assign each of them to a different team if needed. This way the team can collaborate on the assignment and conveniently log their work-time under one task.
Note! Activate the possibility Use task assigning to multiple users first.
Other improvements…
Task board view improvements
By default, the Task board shows only the tasks that still need to be taken care of. You can now also filter out only done tasks, or show both done and not done tasks on your task board.
From now on, you can automatically modify a task on your task board by just dragging and dropping it between different rows. Depending on the grouping of rows, when moving a task to a different row, it is automatically linked to a new set of data. For example, if your task board shows projects on rows, the project linked to the task is automatically modified when dragging the task to another row. In addition, when moving the task also to a different column, both linked data is changed.
By dragging and dropping tasks between different rows of the task board you can modify:
Priorities
Activity types
Projects
Companies
Statuses
Users
Responsible
Deadlines by month
Indication of who deleted a task/event
Until now, if someone deleted a task or an event in your site, you had no idea who or why had deleted it. We've added an indication of this at the bottom of the task/event view, when opening it from the Activity log or from the notifications, from example. You can see the person's user initials and the time when the task/event was deleted. This way it's easy to know if this was done by accident and, if so, just restore the activity.
Undo button in Calendar
There's always been an option to undo the most recent change to an event in your calendar. Even so, this option was unknown to users mostly because of the poor placement of the "Undo" button. We've moved it to the upper right corner of your calendar, so it's easy to notice and use whenever you either accidentally move an event in your calendar or just change your mind. We've also fixed the issue of unintentionally moving calendar events in the calendar. You now have to deliberately grab an event to drag it to a new time slot.
No possibility to delete project related contacts
There was an issue that Scoro mistakenly allowed users to delete contacts from the database even though they were linked to projects. We've fixed this and removed the possibility to remove project related contacts from the system.
Detailed Finance Report: Partially received/paid status filter
When selecting "Invoices in period" or "Invoices by line dates" as an input for the report, there are now two new options in the "Status" filter:
Partially received, Overdue
Partially received, Not yet due
When selecting "Bills" as an input for the report, there are similar new options in the "Status" filter:
Partially paid, Overdue
Partially paid, Not yet due
Use the new options to easily refine your list and show only the invoices or bills of interest to you.
Creating an invoice from the bill lines linked to the chosen project
Until now, when creating an invoice from the project detailed view using a bill that's linked to multiple projects (or doing the same from the Bills list view, filtering the list by the project), all the products/services were transferred to the invoice. Even the ones linked to a different project. This behavior wasn't quite correct, so this update includes an improvement that checks whether or not the products/services on the bill are linked to the relevant project before adding them to the sales document.
Detailed Finance Report: Document average sum
You can now see the average document sum (without tax) in the summary bar of the Detailed Finance Report, depending on the document type chosen as an input for the report, similarly to the average quote sum in the Pipeline.
Inactive objects when creating a new sales document from an existing one
When duplicating documents or creating new documents from existing ones (Quote > Invoice) in Scoro, all the data is copied from an existing document. Before, the data was copied exactly as it was. We've now added a check between these steps, so inactive objects (such as an inactive tax) are left out when transferring data from one document to another.
Sorting by columns in reports
As in many other lists in Scoro, you can now use sorting by different columns in the Detailed Work Report and Detailed Finance Report. Just click on the column names to sort the list by that data.
Indication of active Watchdog for Bookmarks
Even though the Watchdog is a great way to set up and get notifications on different bookmarks, their aftercare was a bit clumsy. We've added a Watchdog icon to the Bookmarks list, so when looking at the list, you know exactly which of the bookmarks have an active Watchdog set up. Hover over the icon on the line of a bookmark to either add or modify a Watchdog.
Related products visible in activity types list
When using billable time for invoicing your customers for the activities done, the activities need to be linked to products/services in your database to successfully create an invoice for them. In the activity types list under Settings, there's now an indication if the activity type is linked to a product/service or not. If the activity type is already linked to a product/service, just click on the product/service name to get to the modify view (and change the linked activity type, for example).
Xero: Sync customer's Tax/VAT No.
Scoro now supports syncing companies' Tax/VAT No. in both directions.
Coming next:
Adding a new task from Time tracker menu. Start tracking time for whatever you're doing and quickly add a new task right there and then from the Time tracker menu.
Turning a quote subheading into a project phase. When turning a quote into a project, automatically create project phases based on the quote subheadings.
Detailed Finance Report: Margin as input. Create comprehensive finance reports depending on either quoted or actual margin of the services offered.
We're working on:
Quoted vs Actual in Project view. Possibility to compare which products or services were quoted to the customer and which of those have been delivered and/or billed.
Internal and external products. Easily differentiate which services on a sales document are done in-house and which are outsourced.
Billing activities from project view. Possibility to bill for done activities straight from the project view instead of switching over to the Detailed Work Report.
Okay, it's time to go and see the new version of Scoro for yourself!
We do our very best to make Scoro better every day, so we really appreciate your feedback. Let us know what you think at [email protected].
Want to learn more tips to use Scoro to its full potential? See these guides:
Top 20 Questions We Get Asked About Scoro
12 Quick Tips To Get More Out Of Scoro (Beginner Level)