Product
Feb 2019 Version Update: Improved WIP Report And More
In addition to planning and using your time in the best way possible, it's important to be in the driver's seat when it comes to successful project management and keeping your financial matters in order. To give you another good reason to take even better care of your business, Scoro's February update includes many cool improvements that contribute to doing so.
Additions to WIP report
WIP report allows you to get insight on your project profitability even before billing your customer for your work. This update of the WIP report includes four new information columns that you can add to the report whenever needed by changing the View options.
In addition to existing options, you can now get information on the project:
Status
Deadline – the date shown in gray, yet when the project deadline has passed, the number of passed days is shown in red.
Number – click on the project number to get to the project modify view.
Manager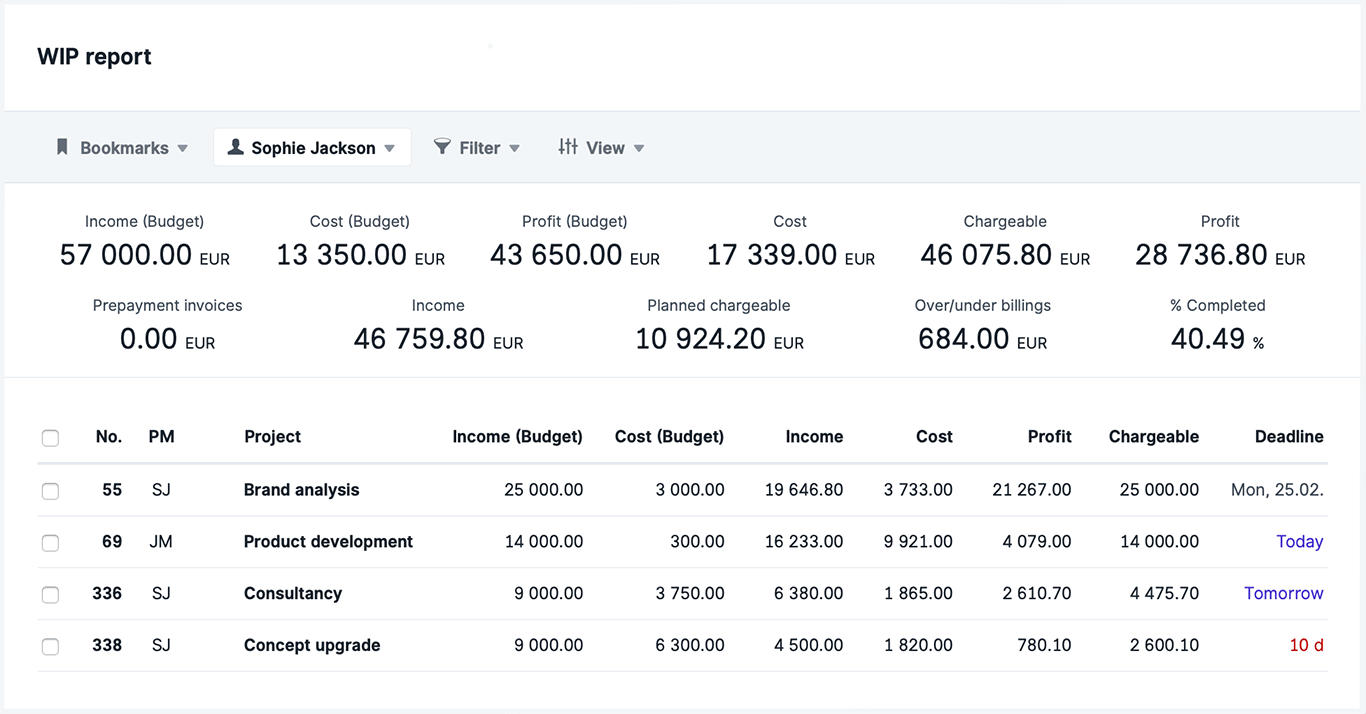 We've also added the possibility to export the WIP report. You can easily choose which rows to export by ticking them or just selecting all to export each and every row of the report. The export option appears as soon as at least one row is selected.
Note! Only users with relevant permissions can access the export option.
Company account specific products and services
When using multiple company accounts with one Scoro site, you can now define which products or services are available for each of those accounts. This helps to declutter your product list of products/services you don't need under certain company accounts and show only the ones in active use. It also allows to show and add only the relevant products/services when compiling a sales or purchase document.
You can check the product/service as "Shared between accounts" if you wish to make the product/service visible under your other company accounts. Of course, all changes can be made by users with sufficient user rights.
We've also updated our API and Import/Export options, but also Xero and QuickBooks integrations to support company account specific products and services.
Note! Product groups are specific to each company account.
Xero and QuickBooks integration improvements
Xero products sync
Previously all products had to be managed in Xero. With this update we've added the possibility to allow Xero users to choose on which side (either Scoro or Xero) they manage their products. Just pick the sync direction on the integration settings page.
Xero and QuickBooks: Invoicing email for customers
We've added an invoicing email support for both integrations, so when an invoicing email is provided for a contact in Scoro, it is automatically transferred to Xero/QuickBooks during the next contacts sync. The invoicing email address can be used when sending out invoices from Xero/QuickBooks.
Multiple QuickBooks accounts for one Scoro site
From now on it is possible to connect each Scoro company account with a unique QuickBooks account. Each account will have their own sales documents, tax rates, finance accounts, payments, products, etc.
QuickBooks action buttons
With the new QuickBooks action buttons you can now instantly send specific data to QuickBooks, or pull payments or contact information from QuickBooks to Scoro. The action buttons were added to contacts, sales and purchase documents. In addition, you can use a quick action to instantly sync updated or missing data.
Other improvements…
Related contact email address visible in dropdown
When adding a related contact to a company, person, project, sales or purchase document you can now see their email address in the dropdown selection. This makes it easy to differentiate contacts and select the correct one.
Dynamic date range improvements
We've added another dynamic date range to the mini calendar used in date filters all over Scoro. There's now an option "Next 90 days" that takes the current date into account and displays results accordingly.
We've also improved the logic for all other dynamic date ranges, so that they would work the same way no matter where they are used (for example, when saving a filtered view as a default view).
Filtering of uncategorized files
We've improved the filters logic in the Files list, so you can now filter out all files that haven't been linked to any file category. This helps to easily locate all lonely files and link them to relevant objects. Just use the Category filter in the Files list and select the option "Unspecified".
Rules and alerts improvements
When creating a new rule under Rules and alerts the previous somewhat confusing "owned by" option for tasks, events and projects has been replaced with more logical options that offer multiple possibilities for different alerts. Among other options, you're able to trigger alerts while being a project manager (not the creator) or simply a member, for example, and be notified if someone makes changes to the project. Or keep an eye on a task that's assigned to someone else without the need to be the responsible user of the task or even linked to the task at all, presuming you have the necessary access rights, of course.
The improvement has been done also keeping in mind our Zapier integration and making sure creating various beneficial Zaps is possible without any issues between the two systems.
Possibility to search for a project by number
You're now able to search for a specific project by its number using the Project filter in any view. For example, quickly find project-related tasks in the task list, or schedule time entries in the Planner. Simply type the project number into the search field in the Project filter and Scoro will find the project for you.
Grouping tasks by statuses
So far, when grouping tasks by statuses in the task list view, the new order of tasks was quite random and didn't take the site preferences into account. Now, when customizing and rearranging your statuses under Settings, and then using them to group your tasks, they are displayed in the selected order.
Order of documents linked to tasks/events
You can now link purchase orders with tasks/events from the relevant modify view when adding or making adjustments to a task/event. Customize the order of where purchase orders are placed in the dropdown menu under More when linking documents to tasks/events.
Import/export related updates
Line dates are now supported when exporting prepayment invoices.
When importing invoices, the contact specific reminder profile (when using late invoice reminders) is now automatically added to each invoice. If the contact doesn't have a reminder profile set up, the site default client profile is used.
We've improved Scoro's sales and purchase document import logic so that the system now tries to match data by searching among all contacts, not only the ones defined as client or supplier.
Coming next:
Calendar: Drag and drop tasks. Easily drag and drop tasks in the Calendar to a specific time slot to automatically log an event under this task as a time entry. This way the chosen time is blocked out in your Calendar and you can spend it to finish your assignment.
Regions. Predefine different regions and use them in various Scoro views to filter out results for specific set of countries. For example, find quotes for clients in EMEA, or all invoices compiled for clients in South America.
Quote to Tasks: Multiple assignees. Create tasks from the services quoted to a customer and assign them to multiple people to allow your team to collaborate on the assignments.
We're working on:
Quoted vs Actual in Project view. Possibility to compare which products or services were quoted to the customer and which of those have been delivered and/or billed.
Internal & external products. Easily differentiate which services on a sales document are done in-house and which are outsourced.
Okay, it's time to go and see the new version of Scoro for yourself!
We do our very best to make Scoro better every day, so we really appreciate your feedback. Let us know what you think at [email protected].
Want to learn more tips to use Scoro to its full potential? See these guides:
Top 20 Questions We Get Asked About Scoro
12 Quick Tips To Get More Out Of Scoro (Beginner Level)