Product
Sep 2017 Version update: Bring Important Metrics Closer With Updated Scoro
YET AGAIN, WITH THE BEGINNING OF A NEW SEASON, we are giving you a fresh version of Scoro. This time we've made some major improvements to the tool we use the most when it comes to sorting and keeping track of our daily work in Scoro – the dashboard.
Version 17.3 of Scoro also includes many usability fixes, all done keeping in mind our mission to help our users work smarter, not harder.
Keep reading and find out how to save time and organize your work better with Scoro's version 17.3.
New dashboard
One of the most beloved features in Scoro is the dashboard. You can add literally anything you want to keep an eye on to your Scoro dashboard. Moreover, the dashboard gives all your team members an instant overview of their upcoming tasks and events, work performance, and many other important KPIs (you decide exactly what they are!). You can customize your Scoro dashboard to display relevant information and KPIs by using different metrics, widgets, and charts.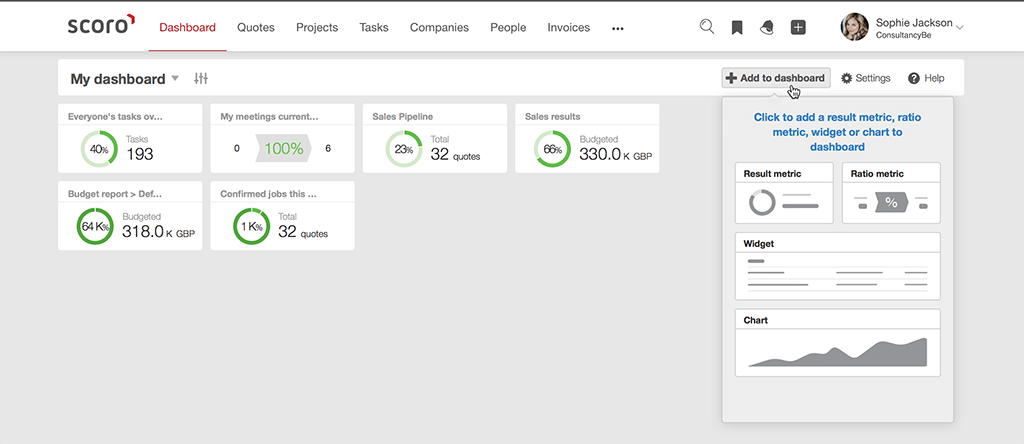 With the last version update, we added a new ratio metric to the dashboard that already adds miles to the dashboard capabilities. This time, we have redesigned the dashboard to make adding new metrics, widgets and charts even more effortless. Instead of creating a bookmark and then adding it to your dashboard, you can now create new dashlets from scratch (or change the existing ones) right there on your dashboard. You can also easily change the size and placement of each dashlet just by dragging it.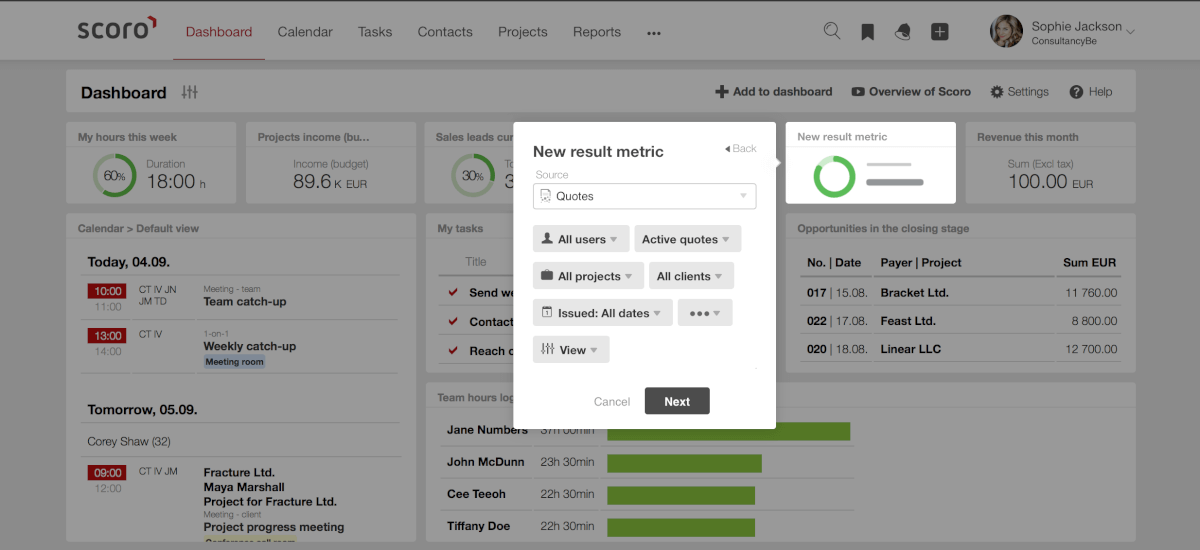 In Scoro, you're never limited to a single dashboard. You can create multiple dashboards for different purposes, e.g. sales dashboards, marketing dashboards, project management dashboards, etc. Or, if you've already created a perfect dashboard and just need to tweak it a little for another team, just duplicate the existing one and make some changes to it.
Bookmarks redesign
In addition to redesigning the dashboard, we took on bookmarks. As the main source of data for the dashboard and a valuable tool when saving your favorite views to access them quickly, we thought they weren't as easy to use as they should be. So, the new view for adding new and modifying existing bookmarks is so much easier to grasp – take a look!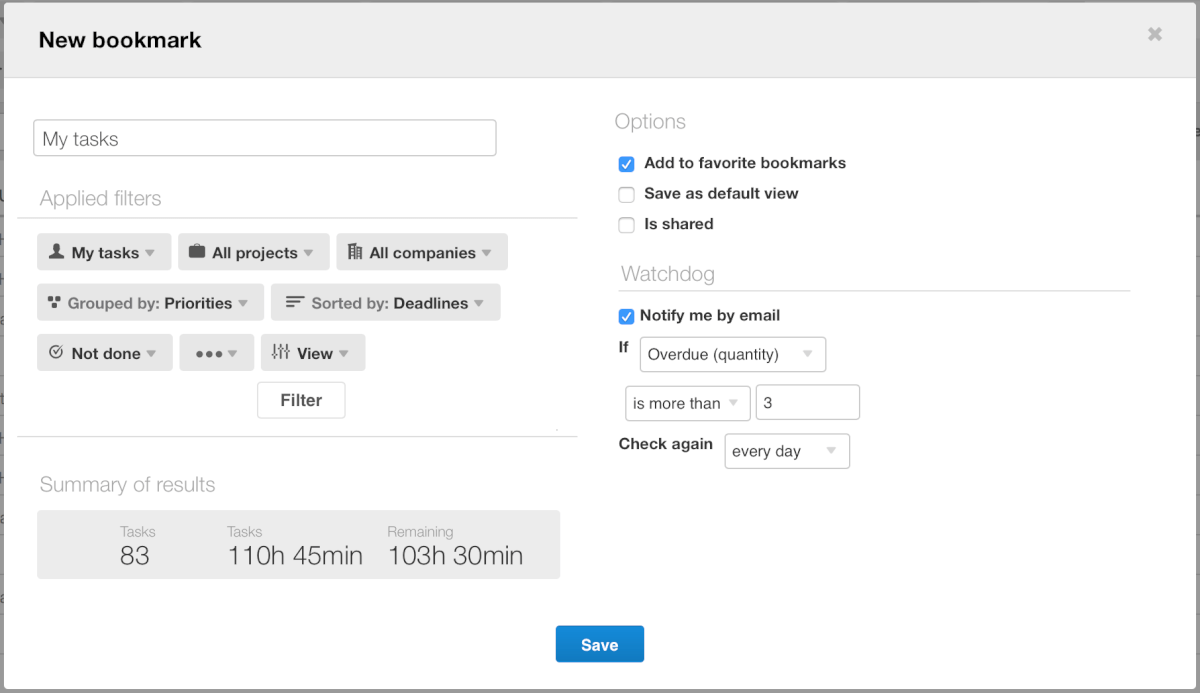 You can also use multiple dynamic date filters (for example, tasks created during the previous month with a deadline in the current month) when creating a certain view (and later bookmarking it!).
In addition, you can add a Watchdog – so you're always notified when certain conditions are met (e.g. there are more than 3 overdue tasks in your task list or accounts overdue exceed a certain amount).
If you haven't been using bookmarks to their full potential yet, now is the time to start and save a coffee break worth of time each day by opening a view from a bookmark!
Usability fixes
Validation 2.0 > Mandatory and unique fields
Mandatory and unique fields are a great way to make sure all necessary data is always added to your system, and help to keep your system tidy with no duplicated information.
So, keeping this in mind, we've added many new options for mandatory and unique fields, previously known as Validation. Mandatory fields let you decide, which fields always need to be filled in before being able to save (let's say, when adding a new contact). Unique fields, on the other hand, are used for defining certain information that needs to be unique for all added content (e.g. the VAT/GST number of a company).
Search is now 3-4 times faster
We've added the possibility to modify your search results under search settings, so now you can decide whether you want to see simple or detailed data when searching for something in Scoro. The simple search will look for the object name (and ID), the detailed search will also include related objects among the search.

To get a better overview of the search results, we also tweaked the way information is displayed and made the search a bit more intelligent. Now you can see the results module by module – the way you have set up the order under search settings. This makes loading relevant results much faster.
Just click on the search icon in the header of your site, type in something to search for and you'll see how the search will go through different modules one by one. To change the order of the search or search option (simple/detailed), just click on the "Search settings" button (and just drag and drop the order).
Improved Date picker
Let's be honest, the date picker wasn't that convenient to use, so we made it better. In addition to its new looks, date ranges are now nicely grouped in a dropdown. Custom ranges are now a lot easier to choose – just click on the start date and then the end date.

Did you know that in both the Detailed work report and the Detailed Financial report you can compare results for two periods of time? Well, now the Compare feature allows you to dynamically compare using "Previous period" and "Same period previous year". This makes your reports so much more valuable.
Coming soon:
Project Phases and Milestones
Simplified Gantt chart for high-level project overview
Google Docs integration
Dashboard library
Zapier integration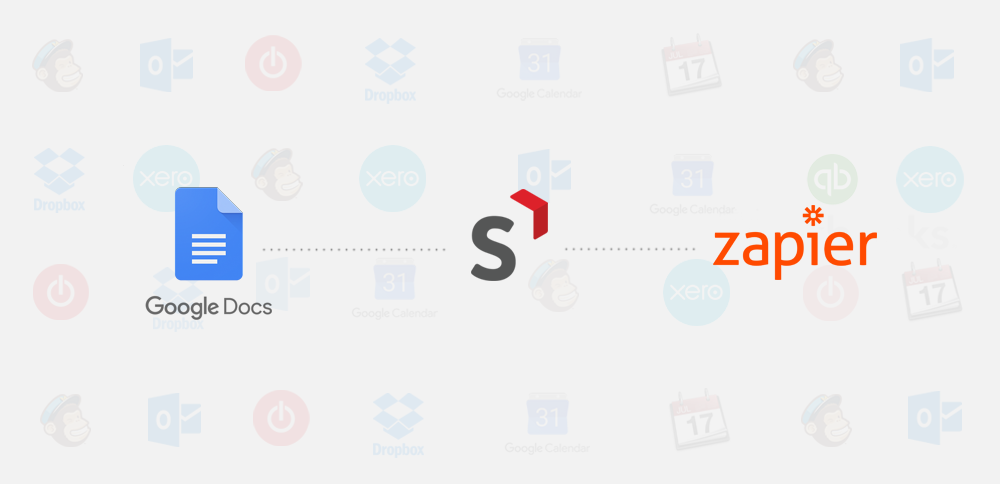 Don't forget to take a peek at the full list of updates in version 17.3:
Calendar and tasks
Simpler adding of Calendar events and tasks. We've redesigned the window that opens up when you start adding a task or new calendar event. It's now visually more clear and makes adding new tasks and events much faster.
Tasks: Ability to filter done tasks. Now you can filter and view tasks marked as "Done" right there in your task list. So far, all details on Done tasks were visible only in the detailed work report.
The new filter has three options: "Done only", "Not done only" and "Done and not done". To filter the list, just click on the suitable option.
Calendar & Tasks: Permissions refactoring. We've made some changes to the Calendar and Tasks access rights. Unassigned tasks now have 4 rights – this allows you to choose what users in different roles can do with (view, add or even modify and delete)  unassigned tasks.
Tasks and events: Possibility to restore deleted tasks and events. You are now able to see the details of a task or event that has been deleted. So far, when using a direct link to a deleted task or event, you only saw the notification text saying the event/task has been deleted.
Also, if the user has the relevant rights to modify the deleted task/event, they can now restore the task/event if needed.
Task bundles: Ability to duplicate task bundles. You can now duplicate task bundles, so you don't have to create each similar task bundle from scratch.
Work
Project list view: New "View" options.  A total of 15 new important time and finance metrics such as "Total to do", "Confirmed done", "Done billable", "Scheduled to do" and many more are now available as columns in your project list.  Just click on the "View" button in your project list and tick the options you would like to see in the list.
Detailed work report: Possibility to filter by "Responsible" person. We've added the possibility to filter time entries and tasks in the detailed work report by the person responsible. Just click on the button with three dots to use this option.
Detailed work report: Time based sorting with date based grouping. So far, if you grouped the calendar events and time entries/tasks in the detailed work report so that the groups were date based (for example "Group by days", "Group by weeks" "Group by months", etc.), then the sorting within those groups was based on the creation date and time. We made this logic smarter, so the sorting within those groups is now based on the date of occurrence. For calendar events the date and time is the starting time of the event. For time entries and tasks, the date and time is the moment the time entry/task is marked as "Done".
Planner: Overtime. We've improved the visual side of how overtime is displayed in the Planner. If a person is overbooked, the percentage loader now shows how much over the maximum of 100% they are booked. For example, if their weekly time is set to 40h but they are overbooked for 50h in total, the loader shows 125% (the portion that goes overtime is displayed in red). Also, the remaining work time is displayed as "10h 00min overtime".
Utilization report fixes. The utilization report has gone through a facelift and is now much easier to comprehend. As this report is a truly useful tool, when using it the right way, here's a breakdown of what we did in addition to visual improvements:
Removed project deadline logic, so now only a task deadline will affect whether the task is displayed in a given period
Added a "View" filter: "Include unscheduled tasks with deadline" (checked by default)
Possibility to hover on numbers with breakdown and links to see what they mean
Backlog (remaining unscheduled time of tasks with a deadline in the past) is displayed separately. The backlog number is clickable and takes you to the filtered task list with task deadlines earlier than current week.
Projects: "Created date" column added to the project list view. We've added a "Created date" sortable column to the project list view, similarly as we have in the task list view. Just click the "View" button to add the column.
Projects: Project profit in summary bar. Now you can also see the project profit sum in the summary of your project list, so you can get a quick estimate of the value of the filtered projects, and know how you're doing. Project profit = income (actual) – cost (actual).
Sales & Finance
Detailed financial report fixes. We added 2 new input types (among the existing four) to the detailed financial report:
Bills (by creation)
Purchase orders
We also added a project tags filter to the detailed financial report, same as we already have in the detailed work report. You can find the filter under the button with three dots in the report.
In addition, there's now an "Estimated closing date" filter that appears if the input selected is "Quotes". This function is relevant to customers using advanced pipeline management (Premium and Ultimate packages).
Quote to tasks: Mandatory project linking removed. So far, you needed to link a quote with a project for the "Create tasks" button to appear under a quote view. As your workflow might not include projects in all cases, we decided to omit this restriction. Now you can create tasks from a quote even, if the quote isn't linked to any project – in this case the tasks created are automatically linked to the contact used on the quote.
Quotes: Warehouse stock information. You can now see your stock details (how many in stock, buying price, etc.) when adding a product on a quote, the same way it's been with invoices.
Quotes and pipeline updates (some related to advanced pipeline management).
1. Quotes
Status change log in quote view: The quote detailed view now includes information on the status change. Just click on the link "View status change log" next to the status in the quote view to open the log. This enables you to track, how much time it took to turn a sales lead into an actual contract.
Stage age setting for quote statuses: Ability to configure how the stage age in days is displayed for quotes in the pipeline. Each status has a setting "Expires in [ ] days". This setting is only displayed for active statuses that are not set as "Is successful".
Mass command "Assign estimated closing date" added to the quote list
2. Pipeline view
Two new checkboxes under the "View" options in Pipeline view:
1. "Overall age" – displays the total age of the quote, and the user can now switch it on or off.
2. "Days in status" – displays the full time of quote in a particular status. If the time in one status goes over the limit set under the quote statuses settings, the time is displayed in red.
Meatballs menu on a quote in Pipeline view: Now you can add a new task or event linked to a certain quote right there in the Pipeline view. Just hover over the company name and the meatballs menu will appear in the upper right corner of the quote with the named options. The task or event added this way is automatically linked to the contact info (company, contact person, project) from the quote (if linked on the quote).
Sales docs: Detailed view fixes. We've added some new terms to sales documents, both to detailed and modify view, to make different numbers on sales documents more clear.
Renamed "Price" to "Unit price" (the price of one product/service unit)
Renamed "Sum" in total block to "Subtotal" (document sum without tax and discount)
Renamed table header "Sum" to "Amount" (product price taking into account the quantity and discount on the product line)
In addition, we added the "Created date" filter to all list views relevant to sales documents. You can also tick the "Created date" option to add it as a sortable column to your lists.
Budgets: Country filter. We've added a "Country" filter to budget modify view, under the "Payment terms" filter. This allows you to filter budgets by countries and makes budgets easier to use for the businesses operating in different countries.
General
Files: Permissions updates. So far, the files module didn't take project or contact restrictions into account. Now, if a user saves a file under a project or a contact with restricted access, other users who don't have access to the aforementioned project or contact aren't able to see those files in the Files list either.
Settings & customization
Custom fields: Type "Date" now supports dynamic dates. When creating a custom field with the type "Date" and using it, for example, to create a bookmark, it now supports dynamic date ranges (Previous month, This month, etc.). It didn't before, so we fixed it!
Products: Multiple language support for product description. So far, our system supported only one product description and a secondary description. Scoro now supports product descriptions and secondary descriptions in multiple languages. This is enabled only for the sites that have multiple languages in use.
Settings: "Purchases" settings page. Purchases is a fairly new addition to Scoro and so far, Bills shared its settings page with Invoices. We created a new separate settings page for Bills and Purchase Orders named "Purchases".
Import/Export: Estimated closing date column. We added the "Estimated closing date" column support to Import/Export, when importing or exporting quotes. This is only relevant to the "Advanced pipeline management" feature (only Premium and Ultimate packages).
Import: Matching columns by default. We added a "Save matched column headers as default" checkbox to each import page. If the checkbox is ticked and the "Import" button is clicked, the column header names in the import file are saved, so the next time you import a similar file, the system will match the values automatically.
Settings: Permissions upgrade. We added more options under Permissions, so you can set up what users in different roles are able to do:
Bills:
Purchase orders:
Right to add purchase orders
News feed:
Right to delete other users' posts
Reports:
Right to view Project status report
Right to view Pipeline report
Right to view prepayment balances
Integrations/API
Updated features for Quickbooks Integration. 
More functional contacts and invoices sync
Bills sync now available in Quickbooks → Scoro direction
Improved tax rates logic to support Quickbooks US accounts
Suppliers sync now available for Quickbooks
Okay, it's time to go and see the new version of Scoro for yourself!
We do our very best to make Scoro better every day, so we really appreciate your feedback. Let us know what you think at [email protected].
Want to learn more tips to use Scoro to its full potential? See these guides:
Top 20 Questions We Get Asked About Scoro
12 Quick Tips To Get More Out Of Scoro (Beginner Level)