Product
Feb 2017 Version Update: Scoro Keeps Getting Better (And So Much Prettier)
WITH SPRING AROUND THE CORNER, you just can't help but feel something new is in the air. Oh, yes! We have been working hard (not hardly working!) all winter, and now it's time to share the goodies.
We have been dying to show you what's new in our latest version 17.1.
At Scoro, we are all about practical things and better functionality or put simply – getting work done. Well, this time we decided to make Scoro look even better, so we have renewed Scoro's appearance!
In addition, we've made updates to:
Sales leads
Custom currencies
API 2.0
Want to know more? Go ahead, keep reading.
New Header Design
We have redesigned Scoro not just to make it look better, but also feel better.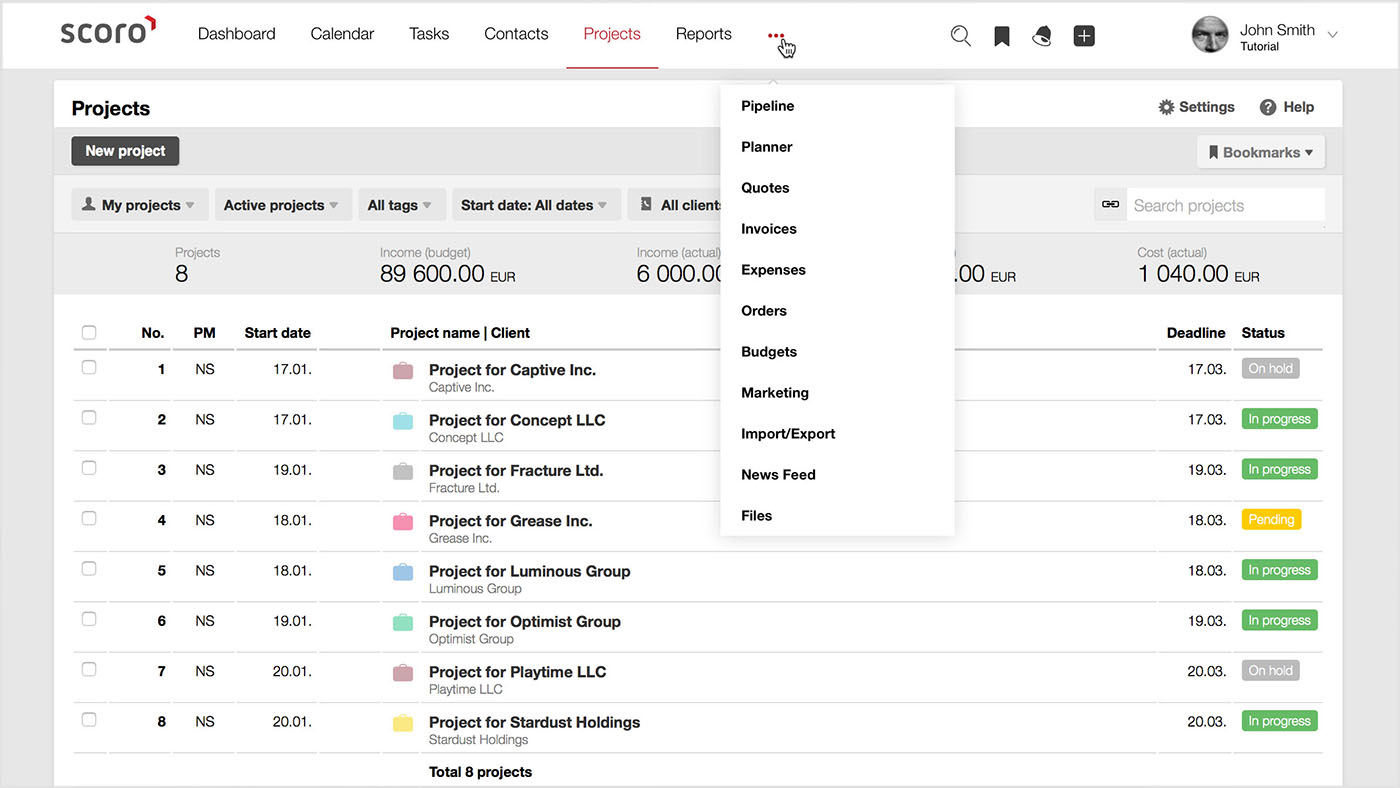 Yes, all new things take some getting used to, but we promise you'll love Scoro's design update as much as we do in no time! Here's why:
More information at a glance. The new header of your Scoro site takes less space, which leaves all the more room for everything important in Scoro and means scrolling less. Add another line of metrics to your dashboard to get an even better overview of your work, or see more tasks at once.
Super customizable. Add the most important features to the header menu to access them quickly, and hide the ones you use less often to keep your eyes on the relevant stuff.
One instead of three. Keeping Scoro's features in three different menus can get a little confusing. Now, there's only one menu that looks exactly the way you want it to look.
Did we already mention it looks good?
Planning Mode  > Planner
Speaking of new, we've renamed the Planning mode to Planner. We've also added a few things to help you and your team be even more productive:
Three-week view. Plan your team's time like a true pro. You can now see and plan three weeks of your team's time at once. That way, you can always stay one step ahead and get a good overview of how many hours and tasks have been booked for each team member. If needed, reassign tasks among your team members and plan their time even more effectively.
Project deadlines. Instead of opening projects to keep an eye on their deadlines, you can now see the approaching deadline marker in the Planner. Choose specific colors for each project to tell them apart easily.
Overbooking. Now you can add a task to a team member's calendar even if their work hours are full. Or, if it's necessary to work on the weekend, or during a holiday to get an important job done. Just click on 'Split' and choose 'Manual', before dragging and dropping the task on the desired date. As soon as you drop the task, a window pops up asking you to assign a duration. From there, tick the option to overbook and save.
Weekends. Teams with a more flexible work schedule can now view and 
plan their tasks per 7 days a week.
Separating personal and work related events. In the new version, you can only see work related hours in the Planner. Even though work and play go hand in hand, when planning your work hours, we believe it's best to keep these two apart. From now on, you can be super precise with your scheduling!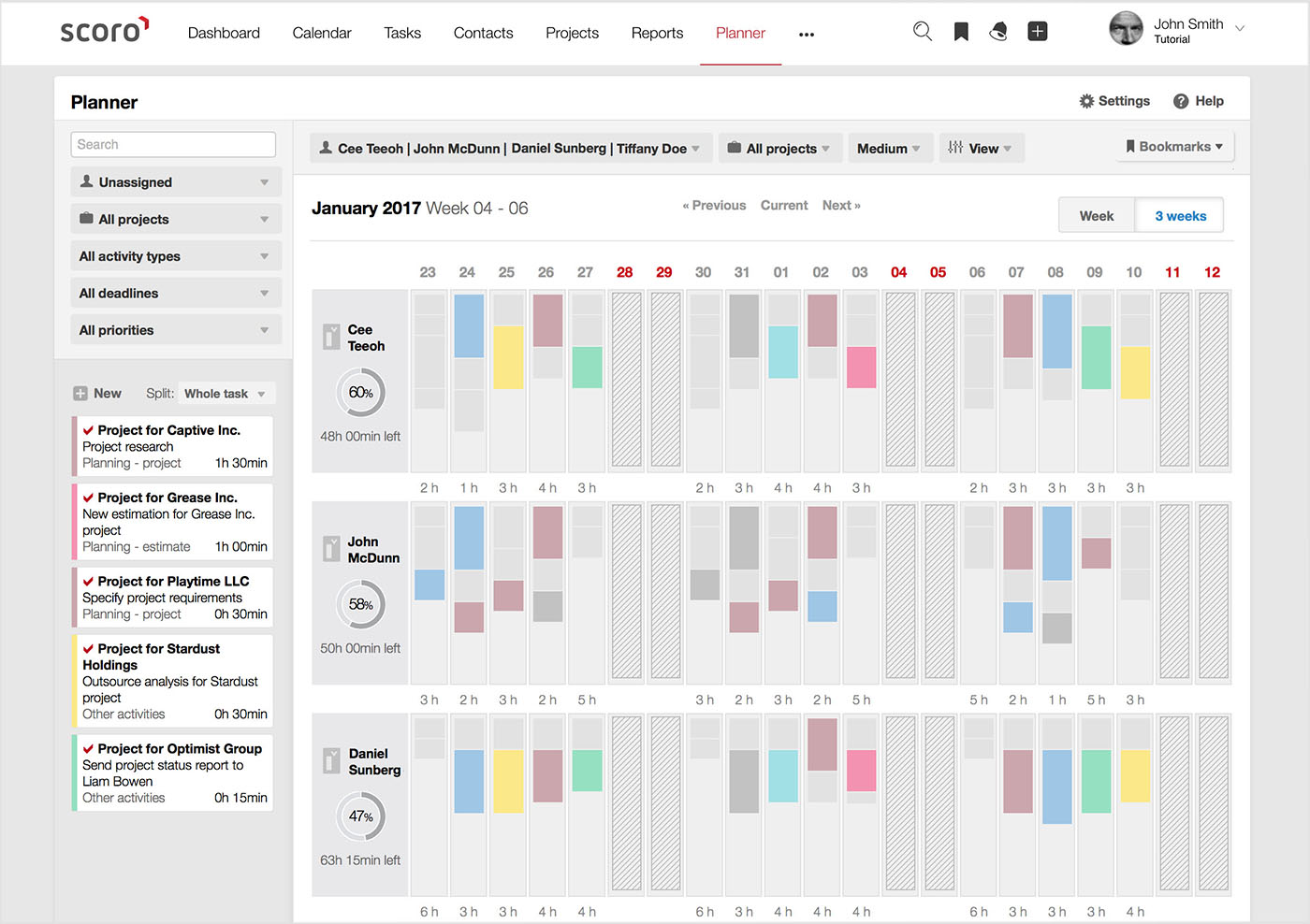 Smaller, Just As Important Updates
Inactive sales leads. To keep an eye on your leads, we've added a new filter to the quotes list. Just select a time period and click 'Activity missing'. This filter gives you all quotes, where the last activity with the related contact either exists or not in a selected time frame. Get a quick overview of prospective clients that need an extra push and make sales happen.
Custom currencies. In case you're using one or more less common currencies in your business, set up a manual currency and be in charge of updating the rates.
API 2.0. We've added user based support to API, so now you're able to send API requests with a certain user's permissions. All permissions set in Scoro admin, apply to all user based requests.
Coming soon:
Purchase orders 1.0
Scoro app for iOS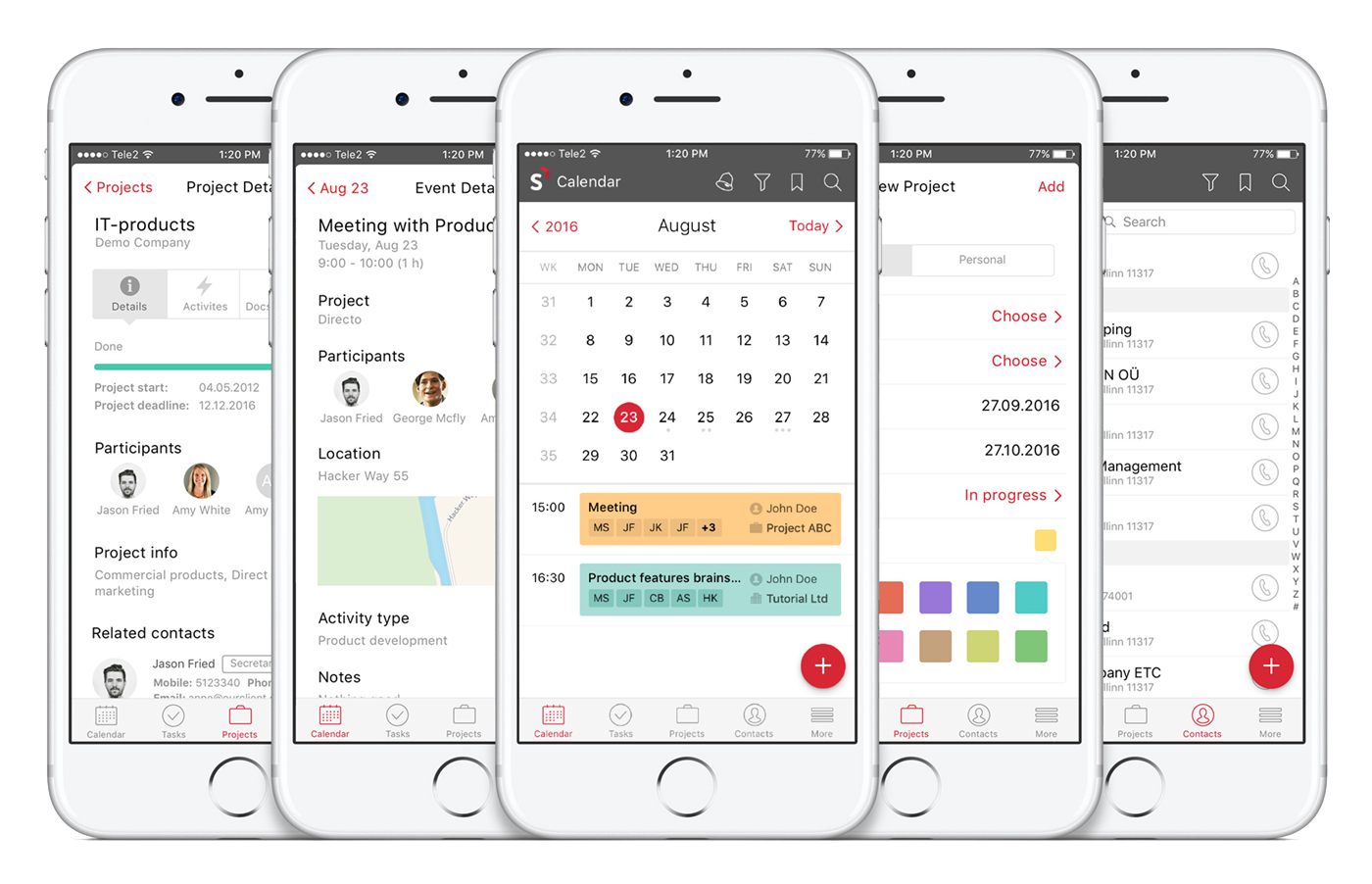 Okay, it's time to go and see the new version of Scoro for yourself!
We do our very best to make Scoro better every day, so we really appreciate your feedback. Let us know what you think at [email protected].
Want to learn more tips to use Scoro to its full potential? See these guides:
How To Improve Your Project Management With Scoro In Six Steps
12 Quick Tips To Get More Out Of Scoro (Beginner Level)