Product
May 2016 Version Update: Google Calendar Sync, Work Reports, and Customization
We're proud to announce that our product and engineering teams have once again done a wonderful job. Yes, we know – we're incredibly lucky to have them.
By going through the version update 16.2, Scoro improved in many ways. There's this more powerful two-way synchronization with Google Calendar, some exciting updates to the task list, and an even more insightful work report – everything in order to make your everyday work even more productive!
Scoro and Google Calendar now share everything
Until recently, the events were only synchronized from Scoro's calendar into Google Calendar.
Now the integration works both ways. Add an event to Google Calendar and it'll pop up in Scoro as well. You'll get a complete overview of your personal and your team's agenda in both Scoro and Google Calendar – we dare you to ask for more.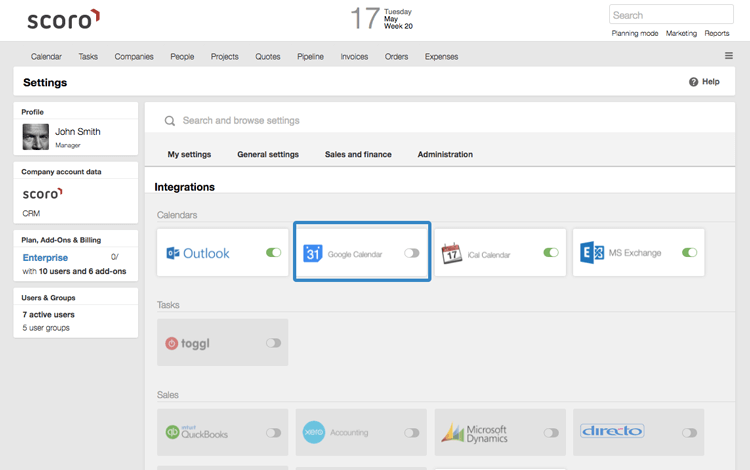 The little but oh-so-mighty work report
Scoro's reports have always been impressively smart, but there's no stopping there. Our product team constantly keeps finding new ways of making Scoro's business dashboard and reports even more amazingly helpful.
As you add new custom fields to tasks or events that are in the format of the number, time, or currency, all the information will be summarized in the detailed work report.
All you need to do is fill in all the relevant custom fields and customize your work report to see the data as a separate column. All the calculations will be done by the system. If only there were someone to do the tasks for you as well…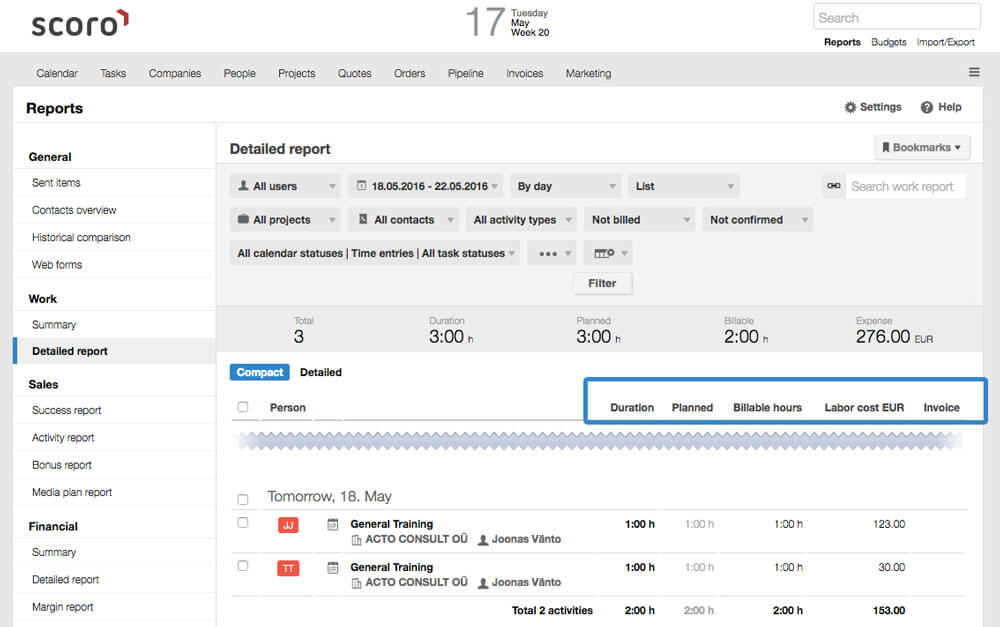 All the customizing fun in the task list
Your task list can give you amazingly thorough insight into every single task you've planned or completed. Now, it can be filtered in even more detailed ways.
For example, you can now see the scheduled date for a time entry as a separate column. And you can view every time entry's description or activity type in the task list as well. (see the image below)
We also made the deadlines in the Tasks view optional. This means that you can choose to remove the deadlines column from your task list.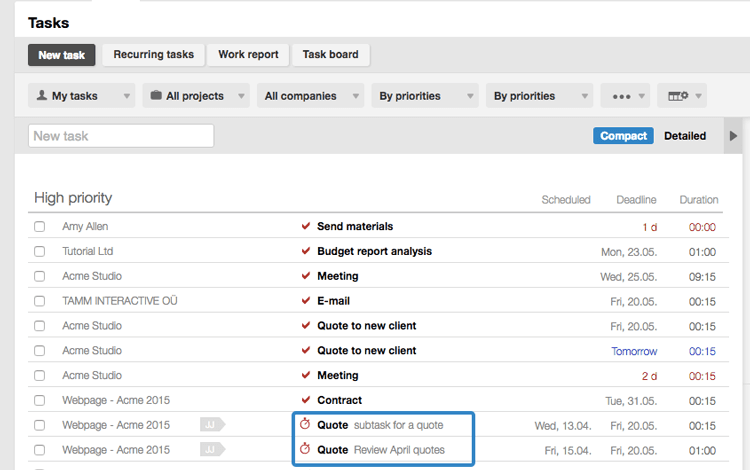 Smaller yet awesome updates:
Partially received invoices can be filtered in the Invoices view.
The project list now shows how much time was planned for a project and how much was actually spent. All you have to do is to select the right filters from the customization menu.
Project list can also be filtered by project managers.
As of this version, you can use the task board to prioritize your personal and your team's tasks. Simply drag and drop tasks to change their order.
Coming soon:
Task sets
Rules and alerts
A setting of mandatory and unique fields
Although we give our best for the transition to the new version to be as smooth as possible, please let us know at [email protected] if you notice any issues related to the update.