A New and Better Scoro
Scoro has been updated. The current version is 14.4
We have been working hard on delivering you the key performance indicators simple and clear. In addition to that, you can compare two periods to see trends over time, merge contacts, add graphs to the dashboard and set some proper New Year goals/benchmarks for your company. Among other updates, you can now export straight from the list view and use batch commands for selected work report activities. Keep on reading to learn more about all the great updates.
Although we give our best for the transition to the new version to be as smooth as possible, may we please kindly ask you to let us know should you note any issues. This can be done on help@scoro.com. Thank you in advance!
How are you doing compared to last month?

We can help you answer that question. Now you can compare two periods to see trends over time. Red and green arrows show you instantly the direction you are going. For quick access, add the comparison views to your dashboard as a metric.

Summary reports as graphs on the dashboard

Get a histogram of the revenue report or a piechart of the time spent on different projects – all on your dashboard. Add a graph from Configure dashboard > New > Graph

Measure your performance with benchmarks

Add a benchmark to the metric, choose if it's the goal or the crisis point and monitor your performance easily on the dashboard.

Merge duplicate contacts

The contacts that have accidentally been added twice can now easily be merged into one. You can do that from
Contact view > settings icon.

Export .XLS and .CSV files straight from the lists

Export contacts, invoices, quotes and orders directly from the list view. Select at least one row and the export button will appear above the list.

Export products under settings > products

Bookmark with a dynamic condition "all users"

Adding new users to old bookmarks was an itch we scratched. Now you can add bookmarks with the dynamic condition "all users".
Other important improvements
Batch commands can now be used for selected work report activities. Assign users, projects, activity types, priorities, responsible users and contacts.

Invoices, quotes and orders can now be filtered by setting a sum interval.
Previewing PDF templates has been simplified.
Country names can now be displayed on real estate PDF-templates in different languages.
You can now set up multiple signatures for your email.
When you compile a quote from media plan's schedule, the quantity of products is automatically calculated to quote lines.
Now you can search for users to add them a task or an event. The user search field is in the modifying window.
Numerous API updates – Read more here.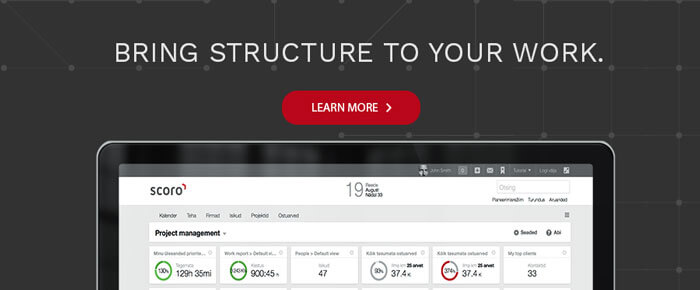 Like this?
Get the best tips, hacks, and tricks delivered to your inbox once a week.
This seems to be an invalid email address
One more thing! You will soon receive a subscription confirmation email. Please open it and confirm.