Scoro
Scoro & PieSync: Have your contacts in sync with 200+ other apps
Scoro centralizes the most important aspects of your business, and allows you to manage your team, projects, clients, and finances easily in a single solution. One of the great things about having a central platform covering different processes is that it provides a 360° overview of your prospects and customers.
But what if you are using additional business applications next to Scoro, and wish to keep all that customer data together?
Integration is one of the main challenges companies are currently facing. Native integrations and zaps (automated tasks) work perfectly if you need one-way pushes (from one app to the other one).
PieSync takes integration solutions to the next level by offering 2-way contact synchronization in just a few clicks.
We're excited to announce our integration with PieSync!
PieSync is a cloud-based data sync platform that gives you the power to automatically sync and share data between Scoro and your favorite marketing, customer care, cloud accounting, e-commerce, email, and other apps. Connect the tools you already use and love, no coding required. With more than 200 apps to choose from – automating your workflows by connecting your various sources of data has never been easier.
While Scoro is the heart of thousands of businesses around the world, it can't do everything. Surveys, chats, visual editors, email marketing, NPS, and other business-specific tools are essential to how many businesses are run. Connecting these other systems to Scoro has, until now, required some programming or developer work – something that makes it much more expensive and difficult for non-technical people to accomplish. With PieSync you can achieve a friction-free workflow with minimal effort.
From now on, you can connect Scoro with all these apps:
The best part? PieSync adds new apps every week!
This Integration Platform as a Service (iPaaS) will be regularly checking the databases of Scoro and your other app. Whenever there's a new lead, subscriber or contact, or if their existing information is updated in either app, PieSync will make sure the other app registers that change.
This allows users to save time and guarantees up-to-date, precise contact data between all your applications.
PieSync keeps in mind historical data, so don't worry about duplicates ever again.
Setting up a sync between Scoro and other apps with PieSync
If you don't have a Scoro account yet, sign up first.
Create a free PieSync account.
Set up sync connections with PieSync.
If-this-then-that rules
Having complete databases in sync is not always practical. If you are using your phone's address book for business, you probably don't need all the contacts of your CRM in there. But you might need the up-to-date info of some of them available on your phone.
The "if-this-then-that" logic is an intuitive way to customize the flow of data between apps. This PieSync feature allows users to choose which contacts to sync and how, based on categories, tags, lists, labels or any other attributes of your contacts.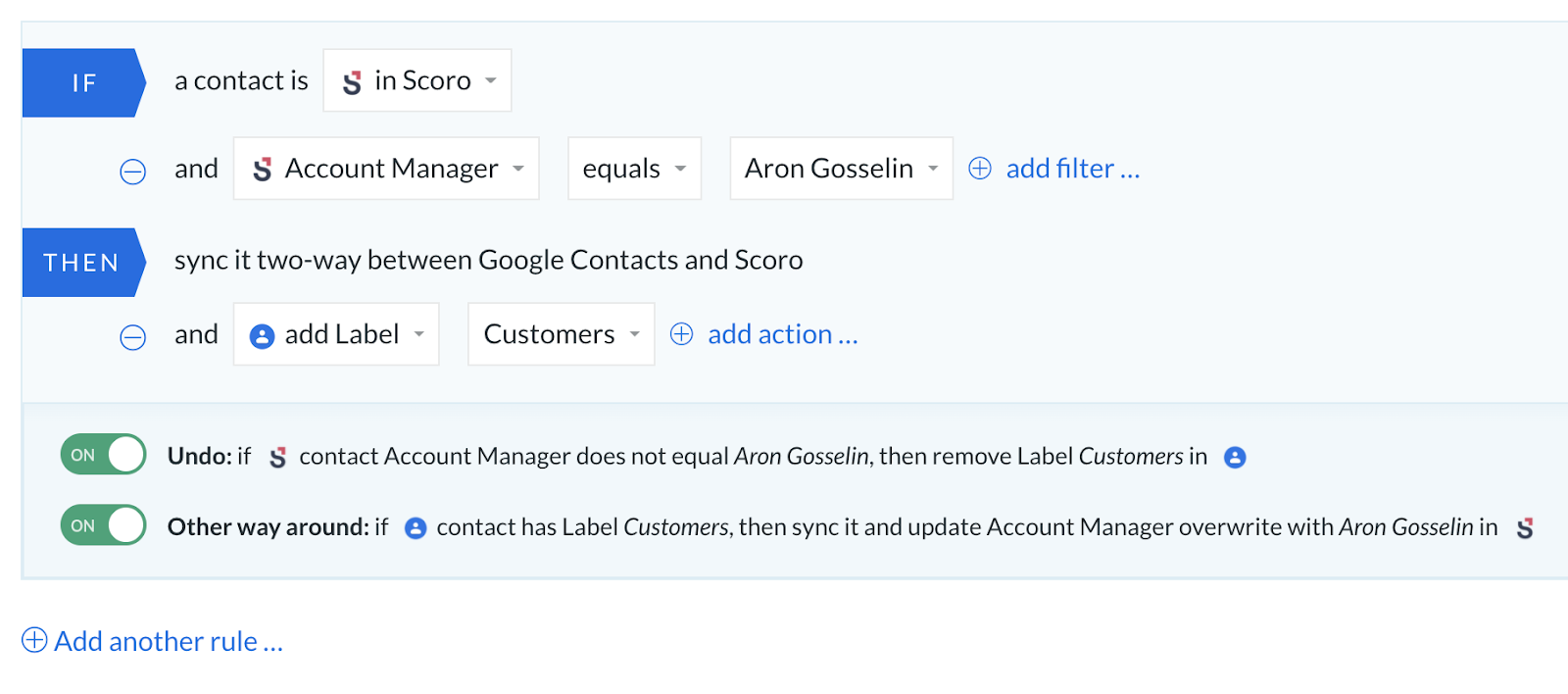 Default field mapping + Custom field mapping
The typical contact information fields of each application (such as name, email or phone information) are mapped by PieSync automatically. This is mostly to save you time, but you can easily modify that mapping if it's necessary.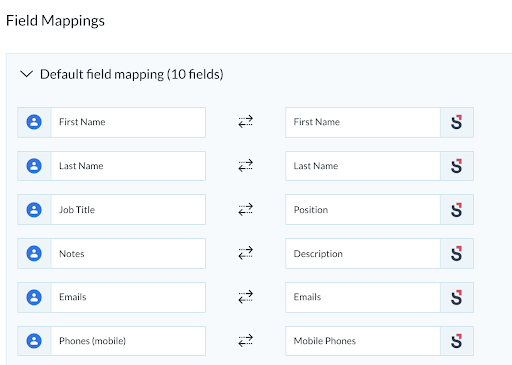 You can also manually map custom-made fields to make sure you are sharing all the info you need to the right place in the other application.

How is PieSync different from Zapier
Zapier offers one-direction triggers that send data from one app to another one. This is ideal for one-way or one-time actions, but it does not create a full sync between the different apps. When you need to push data from Scoro to another app or if you only need an app pushing data to Scoro, Zapier is a good option.
PieSync offers 2-way contact synchronization that works in real time and keeps in mind historical data, and therefore keeps different applications completely in sync. When you need to have your Scoro database (or part of it) in sync with another app, you need PieSync.
PieSync is also a good option to prevent duplicates and merge customer data in a controlled way. Learn more about the difference between these two apps here.
---
To connect Scoro with 200+ other apps head to Scoro's PieSync integration page.
Here's to working smarter!

Everything about your business, one click away