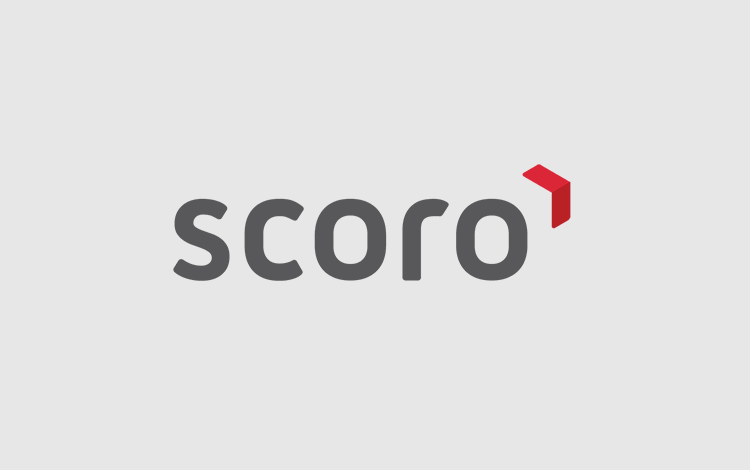 Scoro
Scoro Is Updated – Here's to Higher Efficiency!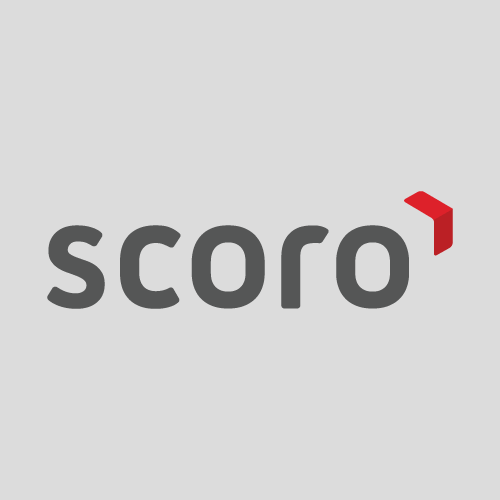 We've got some great news! Our development team has been working their magic and added some extra customizability to Scoro. To ramp up your business performance, we upgraded some of the most popular Scoro features. Including improved task list functionality and customization and quickly accessible Settings menu. The current version is 15.3. The main new features are outlined below.
A perfect task list for everyone
We are huge fans of customization, that's why we took the task list to a whole new level.
You can now select what information you'd like the task list columns to show and organize tasks as you like
By adding custom fields you can arrange your task list columns even further
With the help of bookmarks, you can display your tasks in a minimalistic project task list
Create a task list organized by custom fields
This small feature upgrade can be really helpful, giving you a comprehensive overview of all tasks in hand.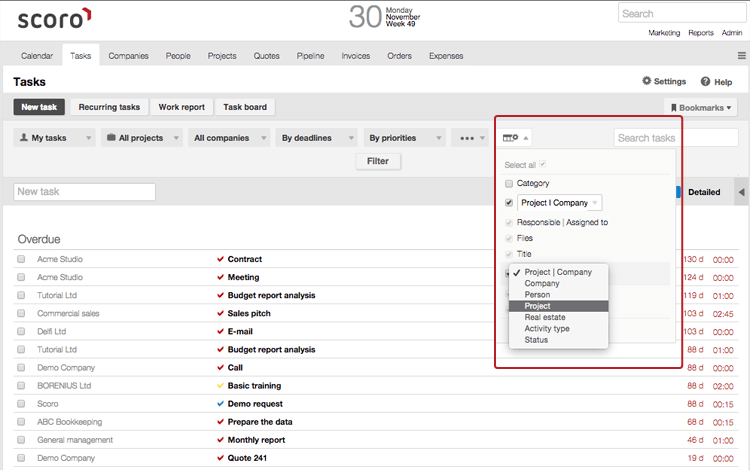 Flexible task placement in the planning mode
We recently launched Planning Mode to turn project management and task scheduling easy as pie. Now, we've added a little upgrade to make the feature even more amazingly easy to use.
When delegating tasks to your team members, you can now choose between three methods of scheduling:
The task will be split between days
The task will be split only for the current week and the rest will be left unplanned
Set a task length manually each time
All this flexibility means that you can assign tasks with ease. If you are interested in the planning mode, let us know at info.scoro.com.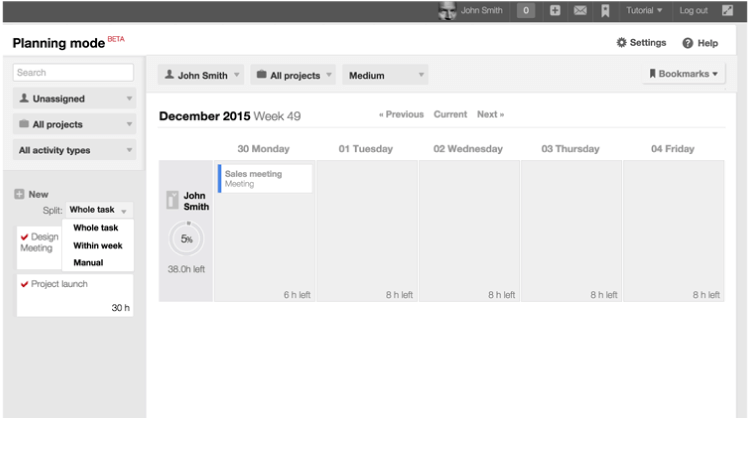 Integrate Toggl with Scoro and become a true time wizard
If you use the Toggl timer to keep track of your time, you can now integrate it with Scoro. Meaning that whenever you create a time entry in Toggl, it automatically appears in Scoro as well.
For example, if you link certain activities with a project, you'll have a detailed log for the time spent on a project.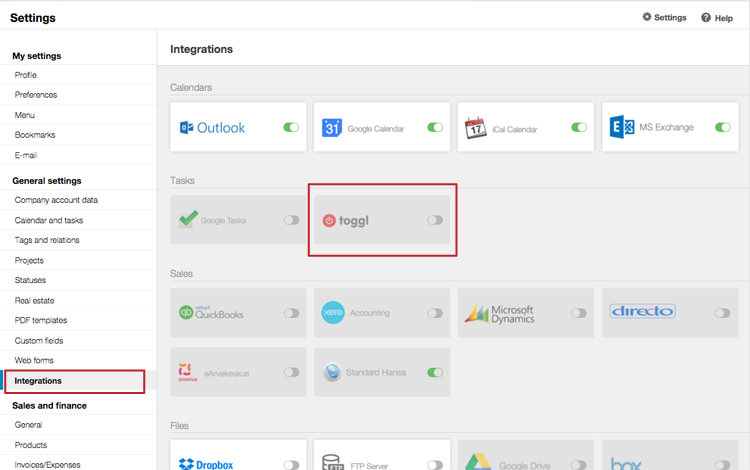 With more metrics comes higher knowledge
If you haven't been using metrics to display valuable information on your dashboard, you really haven't been using Scoro to its full potential.
Now it's possible to add an unlimited amount of metrics to a dashboard. Meaning that you can access all your company's important numbers in literally one click. Time to hop on the metrics train!
Learn more about business KPIs and key metrics for a project dashboard.
Learn how to set up a dashboard in Scoro.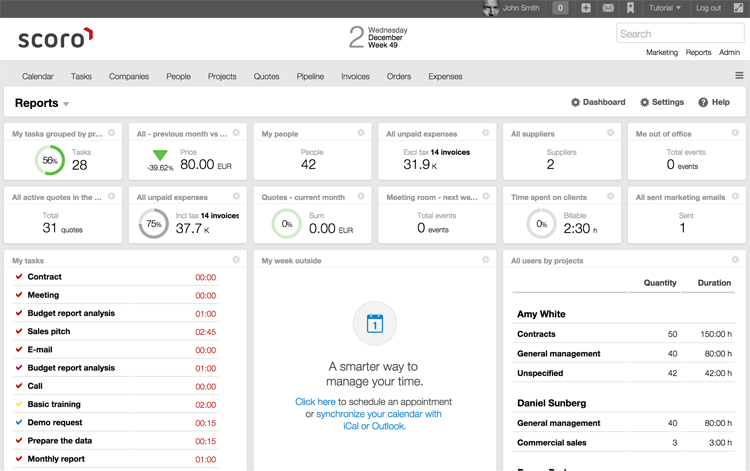 Settings have a new dashboard and can be searched
The Settings button has moved next to the Help button in the upper right corner of your Scoro site. Clicking on the button gives you a quick access to all the relevant settings. You can also search or navigate to the new settings dashboard, where all the settings have been rearranged for higher clarity.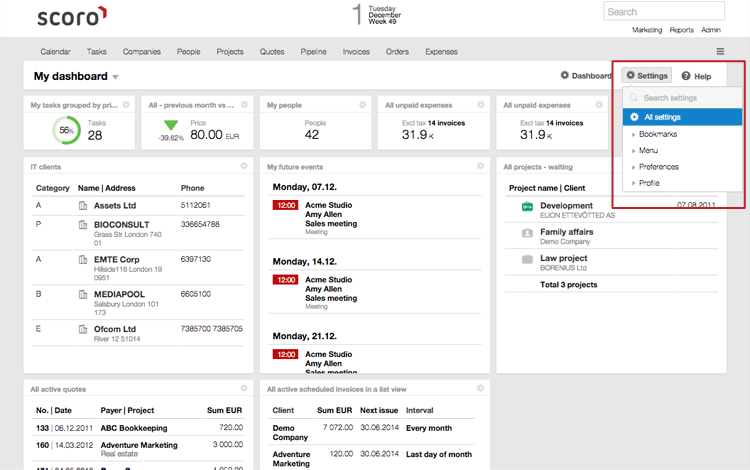 We've updated the Media plan
We brought some changes to the Media plan to make it even more efficient and easy to use.
When marking a quote as Confirmed and a product has been over sold, a notification will be displayed
Media plan can be organized by selecting columns you want to see – create your own views and find information quicker
Bookmarked views can be added to the dashboard as widgets, giving a complete overview of any feature in a few clicks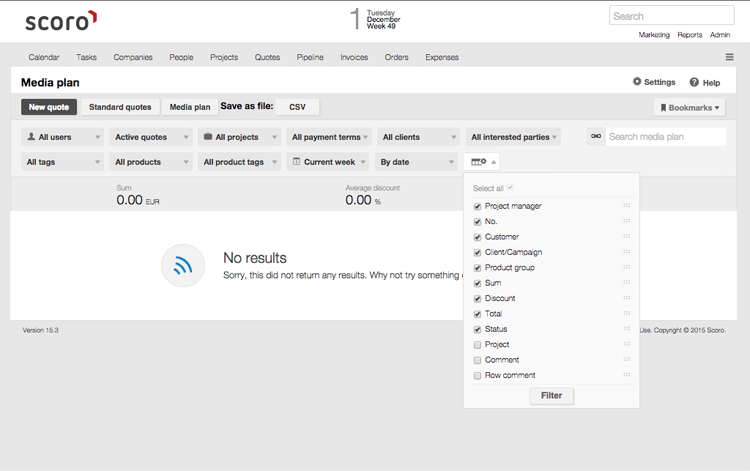 Invoicing just got more efficient
To forward invoices even faster and get detailed reports, we added some small updates to Invoicing feature:
In case of received or partially received invoices, only conditions that do not influence the grand total can be modified
Invoices can be filtered based on sent or unsent statuses
Prepayment invoices can now be imported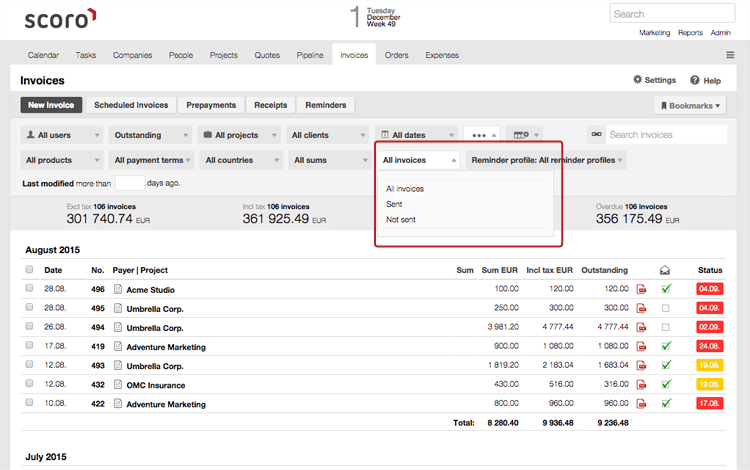 Smaller updates
You can undo an event drag-and-drop in the calendar
When creating a new task, you can choose to be notified of upcoming deadlines
Related contacts are available for real estate objects
In the contact list, you can select multiple contacts and quickly link them with the a project
Rental orders now include a time period and a permission to create PDF files
By using bookmarks, you can now add the information about rental orders to your dashboard/li>
Last but not least – coming soon
Google Calendar integration (beta)
You can add new contacts from sales docs, calendar etc.
If you'd like to boost your Scoro experience, give a try to these amazing tips and tricks that can be applied to Scoro.
Although we give our best for the transition to the new version to be as smooth as possible, please let us know at help@scoro.com if you're noticing any issues with the update.
If you have any suggestions or features that you've been waiting to see in Scoro, let us know at product@scoro.com.