Company news
Scoro continues Award Winning Streak at GetApp
We are excited to announce that GetApp, a leading software repository, has ranked Scoro as a category leader for both Business Management and Project Management Software!
From more than 150 business management solutions listed on GetApp, Scoro was named #2 in their quarterly analysis of cloud-based solutions. We are glad that we have managed to hold on to our second place. Being among category leaders really demonstrates our commitment and passion for our product. Moreover, that's not all.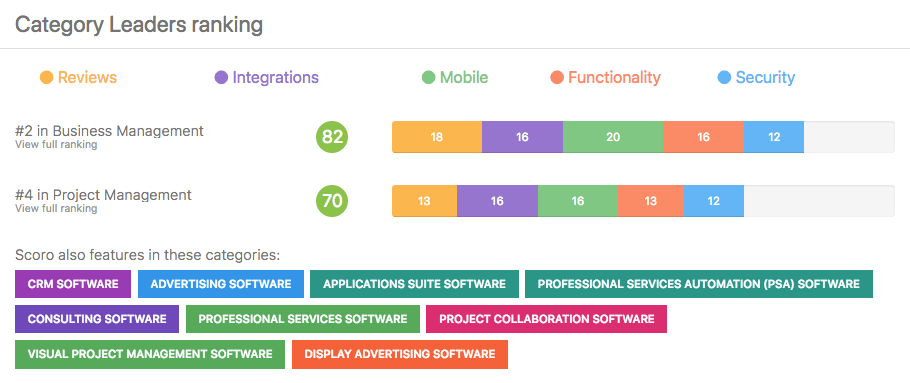 We are equally thrilled that Scoro was named #4 in GetApp's quarterly analysis among more than 400 project management solutions. It is noteworthy because compared to the last quarter we have moved up an impressive ten places in the ranking. This improvement gives us the confidence to keep on developing our product and offer the best solution to all our clients.
GetApp's quarterly ranking showcases the top 10-15 Business Management and Project Management tools based in the cloud. Each solution is scored using five factors:
user perception (reviews)
compatibility (integrations and mobile app availability)
market presence (media presence)
security features
Compared to its competitors Scoro stands out with holistic business and time management features, comprehensive dashboard and business analytics, and high customizability – making it especially suitable for professional services companies.
"Task and project management, proposal pipeline, finance, time tracking, monitoring employee efficiency – you name it. The best part is it is all happening on the same platform. Scoro can adapt to just about any workflow. I really appreciate how the platform was developed by listening to the user's needs, which results in a very flexible (albeit complex) platform." – Miha Ambroz, Media Production Company
Everything about your business, one click away
GetApp's Category Leader ranking is for business owners and decision makers looking for a comprehensive list of the leading cloud-based software products in the industry. The list serves as a point of reference highlighting key factors that small businesses should look at when assessing a piece of software.
The chart-topping scores reinforce the primary benefit of using Scoro: it's an end-to-end work management solution that allows companies to control their entire workflow from one place. It helps to streamline work and eliminate routine tasks – and GetApp's rankings show that Scoro provides the tools users need to ensure every business runs as smoothly and efficiently as possible – from sales right through to billing.
"Scoro is an all-in-one solution, from initial client communication to project closure and invoicing, we love how one platform has helped us manage all aspects of our business. This is exactly what we were looking for!" – Samuel Duarte, Translation and Localization
We have an extensive list of updates planned for every version update, and we're determined to continue to reach chart-topping scores quarter to quarter.
In case you want to learn more about our latest version updates, continue reading:
If you want to find out more about Scoro, schedule a live demo or take a tour of the software with a 14-day free trial.
Read on:
Scoro Closes $5M Round to Shake Business Management Industry