Company news
Scoro at the GTD ('Getting Things Done') Summit
Scoro had a wonderful opportunity to visit and sponsor one of the most inspiring events in Amsterdam this year – the GTD® Summit. A one-time gathering of the most productive, effective and inspirational people you might ever meet. Everyone sharing a common interest in boosting their productivity.
Although David Allen published his New York Times best-selling book 'Getting Things Done' already back in 2001, there are still more than 2 million people who follow his methods today. Granted, the methods described in his book might not directly be applicable today. However, the point he made back then is still valid – we all need a better way to manage the overflow of information and find the most productive way to do things.
"Much of the stress that people feel doesn't come from having too much to do. It comes from not finishing what they've started." – David Allen
A topic so near and dear to our hearts, we couldn't pass up the opportunity to attend a two-day event that brings together the key players and explore new and broader horizons in GTD implementation almost two decades later. More than that, we were beyond excited to meet the man behind the GTD system – David Allen.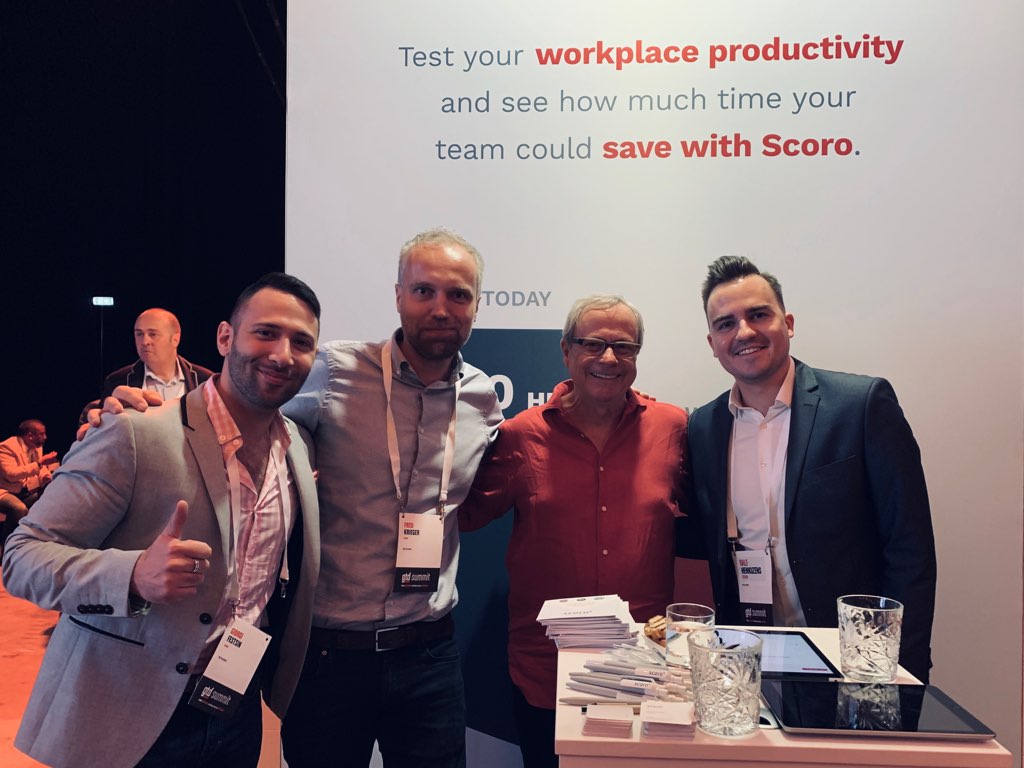 Here is what our Partnership Manager, Ralfs Henkuzens has to say about this event: "The most memorable thing for me was the amount of GTD enthusiasts who were there purely to have fun and connect with like-minded people. It was a large but quite an intimate group of people who are really into the GTD methodology."
We came back from Amsterdam with new inspiration and a lot of great ideas. We have some exciting plans regarding different events and will definitely use what we have learned in the future.
Also, take a look at the after movie from the GTD® Summit below:
ABOUT SCORO
Scoro is the most comprehensive business management solution for creative and professional services. It helps to streamline work and eliminate routine tasks to ensure business runs as smoothly and efficiently as possible – from sales right through to billing. If you want to find out more about Scoro, schedule a demo or take a tour of the software with a 14-day free trial.
Everything about your business, one click away
Read on: