Company news
Scoro Named FrontRunner for Project Management Software
We are delighted to announce that Scoro is now a FrontRunner among Project management Software programs on Gartner review site network. This achievement is especially noteworthy because FrontRunners Quadrant highlights software providers that have received the highest scores from the everyday users of the products. 
From over 525 Project Management products, only those with the top scores for Usability and User Recommended were featured in the FrontRunners Quadrant. With an overall value score of 4.63 out of 5, Scoro has proven to be an extremely handy tool for many users. We don't take this kind of support from our clients for granted and see it as an important validation of our hard work and dedication. It also gives us a boost to continue to work on our product to add new features.
Read on: 8 Emerging Trends in Project Management for 2019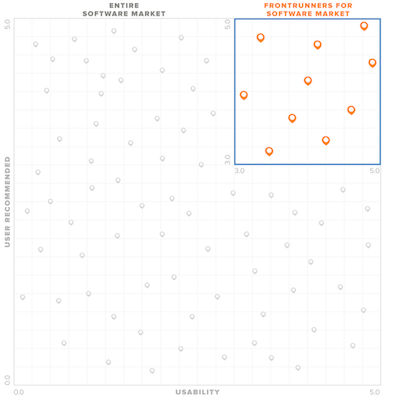 Disclaimer: FrontRunners constitute the subjective opinions of individual end-user reviews, ratings, and data applied against a documented methodology; they neither represent the views of nor constitute an endorsement by, Software Advice or its affiliates.
What makes Scoro often stand out are the holistic business and time management features, comprehensive dashboard and business analytics, as well as high customizability. These features make it especially suitable for professional services companies.
What users like about our product:
I have a much better overview of my work. Scoro draws together a calendar, e-mail, notebook, document management etc. I can share simply all the information with colleagues if needed.
In one service I can have a sales pipeline, invoices and dashboards. It is a single solution that I need for my small company. It is web-based, so my teams and I can access it from everywhere.
It can be set up to automate some of your everyday routines, saving you time that you can use on more profitable things.
The system offers a simple, intuitive UI and allows us to manage projects effectively. Their customer service has always been excellent.
Read more user reviews here.
Everything about your business, one click away
What is FrontRunners Quadrant?
FrontRunners is a report published on Software Advice, the leading online service for businesses navigating the software selection process. FrontRunners evaluates verified end-user reviews and product data, positioning the top scoring products based on usability and user recommendations for small businesses. To be considered, products have to have a sufficient amount of reviews published within the previous 18 months and meet minimum user rating scores. In addition, all project management products have to offer the following core features:
Task management
Collaboration
Project planning
Project Tracking
The goal of the report is to help small businesses to make more informed decisions about what software is right for them.
About Scoro
Scoro is an end-to-end business management solution for creative and professional services. It allows companies to control their entire workflow from one place. It helps to streamline work and eliminate routine tasks. The chart-topping scores from users also reinforce that Scoro provides the tools users need to ensure every business runs as smoothly and efficiently as possible.
If you want to find out more about Scoro, schedule a live demo or take a tour of the software with a 14-day free trial.
Read about our newest features: