Work management
Productivity in the UK: The Scoro Report
Given the seismic changes in everyone's lives since March 2020, it's little surprise that the way we work has become just as radically different. However, the conversation around remote and hybrid working has continued to rage on, especially in the UK.
That's why the team at Scoro wanted to get to the bottom of the situation. We've conducted a thorough survey to understand exactly what Brits' attitudes towards the way they work have been over the past 18 months. Are they thriving under hybrid working conditions or are the country's workers missing the relative lack of distractions in an office setting? Read on to find out.
How Brits Approach Hybrid Working
Based on our own study of over 2,000 Brits, we've built up a fascinating picture of the secret working habits of highly productive people in the UK – and a good proportion of their less motivated counterparts.
However, one thing's for certain – hybrid working is certainly an approach that people are happier with rather than the full-on commute of the 9-to-5 working week of the past. According to our stats, 44% of British workers prefer hybrid working, with 36% exclusively favoring working from home and just 17% wishing they could be back in the office full-time.
Despite the controversy in the press around the working habits of younger generations, it's actually people under 34 who are most eager to resume their commutes, with 55% of 16-24 year-olds and 38% of 25-34 year-olds preferring to work from offices again. Conversely, 19% of the people we asked said they would outright quit their jobs if they were required to go back to the office five days a week.
One of the biggest talking points regarding home working, however, has been the hidden – and not so hidden – distractions available at home. Our data reflects this, with 47% of workers admitting that they can't get through a day undistracted.
While two-thirds of Brits say they're at peak productivity between 7 am and 11 am, only 11% of our respondents manage to maintain their focus and attention throughout the entire working day.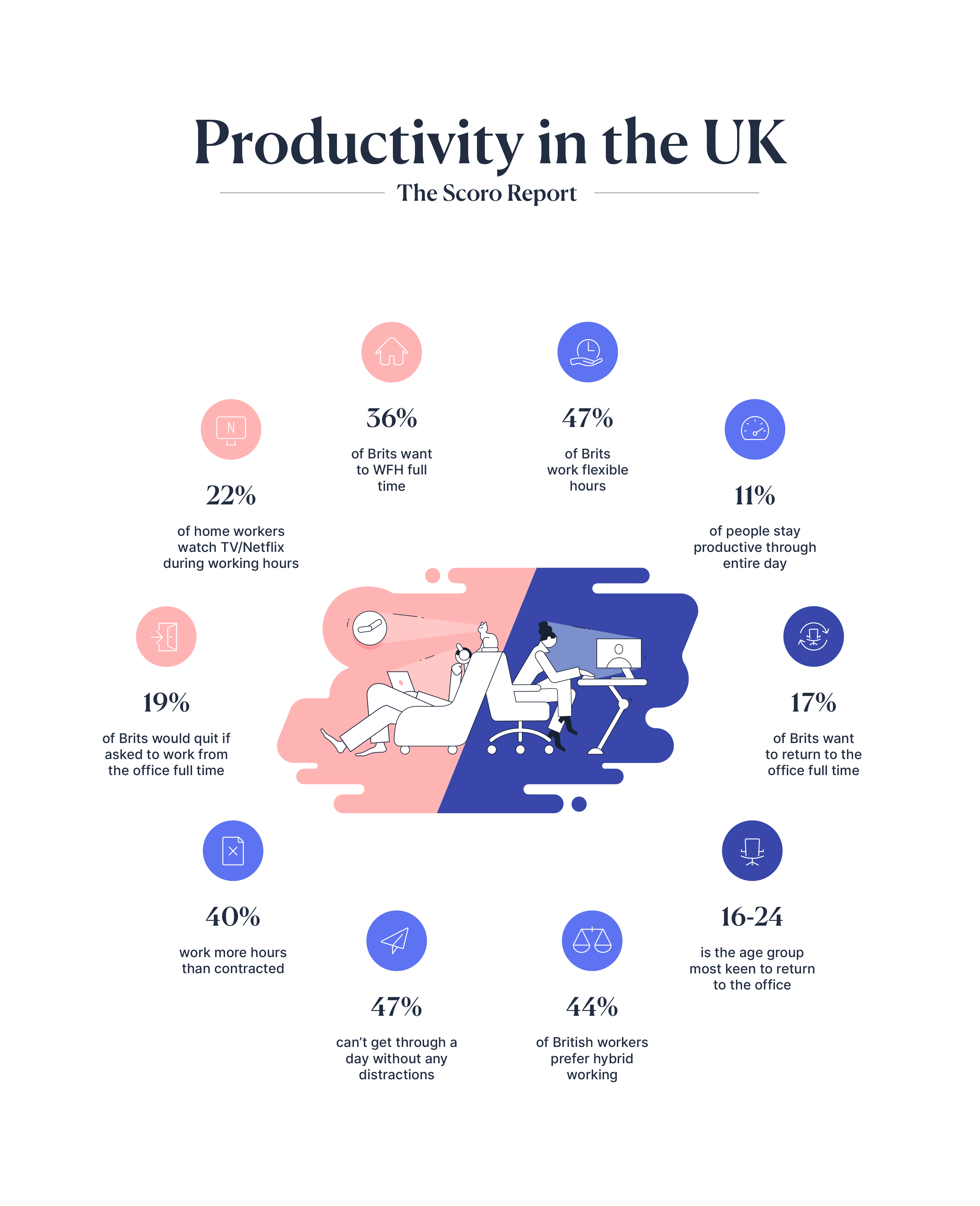 Productivity
Many businesses cite their competitive advantage in terms of how productive their staff is able to be. We've already noted that nearly 66% of people find that productivity sweet spot to be in the morning, but it's still somewhat shocking to consider that this leaves just under three-quarters of those we surveyed flagging by the afternoon.
However, our study takes things one step further – our data has allowed us to pit the major cities of the UK against each other, as well as different sectors and age groups. We determined this by examining how people responded to the questions
Do you consider yourself to be productive throughout the entire working day?
How long do you think you spend productively working during work hours on a daily basis?
From there, we simply analyzed where in the UK those who gave the highest answers were based.
Where is the most productive city in Britain?
According to our study, Britain's most productive city has kept up its reputation as a front-runner in the industry. That's right – Manchester topped our survey, with 71% productivity. In a very close second place, with 69%, we find ourselves traveling all the way down the country to the south coast of Brighton, which may well be motivated by all the fresh seaside air.
It's then a four-way tie for the bronze, with 66% of people from Nottingham, Edinburgh, Birmingham, and Newcastle boasting exemplary working habits. London and Cardiff find themselves right in the middle of our table at 63%, lagging just slightly behind Belfast at 64%.
Meanwhile, Glasgow is third from the bottom of our list with just 56% of its residents claiming to be extremely productive. Rounding out the bottom two spots are Liverpool at 53% and poor Plymouth, stuck in last place at just 48%.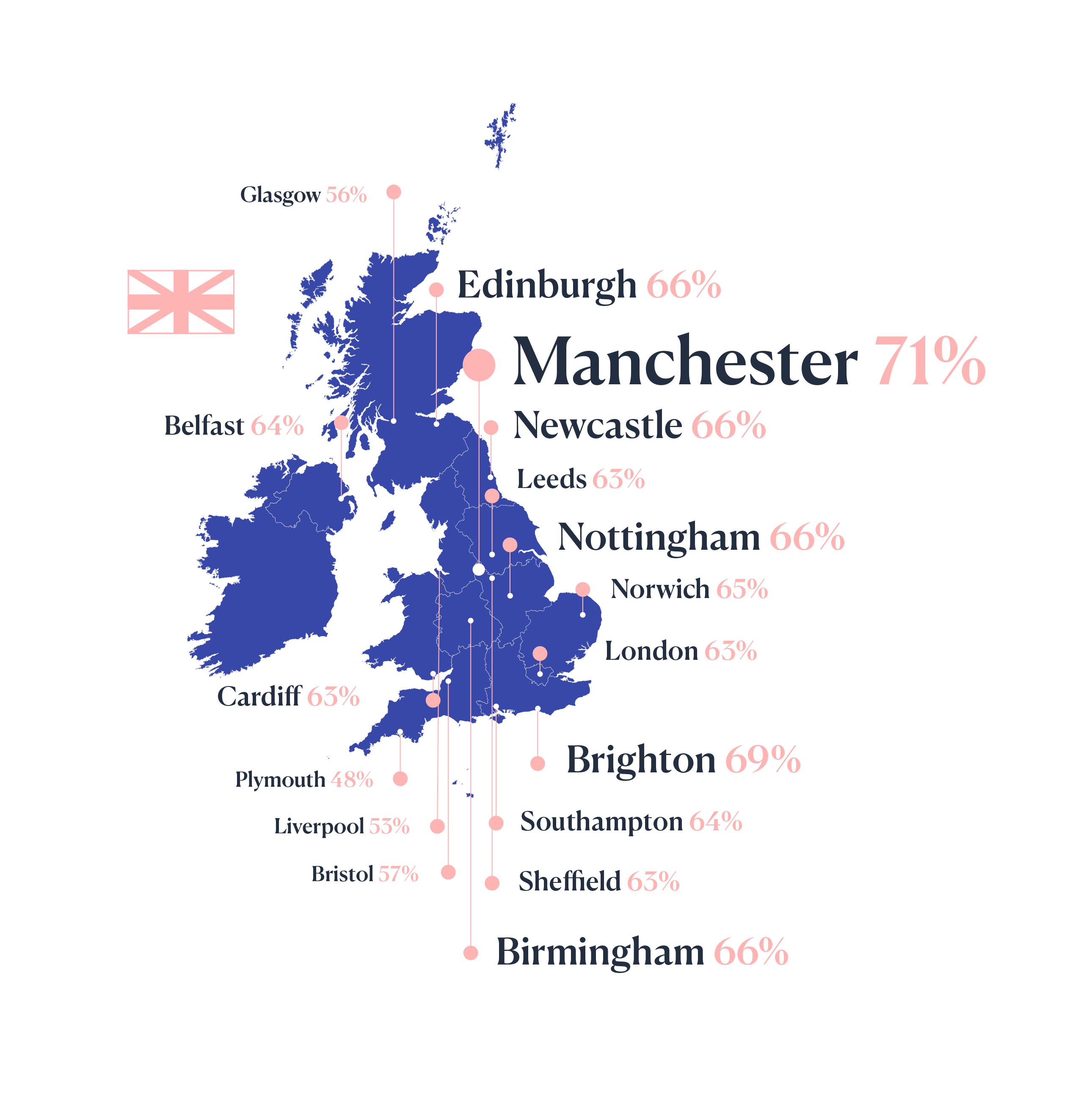 What are the most productive sectors?
It may be a testament to their essential role during the pandemic, but it's little surprise that those in the healthcare sector consider themselves to be the most productive at a rate of 69%. However, tied in first place with the same figure is a sector that found itself put to the test in a very different way during the pandemic: retail, catering, and leisure.
A similar binary can be found tied in second place – staff from both IT & Telecoms and Travel & Transport both found themselves working overtime for one reason or another. In the case of the former, it was to keep people connected at a time when remote working had never been in higher demand, while the latter were simply trying to recalibrate in the face of a loss of turnover of over 90% in the early months of the pandemic.
While no sector scored below the 50% mark, the bottom three are also somewhat widespread in their scope. Both Education and Manufacturing & Utilities workers are tied in second-to-last place with 58%, while the Arts & Culture sector ranked bottom among the most productive industries in the UK.
Overworking
Of course, there is a dark side to productivity and it comes in the form of burnout. Our study shows that just because there are cities and sectors that consider themselves more or less productive than others, that doesn't actually correlate with how overworked they end up being. After all, it's not always about how long you spend working but how much effort you put into that time.
Where are people most overworked in Britain?
Despite being ranked as one of the less productive parts of the country, Leeds finds itself tied in the first place as Britain's most overworked city, with 48% of respondents feeling the burn. It shares the distinction with Brighton, which also came in second place for productivity. The cities at second and third place for being overworked were Belfast and London, which is to be expected from two of Britain's capitals.
However, there is still some correlation between lower productivity and workers feeling less overworked, with Glasgow – our third least productive city – also coming out as the UK's least overworked city at 26%. However, Newcastle and Cardiff, both of which placed near the middle of the table for productivity, rounded out the bottom three with 29% and 28% of their workers respectively claiming to feel overworked.
What are the most overworked sectors?
One of our most interesting findings, especially in light of the amount of work these sectors have had to put in over the course of the pandemic, is how overworked those in Arts & Culture – who ranked bottom in terms of productivity – consider themselves.
The sector placed top of our list, with 54% of those asked claiming to be past capacity in their roles. Just below, at 53%, Travel & Transport came in second (up from the fourth place in terms of productivity), while the HR sector came in joint third place at 44% alongside the Finance sector.
In fact, Healthcare, which ranked top of our productivity table, ranked as the joint-second least overworked sector, despite the serious burdens placed on workers within the NHS over the last 18 months. It tied at 35% with Education (which also came penultimate in our productivity rankings) and Sales, Media & Marketing. The least overworked sector, seeing a significant drop from its place in the middle of the productivity list, was Architecture, Engineering & Building.
What Are British Workers' Biggest Distractions?
The pandemic has seen Brits dramatically overhaul their working practices, but what does that mean for the time they spend not working?
Our survey reveals that some of the distractions don't change all that much between working from the office and working from home. For example, making drinks still comes out on top in both situations, and eating snacks ranks third. However, the extent to which people are distracted by these things is actually higher in an office context (41% to 37% for drinks, 35% to 33% for snacks).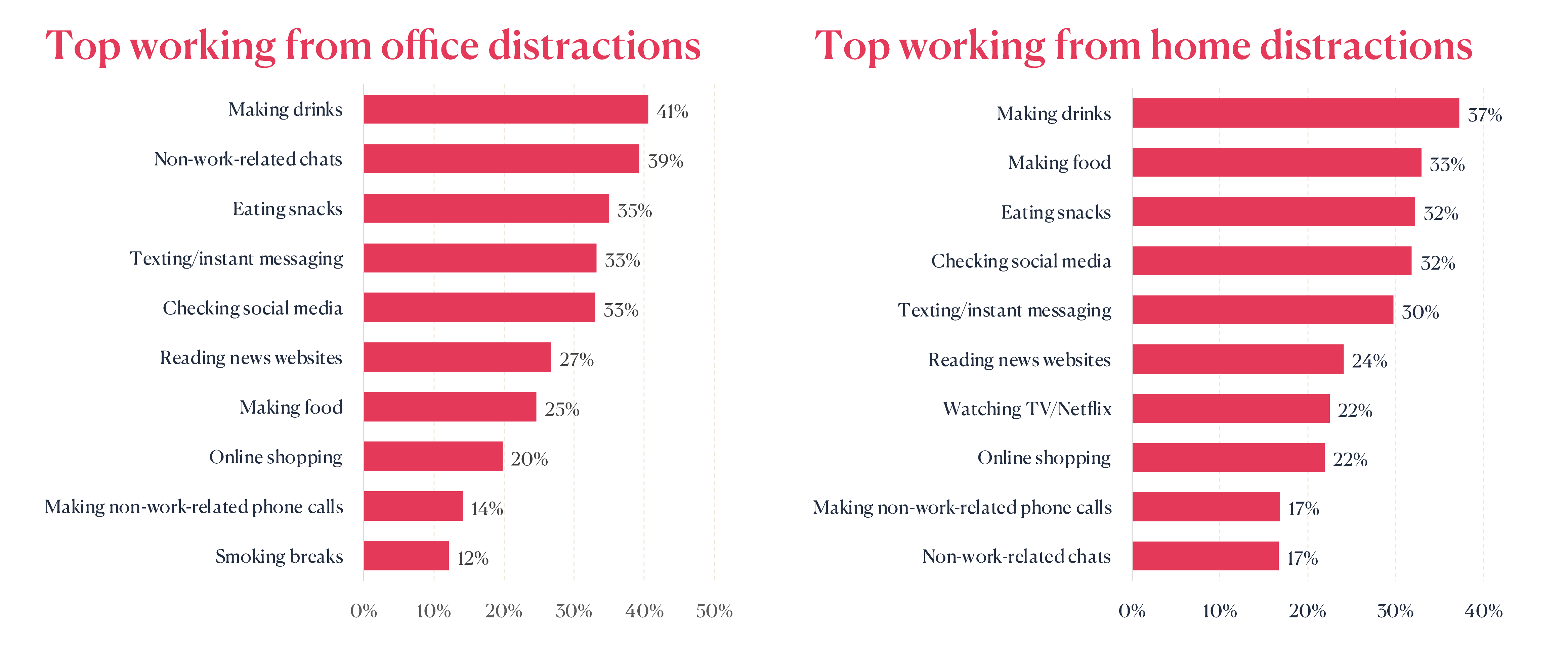 The second most common distraction for those working from home (cited by 33% of respondents) is food prep, which, at 25%, ranks in the lower tier of distractions for office workers. Similarly, 39% of office workers are sidetracked by talking to colleagues about non-work-related topics, making it their second biggest distraction. This stands to reason since they're surrounded by their colleagues at all times, whereas it actually ranks as the least common distraction for home workers, who have to resort to instant messaging to have these quick chats.
And since working from home doesn't carry the same sort of risk of getting caught doing something you shouldn't, the biggest outlier between the two working set-ups is watching TV or streaming video. Unsurprisingly, it's not a concern for those who are office-based, but a stunning 22% of home workers consider it a regular source of distraction during their working day, taking up an average of 1 hour and 7 minutes of their time.
The survey revealed that of all the sectors, HR workers are the most guilty of this habit, spending an average of one hour and 37 minutes watching TV/Netflix during working hours. Sales, Media & Marketing and Architecture, Engineering & Building closely followed the HR sector with workers in these sectors spending, on average, one hour and 36 minutes watching videos during every working day.
And if that didn't shock you, workers in Norwich were found to spend an astounding two hours and two minutes per day on this distraction. Employees based in Leeds and Newcastle closely followed, racking up one hour and 31 minutes and one hour and 30 minutes streaming videos, respectively.  Meanwhile, Cardiff workers found themselves at the other end of that list, with respondents spending just 39 minutes on watching TV or Netflix every day. Survey subjects from Sheffield and Glasgow rounded out the bottom three, spending on average 45 minutes and 51 minutes, respectively, on streaming services.
Another major time-consuming distraction is searching for a new job, which people spend more time doing while working remotely than in the office – presumably heartened by not having to furtively close tabs at home. Respondents spend 46 minutes of their home working day doing this, compared to a still-high 42 minutes at the office.
From there, the time spent on these distractions is a little more varied. Talking to colleagues is a bigger risk at the office but, surprisingly, when it comes to online shopping, using social media, and making non-work-related calls, both office and remote workers were equally guilty.
---
And there you have it – the secret productivity traits and habits of the workers of Britain. Are you nervous that your team feels overworked? Dismayed by how unproductive other people in your city have been? Bring everyone in your company up to speed with Scoro's end-to-end work management software and say hello to a more productive team.
Everything about your business, one click away