Work management
5 Processes That Desperately Need an Excel Alternative
Every company uses Excel spreadsheets in some way. It's the go-to tool for managing business processes and implementing financial analysis. But the popular spreadsheet software has contributed to huge flaws in our data analysis. A 2008 study shows that close to 90% of spreadsheets contain errors.
There are many processes and tasks that you can implement more accurately and efficiently with an Excel alternative. As a result, you'll have precise data, a better overview of how your business is doing and you'll spend less time inserting all the information to spreadsheets.
If you're looking for a quick fix to find a spreadsheet alternative to Excel, see this list of 11 user-friendly Excel alternatives.
1. Work reporting and timesheets
Every day, you complete multiple important tasks. To get an overview of your monthly accomplishments and examine where your time is spent, you need to enter all your finished tasks and the time spent to a work report that's currently managed on a spreadsheet.
If you're working for multiple clients and bill them on an hourly basis, it's important to have accurate data. We all know that managing every customer's projects on a separate spreadsheet turns data entry into a time-consuming nightmare. So what's the alternative to inefficient work reporting?
For work reporting and timesheets, the best alternative to Excel is comprehensive software that provides you features for time tracking and task management; and automatically crafts custom reports. If you're looking for an efficient tool for managing your time and work done, start using Toggl. To gain more thorough reporting, including customer information and resources spent on tasks, you need a more comprehensive solution like Scoro.
Let's see how work reporting functions in Scoro:
Imagine you've completed a 1.5-hour task that's part of a large project done for an existing client. All you have to do now is to log into your Scoro site and create a new task, mark it done and add the time spent. You can also link the task with a project and customer profile so that later, you'll find all the activities related to a certain client or project.
Note that entering all this information to Scoro takes at least twice less time than entering it to an Excel spreadsheet. If you count in the hours spent on searching specific client information from one of your multiple Excel spreadsheets, using Scoro will save you hours each month.
eight reasons to use an Excel alternative for work reporting:
Quick data entry
Correct data and less faults
All data gathered to one place, making it quickly accessible
Sharing all the data with your team
Quickly finding tasks related to a customer or project by linking the information, no need to open multiple spreadsheets and waste time on double data entries
Comprehensive reporting, customizable reports
Quick overview of who did what
Automated invoicing based on completed tasks and time entries that you've inserted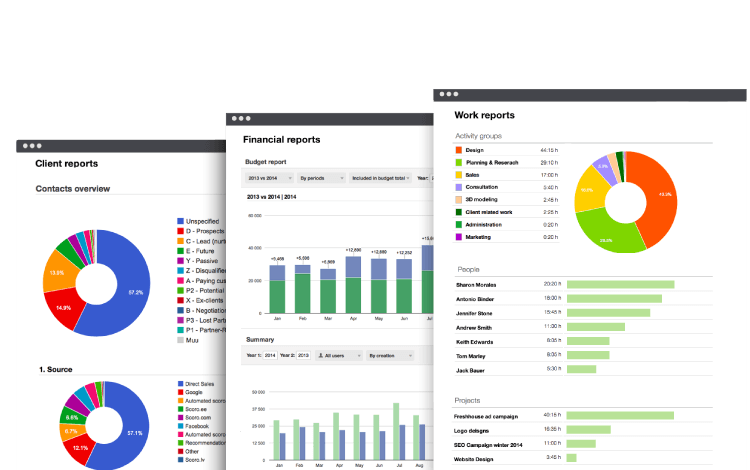 2. Managing budget
Many small business owners and project managers use spreadsheets for overseeing their budget. All data about the income and expenses is inserted to an Excel spreadsheet that calculates the monthly revenue and turnover. If you like efficiency in your work, you should also apply it to your company's financials by using an Excel alternative for financial reporting.
Not all financial reporting software solutions are complex and difficult to use. If you're running a small business or need a tool for managing project costs, start using Scoro. For large business financial analysis, you probably need more comprehensive financial analytics software like Quickbooks or Xero. Integrate these tools with Scoro to access all your important data in one place. Build a KPI dashboard that gives a visual overview of all your important financial performance indicators and budget.
Benefits of using financial analytics software as an alternative to Excel:
Real time reporting, automatically updated data
Reports are automatically created, no need to spend time learning complex Excel formulas
Access all your financial data in one software solution, no need to switch between multiple spreadsheets to get an overview of your budget
Create a financial KPI dashboard for a quick overview of your company's financial performance
Synchronize with other tools that measure processes influencing your budget
Automated calculation of expected revenue and turnover
Instantly notice when budgets are out of balance, set alerts to be instantly notified of an unbalanced budget
3. Project management
We've all stored our project data on spreadsheets, be it budgets, people's tasks or time planning. The problem with managing projects on spreadsheets is that people often forget to enter the latest data and some information might go unseen by others. Everyone's managing their data on a separate spreadsheet, and it's almost impossible to put together a bigger picture.
If you want a quick overview of all your projects, you should create a project dashboard that reflects on the important metrics and quickly points out the project's progress.
If you want the performance metrics on your project dashboard to be insightful, it's important to frequently update them. In this case, the best alternative to Excel is a project reporting tool that allows you to store all the important information and create a KPI dashboard to determine whether you're achieving all the project goals.
The best project management tools have features including:
Task management and time tracking
Planner for outlining all tasks in the project
Project budgeting
Meeting scheduling
Project dashboard
Reporting on everyone's work and finished tasks
Comprehensive reporting on how the project is doing
If you'd like to learn more about finding the right tools for project management, read the article about finding the best software. Also, take a look at the essential features of project management software.
4. Managing customer-related information
A strong relationship with customers is the cornerstone of building a successful company. Sadly, not many businesses store client-related data, including their concerns and requirements for the company's product. Some managers use Excel spreadsheets for gathering and analyzing information about their company's customers, but that's not an efficient way to manage this kind of data.
The problem with working on spreadsheets is that everyone is entering data to the documents in their personal computers and information never gets shared. Resulting in double emails to the same customer and even worse, multiple cold calls from the same company's sales department.
Imagine how easily you could manage all your customer data if every team member entered important information about their clients. It would become instantly accessible to all members of the sales team. Furthermore, you would have a complete overview of who has been contacted and which salespeople close the most sales.
You can find many Excel alternatives that take your customer relationship management to a whole new level. To name a few, you should examine Pipedrive, Salesforce, and Scoro. To obtain insight into your customers, use the comprehensive reporting features that come with CRM software.
Read on: What is Customer Relationship Management – CRM?
5. Forget to import and exporting data on a spreadsheet
People think the easiest way to move the information between software and reporting tools is to export the data from one program and import it to another.
In fact, you can completely automate this process by building integrations between multiple software solutions. Meaning that the best Excel alternative for data import and export is software that automatically synchronizes your data.
Some ideas:
Integrate existing marketing automation tools with your customer relationship management software. Automating sales and marketing emails and getting more insight to your customer personas. Or connect your project management program with financial reporting to get an overview of your project budget. Now you can determine how it relates to other business expenses and revenue.
As you can see, there are many processes that can be implemented more efficiently with an Excel alternative. These tools aren't necessarily other spreadsheets but comprehensive software solutions that solve many challenges that your business is currently tackling.
Everything about your business, one click away
Read on: