Work Management
How to Set Up Your First KPI Report (The Complete Guide)
A KPI report is a visual dashboard with KPIs & metrics that reflect on the performance of an organisation.
Well-defined KPI reports give business leaders insight into their company's performance and help to make informed decisions.
There is no golden rule defining which KPIs businesses need to monitor.
It depends on many factors, including the industry, company's structure, nature of projects, the size of the budget and people who use these metrics for making decisions.
Read On: What is a KPI? (The Complete Guide)
The top benefits of KPI reports include:
Important data accessible in a few clicks
Automated real-time updates, the latest information
Quick overview of the company's budget
Tracking project & sales performance
Beautifully visualized data is easily understood
Actionable metrics help to make the right decisions
The list is even longer.
A well-defined KPI report could be described as visually attractive, informative and actionable. How to create one? – Follow the 5 steps and you're all set.
What is a KPI report?
Let's start with a quick overview and explain what exactly is a KPI tracking dashboard.
KPIs are measurable metrics that translate complex measures into simple indicators of business performance. A well-framed KPI helps managers to navigate between important business processes and shows whether an organisation in achieving its key objectives. Put simply, a KPI shows whether a company or project is still on track.
To get a quick overview of your business performance, it's best to present all important metrics on one dashboard. Allowing to add metrics that show the current and previous month's results and measure the growth by comparing the numbers. See the complete resource to understand KPI dashboards.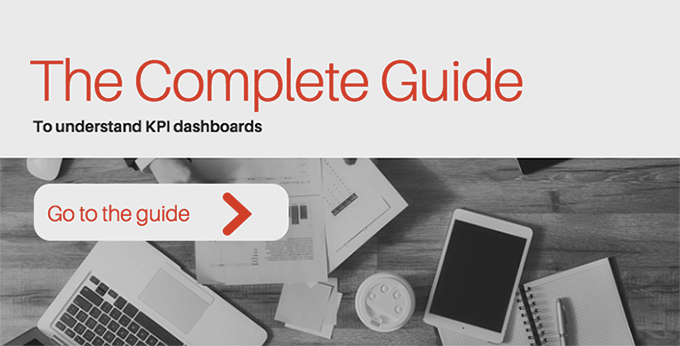 Want to see a KPI dashboard in action? See how to create a perfect business KPI dashboard in Scoro.
Let's move on and see how business executives choose the right metrics for their KPI reports. To determine the metrics that benefit your company, answer the following questions.
1. What is your desired business result?
Think about your reasons for keeping the business running. You must have some long-term goals you're looking to achieve. Do you want to increase profit? Acquire new customers? Grow your revenue?
Think about your company's long-term goals and write them on a piece of paper. Now, consider the steps you need to take in order to achieve your objectives.
For example, if you're looking to increase profit, are you going to do it by increasing your customer base by 50%, selling 10% more products each month or cut the production costs by 25%? It is highly important to have a clear vision of how you're going to change the current situation.
Measure what's important to your customers

Measure the areas where you see problems to be solved

Measure the goals you'd like to achieve
To evaluate whether you're getting closer to your goals, you need to set feasible goals and complement them with a measurable result.
Always add milestones and expected numbers or percentages to your growth plans.
After you've written all your goals and decided upon the measures and milestones you'd like to track, move on to the next step.
Everything about your business, one click away
2. How can you improve the results on your KPI report?
Suppose you created a metric to show how many new customers you've acquired compared to the next month. Now, the KPI on your dashboard is notifying you that instead of increasing the client base, the number has dropped.
What's your next step to improve the situation? Do you have a clear action plan in case of declining sales?
Always create actionable KPIs that you can influence through your own actions.
To create an actionable KPI, you need to think about how you can reach the previously defined goals. Outline the key activities that bring you closer to reaching each of these goals and that are measurable.
For example, if your goal is to increase the profit by selling 10% more products each month, you could measure:
Average shopper value (you should try to reach buyers that make bigger orders)
Number of website visits (increasing website traffic increases the possibility to get new buyers)
Average size of an order (by offering discount you can increase sales)
Average profit earned from each sale (maybe you should raise the price of some products)
As you can see, all these KPI metrics are measurable and actionable. Meaning that it's in your power to change the results and improve the sales performance.
Gather ideas for your own KPI report by reading the list of 16 essential project KPIs.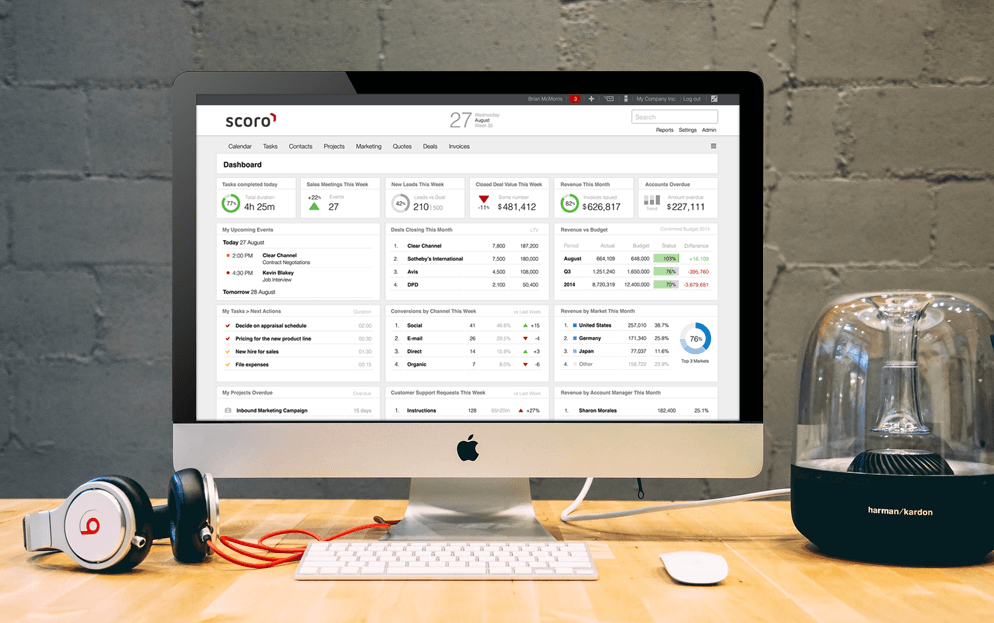 3. Do you have all the relevant data?
No matter how visually attractive and actionable metrics you come up with, they can't be added to your KPI tracking dashboard unless the program has access to the relevant data.
Real-time KPI tracking dashboards can be created with tools that collect your company data from other software solutions.
It can be done via software integrations and you can automatically import all your statistics from other tools to KPI dashboard solution.
For a more comprehensive overview of data measurement, see the guide to 37 digital marketing KPIs.
Informative and actionable KPIs also need to be measurable, meaning that you need to access the data for measuring business performance.
If you're not yet collecting the required data but would like to measure, for example, your website traffic, find an appropriate tool and start tracking relevant data today. The more detailed business data you have, the more accurate your KPIs are, giving a thorough overview of your company.
It's best if your KPI dashboard tool updates the data in real time, so Excel is not an option. There are tools like Scoro and Klipfolio that help you collect your business data and visualize it in a beautiful way.
If you're looking for a perfect tool for your project team, learn about the essential features of online project management software. Some project tools also include a team dashboard where you can add important charts, graphs and KPIs
4. Who is going to use the KPI report?
When creating a KPI tracking report, it is highly important to think about who is going to see and use them.
Maybe you came up with an interesting KPI idea but if there's nobody that has time and interest in monitoring it. In this case, there's no use of adding it to your dashboard. Also, think about who has the permission to see all the data reflected by the KPIs.
Always ensure that every KPI metric has someone responsible for the results. If the metrics reflect a negative trend, somebody should be ready to take immediate action.
Create multiple KPI reports reflecting on the performance of different business processes. For example, create a dashboard for the company's budget and expenses, sales and marketing and a dashboard giving a general overview of business performance.
When determining which KPIs to monitor, think about who will benefit from the information and who's responsible for the outcome.
To make the new software adoption process easier for your team and get everyone on board, see the guide to software implementation.
5. How are your KPIs visualized?
It's important to think about the visual outcome before creating any new metrics for your KPI dashboard. Are you going to use a pie charts, table, bar chart, line chart or simply a number to visualize a metric?
Think about each KPI individually and consider multiple ways of presenting them. For example, the number of monthly new customers could be exhibited on a line chart. Giving a quick overview whether the current month's results improved or declined compared to previous months.
When creating a KPI dashboard, place similar metrics close to each other, creating a natural flow of information. This way, you'll find all relevant data quickly.
There's no need to limit yourself to only one KPI report. Instead, create multiple real-time dashboards to evaluate the performance of various business processes. Start with executive dashboard and move on to create dashboards for monitoring financial and sales performance and internal processes.
As you can see, discovering the right KPI metrics isn't a rocket science. You simply need to be aware of your desired business goals and have relevant data ready to be visualised. Remember: the best KPIs are measurable, informative and actionable. Create KPI dashboards for actual people, making them visually attractive and easy to understand.
Everything about your business, one click away