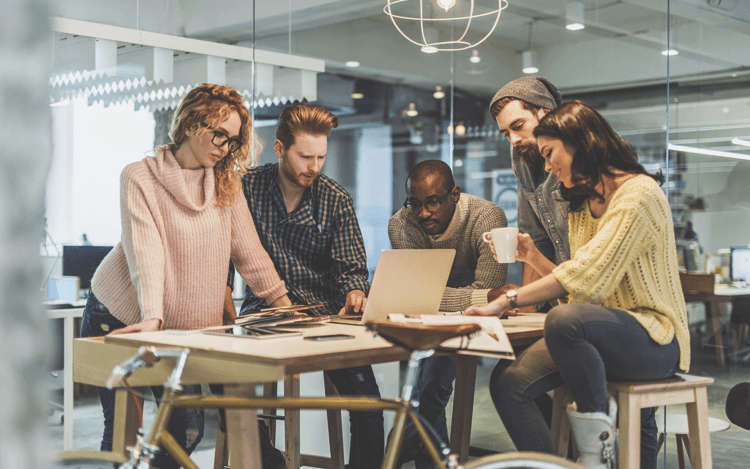 Work management
New Software Implementation – What Do You Need to Know?
WHENEVER YOU start using new software, some questions and problems may arise. Some features seem too complicated to use, the team is not trained to work with new tools and the analytics get overwhelming.
To avoid problems and disappointment in the software implementation phase, it's essential to begin thinking about your requirements for the new software already before you buy it.
Find the right software by answering 8 simple questions.
What are the best practices for software implementation?
Scoro's team has advised thousands of users and helped them with implementing new software.
There are common problems to solve and tasks to accomplish during the first month. This comprehensive guide will take you through the key points of the implementation process and helps you get everyone and everything efficiently working.
If you'd like to get more specific information on helping new users onboard, see the guide of generating user acceptance in new software implementation process.
Organize multiple training sessions
Never underestimate the power of a good training session. Software providers often ask whether you'd like a beginner's training session to get started with new tools and features.
Sadly, there are many users who turn down the opportunity and later discover that they have trouble getting the software work as needed. Also, refusing the initial training session might lead to poor understanding of all features' full potential.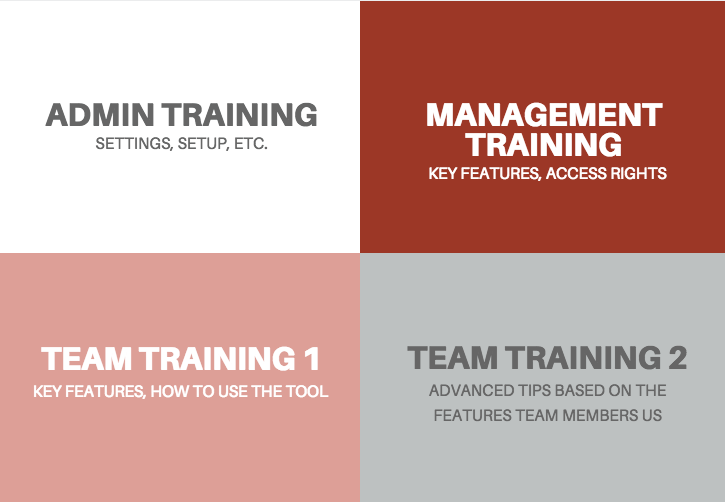 It's best to first pass an admin training where you're explained how all the features work.
In addition, you get an overview of all customizable settings and how to manage them. Later, when inviting everyone to work with the new software solution, organize additional training sessions explaining how the tool works.
For more tips on keeping your teamwork organized, see this article about team collaboration tips and tools.
By keeping admin and user trainings separate you can avoid confusing lower level employees that only use several features.
Skipping the training sessions leads to less-efficient work and learning on your own leads to many hours and money lost.
Request or organize multiple training sessions for yourself and the team. It's essential that every person working with the new product participates at trainings as it's difficult to later explain them how all the features work.
The admin training session should include:
Overview of all features
List of tasks that can be implemented with the new solution
Step-by-step guide for implementing important tasks with the new software
List of initial implementation steps you need to take, eg. inserting data
Guide to finding settings and customizing the tool for your needs
Guide to importing and exporting data
The employee training session should include:
Login guide
Overview of all features
List of tasks that can be implemented with the new solution
Step-by-step guide of implementing important tasks with the new software
Guide to finding all required information
How to find the help center
Don't hesitate to ask questions throughout the training session, it is better to understand everything at once rather than start asking multiple unrelated questions later.
Tip: Ask whether you can record the training session so that everyone can catch up later.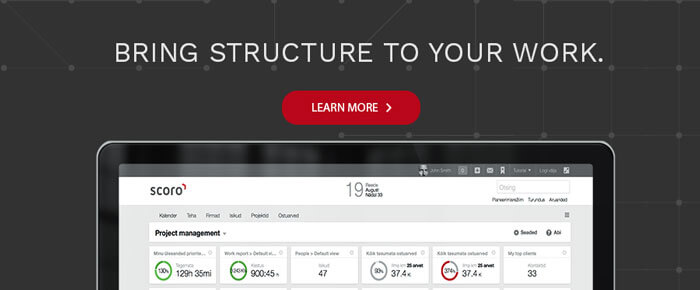 2. Customize new software for your needs
Every comprehensive software solution includes several customizable settings. Meaning that you can organize your software site according to your needs, adding new categories or hiding unimportant features.
You can either manage all the custom fields and settings yourself or ask the software provider for additional help. In Scoro, we already include additional customization advice and help to our onboarding program so that you'll be ready to use all the features in no time at all.
All the tools and software have different customizable settings, here's an example of what you can customize with Scoro:
Dashboard set-up according to important KPIs and custom reports. Learn how to set up Scoro dashboard
Building PDF templates for quotes and invoices and. Adding invoices in Scoro
Adding email templates for example for sending quotes, orders, invoices, invoice reminders
Adding custom fields for almost any feature
Choosing default views for calendar, tasks, contacts, quotes
Customizing product/activity categories, user profiles
Team access rights
! Note that at this stage, you should keep lesser-experienced users away from the system as all settings aren't properly set up yet. Ask for someone tech savvy to help you customize and test the new software.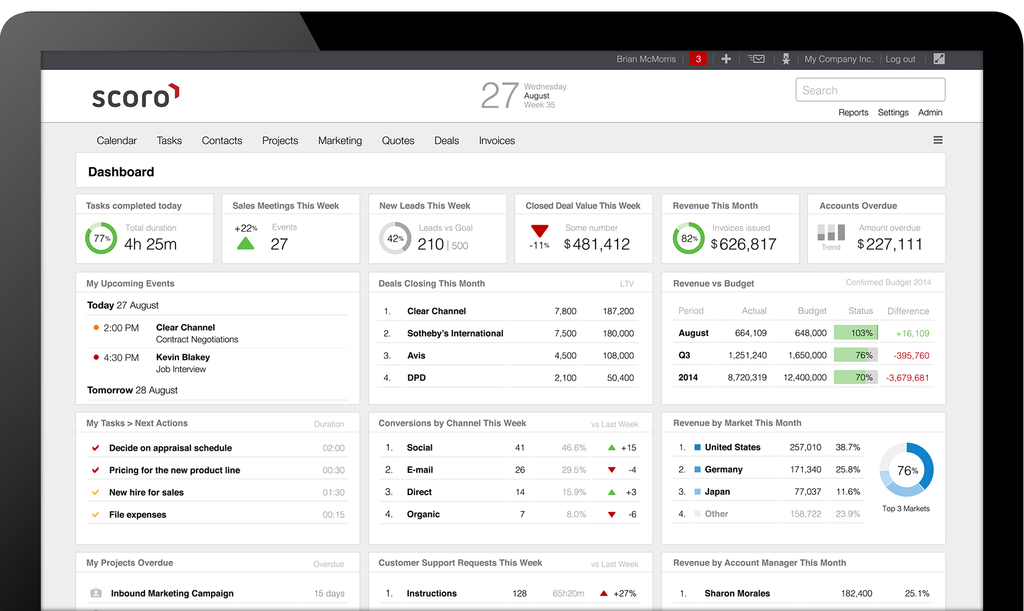 3. Import your data
It's so much easier to begin working with new software when you have some information already inserted. Be it customer data, calendar events or your product list, you're going to need this information at some point. Also, it's easier for new users to navigate and work efficiently with existing data.
One way to import data is to export it from the existing tools and solutions as an Excel file and import it to the new product.
Keep in mind that you must organize the Excel file according to the new software's import requirements so that all information is aligned to the right columns and marked by the right categories.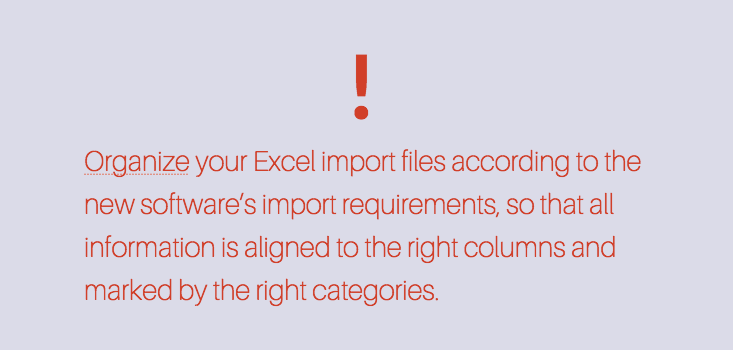 You can also enter your data manually if there are only a few products/contacts. When working with large volumes of information, manual work is inefficient and a waste of your company's resources. Learn how to add a new product in Scoro.
4. Integrate with existing tools and software
Integrations enable quick two-way information exchange between two software products. For example you can use Google Calendar on your phone and see all your events in another scheduling tool on the desktop.
An important reason why you should integrate all the existing tools and software is the analysis and reporting capabilities it enables. It's highly important when working with sales and marketing software as you need to gather data from multiple tools.
When starting to use Scoro, you can integrate Google Calendar, iCal, MailChimp, Quickbooks, Xero and many more tools within one central control hub. This allows you to manage all your information and business processes from one software solution and at the same time your business departments can continue working with other specific tools.
If the software provider doesn't provide the integrations you need, there's always the possibility to use API (application programming interface) to build custom integrations with less-known tools and software for your company.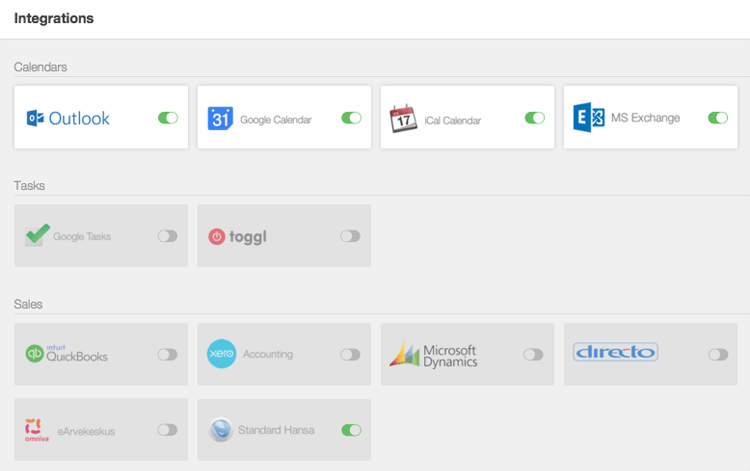 5. Make sure everything's working
After customizing the software according to your needs, importing all the data and integrating with existing tools, it's time to check whether everything is working as required.
Create your own workflow, including all the features you're going to use and ensure they cooperate with other tools. If the software involves sending emails or quotes, send some test emails to your own account.
When working with a time tracker, ensure that it synchronizes with your calendar, task management, billing and reporting functions. Also, double-check that all the data required for implementing various tasks has been inserted.
Before you start creating accounts to other users in the company, determine whether the software's customized to respond to every department's needs.
For example, with Scoro you can build custom dashboard views for multiple teams, projects and departments. Meaning that everyone can view KPIs and bookmarks that are relevant to their work. Also, ensure that everyone working with clients has the right contacts visible under their account.
6. Invite everyone to use new software
Only after you've ensured the new software is completely ready to be used, create an account to everyone who's going to work with the product.

When working with a comprehensive small business management software that provides features for CRM, task and project management and financials, you might have sensitive data that is not permitted for everyone to view.
Before anyone starts working with the new software, distribute access rights according to people's work tasks.
When inviting new users to use the software, attach a getting started guide to the email. Also, add a link to new software's help center and ask whether they need additional training sessions.
Read on: 43 Best Project Management Software and Tools
7. Ask for everyone's feedback
No matter how much you like the new software solution, it's essential to ask for other users' feedback during the implementation process. If some departments find that the software is missing important features, there are two possible actions: stop using the software or ask for additional features.
It's critical to understand the new product's shortcomings at the initial phase as you can still stop using it during the trial period without too much money and time lost.
Also, asking for honest feedback demonstrates how many people are qualified to use the new solution and whether there's a need for additional training sessions.
As the the couple of first months of implementing new software pass, you'll be able to learn more about all the features and techniques that work best for your business.
Be patient and remember that the learning process will continue as users become accustomed to using the new tool.