Work management
How to Hack Lead Management & Unlock Your Way to More Customers
Before we get started with lead management, it's crucial to understand what it is. Therefore, let's make it very clear:
Lead management is a process of tracking, managing, and nurturing potential clients to turn them into customers. The process involves multiple techniques and tools that help to bring structure to the way a company manages and interacts with every individual lead.
Efficient and profitable lead management isn't easy, and it takes thoughtful planning to set up a successful lead management program. And if you feel like your company's lead management works perfectly around the clock, you're exceptionally lucky (or hardworking). For the rest of us who think the tools and framework of handling prospects aren't quite as smooth and effective as we'd like it to be, here's a no-fuzz guide to taking the lead management process to the next level.
What to expect from this guide?
Developing a systematic approach to lead management processes generates highly valuable benefits:
Less manual work with a higher level of automation
Increased revenue and average deal size
Highly targeted campaigns
Customer-centric approach
Less guesswork and more reporting
Reduced lead conversion time
Effective lead nurturing campaigns
Up-to-date database with customer data
Reduced staff costs
More time to focus on sales
Ready to forget about the nightmarish Excel spreadsheets and manual outreach and make way for professional services automation, helpful tools, and useful frameworks? Alright, let's go.
1. Optimize lead forms like a pro
It all begins with the sign-up. During the sign-up process, people enter a lot of information from their contact details to the size of their company. While it might seem like a tremendous amount of work, some salespeople still do the manual work by entering this data into a pipeline management tool or to spreadsheets.
One of the foundations of successful lead management is to find a CRM software that pulls in the lead data right from the lead forms on your web page. By creating custom categories and tags, we can build the basis for a highly detailed lead database that's useful for customer research, as well as for lead qualification and outreach process. More on that later.
Let's have a look at how to build lead forms that convert:
According to Hubspot, getting your website visitors to the lead-capture form is only the beginning. They also need to fill it in and push the "Subscribe" button.
How long should a lead-capturing form be?
It depends on your intention – do you want to capture high-quality leads, or is your goal to get as many sign-ups as possible? It comes without saying that the longer a web form, the less likely people are to complete it.
If your goal is to attract a broad set of new leads, keep the sign-up form short. On the other hand, a longer web form (8 – 16 fields) gives you more information about your leads to use in the qualifying and outreach phases. Moreover, a longer lead-capturing form can drive away people that are merely curious but have no intention to buy your product or service.
Here are a few more considerations to take into account when creating a perfect-length lead form:
The unique value offer – is what you offer in return for filling in the form worth people's while?
Data in exchange for trial/ebook/subscription – remember that people share their data that they redeem valuable, so once again, make your proposal worth it!
Security concerns – does your website seem trustworthy, are people willing to share their data with you?
Sensitivity and privacy – are the questions in your lead form somehow of personal nature?
Design – can people see the end of the form while they're on top of the page? Otherwise, they'll consider it too long
According to Harvard Business Review, if you're not a primary care doctor or a credit card company, chances are people do not want to go into details when filling in the subscription form. So keep it short, relevant, and straightforward.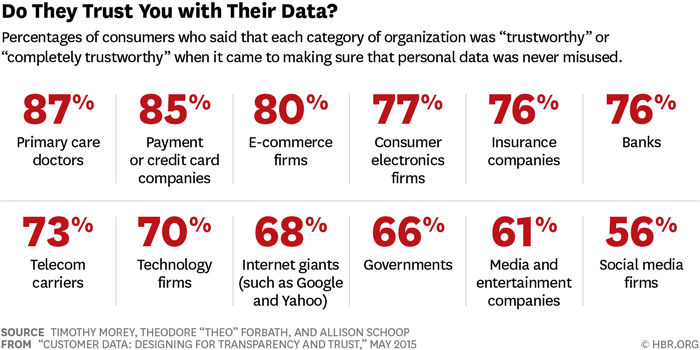 Now that we have our lead-capture forms converting like crazy, the data going straight to our CRM tool, and new leads coming in more frequently, let's see what we can do to manage them more effectively.
2. Set up the ultimate lead management framework
Studies have shown that if a company responds within 48 hours after a prospect has signed up, the sales rate goes up. And you don't want to lose a single customer to a competitor because of a way-too-slow response cycle, do you?
The most widely used lead qualification framework is as follows:
Marketing qualified leads (MQL) – leads that have been evaluated by the marketing team and will be forwarded to the sales team;
Sales-accepted leads (SAL) – prospects that the sales team has accepted and will follow up on:
Sales qualified leads (SQL) – leads that the salespeople consider being prospective customers, leading to focused attention and moving the leads up in the sales cycle
The way you qualify leads depends on your customer persona – what are the most typical company size, industry, roles, country, etc. that convert from lead to the client?
After the team at Impact followed the qualification framework that included company size, industry, and IP country, they could filter out 30% of their leads that were prospective customers and remained in their database for further outreach and lead programs. That's a huge reduction of the initial lead database, isn't it?
Maybe you can define even more specific actions and characteristics that predict customer success. For example, has the lead visited your blog, or how long have they spent time on your website? Did they download an ebook or a case study before signing up? By understanding what triggers a lead to convert and what characterizes your most profitable clients, you can filter sales qualified leads out of the bunch.
Everything about your business, one click away
3. Personalization is the queen
While each lead program includes automated email campaigns, it is just as important to establish a personal touching point with every lead. And once more: you should follow up quickly!
According to Harvard Business Review, companies that contact potential customers within 1 hour after receiving an inquiry are nearly seven times more likely to begin a meaningful conversation with a key decision-maker.
If you're yet unsure whether you should spend time on adding the extra step of personalization, know that 94% of companies say personalization is critical to their lead nurturing success.
If email automation is the king, personalization is the queen.
For best results and highest engagement rate, don't just set up a series of drip emails that address nobody. Instead, make an effort to create emails with merge tags, including the name of the person signing up and their company.
Let's see how email personalization works in real life. When you type, paste, or choose a merge tag to add to a content block in your campaign, it looks like a snippet of text. After you send your campaign, the email automation software replaces that text with the dynamic content the merge tag refers to a subscriber profile or list information.
You can also use merge tags in the email subject lines and automated email campaigns. Here's the list of all Mailchimp's merge tags to give you some inspiration for creating highly personalized welcome emails that engage a higher percentage of your leads.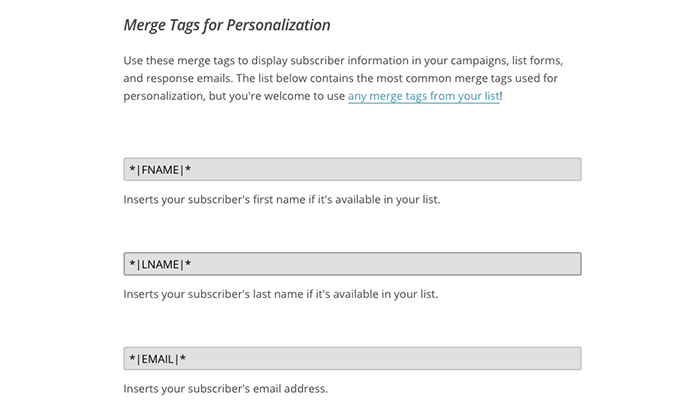 In addition to the person's contact details, you should also add the name of the salesperson in your company that's going to communicate and guide the new lead through your lead management cycle. People are more likely to open an email if it comes from another person instead of the brand.
Hubspot conducted an A/B test to measure the open rate of emails with different senders and discovered that while an email "from Hubspot" triggered a 6.57% open rate, another with "from Maggie from Hubspot" increased the open rate by nearly 10%.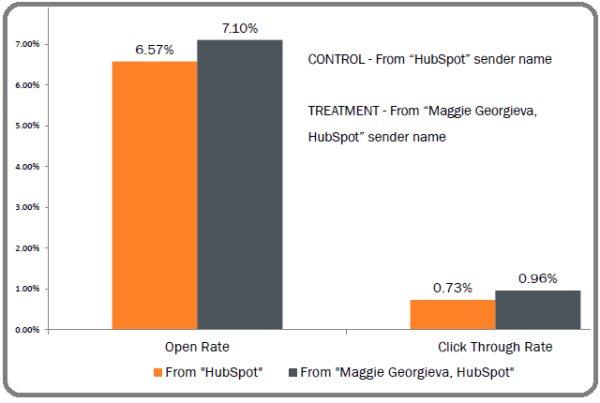 To be able to send personalized emails, you first need to assign a salesperson to each sale qualified lead. But how can one qualify the leads throughout multiple statuses, assign a salesperson, and still have time to answer every lead in 1 hour after receiving an inquiry?
While some companies have the personnel and capacity to move leads through their sales funnel, most of us don't. So the best practice is to have a salesperson automatically assigned to a new lead and the first emails sent out before the qualification process.
Set up an automated workflow of matching every lead with a salesperson. Use the rotation method to distribute the leads equally between all members of your sales team.
Another huge benefit of appointing an in-house contact to manage each lead is the accuracy in filling in your lead details in the customer database system. The salespeople have access to detailed information from email correspondences and can add this data to each client profile.
We'll talk more about the data management process in the next sections of this post.
4. Set up automated behavioral trigger email campaigns
Not all leads interact with your website, written content, and emails in the same way. While some people are only interested in your product, many leads also read your blog, explore case studies, and sign up on specific landing pages. Using this information enables you to set up behavior-triggered emails that depend on how your customers are using your product or interacting with your online content.
For example, you can send a welcome email with a use-case specific set-up guide or a case study based on the landing page that a lead signed up. Or send a reminder when a lead hasn't logged into their free trial account for 5 days. Or… send an email with links to great blog content that help to understand your product better if you see that a lead gets stuck or confused.
Trigger emails have a 152% higher open rate compared with traditional emails.
Trigger emails are timed to land in the inbox right when a lead needs additional information or help, and contribute to bringing customers back to your website and use your product.
Setting up automated trigger emails can be a little tricky in the first place, so you're going to need a tool to do the hard work for you.
List of popular email automation tools:
Customer.io – lets you set up and send targeted emails and increase engagement rate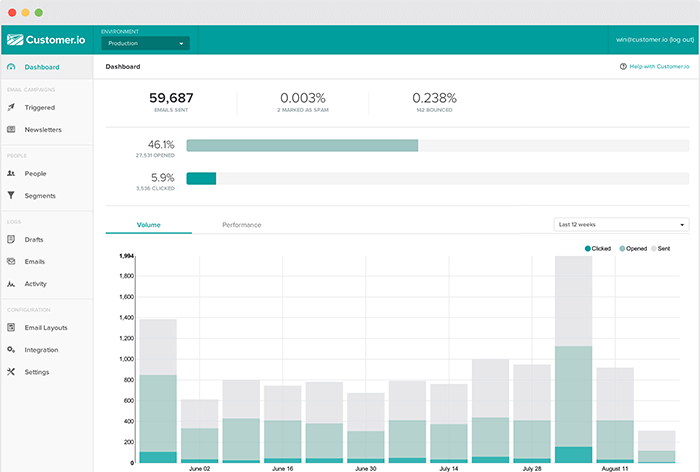 Intercom – this tool is all about communicating with new leads in highly targeted ways, creating automated email campaigns, and re-engaging leads that start to lose interest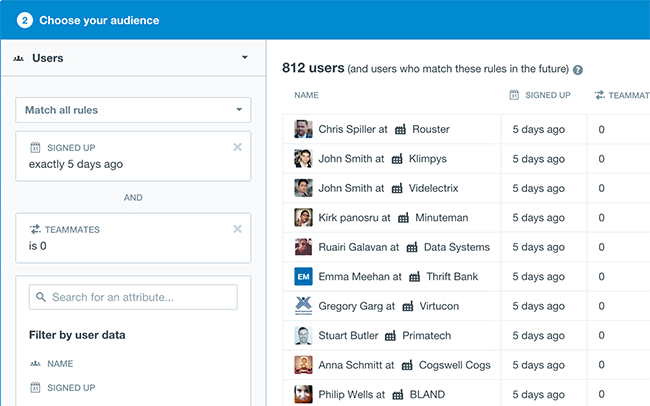 Drip – a lightweight tool to build workflows and set up timely action-based email campaigns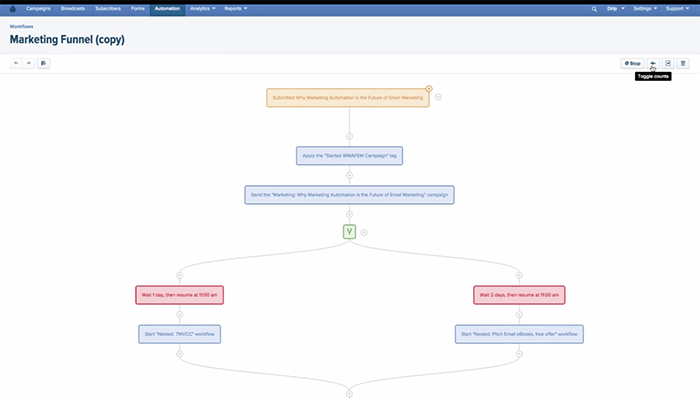 Sendloop – helps to monitor user activity and set up automated email campaign frameworks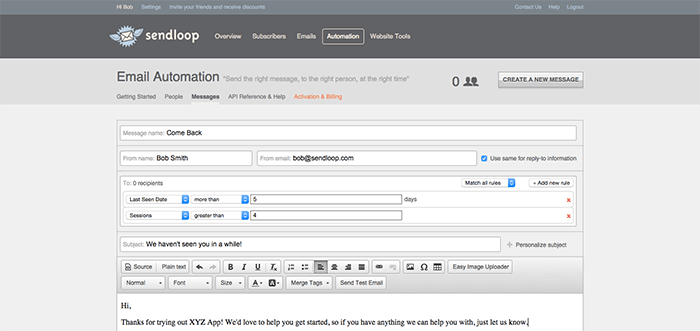 5. Without relevant data, there will be no lead management success
Managing, collecting, and measuring data begins with finding the right software. Depending on the level of detail and the extent of automation in your lead management process, find a CRM (Customer Relationship Management) system with features that cover all your requirements.
If you're unsure what tools and features you need, check this list of 20 useful CRM features.
The easiest and visual way of managing leads is a pipeline tool. The pipeline tool distributes your leads under categories or phases and lets you quickly drag and drop a lead from one sales stage to the next. Use a tool like Scoro, SugarCRM, and the like.
Here's an example of pipeline categories:
Blog Subscriber
Lead
Marketing Qualified Lead
Sales Qualified Lead
Opportunity
Customer
You might want to create another category for the leads that weren't currently interested in buying your product but might need it in the future. In this case, add a category "Potential" that you're going to nurture with email campaigns.
Make sure that what you see in your sales pipeline complies with your lead management goals and the real-life sales process.
The categories in your sales pipeline should reflect your lead management process, so there's no universal way of choosing the phases of your sales to funnel.
6. Collect and store ALL the information there is to know
Detailed data is invaluable when it comes to customer research. Instead of developing extensive customer surveys and spending a vast amount of resources on getting current and past clients to participate in polls and surveys, you can exploit the existing customer data.
During the sales process, you get to know every lead – their company's goals and aspirations, current problems, objections to buying your product, what products they're already using, names of your competitors, etc.
Instead of leaving this information to disappear forever, along with lengthy email correspondences, insert the data to your CRM system. Under every lead profile, add all the information you have about them, and use this data for customer research and email personalization.
By creating custom tags and categories, you can later filter leads based on certain features and labels.
To give you some ideas:
Lead source – find a CRM system that integrates with Google Analytics or other website analytics tools to see whether a lead found you through organic reach, referral, social media, pay-per-click advertising, landed directly on your web page, etc.
Reason for not buying – set up 4-5 most common reasons why people decide not to buy your product and tick the right box under each lead profile.
Missing features – note if a lead decided not to buy your product because of a missing feature.
Competitors – other similar products that your leads consider buying
All this data can be used to analyze and improve your customer journey, create better products, and understand the current market situation.
7) Monitor the triumphs and gaps in your lead management process
As attracting new leads takes a huge effort and meticulous planning, you don't want to leave your lead management success to chance. To predict your sales results and future profits, you should track your lead management and customer acquisition performance.
Instead of managing your leads on a spreadsheet, invest in a tool that lets you manage all the relevant data while also providing detailed reporting on a sales and lead management dashboard.
As you use a CRM software solution to manage your leads and extensive information (see points 5 and 6), you can turn all the data into reports.
Here are some ideas on what lead management metrics you can track and measure:
New leads created – track the number of monthly new leads, broken down by lead sources, deal sizes or other characteristics that indicate your ability to attract new leads
The number of sales-qualified leads – measure this metric as a percentage of the overall lead acquisition to see whether your website and marketing campaigns attract the right type of people and companies (that are potential buyers).
Conversion rate – shows how many of your leads turn into paying customers
Total # of Open Opportunities – displays how many open negotiations your sales team currently holds
Number of leads in the pipeline – displays the number of leads in each stage of your sales funnel
Tracking and measuring your lead acquisition and conversion metrics helps to determine new ways of tweaking and improving your lead management process.
Be it a new email marketing campaign, newly optimized landing pages, or adjusting advertising campaigns – you don't know whether these activities work unless you measure their performance on a KPI dashboard.
There's a number of services that help you create a visual lead management dashboard.
8. Nurture your leads
It happens all the time. A lead that seemed highly interested in your product in the first place turns out to change their mind in latter sales stages.
The lead management journey does not end with a "no". There's still a long way to go, and if lucky, you can change the lead's mind on the course of the journey.
According to Marketo, lead nurturing is the process of developing relationships with buyers at every stage of the sales funnel, and through every step of the buyer's journey. It focuses on marketing and communication efforts on listening to the needs of prospects and providing the information and answers they need.
The best channel for effective lead nurturing campaign is email, as 74% of consumers prefer to receive commercial communications via email. So your customer's inbox is the utmost place where all the nurturing magic should happen.
How to set up an efficient lead nurturing campaign?
First of all, let's ask ourselves what are the main indicators of an efficient lead nurturing campaign. There are three pillars that need to be considered:
Engagement – are your lead nurturing emails interesting enough to trigger high open rates and click-throughs to your content and website?
Feedback – are your lead nurturing emails as compelling and appealing as to attract the attention of your leads and revive their interest in your product?
Conversion – what percentage of the revitalized leads convert to paying customers after being part of your lead nurturing campaign?
The best practice of lead nurturing is to interact with your leads over time, providing them useful information in the form of articles, case studies, guides, etc. You want to be on top of mind of your leads until they're ready to think about actually purchasing from you.
Each lead nurturing email should have a clear call-to-action that triggers leads to act in a certain way – read a case study, visit your website, participate in a poll, etc. You can also include a time-limited discount offer to your lead nurturing emails to make your proposal more timely and actionable.
Avoid emailing your leads just because you want them to remember you. Always provide useful information that helps them be better at their job, learn a new hack, or read about industry insights. Like any other automated email campaign, lead nurturing campaigns need to be personalized, action-triggered, and optimized for maximum engagement.
---
Alright, tiger. By now, you should have quite an extensive understanding of lead management techniques and best practices. If you haven't yet set up personalized and action-triggered email campaigns and have no means of collecting your lead data, start doing it now. The set-up time of up to 10 hours might seem tremendous on the first look, but think how much time (and leads) it will save you in the long-term.
Everything about your business, one click away